How To Double 10k Quickly in 2023 (13 Best Ways!)
Updated on November 12, 2023
This post may contain affiliate links which means that sproutinue.com may make a small commission at no extra cost to you. We only promote products that we love and feel will benefit our readers. Please read our Disclosure Policy for more information.
Whether you want to increase your income or settle a huge debt, this post will show you how to double 10k quickly and improve your financial standing.
While there are many ways to make money, you must employ the right strategies to achieve such a huge goal. Turning 10k into 20k may seem daunting, but it's possible.
Thanks to technological advancement and the internet, you can make your money work for you even in the comfort of your home.
So, what are the strategies for doubling 10k quickly? Let's find out!
How To Double 10k Quickly
Many investment options allow you to earn double rewards in as little as a week, a month, or a year. The problem lies in choosing the right plan for your financial goals.
Luckily, I've created a list with detailed information on some of the best ways to double $10k fast. Instead of surfing through millions of options on the internet, read on to gain valuable insight.
You can double 10k by starting an active side hustle like selling goods and services. Alternatively, you can explore more passive sources of income, like investing in real estate or stock trading.
Whatever your goals are, you're sure to find something that works for you.
1. Invest in Real Estate
The first way to double 10k quickly is by investing in real estate. Real estate is worth a try if you're seeking a steady passive income source.
Conventional real estate investing involves purchasing properties and renting them out. You could also sell them after a certain period for profit.
Traditional means wouldn't suffice since $10,000 may not be enough to purchase property.
However, thanks to crowdfunding platforms like Arrived, the barriers to real estate investing have lowered significantly.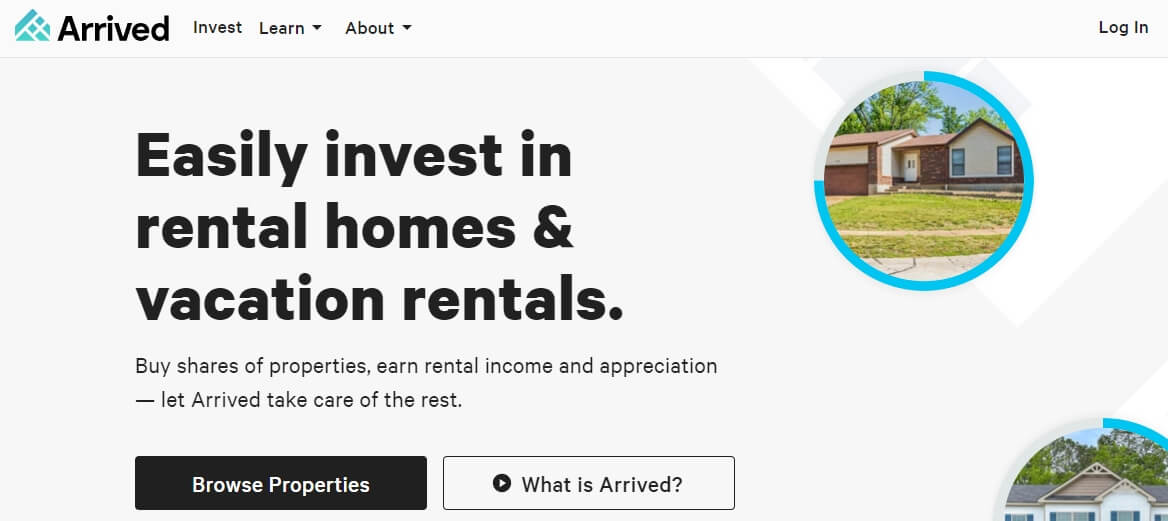 Generally, several investors pool funds toward one property in real estate crowdfunding. This way, you own property shares instead of the whole.
You'll then earn a percentage of rental income based on your share capital contribution.
Arrived lets you invest in real estate for just $100. Even if you're not an accredited investor, you can use Arrived.
Here's what you have to do to get started:
Browse homes
Select shares based on the amount you want to invest
Review terms and sign contracts
Earn income
It's wise to diversify your portfolio by investing in multiple properties to reduce the risk.
Arrived is perfect for passive income since they handle all managerial and home responsibilities. Also, their annual returns range from 6% to 15%.
Some other platforms like Arrived you could try are:
Fundrise: Invest in real estate from $10 and $1,000 for a retirement plan.
Crowdstreet: This platform lets you invest in real estate from $25,000 if you're accredited.
Landa: With Landa, you can begin your real estate investment journey with just $5.
Generally, crowdfunding real estate is an excellent passive side hustle to explore if you want to double 10k in a few years.
2. Round Up Your Spare Change With Acorns
Another way to turn 10k into 20k is rounding up your spare change. This strategy is great, especially if you'd like to make saving money a habit.
Acorns is a great place to start if you're interested in this venture. This platform rounds up your money and invests it in ETFs once you accumulate or exceed $5.
Additionally, Acorns allows you to earn up to 30% cashback when you shop at their partners. The cashback reward is invested into your portfolio.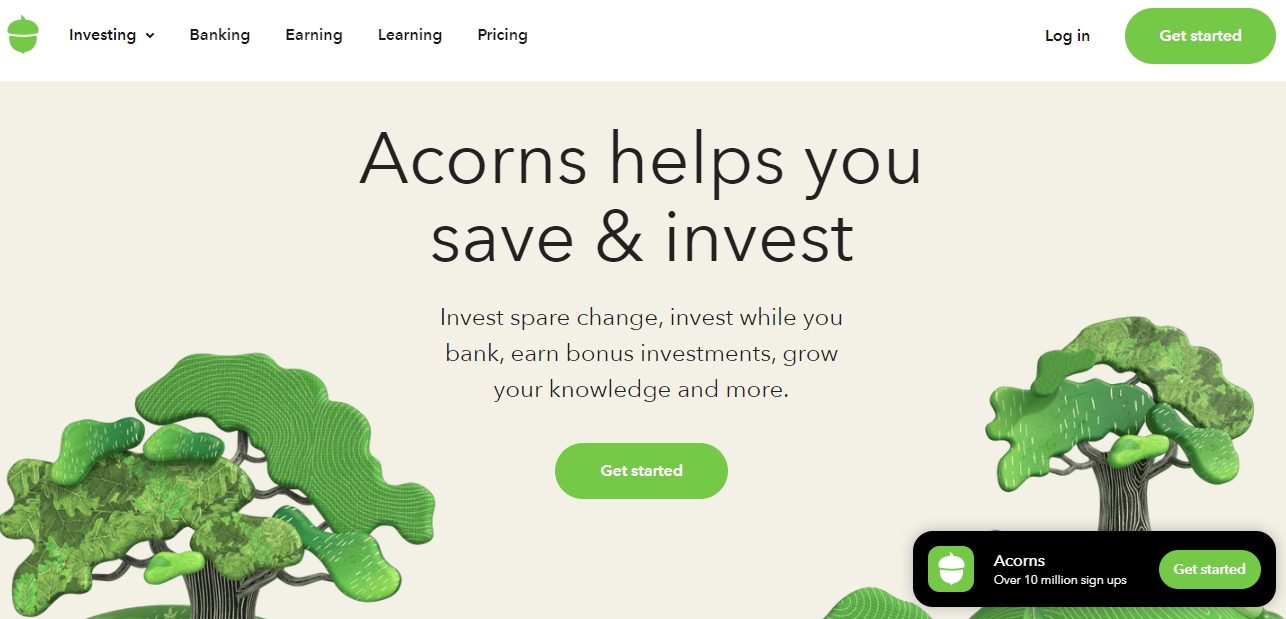 Once you sign up on Acorns, you'll need to enter personal information like your age, circumstance, and goals. This helps them recommend a portfolio that aligns with your needs.
The platform offers the following subscription tiers:
Acorns Personal – $3/month
Acorns Personal Plus – $5/month
Acorns Premium – $9/month
Another upside of Acorns is their $20 sign-up bonus. You must make a recurring $5 investment to earn this bonus. You can also earn an additional $5 by inviting your friends to the platform.
Generally, micro-investment apps like Acorns aim to accumulate small funds to substantial amounts. I think it's an excellent way to double $10,000.
3. Invest in Cryptocurrency Interest Accounts
Cryptocurrency has gained popularity recently due to its potential for high returns. It's an excellent way to double $10,000 quickly.
With the right approach, you can turn 10k into 20k in less than a month. However, crypto is highly volatile. So, you must have a high-risk tolerance to venture into it.
It's wise to proceed cautiously or speak to a financial advisor before investing in crypto.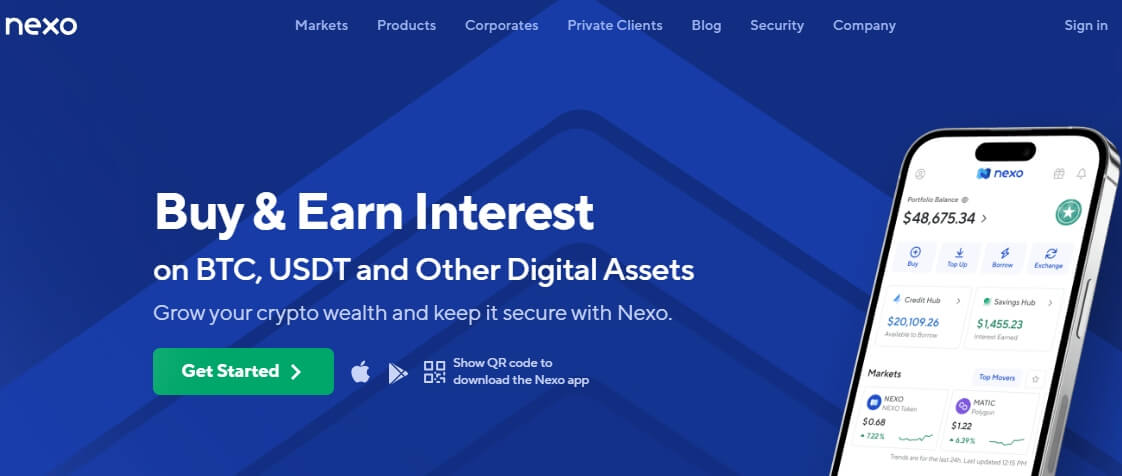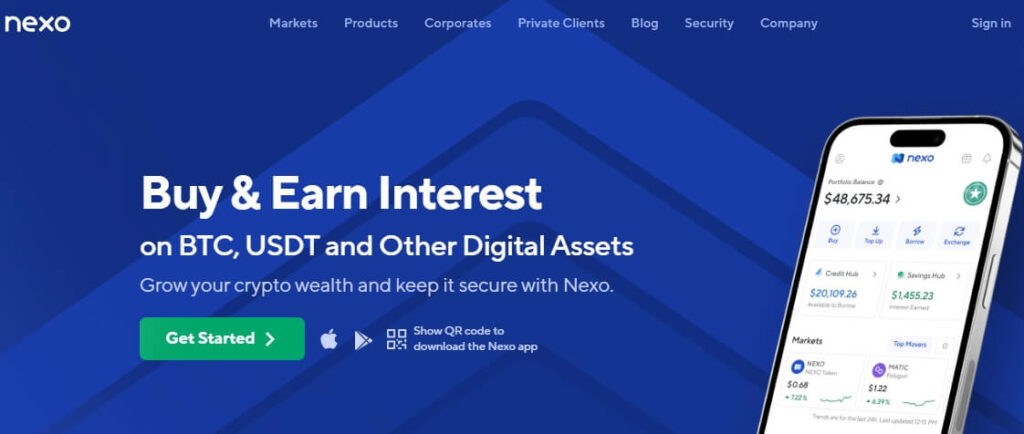 Nexo is a great platform that lets you grow your wealth through trading crypto. You can earn up to 0.5% rewards when you buy crypto on Nexo and up to 16% interest.
In addition to that, you can borrow against your cryptocurrency portfolio. Nexo also rewards you $25 in Bitcoin when you refer a friend.
You can also work with them as an affiliate, especially if you have a significant social media following or a successful blog.
While investing in crypto interest accounts is one of the fastest ways to make money on autopilot, it's still among the riskiest investment options. Do your due diligence and practice with simulators before you invest in crypto.
Start your crypto investing journey!
4. Flip Items for Quick Profit
Flipping money is one of my favorite ways to double 10k. It's an exciting way to make money, though not without risks.
Generally, flipping entails purchasing items and then reselling them at a profit. Finding discounted items is wise to get the highest flipping profits.
One profitable flipping model is retail arbitrage. In this venture, you'll need to find popular items from clearance sales at popular stores like Walmart and Target.
You can also find items with huge flipping margins at flea markets, thrift stores, garage sales, and online selling sites.
I like flipping because you can sell virtually anything. Some of the best items to flip for profit include:
Clothes
Electronics
Houses
Designer handbags
Luxury Watches
Digital assets
After acquiring your items, you can resell them on online marketplaces like eBay, Facebook Marketplace, and Mercari.
Poshmark and Depop are also worth considering, especially if you're flipping clothes, accessories, and sneakers.
Selling items online has the advantage of low overhead costs since you'll not need to set up a brick-and-mortar shop. However, you'll still need to cover shipping and seller fees.
You can evade these costs by finding local buyers on Craigslist and Facebook Marketplace. Alternatively, you could host a garage sale.
Another alternative for selling your stuff is pawn shops. However, pawn shops will pay way less than the value of a product.
Therefore, your items have to be highly valuable to double 10k. Despite that, selling to a pawn shop makes sense if you need fast cash.
Extra Reading: How To Flip $1k Fast!
5. Start an E-commerce Business
Another way to double $10,000 quickly is by delving into e-commerce. Generally, this income-generating venture involves selling products through the Internet.
Like with flipping, there are many items you could sell in e-commerce. Some of the popular ones include:
Smartphone accessories
Jewelry
Clothes
Art
T-shirts
Music
Online courses
Templates
Handbags
The most significant advantage of e-commerce is that the business model has a high profit margin since you don't incur rent or buy a physical space for a conventional store.
In an e-commerce model like dropshipping, you wouldn't need to handle the costs of storing inventory. Also, selling items in bulk helps gain more profit.
The most crucial part of setting up an e-commerce store is finding a profitable niche and building a relatable brand.
Consider choosing fast-moving items to increase the chances of making a profit. Also, you must be creative when selecting a brand name and logo. This is how customers will identify you.
Choosing a brand name and logo that relates to your merchandise and target audience is essential.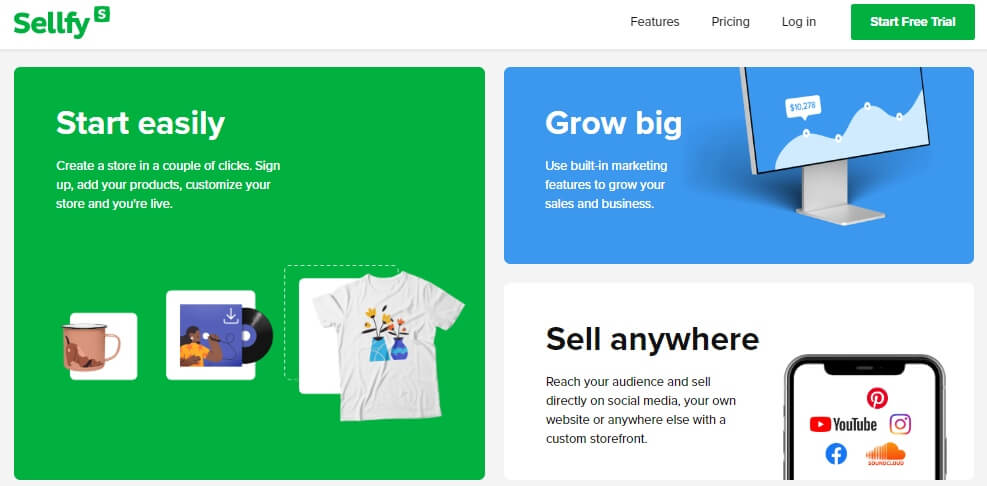 Once you've figured out everything, Sellfy is an excellent platform to set up shop. In just 5 minutes, you can get your store up and running.
Sellfy has built-in features like email marketing and tracking pixels to help you outrun the competition as you grow your business.
The platform has different subscription tiers ranging from $19 to $159 monthly, based on the size of your business.
E-commerce is an excellent way to turn $10,000 into $20,000 quickly. It all depends on how much time and effort you're willing to spend.
Employing the right marketing strategies is essential for success in this venture. If you take time to build a loyal social media following, you could double $10k in a few months.
6. Peer-to-Peer Lending
While peer-to-peer lending isn't exactly obvious, it's a practical way to double $10,000 quickly. Peer-to-peer lending is a scheme where people lend money to other individuals to earn interest.
This venture is a great option, especially if you want to earn a steady passive income. However, there are certain risks involved.
For instance, there's no guarantee that a borrower will repay your debt in full. They may default and then disappear.
Also, ideally, the loan is repaid in installments with profit. You may lose your interest if a borrower repays the whole amount prematurely.
Several platforms let you lend money to people for specific periods. Some of them include:
SoFi
Peerform
Prosper Marketplace
Kiva
The trick here is finding the best platform that protects borrowers and lenders. Research and read the terms and conditions to determine how these platforms bring in borrowers.
If they have stringent measures against fraud, then the platform is worth venturing into. Doubling $10k shouldn't be a hassle if you can find the right P2P platform.
7. Invest in Real Estate Debt
Regarding real estate, you can purchase a property or buy property shares through a real estate crowdfunding platform.
The third way to make passive income through real estate is by investing in real estate debt. This involves helping property owners fund their projects.
This is how it works: You loan money to a property owner and then receive a fixed rate of return based on the loan amount and interest rate. In this case, the property acts as a collateral for the loan.
If you want a low-risk, steady source of passive income, consider investing in real estate debt. Another advantage is that the holding period in this venture is shorter than equity investment.
The most significant downside is that real estate debt has lower returns than equity investments. Also, you'll lose interest if the debtor repays his loan before the end of the holding period.
Groundfloor is an excellent platform to venture into real estate debt investing. They have a rigorous process of reviewing loans and grading them from A to G based on the risk level.
One thing I like about Groundfloor is that they accept both accredited and non-accredited investors. Also, they offer high-yield returns between 7.5% and 14%.
You must create an account, link your bank account, and deposit funds to get started. Their investment minimum is $1000.
Overall, real estate debt investing is a viable option if you'd like to double your money quickly.
8. Rent Out Your Extra Space
If you have an extra room in your house or space in your garage, this is your chance to gain some passive income. Renting out space is convenient since you may not spend as much as $10,000.
All you have to do is renovate your space to make it suitable for what you want to rent it out for. For instance, you can convert a room into an Airbnb or storage space.
Platforms like Neighbor connect you to renters, allowing you to make money from home. All you have to do is convert your space to accommodate storage.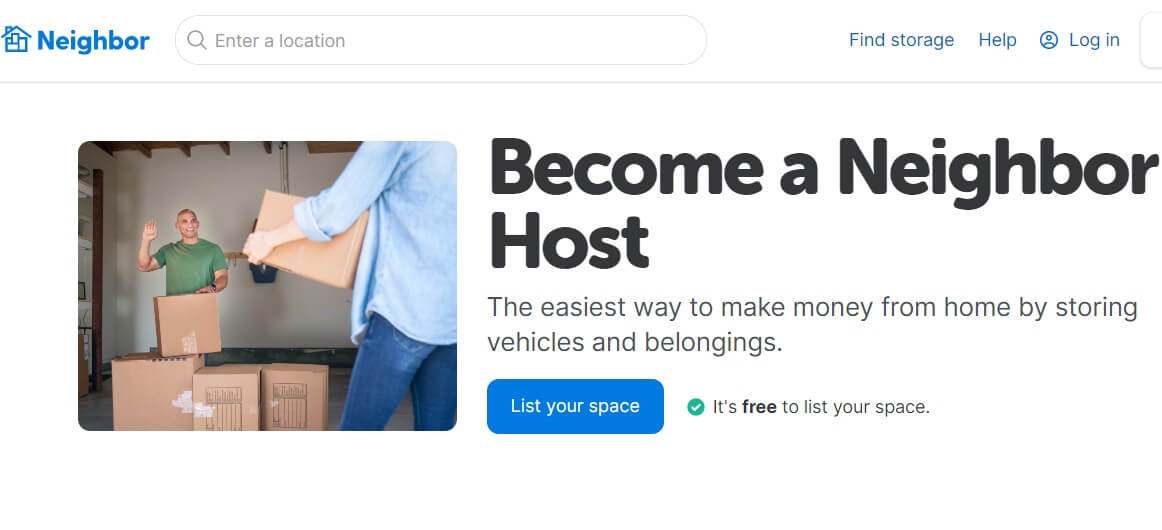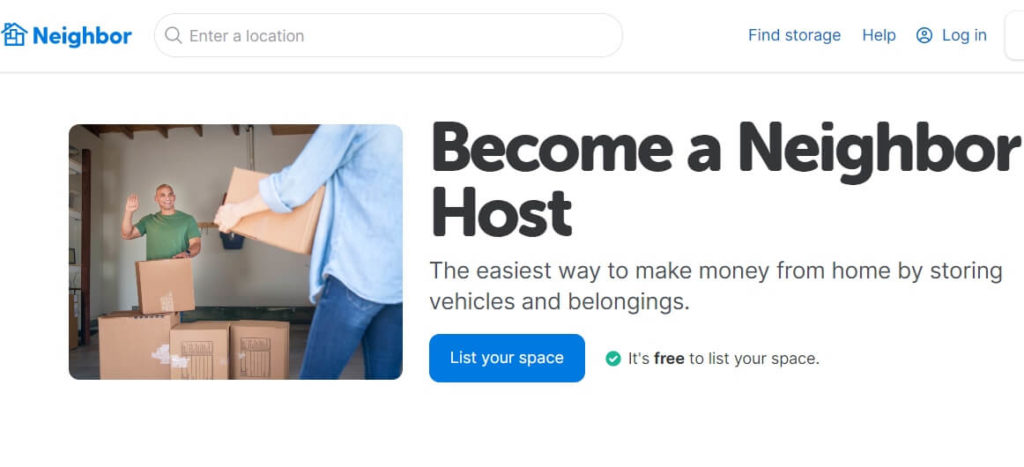 You can maximize your earnings by partitioning the room with more than one rentable storage space. Go ahead to fix any damage on the walls and install shelves.
Once your place is in good shape, take photos and list it on Neighbor. Afterward, wait for renters to make contact and schedule a move-in.
I recommend Neighbor because their payments are guaranteed. Your rent is deposited to your account monthly. Neighbor also covers the cost when a renter fails to pay.
9. Sell Digital Products Online
Consider selling digital products online to turn $10k into $20k. There are many digital products you could sell. Some of them are:
Printables
Templates
Music
Art
Graphic designs
Online courses
Ebooks
Membership sites
Since you don't need a brick-and-mortar store to sell digital products, this venture has low overhead costs.
You'll only need to purchase a domain name on Namecheap and pay for hosting on sites like BigScoots, which is nowhere near $10k.
Another advantage is that you can resell a product severally without recreating it. This way, selling items online has a high profit potential.
The most important part of selling digital products is finding a niche and building your brand. Your brand must resonate with your target audience and niche.
Pick something in demand and set up your online shop on platforms like Shopify or Sellfy. Once your shop is ready, invest in intelligent promotion strategies to attract and maintain customers.
With the right approach, you can double $10k in no time by selling digital products.
10. Invest in Stocks and ETFs
Investing in stocks and exchange-traded funds is another way to double $10k.
If you're interested in this income-generating path, you can begin by creating a brokerage account with your bank.
Whether you're a beginner or a regular investor, seeking financial advice before venturing into stocks and ETFs is crucial.
Several online brokers let you invest in stocks and ETFs without paying a commission. A good example is M1.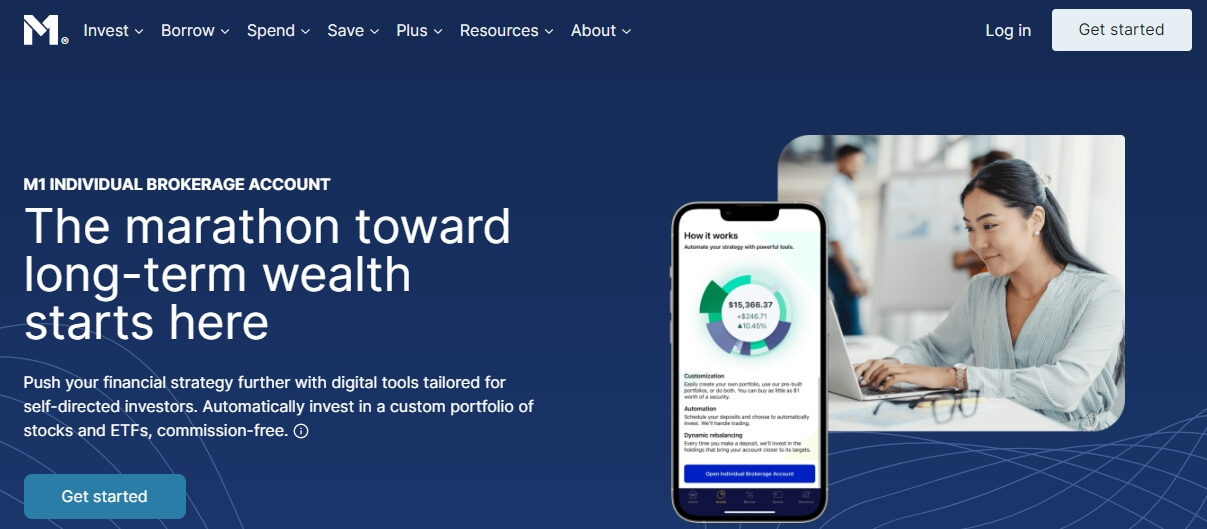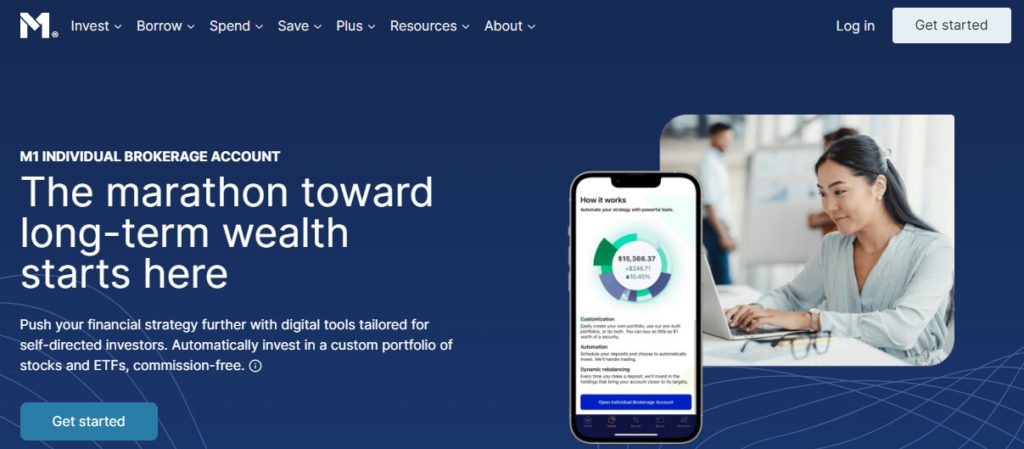 If you don't have an investment strategy, M1 guides you through their custom pies. All you have to do is create an account.
Also, they entirely automate the process to save you the trouble of trading manually. Another attractive thing about M1 is that you can take a loan against your portfolio.
Investing in stocks and ETFs involves significant risk since their prices fluctuate. However, it's an excellent way to turn $10,000 into $20,000 over time.
11. Use a Robo Advisor
A robo-advisor is a platform that automatically helps you invest and manage your finances.
The tool has become popular since, as its name suggests, a robo-advisor offers financial advice at a lower cost than traditional financial advisors.
Generally, you need to provide information about your financial goals and current financial situation. From there, the robo-advisor algorithm sets up your portfolio by investing in stocks, ETFs, bonds, and index funds.
SoFi is an excellent robo-advisor if you're interested in this venture. One thing about them is that they don't have minimums, so you can invest as much or as little as you want.
While most people are concerned about robo advisors lacking human touch, it has made this list because it's one of the best ways to double 10K quickly, especially as a beginner.
12. Start a Side Hustle
If you have some spare time, you can start a side hustle with $10k and double it over time.
One of the main upsides of starting a side hustle is that there are lots of options you can try. Even if one doesn't work, you can move to the next or stack as many as possible.
Some of the most popular side hustle ideas include:
Offering services like petsitting
GPT sites like Kashkick, Valued Opinions, and Crowdtap
Photography
Graphic design
Renting virtually anything you don't need on Fat Llama
The beauty of starting a side hustle is you choose when you can turn it into a more profitable full-time venture if you employ the right strategies.
13. Invest In Yourself
The last way on my list of how to double 10k quickly is investing in yourself.
Instead of purchasing and reselling goods and services, you can spend a portion of that amount to improve your skills and get a raise in your current job.
The best thing about this is that you'll not need as much as $10k to polish your skills. There are plenty of free resources on the internet.
If the idea of your job doesn't sound fun, you can always venture into freelancing skills such as writing, graphic design, or proofreading.
And if you have good listening and typing skills, consider taking a transcription course from Transcribe Anywhere. They offer general and legal transcription courses.
The best part is that you get certified after completing the course.
Tips for Doubling 10k Quickly
Now that you have ideas of how to double $10k quickly keep these tips in mind:
Seek financial advice: Especially as a rookie investor, speaking to a financial advisor helps you know the best decisions to make.
Choose a venture that works for you: The best way to double 10k quickly and surpass that is by venturing into something you enjoy.
Stack multiple options: Exploring several income-generating methods simultaneously is an excellent way to maximize your earnings.
Research: Always do your due diligence on apps, sites, and investment options to avoid getting ripped off.
Extra Reading: How To Turn $1k Into $10k
Frequently Asked Questions
What Is the Quickest Way to Double Your Money?
The quickest way to double your money is to invest in cryptocurrency. They have the potential for high rewards since their prices fluctuate.
While it may be the quickest way to double your money, there's a higher risk of losing your hard-earned cash. If you have a high-risk tolerance, consider investing in crypto or going for less volatile stocks.
Can You Double Your Money in 24 Hours?
Yes, you can easily double your money in 24 hours with the right strategies. Here are some of the best ways:
Invest in crypto
Flip items
Start a side hustle
Sell digital products online
Start an online business
How Can You Turn 10k Into Passive Income?
If you want to turn your $10k into a passive income stream, it's best to explore:
Dividend stocks
Investing in real estate
Bonds and mutual funds
P2P lending
Speaking to a financial advisor is important, especially if you're a beginner investor.
Final Thoughts
I hope my article is helpful as you embark on the journey of doubling 10k quickly.
While all the methods I've described are profitable, proceeding cautiously, regardless of your chosen venture, is important.
Also, remember to review company and site policies carefully to avoid disappointments. Lastly, don't forget to speak to a financial advisor if you need help.
Good luck!
Looking for other ways to make money fast? Check out these posts: