Is DoorDash Worth It in 2023
This post may contain affiliate links which means that sproutinue.com may make a small commission at no extra cost to you. We only promote products that we love and feel will benefit our readers. Please read our Disclosure Policy for more information.
The growth of the gig economy has led to an increasing number of driving apps that pay. DoorDash is one of the most popular apps, operating in over 7,000 cities across the US, Canada, Australia, and Japan.
If you're searching for a flexible side hustle where you can supplement your day job and work on your own schedule, you've probably considered DoorDash. There are plenty of other jobs like DoorDash, so is DoorDash worth it?
As a part-time DoorDash driver, I'll give an honest review of DoorDash, providing details like how it works, and how much you stand to earn.
I'll also share the benefits and drawbacks of driving for DoorDash and tips to help you make more money with DoorDash.
DoorDash gives you the flexibility to choose your own hours and work as much as you want, which is great for students or anyone looking for a side hustle. However, there are also downsides, like vehicle maintenance and fuel costs, to consider.
These are some factors to consider when choosing from the many gig apps available to you. So is DoorDash worth your time? Let's find out!
What Is DoorDash?
DoorDash is a food delivery platform that connects local consumers and restaurants through independent contractors that make deliveries.
It operates in thousands of cities in the U.S., Canada, Australia, and Japan.
As a DoorDash driver, your job would entail delivering fast food and restaurant meals to customers in your area. Customers can also use the app to order groceries to be delivered to their houses.
Since the pandemic, apps like DoorDash have seen an increase in use. As more people choose to work from home, it's more convenient to have food and groceries delivered to their doorsteps.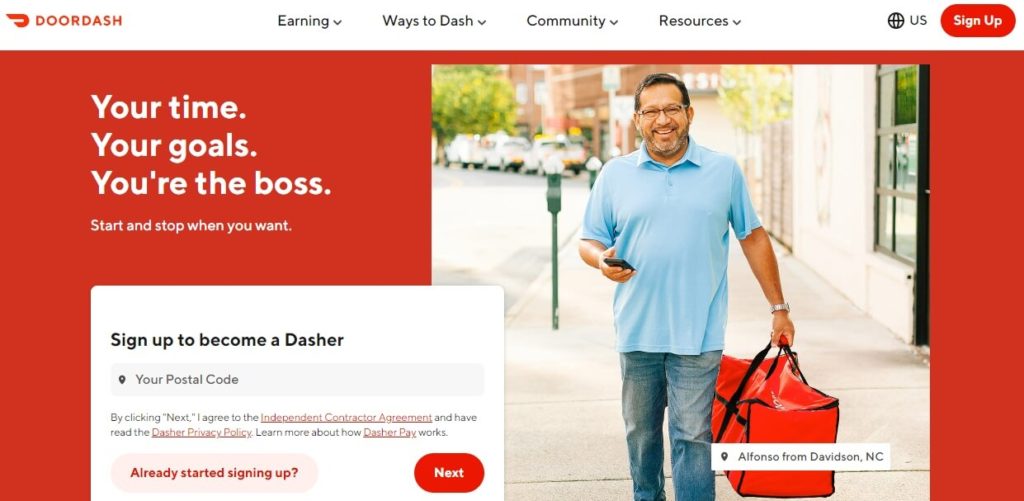 Founded in 2013, the company has seen pretty decent growth over the past few years. It's now one of the largest food delivery services, alongside others like Uber Eats and Instacart.
The app works very efficiently. Customers browse the available menus and then order through the app or website. DoorDash drivers, or Dashers, pick up the meal, groceries, or items and deliver them to the customer.
With DoorDash, customers get a variety of delivery options. They can choose the standard delivery, which takes roughly 30-45 minutes, or DashPass, where they get free delivery on eligible orders.
Is DoorDash Worth It?
Yes. DoorDash is worth it if you're looking for a flexible side hustle where you make approximately $15 to $25 per hour. However, DoorDash can be a demanding side hustle, and you must consider fuel and vehicle depreciation costs. Whether DoorDash is worth it depends on what you're looking for.
The earning potential is the main determining factor in whether a side hustle is worth it. As a DoorDash driver, you can expect about $15 to $25 an hour, depending on factors like your location, demand, and the time of day.
Other factors you should consider include flexibility and workload. The more flexible a side hustle is, the better.
DoorDash lets you choose when and where to work, so it's great for anyone with other commitments like school or another job.
DoorDash can be demanding, especially if you work during peak hours when demand is high. You may have to work long hours, so weigh the pros and cons to decide whether DoorDash is right for you.
Extra Reading: Amazon Flex vs DoorDash
DoorDash Driver Reviews
One way to determine whether DoorDash would be the right fit for you is to read driver reviews from current and former drivers.
There are many trustworthy sites like Trustpilot and Reddit where Dashers share their experiences, and you can learn a thing or two from them.
There are mixed reviews on Reddit, with Dashers talking about their earnings and a few complaints about bad tips and the rising fuel cost.
Here are a few comments from Dashers on Reddit:
Tectail says: "Can you be profitable and make some spare cash? Yes. Can you quit your job and do this full time and have a reliable high income? No."
Rex4748 says: "As a side hustle, yes. It's never not been profitable for me. You just have to be smart about it. It's very unpredictable though, keep that in mind. You could easily make $500+ one week and then barely half that the next."
Pitiful-Replacement7 says: "Yes, I work mainly weekends and average a little over $20/hour. And all the other stuff people said about not accepting low or no tip offers cause it will cost you. I try to stay at $2/mile but will drop down to $1/mile if it's a slow time. You have to know your area."
Some Dashers are happy with the potential for decent pay and flexibility, but others have had bad experiences with low demand and a lot of competition.
Based on dashers' responses, the bottom line of whether DoorDash is worth it is that it depends on factors like your location, the demand, and competition.
It all comes down to you as the decision-maker. You have to look at both the advantages and downsides of working as a DoorDash driver and make the choice yourself.
How Does DoorDash Work for Drivers?
If you sign up to work as a DoorDash driver, you'll be an independent contractor whose job is to deliver food and grocery items to customers in your area.
The job is pretty flexible, so you work as little or as much as you want and keep 100% of your tips.
So how does DoorDash work? Here are the simple steps to follow from signing up to getting paid.
1. Sign Up To Drive for Doordash
The first step you have to take is signing up to be a Dasher on the official DoorDash website or through their mobile app.
You'll have to meet the various requirements and pass a background check before being approved.
Once you've been approved and gone through the orientation, you can start working immediately. The DoorDash app has two working options: Schedule a Shift or Dash Now.
The Dash Now option is more flexible. You can start and stop whenever you want. However, if there are already many Dashers making deliveries at the time you want to work, the Dash Now option won't be available.
One of the best features of DoorDash is it doesn't deactivate inactive drivers like most gig apps, so you don't have to worry about meeting a quota to keep your account.
2. Accept Orders
After choosing Dash Now or scheduling your shift, orders will pop up on your screen once they're available.
Every order shows you all the information you need to decide whether you'll accept or turn it down, such as:
The distance
The number of items in the delivery
The route to take from the restaurant to the destination
By what time should you deliver the order
How much you'll earn for the delivery
This information is important because it gives you the logistics and helps you determine whether or not you can make the delivery on time and if it's worth your time and effort.
You can either accept the request or decline it. DoorDash gives you 45 seconds to accept an order before it's offered to another Dasher.
If you accept the order, you'll receive directions to the restaurant and the customer's address.
3. Pick Up and Pay for the Order
After accepting an order, you can use GPS and the DoorDash app to drive to the pickup location.
Once you arrive, you must confirm your arrival and notify the customer that you've picked up the item(s). This way, they know that the delivery is on the way.
You won't have to go into your pocket when paying for the order. Upon hiring, DoorDash gives Dashers a Dasher Red Card you use to pay for food or groceries.
In most cases, the customer will have already paid for the order. The order will be marked as either "Pay with Red Card" or "Place Order." Either way, you don't have to pay for anything with your money.
4. Make the Delivery
After picking up the order, you can deliver it to the customer's address, as shown in the DoorDash app.
Once you make the delivery, you must confirm it on the app. This will end the order so you can start receiving new orders.
After completing the order, you'll be eligible for payment.
5. Get Paid
After completing the delivery, you receive payment for the job and 100% of the tips the customer leaves.
DoorDash pays Dashers once a week via Direct Deposit. The DoorDash pay period is between Monday and Sunday midnight, and the money is paid out the following Wednesday.
Some banks may take longer to process the payment, so you may receive your paycheck later.
However, DoorDash also has the Fast Pay option you can use to withdraw your money instantly. You can use the DoorDash Fast Pay option daily, but it will cost you $1.99 for every withdrawal.
DoorDash Driver and Vehicle Requirements
If you're interested in becoming a Dasher, you must meet a couple of requirements. The requirements you must meet to become a Dasher include:
Age: Dashers must be 18 years or older
Vehicle: You must be able to make deliveries as a Dasher, so you'll need a reliable vehicle. DoorDash also accepts bikes and scooters, which is great for students or anyone without access to a car. In some markets, you can even make deliveries on foot.
Driver's license and vehicle insurance: To become a DoorDash driver, you must be a licensed driver, and your vehicle must be insured. You're also required to have at least one year of driving experience.
Smartphone: You'll need an Android or iOS smartphone that supports the DoorDash app to accept orders.
Social Security number: If you plan to work in the US, you'll need a Social Security number to work as a Dasher.
Background Check: Before you're approved to become a DoorDash driver, you must pass a background check. A criminal record may hurt your chances of becoming a Dasher.
You'll be approved to join the DoorDash workforce if you meet all the requirements.
It's also important to note that the requirements vary based on location, so be sure to check the specific requirements in your location before you sign up.
How Much Does DoorDash Pay?
It's hard to determine exactly how much Dashers make on average because earnings depend on several factors. However, based on information on salary review sites like Indeed, Dashers make $15 per hour on average. Still, some DoorDash drivers report making over $25 per hour.
How much you earn per delivery depends on the type of order, how much the customer tips, and whether you qualify for bonuses and promotions.
Here are some DoorDash driver tips you can use to maximize your earnings:
Work During Peak Hours
Peak hours are when demand is high, and you have several orders to choose from.
Peak hours vary based on location, but standard peak hours are nights, weekends, dinner, and lunch rushes.
Join the Top Dasher Program
DoorDash has a Top Dasher program that increases your earning potential. Top Dasher status gives you priority access to orders and makes Dash Now available to you 24/7.
These are the requirements to qualify for the program:
Maintain a customer rating of 4.7 or above
A 70% or higher acceptance rate
100 or more deliveries in the last month
A completion rate of 95% or higher
Your completed deliveries should be 200 or more
Choose Larger Orders
Large orders with more items tend to pay more than small orders, so choosing larger orders increases your earning potential.
Use Multiple Apps
Using multiple apps is another way to make more money with your delivery gig. This way, when DoorDash is slow, you can still earn from your other jobs. 
Doing this increases the chances of delivering more orders, and you can make more money.
Maximize on Promotions
DoorDash has promotions for drivers regularly, and you can take advantage of them.
Some promotions are bonuses for completing a given number of deliveries or making the deliveries at a specific time.
Take full advantage of these promotions to make more with DoorDash.
Reduce Your Expenses
Expenses like fuel and vehicle maintenance can really eat into your profits, so keeping your expenses low is important.
For instance, you can use a fuel-efficient car or minimize drive time and distance. This will help you save money so you can make a more significant profit.
Work on Your Customer Service
You should also ensure you provide stellar customer service.
This pays off in two ways: the customer is more likely to tip you well, and they'll give you a good rating which will help you achieve Top Dasher status.
How much you make with DoorDash depends on several factors, some of which you can control. If you're selective and only complete orders that meet your criteria, you can increase your earnings.
DoorDash Pay Rate
DoorDash has a three-point system for calculating earnings: base pay, promotions, and tips.
The more you know about DoorDash's pay rate, the easier it is to strategize how to increase your earnings.
Base Pay
The DoorDash base pay is between $2 and $10, depending on distance, time, and order desirability.
The desirability of an order is affected by the acceptance rate of other Dashers. The base pay is the guaranteed minimum and is not affected by customer tips.
Promotions
DoorDash offers three types of promotions that can help increase your earnings:
Peak pay: This is the amount added to your total earnings when you deliver during busy hours. You can make deliveries during lunch and dinner rushes to take advantage of Peak Pay.
Challenges: A relatively new feature to encourage Dashers to increase their activity. These challenges include making a specific number of deliveries within a specified time. For instance, you could get a $20 bonus if you complete 15 weekly deliveries.
DoorDash Drive: This is a special bonus given to Dashers who deliver large catering orders that need special handling.
You keep 100% of the customer tips you earn, and this amount does not affect base pay or promotions.
Is Delivering for DoorDash Worth It?
DoorDash is worth it if you want a flexible side hustle where you work as little or as much as you want and make an average of $15 to $25 per hour. You should also factor in fuel and vehicle depreciation costs to determine whether the pay is worth your effort.
Flexibility is one of the most appealing features of DoorDash because it means you can work around your other commitments like your other job or school work.
Additionally, you can make deliveries using a bike, scooter, or even on foot in some markets. This makes it easier for people who can't afford a vehicle.
Since DoorDash earnings depend on several factors, you should do a little research, like:
How many Dashers there are in your area
Whether you live in a busy metropolitan or rural area
The specific requirements you should meet to qualify as a Dasher
There are also tips you can use to maximize your earnings, so you can easily make $25 or higher, as some drivers have reported.
Extra Reading: How To Make $500 a Week With DoorDash
Is DoorDash Worth It After Taxes?
As a DoorDash driver, you're an independent contractor, so you're responsible for your taxes.
The government treats you as self-employed, so you need to consider how much impact taxes will have on your earnings.
As an independent contractor, you must keep track of federal and state taxes. Federal taxes include the Federal Insurance Contributions Act (FICA) and income tax, while state taxes vary based on location.
Fortunately, most of your DoorDash expenses are deductible. You can deduct work-related expenses like vehicle maintenance, phone bills, and gas from your taxable income when filing taxes.
Ensure you keep track of your expenses to make your work easier come tax season. If you're unsure what expenses are deductible, consult a tax professional.
Is DoorDash Worth It With Gas Prices?
With the soaring gas prices across the country, is DoorDash worth it?
Gas expenses significantly affect your earnings, so you have to consider gas prices when determining whether DoorDash, or any delivery job for that matter, is worth your time and effort.
While gas prices are a significant concern, DoorDash can still be worth it with the right measures.
You can take steps to keep track of your gas expenses and use apps gas-saving apps that help you find cheap filling stations in your area. You can also use a fuel-efficient vehicle to lower your expenses.
You should also consider Dasher Direct, a program designed to help DoorDash drivers save on gas.
With the program, you can earn up to 10% cash back on your gas purchases if you use a linked debit card. This program isn't always available, but you should watch out for it.
Want more ways to save on gas? Try out apps like Fetch Rewards.
DoorDash Pros and Cons
You can also determine whether DoorDash is worth it by weighing the pros and cons.
Pros
Flexibility: DoorDash gives you the freedom to work whenever and however much you want. This means you can set your own schedule that works with your other commitments.
Good earning potential: As a DoorDash driver, you can make up to $25 per hour depending on factors like location and time of day.
Easy requirements: It's very easy to get started with DoorDash. All you have to do is sign up and pass their background check, and you can start Dashing.
Cons
Demanding work: To maximize your earnings, you'd have to go the extra mile and put in the effort.
Expenses: Fuel costs, vehicle maintenance, and overall depreciation can significantly eat into your DoorDash earnings.
Inadequate support: Many Dashers complain that the customer service isn't great, so you may have trouble finding help when you need it.
How to Sign Up for Doordash as a Driver
The DoorDash sign-up process is an effortless one. You can complete it in a couple of minutes. These are the steps you have to follow to sign up for DoorDash:
Step 1: Visit the DoorDash website and hit the "Become a Dasher" button. From there, you'll provide information like your name, zip code, phone number, and email address.
Step 2: Enter your profile information, including your full name and password.
Step 3: Choose your vehicle type. You can choose a car, bike, or scooter. If you choose a car, you must provide details like your driver's license number, state, and insurance info.
Step 4: Upload your identification. You must verify your identity before you start working for DoorDash.
Step 5: Consent to the background check. DoorDash runs background checks on potential Dashers. This is done to ensure your driving record is clean and you have no criminal history.
Step 6: Download the app. Once approved, you'll receive a link via email to download the DoorDash app, which is available for Android and iOS devices.
Step 7: Start accepting orders. On the app, you'll see orders popping up on your screen, and you can accept them to start earning.
DoorDash Alternatives
There are plenty of other driving apps you can sign up for or together with DoorDash. Jobs like Here are some of the top DoorDash alternatives:
Instacart: This is a popular delivery app where you get paid to shop and deliver groceries. Pay varies depending on the order, and you keep 100% of your tips.
Uber Eats: this is a fast food and restaurant meal delivery app that operates on an almost global scale. You can sign up to be an Uber Eats driver and earn approximately $17 per hour.
Amazon Flex: You can also work as an Amazon Flex driver, where you deliver Amazon Flex blocks from the warehouse to customers within your area.
Postmates: This is a popular delivery app where you can sign up to deliver various items, including food, drinks, home essentials, and even office supplies.
Grubhub: Another meal delivery app that partners with local restaurants and operates in various cities across the US. The earning potential is roughly $10 to $15 an hour.
Shipt: This is a grocery delivery app that works just like Instacart. You can sign up for Shipt, where you'll work as a shopper and deliver the items to the customers.
Frequently Asked Questions
Is DoorDash Worth It as a Side Job?
DoorDash is worth it as a side hustle, as it offers great flexibility and has a pretty good earning potential.
Additionally, you can control some of the factors that determine your earnings, like working during peak hours to maximize your earnings.
Is DoorDash a Good Job?
DoorDash is a well-paying gig with great flexibility. If you're looking for a side hustle where you can work however much you want, then DoorDash is for you.
If you're looking for a job to replace your day job, this might not be it.
How Much Does DoorDash Pay Per Delivery?
The base pay for DoorDash deliveries ranges from $2 to $10 depending on factors like distance, estimated duration, and the desirability of the order.
Your earning per delivery will also depend on factors like promotions and customer tips.
Does DoorDash Pay Hourly?
DoorDash pays per delivery. However, they introduced the Earn by Time Mode recently, where Dashers get paid a guaranteed hourly rate when out on deliveries.
You can choose this mode when you start Dashing.
How Much Can You Make Doing DoorDash 40 Hours a Week?
Based on DoorDash pay data, the average Dasher makes $23 an hour in the U.S. So, if you work 40 hours a week or full-time, you'll make roughly $920.
Is DoorDash Safe?
Generally, DoorDash is safe for both Dashers and customers.
The company has various safety measures in place, like background checks for Dashers, GPS tracking, and contactless delivery options.
Final Thoughts
Is DoorDash worth it? It comes down to what you're looking for in a side hustle. If you'd like to make money doing deliveries on your schedule, then DoorDash is a good option.
While DoorDash offers a decent earning potential, you must factor in other costs and expenses such as fuel, vehicle maintenance, and depreciation. This will help you determine whether or not this delivery platform is the right fit for you.
Happy side hustling!
Want other highest-paying side hustles? Checkout: