13 Best Places To Sell Bulk Pokemon Cards in 2023 
Updated on September 11, 2023
This post may contain affiliate links which means that sproutinue.com may make a small commission at no extra cost to you. We only promote products that we love and feel will benefit our readers. Please read our Disclosure Policy for more information.
Selling collectibles like Pokemon cards is a great way to make quick money. Whether you're looking to get rid of an old collection you've been holding on to or want to earn some extra cash, finding the best places to sell bulk Pokemon cards is vital.
There are millions of Pokemon fans and collectors worldwide, so there's a lot of monetary gain in the trade.
The value of your Pokemon card depends on its scarcity, condition, and type. You can fetch top dollar if you have rare ones. Some sell for as high as a million dollars, while others, a few bucks.
Finding the right place to sell your Pokemon cards in bulk can be challenging. If you have a collection of Pokemon cards and are wondering what to do with them, I have compiled the best places to sell them for cash.
Need to make fast cash? Try out:
Prime Opinion – Get a $10 welcome bonus when you join this paid survey site!
Acorns – Earn $20 instantly when you start saving your spare change with Acorns!
The Best Places To Sell Bulk Pokemon Cards
I have sold a collection of my old Pokemon cards in bulk before and made quick money. While at it, I found many places to trade in your Pokemon bulk cards for cash. 
It's important to note that you may not make much money unless you have a huge collection of rare Pokemon cards.
1. Full Grip Games
Full Grip Games is one of the best places to sell your bulk Pokemon cards. It's a game shop in Akron, Ohio, founded in 2016. 
You can sell bulk "commons or uncommons" and basic energy cards in increments of 100 or 1000. However, you can submit other types, like rare cards in their individual quantities.
The website has a bulk buylist with all the packs and cards it accepts and their prices. That way, you can check the amount you'll earn from your bulk Pokemon cards before you sell them.
The good thing is that you don't need to sort your bulk cards. You only need to separate the rares and holos from the commons and uncommon.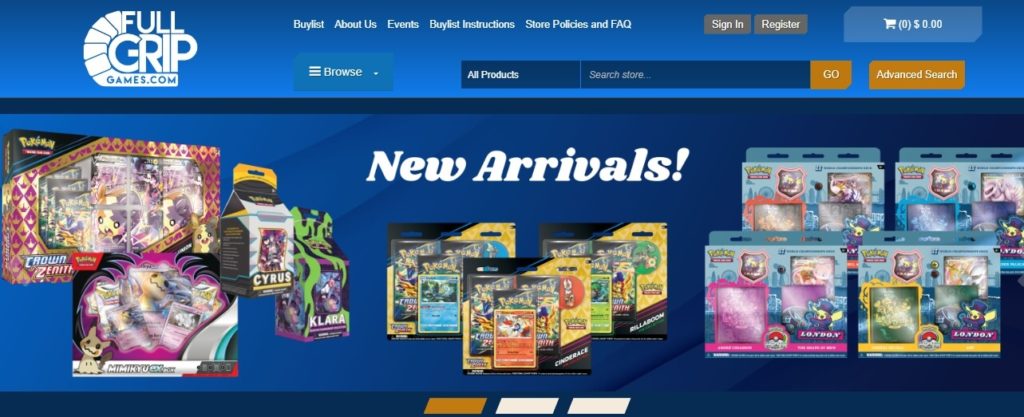 Full Grip Games verify and grade your cards upon arrival at the store. If the monetary value of your bulk cards changes after grading, they email you to inform you of the change. The price of your cards may change based on their condition.
Once Full Grip Games receives your buy list, it takes about 2-7 business days to process, depending on the number of submissions made.
One disadvantage is that you pay to ship your items to the store. You can, however, drop off the items at the store in Akron if you're nearby.
Full Grip Games has several payment options, including cash, PayPal money, and store credit.
2. Safari Zone Collectibles
Safari Zone Collectibles is another popular place for bulk Pokemon card selling. They only purchase modern cards. 
The pay rates for the cards are as follows:
Commons/Uncommons: $0.02 each
Rare: $0.02 each
Holo or reverse holo: $0.08 each
EX,GX,V,VMAX,VSTAR: $0.50 each
To sell your bulk cards on Safari Zone Collectibles, they must be in near-mint condition.
You also have to sort them out according to the categories mentioned above. Failure to observe the requirements may cause delays in the processing. Your submission may even be rejected.
Payment is made via store credit only.
3. TCGplayer
TCGplayer is a popular marketplace for gaming collectibles like Pokemon cards, Yugioh cards, and Magic cards. 
To sell bulk Pokemon cards on TCGplayer, you must sign up for an account on their website. Next, create your listing and add photos of your bulk card collection.
The best part is that listing is free, so you don't have to pay anything until you make a sale. You can also level up your seller ranking as you make more sales on the website. The default level is level one, while the top achievable is level four.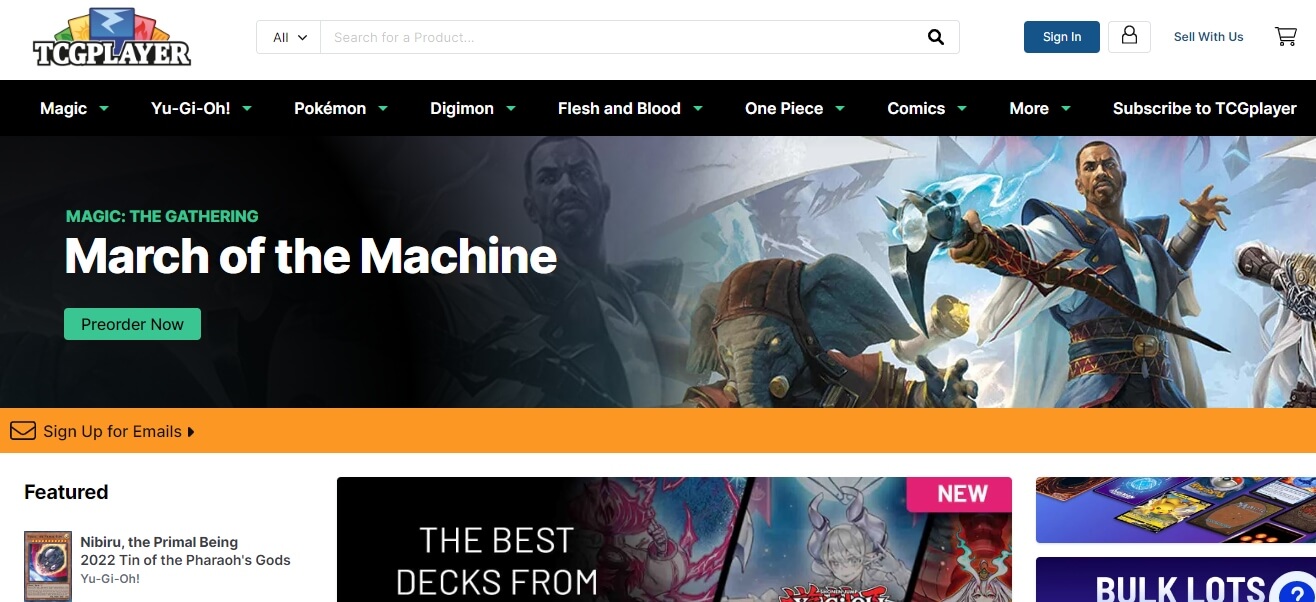 The maximum number of items you can list increases with level advancement:
Level one: Up to 100 items
Level two: Up to 500 items.
Level 3: Up to 50,000 items
Level 4: Unlimited items.
Another advantage of TCGplayer is that you can scan cards you want to sell or check pricing information.
4. Top Cut Central
Top Cut Central is less popular than the other websites, but it's a great place to sell your bulk Pokemon cards for cash. It buys huge collections as long as they're English and near-mint. 
They buy cards in stacks of 100 or 1000. You have to sort out the cards according to rarity.
You can find the price of the various categories of cards on their website. Be sure to check that so that you can gauge the worth of your collection.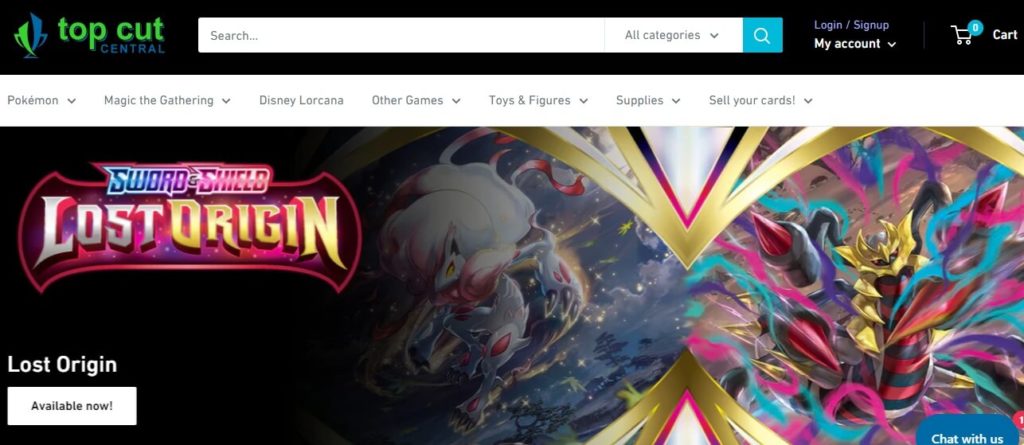 Unlike other places to sell Pokemon cards, Top Cut Central purchases basic energy cards for $0.005 each. Like most of the other stores, you have to pay for shipping.
Top Cut Central offers two payment options: PayPal cash and store credit.
5. Deriums
Deriums is another popular place to sell your Pokemon cards in bulk. 
You can find their current bulk buy list on their website, and their prices are as follows:
Commons/Uncommons: $0.015
Non-Holo Rare: $0.05
Reverse Holo Rare: $0.05
Holo Rare: $0.06
Character Rare: $0.10
Jumbo Card: $0.25
V/EX/GX/VSTAR: $0.50
VMAX: $0.75
VMAX Rare: $2.50
Note that the cards must be in English and near-mint condition for you to sell on the platform. You also need to sort the cards into different categories before making the shipment.
The bulk processing usually takes 2-3 business days. Payment is made via PayPal or store credit. Like most other platforms, you pay for shipping when you send your bulk cards in.
6. Troll and Toad
Troll and Toad is an online marketplace that deals in popular collectibles like Pokemon cards, Yugioh cards, and Dragon Balls. Their largest sector is Pokemon. 
The platform is somehow strict, and there are several rules that you have to adhere to. For example, you must be at least 18 years old or have a legal guardian submit the order.
Also, when selling commons and uncommons in bulk, at least 15% must be uncommons. Check out the policies on their website before you decide to sell to them.
Troll and Toad offer payment via check, PayPal, and website credit.
7. Pika Shop
Another option to sell bulk Pokemon cards is Pika Shop. It's a UK-based online marketplace for gaming collectibles like Fortnite, Yugioh, Minecraft, and Pokemon. 
You can try this platform if you have bulk commons, uncommons, trainer cards, holos, and reverse holos. You only need to email them, and they'll contact you.
Once you identify the cards you want to sell and email them, Pika Shop will send you a prepaid shipping label. You then need to print and attach the label to your package. Remember to include a copy of the label and your order inside the package.
After that, drop off the package at the nearest drop-off point, and they'll send a courier to collect it.
The processing takes between one and five working days.
8. Sell2BBNovelties
Sell2BBNovelties is another best place to sell collectibles like Funko Pops and bulk Pokemon cards. To sell the cards on the platform, they must be in mint condition. Otherwise, their value may be low.
Their pay rates are as follows:
Holos: $0.10 each
Rares: $0.02 each
Reverse Holos: $0.05 each
Commons/Uncommons: $0.01 each
Energy Cards: $0.005 each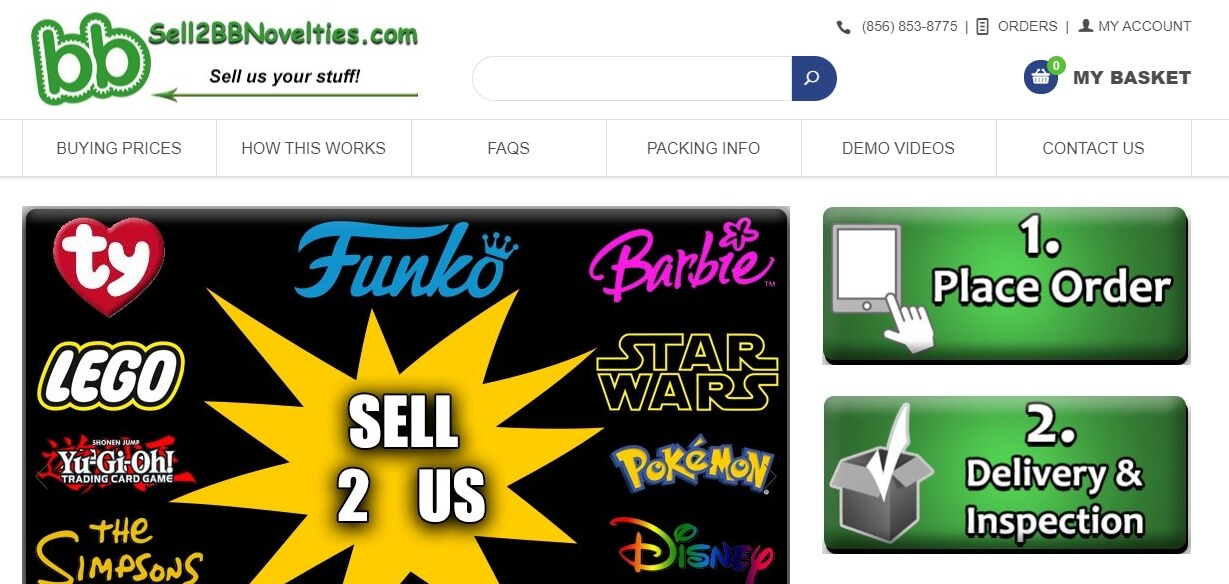 They also buy vintage cards, unlike other marketplaces. The rates for vintage Pokemon cards are much higher than for modern cards.
Another advantage is that Sell2BBNovelties offers free shipping for sales above $30. If you have a card collection worth this much, consider selling them on this platform.
The platform offers payment through PayPal, BBToyStore, and store credit.
9. Pokemon Facebook Groups
There are various Facebook groups where you can sell anything from Pokemon cards to sports cards. Different groups exist for different products, so you can find a Pokemon-oriented group and start making quick cash.
The first step to selling on Pokemon Facebook Groups is to post a clear, attractive photo of the collection you're selling. You also need to include the price in the post.
Once you find a buyer for your collection, you can negotiate shipping options and payment methods. You can also direct them to your listing if you're selling on other platforms like eBay.
The advantage of these groups is that they typically have no seller fees compared to other platforms. However, you must stick to the rules to prevent getting removed from the group.
10. eBay
Another great place you can sell your Pokemon cards in bulk is eBay. If you have a collection of rares and holographic cards you'd like to sell, this is the right platform for you.
Millions of people globally use eBay. You're, therefore, likely to sell your Pokemon cards faster due to the large audience of buyers.
To sell your cards on eBay, you only need to list them and set the prices. Ensure you take clear photos of the cards to attract buyers. You also need to make sure the cards are in good condition.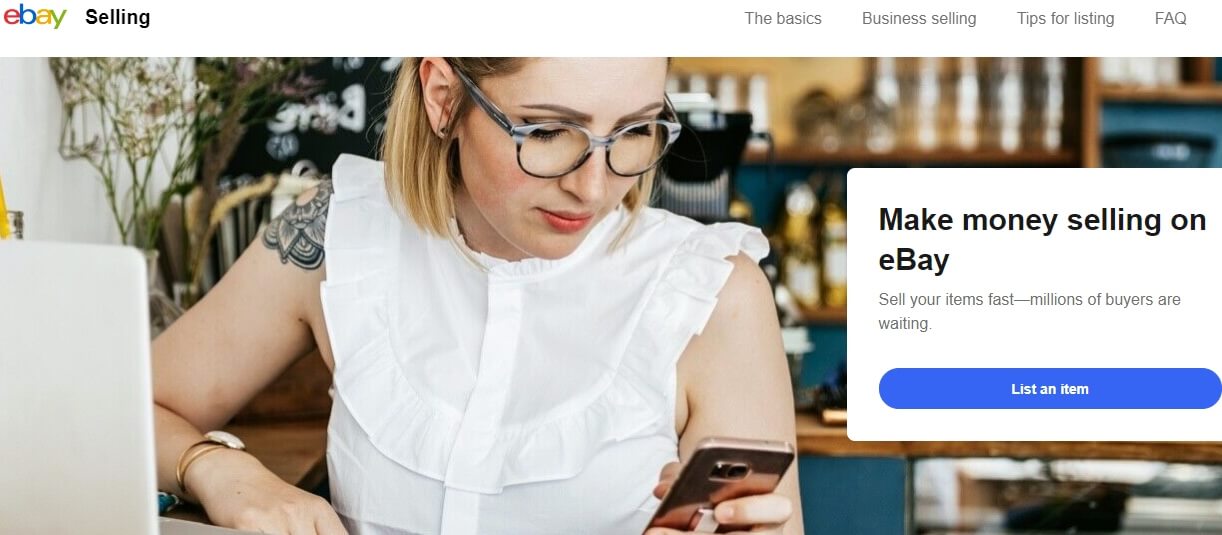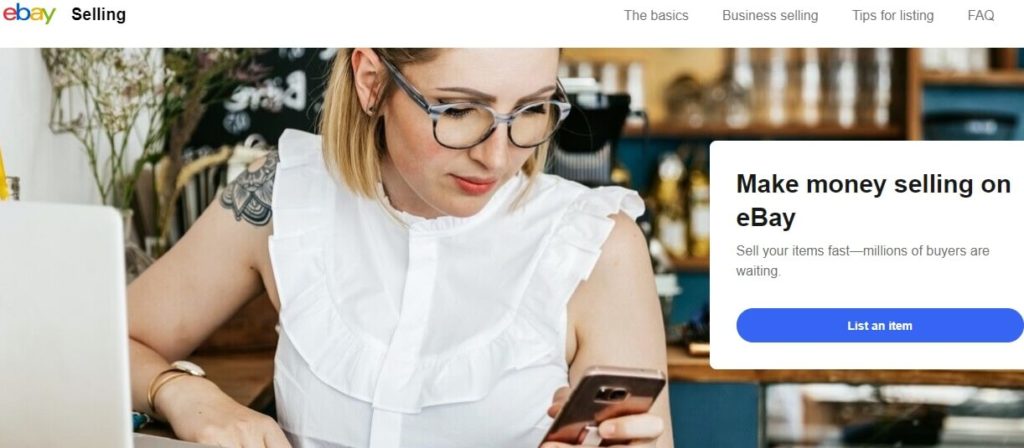 Pricing is an important consideration when you decide to sell your bulk Pokemon cards on eBay. The platform doesn't help you to set prices. You have to figure that out on your own.
You can use a site like Pokemon Prices to find out the value of your cards. All you have to do is enter the card and let Pokemon Prices do the rest. You can also track the historical prices of Pokemon cards on the site and keep tabs on pricing trends.
Ensure you set a fair price for your cards. Overpricing your cards can deter potential buyers. You can look at how other sellers are pricing similar cards.
Keep in mind that eBay charges a 5% seller fee for non-sport trading cards like Pokemon cards. You also have the option to choose to cover shipping or pass the baton to the buyer.
11. Cape Fear Games
Cape Fear Games is another great platform to sell Pokemon cards in bulk. To sell your cards to Cape Fear Games, send them an email describing the contents of your collection.
The platform has a buy list that provides information on the type of cards it currently buys. The buy list also gives you a rough estimate of the value of your cards.
The available payment methods include cash, check, PayPal, store credit, and MTGO credit.
Once you have checked the prices and chosen a payment method, submit your buy list to the company. Include the type of cards you want to sell and their condition.
The company emails you if they're interested in buying your cards. After this, you need to package the cards and ship them.
12. Puca Puca Games
You can sell your bulk Pokemon cards on this Puca Puca Games as long as they're in English and near-mint or above condition.
Once you confirm that your cards are in suitable condition and acceptable by the platform, you need to package them safely and place a free trade order.
Puca Puca Games then sends you a prepaid shipping label. Attach the label and drop off the package at your local post office. It takes 3-5 working days to process bulk orders.
Failure to sort your cards before shipping attracts a 20% sorting fee.
13. Pawn Shops
If you urgently need money and don't have the time to complete the formalities associated with selling on other platforms, consider selling your bulk cards at a pawn shop. 
You can make a good amount of your collection comprising rare cards.
The process is relatively simple, especially if the pawn shop owner knows about Pokemon cards. You may need to negotiate to ensure you get your cards' true worth.
You can search for Pokemon cards pawn shops near you on Google. It is also important to check if the shop mentions card selling. If they don't, then they probably won't trade in cards.
You can also call the shops to confirm if they buy Pokemon cards.
Extra Reading: Surprising Things You Didn't Know You Could Pawn
Tips for Selling Bulk Pokemon Cards
Now that you know the best places to sell bulk Pokemon cards, here are a few tips to make your selling process easier.
Sort Your Collection
Before you ship the cards, sort them out into categories based on rarity. This process will enable you to identify any cards below near-mint condition. Make sure you remove such cards from the collection.
It's important that you sort the cards to avoid getting penalized. Platforms like Puca Puca games will charge a 20% fee if you fail to sort the cards.
If your collection is massive, you can sort using software like Quicklist Card Scanning. This is faster than manual sorting.
Use Website Buylists
Most platforms that buy bulk Pokemon cards have buylists that help gauge your cards' value. They also tell you the kind of cards you can or can't sell.
Filling out a buylist may be tedious, but definitely worth the effort.
Consider Local Buyers
Selling your cards to local buyers like comic book stores is your best option if you want to sell them quickly. Selling online requires you to ship the items and wait for the processing, which may take 3-7 business days, depending on the platform.
However, selling to local stores may earn you less money than selling online. You can look up local buyers on apps like OfferUp. You can also consider selling at a pawn shop.
Ship Your Cards Properly
You need to pack the cards so they don't get damaged en route. Each website has clear instructions on what to do and what not to do when shipping.
Ensure you check the shipping policies before you ship your Pokemon cards collection.
Tips To Avoid Getting Scammed
Scammers are frequent in any marketplace, especially online. Here are some tips to avoid getting scammed as you sell your bulk Pokemon cards:
Only accept secure payment methods: Buyers may try to scam you using fake cheques, gift cards, or chargebacks. Only accept the payment methods approved by the platform you're selling on.
Meet in a safe place: If you have to meet a buyer, do so in a secure public place like a police station parking lot or a bank lobby.
Document everything. Ensure you keep good records of your transactions. You can document in writing or take pictures of the cards you're selling. Having pictures will help you evade scammers who may claim to have received poor-quality cards.
Do your research. If you're selling your Pokemon cards on platforms like eBay, which do not have a buylist, take time to research the true worth of your cards. You can use sites like Pokemon Prices.
Only sell on reputable platforms and to reputable buyers. Make sure a platform or buyer is legit before you transact with them.
Only ship cards after you receive payment. Some buyers may not pay you after receiving the collection. If possible, ensure you have received the payment before you ship the cards, especially if you're dealing with individual buyers.
Frequently Asked Questions
How Much Can I Sell Bulk Pokemon Cards For?
The value of bulk Pokemon cards depends on the type and condition. A general assumption is that bulk cards are worth about 10% of the value of the individual cards in the set.
The platforms that deal in bulk Pokemon card selling have buylists on their websites. You can look them up to guide you in determining the value of your cards.
Why Do People Buy Pokemon in Bulk?
Some people buy bulk Pokemon cards with the intention of flipping them on other platforms to earn profit. Others may purchase the Pokemon cards to add to an already existing collection.
How Do I Know My Pokemon Cards Are Worth Money?
The rarer the card, the higher the value. There are certain symbols on the cards that indicate rarity. For example, a circle means a card is common, while a diamond is uncommon.
The condition of a card is also an indicator of its value. You can check sites like Pokemon Prices to determine the true worth of your cards.
How Do I Sell a Large Pokemon Collection?
You can sell bulk Pokemon cards on several platforms like eBay, Troll and Toad, TCGplayer, and Facebook Marketplace.
You'll need to check out the buylists on the websites to determine if you have the right cards and their value. Once you identify a buyer, ship your cards to them and wait for your payment.
Final Thoughts
Pokemon is one of the most popular card games in the world today. Selling bulk Pokemon cards is a great way to make money as long as you know the value of your cards and where to sell them.
There's no fixed way to do it. You have to take your chances and look for ways to maximize profits. If you have a Pokemon card collection collecting dust, why not trade it in for a few bucks?
Happy selling!
Want more ways to make money selling stuff? Check out: