15 Best $20 Sign Up Bonus Apps & Websites for 2023
Updated on August 31, 2023
This post may contain affiliate links which means that sproutinue.com may make a small commission at no extra cost to you. We only promote products that we love and feel will benefit our readers. Please read our Disclosure Policy for more information.
Are you financially strapped and looking for ways to make money quickly? Well, look no further. Several apps and websites give a $20 sign up bonus to new users.
Whether you're looking to supplement your income or just get quick money for an emergency, this article includes 15 apps you can try to get free $20 credit when you sign up.
Some apps allow you to withdraw the free money immediately after signing up. However, you may need to complete a few simple tasks before cashing out.
If you stick around long enough, you'll learn a few valuable tricks and tips on maximizing your earnings on these websites to more than just $20.
Let's get started!
Want to make fast cash online? Try out:
Branded Surveys – Earn PayPal cash & gift cards for sharing your opinion!
SayMore – Share your thoughts and earn gift cards to popular stores!
The Best $20 Sign-Up Bonus Apps & Websites
Explore these websites if you want to make quick money online. The challenge lies in avoiding scams by identifying legit apps.
The best part is I've saved you the trouble by compiling a list of legit apps that offer at least $20 for free when you sign up.
Some offer real PayPal money, while others pay in rewards like Amazon gift cards. Either way, the principle is the same. These apps pay you to sign up.
Dive into this list to get your free money today. Rest assured, you don't need to make any deposit, so you have nothing to lose.
1. Rakuten
The first on the list of the best websites that offer a $20 sign up bonus is Rakuten. This platform provides you cashback for shopping at popular stores such as:
Walmart
Sephora
Lenovo
Nike
Dell Technologies
With Rakuten, you're not limited to shopping alone. You can also earn cash back for dining at restaurants or ride-sharing with its partners.
Rakuten offers you a $10 sign-up bonus when you create an account for the first time. You also earn an additional $10 when you spend $25.
All you have to do is sign up on the Rakuten app or website, then spend at least $25 to earn $20 in free cash. You can also use the Rakuten Chrome extension to simplify your shopping experience.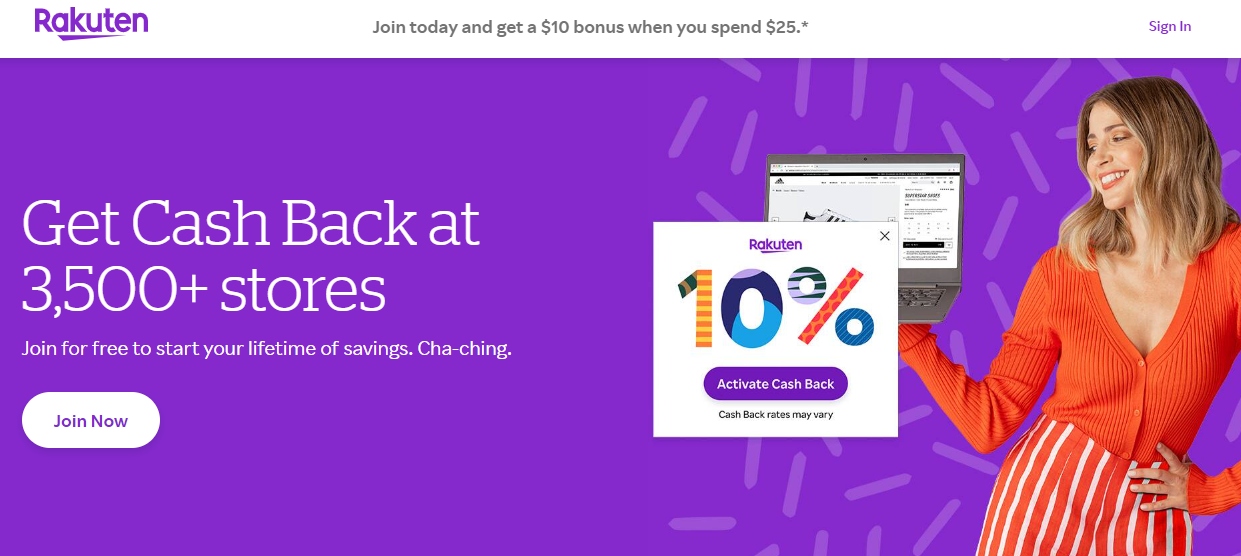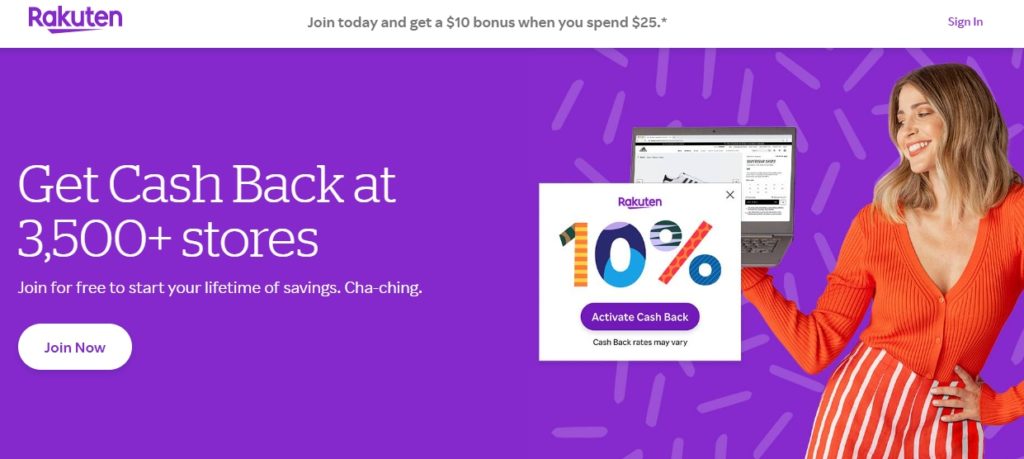 While using Rakuten is an excellent way to get paid to shop, it's not a great option if you need money quickly since it pays quarterly. They award you cashback in points you can redeem for PayPal money or check.
Besides the sign up bonus, you can make $30 fast through Rakuten's invite-a-friend program. This involves generating a unique link and sending it to your family and friends.
You'll receive a $30 referral bonus for everyone who joins Rakuten using your unique link and makes a qualifying purchase within 90 days.
While Rakuten doesn't let you cash out your bonuses immediately, it can be a tremendous passive side hustle since you'll purchase stuff you'd anyway.
2. Tada
Tada is similar to Rakuten in that it allows you to earn up to 20% cash back on groceries and other everyday purchases.
It partners with different global brands, increasing your earning potential since the more partners, the more deals you can find.
Some of Tada's partners include:
Walmart
Amazon
Burger King
eBay
Groupon
Tada will pay you $15 just for signing up and uploading your first receipt. Here's a breakdown of the Tada sign up bonus and how to earn it:
Get $3 by downloading and signing up on the Tada app or Chrome extension. You must also link your card to qualify for this bonus.
Receive $2 by purchasing a qualifying item and scanning your receipt within 30 days of signing up.
Earn a $10 bonus by spending at least $25 at an online store within 30 days of signing up.
Once you earn your bonus, Tada allows you to cash out via PayPal or gift cards. Some gift cards cost about $15, so you can cash out instantly.
However, you must accumulate about $20 to cash out via PayPal. You'll therefore have to make more purchases to raise the additional $5.
While this may be a drawback if you need cash urgently, Tada is an excellent app to earn free PayPal money since it provides cashback even for essential goods.
3. Current
If you want to enjoy convenient banking services to build your credit while earning money, Current is the right financial app for you.
Current offers new users a $50 sign up bonus. You can claim yours in three simple steps:
Sign up for Current
Enter the code 'WELCOME50.'
Deposit of at least $200 within 45 days of joining the platform
You can pocket an additional $50 by referring your contacts to the platform. Your friend must make a qualifying $200 deposit for you to receive your referral bonus.
A significant upside of Current is that it has no monthly or annual fees. What's more, they don't check your credit history when you apply.
It also serves as a great saving tool, allowing you to save simultaneously towards several goals in different saving pods. You can also automate your savings by allowing Current to round up your spare change automatically.
Additionally, you can earn up to 4% APY on your savings, which is an excellent margin for a high-yield savings account.
You'll like this app better if you're a crypto enthusiast. Current offers dozens of coins to invest in and improve your financial portfolio with as little as $1.
While Current has a lucrative welcome bonus, it may not be the best option for everyone, especially with the deposit requirement. Fortunately, there are several instant sign up bonus no deposit bank account offers you can try.
4. Acorns
Acorns is an excellent opportunity if you're passionate about investing and securing your future. Generally, Acorns rounds up your spare change and invests it when it accumulates to about $5.
The platform allows you to diversify your portfolio by allowing you to invest in over 7000 stocks and bonds.
What I find attractive about Acorns is how they determine the type of investments you need based on the personal information you enter when signing up. Even if you're close to retirement, investing with Acorns is never too late.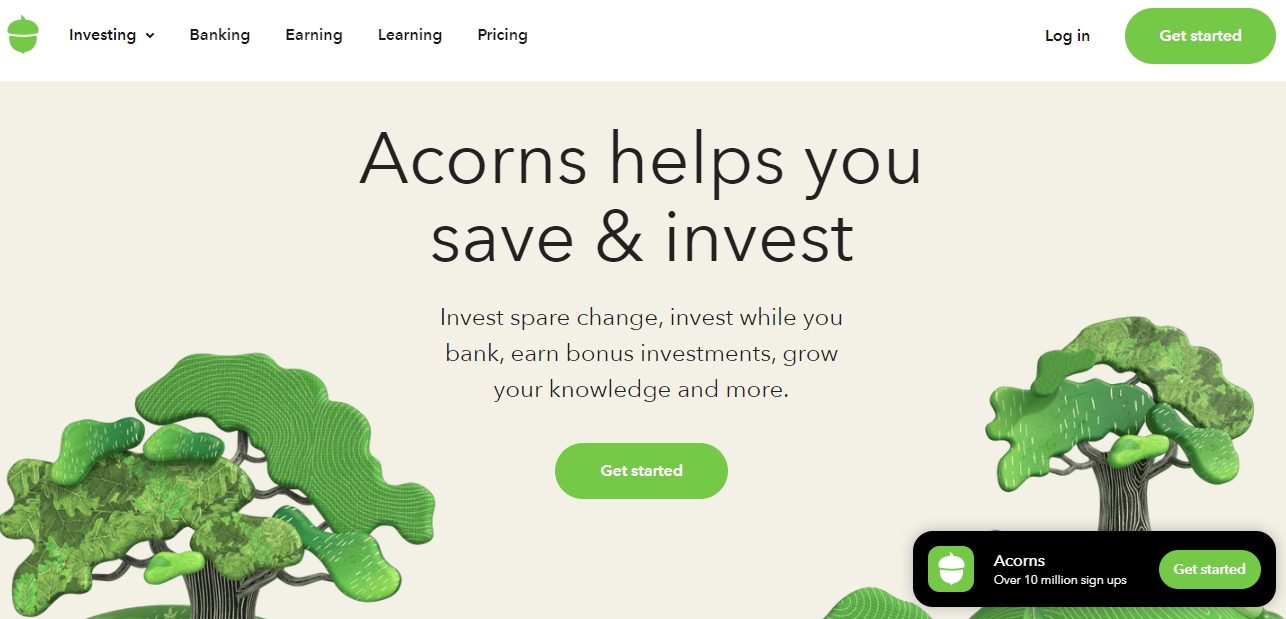 Acorns offers a $5 sign up bonus when you join through a referral link. You can also earn an additional $5 by referring a friend to the platform. Since there's no limit to the number of friends you can invite, you can easily earn $20 or more for free using this referral program.
While Acorns is a great way to make quick cash for free, it may not be helpful if you need money urgently. Your bonus is invested in your portfolio, so you can't withdraw it instantly.
5. Nielsen Panel
Another $20 sign up bonus comes from Nielsen Panel, a leading market research platform.
As a member of the Nielsen panel, you only have to watch your favorite TV stations and programs or use certain mobile apps while sharing your data.
Nielsen uses your data to analyze consumer habits and find ways to improve their products and services.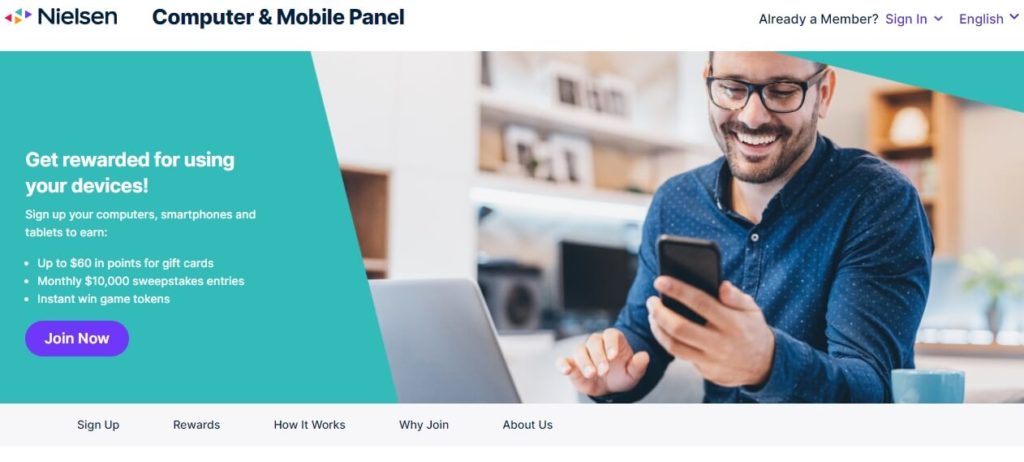 Nielsen currently offers $60 annually for sharing your data, which you can cash out via PayPal or gift cards. However, the compensation may vary depending on the type of panel you're in and your location.
Nielsen is an excellent passive income app. However, you must be invited to join a panel, so it may not be an opportunity for everyone.
6. Upromise
Are you seeking strategies to raise funds for your child's college tuition? If so, Upromise allows you to earn cash back and save on college fees.
Upromise is similar to Rakuten and Tada, only that you have a specific educational goal. As of now, Upromise $30 to new members.
Follow these steps to earn rewards on Upromise:
Create a free account
Link your 529 college savings plan
Shop or dine online at Upromise partner stores
Get paid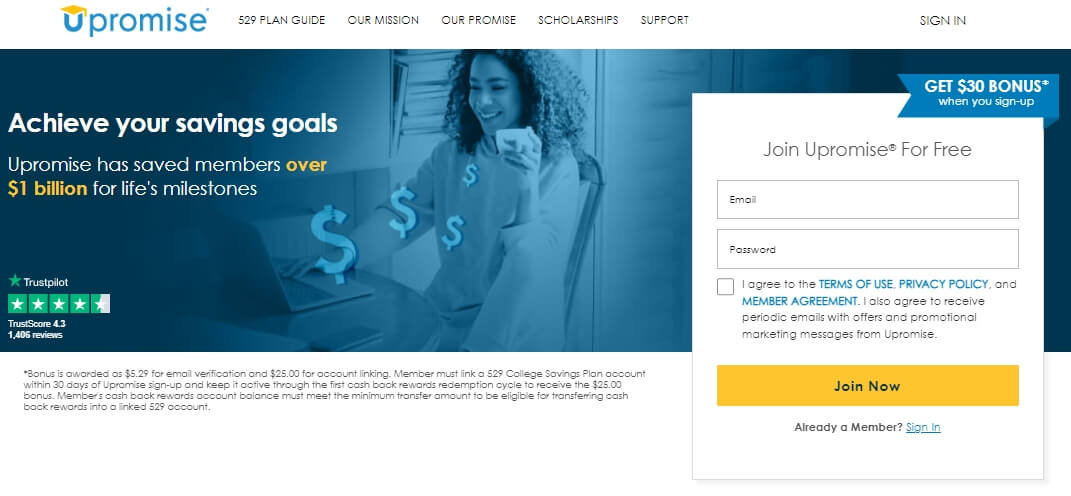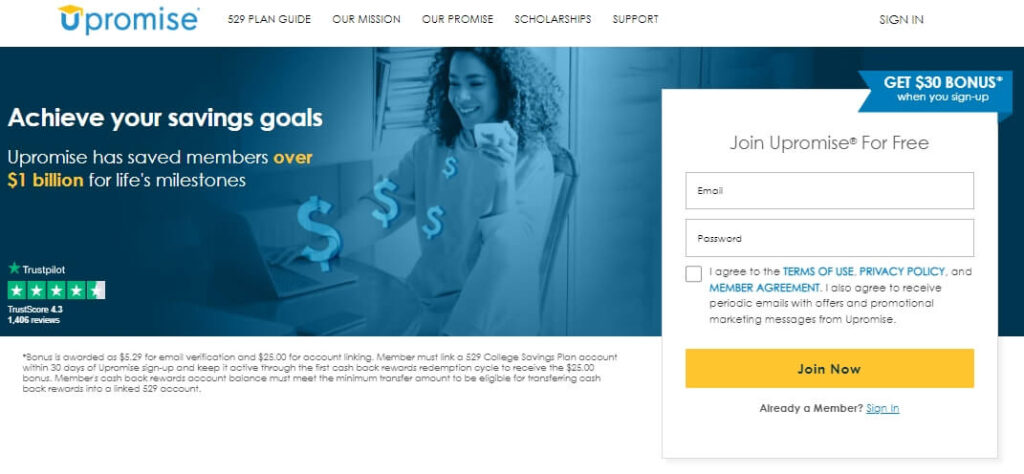 You earn a $5.29 bonus upon signing up and an additional $25 bonus when you link your 529 plan to your Upromise account.
You may earn a $529 scholarship that Upromise awards monthly if you're lucky enough. All you have to do is be active on Upromise to get a chance into the drawing.
Your cashback is automatically transferred to your linked bank account. You can withdraw your earnings during the first week of the month if you accumulate at least $50.
7. Ibotta
If you're still looking for apps that offer a $20 sign up bonus, Ibotta is worth a try. With Ibotta, you can earn up to 30% cash back on stuff you usually buy.
It partners with thousands of online retailers globally, ensuring you have a variety to choose from and a diverse opportunity to save on home goods.
Some of their partners include the following:
Travelocity
Target
Sling TV
Costco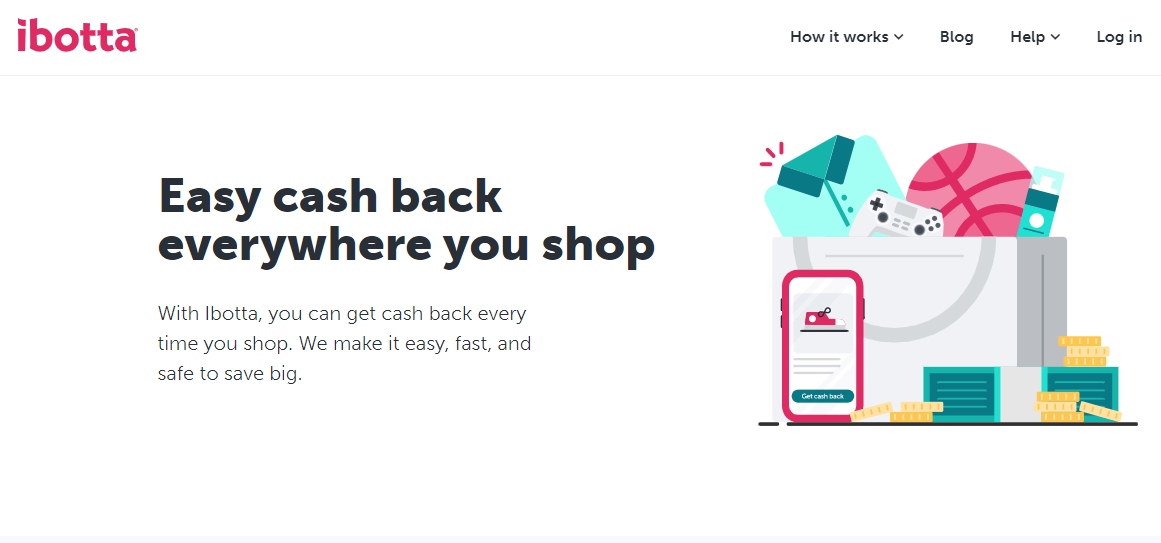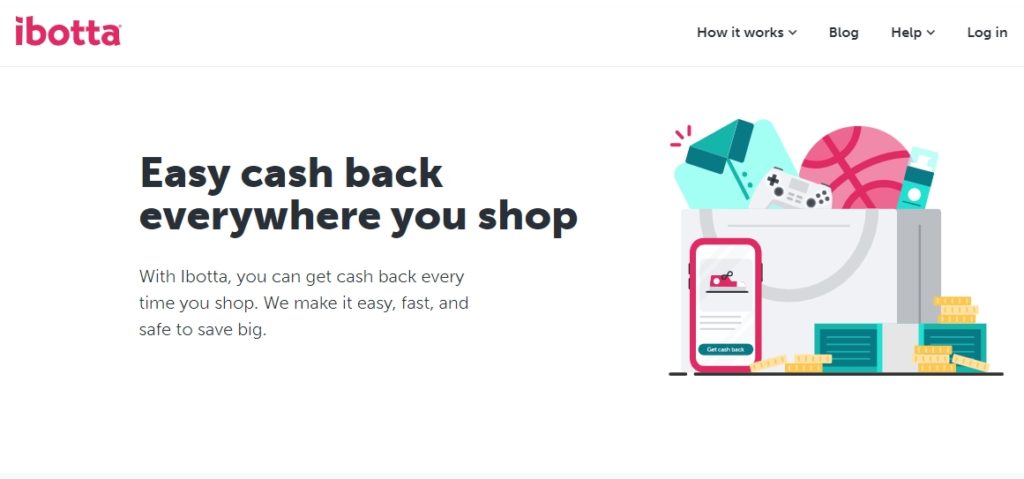 Ibotta rewards you with a $10 sign up bonus when you create an account and spend at least $30. You can also increase your earnings by referring friends to the platform. 
You only have to generate and share your unique link with your friends and family. Your referral bonus is delivered once a friend joins through your link and makes a qualifying offer.
The best part is that Ibotta doesn't limit you to a specific number of referrals. Monetize this opportunity by inviting as many people as possible.
8. Survey Sites
Using get-paid-to sites is among the easiest ways to earn a free $20 credit when you sign up. In addition to answering surveys, these sites pay you to complete other simple tasks online, such as:
Completing offers
Reading emails
Watching ads
GPT sites provide an excellent opportunity to make money on your phone during your free time. Here are some of the best-paid survey sites to consider:
Branded Surveys ($1): With four stars on Trustpilot, Branded Surveys is among the best survey sites. You earn $1 by just signing up on the platform.
Toluna (500 points): This survey site pays you a welcome bonus of 500 points, equivalent to about $0.17.
Swagbucks ($10): If you're looking for a rewards site that offers diverse opportunities to make money, Swagbucks is it. It provides a $10 sign up bonus. And if you invite a friend to the platform, Swagbucks lets you earn 10% of their lifetime earnings.
InboxDollars ($5): Like Swagbucks, InboxDollars also offers various ways to make money, including playing games and watching videos. They pay you a $5 sig nup bonus.
MyPoints ($10): This survey site lets you make money by playing games, shopping, and answering surveys. You earn $10 instantly upon signing up.
Opinion Outpost: While Opinion Outpost doesn't offer a sign up bonus, it's an excellent way to get paid to share your opinion.
YouGov: If you're still searching for a survey site that pays you to share your opinion, try YouGov. Unfortunately, it doesn't offer a sign up bonus.
9. Stash
Another way to earn free $20 credit when you sign up is by joining Stash.
Stash is an investment app that allows you to diversify your financial portfolio. If it's your first time investing, Stash is the best app for you since it's beginner-friendly.
They have professionals who offer expert advice on investing your money based on factors such as your goals and risk tolerance.
With Stash, you also have the opportunity to automate your investments, especially if it usually slips your mind.
All you have to do is provide the required personal information and then leave the rest to the Stash experts. The experts use your data to create a diversified portfolio and secure your future.
Stash offers a $20 sign up bonus when you create an account and link a working bank account. Also, you must deposit at least $5 into your account to qualify for the bonus.
The platform also requires that your bonus funds remain in your account for 90 days after signing up. This makes Stash unsuitable if you aim to get cash immediately.
You can also make $30 fast by referring people to the Stash app. To qualify for the $30 referral bonus, your friend must create a Stash account, link their bank, and deposit money into a qualifying account.
10. Uphold
If you're into crypto, Uphold is the best $20 sign up bonus app. It allows you to buy and trade over 250 cryptocurrencies, multiple national currencies, and precious metals.
Some of the popular digital assets available on the Uphold website include:
Ethereum
Bitcoin
Solana
Ripple
DOGE
As of now, Uphold gives new members $20 worth of Bitcoin. However, someone must invite you to join the app.
You can also create an Uphold account and refer friends to join the app. For every successful referral, you'll earn $20 worth of Bitcoin.
To earn the referral bonus, the person you invite must fund the account with at least $250 after joining.
11. Cash App
Cash App is a financial service platform that allows you to send and receive money, buy bitcoin and stocks while saving on transaction costs.
A significant upside is that Cash App accepts users aged 13 and up. It can therefore be an excellent financial platform even for kids under 18 years.
Cash App rewards you with a $5 welcome bonus when you sign up using a member's referral link. Follow these steps to sign up and qualify for a reward:
Download Cash App
Use the referral code to create an account
If you're between 13 and 17, request your parent's approval
Link your bank to your Cash App account
Send $5 within the first 14 days of signing up
Once settled in, generate your link and send it to your friends and family to earn more extra cash. Ensure your friend follows the procedure above to qualify for the referral bonus.
12. Fundrise
Crowdfunding has made it possible to invest in real estate, especially if you can't raise enough funds to purchase an entire property.
Platforms like Fundrise allow you to invest and earn daily in property shares for as low as $10. The crowdfunding platform pulls funds from different investors to purchase properties.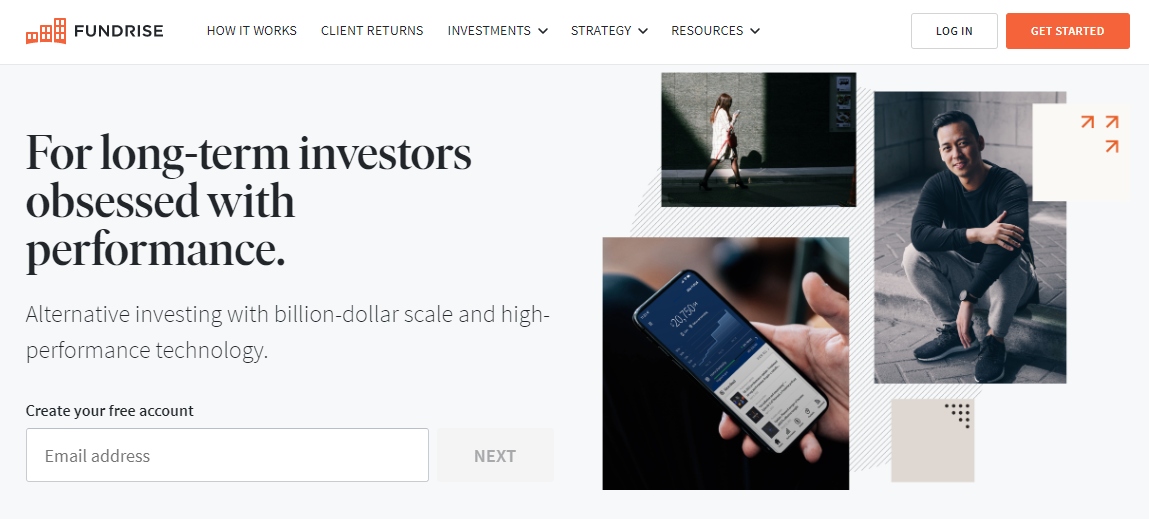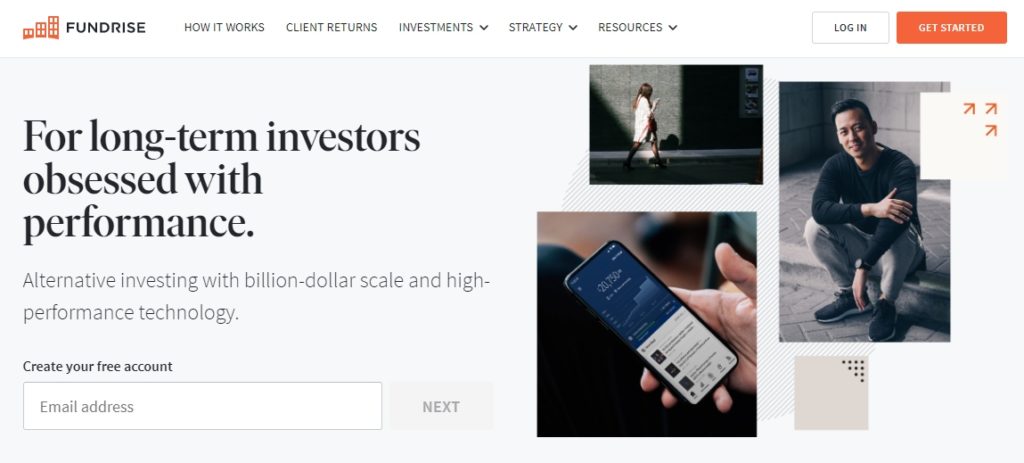 As an investor, you own a share capital of the property. Therefore, you earn quarterly rental income when the rental properties generate income.
Fundrise awards you a $10 sign up bonus in the form of shares when you create a new account. You must also invest at least $10 within the first month to qualify for this bonus.
While this isn't a $20 sign up bonus, you can earn more by referring friends to the platform. Fundrise pays you between $25 and $100 for every friend you invite, depending on your account's value.
13. Albert
Another site that lets you earn free $20 credit when you sign up is Albert. Albert is a finance app that allows you to conveniently bank, save, and invest your money.
As an Albert member, you can get a cash advance of up to $250, especially when you need emergency funds. Advantageously, they don't conduct credit checks or charge interest.
Besides granting you an advance when needed, Albert allows you to invest your money for as low as $1. It also lets you automate your savings.
Albert offers a lucrative sign up bonus of $150 to new members. To qualify for the bonus, you must meet the following requirements:
Receive a direct deposit of $500 or more within 45 days of account opening and every month for 90 consecutive days.
Spend at least $200 on qualifying purchases using Albert's debit card within 90 days
Meet the abbove requirements within 150 days of creating an Albert account
Albert also has a referral program that allows you to earn about $50 for every person you refer. You also qualify for a $50 cash advance when you sign up through a member's referral link.
14. Venmo
Like PayPal, Venmo lets you send and receive money anywhere in the world. It also allows you conveniently split bills with friends and send generous gifts.
Additionally, you can earn up to 3% cashback on eligible purchases with the Venmo credit card. You can opt to invest in crypto using your cashback.
When you join the app, Venmo pays you a $10 sign up bonus. Complete the following requirements to be eligible for the reward:
Create a valid Venmo account
Add and verify your phone number
Enter and save your promo code
Make a qualifying payment of at least $5
Inviting a friend also earns you $10 in free cash.
15. Spruce
The final $20 sign up bonus comes from Spruce, a mobile fintech platform that lets you organize your transactions and develop good financial habits.
It also allows you to earn cash back from select retailers. With over 10,000 partners, you'll probably earn money back shopping from your favorite stores.
Spruce offers a $50 sign up bonus when you open a new account and set a qualifying direct deposit of at least $200 within the first 45 days of signing up.
With Spruce, you can enjoy several other perks, like no minimum balance requirements, no monthly fees, and overdraft protection of up to $20.
Tips for Earning a Free $20 Sign Up Bonus
Now that you're familiar with apps and websites that pay you $20 or more for signing up, here are some tips and tricks to maximize your income and avoid scams.
Do your due diligence: It's imperative to research your platform of choice to determine what you must do to qualify for the sign up bonus. For instance, some platforms like Tada require that you make a qualifying purchase before withdrawing your cash.
Be realistic: Being realistic is critical when venturing into these platforms. Avoid getting carried away; otherwise, you may end up with too many accounts on apps you don't need.
Use multiple platforms simultaneously: This is the key to maximizing your income on these platforms. Consider signing up on different platforms at once to gain various rewards. But only sign up for apps & sites that you actually want to use.
Carefully read the terms & conditions: Before you join any app or site, read the fine print of the terms.
Frequently Asked Questions
How Do I Get $20 From Signing Up?
Getting a free $20 is easy since most apps and websites use sign up bonuses to attract more customers.
Here are apps and websites that offer a $20 sign up bonus:
Rakuten
Tada
Upromise
Uphold
Stash
Ibotta
It's essential to read the fine print to determine if you must complete specific tasks to get the free cash. For instance, some apps may require you to make a deposit or wait a certain period before cashing out.
What App Pays You Instantly for Signing Up?
Several apps pay you free money for just signing up. For some, you can withdraw your money instantly. Sometimes, you may need to meet a few requirements before cashing out.
Some apps that pay you instantly for signing up include:
Rakuten
Swagbucks
Cash App
Tada
Venmo
Fundrise
Final Thoughts
With the knowledge of apps and websites offering a $20 sign up bonus, it's time to snag these offers.
Always read the terms and conditions carefully to determine if you need to meet some requirements to qualify for the bonuses.
Also, conduct thorough research to avoid getting scammed or violating your privacy. Lastly, try out different apps simultaneously to maximize your earnings.
Looking for more ways to make money? Read these posts: