Is Instacart Worth It for Shoppers? How It Works, Estimated Pay, Pros & Cons
Updated on April 21, 2023
This post may contain affiliate links which means that sproutinue.com may make a small commission at no extra cost to you. We only promote products that we love and feel will benefit our readers. Please read our Disclosure Policy for more information.
If you're looking for side hustle ideas, you've probably come across Instacart, a delivery service where you get paid to shop and deliver groceries to people in your area. Given that other delivery jobs like DoorDash and Uber Eats exist, is Instacart worth it?
Becoming an Instacart shopper can be a lucrative side gig, but it might not be for everyone. In this Instacart review, you'll learn all you need to know about Instacart, so you can make an informed decision about becoming an Instacart shopper.
What Is Instacart?
Instacart is a grocery delivery service that began in 2012 but skyrocketed in popularity during the COVID-19 shutdown. It's a platform that connects grocery customers to service providers (or shoppers) in their area.
Instacart currently operates in more than 5,500 cities all over the U.S. and Canada. It's also in partnership with major retailers and grocery stores like:
Costco
Target
Aldi
Albertsons
CVS
Kroger
Wegmans
Loblaw
Sprouts
Sam's Club
Publix
Instacart's model is much like other delivery gig jobs like DoorDash and GrubHub in that you sign up to work as an independent contractor. The major difference is that you'll be delivering groceries instead of fast food.
Is Instacart Worth It for Shoppers?
If you're looking for a flexible side gig where you earn up to $20 an hour and get to choose your schedule, then Instacart is worth it. Many Instacart shoppers feel that it's worth their time, as there are no minimum hours to work, and there are plenty of incentives and bonuses to boost their earnings.
While Instacart is a great delivery service that allows you to earn money on the side, you should not expect it to replace your day job.
You're an independent contractor, so there's no guarantee of a specific hourly pay or the number of batches you can deliver. Some shoppers also complain that Instacart is sometimes slow, so you should consider this when deciding.
How Much Can You Make as an Instacart Shopper?
Based on Instacart shopper reviews and salary review sites, you can make approximately $15-$20 per hour as an Instacart shopper. Earnings vary based on your role type, how many orders you complete, and the customer tips you receive.
While some delivery gigs have a steady hourly rate, Instacart pays shoppers based on factors like:
Batch size
Difficulty
Delivery distance
Base pay
"Heavy fee" for heavier products
Customer tips (you keep 100%)
For this reason, you can make up to $20 or more per hour if you land high-paying batches and deliver in a busy location. How fast and efficient you're at shopping will also determine how much you make.
In-store Instacart shoppers make roughly $13 per hour, but there's no flat hourly wage for full-service shoppers. According to experienced Instacart shoppers, the pay gets better once you've got the hang of it and can optimize your time.
So, is Instacart worth it? Considering the amount of money you make, it's definitely one of the more worthwhile side hustles.
What Other Instacart Shoppers Say
No one can answer the question "is Instacart worth it" better than shoppers already working for Instacart.
There are many shopper reviews on trusted sites like Reddit, Glassdoor, and Indeed. These are all excellent sources of information on what it's like to work as an Instacart shopper.
There are varying responses from Instacart shoppers, ranging from helpful Instacart shopper tips and tricks to help maximize earnings to complaints about gas and taxes cutting into one's earnings.
Some shoppers claim to make up to $300 per day on the app and share their tips. Here are a few examples:
Based on shopper reviews, various factors impact your earnings, but the consensus is you can make a significant amount of money working as an Instacart shopper.
One major complaint among Instacart shoppers is poor tipping among customers. This shopper shares their experience on Reddit:
How To Become an Instacart Shopper
If you've decided that Instacart is a worthwhile delivery gig and want to try it, you'll have to follow a few simple steps.
Before you can sign up, it's important to decide whether you'd like to be an in-store or full-service shopper, as the requirements vary slightly.
Here are the Instacart shopper requirements, broken down into in-store and full-service shoppers:
To become a full-service shopper, you must meet the following requirements:
Be at least 18 years old
Have a valid driver's license
Have a clean driving record
Be able to lift at least 50 pounds without help
Have access to a reliable car with vehicle insurance
Own a smartphone that supports the Instacart app
Pass the Instacart background check
To become an in-store shopper, you must meet the following requirements:
Be at least 18 years old
Be legally able to work in the U.S. or Canada
Be able to lift at least 50 pounds without help
Have access to a smartphone that runs the Instacart app
Pass the Instacart background check
If you have issues with your driving record or don't have access to a reliable vehicle, working as an in-store Instacart shopper is a good option.
If you meet the requirements and would like to sign up for the Instacart app, follow the following simple steps, which take 15 minutes or less: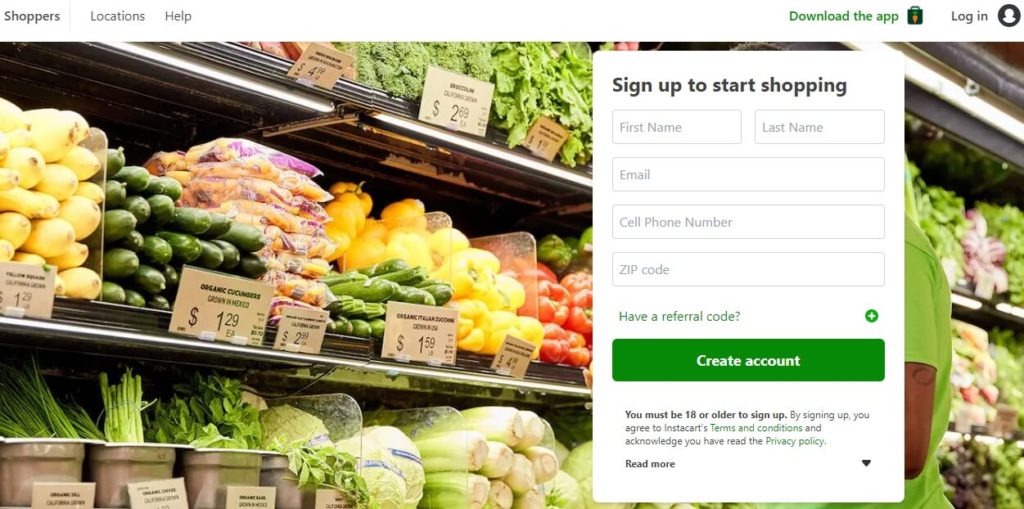 1. Sign Up for an Account
Go to Instacart's official page, and navigate to the shopper sign-up page. You'll have to provide details like your name, phone number, email address, and zip code. From there, Instacart sends you a link to download the app.
2. Fill In Your Details
You'll then have to provide additional details such as your Social Security number, driver's license number, and bank information (for payment purposes). You'll then be asked to consent to a background check, which is standard procedure.
3. Wait for Approval
Instacart takes about 5-10 business days to approve applicant requests. Once approved, you'll go through their online onboarding process, where you'll learn the basics of working for Instacart.
If there are many shoppers in your area, you may be put on the Instacart waitlist.
4. Start shopping
Once you've completed the onboarding process, you can start working immediately. Instacart mails you a payment card that you'll use for checkout and paying for groceries. You'll choose your orders in the app, depending on what's convenient for you.
If you need more help with the sign-up process, you can watch the following informative YouTube Video.
How Does Instacart Work for Shoppers?
Although Instacart is much like other apps that pay you to drive, there are a couple of unique features. 
If you're considering signing up for Instacart and would like to know what a typical day looks like, here's what you should expect as an Instacart shopper:
1. Receive and Accept Batches
After you sign up for Instacart and get approved as a shopper, the first thing you'll see in the app is a list of batches or orders currently available for deliveries.
You can browse the batches to find an order you'd like to shop for. Each batch has details including:
The products needed
Specific stores to shop at
The distance of delivery you'll cover to drop off the items
Your approximate earnings, factoring in Instacart's pay and chances of a tip
Once you come across a batch you want, simply touch the "start shopping" tab to claim it. Ensure you're at the grocery store and available to shop so the customer knows you're ready to start shopping for the order.
You also have the option to communicate with the customer, and this is highly recommended. Tell them they can reach you via the app if they want to change their order or have additional questions.
Communicating with the customer helps to clarify any questions on both parts, which ensures you successfully complete the order, and increases your chances of getting a tip.
2. Start Shopping
Once you're in the store and ready to start shopping, you can use the Instacart app as your guide. Not only does it have a list of items you should get, but they're usually grouped into the sections you'd typically see in the grocery store to make your shopping experience easier.
Each time you shop and get an item on the list, mark it in the app that you've found it. You can scan the item barcodes or manually enter the products' names into the app to confirm that the products have been found and added to the cart.
Do this for every item as you go down the list. Sometimes, there will be products on the list that are out of stock. In some cases, the customer leaves notes about a substitution preference they have, so you can switch the item for a similar brand.
If there are no preferences, you can choose the customer. If you're unsure, that's what the communication feature is for. Get in touch with the customer and get their opinion.
Generally, shoppers can get through batches with few substitutions.
3. Proceed to Checkout
Once you've assembled every item in the batch, you're good to check out. Instacart gives its shoppers a prepaid debit card to pay for the items.
Typically, the company will pre-approve a specific amount based on the batch you received, so you don't have to worry about running out of funds and paying out of your pocket.
In the unlikely event that your Instacart Payment Card is low on funds because of an error, you can contact Instacart shopper support via the app for help.
4. Complete the Delivery
After checking out the items, you can load them up in your vehicle.
Be careful when loading the grocery bags, so you don't smush things like fruit or spill liquids. You should store temperature-sensitive items like hot meals or ice cream in an insulated food delivery bag.
Once you're loaded and ready to go, you can use the Instacart app for directions to the drop-off location. Inform the customer that you're en route with the order.
Instacart customers typically leave drop-off instructions like the building door code and whether they prefer contactless delivery, where you leave the items at the doorstep instead of ringing the door.
Follow the customer's instructions, drop off the order, and photograph the items for proof of delivery. Mark the batch as complete to accept more batches.
5. Get Paid
Payments are typically processed approximately 30 minutes to an hour after finishing a batch. You can check your account after an hour to see if your earnings have reflected.
Instacart pays its shoppers weekly via direct deposit. If you're a full-service shopper, you can use the Instacart instant cash out option after you've completed your first five batches. With this option, your earnings are transferred to your debit card about two hours after batch completion.
Instacart customers also get to rate the shoppers and their ordering experience, and this is used to score you on a scale of one to five stars. A high shopper rating has perks like seeing batches before shoppers with lower ratings.
If you get too many negative reviews and your rating drops too low, you risk facing Instacart deactivation.
What You Should Know Before Signing up as an Instacart Shopper
Before we can conclusively answer the question, "is Instacart worth it" there are a few things you must know, especially as a full-service shopper. You'll incur several costs as an independent contractor, which will impact your earnings significantly.
Here are a couple of expenses you should be aware of:
Fuel: If you're wondering whether Instacart pays for gas, it does not. As an independent contractor, gas is your responsibility. As such, factors like your car's fuel mileage will significantly affect your earnings.
Repair and maintenance: Since most of your work involves driving your vehicle, your car will need more frequent maintenance, like fluid changes, getting new tires, brake pads, and changing oil. This can also be a significant expense that cuts into your earnings.
Insurance: Some Instacart shoppers use special rideshare insurance. This type of insurance ensures you're fully covered in case you're involved in an accident. You can consider this option on top of your regular car insurance.
This may sound discouraging but remember you'd incur the same costs if you worked for other delivery services like DoorDash and Uber Eats. You can write these expenses off when filing your self-employment taxes come tax season.
Working for Instacart Pros and Cons
If you're still wondering whether Instacart is worth it, weigh the pros against the cons.
While Instacart is one of the top delivery services, there are some downsides to working as a shopper. Here are a couple of pros and cons to help you make an informed decision:
Pros
Flexible working hours
Relatively good pay
No minimum hours required
More earning opportunities for high-rated shoppers
Instant cash out option
Cons
Expenses cut into your earnings
No guaranteed orders
Some customers don't tip
Tips To Maximize Your Earnings as an Instacart Shopper
Some shoppers are making good money working for Instacart, and you can too. Below are a few Instacart shopper tips and strategies to boost your earnings.
1. Work During Peak Shopping Hours
One of the best strategies for Instacart shoppers is working during the busiest hours.
Shoppers report seeing the highest number of batches between 6 a.m. and 9 a.m. in the morning. Saturday and Sunday are also popular grocery shopping days.
Instacart usually has Peak Boosts during busy shopping hours, which you can use to increase your daily earnings. You can take advantage of these promotions and bonuses to boost your income.
2. Improve Your Efficiency
The faster you shop, the more orders you complete, and the more money you'll make. Take time to familiarize yourself with how the stores are laid out so you can shop faster.
Whenever you get an order, go through the entire list so you can plan your route before you start shopping. This way, you'll take less time on each order and increase your orders per shift.
Besides, a fast delivery could earn you a generous tip.
3. Accept Big Batches
Most Instacart shoppers prefer the bigger batches, as they typically pay more than the small orders. Larger orders mean you spend more time in the store and may have a high difficulty level, so you're entitled to more money.
Spending time on one large order may be more worthwhile than two or three smaller orders.
4. Avoid Multiple Orders as a Beginner
As a beginner Instacart shopper, you should avoid double and multiple orders, as they can be overwhelming.
Other Jobs Like Instacart
Instacart is just one in a long list of delivery gig apps where you can get paid for delivery services. If you're looking for other jobs like Instacart to try, consider the following popular alternatives:
Frequently Asked Questions
1. Can You Actually Make Money on Instacart?
Instacart is a legitimate delivery service platform where you can make at least $5 for each delivery-only batch and $7-$10 for each full-service batch.
Based on shopper reviews on trusted sites, Instacart is a safe platform where you can work on your own schedule and get paid.
2. Do Instacart Shoppers Make Good Money?
As an Instacart shopper, you can earn up to $25 an hour based on factors like batch size, location, and available jobs. This is relatively good pay compared to other gigs and is higher than the minimum wage in some states.
So if you value flexibility, Instacart offers a great opportunity to make good money on the side.
3. Do You Need Insulated Bags for Instacart?
For Instacart shoppers, you're required to use insulated bags for temperature-sensitive foods like ice cream and hot meals. You can purchase the Instacart brand or find another. Instacart provides its shoppers with four insulated bags from an approved vendor in the Instacart app.
4. How Do I Get My $100 Bonus on Instacart?
Instacart offers a $100 weekly bonus to shoppers who complete at least 20 orders, have a 5-star rating, and are in the top 25 rated shoppers in their zone.
To earn the bonus, you must be in the top 5% in your area in terms of performance. Bonuses are also given for referring friends who sign up for Instacart and complete at least 40 hours.
5. Can You Make a Living off Instacart?
If you strategize well and work hard, you can make up to $1,000 a week as an Instacart shopper. Other factors that could help are if you live in a busy location and you maintain a five-star rating. Top-rated shoppers enjoy bonuses, and these boost your earnings.
6. Is Instacart Worth It With Gas Prices?
High gas prices significantly cut into your Instacart earnings, but delivering groceries could still be worth it. You can try different strategies to reduce your expenses, like using cash back apps like Fetch Rewards, which could help you save on fuel.
7. Is Instacart Worth It After Taxes?
You can still keep a good portion of your profits from Instacart after taxes, so it's worth it. This also depends on how much you work. Instacart shoppers are independent contractors, so it's your job to track your income and expenses so it's easier to file taxes.
8. Is Instacart Better Than Doordash?
Instacart and DoorDash both pay well, but DoorDash has a more steady rate compared to Instacart. Dashers earn $23 per hour, while Instacart shoppers earn anywhere from $15 to $25 depending on their role, market, and customer tips.
There are a few differences between Instacart and DoorDash, so it comes down to your preference.
9. Can I Make $200 a Day With Instacart?
Yes, you can make $200 daily with Instacart, provided you strategize properly. There are shopper tips like working during peak hours, picking the best batches, and improving your customer service that significantly increases your earnings.
10. Can You Make $1000 a Week With Instacart?
Instacart shoppers make anywhere from $200 to $1,000 a week. The amount you make per week depends on factors like how much you work, your role type (in-store or full-service shopper), how many orders you complete, and the size of each order.
The more orders you complete, the more money you make.
Final Thoughts: Is Instacart Worth It?
To wrap up, Instacart is a worthwhile pursuit for anyone looking to make extra money while working on a flexible schedule. Instacart allows you to work as a full-service or in-store shopper, depending on your preference.
While factors like location and the number of shoppers in your area affect how much you earn, Instacart pays relatively well and can be a great way to earn a few extra bucks to put toward your goals.
Do you want other ways to make money using your car? Checkout our other posts: