Is Uber Eats Worth It for Drivers in 2023?
Updated on September 20, 2023
This post may contain affiliate links which means that sproutinue.com may make a small commission at no extra cost to you. We only promote products that we love and feel will benefit our readers. Please read our Disclosure Policy for more information.
As the gig economy expands, more people are turning to driving apps to make money. If you've considered delivering for Uber Eats, you may be wondering, Is Uber Eats worth it?
Uber Eats is one of the most popular gig economy apps, operating virtually globally. As an Uber Eats driver, you work as an independent contractor, delivering fast food and restaurant meals to customers within your city.
Since Uber Eats is an incredibly popular food delivery service, it'd be one of the obvious choices for anyone looking for a side hustle.
The platform is a great way to make a few extra bucks on a flexible schedule. But is driving for Uber Eats worth your time?
In this post, I'll cover all you need to know about becoming an Uber Eats delivery driver, including how it works, how much you can make, and what you need to get started.
I'll also share a few tips to help maximize your Uber Eats earnings, so stick around.
Want to make some quick bucks? Try out:
Crowdtap – Complete surveys and cash out your rewards starting at $5!
Acorns Savings – Earn an instant $20 when you start rounding up your spare change from everyday purchases with Acorns!
What Is Uber Eats?
Uber Eats is a food delivery platform that was launched in 2014. It's the most widely available food delivery app in over 6,000 cities globally.
Restaurant owners can use the Uber Eats delivery app to market their services to the customers within their area to increase their reach and get repeat customers.
Customers can log into the Uber Eats app and order food from any available restaurant. The restaurant then accepts and prepares the order.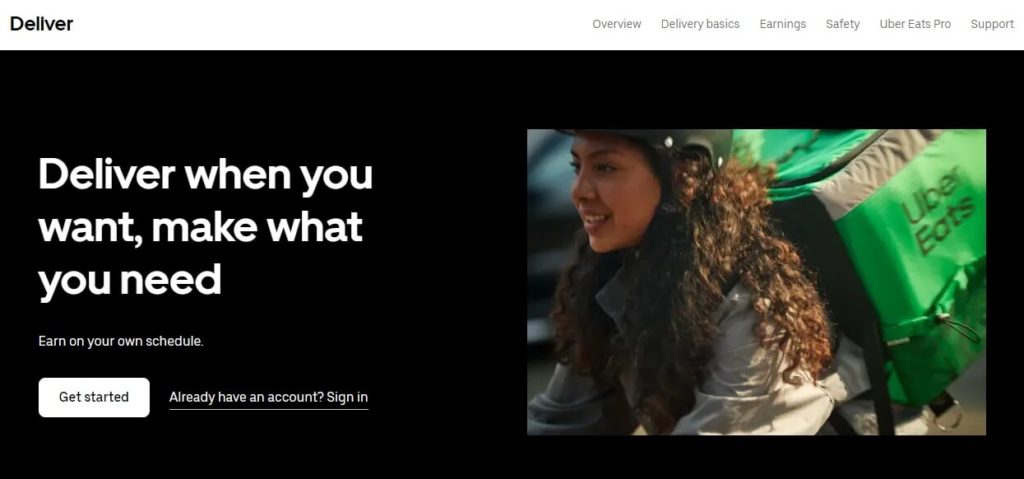 As an Uber Eats delivery driver, you would claim the order on the Uber Eats driver app, pick it up from the restaurant, and then deliver the meal to the customer.
With Uber Eats, you can make extra cash on your schedule.
While most Uber Eats drivers use cars to make deliveries, you can deliver food in some markets using a bike, scooter, or even on foot. So, delivering with Uber Eats is one of the best side hustles to make money with your bike.
Understanding how Uber Eats works, especially in your market, is important so you can work efficiently and maximize your earnings on the platform.
Is Uber Eats Worth It?
If you're looking for a flexible side hustle where you can make up to $20 an hour delivering food, then Uber Eats is worth it. Uber Eats is especially suitable if you live in a large city and want a low-commitment, easy way to make extra money.
Considering Uber Eats' earning potential and all the associated costs of being a delivery driver, you shouldn't expect to retire rich with Uber Eats.
However, some Uber Eats hacks can help you maximize your earnings. For people living in major cities with high customer order volume, it's easier to make decent money on the platform.
On the other hand, if you live in small rural towns, Uber Eats may not be worth it, given the low order volume.
When considering whether Uber Eats is worth it, it's essential to consider factors like expenses and vehicle wear and tear that affect your earnings.
One way to determine whether Uber Eats is worth it is to look at what other Uber Eats drivers have to say about delivering on the platform. You can check driver experiences on sites like Reddit, where Uber Eats drivers have communities.
Here are a few comments from Uber Eats drivers on Reddit:
Nathanafi says: "Not worth it. I have been full-time for Uber Eats for almost 5 years, and for the first time this "winter" (or complete lack there-of), the economic climate and people not tipping anymore because of it, the number of couriers on the road because the weather is easy, people not ordering as much anymore in general because of outrageous mark-up, and a few other reasons, I can say confidently that the golden era of food delivery has officially fallen from grace."
KoalaWise9295 says: "Depends where you live, where I live – it's absolutely not worth it, lol."
Chasingfreedom1224 says: "I think working dinner rush on the weekends will always be worth it. If someone has a regular job, I'd never recommend doing Uber outside of holidays and dinner rushes on the weekends. Also keep an eye out for quests."
As you can see, vehicle expenses are quite an essential factor to consider when delivering for Uber Eats.
Some drivers recommend using multiple apps like delivering for DoorDash and Uber Eats simultaneously.
How Does Uber Eats Work?
If you're getting started and are unsure what to expect from the job, here's how Uber Eats works for drivers.
1. Sign Up To Become an Uber Eats Driver
You can get started by signing up on the Uber Eats driver app. One of the advantages of delivery gigs like Uber Eats is their simple requirements.
Meeting Uber Eats requirements shouldn't be challenging, especially if you're already an Uber driver.
If you already drive for the rideshare platform, all you have to do is enable the delivery feature on the app, and you can start receiving Uber Eats order requests.
If you're not registered with Uber, you have to download the app and fill out the driver application.
Here are the requirements you must meet to qualify as an Uber Eats driver:
Be at least 19 years old
Consent to a background check
Have a valid driver's license
You must drive a car with 2 or 4 doors
Have car insurance with your name listed
Your vehicle must not be older than 20 years
Uber Eats also has specific requirements for delivering using a bike or scooter.
Requirements for Bike or Foot Delivery:
Be at least 18 years old
Have a valid, government-issued ID
Consent to a background check
Select "Delivery by bicycle or foot" or "Delivery by bicycle," when signing up
Requirements for Scooter Delivery:
Be 19 years or older
Select "Delivery by scooter" on sign-up
Have a motorized scooter under 50cc
Have a valid driver's license
Consent to a background check
Depending on your city, there may be extra requirements, but these can all be found on the website as you register.
Uber Eats will review your application and complete the background check, and once you're cleared, you can start making deliveries on the platform.
2. Accept Deliveries
You can start accepting order requests as soon as you're approved to start delivering for Uber Eats. All you have to do is log into the app and tap "GO" to begin getting delivery requests.
Provided you're online, you'll see delivery requests on the app when local customers place orders.
When you're matched with an order from a restaurant close to you, you have up to 15 seconds to accept it.
If you see a request that interests you, you can tap on it to learn more, like what the order entails, what restaurant the order is from, and what distance you'll need to cover to deliver it.
The app also shows you how much the different orders pay, but this amount does not factor in customer tips.
As a new Uber Eats driver, you may be tempted to take every order that you get, but it's advisable only to accept requests that seem worth it to you.
Being picky about the delivery requests you accept won't affect your Uber Eats acceptance rate.
3. Pick Up the Orders
After accepting an order, you can drive to the restaurant. The commute to the restaurant is not considered when making payments, so it's advisable to park near popular restaurants so you don't have to drive long to get there.
Once you get to the restaurant, notify them that you've arrived and ensure you confirm the order details so you pick up the right meal.
The customer pays for the meal through the app, so you won't need to pay out of your pocket for the food.
If the food is not ready or there's any other delay at the restaurant, inform the customer in the app by changing the order status to "not ready."
Fortunately, most restaurants that work with Uber Eats ensure the order is ready by the time the driver arrives at the location.
However, this is not always guaranteed, so if the order will take a while, notify the customer so they know what to expect. This way, the delay won't negatively affect your rating and tip.
4. Make the Delivery
After picking up the order, you can complete the delivery using Uber's built-in navigation system to drive to the destination.
Ensure you keep hot and cold items separately to maintain the quality of the food. This increases your chances of getting a good tip. Additionally, the customer will give you a good rating.
There are typically three types of deliveries to expect:
Walk-in deliveries
Curbside deliveries
Contactless deliveries
Walk-in Deliveries
With a walk-in-drop-off delivery, you walk up to the customer's door, into the lobby or office, and hand them their food.
Ensure you let the customer know as soon as you arrive at the location so you don't have to wait too long.
Curbside Deliveries
With this type of delivery, once you get to the customer's location, they're notified via the app. You can remain in your car and hand them their food without leaving your vehicle.
This delivery type is more convenient for you as a driver because it saves the time you would have spent finding parking, exiting your car, and then getting on foot to deliver the order.
Contactless Deliveries
If the customer prefers contactless delivery, you leave the food at the door.
When you reach the customer's location, contact them through the app to notify them that their order has been delivered.
You can take a quick photo of the order to prove it's been delivered and then complete that trip by tapping the "delivered" option.
Upon completion, you'll see more suggestions pop up for more orders to deliver within your area.
5. Get Paid
Your Uber Eats earnings are calculated using the formula: Earnings = base fare + distance fee + tips + promotions and bonuses.
It's important to note that base fare varies between cities. Uber Eats shows you an estimate of your earnings in the order request, so you know how much you stand to make with each delivery.
Your earnings for every delivery are transferred to you automatically, provided you've connected your bank account to Uber.
You can receive your cash immediately if your earnings are loaded to your debit card. If you transfer your earnings to a bank account, it may take a few processing days to reflect.
You can use Uber's Instant Pay option to access your earnings immediately. You'll be required to link your debit card, and you're charged $0.85 for every cashout.
How Much Can You Make With Uber Eats?
With gig economy jobs like Uber Eats and Instacart, you shouldn't expect to make a flat hourly rate. 
Your pay will vary between deliveries depending on several factors. Here's a breakdown of the factors that determine your pay for each delivery:
Base Fare
This is the amount you're paid for driving to the restaurant to pick up the order. The amount depends on the distance and when you pick up the order and drop it off.
Base fare also varies depending on the city. Your base rate may be higher if you're in a large city or at a popular restaurant.
Trip Supplement/Distance Fee
You're paid an additional amount depending on the traveling distance and how long you take to get there.
Uber Eats offers higher trip supplements for longer distances to make the orders worth the driver's time. The amount will be displayed on the order receipt.
Surge Pricing
Sometimes, Uber Eats implements surge pricing during extremely busy times or when there's bad weather.
Surge pricing increases the pay for every delivery made during these times or within those areas.
Promotions and Bonuses
Uber Eats also often runs promotions and bonuses that incentivize drivers to complete a specific number of deliveries or work at particular times.
These bonuses and promotions provide extra earnings in addition to the regular pay.
Tips
The last factor that determines your earning potential is customer tips. Uber Eats drivers get to keep 100% of customer tips, so it's a great way to boost your earnings significantly.
Uber Eats Pros and Cons
Is Uber Eats worth it? A look at the pros and cons of delivering for the company will provide more insight and help you make an informed decision.
Pros:
Great way to make money on the side
You choose your working hours
You can cash out instantly
Easy to get started
Cons:
No stable income
Wear and tear on your vehicle
The app can be glitchy sometimes
Tips for Making More Money With Uber Eats
One of the biggest perks of gig economy apps is you have some control over how much you earn.
Here are some of the Uber Eats tips and tricks you can use to boost your income significantly:
1. Work During Busy Times
You must select the best time to do Uber Eats if you want to increase your earnings on the app.
Peak times like the lunchtime rush between 11 a.m. and 2 p.m. and the dinner rush between 5 p.m. and 10:00 p.m. are prime times to work as there are many orders.
Orders typically trickle in throughout the day, but working during peak times is your best shot at getting back-to-back orders so you make more per hour.
Peak hours may differ from one market to another based on the demographic, so you should study your market to determine the busiest times.
Delivering with Uber Eats has a learning curve, just like any other, so you should take your time to figure out patterns and use that knowledge to your advantage.
After working for a week or so in your market, you should be able to determine the peak hours.
2. Choose Your Orders Wisely
It's important to be selective about the orders you accept because not every order will be worth your time.
You can cancel Uber Eats orders, so you shouldn't worry about getting deactivated or penalized.
When accepting orders, consider factors like pay, distance, and the restaurant to pick up the order. If you know a particular restaurant is usually slow, you can avoid delivery requests that send you to that restaurant.
Waiting in a long line wastes your valuable time that would have been spent making other deliveries.
You should also consider the distance you must cover to make the delivery. Restrict your deliveries within a hotspot radius so you can make more deliveries and earn more per hour.
For orders that require you to drive a long distance, check the additional distance fee to determine if it's worth it.
3. Keep Track of Your Earnings and Expenses
Delivering for Uber Eats or any other gig economy app is like running a small business, so you should treat it as such.
For instance, keeping track of your income and expenses is essential. Uber Eats doesn't pay for gas and other work-related expenses, so you must be efficient.
Track your income with an app like Everlance and compare it to your expenses to determine whether you're making a profit.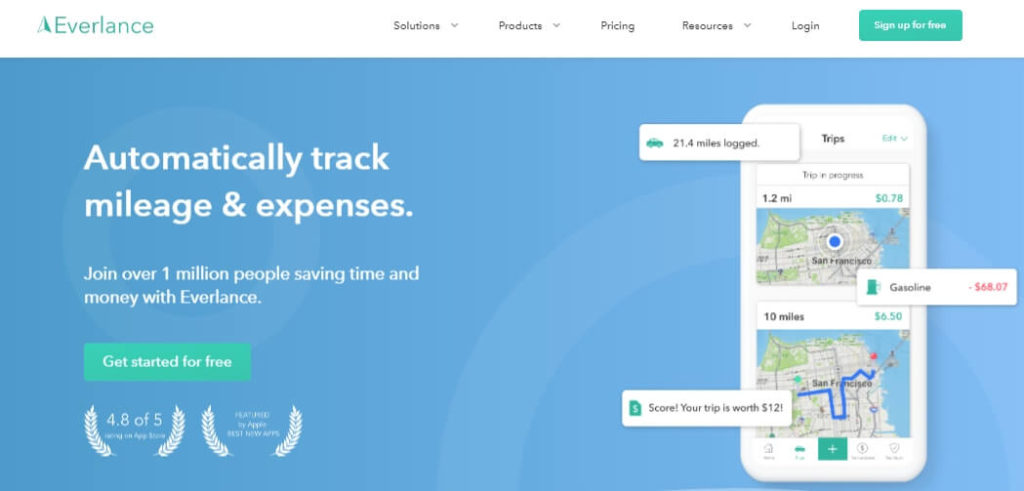 You should also determine which expenses eat into your earnings the most so you can reduce them to maximize your income.
If you notice you spend a lot on gas, you can try driving a more fuel-efficient vehicle or switching to a bike if it's practical in your market.
Keeping track of your expenses will also pay off during tax season. Uber Eats hires you as an independent contractor, so you're responsible for filing your taxes.
With an accurate record of your work-related expenses, you can write some of them off to reduce your taxable income. Consider using apps like Everalance to track your mileage and expenses accurately.
4. Maximize Customer Tips
Uber Eats hacks like improving customer service are simple but effective ways to increase your earnings on the platform.
You keep 100% of customer tips on Uber Eats, so getting good tips is one of the best ways to boost your income.
You can increase tips by providing stellar customer service. Ensure all your customers have a positive experience.
Be professional and courteous when communicating with customers. If you need clarification or there are delays at the restaurant, ensure you let them know.
When delivering the food, keep hot and cold items separated to maintain the quality.
Pay attention to the customer's instructions on delivery. For instance, if they request contactless delivery, notify them when you place the order at the door so they can pick it up.
5. Test Other Markets
Some Uber Eats markets are better than others, so if you aim to make $1000 a week with Uber Eats, you must work in a fairly busy market.
If you notice consistently low order volumes in your market, consider trying other markets nearby. If you live in a small town or a rural area, you'd have better luck working in a city near you.
You can try different zones with more restaurants and a larger population to see if your orders increase.
Additionally, some Uber Eats markets pay better than others because of the type of restaurants in the zone.
The Best Uber Eats Alternatives
While Uber Eats is one of the high-paying side hustles, stacking with other gig apps will boost your earning potential.
Here are some of the best apps like Uber Eats to try:
Extra Reading: How To Make $20k a Month
Frequently Asked Questions
Is Uber Eats a Good Hustle?
Uber Eats is a good hustle if you want to earn a few extra bucks on a flexible schedule. You should be ready to spend a lot of time in your car or on your bike making deliveries.
Is Uber Eats Worth It Part-Time?
Yes. Uber Eats is one of the most popular side hustles for a reason. You can make up to $20 an hour on the platform, and there are strategies you can employ to boost your earnings.
Is Uber Eats Worth It Full Time?
Uber Eats may not be worth it as a full-time job because your income is unstable. The number of orders you get depends on factors like order volume and where you do deliveries.
If you live in a large, busy city, you may have better chances of making full-time income from Uber Eats.
Does Uber Eats Pay for Gas?
Uber Eats doesn't pay for gas or other expenses like most gig economy apps. As such, you should devise ways to save on your expenses so they don't eat too much into your earnings.
For instance, a reward app like Upside can help you earn cashback on fuel purchases.
Is Uber Eats Worth It With Gas Prices?
With good strategies, you can still make a decent income from Uber Eats, even with the soaring gas prices. You can try driving a fuel-efficient vehicle or even switching to a bike to lessen gas expenses.
Which Pays Better, Uber Eats or DoorDash?
Based on data from both DoorDash and Uber Eats delivery drivers, Dashers seem to make slightly more per hour than Uber Eats drivers.
While DoorDash has a higher hourly rate than Uber Eats, sometimes DoorDash is slow, so it's advisable to try both apps.
Final Thoughts
So, is Uber Eats worth it? It depends on what you're looking for. If you want a flexible side hustle with a decent earning potential, then Uber Eats is worth it.
Your earning potential on the platform depends on several factors, some of which may be out of your control.
Understanding your market will take some time, so you should be patient as you learn to navigate the side hustle and maximize your earnings.
An excellent way to determine whether the side hustle is worth it is to keep track of your earnings and expenses to determine how much you're truly making.
Remember, with jobs like DoorDash and Uber Eats, how much you make depends on your efficiency as a worker.
Happy side hustling!
Looking for other side hustle ideas to make money? Check out these posts: