How To Make 20k a Month in 2023 (13 Realistic Ways!)
Updated on September 13, 2023
This post may contain affiliate links which means that sproutinue.com may make a small commission at no extra cost to you. We only promote products that we love and feel will benefit our readers. Please read our Disclosure Policy for more information.
If you're looking for ways to increase your monthly income to 20k, you've come to the right place.
Most conventional 9-5 jobs don't pay as much, so it's natural to seek alternative ways to improve your financial standing and secure a safety net for your future.
$20k is an excellent target since setting your eyes on something huge may motivate you to leave your comfort zone. While the amount may seem challenging, it's possible when you choose the best methods and employ the right strategies.
So, if you're wondering how to make 20k a month, this article delves into some side hustle ideas I've tried over the years.
Stick around to get more tips and tricks that may enable you to surpass that target. The sky is the limit when it comes to financial breakthroughs.
Let's get started!
Looking for high-paying ideas? Consider:
YouGov – Get paid to share your opinion!
Arrived – Invest in income-generating rental properties with just $100!
How To Make 20k a Month
If you want to make $20k a month but don't know where to start, numerous income-generating ventures have the potential to go beyond that amount.
How much you earn depends on how much effort you put in and the strategies you employ.
Some avenues, like starting a YouTube channel and flipping assets, are more active and require regular input. Others, like investing in real estate, provide a reliable source of passive income.
Whether you want to raise 20k a month for a high-ticket purchase or to pay off a debt, these methods are worth considering.
1. Start a Print-on-Demand Business
The first side hustle idea we're diving into is print-on-demand. Print-on-demand is your go-to business if you want to earn money without holding inventory or handling shipping.
This venture typically involves working with a manufacturer to produce and supply custom merchandise within your brand as per order.
All you have to do is create the design and communicate with customers. It's a low-cost and low-risk way to earn money since the items are only produced once a customer orders.
Print-on-demand is an excellent business opportunity, especially if you're an experienced graphic designer.
Even if you're a rookie designer, there are lots of free tools like Canva that you can use to hone the skill. Plus, sites like Pinterest have great inspos you can refer to for guidance.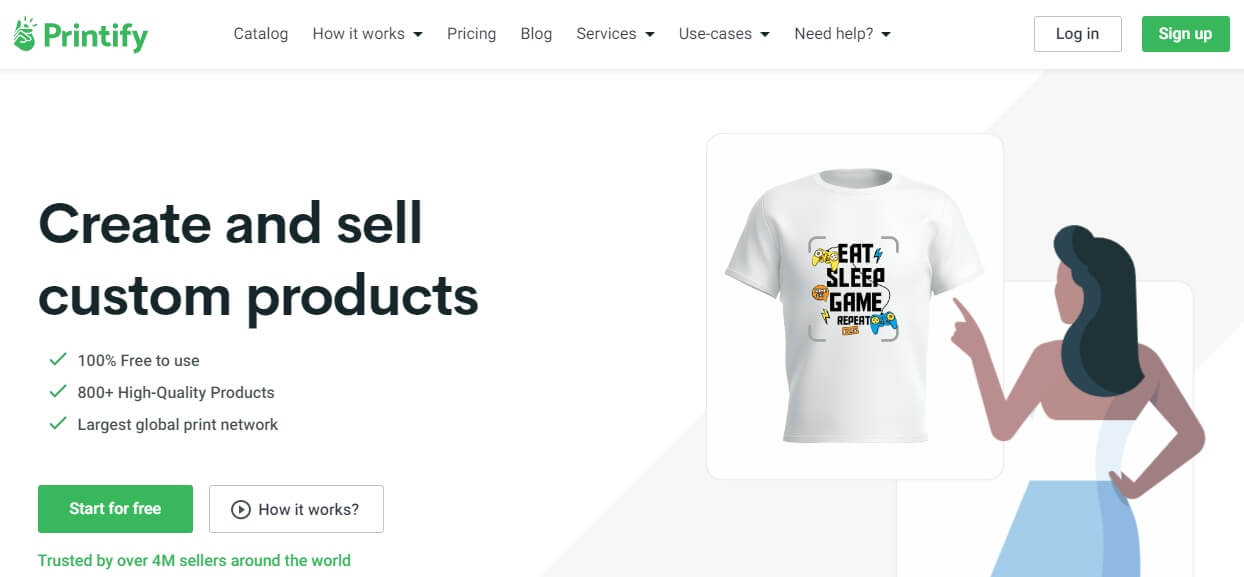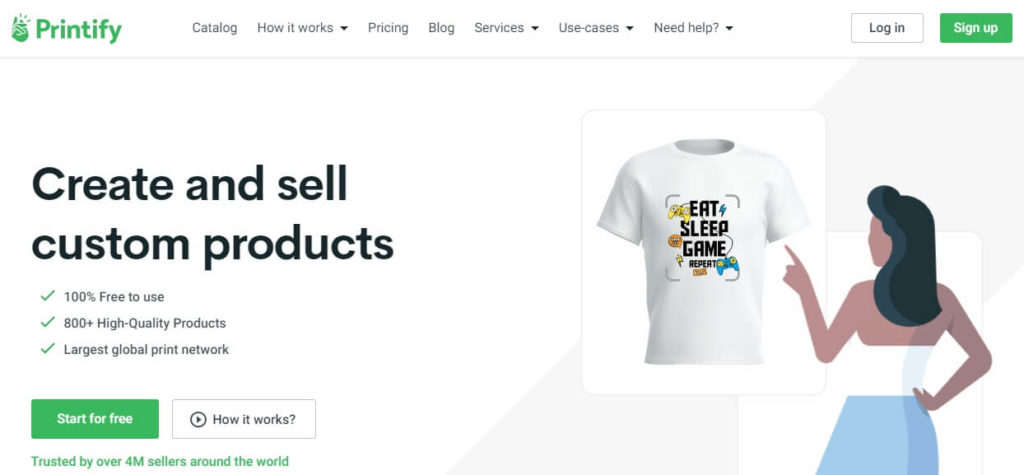 I recommend using Printify to start your PoD business. The platform allows you to create and sell customized products all in one place.
Here's how to get started:
Create a Printify account for free
Select the products you're interested in, like mugs, hoodies, or t-shirts
Create and upload your designs
Connect your Printify account to an online marketplace like eBay or Etsy
Market your products to maximize your earnings
When a customer orders, your chosen print provider manufactures and ships the item. Shipping costs vary depending on the print provider you select.
One disadvantage of POD is that you don't have control over the quality of merchandise your print provider produces. It's wise to purchase one item to evaluate the product before you start selling.
Marketing strategies play a significant role in business, regardless of the type. You can promote your e-commerce store on social media to make more sales.
Also, create captivating descriptions for your listings and optimize them for SEO.
2. Invest in Real Estate
Investing in real estate is one of the best ways to make your money work for you.
While investing in real estate requires a significant amount of upfront capital, it's an excellent way to make $20,000 a month.
Turning real estate into a full-time gig, especially after retirement, is possible since it provides a steady income stream.
As long as you diversify your portfolio across different types of properties to minimize risk and make thought-through investment decisions, real estate can be profitable.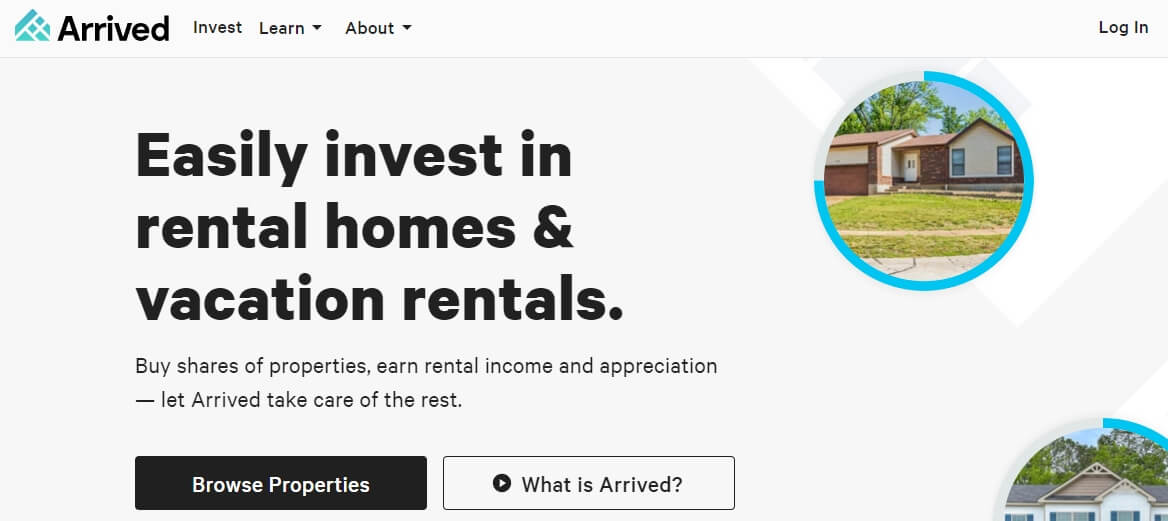 Crowdfunding platforms like Arrived have abolished the high barriers of entry to real estate investment by allowing you to invest from as low as $100.
You can always make additional deposits if you wish. It's worth noting that you must invest a significant amount to make $20k monthly.
Plus, Arrived handles all operational responsibility, allowing you to earn a steady passive income. Therefore, it's not an excellent option if you want to be in control.
As an investor on Arrived, you'll receive quarterly dividend payments from rental income and property value appreciation.
Other ways to earn from real estate besides investing in crowdfunding sites include:
Purchasing and fixing damaged properties, then flipping them for profit
Investing in publicly traded real estate ETFs
Purchase appreciating properties and rent them out
Invest in REITs
Another advantage of investing in real estate assets is that it shields you from inflation. However, property value appreciation isn't a guarantee in all areas.
Kickstart Your Real Estate Investing Journey!
3. Start a Blog
Blogging is among my favorite ways to make money online. If you find a profitable niche, you can make some real cash from blogging.
I also like that blogging lets you pursue your passions. For instance, if you're passionate about traveling and sightseeing, you can start a blog based on that.
Also, blogging is easy to start and has a high-income potential, though you huge blog traffic to generate a $20k monthly income.
Here's how to start a blog that makes money:
Select a profitable blog niche
Choose a domain name and purchase it from Namecheap
Choose a hosting platform like BigScoots
Customize your blog
Write your first post
Market your blog
Make money!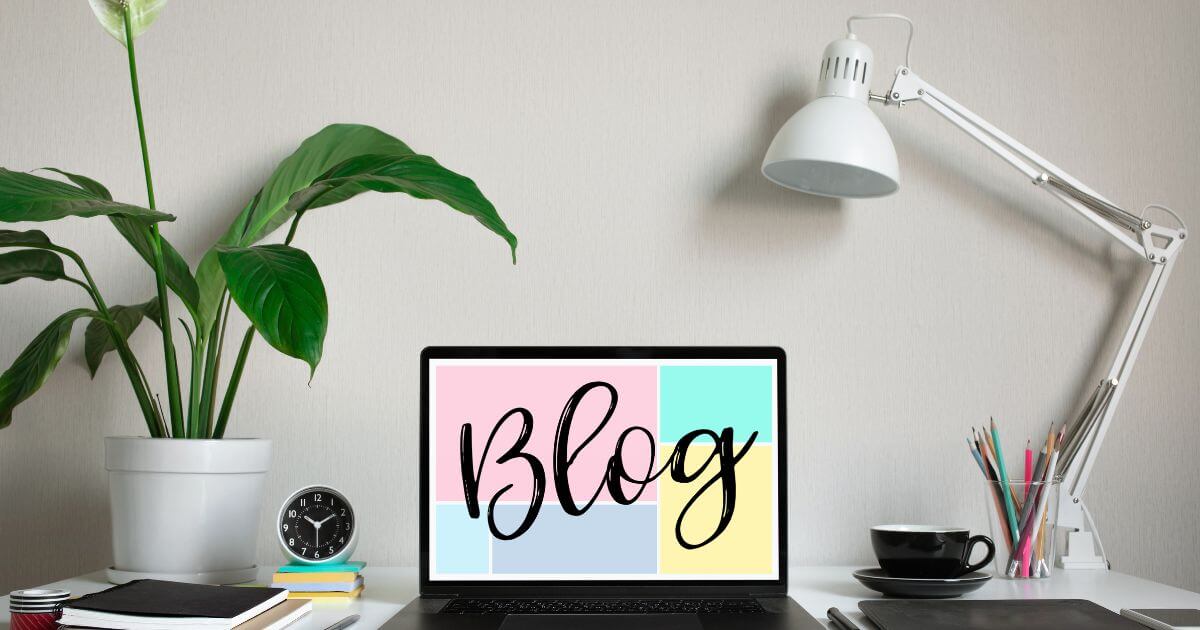 Choosing a blog name is as important as writing a post. Your name should relate to your niche to attract potential readers.
Like in any other money-making venture, marketing determines your success. Use your blog's name to create social media accounts on Instagram, Facebook, and Twitter to engage more with your audience.
Also, optimize your content for SEO to increase its chances of showing up when readers search keywords on the internet.
You must grow your blog tactfully if you wish to generate $20k a month. Once your blog is running, here are some ways to monetize it:
Affiliate marketing
Display ads
Selling digital products like printables or ebooks
Writing sponsored blog posts
Advertising different products
Consulting services
Overall, making $20k a month from blogging is challenging but possible. Employing the right strategies is the key to success.
4. Start a YouTube Channel
Like blogging, starting a YouTube channel is another way to earn money on autopilot.
However, establishing a loyal fanbase and growing a YouTube account to its full income potential takes time and effort.
But people have done it, so there's no reason why you shouldn't make it too. Let's start with how to set up your YouTube channel.
Create an account on YouTube using your email address
Click your profile picture, then "Create a Channel."
Choose a name for your channel
Add a descriptive bio
Add a profile picture
Complete your profile
Create your first video
Investing in quality video equipment is imperative to monetize your account to earn $20k monthly. A good smartphone will suffice initially but consider upgrading once you gain footing.
After setting up your account, you can start monetizing it. Note that you must meet some requirements to monetize your YouTube channel. So, read Youtube's terms and conditions to check if you qualify for these features.
Here are some ways to make money with YouTube:
Ads: Turning on the Watch Page and Shorts Feed ads allow you to earn revenue.
Channel memberships: This feature lets you monetize your channel by allowing people to buy subscriptions to enjoy exclusive content.
Selling stuff on your channel: You can make videos showcasing your merchandise for your subscribers to buy.
Super Chat and Super Stickers: With these features, your fans can purchase unique stickers or highlight their messages during live streams.
Shopping: Turning this on lets you connect your channel to your store to enable subscribers to purchase your items.
Super Thanks: This feature allows subscribers to pay to send you a personalized message or comment.
Just like with blogs, you can create sponsored content on YouTube. You can also work as an affiliate for different brands and companies.
5. Flip Items
Another great way to make $20k in a month is flipping stuff for profit, and flipping is an excellent idea since there's a wide variety of items you can purchase and resell.
Some everyday items to flip are:
Houses
Cars
Domain names
Beanie babies
Furniture
Wedding rings
Luxury watches
Websites
Sports cards
Designer clothes and accessories
Flea markets, garage sales, and thrift stores are the best places to find stuff to flip. You can also search for discounted home goods from stores like Walmart and resell them for a profit.
Once you have your items, consider selling on online marketplaces like Poshmark, eBay, or Mercari. Selling online saves you the trouble of setting up a physical shop and meeting buyers.
However, with online marketplaces, you must cater for shipping and seller fees. Alternatively, you can use websites that allow you to sell locally, like Facebook Marketplace and Craigslist.
You can also sell at a flea market, set up a thrift store, or organize a garage sale. There are plenty of options when it comes to flipping.
Remember to find items with a significant flipping margin to generate $20k monthly.
Extra Readings: Surprising Things to Pawn
6. Start a Service-Based Business
Consider offering services in exchange for cash instead of letting your skills remain dormant.
The best part about this venture is that there are many services you can offer without paying to learn the skill. Others are easy to understand, and you can do so on the job.
Some of the most common services you can offer for money include:
Hairdressing
House cleaning
Painting
Coaching
Pet sitting
Babysitting
Catering
Repairing cars
Laundry services
Plumbing
While most service-based businesses may not offer $20k monthly, you can maximize your earnings by expanding your business.
Consider hiring more people so that more work is done in a day. You can build a service agency and expand as you gain footing.
It may take some time, but if you play your cards right and build a loyal client base, you can earn more than 20k monthly in this line of work.
7. Launch a Consulting Business
Consider starting a consulting business if you're an expert in a particular field. Like service-based businesses, consulting has a wide range of opportunities.
You can start a consulting service for any field. Some of the most common include:
Marketing
Finance
Strategy consulting
Legal
Human resource
Information technology
Sales
Social media
Choose your consulting specialty based on your skills and demand. Keeping up with trends and gaining additional qualifications gives you an upper hand in this line of work.
Like any other business, developing a business plan and strategies before establishing the business is vital. You must also create a name and logo relevant to your specialization field.
You'll need to register your business to start operating. Check your state regulations to find out what requirements you're required to meet.
After that, break down your services and determine your rates. Your pricing should be different for short-term and long-term clients.
The last step is creating a website where potential clients can find information about your company. You can use a platform like WordPress.
Lastly, marketing your business effectively contributes hugely to your success. Optimizing your website for SEO and paying for ads are great strategies, to begin with.
8. Retail Arbitrage
Retail arbitrage is worth considering if you're still seeking ways to make $20,000 a month.
This venture involves purchasing home goods from clearance sales at popular stores like Walmart, Target, and Home Depot and reselling them at higher prices.
Finding free items is a great opportunity to make 100% profit. You can resell your items online on Amazon, Craigslist, or eBay.
The key to success in this money-making opportunity is finding products that sell fast and have considerable profit margins.
While sourcing inventory may be tiresome, consistency pays off in this venture. It's possible to make $20k monthly if you sell in bulk.
You can make your work easier by contacting the stores' personnel, who can pack the items to save you the trouble of packaging. Afterward, you can use a fulfillment service like Amazon for inventory storage and shipping.
Extra Reading: Invest $100 Make $1,000 Daily
9. Start a Podcast
Podcasting is becoming popular as more people turn to it to make money. With this in mind, you must stand out to be successful in this industry.
Choosing a profitable niche you're passionate about is crucial to make $20k in this venture.
Starting a podcast is easy and requires very little capital. Follow these steps to get started:
Choose a niche based on your goals and target audience
Create a podcast name
Choose a format
Purchase quality audio equipment
Get audio recording and editing software
Record your first episode
Choose a hosting platform like PodBean
Distribute your podcast across different channels like Spotify, or Apple Podcast
Record your episode in a quiet room to avoid annoying background noise. Also, invest in good equipment to produce good quality.
A smartphone with a microphone can do this initially, but consider upgrading to a good sound system as you progress. It helps to make a test recording to determine if your environment is a good fit.
Like blogging, you can monetize your podcast through affiliate marketing, creating sponsored episodes, and selling merchandise.
You must also employ good marketing strategies to build a loyal fan base. Create social media platforms for your podcast to engage personally with fans.
10. Start an E-commerce Business
Technological advancement has brought more opportunities to make money online through e-commerce.
You can make some real cash by starting an e-commerce business, as the field has high-income potential.
The main advantage of setting up an online shop as opposed to a conventional brick-and-mortar facility is the former has lower operational and startup costs.
Plus, it's easier to reach more people worldwide online than physically. Setting up a physical store may restrict you to a few areas.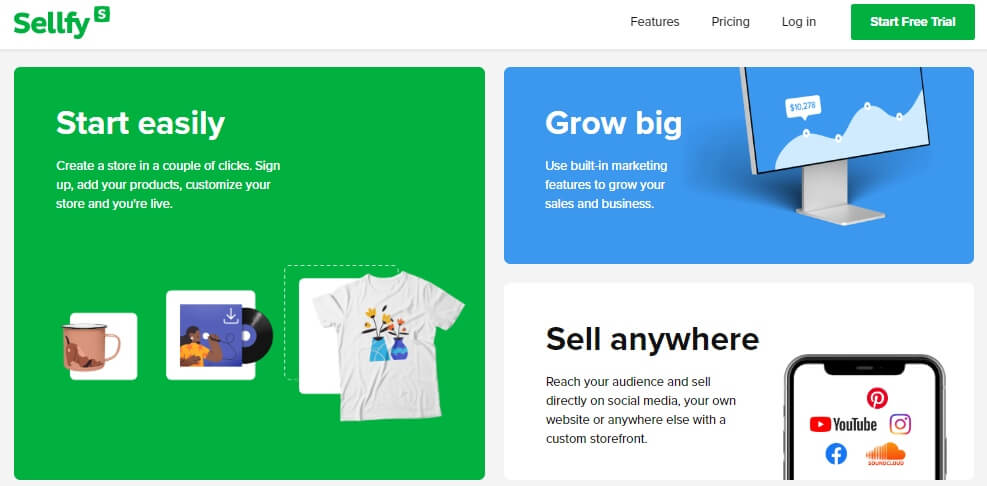 Platforms like Sellfy are worth considering if you wish to start an e-commerce business. All you have to do is sign up, add your products, and personalize your store.
You must include pictures and detailed descriptions of your items so clients know exactly what they're buying.
Sellfy allows you to sell different products, including:
Digital products like music, ebooks, and photos
Physical items
Print-on-demand
Subscription products
Once a client makes a purchase, the money is transferred to your account immediately. Payment is made via Stripe or PayPal.
Depending on your needs, Sellfy offers three subscription plans for sellers:
The starter plan: $19/month
Business plan: $49/month
Premium: 99/month
The starter plan is great if you're just starting. Consider upgrading to premium as your customer base widens since Sellfy claims it has an annual revenue of $200,000.
While starting and maintaining an e-commerce store may be daunting, it's possible to make more than $20k a month with the right strategies.
11. Sell Digital Products
Selling digital products is also an excellent idea to generate a $20,000 monthly income. This venture cuts the costs of setting up shop and storing inventory, allowing a significant profit margin.
Another advantage is that you can resell your products severally without recreating them. Remember to keep your material up to date with trends.
Some of the most common digital products you can sell include:
Educational material like courses and ebooks
Pictures
Subscriptions
Licenses
Music
Art
Once you decide on the products you want to sell, set up store on platforms like Shopify, Etsy, or Sellfy.
You can maximize sales by creating an affiliate program and working with popular influencers. Other strategies to attract clients include offering a money-back guarantee and offering discounts.
12. Become an Online Coach
Do you possess a level of expertise in a particular field? If so, you can monetize the skill through online coaching.
You can stack online coaching with other ventures like consulting, podcasting, and blogging to surpass the $20k target.
As an online coach, you can do individual coaching sessions or organize webinars and seminars to earn more.
Another way to make money as an online coach is by creating and selling online courses and guides on platforms like Udemy.
Overall, online coaching is an excellent venture that provides multiple ways of making money. You can easily make $20k a month if your audience is large and you have a vast social media presence.
13. Find a New Job
If your current job pays less than $20k monthly, consider looking for another job that pays more. Alternatively, you can find a second job to supplement the first.
Plenty of jobs that pay $100 an hour are worth exploring—for example, freelance photography, life coaching, or interior design.
Finding a new job may be challenging, but it gets easier if you're qualified. You can seek a promotion in your field or explore a different career.
Getting into a new career may require you to invest a lot of time and money. It may not be the best option if you're unwilling to do the work.
Here are some great side hustle ideas if you wish to supplement your day job income:
Tips for Making 20k a Month
While earning $20k a month may seem like an uphill task, it's far from impossible. Here are some tips to achieve the goal and possibly surpass it:
Explore different ventures simultaneously: The best way to maximize your earnings is by pursuing various income-generating ventures simultaneously.
Research: Conducting thorough research is crucial to avoid making unwise financial decisions.
Employ effective promotion strategies: A business is only as good as its marketing strategies. Ventures that involve selling merch or starting a business require effective promotion to broaden the client base.
Be consistent: Whichever method you choose, you may not reach the 20k goal in a day. It's imperative to remain focused and patient, especially in the beginning.
Extra Reading: How To Turn 1000 Into 10000
Final Thoughts
I hope this guide on how to make 20k a month has given you the best ideas to start making money.
As long as you remain consistent and patient, there's no reason to fail. Remember to use the right marketing strategies to attract fans and foster loyalty.
Also, research extensively on your chosen venture to avoid making the wrong moves. Speaking t a financial advisor is a good idea if you're unsure of the next step.
Want other ways to make money? Check out these posts: