Is Poshmark Worth It? (What Sellers Need To Know)
Updated on August 12, 2023
This post may contain affiliate links which means that sproutinue.com may make a small commission at no extra cost to you. We only promote products that we love and feel will benefit our readers. Please read our Disclosure Policy for more information.
With the growth of ecommerce over the past couple of years, selling items online has become one of the easiest ways to make money.
If you're decluttering your closet and want to make extra cash from clothes you no longer wear, you've probably thought about sites like Poshmark. But is Poshmark worth it?
Before deciding on selling your used clothes on Poshmark, you first want to know if the platform is worth your time.
In this Poshmark review, I'll cover everything you need to know about selling on Poshmark, including the pros and cons to help you make an informed decision.
I'll also share tips for selling on Poshmark to make faster sales.
Let's dive in!
What Is Poshmark?
Poshmark is a popular online marketplace where you can buy and sell new and used clothing, household goods, pet products, and accessories.
Founded in 2011, Poshmark solely dealt with women's clothing, accessories, and shoes. However, it has expanded to various categories, including kids, home, pets, electronics, and beauty.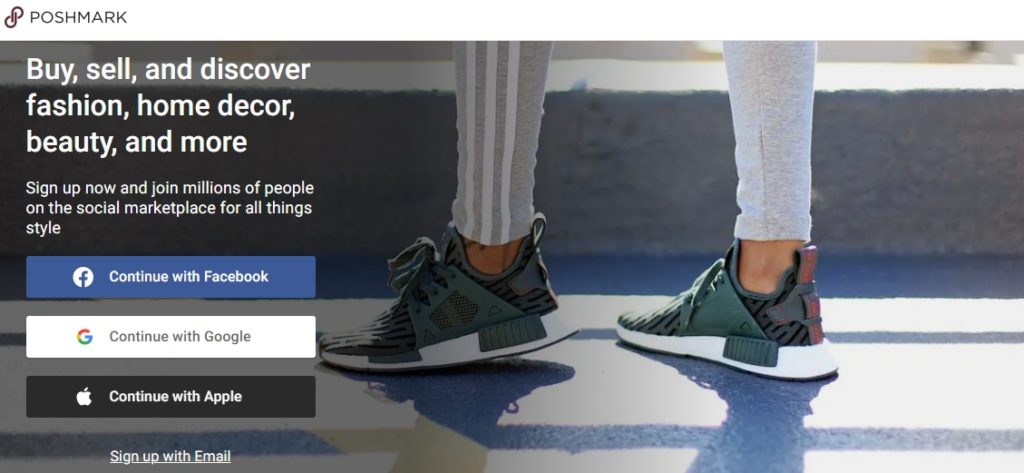 Poshmark has evolved over the years, with over 80 million users across the U.S., Canada, and Australia, making it one of the most popular online marketplaces for buying and selling stuff.
If you have clothes your no longer wear or any other item, you can make extra cash selling them on Poshmark.
Extra Reading: Poshmark vs Depop
How Does Poshmark Work?
If you want to sell sneakers for cash or trade some of your items on Poshmark, the platform has a relatively straightforward process.
Here's a quick overview of how Poshmark works for sellers:
1. Sign Up for an Account
Creating an account on Poshmark is free and easy. All you have to do is provide personal information like your name, phone number, and email address and set your password.
Next, set up your payment information to receive payment from your sales.
2. Upload Photos of Your Items
Once you've created an account, list your items for sale. Take clear, appealing photos of the item from multiple angles, and include any labels or defects.
The more professional the photos look, the easier it will be to attract potential buyers.
3. Write Detailed Descriptions
Every listing you make on Poshmark must have a detailed description of the item.
This is your chance to convince the buyer that your item is worth buying. It's also important to include keywords so potential buyers can find the item.
Ensure that you mention the item's brand, size, labels, and defects to avoid buyer disputes.
4. Price the Item
Poshmark charges a 20% commission on every sale, so you should factor this in when setting your price.
While you aim to make a profit, pricing your items competitively is crucial, so you don't scare off buyers.
5. Add Style Tags
Style tags like "retro" or "vintage" help you reach your target audience. You can add specific tags to your item before listing.
6. Publish the Listing
Once you've done everything above, you can list your item for sale and wait for interested buyers to contact you.
Is Poshmark Worth It?
Yes, Poshmark is a reputable resale app that has been in business since 2011 and became a publicly traded company in 2021. The app is a legitimate marketplace to buy and sell used clothing.
Provided you take active measures to make your listings attractive and price your items competitively, you shouldn't have a problem making sales on the platform.
Here are four reasons why selling on Poshmark is worth it:
Vast Audience
Poshmark has over 80 million users, so it's easy to find buyers interested in your items. The fact that the platform has so many users proves it's legitimate.
Free Listing
Some ecommerce platforms charge a listing fee, which is inconvenient for sellers since you have no guarantee that your items will sell. So you end up losing instead of making money.
Poshmark only charges seller fees, which you only pay once you've made a sale.
You Set Your Prices
Poshmark gives you the flexibility and freedom to set your own prices, unlike other ecommerce platforms. This way, you can work on your profit margin and have more control over offers and deals.
No Limits on Earnings
Poshmark does not limit the amount of money you can make on the platform, which is another plus. If you put in the effort, you can even make $1,000 per month.
Is Poshmark Legit?
Yes, Poshmark is a legitimate online platform where you can buy and sell various items online. However, you should always trade items with caution. Provided that you play safe, Poshmark is a great place to buy and sell secondhand clothing.
Here's what Poshmark users are saying on Reddit: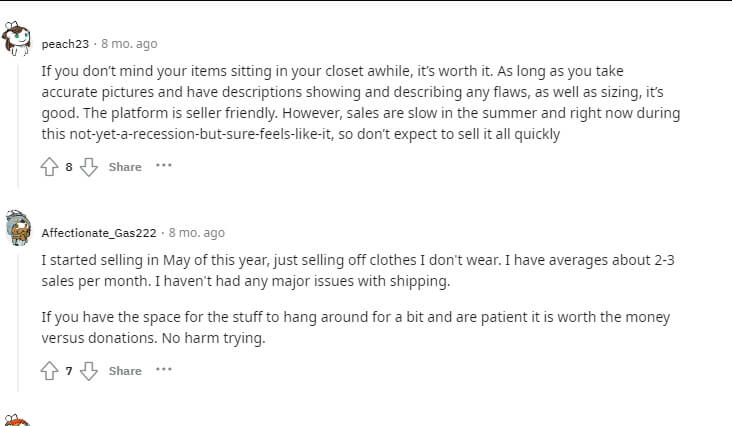 As with any ecommerce platform, you may encounter scammers posing as buyers or sellers, so it's up to you to take active steps to protect yourself online.
However, Poshmark has policies in place to help protect users from scammers.
How Does Poshmark Pay You?
Once you've shipped the item and the buyer has received it, Poshmark credits your account with the amount within 3 days of the delivery.
You have various withdrawal options, including:
PayPal
Instant transfer
Venmo
Check request
Direct deposit to your account
While some sellers may complain about having to wait for buyers to confirm receipt of the item, it's a policy that's in place to protect buyers from getting scammed by fake sellers.
It's also important to note that Poshmark has a seller fee, which is a flat rate of $2.95 for sales below $15 and 20% for sales above $15.
Poshmark Reviews for Sellers
As a popular online ecommerce platform, Poshmark has thousands of reviews from both sellers and buyers across multiple sites.
Trustpilot has the highest number of bad reviews on Poshmark, with an average rating of 1.3 out of 5 stars.
Some of the most common complaints by users have to do with getting scammed, poor customer service, and unfavorable return policies that inconvenience the seller.
Here's what sellers are saying about Poshmark on Trustpilot.
"I have been a seller on Poshmark for years. Be aware that their policies don't mean Jack, and they will let customers return over fit issues…"
Daniel Abbott: "The next big fashion selling app for sure… Works flawlessly and is so simple to list. Looking forward to listing more. Hopefully will become my main listing app! Thanks, Poshmark!"
Poshmark Reviews for Buyers
There are tons of reviews from buyers, ranging from praise to complaints. Most of the complaints are from sellers and have to do with the return policy, as it seems the policy favors buyers.
Here's one review from a Reddit user:
"There are going to be horror stories no matter what platform you use. Don't let that deter you. I've been on Posh 4 years and can assure you the good people outweigh the bad- you just don't hear those stories."
Pros and Cons of Poshmark
While Poshmark is an excellent platform for selling items online, it has its fair share of downsides. Weighing the pros and cons will help you decide whether Poshmark is worth it:
Pros
Huge platform with ready buyers
No listing fee
Easy to use
Convenient shipping with a prepaid label
Popular designer items sell well
Has a mobile app for flexibility
You set your own prices
Cons
The 20% seller fee is relatively higher than other platforms
The return policy favors the buyer over the seller
Limited variety of items to sell
Stiff competition
Tips for Selling Items Faster on Poshmark
While Poshmark has over 80 million users, you're not guaranteed to make a sale. With thousands of other sellers on the platform, you'll face stiff competition.
Here are a few tips to help you attract buyers fast:
Write Detailed Descriptions
The more detailed your listings are, the higher your chances of making a sale.
Use descriptive, compelling titles, and include tags with keywords that buyers will be looking for. When you keep the description specific, it's easier for buyers to find it.
Take High-quality Photos
It's important to take clear photos with a clear background with no obstructions.
While some sellers use stock photos of the item, it's essential to include actual photos to show its condition and any flaws.
Price Your Items Competitively
Other sellers are selling their items on the platform, so try to make your prices attractive.
However, ensure you don't undersell your items, as you're still trying to make a profit. Factor in the commission fee as well to accurately determine your margin.
Sharing items on Poshmark increases visibility. When someone searches an item, "just shared" items always appear. If you can share your items at least once a day, you increase your chances of selling.
Engage With Other Platform Users
Poshmark is more social than apps like Mercari. You can use its algorithm to your advantage.
Social networking will help your items get more visibility, increasing the chances of buyers purchasing them.
Follow others, comment, and interact with them to build your following.
Don't Do Transaction Outside Poshmark
You may get potential buyers sharing their email or phone number and letting you close the deal outside Poshmark.
This is not only against Poshmark rules; you could get kicked out of the platform, but you may also land in the hands of scammers.
Doing transactions on Poshmark will keep you and the buyer safe.
Deliver Items on Time
Once a buyer requests an item, ship it out to them as soon as possible. Fast shipping is one of the easiest ways to get positive reviews from your buyers.
Buyers tend to trust sellers with positive reviews, so it becomes easier to sell items in the future.
Give Discounts and Promotions
There are many discounts and promotions you can use to entice buyers. You can try deals like bundle offers when you're selling multiple items.
Poshmark Alternatives
Mercari: It's a popular ecommerce platform where you can buy and sell apparel, collectibles, toys, outdoor items, and more. Mercari is one of the safest and most thriving marketplaces, with millions of users interacting daily. You can sell items fast if you know some of the tricks to selling on Mercari.
Vestiaire Collective: If you have name-brand clothing, expensive watches, and jewelry, Vestiaire Collective is the perfect online marketplace for you.
Depop: This is another high-fashion clothing resale app that's most popular with social media influencers and fashion bloggers. You'll have the most success selling things like vintage accessories and clothing.
ThredUP: It's a resale site that buys secondhand clothes from you. Instead of finding buyers for your clothes, you sell the items to the company directly.
Rebag: Rebag is an online ecommerce platform designed for luxury items such as designer jewelry, shoes, bags, and clothing. If you have designer handbags, you can fetch top dollar on Rebag.
Frequently Asked Questions
Is Poshmark Safe?
Poshmark is a legitimate online selling platform with policies in place to ensure the safety of both buyers and sellers.
The company has been around since 2011, and tons of reviews indicate it's a safe platform.
Is Poshmark a Waste of Time for Sellers?
Selling on Poshmark may take time, especially if you're a new seller. But that doesn't necessarily mean it's a waste of time.
If you take high-quality photos, write detailed descriptions, and use the right keywords, finding potential buyers won't take long.
Can You Actually Make Money on Poshmark?
Yes, many people have made money selling their items on Poshmark. You can even make thousands of dollars on the app, provided you have items with good resale value.
It takes time to learn the ropes, but once you've figured out how it works, it's easy to make sales.
What Is the 30-Minute Rule on Poshmark?
The Poshmark 30-minute method is an innovative method to help you increase your sales and followers. It involves:
Sharing 30 items from your closet and 30 from your feed
Following Poshmark ambassadors
Relisting three items
Sharing 10 new Poshers
Following those who follow you
What Percentage Does Poshmark Take?
Poshmark charges a flat rate of $2.95 for sales under $15 and a 20% seller fee for sales above $15. Listing items is free.
Why Am I Not Making Sales on Poshmark?
If your items are not selling, here are a few possible reasons:
Your prices are too high
You don't negotiate
You don't have discounts
The post is of low-quality
The descriptions are not detailed enough
How Long Does It Take To Get Paid From Poshmark?
Once you've shipped the item, the buyer has three days to confirm receipt, after which Poshmark releases money to your account.
You can withdraw the money via PayPal, Instant transfer, Venmo, request a check, or direct deposit to your account.
Final Thoughts: Is Poshmark Worth It?
Poshmark is a legitimate platform where sellers have made good money, so it's worth it.
Based on many reviews, Poshmark has room for improvement, as do other ecommerce platforms. The app has a large and active audience, which is a good indication.
Since Poshmark is easy-to-use and convenient for both buyers and sellers, it's a powerful platform where you can kickstart your online selling side hustle.