How To Make 10k in a Week (13 Realistic Ways!)
Updated on September 13, 2023
This post may contain affiliate links which means that sproutinue.com may make a small commission at no extra cost to you. We only promote products that we love and feel will benefit our readers. Please read our Disclosure Policy for more information.
While building a business that earns you $10,000 weekly may not be easy, it's achievable if you employ the right strategies.
Whether you want to pay off a huge debt or simply want to save up for an early retirement, this post is for you.
In this article, I'll guide you on how to make 10k in a week. I'll also delve into a few tips on maximizing your income and making your money work for you.
Want to make money fast? Try out these sites:
SayMore – Share your opinion and earn gift cards to popular stores!
Arrived – Invest at least $100 and earn quarterly dividends from rental income!
How To Make 10k in a Week
Most people would jump at an opportunity to make $10k a week since it's a relatively substantial sum.
Some money-making ventures in this article can yield more than $10,000 a week in the long run. It all depends on the time and effort you invest.
Some ventures, like selling stuff you own, involve raising a one-time $10k. Others, like blogging and starting a side hustle, include creating a passive income stream. Whatever your goals are, you'll find something that best suits your disposition.
Here are the best income-generating ideas to consider if you want to make 10,000 in a week.
1. Sell Stuff You Own
One of the most straightforward ways to make $10k a week is by selling stuff you no longer need. You can resell virtually anything as long as it's in good shape.
Some items like cars and machines are still worth something even in a damaged-beyond-repair state.
If you have items you no longer use sitting around in your house, why not consider this venture a quick way to make cash while decluttering your home?
Some examples of items you can resell around your home include:
Power tools
Antiques
Watches
Clothes
Gaming consoles
Toys
Collectibles like Pokemon cards
Musical instruments
Jewelry like wedding rings
You can sell your items locally or on online marketplaces. Some of the best online platforms to consider are:
Selling stuff online is an easy endeavor. However, taking time to create detailed listings for your items is imperative to attract as many buyers as possible.
Most online platforms allow you to list several items at no cost, so you have nothing to lose if you don't make a sale.
The key to success lies in posting clear photos of your items and adding a creative description. It's worth noting that selling online requires you to pay shipping and seller fees.
You can avoid the extra costs by selling your items locally in a garage sale, flea market, or via platforms like Facebook Marketplace. A pawn shop is also viable, especially if you need the money urgently.
Whether you sell online or locally, you must sell valuable or fast-moving goods to raise $10k in a week.
With the right dedication, effort, and a strategic approach, making $10k a week by selling your possessions shouldn't be an uphill task.
2. Flip Items
Flipping items is quite similar to the first option, only that you purchase the items instead of selling stuff sitting in your garage.
Flipping works this way: you purchase or acquire cheap or discounted items and then resell them at a significant profit.
You can also buy in bulk and sell individually from flea markets, thrift stores, garage sales, friends, and family. Finding free stuff is advantageous since you can make 100% profit.
Once you find the items you intend to flip, it helps to clean and repair them to ensure they're in good condition.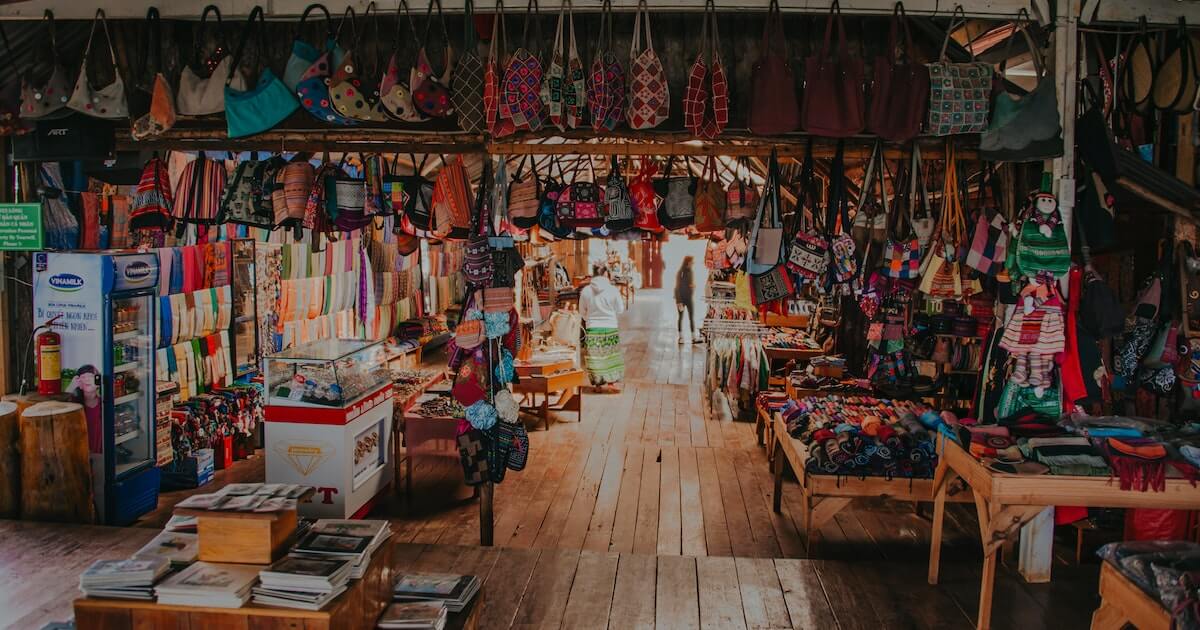 To succeed as a flipper, you must deal with items people are interested in and willing to pay for. Otherwise, raising $10,000 in a week may take a lot of work. Some of the best items to flip include sneakers, clothes, vehicles, and home appliances.
The best part is that you're not limited to tangible goods. You can also flip virtual goods like domain names, websites, and crypto.
If you play your cards right, you can turn your flipping venture into a full-time job since flipping can be profitable, depending on your niche. The advantage of flipping is that it requires little capital to start. It's, therefore, a great strategy to make cash fast.
Extra Reading: How To Flip Money
3. Sell Your Car
Whether you're looking to upgrade to the latest model or just need the cash, selling your car is an excellent way to make $10,000 fast.
Depending on the make, you can raise a fraction of or the entire $10k by selling your vehicle. You must ensure the car is in the best possible condition to maximize earnings.
Take time to repair the vehicle in case of any damage since a car in a good working state would fetch more money than a damaged one.
If you're wondering where to sell your car, here are some options:
Facebook Marketplace
Car dealerships
Sites like Cars.com or Carvana
Craiglist
You can also check if anyone among your friends and family will get your car off your hands. This option is easy since you may not need to incur additional shipping costs.
Also, you need to transfer vehicle ownership to complete the sale. Ensure you have all relevant documents at hand to make the process smooth.
4. Start a Side Hustle
Starting a side hustle is an excellent strategy to make extra cash to supplement your income. It's possible to make 10k in a week by investing your time and effort into the right side hustle.
There are limitless options to explore when starting a side hustle. Some excellent side hustle ventures include using driving apps to make money.
Here are the best driving apps that pay to consider:
DoorDash: Earn $23 an hour, on average, to deliver meals and fast food to people in your area.
Instacart: Like Doordash, Instacart pays you to deliver groceries to their customers.
Amazon Flex: Earn $15 to $25 an hour to deliver Amazon Flex blocks.
Uber Eats: You can earn between $8 and $12 per hour as an Uber Eats driver.
Shipt: This is an excellent option if you want to get paid to shop and deliver groceries to people in your area.
Walmart Spark: This platform pays you to shop and deliver items to Walmart customers.
Goshare: Payment varies between $45 to $168 per hour, depending on the size and type of your vehicle. Don't worry if you don't have a car; you can earn about $60 as a manual laborer.
Driving gigs are just the tip of the iceberg. You can explore other side hustle ideas, including:
Freelancing
Selling digital products
Renting out your space
The most notable upside of starting a side hustle is allowing you to be your own boss. They also offer flexibility and convenience since you choose your working hours.
For instance, in the case of driving gigs, you can choose to work during peak hours and then find something else to do during off-peak hours.
You can easily turn your side hustle into a full-time job with the right effort and strategies.
5. Start a Print-on-Demand Business
Generally, print-on-demand pertains to creating custom products like t-shits and mugs and working with a print provider to make them available to customers when they order.
Print-on-demand works this way:
Craft your print or custom design using simple design tools like Canva
Design your product on a POD site like Printify.
Showcase your products on seller sites like Etsy
Connect with buyers
Make sales
Once a customer makes an order, contact your order fulfillment service with details on quality and quantity. The manufacturer then ensures timely delivery.
The primary upside of POD is that products are made on demand, so you don't have to handle issues associated with holding inventory. Also, the manufacturer handles production and delivery, so you needn't worry about that.
All you have to do is create the design and engage with customers.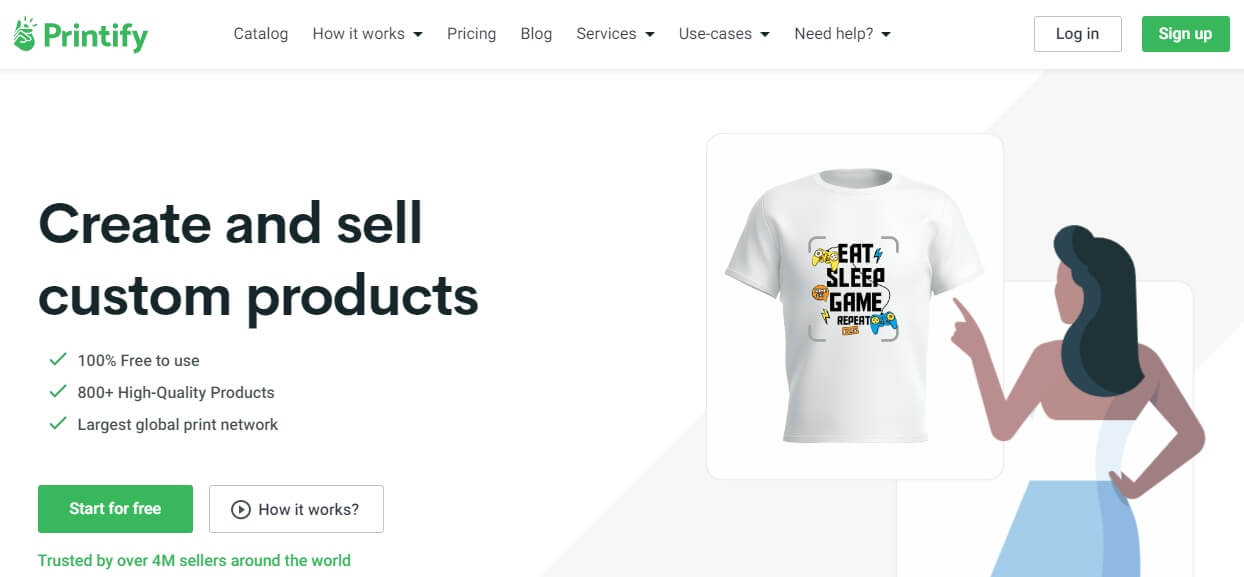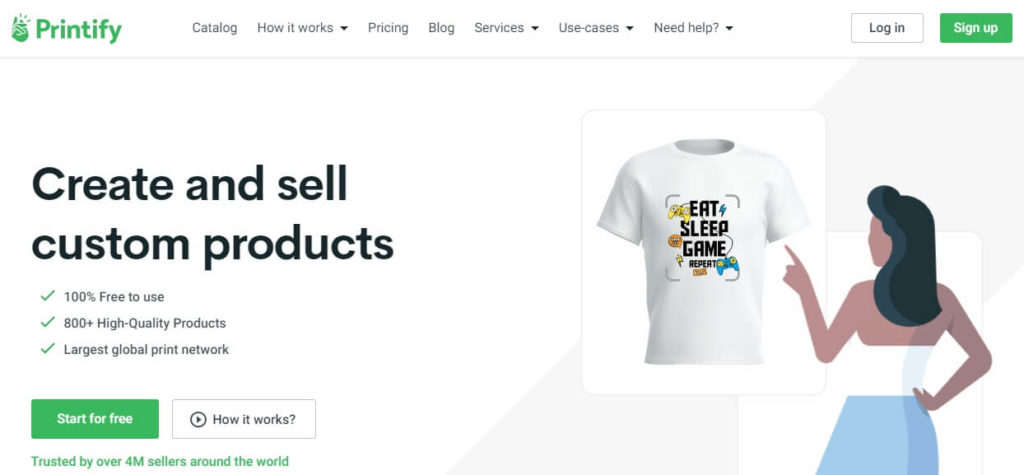 With a POD platform like Printify, you can seamlessly create and sell your items in one place. Printify allows you to upload your design to Shopify and Etsy. Shipping rates vary depending on the manufacturer you work with and your buyer's location.
POD is an excellent way to make money online for graphic designers. Don't worry if you don't know graphic design; numerous online learning tools exist. Platforms like Canva offer hundreds of templates for free, depending on what you wish to produce.
Developing a social media presence is important to succeed as a POD designer. Promote your designs on Pinterest and Instagram to expand your customer base.
Pinterest is also a great place to get inspiration and tips on improving your design.
6. Offer Freelance Services
As long as you have a valuable on-demand skill to sell, freelancing can be a great way to make $10k in a week.
It offers convenience and flexibility since you can choose when and where to work. Freelancing is also a great option if you have other full-time commitments like being a student or a stay-at-home parent.
Here are some freelancing services you can offer to make money online:
Copywriting
Virtual Assistant
Social media management
Graphic design
Transcription
Proofreading
Content marketing
Consulting services
Translation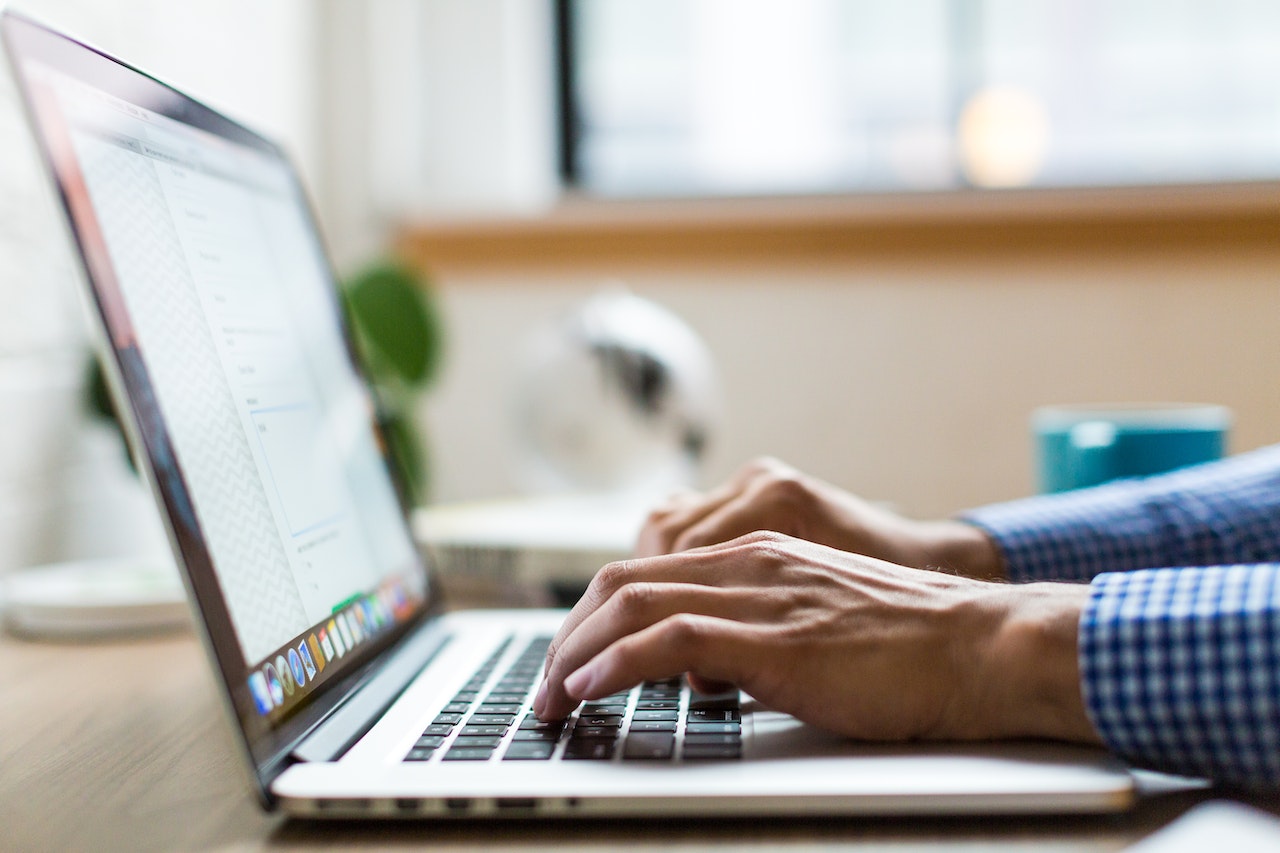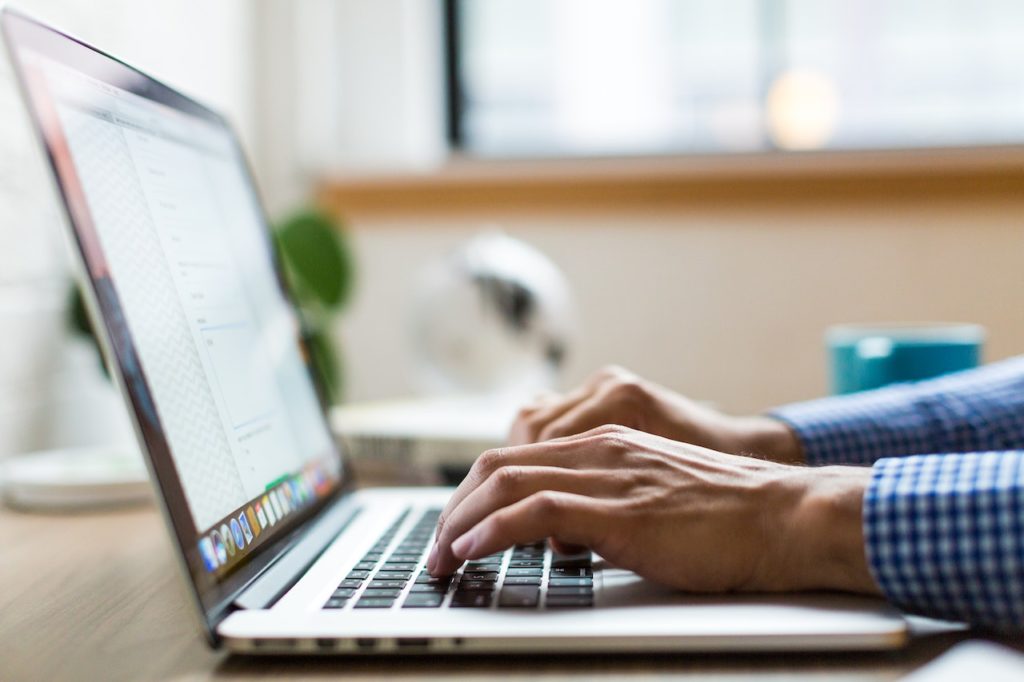 Your earning potential as a freelancer mainly depends on your niche and expertise. The secret lies in finding a unique on-demand niche and honing your skills.
Thanks to technology, there are numerous free learning resources online that you can use to improve your skills, from YouTube videos to online courses.
Once you're ready to kickstart your journey as a freelancer, market yourself effectively to land as many clients as possible. Use social media platforms, LinkedIn, or start a blog to sell your services.
Some great freelance websites to find clients include:
Fiverr
Upwork
Peopleperhour
Guru
7. Sell Digital Products and Online Courses
If you possess vast knowledge in a particular field, creating and selling an online course related to it can be an excellent way to earn passive income.
You can surpass the $10,000 mark if your course is in demand. You must choose a valuable skill or topic to make a steady income stream.
Also, think of your target audience. What are their needs? Creating a course based on the needs of your target audience enables you to tailor it to their needs.
It also guides you on the best way to organize your work to make it more captivating. Don't be afraid to check out courses on creating an online course if you need assistance.
Once your course is ready, deciding where to sell is important. You can start a blog and use it to market your course.
There are also plenty of platforms that mainly deal in online courses. Some of them are:
Teachable
Thinkfic
Skillshare
Besides online courses, other profitable digital products are:
Digital templates
Music
Software
Photography
Professional services
8. Start a blog
I recommend starting a blog if you're passionate about a particular topic. While it's not a get-rich-quick venture, blogging can be profitable with strategic planning.
Plenty of people already make millions of dollars a year from blogging; there's no reason why you shouldn't. You can grow your blog to generate over $10k weekly with the right niche and consistency.
Generally, you can get your blog up and running by following these simple steps:
Choose a profitable niche
Purchase a domain name from sites like Namecheap
Select a hosting like Bigscoots
Chose a relevant name for your blog
Customize your website by selecting a suitable theme
Write your first blog post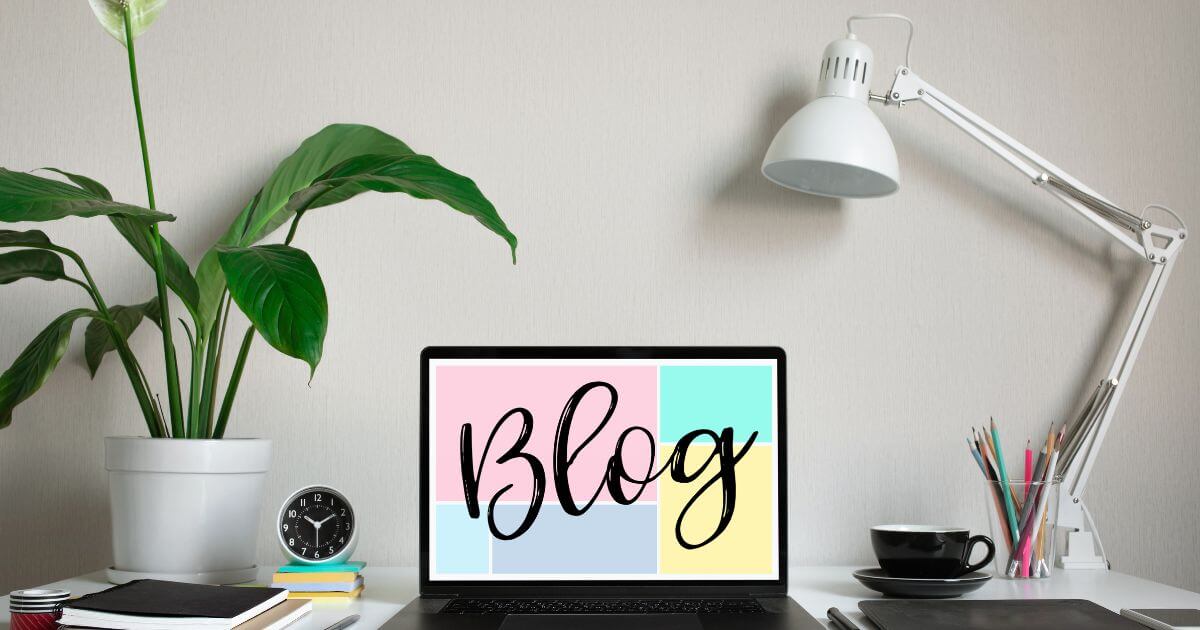 Once your blog is up and running and generates traffic, consider monetizing it further through:
Affiliate marketing
Selling personalized merchandise
Writing sponsored blog posts
Running ads on your blog for cash
Offering related services such as online courses or freelance writing
Honestly, blogging may be challenging initially, but once you establish yourself within your target audience and niche, the money starts streaming in.
Having a social media presence also helps to attract and engage with your target audience. Consider creating accounts on social media platforms like Twitter, Facebook, and Pinterest.
9. Try Affiliate Marketing
Another approach to making money online is through affiliate marketing. Affiliate marketing typically involves getting paid to refer people to an external product or service.
As an affiliate marketer, you post your affiliate link on various platforms like social media, YouTube, or a blog, then earn a commission when people use your link to purchase the product.
It's an excellent way to make 10k in a week, especially if you already have a well-established presence online.
The downside is that creating and monetizing an online presence takes time if you're just starting.
10. Take Out a Loan
Taking a loan is a good idea if you're looking for ways to make $10k fast for an emergency. The best option is borrowing money from your friends and family.
You can also apply for a loan from money-lending institutions such as banks and finance apps, though this may take a lot of time due to formalities.
Another option worth considering is obtaining a loan from a pawn shop using a valuable item as collateral.
In this case, your item must be worth more than $10,000 since pawn shops give lower than the item's value to make a profit when you default payment.
Remember that you lose your item when you fail to repay your pawn shop loan within a specified period. Therefore, I'd discourage you from taking a loan against an item of sentimental value.
If you decide to take a loan, do your due diligence to land the lowest interest rates. Also, go through the terms and conditions of the loan to know what happens in case you fail to repay.
11. Invest Money
Investing is among the best ways to grow a steady income stream and make your money work for you.
Put your money in high-yield investments to make $10k weekly. You can invest in quick profit ventures such as day trading stocks, depending on your goals.
Consider options like real estate if you want a more subtle and safe investment. You can speak to a financial advisor to clarify the investment path.
I recommend Fundrise if you're interested in investing in real estate units with a small starting capital. This crowdfunding firm allows you to invest as low as $10.
With Fundrise, you can diversify your portfolio across different real estate units, such as office spaces or rental houses.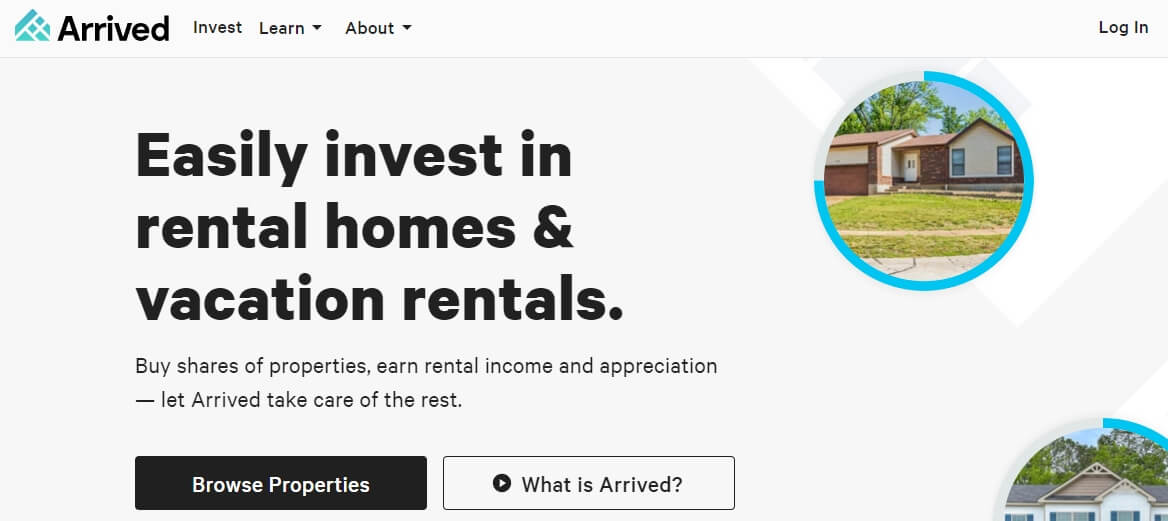 Arrived is quite similar to Fundrise since it offers several real estate investment opportunities, enabling you to diversify your portfolio and spread the risks. However, unlike Fundrise, Arrived has an initial investment of $100.
Both platforms pay you quarterly based on your share capital.
Another way to invest is by rounding up your spare change with Acorns. This is an excellent option if you always forget to save money.
Acorns automatically rounds up your purchases and saves the difference. Once your savings accumulate to $5, the platform invests in ETFs according to your goals.
It's vital to keep up with trends and know the risks to succeed as an investor.
12. Get Paid To Transcribe
Another way to make 10k in a week, especially if you possess good grammar and typing skills, is transcribing.
Transcription generally involves listening to an audio file and converting it to a written document. Some popular transcription gigs include business meetings, court proceedings, interviews, and podcasts.
You need to possess the following skills to succeed as a transcriptionist:
Computer proficiency
Good grammar skills
Attentive listening
Fast typing skills
Good time-management skills
You can learn these skills if you're passionate about transcription and want to generate income this way. Transcribe Anywhere is the perfect place to start your transcription journey.
13. Participate in Market Research Studies
Participating in market research studies is the final way to make $10k weekly.
Companies conduct such studies to collect user feedback on their products and services. Most of them target a specific audience, so you may need to meet certain requirements to participate.
If you reside in a huge city, chances are there's a research opportunity near you. Try googling "research studies near me" to find the options.
You can also search for paid survey sites that conduct research studies. Online focus groups such as Respondent and Ipsos isay are also worth exploring.
Tips for Making 10k a Week
Here are some helpful tips to keep in mind as you work towards making $10,000 in a week:
Combine different methods: Some methods may not raise the $10k individually. Therefore, venturing into multiple opportunities is a great way to increase your income.
Research: Conducting thorough research is crucial regardless of the path you take. This lets you know what you're up against and the right moves to make.
Consistency is key: Opportunities like blogging require you to put in some effort to get the rewards. Being consistent and finding ways to improve helps you build a fan base.
Be patient: Most methods discussed in this article aren't get-rich-quick schemes. You must be patient and dedicated to succeed.
Extra Reading: How To Turn $1,000 Into $10,000
Final Thoughts
Hopefully, my article offers the inspiration and guidance you need to make 10k in a week.
While making such a huge sum in a week might be challenging, it's achievable through hard work and consistency.
Whichever path you choose, conduct thorough research and work toward improving to maximize your income. You may end up building a successful business that generates more than $10k weekly!
Looking for other money-making ideas? Check out these posts: