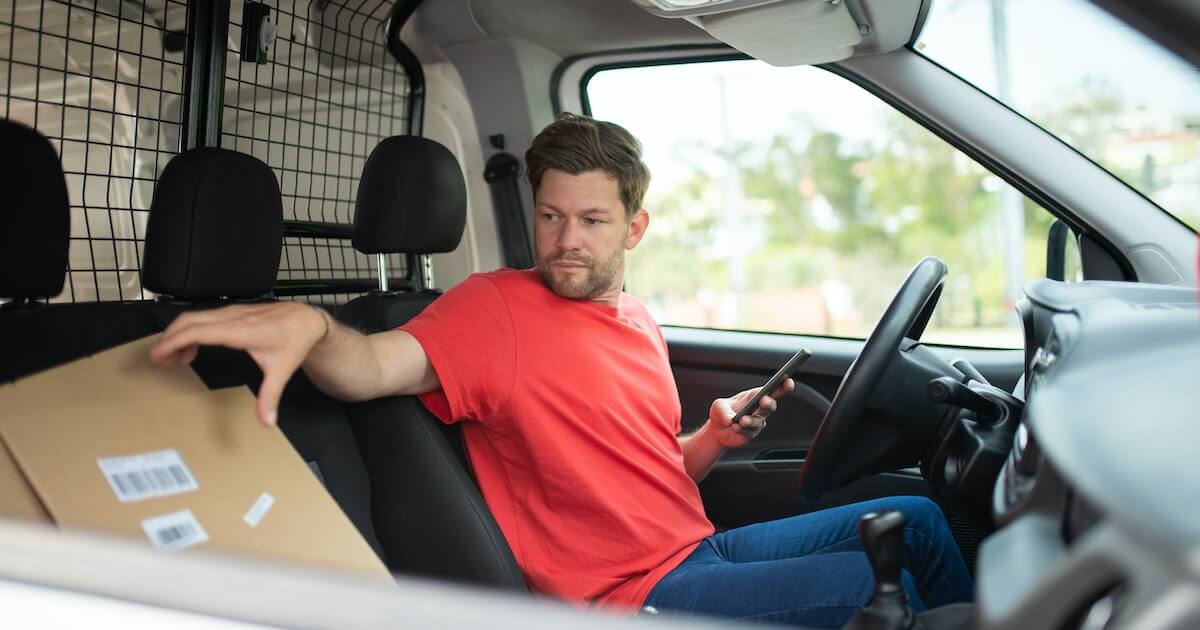 How To Get Amazon Flex Blocks Quickly (7 Best Tips)
Updated on March 27, 2023
This post may contain affiliate links which means that sproutinue.com may make a small commission at no extra cost to you. We only promote products that we love and feel will benefit our readers. Please read our Disclosure Policy for more information.
Working as an Amazon Flex driver is one of the best side hustle ideas. Not only does it pay well, but you can also work on your own schedule. While Amazon Flex has many advantages, most drivers complain about the difficulty of getting Amazon Flex blocks.
Amazon Flex is among the most common delivery gig jobs, which explains why there's so much competition. The amount you earn as a driver will depend on how quickly you get Amazon Flex blocks, so it's important to have strategies in place to grab the blocks quickly.
In this guide, I'll share some tips you can use to get Amazon Flex blocks fast and maximize your earnings.
What Are Amazon Flex Blocks?
Amazon Flex has a unique scheduling system called "delivery blocks," which helps match supply to consumer demand. These delivery blocks are essentially shifts and typically last anywhere from two to six hours.
A delivery block will include details like the date, type of delivery, expected earnings, start time, and estimated duration.
The Amazon Flex app allows you to work with a flexible schedule, so you can pick your arrival and departure times. You can conveniently plan your blocks around the rest of your day's activities.
How Do Amazon Flex Blocks Work?
Amazon Flex blocks work on a first-come, first-served basis, so the prime blocks typically go fast.
When you sign in to your Amazon Flex account, you'll see the available blocks in the "offer" section. The blocks available vary depending on the following:
Your location
How many Amazon Flex drivers are in your area
Your vehicle type (for specific delivery types)
Once you find a block you're interested in, swipe to reserve it. Other drivers in your area will be seeing the same blocks, so you have to claim them quickly so you don't end up with low-paying blocks or no work at all.
When all the blocks have been assigned, you'll see the message "No offers available. Check back soon" on the app.
How To Get Amazon Flex Blocks Quickly
So you're finally off the Amazon Flex waitlist, you've set up your available times, and you're ready to start delivering, but then there are few or no blocks. So, what next?
Many other Amazon Flex drivers compete for the same limited spots, so you're not guaranteed delivery blocks.
While there's no trick to getting the blocks quickly, here are a few tips that can help you claim more blocks and rake in more cash:
1. Refresh the Amazon Flex App Regularly for New Offers
The Amazon Flex app will display new offers as soon as the local warehouses release them. Unfortunately, the app will not automatically refresh the tab. Unless you refresh, you won't be able to see the new offers.
The delivery blocks are first come, first serve, and the release times are unpredictable in most cases. As such, the best way to claim the blocks fast is to keep your eyes glued to the offers tab. You must refresh the offers page manually to access the latest offers.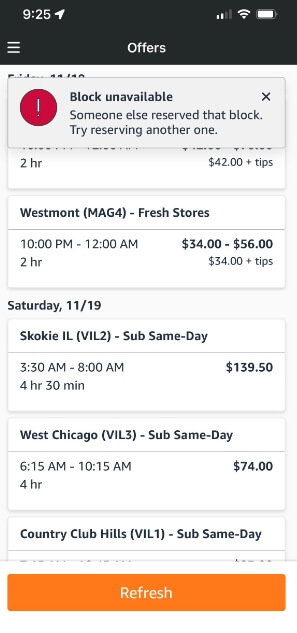 Some Amazon Flex drivers claim there are specific hours when new blocks are released, and 10 am and 4 pm are the most popular. This may be the case in specific cities, but keep in mind that peak hours vary depending on location.
The best strategy is to refresh the tab a couple of times in a row around peak hours. This has more chances of working than refreshing once every couple of hours.
You should check the app regularly throughout the day and note peak hours. This way, you'll figure out when your local Amazon warehouse typically releases new blocks, increasing your chances of claiming them quickly.
2. Accept Different Amazon Delivery Types
One of the benefits of working for Amazon Flex, as opposed to other delivery gig apps, is you can choose from a wide variety of delivery types.
As an Amazon Flex driver, you can choose any of the following delivery types:
Amazon.com: This is the most common assignment for Amazon Flex drivers. It involves picking up and dropping off traditional Amazon and Amazon Prime packages. You'll deliver for the same day, regular, and 2-day shipping options. Amazon Logistics block lengths vary but are typically 3-6 hours long, and you'll be delivering between 8 am and 9 pm.
Prime Now: This is the fastest delivery service provided by Amazon. Amazon Prime members request delivery within an hour for a fee. These blocks become available depending on demand and are usually highly competitive. Prime Now deliveries are the most time-sensitive, and late deliveries could cause your account to be deactivated.
Amazon Fresh: This is Amazon's grocery delivery service and is still in its early stages. As an Amazon Fresh driver, you'll pick up groceries from participating restaurants or local grocery stores and deliver them to customers. Delivery blocks for Amazon Fresh take 2-4 hours.
Store Orders: You'll pick up orders from local stores and deliver them directly to customers. Store orders usually take 2-4 hours.
Instant Offers: Such deliveries are only available in some areas and take 15-45 minutes.
Some delivery blocks pay more than others, so you should try out all of them to find out the most desirable delivery type in your market.
Extra Reading: Amazon Flex Background Check
3. Work on Improving Your Rating
Another highly effective strategy to grab several Amazon Flex blocks is to increase your rating.
Amazon Flex has a rewards program, and as a part of the program, you get benefits like savings, a debit card with cashback, and preferred scheduling.
You can unlock more rewards as you earn points and level up in the program. For every block you complete, you earn at least 10 points. If you have a good rating, you'll earn more points, enabling you to unlock perks faster.
Amazon Flex drivers with a great rating get at least 20 points per block. If you make it to the Fantastic level, you'll get 30 points for every block you complete.
Drivers with higher ratings have access to more blocks.
So how can you improve your Amazon Flex rating? Here are a few tips:
Always show up on time, at least five minutes before the block starts
Try to deliver all packages, as the delivery attempt rate is an important factor
Work on your delivery success rate
If you have to cancel a block, do it at least 45 minutes before the block's start time
Drive regularly, as the ratings usually reset every three months
4. Take Advantage of the Preferred Scheduling Feature
One of the perks of Amazon's Flex Rewards system is the preferred scheduling feature. Earning more points and leveling up your account can unlock preferred scheduling at level two.
The preferred scheduling feature allows you to select your preferred Amazon pickup station, the time of day you'd like to work, and specific delivery days. This way, you can customize your Amazon Flex driver experience.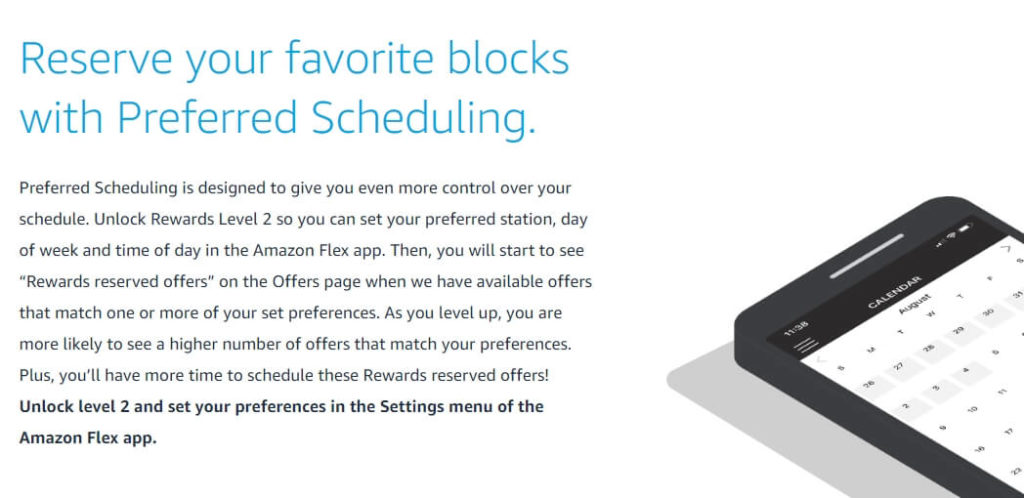 Whenever a block comes up that matches your preferences, you can use your "Rewards Reserved Offer," which gives you a higher priority to claim the block. Amazon temporarily holds the blocks, giving you 10 to 30 minutes to claim them.
You should check your points to see if you have enough to unlock level two. Applying for the Amazon Flex debit card enables you to unlock level two rewards. You can visit the Settings menu in your app to set your preferences.
5. Use Reserved Blocks
Another effective strategy to grab Amazon Flex blocks quickly is to take Amazon Flex Reserved Blocks. These are blocks reserved specifically for you based on your schedule.
You can use the calendar to update your availability in the app, so Amazon knows when you're available for offers.
For instance, if you specify that you're available for work on Wednesday from 9 a.m. to noon, there's a high chance that if a block is available in that timeframe in the future, it'll be reserved for you.
Ideally, you should update your availability every few weeks to reflect the changes. This way, you'll get blocks when you're available, and you won't have to cancel blocks.
6. Work During Peak Hours
While Amazon Flex gives drivers a flexible schedule, you'll have more blocks if you work during peak hours. Amazon posts more blocks on busy periods, and you're also paid more per block.
Peak hours vary depending on the location, but most drivers report that more work is typically around 10 a.m. and 4 p.m. You'll probably get more work if you're available during these times.
There are also peak shopping seasons you can take advantage of. Shopping surges during the weekends, Black Friday, and holiday seasons. You can grab more Amazon Flex blocks if you work around these times.
You should do your own research to see your location's peak times, as they tend to vary. This way, you're in a position to take advantage of them.
Blocks are often released 45 minutes to one hour before the start time, so that's when you should start refreshing the offers page.
7. Grab Amazon Flex Blocks Quickly
Experienced Amazon Flex drivers know that the best way to increase your blocks is to grab open blocks the second they're available.
Remember that Amazon uses a first come, first serve approach, and the competition is usually stiff.
Every block displays the start and end time and the estimated earnings. You should look at these details before accepting the block. However, you can grab the Amazon Flex block first.
If the block doesn't fit your schedule or is not worth it, you can cancel it without penalties, provided you do it at least 45 minutes before its start time.
Amazon also releases blocks that start several days in the future, and it's a good idea to grab these opportunities as soon as possible. If something comes up in the future and you're unavailable, you can simply return it to the pool.
Speed is your best friend with Amazon Flex blocks, especially for highly competitive areas. Sometimes blocks are released simultaneously, and the offers are only available for a few seconds.
The faster you can grab the blocks, the more work you'll have!
Watch this video for more tips to get Amazon Flex blocks faster:
Should You Use Amazon Flex Grabber?
Having to refresh the app manually can be tiresome and demoralizing. Experienced Amazon Flex drivers have found a way around that, using Amazon Flex Block grabbers. You can use these apps to refresh the page and claim open blocks for you.
The advantage of using an Amazon Flex block grabber is that it can reserve blocks faster. However, Amazon has rules against using Amazon Flex bots to claim blocks quickly.
So should you use Amazon Flex block grabbers? It comes down to whether the risk is worth it.
Many drivers use grabbers, so manually doing it leaves you at a disadvantage. You can try Amazon Flex grabbers to see if your account gets flagged.
Best Amazon Flex Block Grabbers
If you've decided to use Amazon Flex block grabbers, there are several apps to choose from.
It's important to do your research, as some apps require you to pay for a subscription, and you may have to give your Amazon Flex app password.
Here are some of the most popular options to consider:
1. Flex Grabber
Flex Grabber is one of the best apps to grab Amazon Flex blocks, as it has many unique features. For one, you don't have to share your Amazon Flex app password, a standard practice for these bot apps.
Flex Grabber offers a free trial, but once it's over, you have to pay $50 to subscribe for two weeks. This is quite pricey, considering you're not guaranteed extra shifts.
2. Flex Utility
Another Amazon Flex grabber is Flex Utility. It gives you many filtering options to narrow down the blocks you need to reserve based on payout minimums and custom hours.
The app has a free version. However, you may need a premium version, which costs $22, to access more features.
3. Flex Snatch
You can also download Flex Snatch, which has unique filtering software and is much like Flex Grabber. The app offers a two-day free trial, after which you have to pay $90 per month.
Amazon Flex Alternatives
If you're still struggling to get Amazon Flex blocks and would like to try other options, there are tons of jobs similar to Amazon Flex.
Here are the best Amazon Flex alternatives that pay you to complete deliveries:
Uber Eats: Get paid to deliver fast food and restaurant meals to people in your neighborhood using your car, scooter, or bike. Here's how you can make $1,000 a week with Uber Eats.
 Instacart: Make money working as an Instacart shopper, shopping and delivering groceries on demand. You can work as an in-store or full-service shopper, depending on how much time you have.
DoorDash: Work as a Dasher, delivering food and groceries using your car, bike, or scooter. You get to pick your shifts and choose the orders you want. You can even make up to $500 a week with DoorDash.
GoShare: If you have a sizeable vehicle, you should consider GoShare, an on-demand moving and delivery platform.
Frequently Asked Questions
1. How Much Does Amazon Flex Pay Per Block?
Amazon Flex pays anywhere from $18 to $25 per scheduled block. Each block varies in hours, so you can expect to earn between $30 to $100 per delivery block.
Amazon only pays for "scheduled hours," so you're not compensated for extra time if you're slow.
2. How Long Is an Amazon Flex Block?
Amazon Flex delivery blocks are typically 2-6 hours long. Each block differs based on how many packages you'll be required to deliver.
In an average 3-hour Flex block, you should expect to deliver anything from 35 to 80 orders.
3. How Many Amazon Flex Blocks Can You Do in a Week?
Under normal conditions, you can expect to do 4-5 blocks a week. Of course, this depends on the availability of the blocks. If there is high competition in your area, you may do less.
When there's a lot of work, you can do as many blocks as you want, but you can only work up to eight hours per day.
4. What Is the Best Time To Get Amazon Flex Blocks?
Peak hours are 10 a.m. and 4 p.m. So the best time to check for blocks is an hour before that. Your best bet is to refresh the offers page at 9 a.m. for the 10 a.m. peak and 3 p.m. for the 4 p.m. peak.
5. What Time Are Amazon Flex Blocks Released?
Amazon Flex blocks are released daily, with the specific times varying based on location. Generally, you can expect new blocks between 6 a.m. and 11 p.m. After some time using the app, you'll notice the pattern.
6. Why Do Some Amazon Flex Blocks Pay More
Amazon Flex pays per scheduled block hour. So, the more hours your delivery block is, the more money you're going to make. If you want to put more money in your pocket, put in more hours delivering packages.
7. How Do You Cancel an Amazon Flex Block?
If you have accepted an Amazon Flex block and, for some reason, you need to cancel, you simply select "Forfeit Block" in your calendar, which cancels the block.
Ideally, you should cancel the delivery block 45 minutes before it starts. Otherwise, you'll be penalized for late cancellation.
Final Thoughts
Amazon Flex is one of the best ways to make a few extra bucks, but getting Amazon Flex blocks can be competitive. Amazon Flex blocks tend to get scarce, especially if you live in an area with many drivers. Fortunately, you can employ a few strategies to grab more blocks.
You don't have to use only one strategy. Combining the strategies will increase your chances of getting more blocks. Additionally, there's no rule against using multiple driving apps. When work is slow on Amazon Flex, you can try other options like Uber Eats or DoorDash.
Happy side hustling!
Want more ways to make money on the side? Checkout: