27 Best Passive Income Apps to Make Extra Cash in 2023
Updated on August 1, 2023
This post may contain affiliate links which means that sproutinue.com may make a small commission at no extra cost to you. We only promote products that we love and feel will benefit our readers. Please read our Disclosure Policy for more information.
If you want to start a side hustle, you probably want to a passive income source and many income streams to reach your financial goals faster.
Whether you want to make money while sleeping or during your spare time with minimal effort, it's possible with passive income apps.
While these apps won't make you rich, they're a great way to make money on autopilot. Some may require effort upfront before you start making money effortlessly, while others are passive.
In this post, I'll share 27 of the highest-paying passive income apps you can use to make extra money with little to no effort.
I have earned passively for years through some of these apps, so there's no reason you shouldn't too.
The Best Passive Income Apps
Cashback apps are some of the best passive income apps to make a few extra bucks. These apps help you save while you spend through simple activities like shopping online.
Here are some of the best cashback passive income apps to download.
1. Honeygain
Honeygain is an app where you get paid to share your internet.
If you have access to a lot of unused internet, you can share it using the Honeygain app and make money from it. It does not get more passive than that.
It's very easy to get started on Honeygain. Download and install the app, choose your preferred data level, and you're good to go. Additionally, you can install the app on several devices to make more money.
When you share your data with Honeygain, businesses can access your internet through Honeygain's proxy network. This means they can access the information that you've made publicly available.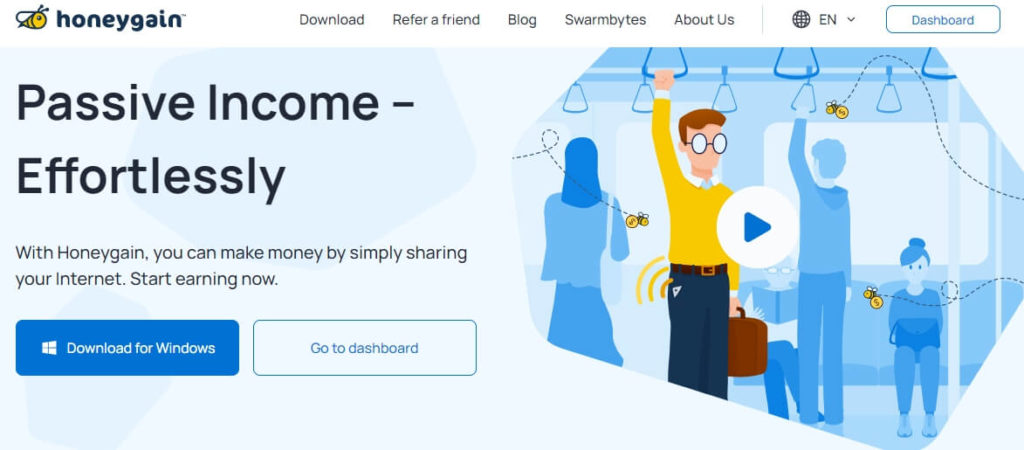 While some people may be skeptical about sharing their data with businesses, the companies may use the bandwidth for ethical and legitimate purposes like brand protection, SEO campaigns, price comparison, and content delivery.
Honeygain rewards its users in points, so you get three credits for every 10MB of data shared. To cash out, you'll need 20,000 credits, equivalent to $20.
When you install the Honeygain app on your phone, you can control how much data you want to share so you don't go overboard with your data plan.
2. Rakuten
Rakuten is another popular cashback passive income site to make extra money. It rewards you for shopping at any of the over 3,500 brands they partner with.
Rakuten is a massive platform with more than 15 million users. Some of the brands supported by Rakuten include Walmart, Amazon, Macy's, and more.
You can use the Rakuten website to scout for exclusive deals and offers to your favorite brands and stores.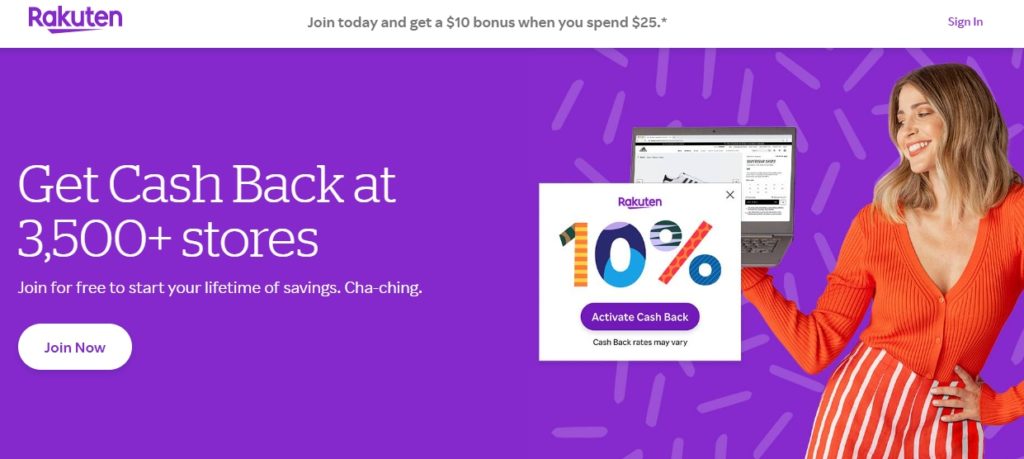 It's free to sign up for an account, and you even earn a sign-up bonus of $10 once you spend $10 or more on an offer.
Rakuten's cashback rates often range from 2% to 10% or more, and your cashback is sent to you quarterly via check or PayPal.
Once you've created your Rakuten account, all you have to do is shop as you normally would, using the Rakuten website, extension, or app. Whether looking for pet products, fitness materials, or even food and drink, you'll find your favorite brands on Rakuten.
While Rakuten won't make you a millionaire, it's a great way to earn money for something you enjoy doing anyway. When you shop through Rakuten, you can earn as you spend.
3. Dosh
Dosh is also a passive income app with many ways to earn automatic cash back.
It allows you to earn cash back for shopping online, booking a hotel or restaurant, and completing other online tasks you normally do.
Like Rakuten, you can use Dosh to earn cash back for shopping at partner brands. Some of the popular brands supported by Dosh include Nike, Walmart, Target, Walgreens, and Forever21.
Other cashback opportunities include booking travel arrangements. You can also link your cards to earn some of their lucrative bonuses.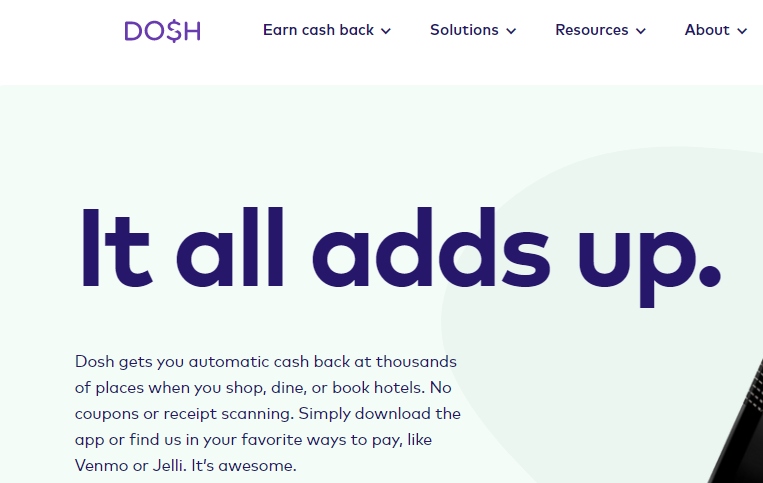 Dosh has a cashout threshold of $25, which is higher than most cashback apps and sites.
Once you reach the amount, you can transfer it to your Venmo or PayPal. You can also choose to donate the amount to charity organizations.
Dosh has a vast network of big box retailers, hotels, restaurants, and grocery stores, giving you access to dozens of opportunities to make extra cash.
4. Fetch Rewards
As the name suggests, Fetch Rewards is a Get-paid-to website where you get rewarded for simple tasks.
It's one of the top apps that reward people for scanning and uploading receipts. You can earn rewards shopping at one of their different partners.
To earn points on Fetch Rewards, you need to scan and submit receipts showing the items you've purchased. Once you've downloaded and installed the app, you can shop at one of their partners for groceries and other essentials.
After uploading the receipts, you're rewarded with points you can redeem for gift cards. Fetch Rewards has a low cashout threshold of $3, so you can earn rewards much faster than other GPT sites.
Fetch Rewards is only available in the U.S. You can redeem your points for gift cards to your favorite retailers.
Additionally, your earning potential on the app depends on how often you shop. So if you enjoy shopping, Apps Like Fetch Rewards are your perfect bet.
Download Fetch Rewards for iOS or Android!
5. Ibotta
If you're looking for cashback apps that reward you for shopping online, consider Ibotta. It's an app that rewards you for everyday grocery purchases.
Ibotta partners with major stores and retailers like Walmart, Best Buy, Kohl's, Old Navy, Home Depot, and more. With Ibotta, you can save on your online and in-store purchases.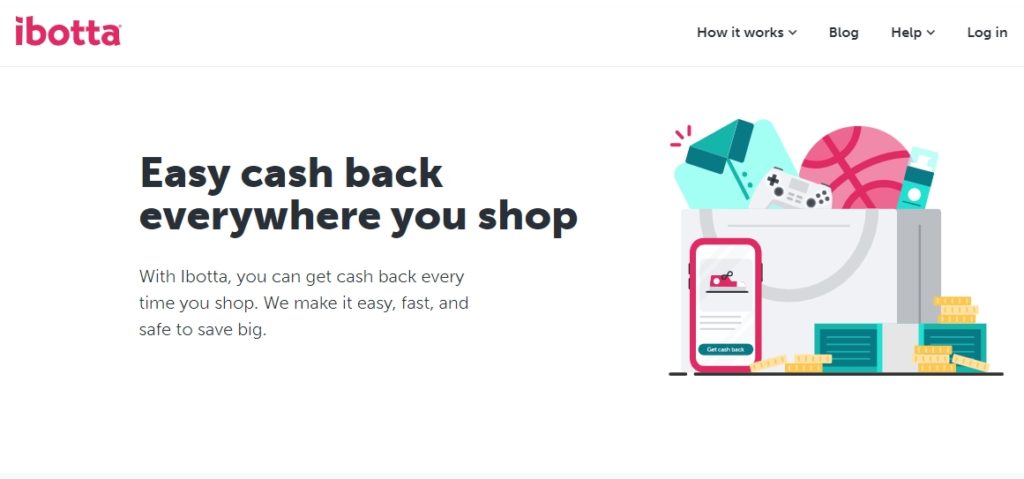 All you need to do is download the app and sign up to create an account.
Alternatively, you can download a browser extension if you prefer shopping on your computer. Next, you'll be required to link your account, and you're set to start earning rewards.
One of the benefits of using cashback apps like Ibotta is access to exclusive deals and special offers for your favorite stores and brands.
As you shop for the items, you activate more deals which help you save money as you spend it.
6. Drop
Drop is another leading passive income app you should try if you enjoy shopping online. It gives you opportunities to earn rewards for spending money you would spend anyway.
The app is only available to U.S. and Canadian residents. Once you've signed up and connected your bank account, you can choose five of your favorite stores where you'll earn cash back automatically.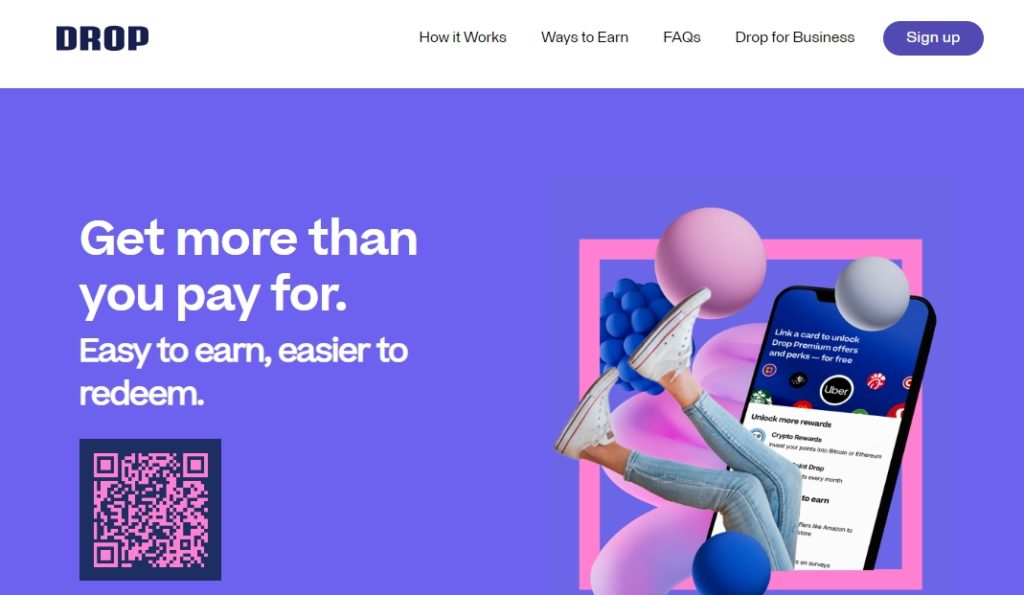 Drop partners with major brands like Walmart, Target, Starbucks, and Uber.
Whenever you shop at Drop partner stores, you earn cashback ranging from 0.5-1.5% in Drop points. You can then redeem your Drop points for gift cards to your favorite brands.
Another benefit of using the Drop App is it has other money-making opportunities like completing paid offers or playing mobile games for money.
7. Capital One Shopping
You might know of the company app Capital One, but they also have a passive income app: Capital One Shopping.
It's a free browser extension that you can use to save money as you spend money online and earn Shopping Credits for purchasing your items from specific merchants.
When you use the Capital One Shopping extension, it automatically applies free coupon codes whenever you shop. This means you get huge discounts every time you shop, without looking too far for deals and offers.
The more you use the extension to shop, the more the site gets to know your product and service preferences. This means you'll start getting personalized deals and offers on the things you love.
One of the perks of using the Capital One Shopping extension is you don't just get product deals. Services like cable and internet, printing, and other home improvement services also offer deals on the site.
You can earn up to 30% in shopping credits for purchases at major retailers, so Capital One Shopping is one of the best passive income apps for frequent online shoppers.
Investing Passive Income Apps
You may not know this, but earning passive income from investment apps is easy. If you've been looking to make short-term or long-term investments, finding an app that works best for you is easy.
The following are some of the top investment apps you can use to earn passively:
8. Fundrise
Fundrise is a well-known crowdfunding platform that takes the complexity out of investing in real estate.
It's a digital real estate company that provides access to private real estate investing opportunities. When you sign up on Fundrise as a new user, you earn $10 worth of shares after investing $10 as a welcome bonus.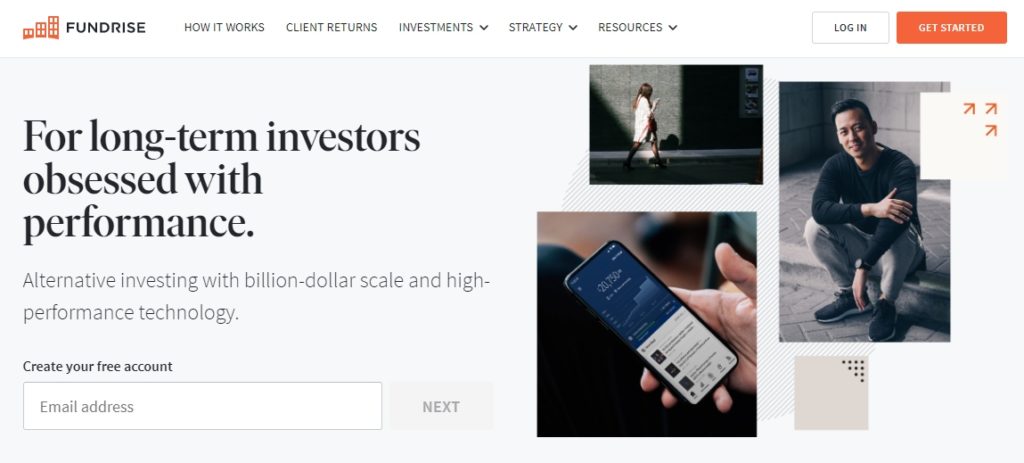 Fundrise was created precisely for beginner and intermediate investors, so the app is incredibly easy to use, and there's no minimum investment. Fundrise also gives you unique opportunities to pool your money toward bigger investments.
If you've been considering investing in real estate, but don't know where to start, then Fundrise is a great option. Fundrise is also best suited to long-term investors.
Try other investment apps if you'd like investment opportunities with short-term returns.
9. M1 Finance
M1 Finance, marketed as the"finance super app," is an investment app designed for spending, investing, and borrowing. You can build your personalized investment portfolio of index funds and stocks on the app.
You can use M1 Finance to earn passively by investing your money and making it work for you. One of the advantages of using M1 Finance is that it doesn't charge you fees for trades or assets under management fees.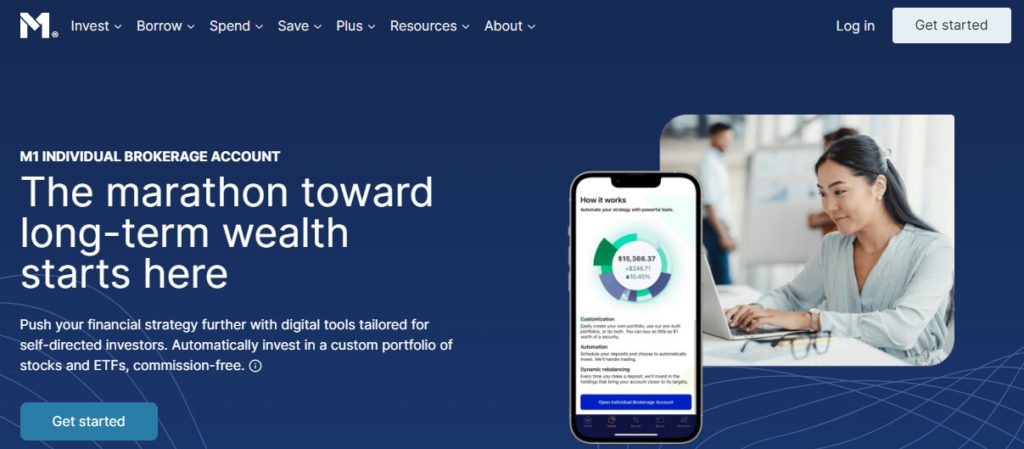 If you'd like to invest in big tech companies but can't afford to buy their pricey shares at once, M1 Finance allows you to buy fractional shares of the company.
M1 can also help you earn income passively through their automation tools. These tools take the hassle out of making time-consuming investment decisions. The platform has over 80 curated portfolios, and its tools help you unlock gains and passive income.
In addition, the M1 Finance app also offers a debit card, and you can earn cash back for spending as you shop online.
10. Acorns
Acorns is a popular investment app with over 10 million users. This passive income app is best suited for beginners looking for low-risk investments.
The platform is easy to navigate, with many saving incentives like cashback options and automated saving.
Acorns is one of the best apps for investing and saving. As an Acorns user, you can open debit card accounts, add to your retirement accounts, and earn cash back on specific purchases.
When you sign up for Acorns as a new user and invest $5 or more, you'll earn a $10 sign-up bonus.
With Acorns, you get investment portfolios designed specifically for you. There are other money-making opportunities on the app, like referring your friends.
The app has an interesting feature called "found money," where the app deposits additional money in your account whenever you shop at brands that partner with Acorns.
Overall, Acorns is one of the best apps if you want to invest small amounts of money and earn incrementally over time.
11. Robinhood
Robinhood is a commission-free stock trading and investing app you can use if you're interested in investing and trading stocks.
It has several features and tools that you can use to shape your financial future.
There are many ways to make money using the Robinhood app. You can buy low-price stocks and sell them later when their value increases or earn dividends as a company shareholder.
In both cases, conducting research before making such important financial decisions is important.
When you use the Robinhood app to trade stocks and invest, you don't have to pay commission fees for trading ETFs, crypto, or stocks.
Moreover, you automatically get 1% matching contributions toward your retirement account whenever you use the app.
You can also make passive income on Robinhood through their cash card, which gives you weekly rewards as you spend money.
When you sign up for Robinhood as a new user, you're given free stock of up to $200 to help you get the ball rolling.
You can also make money through the app's referral program, where you earn free stock whenever you invite friends and they invest.
12. Betterment
Betterment is another great investment app that helps you manage your money through services like cash management, retirement planning, and guided investing.
You can use the Betterment app to reach your short-term and long-term financial goals.
Betterment makes investing incredibly easy through its automated investing tools. You won't have to make important decisions about your portfolio without the necessary experience. They take over the decision-making, and you can watch your money grow over time.
You can use the Betterment app for several financial purposes, including investing, retirement planning, cash reserve, and checking. The app simplifies everything from practical spending to long-term investments.
Betterment also gives you opportunities to earn passive income through their referral program. Aside from that, you can get automatic cash back when you shop using the Betterment Visa Debit Card.
13. Plynk
The last on our list of investing apps you can use to earn a passive income is Plynk. This app is specially made for passive investors and beginners.
The app has how-to guides, articles, tips, and tutorials to help beginners get the hang of investing.
Their intuitive dashboard is very easy to navigate and provides an easy way to view all your investments and access helpful tutorials and other resources.
One of the advantages of using Plynk is you can start investing from as little as $1. Moreover, the company offers great customer support, giving you access to all the information you need to succeed on the app and in your financial endeavors.
Both beginners and experts can use Plynk. It's one of the best options for anyone looking to learn and develop financial knowledge and skills that will come in handy in the future.
Renting Passive Income Apps
Another great way to make a passive income is renting. Several apps allow you to rent out your property, from space you're not using to your vehicle.
If your car lays idle in the garage or you have extra space in your home, you can rent them out for extra cash.
Here are some of the top renting apps you should try.
14. Turo
Turo is a car-sharing network that you can use to rent out your car and earn passive income. All you need to do is download the app and list your car. Listing your car is free, and local customers or visitors can hire it from the app.
If you have a vehicle sitting idly in the driveway, you can use it to make money passively.
Whoever rents your car will pay for the gas and mileage they use, and cover any damage to the vehicle, so you don't have to worry about liability.
You set your own prices on Turo, so you have some control over how much you earn. The platform prescreens the drivers, and measures like liability insurance help protect your asset.
15. Fetch Truck Rental
Fetch Truck Rental is a platform that gives access to people who need to rent trucks or vans. If you have a truck you barely use, it can fetch you good money on the Fetch Truck Rental platform.
You can sign up to list your van or truck on Fetch, and your vehicle will be made available for local renters.
You can make approximately $15,000 to $30,000 per vehicle annually, which is a pretty lucrative passive income.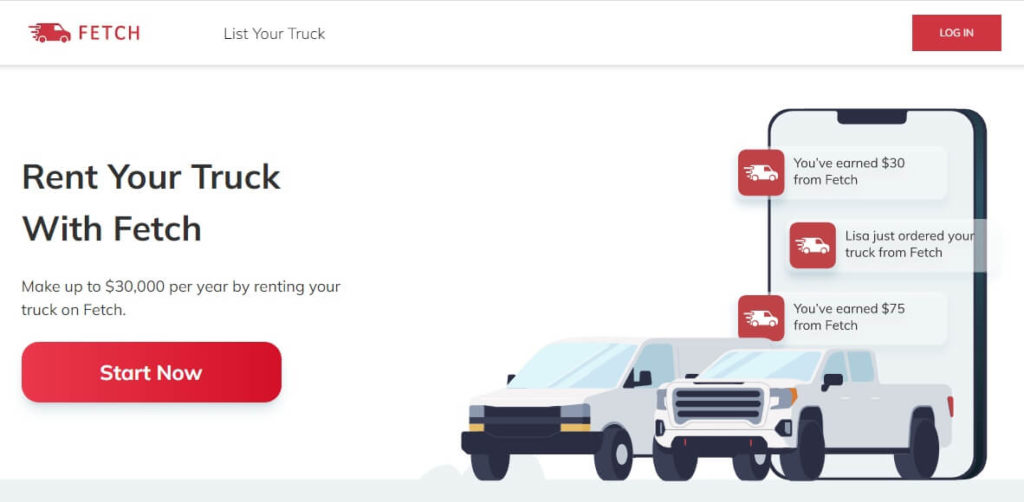 Fetch has an insurance policy that protects all active vehicles, so you're guaranteed your vehicle is in safe hands. The platform handles every part of the process, from advertising the vehicle to handling customer inquiries and verifying renters.
When your vehicle is listed on Fetch, you have control over its availability. The dashboard allows you to manage its maintenance, pricing, and availability.
Renting is fully contactless. Using the Fetch device in your vehicle, renters can use their smartphone to find, reserve, and unlock it.
16. Getaround
Getaround is another great app to turn your idle vehicle into passive income.
This car-sharing platform makes renting cars, vans, and trucks convenient and easy. You can sign up and list your vehicle on the platform to make money.
Getaround gives customers the freedom and flexibility to choose the exact type of car they need, and they can search, book, and unlock vehicles at the touch of their screens.
When listing your car, you'll provide important details to help customers find it.
Once you've created your account using your name and car's name, you can create a profile and upload the vehicle's photos.
When you sign up initially, you'll pay a $100 listing fee, then $20 monthly. However, you'll only be charged once your car is booking-ready.
You can enable bookings for your vehicle as soon as the setup is complete. Once guests use your car for trips, you'll start making money. The amount you'll make from your car depends on factors like the make and model of the car, its availability, and your market.
17. Neighbor
If you have extra space in your home, you can use it to make money on Neighbor. It allows you to rent out your extra space to neighbors who need it.
Neighbor is a peer-to-peer rental app to rent out space in your driveway, garage, or basement.
It's easy to sign up to become a Neighbor host. Download the app, create your account, and list your space for free. You can rent out entire rooms or a portion of your space, depending on what you have available.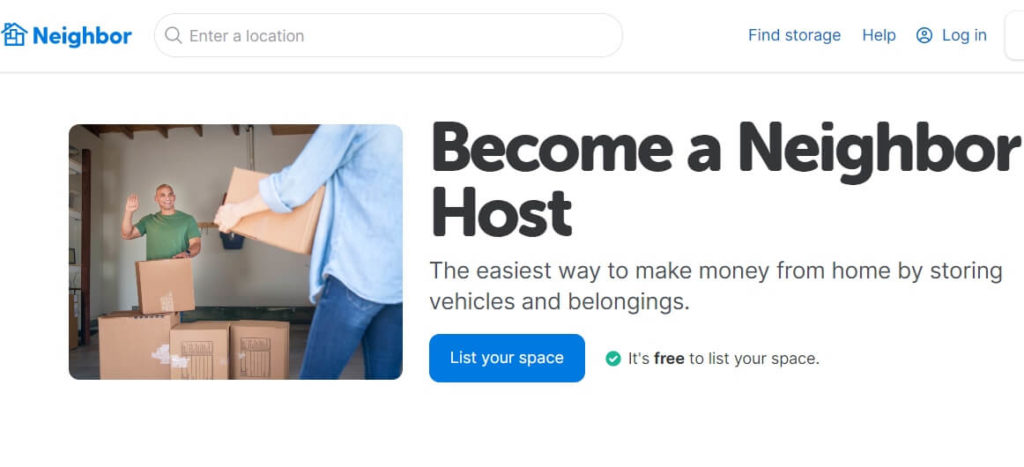 When you sign up, you must provide details about your available spaces and how much you want to make. Once your space is listed, you can review renter requests, including what they'd like to store, and approve them.
Neighbor gives you control over when and how renters will use your space. You won't have to give them your key or code if you don't want to. Moreover, Neighbor has an insurance policy that covers you and your renters in the event of damage.
The rental app also automatically makes payments to your account every month. Even if your renter doesn't pay, Neighbor will cover the cost.
18. Airbnb
For years, Airbnb has been providing travelers with affordable and accessible options for accommodation. It's also among the best passive income apps to make extra cash.
If you have an extra room or more space in your home, you can list it on Airbnb and make money. Alternatively, you could invest in a rental property and create short-term listings on the platform. Once everything is set up, you'll earn passive income with minimal effort.
Your earning potential on Airbnb depends on factors like the unit's size and location. The platform has a calculator that you can use to estimate how much you'll earn from renting out the space.
With Airbnb, you can outsource tasks like handling guests and cleaning. You can also use systems like automated messages and digital check-ins to make the whole process as seamless as possible.
Semi-Passive Income Apps
Some apps allow you to make money easily, but they're not wholly passive.
These are apps where you earn rewards for completing simple tasks like taking paid surveys, watching videos, testing websites, and playing mobile games.
The following are some of the best semi-passive income apps you can try.
19. Branded Surveys
Branded Surveys is one of the most popular get-paid-to websites where you can make money in your free time. While the app doesn't provide "passive income" per se, you get to earn money for simple tasks that take little to no effort.
Branded Surveys has over three million users and is only available to U.S., Canadian, and UK residents.
You can sign up for Branded Surveys and earn rewards for answering surveys online. When signing up, you'll provide your details which will be used to match you with relevant surveys.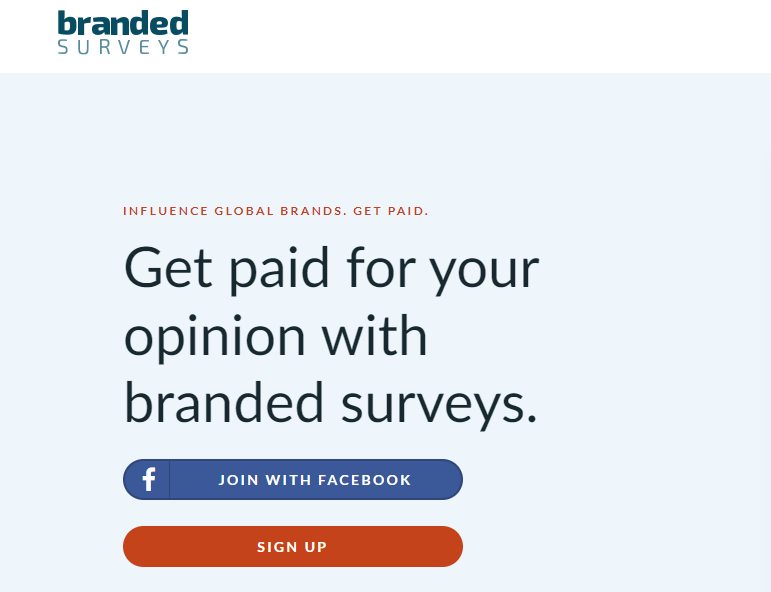 Branded Surveys reward users via check, PayPal money, and gift cards to major retailers.
When you're a regular participant, you're upgraded to the Branded Elite program, where you'll have access to better survey opportunities and even bonus money at the end of the month.
You'll earn roughly $3 an hour using the app, and the cashout threshold is $10.
20. Swagbucks
Swagbucks is arguably the most popular passive income app, with millions of users globally. It's one of the apps that allows you to earn rewards for doing simple tasks online.
One of the benefits of using Swagbucks is there are so many ways to earn. Some of the microtasks you'll complete to earn include:
Taking paid surveys
Uploading receipts
Watching videos
Shopping online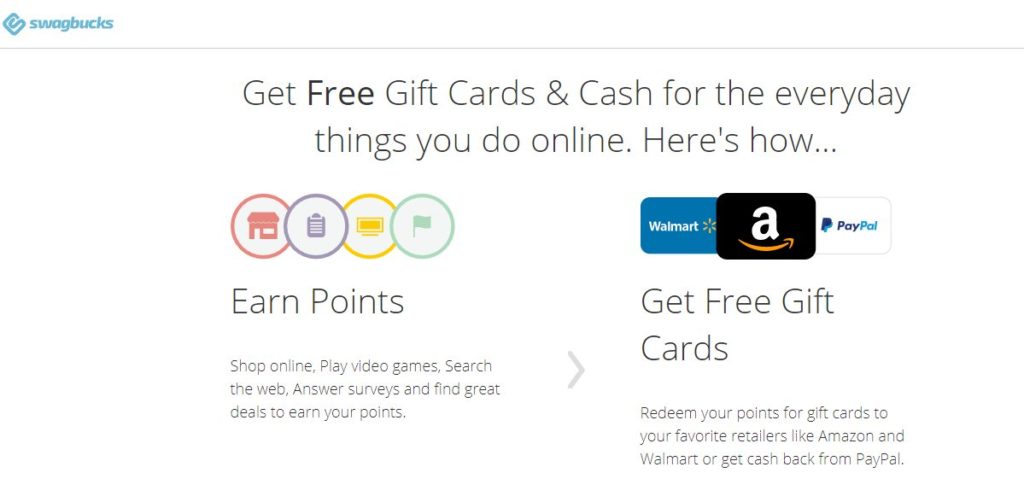 Swagbucks has a $1 cashout threshold, so you can easily withdraw your earnings daily.
Once you've accumulated enough Swagbucks (SBs), you can redeem them for cash back on select purchases, gift cards, coupons, and even cash.
Swagbucks requires some activity on your part to earn points, but these are simple tasks you can complete the next time you have a few minutes to kill.
Swagbucks has a free $5 sign up bonus. Additionally, you can earn extra cash by referring your friends to the app. 
21. InboxDollars
Another semi-passive way to earn a few extra bucks in your free time is using InboxDollars.
The app lets you to earn rewards for simple tasks and mundane activities like reading emails or fun tasks like playing mobile games.
You can also get paid to take surveys on InboxDollars, just like Swagbucks. Moreover, you get a $5 sign-up bonus. InboxDollars is a popular app with tons of positive reviews, and you can use it to make extra cash.
What sets InboxDollars apart from other GPT sites is you get paid in cash instead of points. It's one of the best semi-passive income apps, considering there are so many diverse options to make money.
Other Passive Income Apps
There are a few other passive income apps to consider, including:
22. MobileXpression
MobileXpression is part of a market research community that aims to improve the mobile internet.
You can sign up for MobileXpression, which will run in your phone's background for a week. You're then rewarded for sharing your surfing activity with them.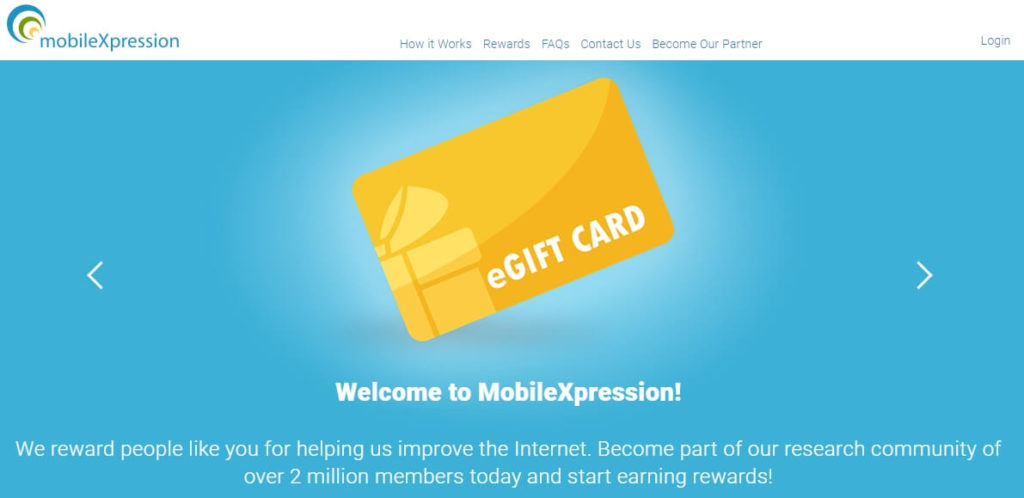 MobileXpression doesn't work with every smartphone, so you should check your eligibility before you sign up. If you're eligible, MobileXpression is one of the best ways to earn an extra $5 a month without doing anything.
When you sign up as a new user on MobileXpression, you receive a $5 Amazon gift card after using the app for one week. After that, you'll earn points you can redeem for Starbucks, Amazon, or Best Buy gift cards.
23. Nielsen Computer & Mobile Panel
Nielsen is one of the longest-serving and most reputable market research communities. It's one of the best passive income apps to earn free rewards without any effort.
Nielsen has both a computer and mobile panel. You can sign up your smartphone and computer in the panel, giving them access to your data.
When you register your computer in the Nielsen panel, you're automatically entered into monthly sweepstakes, where Nielsen gives away thousands of dollars.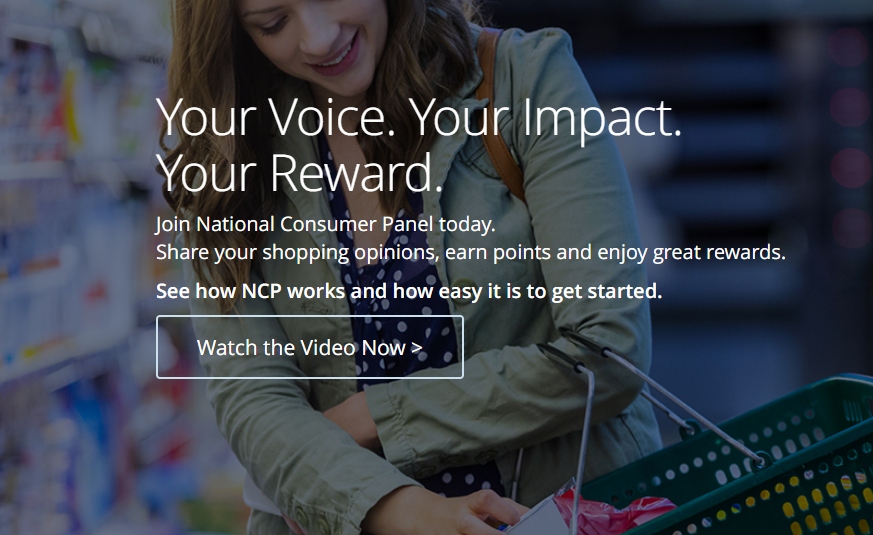 When you sign up for the mobile panel, you earn points every month for entering your smartphone in the panel. The Nielsen app then pays you $50 annually for joining their program. You can redeem your points for various gift cards and merchandise.
Nielsen is one of the best passive income apps because you get to earn $50 a year for sharing your data, and you get the chance to win sweepstakes each month.
24. S'Mores Lockscreen
S'Mores is a lock screen app that you can use to earn passive income if you own an Android phone.
The app changes your phone's lock screen and displays ads in the background. Once you have the app on your phone, you can unlock it as you normally would. You're not forced to click anything.
S'Mores will pay you $0.10 daily for unlocking your phone, and you can cash out your points for Amazon gift cards once you've reached $1.
It's one of the best Android passive income apps and a pretty cool way to earn a free $36.50 per year in passive income.
25. Sweatcoin
Sweatcoin is one of the leading fitness apps that pay.
When you download Sweatcoin, the app runs in your phone's background and collects data as you walk around outside. The more you walk, the more Sweatcoins you earn, which you can redeem for discounts, prizes, and cash.
Sweatcoin rewards you with points for every few thousand steps you make.
Once the app is set up and running, it will start monitoring how far you walk. Every time you go out for a walk, it monitors the number of steps. You'll earn 95 Sweatcoins for every one thousand steps.
While Sweatcoin is no way to get rich, it's a great way to earn for something you were going to do anyway. If you enjoy going for walks or looking for ways to stay more active, Sweatcoin could be your motivation.
26. IPRoyal Pawns App
Did you know you can make money by renting out your internet? The IPRoyal Pawns app enables you to do just that.
You can sign up and install the app on the devices you use to access the internet. When you run the Pawns app, you'll be sharing your internet.
You may be concerned about sharing your personal data, but the Pawns app protects your data. The app does not access your device storage or any personal data.
Your bandwidth is only used for legal activities, and the app contains no malware, spyware, or adware.
The Pawns app is available to users worldwide, and it's very easy to join this global community. Factors like the location of your IP address and the speed of your WiFi will impact how much you make from the app.
27. Earny
Earny is a cash back app that tracks your ongoing purchases and their prices after buying from various retailers.
If the prices of the items you buy drop, you get a refund. This is one of the best apps to save money on your purchases.
Once you enroll in Earny and link your email and Amazon accounts, the app will cover the rest. According to Earny, they help users save almost $300 per person on price drop savings.
Tips To Maximize Your Earnings With Passive Income Apps
If you want to make the most out of passive income apps, here are a few tips to consider:
Test multiple sites: Most of these passive income apps don't pay much, so you can boost your earnings by signing up for various apps.
Read terms and conditions carefully: Some apps have requirements you must fulfill to earn, so make sure you read the fine print.
Don't use a VPN: Most apps to earn passive income detect VPN usage, and you could easily get banned from using the apps.
Frequently Asked Questions
How Do I Get Passive Income on My Phone?
You can download many passive income apps on your phone to earn. Market research apps are some of the most popular ways to make passive income using your phone.
It's very easy to sign up, and you mostly just need your email.
What Is the App That Gives You Passive Income?
Several apps allow you to earn a passive income. These apps range from GPT sites, where you get paid to complete simple tasks like watching videos, playing games, and taking surveys, to data-sharing apps like Nielsen Computer and Panel, where you get paid to share your internet.
How Can I Make $100 a Day Passive Income?
You can make $100 a day in passive income through apps that pay you for simple tasks.
For one, you could participate in high-paying market research opportunities where you get paid to give feedback on products and services to help companies make improvements.
How Can I Make $1,000 a Month Passively?
There are many opportunities online to make $1,000 or more. The best way to make $1000 in passive income monthly is to put the money you have to work.
You can invest in stocks, funds, and crowdfunding platforms.
Final Thoughts
Passive income is one of the best ways to gain the financial freedom you desire. When bills are already stretching your income, it's best to have diverse streams of income that supplement your day job.
You can try investment apps like Plynk, Acorns, and Robinhood to make your money work for you. You can also use GPT sites like Kashkick, Branded Surveys, and YouGov to earn extra bucks in your free time.
Want other ways to make extra money? Checkout: