Does Uber Eats Pay for Gas? What Drivers Need To Know!
Updated on September 20, 2023
This post may contain affiliate links which means that sproutinue.com may make a small commission at no extra cost to you. We only promote products that we love and feel will benefit our readers. Please read our Disclosure Policy for more information.
If you plan to sign up for Uber Eats or recently got accepted on the platform, you may be wondering, does Uber Eats pay for gas?
When considering driving apps to make money, it's important to consider expenses. Fuel costs and other vehicle-related expenses can significantly affect your earnings.
That's why I wrote this post so you know what to expect. I'll also share a few tips you can use to save on expenses so you can maximize your Uber Eats earnings.
You're your own boss with side jobs like Uber Eats, so efficiency is key.
Want to save money on gas? Try out:
Upside – Save up to $0.25 per gallon and earn rewards on other purchases!
Does Uber Eats Pay For Gas?
No. Uber Eats doesn't pay for gas or other expenses. As an Uber Eats driver, you're hired as an independent contractor, meaning you're on the hook for fuel and additional operating costs like vehicle maintenance and repair. You use your vehicle for delivery and are responsible for all related expenses.
Uber Eats is a food delivery service, so you'll be doing a lot of driving. As such, fuel expenses are a significant factor to consider when calculating your income.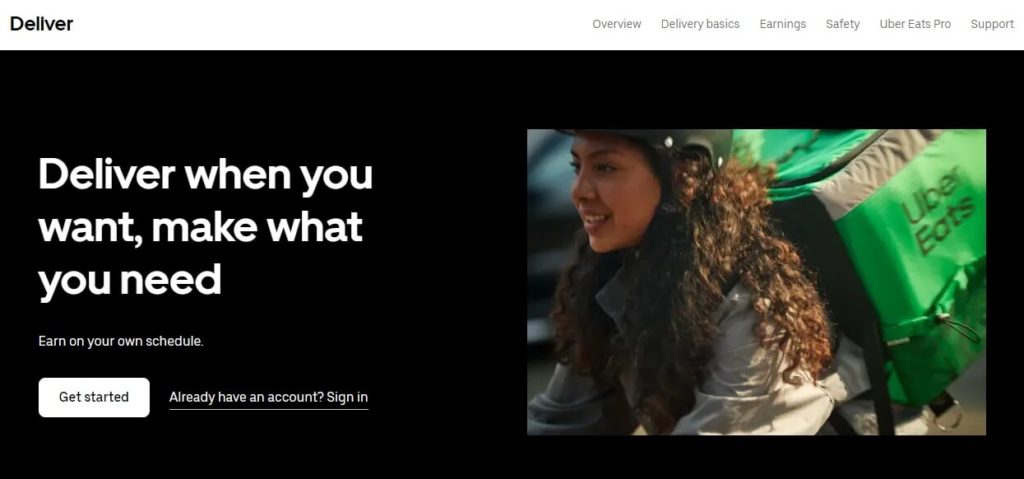 While Uber Eats considers the distance when calculating your pay for a delivery, it doesn't reimburse you for mileage. This is standard practice, as even jobs like DoorDash don't reimburse drivers for fuel costs.
Uber Eats is an excellent option if you're looking for a flexible side hustle to make a few extra bucks, but it may not be the best full-time job.
As an independent contractor, you're not entitled to any company benefits. Additionally, the pay can be unstable since it mainly depends on order volume in your market.
So, now that you know you're responsible for all your expenses, it's essential to find ways to reduce your operating costs to maximize your Uber Eats earnings.
Tips To Save on Gas as an Uber Eats Driver
One helpful tip to make the most out of your side hustle is to treat it like a business. You must keep your expenses in check to ensure you're always profitable.
Fuel is the most significant expense for delivery drivers, so here are a few Uber Eats tips and tricks to help you save on gas and boost your earnings.
Before we go over what you can do to cut down on your fuel expenses, let's look at what Uber Eats is doing about the rising cost of gas.
While Uber Eats doesn't pay for gas, it has a few measures to help offset the cost. So, what is Uber Eats doing to help drivers?
Uber Pro
Uber Pro is a reward program designed as one of the measures to cushion Uber drivers against the cost of gas.
Under the program, consistent, highly-rated drivers unlock perks that help them earn more. One of the perks of the program is gas cash-back rewards.
Uber awards you points the more you drive, so driving frequently helps you accumulate enough points to unlock the tiers in the program.
Once you have enough points to qualify for Uber Pro, you can unlock Gold, Platinum, and Diamond levels. The more you drive and the more positive ratings you get, the faster you can move on to the next tier.
With the Diamond status, you can earn cash back on gas when you use your Uber Pro Debit Card at the gas station.
The higher your Uber Pro status, the more cash back you get. Your points accumulate over fixed three-month periods, and your Uber Pro status depends on the points you earned in the previous period.
The Uber Pro program was launched in 2019 to reward well-performing Uber drivers with exclusive benefits and rewards.
Here are the main perks of being part of the Uber Pro program:
Higher quest promotions
Airport priority rematch
Cash-back rewards on gas with the Uber Pro Debit Card
Free roadside assistance
Up to 25% off car maintenance
100% tuition coverage at ASU online
That said, here are tips to save on gas as an Uber Eats driver:
1. Track Your Expenses
With apps like Uber Eats, keeping an accurate track of your expenses is essential. Tracking your miles and other expenses helps you get a clearer picture of how much you're actually making. 
Tracking your miles will also pay off come tax season. As an independent contractor, you're responsible for filing your taxes, so you'll need an accurate record.
When filing your taxes, you can write some of your expenses off to reduce your taxable income and save money.
The IRS has a standard business mileage rate, so you can deduct some of your work-related Uber Eats expenses. For this, you'll need a clear record of your mileage.
Manually tracking your mileage can be time-consuming, so you should try mileage-tracking apps that automate the task.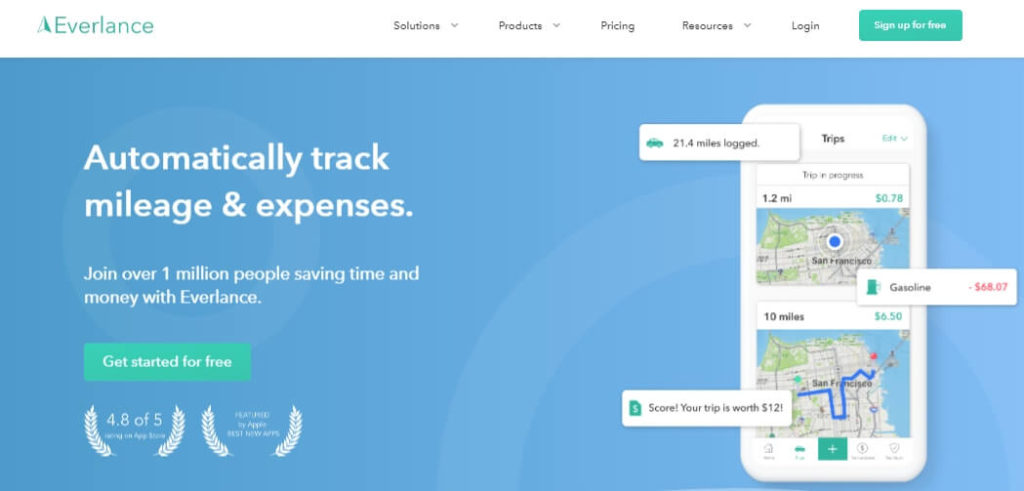 Everlance, for instance, is a popular mileage-tracking app that gig workers delivering for DoorDash and Uber Eats use.
Everlance automatically records your trip distance and other necessary data and gives you detailed expense reports so you can gauge your Uber Eats earnings accurately.
2. Choose the Best Times To Work
One of the Uber Eats hacks that can help you save more is to maximize your earnings in the first place.
If you're making more per delivery, you have more wiggle room for paying for gas and other expenses.
One way to increase your earning potential is to choose the best time to do Uber Eats. You must be strategic about your working hours to maximize your time and effort.
Peak times for Uber Eats are typically around mealtimes. Try working during lunchtime between 11 a.m. and 2 p.m. or the dinnertime rush between 5 p.m. and 9 p.m.
During these hours, you're more likely to get back-to-back orders and won't have to wait long between orders.
Take some time to determine the peak hours in your area and schedule your working hours around them.
3. Use Cash-Back Reward Apps
Cash-back reward apps are a valuable tool for delivery drivers, given how much they spend on gas.
With these apps, you can earn cash back whenever you spend at the gas station. While most apps offer between 2% and 5% cash back, the amount adds up over time.
Some cash-back apps are tailored specifically towards fuel purchases, and these are especially important for delivery drivers.
For instance, a reward app like Upside gives you up to $0.25 off per gallon at any gas station. Plus, the app offers cash back on other purchases as well.
Aside from the cash-back on gas purchases, the app also shows you the best deals on gas in your area so you can save money on fuel.
With Upside, you can redeem your savings for PayPal cash or gift cards to popular retail stores.
4. Use a Fuel-Efficient Vehicle
Uber Eats drivers use their vehicles for delivery, so you have control over what you use for work. One way to save on gas is to drive a smaller car, or at least one that's fuel-efficient.
If possible, consider electric vehicles or hybrids instead of traditional cars or SUVs that consume a lot of fuel.
With a fuel-efficient car, saving more of your Uber Eats earnings and managing your fuel expenses will be easier. You can research the available options to find a vehicle that suits your budget and needs.
Buying a vehicle just for Uber Eats might not be the best financial move, so you should consider options like borrowing a friend's car or renting one.
Whichever decision you make, ensure you calculate the costs to ensure you're profitable at the end of the day.
5. Consider Switching to a Bike
Uber Eats allows drivers to make deliveries using a vehicle, bike, or scooter.
If your fuel expenses keep piling up, consider not driving altogether. You can try being a bike courier to see if it works for you.
Switching from a vehicle to a bike significantly reduces gas and maintenance costs.
And if you live in a major city where traffic can be a headache, using a bike for deliveries may be faster, allowing you to make more deliveries in less time.
Electric bikes and scooters are popular among food and grocery delivery couriers since they cut down on costs and are easy to maneuver.
Using an e-bike instead of a vehicle also positively impacts the environment since it reduces the emission of pollutants. This way, you get to play your part in ensuring a greener tomorrow.
Delivering via bike is also beneficial to your health. You get to exercise as you make money with your bike, so you're killing two birds with one stone.
Switching to a bike may not be practical for everyone, so it's important to consider your circumstances to make the best decisions.
6. Choose Your Orders Wisely
As mentioned earlier, your efficiency as a driver is one of the crucial factors that determine your earnings. Even with other gig apps like Instacart, proper planning is essential.
One tip that will help you work efficiently is to accept orders wisely. Your Uber Eats acceptance rate doesn't count for much, so you shouldn't hesitate to cancel orders that are not worth your time.
Ensure you're being adequately reimbursed for every delivery trip you make. Limit your deliveries within a hot spot so you don't have to drive too far out.
If your delivering routes are close together, you'll use less fuel and ultimately save on gas expenses.
Planning your routes ahead of time also improves your efficiency and helps you save on both time and fuel costs.
Navigation tools like Uber's built-in map and Google Maps can help you find and optimize your routes ahead of time so you don't get lost and waste your time.
7. Use Credit Cards To Earn Miles and Points
Another way to save on fuel expenses as an Uber Eats driver is by taking advantage of credit cards that offer miles and points as rewards.
Most cards offer 2% cash back, which is pretty conservative, but at least you save something while making a purchase you were making anyway.
You can explore credit cards for potentially larger rewards. The points and miles you earn will come in handy when you have to travel.
It's important, however, to be responsible when using credit cards. It's possible to lose more than you gain if you're not strategic about financial management.
The Best Jobs Like Uber Eats
Whether Uber Eats doesn't sound like the best side job or you want similar gig apps to increase your earnings, these options are worth considering.
Extra Reading: How To Make $1000 a Week With Uber Eats
Frequently Asked Questions
Is Uber Eats Worth It With Gas Prices?
Uber Eats is still worth it for most drivers, even with gas prices. To determine whether Uber Eats is worth it, compare your income to expenses.
Additionally, there are many strategies you can employ to reduce your operating costs and maximize your earnings on the delivery app. For instance, you could use a fuel-efficient vehicle or switch to a bike.
Does Uber Eats Pay for Mileage?
Like most rideshare and food delivery platforms, Uber Eats doesn't reimburse drivers for mileage. Uber hires you as an independent contractor, so you're responsible for all work-related expenses, including mileage, gas, vehicle maintenance, and repair.
Uber Eats considers distance as one of the factors when determining the amount due for delivery, but there's no direct reimbursement for mileage.
How Much Does Uber Eats Pay Per Delivery?
The amount you earn per Uber Eats delivery depends on various factors, including the demand, your location, and the specific fee structure in your area.
These are the factors that determine the pay for a delivery:
Base fare: The amount you're paid for driving to the restaurant and delivering the order.
Distance: An additional amount you get depending on how far you travel to make the delivery.
Surge pricing: An increase in pay during peak times when there's high demand.
Tips: Uber Eats drivers keep 100% of customer tips.
Does Uber Eats Pay Hourly?
Uber Eats doesn't pay drivers an hourly wage. As an Uber Eats driver, you earn per delivery based on the delivery fee structure in your area.
Uber Eats pays you for every complete delivery, consisting of base fare, distance fee, surge pricing, and other incentives and promotions. Customer tips are not factored in, and drivers keep 100% of their tips.
Can I Do Uber Eats and Uber Driver at the Same Time?
Yes. There are no rules or policies against driving for both Uber and Uber Eats. Uber offers a wide range of services, and you can choose to provide both services to boost your earnings.
If you're already driving for Uber, you can start delivering meals with Uber Eats by activating the app so you receive both ride and food delivery requests.
Final Thoughts
So, does Uber Eats pay for gas? No. Uber Eats hires drivers on an independent contractor basis, so they're on the hook for all expenses, from gas and mileage to vehicle maintenance and repair.
Still, you can make a decent income from this side gig. It comes down to being an efficient worker to minimize expenses and maximize your earnings.
When determining whether Uber Eats is worth it, compare your earnings to your expenses to see if you're hitting your income goals.
You can use tips like tracking your mileage or switching to a bike to reduce your expenses and increase your profits.
Want other high-paying side hustle ideas? Check out these posts: