19 Best Uber Eats Tips and Tricks To Make More Money in 2023
Updated on September 20, 2023
This post may contain affiliate links which means that sproutinue.com may make a small commission at no extra cost to you. We only promote products that we love and feel will benefit our readers. Please read our Disclosure Policy for more information.
Uber Eats is one of the most popular gig economy jobs in more than 6,000 cities globally. If you recently signed up as an Uber Eats driver, you probably want to know the best hacks to make the most of the gig.
With jobs like Uber Eats, you work on your schedule and can work however much you want, so your earning potential depends on your efficiency as a driver. 
I'll share in this post the best Uber Eats tips and tricks that can help you maximize your earnings on the platform.
Want other money-making ideas? Try out:
Arrived – Invest in real estate with as low as $100 and earn quarterly dividends from rental properties!
Neighbor – Rent out any storage size and make money!
The Best Uber Eats Tips and Tricks
With Uber Eats and other apps that pay you to drive, you work as an independent contractor, so you have much control over your work.
Whether you want to make $1,000 a week with Uber Eats or $500, you can quickly achieve your goal with the hacks I'll share in this post.
Here are the best Uber Eats tips and tricks to help you hit your earning targets.
1. Cherry-Pick Your Orders
Uber Eats allows drivers to choose orders, so you should be selective with the delivery requests you accept.
As a beginner, you may be tempted to accept every delivery request that comes your way, but it's advisable only to accept orders that are worth your time and effort.
Your Uber Eats acceptance rate doesn't matter, so you shouldn't worry about getting deactivated for a low acceptance rate.
By selecting well-paying orders, you increase your efficiency and maximize your working time instead of wasting time with low-paying orders.
When you receive a request, it shows you the order type, the restaurant, the delivery distance, and potential earnings. These are all essential factors that you should consider before accepting an order.
If the delivery distance is too far from where you are, it may be wiser to turn down the request.
Additionally, if the order involves driving into an area with high traffic, it may cause delays and negatively affect your tips.
Being selective about the orders you accept is one of the best ways to improve your efficiency as an Uber Eats driver.
2. Work During Peak Hours
Another way to work efficiently as an Uber Eats driver is to choose the right time to work.
You must know the best Uber Eats times in your area. Working during these peak hours results in a steady stream of orders, so you don't have to wait long.
While peak hours may differ from one area to another, mealtimes are typically busy hours for Uber Eats.
The lunchtime rush between 11 a.m. and 2 p.m. and the dinnertime rush between 5 p.m. and 10 p.m. are peak hours in most markets.
Aside from the significant increase in orders during these hours, Uber Eats may implement surge pricing as an incentive to get more drivers. This way, you make more money for driving during busy times.
3. Position Yourself Strategically
As an Uber Eats driver, your location is an important factor.
When assigning orders, Uber Eats considers several factors, including location. So, always position yourself strategically to increase the chances of getting orders.
While getting orders at home is possible, parking around high-demand areas helps you get more orders and make more money.
Take some time to determine high-demand areas in your market. In most cases, these areas have a cluster of popular restaurants that receive many orders. You can also use the Uber Eats heat map to find busy areas in your market.
Once you know the areas with the highest demand in your city, you won't waste time waiting for orders.
When you stick to these high-demand areas, you increase your chances of getting back-to-back orders, and you can maximize your earnings.
4. Work Efficiently
As mentioned earlier, with Uber Eats and even other delivery gigs like Instacart, your efficiency determines your earnings.
One way to work efficiently as an Uber Eats driver is to work within a small radius. When you limit your working area, you take less time to complete orders, so you take more orders and make more money.
When you work within a small radius, you drive more quickly and cut down on gas costs. As such, avoiding orders that take you out of a hot zone is advisable.
Don't hesitate to turn down orders that require driving for long distances, especially when they don't pay enough to be worth the effort.
It may take some time to determine Uber Eats hotspots in your area, but once you know where they are, it will become easier to make more money.
5. Always Take Advantage of Promotions
Uber Eats has regular promotions that you can use to boost your earnings. Always be on the lookout for them so you can maximize your income.
Here are the main types of incentives and promotions Uber Eats offers drivers:
Boosts
Uber Eats Boosts are promotions that pay you extra for completing trips within a specified area and a set period.
Boosts are popular during major events like sports or concerts when order volumes increase significantly.
Uber Eats lets you know about Boosts so you can plan ahead and take advantage of them.
Surges
Surges are more frequent than Boosts. Surge pricing is usually implemented when there's a high demand and few drivers.
You can find areas with surge pricing using the heat map on your Uber Eats driver app.
Quests
You can also maximize your Uber Eats income by participating in Quests. With Quests, you make extra money by reaching a specific goal within a particular period.
Just like Boosts, you can see Quests ahead of time and plan accordingly.
6. Track Your Expenses
As an Uber Eats driver, you're hired as an independent contractor. This means you use your own vehicle and are responsible for all expenses.
Uber Eats doesn't pay for gas or any other work-related expenses, so one of the best tips and tricks is tracking your expenses.
Mileage is one of the most significant expenses for any delivery driver, so you should keep accurate track of it.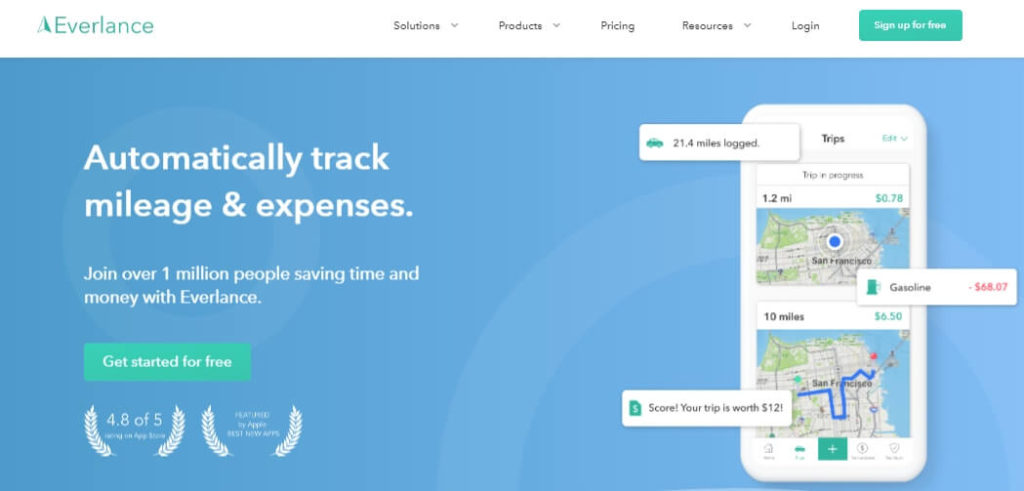 With a clear record of your Uber Eats mileage, you can claim a deduction come tax season. The IRS has a standard business mileage rate, and you can find significant deductions.
Manually tracking your mileage can be a hassle, so you can try mileage-tracking apps like Everlance instead.
The app automatically tracks your mileage, so all you have to do is log in whenever you're working.
7. Provide Excellent Customer Service
Uber Eats drivers keep 100% of customer tips, so one way to make more money with Uber Eats is to provide excellent customer service.
Customers tip based on their overall experience with you, so you should do your best to ensure positive experiences for all customers.
Here are a few tips to improve your customer service:
Be courteous and professional when interacting with them
Communicate with the customer and give them updates, especially if there are delays
Always ask about replacements
Grab extras where possible to leave a good impression
While tips are not always guaranteed, it's always beneficial to good customer service.
Customers rate drivers. A good rating improves your chances of qualifying for Uber Pro and other performance-based incentives.
8. Sign Up for UberX
One of the major perks of driving for Uber is you can easily switch from one service to another.
UberX drivers can start delivering for Uber Eats by simply opting into the platform on the Uber driver app.
Similarly, you can also drive for UberX as an Uber Eats driver. Delivering food while driving for the rideshare platform is an excellent way to maximize your earnings.
As an Uber Eats driver, you've already met the requirements and passed the background check, so it's easy to start ridesharing.
If you'd like to start driving for UberX as well, you have to visit your local Uber headquarters or call the company.
Switching back and forth between UberX and Uber is advantageous because the services get busy at different times, so you always have work.
Extra Reading: How To Make $500 a Day With Uber
9. Treat The Job Like a Business
Delivering with Uber Eats is similar to running a small business in that you're in charge of virtually every aspect of the job, from working hours to expenses.
Treating the side job as a small business can help you boost your income. Every decision should be made intentionally for maximum profit.
One of the benefits of jobs like DoorDash and Uber Eats is you can work as much or as little as you want. But if you want to earn a decent income, you must be willing to put in the work.
Increase your working hours, track your expenses, and reduce your operating costs to make the most of Uber Eats.
10. Minimize Your Expenses
To maximize your Uber Eats earnings, you must find ways to reduce your operational costs.
Expenses like gas, vehicle maintenance, and repair can significantly eat into your income, so it's vital to reduce your costs.
One way to minimize your expenses is to drive a fuel-efficient vehicle. With a fuel-efficient car, you can reduce your operation costs and maximize your profits.
Buying a new car for Uber Eats deliveries is impractical, so consider borrowing a friend's or renting one.
Whichever the case, ensure you make the calculations to determine whether you'll be saving more than you're spending. The ultimate goal is to be profitable.
Another way to save on expenses, especially gas, is to use gas reward apps like Upside. With Upside, you can save up to $0.25 per gallon.
11. Consider Switching To a Bike
Another advantage of working for Uber Eats is you can make money with your bike. If you make deliveries within a small radius, consider switching from a car to a bike.
Delivering using a bike helps you save on fuel costs, and it's a lot faster because it's easier to maneuver high traffic.
Additionally, with a bike, you get to exercise while working, and you take part in promoting a greener tomorrow by reducing emissions.
Switching to bike deliveries is only practical if you don't cover long distances to make deliveries. Consider your delivery radius before making the switch.
12. Understand Your Market
As an Uber Eats driver, you should take time to research and understand your market. Knowing how to get around your city can help you improve your delivery speed and efficiency.
Take time to learn shortcuts, back roads, and streets to avoid high-traffic areas that cause delays.
Staying informed and exploring different roads in your area will help you save precious delivery time.
You should also note restaurants with long wait times and avoid taking orders from them. Long wait times waste your time and reduce your efficiency.
Find restaurants that prepare the orders quickly and efficiently so you can deliver more orders in less time.
13. Know When To Cancel Orders
While maintaining a high acceptance rate is beneficial, knowing when to cancel orders is vital.
If you notice you'll wait too long for an order, contact the customer and let them know that you're canceling the order.
However, don't cancel too many orders, as a high cancelation rate is grounds for Uber Eats deactivation.
Waiting for an order for longer than 30 minutes will negatively affect your daily earnings, so canceling such orders is warranted.
After canceling an order, you can jump back in and take other orders. This Uber Eats tip is an excellent way to take orders worth your time.
14. Take Stacked Orders
Sometimes, you'll come across stacked orders, where you have to pick up two orders from the same restaurant and deliver them to different customers.
You can make more money per hour with stacked orders, but you should always consider the distance.
If the last dropoff location for the stacked order involves driving significantly far from a busy delivery area, it may not be worth it.
Always check the dropoff locations on the Uber Eats map or use Google Maps to confirm the locations before taking stacked orders.
15. Consider Multiple Gig Economy Apps
Another Uber Eats tip and trick is to try delivering for multiple apps. This way, you always have work, even when one app is slow.
Here are some delivery apps to consider:
16. Test Other Markets
If you notice Uber Eats is always slow in your area, there isn't much you can do to increase order volume, so you can try other markets.
Uber Eats markets differ, sometimes even within the same city. The order volume in a busy downtown area will differ from that in the suburbs.
If you live in a small town or rural area with few busy restaurants, try delivering in a nearby busy market.
Trying different zones with busier restaurants and a higher population can help you significantly boost your income.
Some zones pay a higher hourly rate than others based on the type and quality of restaurants, so exploring other markets is always beneficial.
17. Always Double-Check Orders
This might seem simple, but you'd be surprised how many drivers get their orders wrong.
You can avoid this mistake by simply double-checking every order. Sometimes, the restaurant calls out the customer's name, but there are two or more orders with the same name.
Take an extra minute to counter-check the order number on the package with the number on the app.
Also, ensure that every item in the order is included. If the customer ordered extra ketchup or sauce, ensure it's included.
It's easier to rectify any mistakes while at the restaurant than delivering the wrong order and losing out on your tip.
18. Store the Food Properly During Delivery
As an Uber Eats driver, you'll find yourself having to deliver hot and cold food items simultaneously.
Always store the items properly and separately to avoid compromising the quality of the food.
An insulated food bag is a must-have for any food delivery driver. This way, you can maintain the food's temperature during delivery.
Small, thoughtful acts like separating hot and food items so they arrive in perfect condition significantly increase your tips.
Insulated food bags are not just for bike couriers. An insulated bag is extremely valuable even if you make deliveries using a vehicle.
19. Take Photos After Drop Off
Many customers prefer contactless delivery, so you simply drop the order off at their doorstep and contact them to pick it up.
Whenever you make contact-free deliveries, always ensure you take a photo to prove that you made the delivery.
This way, you're covered if the customer claims they didn't receive their food. Also, send them a quick text so they know to pick up their order.
Taking these two simple steps helps to ensure a smooth delivery process and makes it easier for the company to handle customer disputes.
Uber Eats Tips and Tricks From Reddit Users
Joining a community of Uber Eats drivers on sites like Reddit is very beneficial, especially for beginners.
Other Uber Eats drivers share tips and tricks that you can employ to maximize your earnings. You can also ask questions about specific features or updates and get help from people with experience.
Here are a few Uber Eats tips and tricks from drivers on Reddit:
OvoKOS7 says: "Invest in a decent tote bag. Some people think it's needless, but it really makes a difference for the ratings and generally shows the customer you care more than the average courier."
ScottMcPot says: "I usually only accept orders for $8 or more and around $1.50 a mile for long distance orders."
NewpottLou says: "I had 4 online hours yesterday, and I made $100, no problem. The first few orders all tipped over the original tip amount. I don't drive all the time, but I like the extra money."
Most Uber Eats drivers on Reddit recommend the tips covered in this post, including parking near busy areas, cherry-picking orders, using multiple delivery apps, and providing good customer service.
Frequently Asked Questions
When Do Uber Eats Tips Show Up
Your Uber Eats tips show up immediately after you receive them.
Uber Eats customers can add tips up to 7 days after the delivery is completed. They also have the option of leaving a tip during the checkout process.
Your tip amount should be visible in your earnings summary after you've made the delivery. If not, the customer still has up to 7 days to add the tip, and you'll see it immediately.
Can You Beat Uber Eats Algorithm
You can use plenty of Uber Eats tips and tricks to beat the algorithm to get bigger orders and make more money delivering on the platform.
One way to get better orders on Uber Eats is to position yourself strategically. Some markets have better-quality restaurants, so your hourly rate may be higher.
Final Thoughts
Hopefully, the 19 Uber Eats tips and tricks I've covered in this guide will help you significantly increase your earnings on the platform.
The bottom line is you should treat your side hustle like a small business and always make business-minded decisions that increase your profits.
Remember, with Uber Eats and other gig economy jobs like DoorDash, your earning potential depends on your efficiency. The more efficient you are as a driver, the more money you'll make.
It may be challenging to remain motivated, so always set earning goals to keep yourself in check. Also, track and compare your income and earnings to determine if the money is worth your effort.
If you notice you're not earning enough even after implementing several strategies, perhaps switching to a different side hustle would be better.
Looking for other side hustle ideas? Check out these posts: