Is Walmart Spark Worth It For Drivers in 2023?
Updated on September 7, 2023
This post may contain affiliate links which means that sproutinue.com may make a small commission at no extra cost to you. We only promote products that we love and feel will benefit our readers. Please read our Disclosure Policy for more information.
If you're looking for a side job and are considering Walmart Spark, you probably want to know if it's worth your time before signing up for it.
With Walmart Spark, you get paid to drive and deliver items to customers on your schedule. But is Walmart Spark worth it? How much does it pay?
In this post, I'll cover everything you need to know about Walmart Spark, including how it works, how much it pays, and tips to help you make the most of the gig app.
Want to make some quick bucks? Try out:
Crowdtap – Answer online surveys and cash out your rewards at $5!
Acorns – Earn $20 when you start rounding up your spare change with Acorns!
What Is Walmart Spark?
Walmart Spark is a delivery service that allows customers to order items from the Walmart app or online and have them delivered to their doorsteps.
As a Walmart Spark driver, you can make money delivering these orders to customers and businesses within your area.
Walmart Spark works like other gigs like Instacart, where you get paid to deliver groceries. However, with Spark, you deliver a wider range of items.
Walmart Spark charges the customers a flat-rate delivery fee. In some areas, it offers a subscription-based service where the members get unlimited free deliveries.
Whenever you receive an order on the Spark app, it displays your potential earnings so you know what to expect from deliveries before tips and other promotions that boost your pay.
Walmart Spark drivers can withdraw their earnings once a week, every Tuesday. The ability to make money fast is one of the advantages of Walmart Spark, similar to other delivery jobs like DoorDash.
Is Walmart Spark Worth It?
If you're looking for a flexible side hustle where you make roughly $15 an hour, then Walmart Spark is worth it. Walmart Spark is also suitable if you own a vehicle and don't mind spending considerable time on the road making deliveries.
Walmart Spark is similar to other driving gigs like DoorDash and Uber Eats in that the job is flexible, and your pay depends on the number of deliveries you make.
Spark may not be worth it if you want to earn a full-time income. Your income will vary daily depending on the volume of orders.
Walmart Spark is an excellent choice if you want to make money as an independent contractor. The job's flexibility makes scheduling around other responsibilities, such as school or parenting, easy.
Another way to determine if Walmart Spark is worth it is by looking at other drivers' opinions. Delivery drivers often share their experiences on forums, and you can learn something from them.
Learning from someone with first-hand experience with the app can give you the insight you need to make an informed decision about signing up for Walmart Spark.
Here are a few comments on Reddit from Walmart Spark drivers:
TormundGingerBeard says: "It's over saturated in a lot of zones. They offer these sign up and invite bonuses, and it floods the zones with a bunch of new drivers. I'm in a very active zone, and it's been tough to find worthwhile orders for a couple months."
Napman19899 says: More drivers, less opportunities unless the delivery demand increases. Driver saturation happened. Get used to it. It's never going back, so enjoy the ride."
FlyJ50 says: "Winter was way busier with the holidays and then too cold for people to want to shop themselves."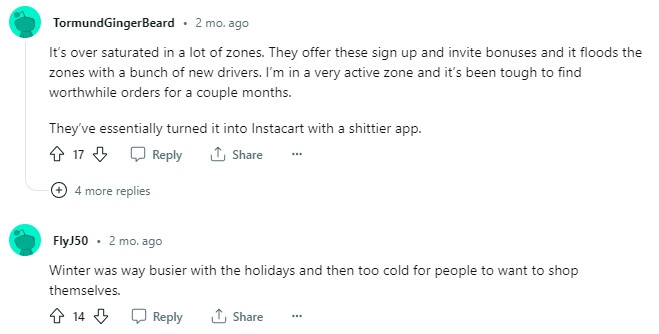 As you can see, everyone has a unique experience driving for Walmart Spark. Once you've signed up for it, you'll know exactly how much you earn and the order volume.
How Does Walmart Spark Work?
Like most gig economy jobs, Walmart Spark is easy to sign up for. If you're ready to start working as a Spark driver, you can finish the process within 3-7 working days, depending on the demand for drivers in your area.
Here's a step-by-step guide to how Walmart Spark works:
1. Apply To Become a Spark Driver
The first step to working for Walmart Spark is applying for the gig and meeting the requirements.
When you sign up for Walmart Spark, you must provide personal information like your name, phone number, email address, and physical address.
Here are the requirements you must fulfill to become a Walmart Spark driver:
Be at least 18 years old
Have access to a reliable car
Have vehicle insurance
Own a smartphone for the Spark app
Be able to lift at least 50 pounds of items
Consent to and pass a background check
Unlike other gigs like DoorDash, where you can make money with your bike, Walmart Spark only allows cars, cargo vans, SUVs, or trucks. Still, their vehicle requirements are flexible.
The background check will take approximately one to seven days, and once you pass, you can start working for Walmart Spark immediately.
A background check is standard procedure for gig economy platforms. Other jobs like Uber Eats and Instacart also run background checks on applicants before hiring them.
People with criminal records involving violent crimes, moving violations, or other driving-related convictions may not be accepted to work as a Spark driver.
2. Start Making Deliveries
Once you qualify to work as a Walmart Spark driver, you can start accepting orders and making deliveries.
The Walmart Spark app is easy to navigate and has everything you need to do the job. Log into the app, accept the orders you want, drive to the store to pick up the packages, and then use the built-in navigation tool to deliver the orders to the customer.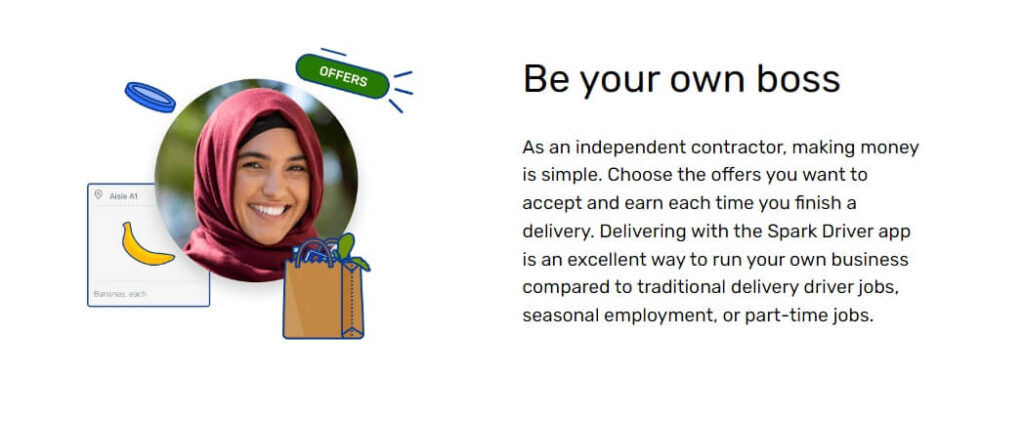 Walmart Spark pays you for every completed delivery, and each order displays the order type, delivery distance, and estimated payout.
You can accept or reject any offers, so your Spark acceptance rate doesn't matter.
As with most delivery gigs, you should choose the orders you accept wisely. If the payout for an order is too low, you can turn it down and wait for a better order.
There are four types of Spark deliveries you can expect:
Curbside orders: With this order type, the customer picks up the items at the Walmart parking lot. As the driver, you hand over the items at the designated loading area.
Express deliveries: Pick up and deliver grocery items to the customers within two hours.
Online orders: Customers place their non-grocery orders, and you pick them up from the store and deliver them.
Shopping and delivery orders: With this type of order, you'll have to shop for the items at the store and deliver them to the customer's doorstep.
3. Get Paid
Every time you make a delivery, you'll see how much you earned from the trip, including any tips you got. Like most delivery gigs, Spark drivers keep 100% of the tips they get.
Spark delivery drivers are paid through DDI via the Branch wallet. Spark drivers can't choose how they're paid, but direct payment via Branch is fast, easy, and efficient.
Payments are made weekly every Tuesday for the deliveries completed between Monday and Sunday of the previous week.
Unlike other gigs like Instacart and DoorDash that have instant withdrawal options, Walmart Spark pays drivers only once a week. So, if you're looking for same-day pay jobs, Walmart Spark may not be the most suitable option.
When you're setting up your Spark app, you receive an email with a personalized link you use to set up your Branch Wallet for payment.
You must also consent to receive notifications from the Branch about your payments and other account information.
How Much Does Walmart Spark Pay?
Spark drivers are paid based on their deliveries, so there's no set hourly rate. However, based on salary review sites, you can expect to make between $10 and $20 per hour as a Spark driver.
Your earnings per delivery depend on the order type, distance, customer tips, and any bonuses and incentives.
The amount you earn as a Spark Driver also depends on factors such as the market, surge pay, driver promotions, and customer tips.
Aside from the base rate, Spark offers the following additional incentives:
Lump sum incentives: An amount paid on top of the base rate for completing a specific number of deliveries.
Tiered incentives: This is a reward for drivers who cover more trips to earn more.
Per-trip incentives: These are bonuses given per trip.
Multi-trip incentives: When you complete a specific number of trips over a given period and don't earn a set amount, Walmart Spark covers the difference.
Extra Reading: Is Uber Eats Worth It?
How Much Can You Make With Walmart Spark?
The amount you make as a Spark driver depends on factors like how many hours you work and the demand in your market.
When there's a high order volume, it's easy to make $20 per hour. But on slow days, you may not get orders on Spark, and it may be harder to hit your target earnings.
The average earnings per week for Spark drivers is $323, so you can expect to make $500 or more per week, depending on the prevailing conditions.
However, this is net pay, and you should note that as a Spark driver, you're an independent contractor. This means you're responsible for all your expenses and paying taxes.
So, when calculating your income from the platform, ensure you factor in expenses like gas, vehicle maintenance, and repair.
With the right strategies, you can earn a significant amount from Spark, but don't expect to make a full-time income.
How Does Walmart Spark Assign Orders?
Walmart Spark assigns order requests in two ways:
First come, first serve: These are orders sent to all drivers, and the first driver to accept the order gets it. The more you refresh the app, the easier it is to claim the orders before they're taken.
Round robin: These are order requests sent to a specific driver. These offers typically come once per hour, and you have a few minutes to accept or turn down the order.
How To Make the Most Money With Walmart Spark?
As with most gig economy jobs, your earning potential on Walmart Spark depends on how much you work and how efficient you are.
Here are a few tips that can help you maximize your income on the app:
1. Understand Your Market
Understanding your market will help you position yourself strategically to make the most of driving for Walmart Spark.
Check Walmart and Sam's Club locations in your area and try parking near these areas, as it increases the chances of being assigned orders.
The closer you are to a pickup location, the shorter the distance you'll have to cover to complete deliveries.
Aside from location, you should also note the busy times in your area. What time of day has the most order requests? Once you know the best times to work, you can schedule your working hours around them to maximize your work time.
It's better to work for two hours of prime time when the orders are back-to-back than four hours when they're far between.
2. Take Advantage of Incentives and Promotions
You can significantly boost your earnings on Walmart Spark by regularly taking advantage of incentives and promotions.
Walmart Spark has tons of incentives, including:
Lump sum incentives
Tiered incentives
Confirmed payment incentives
Per trip incentives
Multi-trip incentives
Surges
Once you've completed a specific number of orders, you can refer friends. You're both rewarded if your friend signs up and meets the required order volume within the specified period.
Check the Spark app for incentives and participate in as many as you can.
3. Maximize on Tips
As a delivery driver, you can maximize your earnings from customer tips. Maximizing customer tips is one of the best Walmart Spark hacks to increase your earning potential.
Customer service is the main factor that determines the tips you get. Ensure you provide stellar customer service to all your customers.
For one, ensure you arrive on time. Everyone appreciates punctuality, and if there are any delays, notify the customer.
Keep your interactions with the customer friendly and professional to create a good impression. Additionally, when delivering the items, ensure any temperature-sensitive items are well-packed.
Customers appreciate the effort, and good customer service increases your tips.
4. Consider Multi-Apping
While Walmart Spark is a good side hustle, some factors may be out of your control when it comes to your earnings. For instance, if you live in a small or rural area with low order volume, there isn't much you can do to increase your income.
Most gig economy drivers use multiple apps simultaneously, and you can try it, too. A job like Uber Eats can be an excellent addition to Walmart Spark.
When you're delivering for multiple apps, switching to a different app is easy, for example, when one DoorDash is slow. This way, you maximize your working hours.
Most gig economy apps have no rules against working for other platforms, so you can try gigs like Amazon Flex.
Walmart Spark Pros and Cons
If you're still wondering if Walmart Spark is worth it, the pros and cons of driving for Spark could provide more insight.
Pros:
You work on your own schedule.
The platform has simple requirements for applicants.
Drivers keep 100% of customer tips.
It's a great way to make up to $20 per hour making deliveries
Cons:
No stable income as work depends on demand
You can't use bikes or scooters for delivery
The side hustle can be tiresome, especially when carrying heavy items to apartment buildings
Walmart Spark has no instant pay option.
The Best Walmart Spark Alternatives
Whether Walmart Spark doesn't meet your needs or want other gig apps to boost your earnings, these delivery services are worth considering:
Extra Reading: How To Make $20k a Month
Frequently Asked Questions
Is Walmart Spark a Good Side Hustle?
Walmart Spark is a reliable side hustle and a good way to make money making deliveries for Walmart and other businesses.
If you want a flexible side hustle where you can make up between $10 and $20 per hour, then Walmart Spark is suitable.
How Long Does It Take To Get Approved for Spark Driver?
The sign-up process takes a few minutes, but you may have to wait about 7-14 working days for your account to be activated. The background check will take 1-7 business days, depending on the information available.
Can You Get Paid Daily With Spark?
No, Spark drivers don't get paid daily. Payments are made once a week on Tuesday for all the deliveries completed the previous week from Monday to Sunday.
How Much Can You Make a Month With Spark?
Your monthly income with Spark depends on how much you work. If you work 20 hours a week, you'll make at least $1,200 a month if you make $15 per hour on average.
Does Walmart Spark Pay For Gas?
Walmart Spark hires drivers on an independent contractor basis, which means they're responsible for all expenses, including gas, vehicle maintenance, and repairs.
Walmart Spark doesn't pay for gas, so it's essential to factor these factors in when calculating income.
Final Thoughts
So, is Walmart Spark worth it? If you're looking for a flexible side hustle where you make between $10 and $20 per hour, then it's a suitable option.
Walmart Spark is worth it if you live in a busy city with high order volumes. You can quickly boost your earnings and make a decent income if the market is busy.
You can try Walmart Spark for a few weeks to see if it's a good fit. Most Spark drivers agree it's a reliable way to make extra cash on the side.
If you live in a small town where Walmart Spark is less busy, you can always deliver for multiple apps or switch to a different delivery gig entirely.
Looking for other lucrative side hustle ideas? Check out: