Uber Eats vs Instacart 2023: Which Gig Pays More?
Updated on September 20, 2023
This post may contain affiliate links which means that sproutinue.com may make a small commission at no extra cost to you. We only promote products that we love and feel will benefit our readers. Please read our Disclosure Policy for more information.
Uber Eats and Instacart are two popular driving apps that pay. If you're torn between the two gig apps, this Uber Eats vs Instacart guide will help you choose the perfect side hustle for you.
The main similarity between the two apps is they're both delivery platforms. The main difference is Uber Eats is for food delivery while Instacart mainly focuses on grocery shopping and delivery. 
This guide covers everything you need to know about Instcart and Uber Eats so you can make an informed decision. We'll look at how both platforms work, their earning potential, and their pros and cons.
Uber Eats Overview
Uber Eats, a food delivery service under the rideshare company Uber, is a platform that offers food delivery services from restaurants and fast food chains to customers' doorsteps.
Uber Eats was launched in 2014. The platform is one of the most popular food delivery services in over 6,000 cities worldwide.
You can sign up for Uber Eats and start making money delivering food to customers within your city. The platform has pretty lenient requirements, and you can even make money with a bike if you don't have access to a vehicle.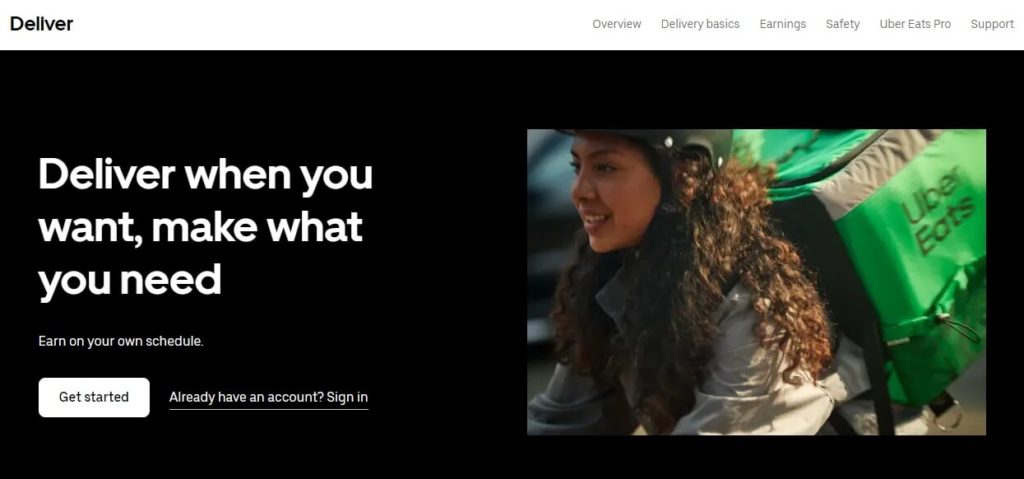 If you're already signed up as an UberX driver, it's easy to opt in to start delivering meals with Uber Eats as well. You can accept or reject the delivery request, depending on your preferences.
Once you've accepted an order, you drive to the restaurant, pick up the meal, and use the app's built-in navigation map to deliver the order to the customer.
DoorDash and Uber Eats are the most popular food delivery platforms, so getting orders shouldn't be a challenge, especially if you work in a busy market.
Signing up to become an Uber Eats driver is a straightforward process. If you meet the requirements and pass the background check, you can start working within five days.
Instacart Overview
Instacart is a grocery shopping and delivery platform that lets customers order groceries and other essential items through the app.
The company was founded in 2012, grew in popularity during the COVID-19 pandemic, and is now the top grocery delivery platform in North America, operating in cities across the U.S. and Canada.
Instacart partners with major stores like Sprouts, Kroger, Costco, Publix, and more to provide services to their customers.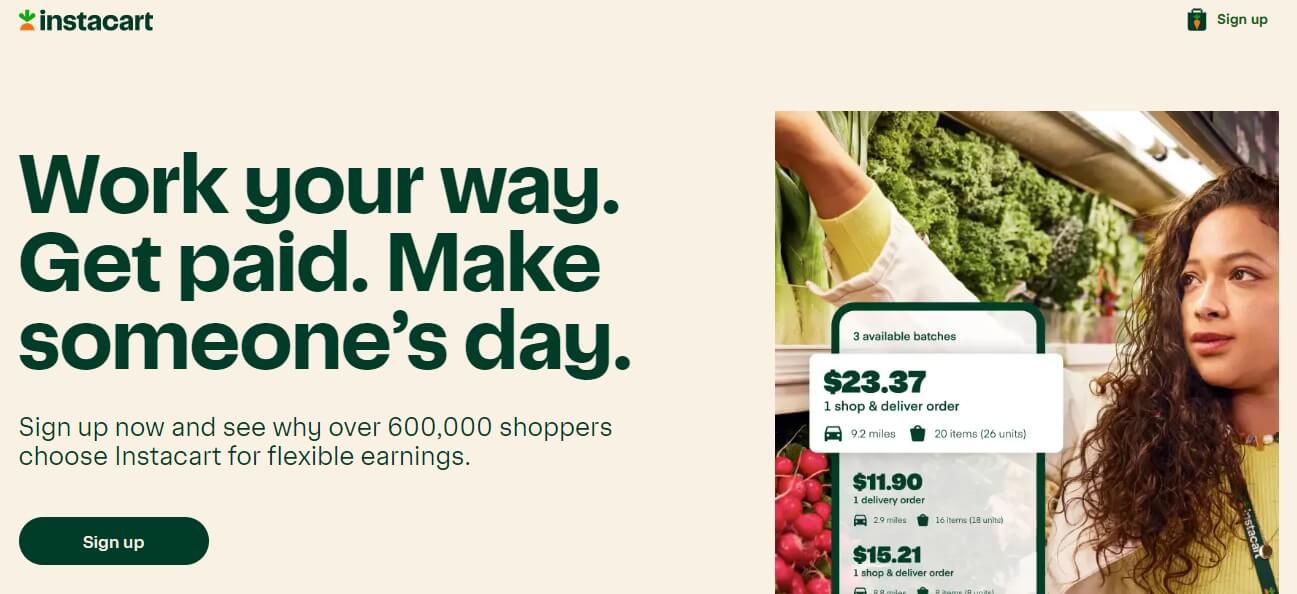 You can sign up for Instacart, where you'll get paid to shop and deliver groceries to customers within your city.
When signing up for Instacart, you have two options:
In-Store Shopper: You're hired as a part-time Instacart employee, and your job is to shop for the orders and package them for the customer who picks them up from the store. You don't need a vehicle to work as an in-store shopper.
Full-Service Shopper: You work as an independent contractor, and your job entails shopping, packaging, and delivering customer orders.
Once you've passed the Instacart background check and you've been approved, you can start working by scheduling a shift on the app or logging in to work if Instacart batches are available.
Uber Eats vs Instacart
Uber Eats drivers make $19 per hour on average, while the average hourly pay for Instacart shoppers is $17. Uber Eats and Instacart are both flexible side hustles with decent earning potentials, so your decision ultimately comes down to your location, the demand for the services in your area, and your preferences.
When choosing between Instacart and Uber Eats, you should consider whether you prefer delivering food or shopping for grocery items.
Additionally, if flexibility is important to you, you're better off working for Uber Eats. With Instacart, especially as an in-store shopper, you must schedule your working hours beforehand.
If you don't have access to a vehicle, working as an in-store shopper would be ideal because you don't have to make deliveries.
It's also crucial to consider the market demand for each service in your area. The platform with the higher demand would be better because that means more work for you.
Some drivers sign up for both platforms to maximize their income, so this is an option you can consider as well.
Uber Eats vs Instacart: The Differences
Below, we take a deeper dive into the differences between Uber Eats and Instacart to help you choose the most ideal app for you.
Requirements
The requirements for jobs like Uber Eats and Instacart are often similar, with a few specifications depending on the platform.
Here are the Uber Eats vs Instacart requirements:
Uber Eats Requirements
Uber Eats has general driver requirements and additional requirements depending on your preferred means of delivery.
Here are the general requirements:
Live where Uber Eats operates
Own a smartphone
Consent to pass their background check
If you plan to deliver by car, you must:
Be of legal driving age
Have a 2-door or 4-door car
Have a valid driver's license
Have vehicle insurance
For delivery by scooter, you must:
Be 19 years or older
Have an under 50cc motorized scooter
Have a valid driver's license
To deliver on foot or by bicycle, you must:
Be 18 years or older
Have a valid, government-issued ID
Instacart Requirements
To qualify to be an Instacart shopper, you must meet the following requirements:
Be 18 years or older
Be eligible to work in the US
Own a smartphone for the Instacart app
Ability to lift 50 lbs
For full-service shoppers, you also need:
Access to a reliable vehicle
A valid driver's license and auto insurance
Sign Up & Approval Process
One of the major advantages of jobs like Uber Eats and Instacart is their sign-up processes are pretty quick and straightforward.
All you have to do to sign up for either platform is provide personal information and consent to a background check.
Uber Eats Sign-Up Process
If you're already registered as an Uber driver, you can start delivering for Uber Eats by setting your driving preferences.
On the driving preferences page, simply tap Deliveries to activate Uber Eats. After accepting the terms, you'll start getting Uber Eats delivery requests.
If you're entirely new to the platform, visit the official Uber Eats signup page and enter the required information to begin your application process.
You must also specify how you'd like to deliver, whether by car, scooter, bike, or on foot in some markets.
The last step is consenting to a background check, which typically takes 3 to 7 working days. Once approved, Uber contacts you, and you can start working immediately.
Instacart Sign-Up Process
You can sign up for Instacart by visiting the official website and providing the required information.
Full-service and in-store shoppers follow the same sign-up process, but full-service shoppers must provide extra vehicle details such as insurance information.
Follow the simple instructions on the page and consent to a background check to complete the process.
You should hear back from Instacart within five days, depending on how long the background check takes. Once approved, Instacart emails you with the steps you should follow to start working.
Deliveries
While both Instacart and Uber Eats are primarily delivery platforms, their delivery types differ significantly.
Uber Eats Deliveries
When you log in to the Uber Eats app to work, you'll start receiving delivery requests depending on the demand.
Uber Eats shows you every detail of the order, including the restaurant name, delivery distance, and estimated pay.
One Uber Eats hack is only to choose orders worth the effort. Your acceptance rate on Uber Eats doesn't affect anything, so you shouldn't be afraid to turn down orders.
There are three types of deliveries, depending on customer preferences:
Leaving the order at the door
Meeting the customer outside
Meeting the customer at the door
Instacart Deliveries
With Instacart deliveries, you must shop for the items and deliver them to the customer.
You start working by logging into the app and claiming available batches. Each batch shows you the order type, the store, guaranteed pay, and the delivery distance.
After you've shopped for the items at the store, you use the Instacart credit card to pay for the order.
Your efficiency as a shopper is one of the factors that determine your earning potential. The faster you complete batches, the more money you make per hour.
Pay
Both Uber Eats and Instacart pay you for every completed order. However, in-store Instacart shoppers are part-time employees, so they earn a set hourly wage.
Uber Eats Pay
Uber Eats order payments are structured as follows:
Base fare: This amount includes the distance, time, plus pickup and dropoff
Trip supplement: This is an additional amount for longer-than-usual distances
Promotions: Incentives to attract drivers when there's increased demand
Tips: Uber Eats drivers keep 100% of customer tips
When you sign up for Uber Eats, you must enter your bank account details. Payments are made weekly through direct deposit. You can also cash out immediately after a delivery using Instant Pay.
Instacart Pay
While in-store shoppers earn a set hourly wage, the pay structure for full-service shoppers is similar to other gigs like Instacart.
Your earnings for each batch vary based on the following factors:
Batch pay: This amount reflects the expected effort to complete a batch, including factors like travel distance, quantity of the items, and expected completion time.
Boosts: These are incentives used when there are few shoppers and customer demand is high.
Heavy pay: This is an additional amount for batches with several heavy items.
Instacart shoppers are paid weekly via direct deposit, but you can use the Instant Cashout option to withdraw your earnings.
Working Hours
Flexibility is one of the key selling points of apps like Uber Eats and Instacart. You can work whenever and however much you want, which makes it easy to juggle with other responsibilities.
Your working hours will also depend on factors like the demand in your market.
Uber Eats Working Hours
Uber Eats drivers can work 24/7, as some restaurants and fast food chains operate 24 hours a day.
However, the best times to drive for Uber Eats are typically mealtimes, with the highest demand at lunchtime and dinnertime.
Instacart Working Hours
Both full-service and in-store Instacart shoppers set their working hours. As part-time employees, in-store shoppers can work 29 hours a week.
You can schedule your Instacart shifts ahead of time or log in to deliver on-demand batches.
Tips and Bonuses
On both platforms, drivers keep 100% of customer tips. One of the Instacart shopper tips and tricks to boost your income is to provide great customer service to maximize customer tips.
Instacart bonuses include:
Referral bonuses for referring new Instacart shoppers
Peak boosts when there's high demand and few shoppers
Tip protection to prevent tip-baiting
Uber Eats regularly offers promotions and bonuses, including:
Sign-up bonuses
Quest promotions
Surge pay
Boosts
Gas and Vehicle Expenses
Instacart and Uber Eats hire drivers on an independent contractor basis, which means you're responsible for all your work-related expenses, including fuel and vehicle maintenance.
Uber Eats doesn't pay for gas, and neither does Instacart, so you must earn enough to cover your expenses and make a profit.
One tip for all delivery and rideshare drivers is to keep track of their expenses with apps like Everlace. You can write some of your expenses off when filing your taxes during tax season.
Earning Potential
Based on information from salary review sites like Indeed, Uber Eats, and Instacart have a similar earning potential. However, the earning potential for Uber Eats drivers is slightly higher than that of Instacart shoppers.
Your earning potential with both platforms depends on factors like your location. Some markets are busier than others, and there isn't much you can do about that.
Other factors include your efficiency as a worker and how many hours you spend working, which are within your control.
One of the best tips to maximize your earnings on either platform is to set earning goals for yourself so you remain motivated.
Rating System
Both Instacart and Uber Eats have a rating system where customers rate their delivery drivers.
Uber Eats drivers are rated by customers and restaurants with a simple thumbs up or thumbs down.
Your overall Uber Eats rating is usually based on the last 100 ratings, and you can access it any time on the app. It's important to maintain a high rating to avoid getting deactivated.
On the other hand, your overall Instacart rating is also determined based on your last 100 batches, but in this case, customers rate you on a five-star scale.
Instacart prioritizes shoppers with the highest ratings when assigning batches, so try and maintain a rating of 4.7 out of 5 stars.
Uber Eats Pros and Cons
Pros:
You can drive for both UberX and Uber Eats
Uber Eats offers great flexibility
You can earn weekly or cash out instantly
Wide range of delivery options
Various promotions and bonuses help to boost income
Cons:
It may be unavailable in some areas, especially small rural areas
Causes significant vehicle wear and tear
Earnings are not guaranteed
Instacart Pros and Cons
Pros:
Offers work flexibility
You don't need a vehicle for an in-store shopper position
It causes less wear and tear on your vehicle compared to Uber Eats
Batches are not limited to mealtimes
The platform protects drivers from tip-baiting
Cons:
Instacart has a strict rating system
It involves occasionally lifting heavy items
No guaranteed pay
Full-service shoppers must have access to a vehicle
What's Better, Uber Eats or Instacart?
When choosing between Uber Eats and Instacart, consider factors like the vehicle you own and the type of delivery you'd enjoy.
If you want maximum flexibility, you'd be better off with Uber Eats because you don't have to schedule shifts. If you like getting paid to shop and have access to a reliable vehicle, then Instacart would be a suitable option.
There are no rules against using multiple apps, so you can even sign up for both platforms and use them simultaneously.
Which Pays More, Uber Eats or Instacart?
Based on Salary review sites like Glassdoor and Indeed, Uber Eats drivers generally make slightly more than Instacart shoppers on average.
However, you should remember that factors like your location, efficiency, customer tips, and other promotions will determine your earnings per hour.
Final Thoughts
Uber Eats and Instacart are popular delivery platforms that you can use to make money on the side.
Hopefully, this Uber Eats vs Instacart guide has shed more light on the features of both platforms. You should be able to decide on the most suitable side hustle for you.
There's a learning curve to everything, so take your time and put in the work to maximize your income on whichever platform you deem most suitable.