Why Is DoorDash So Slow? (For Drivers & Customers)
This post may contain affiliate links which means that sproutinue.com may make a small commission at no extra cost to you. We only promote products that we love and feel will benefit our readers. Please read our Disclosure Policy for more information.
Whether you're a dasher or a customer, you may have occasionally experienced slow days with the DoorDash app.
Slow days can be very frustrating, especially if you need cash or waiting for your favorite meal to be delivered.
So, why is DoorDash so slow sometimes, and how can you salvage the situation? This post is for you if you want answers to these questions.
I'll also delve into other driving apps that pay if you're looking for different ways to maximize your income. And if you're a customer, you'll learn the tips to speed up your order.
Looking for quick cash? Try out:
Opinion Outpost – Share your opinion and earn free cash and gift cards!
Kashkick – Complete micro tasks and earn PayPal Cash!
Why Is DoorDash So Slow for Drivers?
Although DoorDash presents an excellent opportunity to make extra money, you may not always get orders to fulfill. On other occasions, you may only land low-paying orders.
So why is DoorDash slow for you? Identifying the reasons enables you to address the factors within your control. However, in some cases, it may not be your fault.
Here are some possible reasons for having a slow DoorDash day:
1. Driving During Slow Periods
If you're driving during slow periods, you'll likely not get any orders to fulfill. Remember that consumer demand hugely influences jobs like DoorDash.
It's vital to work during peak periods when most customers order to make more money with DoorDash.
The best time to DoorDash is at meal times, during the lunch or dinner rush. Lunchtimes range between 11 a.m. and 2 p.m., while dinner falls between 4:30 p.m. and 8 p.m.
Weekends, especially late Friday and Saturday nights, may also be a great option depending on your area.
Thanks to the "Dash Now" feature, you can quickly identify busy times in your area. Check the app's heat map to avoid missing out.
In addition to letting you access new orders, targeting peak periods may also make you eligible for incentives like the "Peak Day offers."
These offers allow you to make more than you'd on a standard delivery. It's possible to make an extra $3 on one order.
2. You're Not a Top Dasher
Another reason you may be having a slow day is not being a top dasher. Like most food delivery gig apps, DoorDash assigns driver orders based on ratings.
Top dashers get priority over regular dashers during busy periods. You must meet the following requirements to qualify as a top dasher:
Maintain a rating of 4.7 or above
Your DoorDash acceptance rate should be at least 70%
Your completion rate should be a minimum of 95%
You must have completed at least 100 deliveries in the past month
You must have completed a minimum of 200-lifetime deliveries.
If you meet the above requirements, consider applying for a Top Dasher position and monitor the changes in your order flow.
3. Too Many Drivers in Your Area
Too many dashers in one area cause high competition, especially during non-peak periods. This is one of the reasons why some drivers think DoorDash sucks.
While the number of drivers in your area is beyond your control, you can secure more orders by scheduling dashes ahead of time.
Another way to curb this situation is to find ways to stand out. Work towards getting a rating higher than 4.7 to be among the Top Dashers who get the priority.
To improve your overall rating, ensure you make timely deliveries, have a high acceptance rate, and maintain a high DoorDash completion rate.
DoorDash also advises you to improve and maintain a high rating in the following ways:
Use a hot bag to prevent food from getting cold
Always pack the cold and hot items separately
Be keen and follow the client's instructions
Give the customer a heads-up in case you'll be running late
Always ask for clarification if you don't understand the customer's instructions
If you're considering Dashing as a full-time job, you can move to an area with less competition.
Alternatively, consider exploring other gig apps like Uber Eats and Instacart to increase your income.
4. Waiting Far From Hotspots
You'll likely get fewer orders if you position yourself far from DoorDash hotspots. DoorDash indicates the hot zones within the app using a circle with a small flame symbol.
The hotspots on the app are updated as different places become busy and are refreshed every 10 minutes.
If you're far from such sites, move to an active area to get more orders. Positioning yourself near popular restaurants is also a good idea.
While there's no guarantee moving to a hotspot will result in more orders, it wouldn't hurt to try if you're having a slow day.
If you're not getting orders in a hotspot area, be patient and refresh the app regularly. If you still get no orders, consider moving to a different neighborhood.
Extra Reading: Is DoorDash Safe?
5. Low Delivery Demand in Your Area
DoorDash may be slow for you if you operate in a slow market. As mentioned, delivery gigs are subject to demand.
Therefore, if the people in your area don't order via DoorDash often, you'll have no orders to fulfill.
Such a case is possible in cities or regions far from popular restaurants. You can remedy this by relocating to a place that offers a broader market.
For example, you can move to huge cities that are major DoorDash hotspots due to the high population.
However, doing DoorDash in another state may be challenging. You should only consider this option if you intend to focus on DoorDash as your primary source of income.
Alternatively, you can look for other side hustles you can delve into without moving.
6. Technical App Difficulties
Sometimes, you may fail to get orders for reasons beyond your control, such as technical mishaps with the DoorDash app.
If you're having a slow day, try restarting the app to see if new orders come up. You must also ensure that you're connected to a stable internet.
If restarting the app doesn't work, refer to DoorDash's troubleshooting tips. Here are some recommendations for such a situation:
Download the latest Dasher app version
Turn off in-app navigation
Log out and in again
Relaunch the Dasher app
Uninstall and reinstall the Dasher app
Restart your phone
Ensure your Dasher app isn't paused
These troubleshooting tips may help address technical issues on your end. However, sometimes the DoorDash app may crash during peak hours.
You can check if other Dashers are experiencing the same issue on the DoorDash subreddit or their customer service accounts on social media.
What Are Other Dashers Saying?
If you're looking to start driving for DoorDash, looking at other Dashers' experiences is essential to determine if it's worth delving into.
If DoorDash is slow for you, you should find out if other Dashers are going through a similar experience.
This is what dashers have to say about DoorDash being slow:
bit0101 says: "It's February. This is the gray winter slowdown. It will pick back up as orders come in and new dashers quit. I broke $300 today, oddly enough. Not normal for this area."
VixMusic says: "Wow I'm surprised to see how many people have said their market is slowing down. I understand more drivers are doing DoorDash now but I never thought it would slow down this much. I was making 120$ easy. And now it's a struggle. I'm barely hitting 70$ and that's me working from 3-8."
Dude0bB1kE says: " It all comes down to supply of drivers and demand of orders. Once I see a certain number of cars cruising for offers or couples camping out then I know it's time for a brek or change of grids."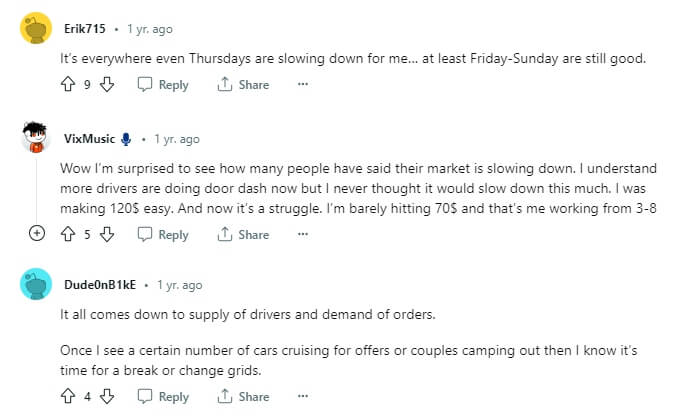 As you can see, you're not the only one experiencing slow DoorDash days. Most Dashers attribute the lack of orders due to increased dashers and low demand for delivery services.
Tips for Drivers When DoorDash Is Slow
While some factors that make DoorDash slow may be beyond your control, you can certainly do something to get more orders.
Here are some DoorDash driver tips and tricks when the app is slow:
Drive During Peak Times
Consider driving during peak periods such as lunch and dinner to increase your chances of landing more orders.
Lunch usually ranges from 11 a.m. to 2 p.m., while dinner may fall between 4:30 p.m and 8 p.m.
You can also schedule your orders to ensure you have something to do during the slow days.
Restart Your Dasher App
The Dasher app may be experiencing technical duties, which you can easily fix by forcing close and restarting the app.
Improve Your Rating
As seen earlier, DoorDash assigns orders based on ratings. If you're a top dasher, you get priority, especially on slow days.
To achieve the top dasher status, you must have a rating of at least 4.7 and maintain a high acceptance rate of about 70%. Also, you must maintain a completion rate of about 95%.
Always be punctual and polite to customers. This way, they'll be motivated to leave a positive review.
Use Other Gig Apps
Another valuable tip for when DoorDash is so slow is to find other gig apps to maximize your income. You can also use multiple driving apps simultaneously.
Here are some of the high-paying apps like DoorDash worth trying:
Why Is DoorDash So Slow for Customers?
If you're wondering why your orders are taking too long, here are some possible reasons.
1. Not Tipping Your Dasher
You may be experiencing slow deliveries as a DoorDash customer because you're not tipping dashers.
Tipping is optional, but it's a great way to motivate your dasher, especially if you've ordered many items.
While DoorDash doesn't let drivers see tips before they accept an order, a dasher can estimate the price to decide if your order is worth delivering.
If you want them to deliver swiftly, adding a tip is a great idea.
2. Ordering During Peak Delivery Times
Ordering your meals during peak periods like lunch or dinner may delay delivery. Typical lunchtime ranges between 11 a.m. and 2 p.m., while dinner may run from 4 p.m. to 8 p.m.
To avoid delays, make your orders before peak periods, for instance, a few hours before meal times.
Another effective way to speed up your delivery is by scheduling your order. This way, you can secure a dasher before the rush hour begins.
3. Scarcity of Dashers in Your Area
Another reason DoorDash may be slow for you is an inadequate number of dashers. You can solve that by ordering food from well-known hotspots likely to have many drivers.
Also, being a large company, DoorDash is constantly recruiting more dashers to cater to rising demand.
4. You Live Far From Restaurants
If you live far away from popular restaurants, your orders will likely be delivered late.
Since DoorDash doesn't pay for gas, many dashers are reluctant to drive far from their designated areas to avoid spending too much on fuel.
It may therefore take some time for you to find a dasher to pick up your order. However, you can get your order delivered quickly if you add a generous tip.
5. Busy Restaurant
Delivery will take longer if you order from a busy or slow restaurant. Most restaurants will be busy during meal times.
Ordering your food before peak periods is a good idea to avoid delivery delays.
6. There's Traffic in Your Area
Dashers may deliver your order late if they get stuck in traffic for various reasons, such as accidents and traffic jams.
Your Dasher will likely get stuck in traffic if you reside in a large city. Avoid placing your orders during rush hours if you want the delivery to be faster.
Extra Reading: How to Get a Free DoorDash Gift Card
How To Speed Up Your Order When DoorDash Is Slow
If you're experiencing a slow DoorDash day, here are some tips for speeding up your order.
Tip your dashers: If you live far from the restaurant or order many items, you can attract a dasher by adding a tip.
Make your orders during off-peak times: Delivery is faster during less busy periods since there are more dashers than orders. Place your order before meal times if you want them to get to you fast.
Schedule your orders: Another way to avoid delay during rush hours is to schedule your orders beforehand.
Troubleshoot the DoorDash app: DoorDash provides troubleshooting guidelines in case your app has technical issues. This is how to troubleshoot the app; Check your internet connection, restart your phone, or uninstall and reinstall the app.
Frequently Asked Questions
Why Is DoorDash So Slow Right Now?
There are several reasons why your DoorDash app may be slow for you. They include:
Waiting far from hotspots
Driving during off-peak periods
Having a low rating
Having too many dashers in your area
Technical issues with the app
Why Is DoorDash Not Giving Me Orders?
If you're not receiving any orders from DoorDash, it's probably because you're not a top dasher. Top dashers are given priority, especially during off-peak periods when orders are few.
Another reason why you're not getting orders is you're dashing during low-demand periods. Due to the large number of dashers, you may not get orders when they're scarce.
You're unlikely to get DoorDash orders if you're situated in unsuitable locations, such as areas far from popular restaurants.
Position yourself in hotspots to increase your chances of getting more orders.
What Are the Worst Times To Do DoorDash?
The worst times to do DoorDash depend on customer demand and restaurant busy times.
Generally, Monday, Tuesday, and sometimes Wednesday are considered the slowest and worst days for DoorDash.
Final Thoughts
Identifying potential reasons why DoorDash is so slow for you is the first step to solving the problem.
However, factors such as having too many dashers in your area may be beyond your control. Test out other delivery jobs like Instacart and Uber Eats to find the best DoorDash alternative.
You can diversify and maximize your income using DoorDash and other delivery gig apps.
If you play your cards right, you can turn this side hustle into a full-time income source.
Want to make more money with DoorDash? Read these guides: