Is Words to Win Legit or a Scam? (My Honest 2023 Review!)
Updated on September 16, 2023
This post may contain affiliate links which means that sproutinue.com may make a small commission at no extra cost to you. We only promote products that we love and feel will benefit our readers. Please read our Disclosure Policy for more information.
If you've stumbled upon Words to Win and its claims that you can make money by playing word puzzle games, you may be wondering if it's legit.
I downloaded and explored the app to gauge its authenticity. In this review, I'll share my experience to help you find out if the app meets your expectations and suits your needs.
I'll also share some of the best apps like Words to Win, to help you diversify your income sources and make quick money online.
So, on to our big question, Is Words to Win legit? Let's find out!
Want to make fast cash? Try out:
SayMore – Get gift cards to your favorite stores for sharing your opinion!
YouGov – Share your opinion and earn free PayPal money and gift cards!
What Is Words to Win?
Words to Win is a popular word puzzle game by Rewardify that allows you to make money with your phone.
The app is available for both Android and iOS devices. You can download it for free on Google Play or the App Store. It has a 4.4 rating on Google Play and 4.5 on the App Store.
You'll find the app easy to navigate if you're familiar with crossword puzzles. Words to Win is similar to other popular word games that pay, like Word Cash.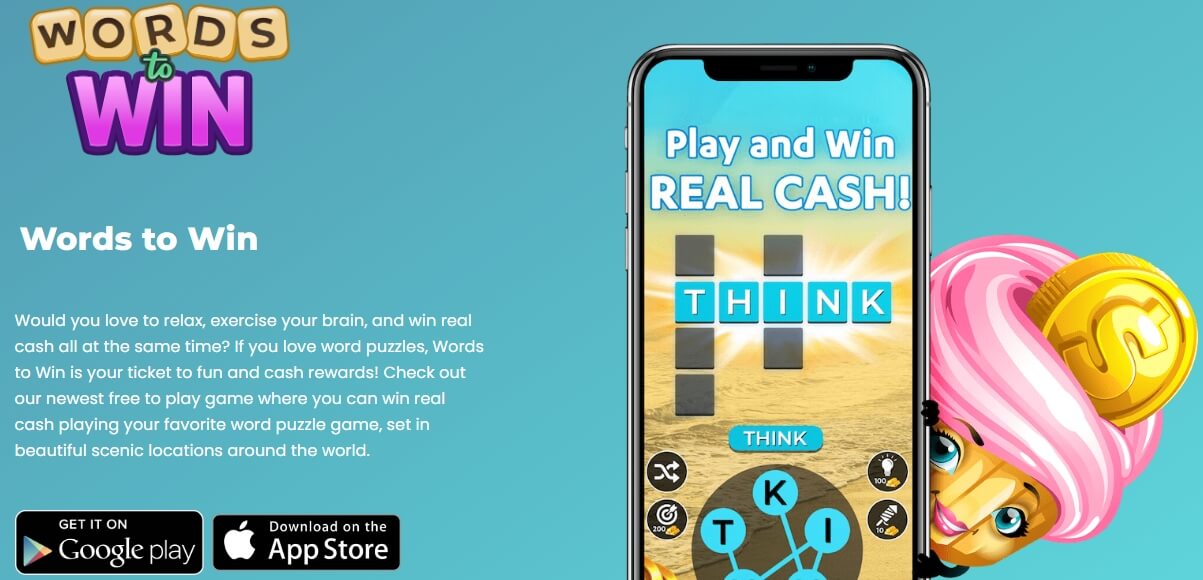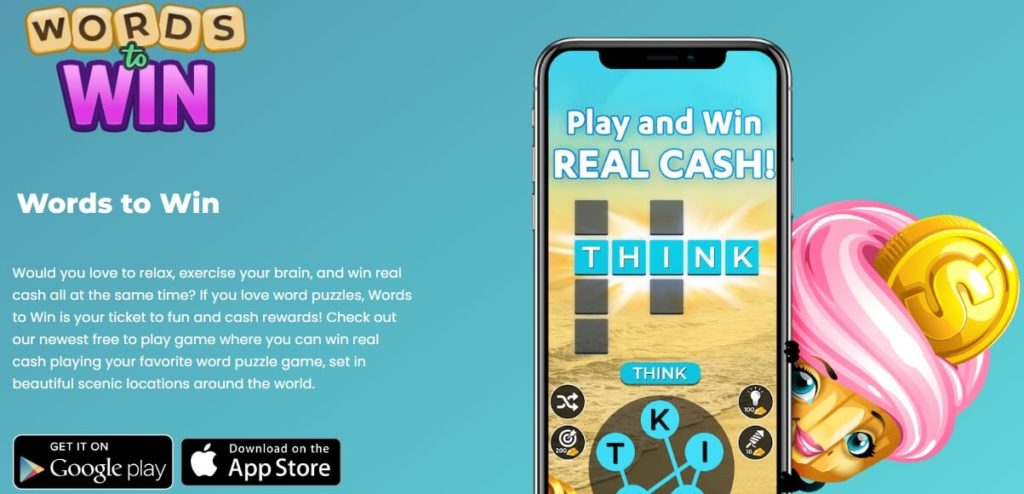 Its advantage over similar gaming apps is the low cashout of about $7. Most gaming apps that pay real money have a withdrawal minimum ranging between $100 and $200.
The puzzles are set in different locations to add to the thrill of the game. Words to Win is a great way to wind down after a long day if you're a word puzzle enthusiast.
Is Words to Win Legit?
No, Words to Win isn't a legit game app. Although the graphics are good and the games enjoyable, investing time into this app may not be worth it. Once you approach the $7 withdrawal minimum, the app makes it hard to cash out. You may never make real cash with this app.
Personally, I got stuck at $6.55 even after leveling up. So, I couldn't hit the threshold to cash out.
I also went through user reviews on the Apple Store for this article. Most people appreciate the graphics and the games as an excellent way to pass the time.
However, many complained that their accounts stagnated once they neared the threshold. Their earnings seemed stuck under the $7 mark, making it impossible to redeem their rewards.
Another complaint is about the app having too many ads. There's a 30-second ad after every game, which is very annoying.
I don't recommend this app since its advertisements are deceptive. They claim to let you play puzzle games for cash, but in the real sense, you won't earn anything.
Some users claim to have received their money once they reached the redemption threshold, but it seems more like a game of luck than an actual word game that pays based on your skill.
Let's look at some Google Play reviews:
Jessica Olney says: "I've been stuck at $6.55 for days now. It started to slow down on giving me cash prizes at around $6 but now it doesn't matter what part of the game I play, I don't get any closer to a cash out at this point. Ain't worth the ads or your time."
Sherene Powell says: " This app is absolutely terrible for about a month. This game has been at $6.55 and seems to have no intention of going further I'd you want to keep your mind active you can play but don't EVER play to earn money cause ain't gonna happen."
Travis McMurry says: " Fun and challenging."
Another upside of Words to Win is its responsive customer service. I noticed the crew had responded to almost all reviews on Google Play.
In one of the responses, they said that not everyone who plays the game is guaranteed to win. I think mentioning this in their advertisements would make them less misleading.
How Does Words to Win Work?
I downloaded and explored Words to Win for this review to verify its legitimacy. Generally, the app is easy to navigate, and the games are simple.
Here are more details about how the app works:
1. Download the Words to Win App
The first step is downloading the app for free from Google Play or the App Store. The app being available for Android and iOS devices is a major upside.
Unlike most gaming apps, Words to Win doesn't require signing up or providing personal information. So once you download the app, you can start playing immediately.
Another advantage is that the app is available globally. However, some countries like the U.S., Canada, the UK, and Australia have better payout methods.
2. Solve Puzzles To Earn Rewards
Once you download the app, you can start playing puzzle games for cash.
Words to Win offers several ways to earn free PayPal money, the primary method being solving word puzzles.
The gameplay is pretty simple. You only have to connect letters to unveil hidden words in crosswords to win real money.
Each level presents you with a new mystery to solve. You're presented with several letters from which you come up with words.
This can be a fun side hustle if you're conversant with word puzzles.
Don't worry if you get stuck in the game. With Words to Win, you can shuffle the letters as many times as you wish to give you a new perspective.
It also has a feature also allows you to get hints. However, you'll have to use about 100 in-game coins to access it.
The first few levels are easy since you have only three letter words to play. However, the puzzles become more challenging as you level up while the length of words and number of letters provided increases.
Expect to earn approximately $0.05 to $0.10 per level. Complete as many levels as possible to accumulate enough cash to exceed the withdrawal minimum of $7.
Another tip to maximize your earnings is to make as many words as possible. Bonus words earn you extra coins.
There's an ad after every level that allows you to earn a scratch-off card. You can win up to $250 by matching three identical items on the card.
3. Enter Sweepstakes
In addition to completing puzzle games for cash, another way to make money on Words to Win is to participate in sweepstakes. Some fun sweepstakes offered in the app include:
Sweepstakes: Completing word puzzle levels allows you to win tokens which you can use to buy tickets for sweepstakes. These sweepstakes usually take place daily or monthly. In the daily sweepstakes, the jackpot is $50, while the cash prize is $500 for monthly ones. The cash is deposited into your account when you win.
Bonus Prize Wheel: Another sweepstakes option available on the app is spinning the wheel. Click the rainbow icon for a chance to participate in this venture. Expect to earn different tokens and cash prizes ranging between $0.05 and $10. You only get to spin the wheel for free once a day. You can watch ads to get more chances to spin.
Cash Dash: Additionally, Words to Win provides another opportunity for you to make quick money; Cash Dash. This involves participating in competitions held within the app to win additional rewards.
While sweepstakes are a fun way to earn extra cash, the chances of winning large cash prizes are bleak.
Also, the app doesn't verify sweepstake winners. Therefore, it's hard to tell if anyone is winning the cash rewards.
4. Refer Your Friends
Another excellent way to earn extra rewards on Words to Win is through their referral program. However, the disappointing bit is earning extra sweepstakes tickets instead of real cash.
If you aim to earn free PayPal cash, other GPT websites like Branded Surveys and Kashkick have more lucrative referral bonuses.
5. Withdraw Your Earnings
You can cash out your rewards once you reach the redemption threshold of $7.
This withdrawal minimum is impressively lower than similar apps, which require you to reach $100 or more before accessing your money.
You can cash your gold coins via PayPal or redeem them for Amazon gift cards.
The catch is that the app makes it hard to reach the $7 cashout threshold once you approach it.
You may invest long hours into playing the games only to get stuck between $6.55 and $6.95. The only way to salvage such a situation is to reinstall the game and start playing from scratch.
I think this isn't worth your time since there are plenty of worthwhile game apps that pay real cash.
However, this app is a great way to pass the time if you enjoy solving word puzzles and don't mind the money.
How Much Can You Make With Words to Win?
Generally, completing a level earns you anywhere between $0.05 to $1. You must complete as many levels as possible to accumulate a significant income.
Apart from completing word puzzle levels, you can make more money by participating in sweepstakes.
Daily sweepstakes allow you to earn up to $50 and up to $500 in monthly sweepstakes.
Another way to earn money on Words to Win is by spinning the wheel. You can earn rewards ranging between $0.05 and $0.10 in this venture.
Tips for Making More Money With Words to Win
Now that you know how the Words to Win app works, finding ways to increase your earnings to avoid earning meager bucks can help.
Here are some tips and tricks for making more money with Words to Win:
Construct bonus words: At the beginning of every level, you're provided several letters to form words that fit into the crossword. Words to Win awards you extra points for bonus words. Form as many bonus words as possible to maximize your income.
Utilize the hint and shuffle features: If you're stuck at a certain level, Words to Win allows you to use the hint and shuffle features to your advantage. You can shuffle your letters for free, but using the hint feature will cost you about 100 coins. Utilize these features to level up and increase your earnings.
Watch ads: While most ads on Words to Win aren't optional, sometimes you have a choice. For instance, you only get one chance to spin the wheel daily, but you can earn more chances by watching ads. Getting an extra spin allows you to win cash rewards between $0.05 and $0.10.
Participate in sweepstakes: Here's another way to maximize your rewards on the word puzzle game. If you're lucky, you may earn more by participating in sweepstakes than by solving word puzzles. With sweepstakes, you can earn up to $500 in free cash.
Invite your friends: While referring friends doesn't earn you cash rewards directly, it's a great way to earn entries into sweepstakes where you can earn more cash.
Pros & Cons of Words to Win
If you're considering using the app to make extra cash or to relax and pass the time, here are some pros and cons to keep in mind.
Pros:
Words to Win is free to download
The app is available for both iOS and Android devices
The word puzzles are fun to play
Customer service is responsive
Cons:
The chances of winning sweepstakes are low
The app has too many ads
The app's earning potential is low
The withdrawal minimum of $7 is hard to achieve
The gameplay is repetitive
The app's advertisement is misleading and dishonest
You must invest a lot of time to earn significant rewards
The Best Words to Win Alternatives
While Words to Win is a great way to earn extra cash, especially if you enjoy solving word puzzles, the fact that it makes it hard to cash out is a massive red flag.
There are several other apps that pay you real money worth trying. With these apps, there are the advantages of diversified ways to make money and higher income potential.
You can use Words to Win alongside these apps to maximize your earnings.
Some of the best Words to Win alternatives include:
Frequently Asked Questions
Is Words to Win Legit or Fake?
Words to Win is a scam since it's hard to reach the minimum cashout threshold of $7. While some claim to have cashed out successfully, I don't think the app is worth your time.
Several other GPT sites, like Kashkick and SayMore pay better and provide different ways to make money online.
Does Words to Win Pay Real Money?
Words to Win doesn't pay real money. There are numerous negative reviews from users who've never managed to cash out their rewards. Personally, I got stuck at $6.55.
The ones who've been able to earn from the app are very few compared to the ones who haven't. I think using reward apps like JustPlay is a better option if you want to make real money.
What Word Game App Pays Real Money?
Several legit word game apps pay real money, including
Wordscapes
Word Cube
Word Blitz
Word Star
Word Farm Adventure
Final Thoughts
I hope my review has helped you determine whether Words to Win is legit. While the app has fun puzzle games, I don't recommend it if you want to make money online.
You can earn more using other reward apps similar to Mistplay and Rewarded Play or other legit online jobs.  
If you're still unsure if Words to Win is the right app for you, try it to find out if it suits your needs. You can also stack it with other similar apps to maximize your income.
Happy gaming!
Looking for other ways to make money online? Check out: