How To Make $1000 a Week With DoorDash (Must-Know Strategies!)
Updated on November 9, 2023
This post may contain affiliate links which means that sproutinue.com may make a small commission at no extra cost to you. We only promote products that we love and feel will benefit our readers. Please read our Disclosure Policy for more information.
If you want to know how to make $1000 a week with DoorDash, this post is for you.
While making $1,000 a week with delivery gigs like DoorDash takes work, it's possible. I'll share in this post the best strategies to help you reach or surpass that goal.
Let's get right to it!
How To Make $1000 a Week With DoorDash
The tips I'll share below will help you make more money on DoorDash, and some of them apply to other driving gigs that pay, such as Uber Eats or Instacart.
Combining these strategies will help you make $1000 or more a week with DoorDash.
1. Work During Busy Hours
One of the best strategies that will help you maximize your earnings on the platform is choosing the best times to DoorDash.
DoorDash and other food delivery platforms typically get busy around mealtimes, so these are the hours with the most orders.
Here are some of the busiest times for Dashers:
Lunchtime: Between 11 a.m. and 2 p.m.
Dinnertime: Between 5 p.m. and 9 p.m.
Weekends: Late nights
Sometimes, DoorDash is slow, especially on Mondays and Tuesdays when the work week is getting started.
Choosing the best times to DoorDash lets you maximize your working hours because you won't have to wait too long between orders.
This helps boost your income, and you make more per hour than when you have to wait around in your car for another order.
Holidays and major events like sports and music concerts are also great times to do DoorDash.
Ensure you're updated on all upcoming events and holidays that could provide opportunities to make more than usual.
Aside from working the normal busy hours, you can try different times, like delivering breakfast early in the morning.
In some markets, people order breakfast for their school-going kids as they prepare for work. There aren't many Dashers during this time, so the competition isn't as high.
Take time to experiment with different times to determine the best hours for you and your market.
2. Select High-Paying Orders
With gigs like Instacart and DoorDash, you'll see the details of an order before you accept it. Knowing what orders to accept and which ones to decline makes you a pro Dasher.
It's often tempting to accept every order that comes your way, but it's more beneficial to only take orders with high payouts and shorter distances.
Aside from the pay, you should also consider the order type, the restaurant to pick it from, and the delivery distance.
Ideally, the orders you accept should pay well and shouldn't take you too far out of your way because you'll spend a lot of time on the way back.
Dashers are sometimes concerned about their DoorDash acceptance rate, but it doesn't really matter.
However, your DoorDash completion rate is taken more seriously because failure to deliver an accepted order reflects poorly on the company.
Strive to deliver all the orders you accept and keep your completion rate above 80% to avoid deactivation.
3. Schedule Your Dashes
One of the most beneficial features for couriers on the DoorDash driver app is the ability to schedule shifts ahead of time.
As a Dasher, you can schedule your shifts or log into work and choose "Dash Now" when available.
Scheduling your Dashes is one of the best strategies to guarantee work, especially at prime hours.
Sometimes, you may log into the app only to find the "Dash Now" feature is unavailable because there are too many Dashers. To ensure you don't miss out on work during busy hours, it's advisable to schedule your Dashes.
Scheduling gives you more control over when you work, plus you get priority pings when the time comes. It also makes it easier to balance your job with other responsibilities like work, school, and maintaining your social life.
Another trick some Dashers employ is scheduling themselves for every available shift.
There are no consequences for failing to work during a scheduled shift, so you don't have to worry about over-scheduling yourself.
4. Take Advantage of DoorDash Promotions
DoorDash promotions and incentives also provide an excellent opportunity to maximize your earnings on the platform.
There are two main types of DoorDash promotions: Peak pay and Challenges. Understanding how they work will help you take advantage and boost your income.
Peak Pay
Peak Pay is a special incentive used to draw Dashers to a particular zone with high demand and insufficient drivers.
With Peak Pay, you receive a bonus on top of your earnings for delivering in a particular zone.
Challenges
DoorDash Challenges are incentives that enable you to make extra money for completing a specific number of deliveries within a given period.
For instance, you could earn an extra $20 for completing 15 deliveries in one week.
Your Dasher app automatically enrolls you in any active challenges in your area that you're eligible for, so you don't have to opt in to participate in Challenges.
Sometimes, DoorDash announces special challenges and incentives, so it's important to stay updated by following their social media pages.
5. Take Batched Orders
Another tip to make $1000 a week with DoorDash is by taking batched orders. These are special orders that require you to pick up two orders from one location and make separate deliveries.
Batched orders are especially common during peak hours and can help you increase your earnings and efficiency.
Batched orders come with higher pay because you're working extra, and you also get to complete two deliveries at once, improving your efficiency.
With batched orders, you'll have to be extra keen to avoid mixing up orders. Ensure you keep them separate from when you pick them up at the restaurant to when you drop them off for the customers.
You'll also need to be fast with the delivery so the meal does not get cold. Ensure you check the distance between the two drop-off locations before accepting a batched order.
6. Understand Your Zone
Maximizing your income as a Dasher comes down to being efficient. One way to improve your efficiency is to master the different routes in your zone.
DoorDash has an in-app navigation system that helps you get around, but it's important to master the routes as well.
On the Dasher app, you can choose between Google Maps and Waze. Waze is a more popular option because users can use the app to alert other road users about road closures, accidents, or alternative routes.
Even with GPS, sometimes there are unforeseen circumstances. As such, it's essential to be familiar with all the routes in your markets.
This can help you navigate faster, especially during rush hour when there's heavy traffic, and you need to deliver customer orders.
Planning the most efficient routes ahead of time helps you complete more deliveries per hour and boost your overall income.
7. Provide Good Customer Service
With delivery gigs like DoorDash and Instacart, customer service is a big part of your job and affects your earning potential.
DoorDash allows Dashers to keep 100% of customer tips, so you can significantly increase your income on the app by providing excellent customer service.
Here are a few tips on providing a 5-star customer service:
Always double-check orders when picking them up at the restaurant to avoid mistakes and mix-ups.
Follow all the customer's instructions as outlined in the Dasher app.
Use insulated food bags to keep hot foods hot and cold foods cold.
Ensure you deliver the order on time. In case of delays, communicate with the customer and keep them updated on the delivery progress.
Be professional and courteous when dropping off the order.
Go the extra mile by grabbing extras for your customers.
Aside from getting good tips, good customer service also helps you maintain a high Dasher rating.
Maintaining food ratings on the platform is crucial because DoorDash can deactivate your account if your ratings drop below 4.4 out of 5 stars.
8. Track Your Mileage
Another important tip for making $1,000 a week with DoorDash is tracking your mileage. DoorDash doesn't reimburse for gas, so you must find ways to manage your expenses.
Keeping track of your expenses will help you make informed decisions that help you save more and increase your overall earnings.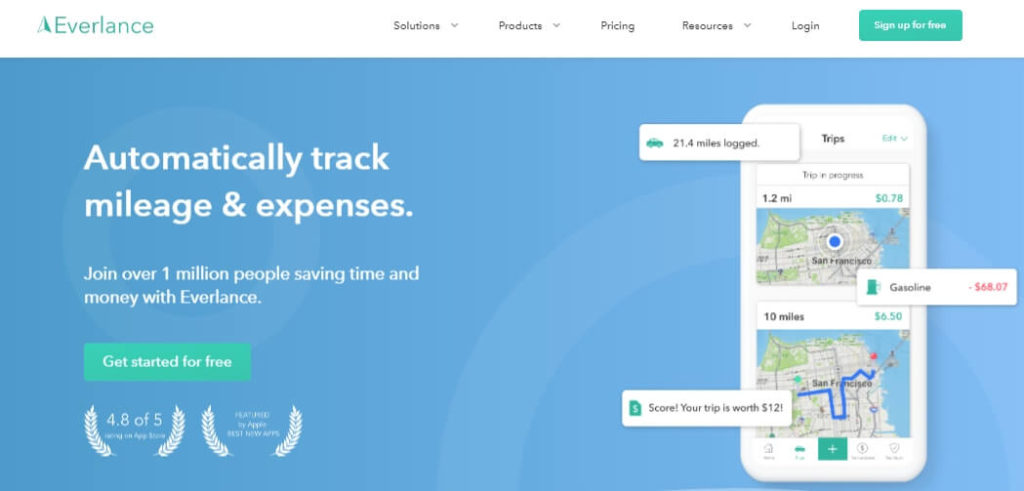 One way to reduce your expenses is tracking your mileage for potential tax deductions come tax season.
The IRS has a standard business mileage rate that you can deduct as a self-employed individual to compute your deductible costs of using your car for business.
Tracking your mileage manually as you make deliveries is cumbersome. Fortunately, you can use mileage-tracking apps like Everlance to track your miles automatically.
9. Test Different Zones
To maximize your earnings, you must find the best places to DoorDash. Some zones are better than others, so you should take time to experiment.
Before trying other zones, you can try the DoorDash hotspots within your zone. Hotspots are typically downtown areas with popular restaurants.
Experimenting with different zones will help you determine the markets with the highest order volume and the best customer tips.
Some zones are better than others because of the types of restaurants and the income bracket of the demographic.
One of the advantages of working as a Dasher is you can even DoorDash in another state, so you're not restricted to a particular zone, and you have the freedom to try different markets.
While there's no guarantee that other markets are better, it wouldn't hurt to test the theory.
10. Try Delivering by Bike
DoorDash allows Dashers to deliver by car, bike, scooter, and even on foot in some markets.
One of the most significant expenses that eat into your earnings is gas, especially with the rising costs recently.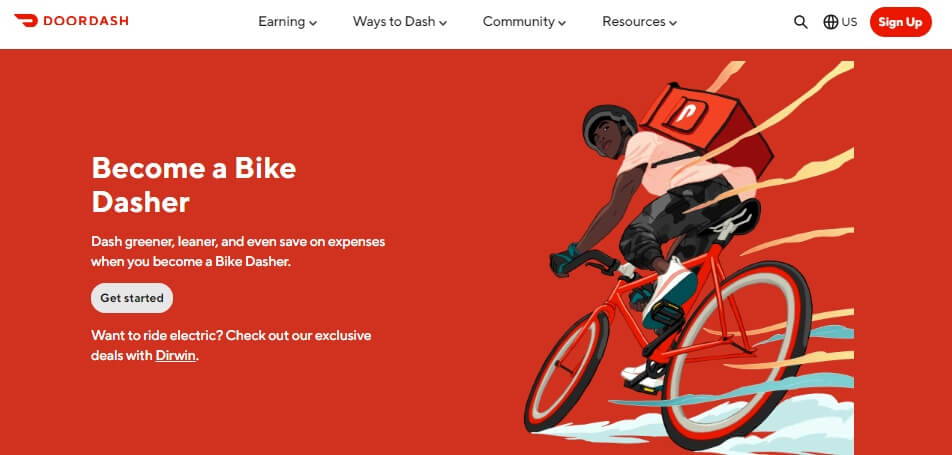 You can save on this expense by switching to bike delivery. And if you deliver in a market with heavy traffic, using a bike for deliveries is faster.
If you switch to bike delivery, restrict your deliveries to a small radius. Using a bike may not be practical if your deliveries typically cover long distances.
If delivery by bike is a viable option for you, it would be a great way to get paid to work out and deliver simultaneously. Plus, delivering by bike helps you reduce your carbon footprint.
11. Wait Near Hotspots
Another trick to make $1000 a week with DoorDash is waiting near hotspots.
DoorDash considers several factors when assigning orders, including location. As such, the closer you are to busy restaurants, the higher your chances of getting orders.
You can use the DoorDash heat map to find hotspots in your zone. They're usually highlighted in the Dasher app and are typically areas with many restaurants.
DoorDash values speedy deliveries for maximum customer satisfaction, that's why proximity to restaurants is one of the factors considered when assigning DoorDash orders.
If you want to get more orders, try parking near popular restaurants in your zone.
12. Consider Using Multiple Delivery Apps
The last tip on how to make $1000 a week with DoorDash is to consider using multiple delivery gigs.
This is one of the tricks most gig workers use to maximize their income. Here are a few gigs you can do alongside DoorDash:
Frequently Asked Questions
Can You Really Make $1000 a Week on DoorDash?
Making $1,000 a week with DoorDash is possible, but it will take significant effort and a lot of strategizing.
For one, you must choose the right location and the best hours to work to maximize your earnings when you're available to deliver.
How Much Can You Realistically Make With Doordash in a Week?
As a part-time job, you should expect between $400 and $500 a week, working 20 hours per week.
If you're willing to increase your working hours, you can make between $800 and $1,000 per week under favorable conditions.
Can You Make $2000 a Week With Doordash?
Making $2000 a week with DoorDash is challenging and an unattainable goal for most people. Still, it may be possible to make $2000 a week in very high-demand markets and under specific conditions, though not consistently.
How Much Can You Make Doing Doordash 40 Hours a Week?
The amount you make doing DoorDash 40 hours a week will depend on various factors, including your location, market demand, and efficiency.
As a rough estimate, if you average $25 an hour, you would make $1,000 working 40 hours a week.
Final Thoughts
Hopefully, my tips on how to make $1000 a week with DoorDash will help you maximize your earnings on the platform.
Succeeding in the gig economy mainly depends on your efficiency, as you're your own boss. DoorDash is one of the most flexible side gigs, so there's a lot you can do to boost your income.
With the right strategies, you can make the most of your work as a Dasher and hopefully make $1000 and even more per week.
Looking for other side hustle ideas? Check out: