Does DoorDash Track Mileage? What Dashers Need to Know!
Updated on August 10, 2023
This post may contain affiliate links which means that sproutinue.com may make a small commission at no extra cost to you. We only promote products that we love and feel will benefit our readers. Please read our Disclosure Policy for more information.
If you've signed up to work as a Dasher or you're thinking about driving for DoorDash, you're probably aware that you're in charge of all your expenses.
For gig economy jobs like DoorDash, you get hired as an independent contractor, so you'll take care of costs like gas expenses, vehicle depreciation, and repairs.
DoorDash and Amazon Flex are some of the gig apps with good earning potential, but you must always factor in expenses to determine how much you actually make.
DoorDash doesn't pay for gas or any other expense, so you must find ways to work efficiently to maximize your earnings.
Tracking your DoorDash mileage will help you save money come tax season, as you can write off some of the expenses.
So does DoorDash track mileage? If not, what can you do? I'll answer these questions in detail and provide a few DoorDash driver tips you can use to save money.
Want to make money fast? Try out:
SayMore – Share your opinion and earn free gift cards!
Does DoorDash Track Miles?
DoorDash doesn't track mileage for every delivery run you make. However, it gives an estimate of the total miles you cover per year. So, it's up to you to accurately track your DoorDash mileage.
You can't count on DoorDash to accurately track your mileage because the company only tracks mileage estimates based on orders.
As such, the miles you drive between orders or when you take a different route aren't accounted for, and you might miss out on them.
This is standard practice for other delivery gig apps. Even Instacart doesn't track mileage. Thankfully, you can track your DoorDash mileage in many ways.
Why DoorDash Tracks Your Mileage
While DoorDash doesn't track mileage perfectly, it does keep track of your mileage estimates for various reasons.
To Calculate Dasher Pay
The main reason DoorDash has to keep track of miles is to accurately compensate drivers for their work.
Distance is one of the factors used to determine how much you make for an order. The longer the distance, the more money you make.
Keeping track of how much distance a Dasher covers for every delivery trip helps ensure Dashers are paid accurately for their effort and time.
Additionally, the data helps DoorDash determine where their service is most in demand and the underserved areas.
This helps the company develop strategic decisions regarding where to focus its resources and expand its services.
To Support DoorDash Drivers
While DoorDash doesn't pay for expenses like fuel costs, a couple of policies are in place to help support Dashers and cushion them against the rising cost of gas.
DoorDash automatically tracks miles to help Dashers reduce expenses related to vehicle depreciation and fuel costs.
The gas rewards program is especially useful for Dashers who work full-time, covering long distances.
To Improve the Accuracy of Delivery Estimates
DoorDash also tracks driver mileage to help improve the accuracy of its delivery estimates.
Delivery estimates usually factor in the distance between where the order is picked up, where it's dropped off, and traffic conditions.
The data collected from tracking driver mileage can go a long way in helping DoorDash make their estimates more accurate.
Accurate estimates help improve customers' experiences since they get a better idea of when their orders will arrive.
These estimates also help drivers because they're less likely to get stuck with longer trips than expected due to traffic or unforeseen circumstances.
Why You Should Track Your DoorDash Mileage
Since DoorDash doesn't accurately track mileage, it's up to you to track it. But how does this help you?
Tracking your mileage can help you manage all your expenses to maximize your earnings and prepare well for tax season.
Here's why you should track your DoorDash mileage.
1. It Helps You Manage Your Expenses
There are tons of expenses to keep track of as a delivery driver. The main expenses that eat into your earnings are fuel and vehicle repair and maintenance costs.
Accurately tracking your DoorDash mileage will help you monitor your vehicle's performance effectively to plan more easily.
By tracking your DoorDash mileage, you can plan timely maintenance services to keep your car in good shape.
Timing your vehicle maintenance services based on your mileage intervals helps keep your repair costs low and ensures your vehicle remains reliable for work.
The more you reduce your expenses, the more profitable the side hustle becomes.
2. Tax Deduction
As mentioned, DoorDash hires Dashers as independent contractors, so you're responsible for filing your taxes come tax season.
As an independent contractor, you can claim some deductions for any business-related expenses when filing your taxes.
According to the IRS, you can deduct a standard mileage rate for the business miles you drive. If you plan to claim these deductions, you need to keep accurate track of your DoorDash mileage.
The IRS doesn't accept DoorDash estimations for mileage deduction, so you must find a different way to track your mileage accurately.
3. Reimbursement Purposes
Some DoorDash drivers may be eligible for partial reimbursement of their vehicle expenses when making DoorDash deliveries.
In most cases, this program is for full-time DoorDash drivers who drive many miles over a long period.
If you're eligible for the program, keeping track of your mileage is important so you can be reimbursed appropriately.
Additionally, knowing the miles you put on your vehicle will help you budget for operating costs like fuel, repairs, and maintenance.
4. Efficient Planning
One of the best DoorDash driver tips is to be an efficient worker. One way to make your trips more efficient is to plan your routes.
Keeping track of your mileage will help you plan your routes efficiently in the future.
Minimizing the miles you drive between pickup and drop-off can help you save fuel costs and time.
5. Income Calculation
You might make a decent hourly rate as a DoorDash driver, but it's important to consider your expenses when calculating how much you actually make.
This will help you determine whether the side hustle is worth it or if you should find an alternative.
One of the expenses you should consider when determining your actual income is vehicle depreciation.
When tracking your mileage, you can use a vehicle depreciation calculator to calculate your expenses and income accurately.
How To Track Miles for DoorDash
Once you've chosen to track your DoorDash mileage, there are different ways to do it. Here are the four main ways to track your DoorDash mileage.
1. Use a Written Mileage Log
One way to track the mileage you cover for deliveries is to create a logbook to record the distance you cover for every order.
This is an effective, if not an old-fashioned, way to track your DoorDash mileage accurately.
You can divide your logbook into various sections, such as the delivery date, the odometer readings, the total distance covered, and any other notes you find important.
The advantage of creating your logbook is you can design it however you want to include everything you need.
With your logbook, you can record the mileage you cover at the end of every trip so you don't forget.
Moreover, with the notes section, you can write additional information, like if you took another, more efficient route to make the delivery.
When using a logbook, it's also important to file all your gas receipts, as they'll prove that your records are accurate.
2. Use a Spreadsheet
If you'd like a more electronic version of a written logbook, you can try spreadsheets like Google Sheets.
The advantage of using Google Sheets is that you can program it to work offline so you can access it on your devices without Wi-Fi or cellular data.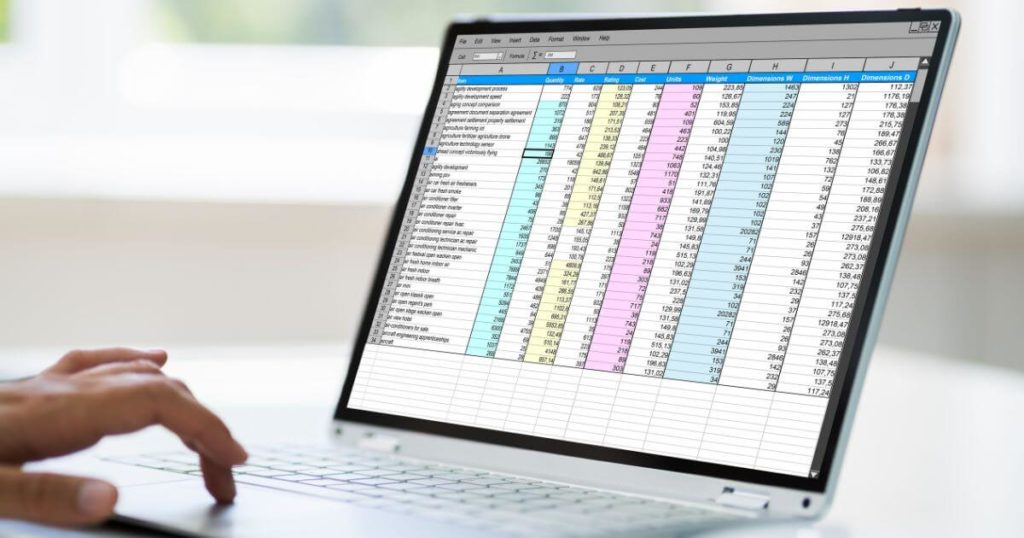 Like the written mileage log, you can create your spreadsheet and color-code it as you see fit.
You can also program your log to tally your miles so you don't have to calculate it manually.
3. Look Through Your DoorDash Orders
You can also record your mileage by looking at DoorDash's record of your completed orders.
The DoorDash app displays all your previous orders and the total money you made from the deliveries.
If you'd like to start tracking your miles, you can review the deliveries you made on a given date and add up the miles you cover for each trip.
There are two downsides to using this method
The estimates may not be accurate enough
It's much more strenuous than the others
4. Use a Mileage Tracking App
Using a mileage tracking app is the most effective way to track your DoorDash mileage.
A mileage tracking app is the most convenient option because it automatically tracks your mileage, so you have little work to do.
With a mileage tracking app, you can focus on making your DoorDash deliveries on time while the app keeps track of your miles.
Additionally, several apps have different features, so you can choose one based on your needs.
Mileage-tracking apps work on the same basic model. So all you have to do is download the app and then log in every time you make a delivery.
The app then works in the background, automatically tracking the miles you cover as you make DoorDash runs.
Below, we look at some of the most popular mileage-tracking apps delivery drivers use.
Best Mileage Tracking Apps for DoorDash
There are several mileage-tracking apps to choose from based on their different features.
Choosing an app tailored to your delivery needs is important. Here are the best DoorDash mileage trackers.
1. Everlance
Everlance is an incredibly useful mileage-tracking app for DoorDash drivers. This app automates mileage tracking and simplifies the process of managing your expenses.
Everlance automatically records the trip distance and all the necessary data, which makes it easier to claim these expenses for a tax deduction.
DoorDash recommends Everlance to Dashers, which is one of the reasons the app is so popular. It also has intuitive tools that help you track other expenses alongside your mileage.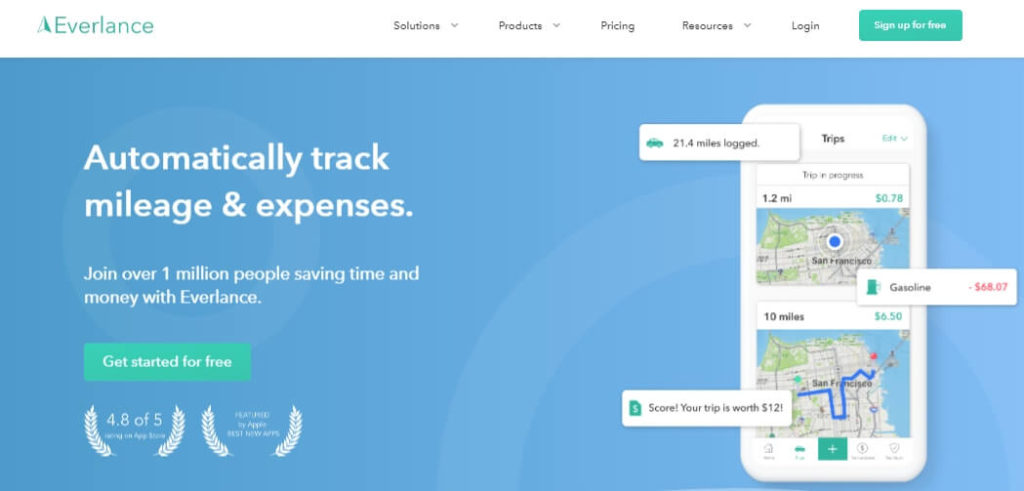 With just one tap as you start your trip, the app records your routes and automatically calculates the total distance accurately.
Everlance also has Apple Maps and Google Maps built into the app to avoid delays caused by poor directions.
Lastly, you get detailed expense reports on the app to gauge the exact amount you earn from your DoorDash trips over a given period.
2. Hurdlr
Hurdlr is another mileage-tracking app popular with Dashers and other delivery drivers. The app takes most of the work off your shoulders by automatically tracking your mileage.
With Hurdlr, you can even integrate your bank account app, making expense calculation much easier and more convenient.
Hurdlr has a widget you can use on your phone's home screen, which means you don't have to log into the app every time you want to start or stop tracking.
You can use Hurdlr to track both business and personal miles, provided you keep these logs separate.
Hurldr's features make tracking your tax deductions and potential reimbursements very easy.
3. MileIQ
MileIQ is another mileage-tracking app with a wide range of useful features that can make your work much easier.
The app uses intuitive tools and advanced algorithms to help you accurately keep track of the miles for each drive, even when you have to do multiple pickups and drop-offs.
MileIQ stores all your data securely in the cloud, so you can access it from all your devices whenever needed.
The app also includes parking and tolls in your weekly mileage reports, which is a more accurate reflection of all your business expenses.
4. Stride
If you are looking for a free DoorDash mileage tracker, consider Stride.
Stride Tax is an app designed to help independent contractors like Dashers who need help tracking their mileage.
With Stride, you can keep track of various transportation types, including bicycles, trucks, and cars.
The app records both personal and business trips. All you have to do is click to start and end your trips.
In addition, Stride Tax integrates with DFC platform software, so you can import your ride data into your account for record-keeping or other business purposes.
5. Triplog
Triplog is one of the most detailed mileage tracking apps, making it an ideal choice for delivery drivers.
With Triplog, you can even pull up a map of where you've been and see the time stamps for the various points along the way.
This makes it a handy tool for dealing with deactivations or lying customers. Besides, Triplog stores your records, so you don't have to manually log your miles.
The app is IRS-compliant, so you'll always be up-to-date with tax laws and how they affect you.
Tips for Efficiently Tracking Your DoorDash Miles
The main reason behind tracking your DoorDash miles is to maximize your earnings and make the most of your side hustle.
Here are a few tips to help you track your miles efficiently and ensure you don't miss out on any tax deductions.
Use Automatic Tracking
Several mileage-tracking apps automate the work for you so you can focus on completing deliveries.
Everlance, Hurdlr, and Stride are some of the most popular apps Dashers and other delivery drivers use.
The apps automatically detect the mileage you cover for deliveries and record the distance traveled.
The apps have different features and pricing plans, so you should choose one based on your needs.
Record Important Details
You should also keep a detailed log of important information for every trip. The log can include details like the time, date, and purpose of each trip.
You can also include additional notes regarding specific trips, like when you use an alternative route for efficiency.
When you have such a comprehensive log, tax deduction is much easier. Additionally, the log helps you optimize your routes and improve your efficiency.
Use Fuel Reward Programs
Several gas stations offer discounts on fuel purchases and various fuel rewards programs.
When you sign up for these programs, saving money as you fuel your vehicle becomes easier.
You should also consider reward apps like Upside and cash-back credit cards that give benefits tailored toward gas purchases.
Fuel costs significantly impact your earnings, so finding any way to save on such expenses will pay out.
Use a Fuel-efficient Vehicle
As you work on minimizing your expenses, consider using a more fuel-efficient vehicle.
If possible, use a car with better gas mileage or opt for an electric or hybrid vehicle. This way, you reduce your expenses without affecting your performance.
Frequently Asked Questions
Does the DoorDash App Track Mileage?
The DoorDash app doesn't accurately track mileage. While the app factors in mileage estimates when determining Dasher pay, these estimates are inaccurate.
It's advisable to find a way to track your DoorDash miles.
I Forgot to Track Miles for DoorDash; What Should I Do?
If you forgot to track your DoorDash mileage, wait for the email DoorDash typically sends out to Dashers when tax season is around the corner.
It's advisable to take mileage tracking seriously as a dasher because the IRS requires accurate records to claim deductions.
If you don't document your miles properly, you may miss out on a significant amount of money in tax deductions.
Final Thoughts
So, does DoorDash track mileage? Not accurately. The app only estimates the miles driven for each trip for payment purposes.
This means you must track your DoorDash mileage to calculate your expenses and claim deductions come tax season.
With side hustles, every bit counts, so the extra step involved in tracking and keeping an accurate record of your miles is worth it.
As discussed above, there are plenty of ways to track your miles, so find one that works best for you. I recommend finding a mileage-tracking app that will handle most of the work for you.
Looking for other high-paying side hustles? Read our guides: