17 Best Websites Like Poshmark to Buy and Sell Used Clothes Online
This post may contain affiliate links which means that sproutinue.com may make a small commission at no extra cost to you. We only promote products that we love and feel will benefit our readers. Please read our Disclosure Policy for more information.
If you declutter your closet occasionally, you've probably used websites like Poshmark. Whether you want to create space for new clothes or are looking for ways to make extra cash, apps like Poshmark come in handy. 
Selling used clothing and accessories online is a quick way to declutter your closet and make money. In fact, nearly 33% of consumers today prefer purchasing stuff online to in-store. So, there's a buyer for your used clothes out there.
If you want to make money selling stuff on apps like Poshmark, here are 17 Poshmark alternatives to consider.
What Is Poshmark and How Does It Work?
Founded in 2011, Poshmark is one of the most popular online marketplaces. The app is undoubtedly the king of turning old apparel into cash. It's an exclusive clothing and accessories resale site.
The platform uses powerful algorithms to do the heavy work for you. You only need to upload your products' photos, write a description, and set the price. The company also offers prepaid shipping labels after purchase, so you only have to print and ship the items.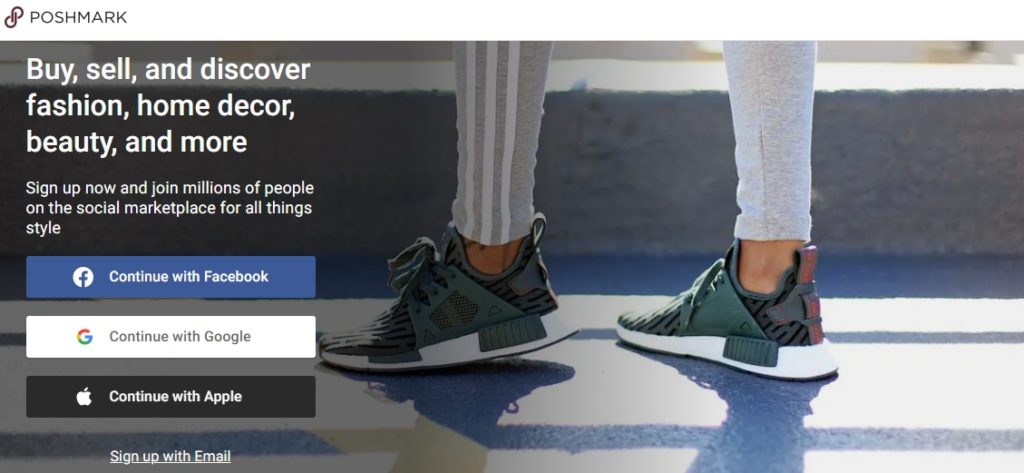 Like most websites to sell stuff, Poshmark charges a fee for each sale.
For sales under $15, it charges a flat rate fee of $2.95 per sale.
Poshmark will charge you a 20% commission for sales above $15.
Compared to other websites like Poshmark, the app's commission fees are higher. However, the investment is worth it, considering the app is geared toward high-quality items.
You can also quickly find buyers for designer brands, so it's worth the premium.
Top 17 Best Websites Like Poshmark
If Poshmark doesn't sound like the best app to sell stuff online, consider the following alternatives. They're genuine, effective, and user-friendly, much like Poshmark.
1. Mercari
If You have items you don't need anymore or outgrew and are still valuable, Mercari is the perfect place to declutter them and make some cash.
With the app, letting go of old stuff feels as delightful as saying hello to new ones, especially if you understand the tricks to sell on Mercari.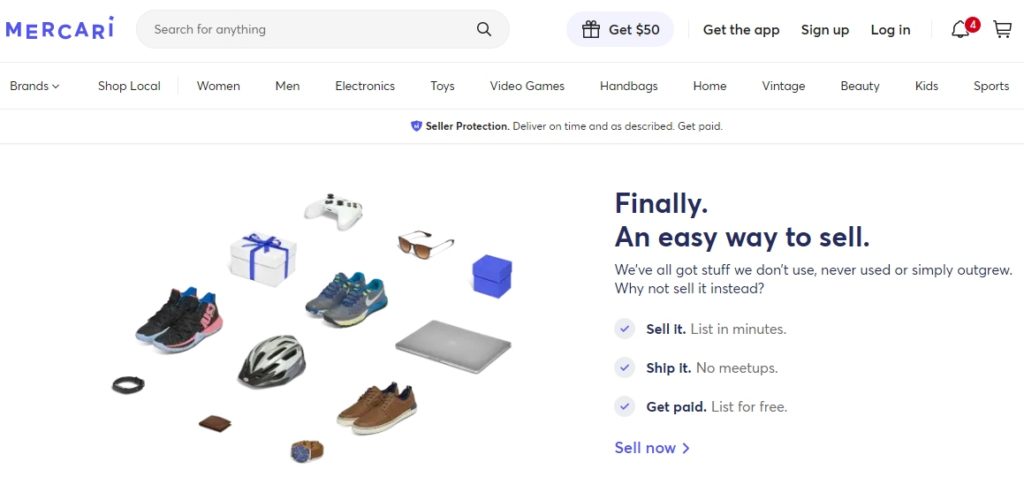 Unlike Poshmark, there are several items you can buy and sell on Mercari. Setting up the account is also relatively simple. After downloading the app, upload your item photos, write a detailed description and set your price.
Here are some of the best-selling items on Mercari.
Mercari charges a 10% fee on each sale and a small payment processing fee, but the buyers pay for the shipping.
If you have an old collection you want to sell for quick cash, Mercari is a good place to do that.
Extra Reading: Apps Like Mercari
2. Depop
Depop and Poshmark are much similar. Like Poshmark, you can sell your stuff fast online using the Depop app.
What makes Depop even more interesting is the social feature that allows you to follow other online sellers with similar fashion sense. This lets you build a community where you can easily access trendy fashions.
It's also easy to view items sold by competitors, influencers, and fashion bloggers to gain insights into what sells fast.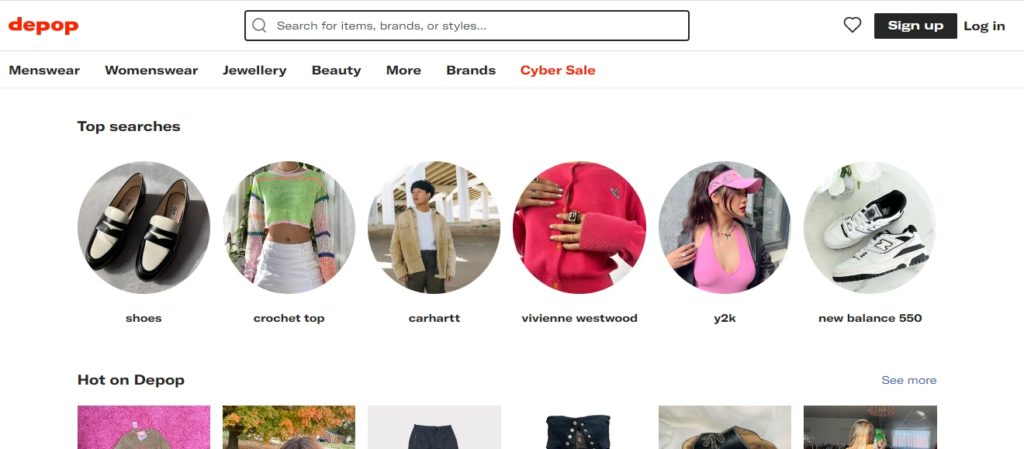 Many popular fashion bloggers and influencers use Depop to reach their clients. Besides, Depop sellers leverage social media platforms like Instagram and TikTok to help grow visibility and eventually drive sales.
If you have a huge social media following, Depop is the most profitable site to sell clothes online.
Like Mercari, Depop charges a 10% commission per sale. All transactions are exclusively made via PayPal.
3. Vestiaire Collective
If you have luxurious or designer clothes and items to resale and are struggling to sell on other sites, Vestiaire Collective is probably your best online marketplace.
The platform will help declutter your closet with only a few screen swipes. It's easy to list an item on the app. Plus, the company offers a prepaid shipping label.
While listing items on Vestiaire Collective is free, the platform may not be a good choice for many sellers due to its high commission fees.
For every sale, you'll pay a 15% commission fee.
Although the commission fees are steep, Vestiaire Collective will guide you through the selling process. The company strives to make sure that you and your clients are satisfied.
Overall, Vestiaire Collective is best for selling name-brand items due to the high fees.
4. The Real Real
The RealReal is one of the best resale websites like Poshmark. If you have luxurious and designer clothes you want to sell for quick cash, The RealReal is ideal for you.
Apart from clothes, the platform accepts the resale of luxury items like:
Watches
Clothes
Shoes
Arts
Kids
Fine jewelry
What makes The Real Real unique is its team of 100+ experts that authenticates and sells items on your behalf.
The team handles everything from taking pictures, pricing, and listing the items on the platform. Sellers keep up to 85% of sales, which is a fair rate considering the company does everything on your behalf.
5. ThredUP
If you're looking for a quick way to make money from your closet, thredUP is a good site to consider.
To sell on thredUp, order a Cleanout Kit from the resale site. Pack everything you want to resale, including accessories, clothes, jewelry, and other items.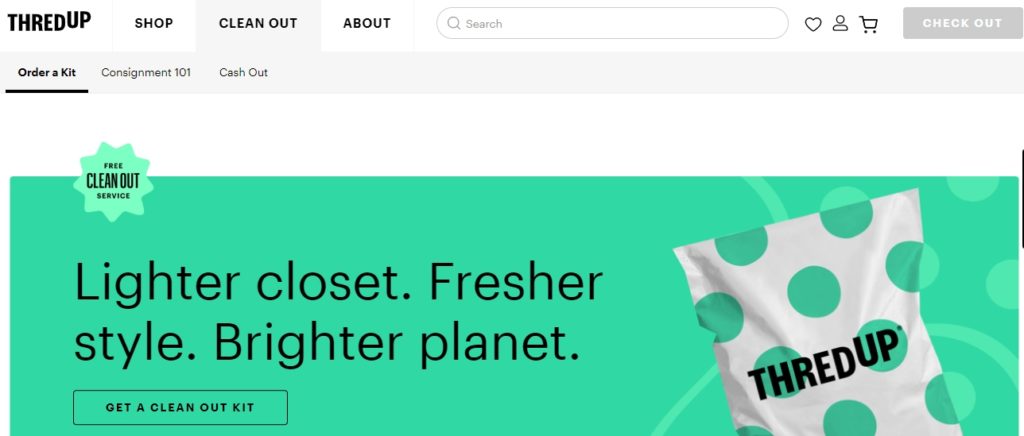 Once you've filled the bag with stuff you no longer need, place the shipping label inside the box and drop it off using USPS or FedEx. You can cash out or get a shopping credit after your items sell.
The company pays you upfront for trendy items. For the items that take longer to sell, thredUp will pay after selling them as a consignment. The downside of this using thredUP to sell items is that you'll likely get the lowest price for your stuff.
You can make anywhere from 3% to 80% of the selling price, depending on the item's brand, demand, and quality.
Once your items sell, you can cash out your earnings via PayPal or thredUP shopping credit.
6. Vinted
Another website like Poshmark is Vinted. It's the only resale site that doesn't take a commission on sales, so you get to keep all the money you make.
You can also swap your items with other members on the platform instead of selling them.
To start selling on Vinted, download the app, upload photos of your items, write a detailed description, and set the price. Once your item sells, print a prepaid shipping label, drop the package within five days, and get paid.
Vinted has zero selling fees, and the payment is finalized after the buyer confirms that the package is okay.
Vinted may not be a great option if you want to make serious money. The site's traffic is low compared to other platforms, so you may take a while to sell your items. But, if you struggle to sell on similar sites, Vinted is worth a shot.
7. Grailed
Grailed specializes in high-end designer clothing and accessories for both men and women. From streetwear to name-brand items, you can easily find a buyer.
Besides being the best site to sell luxury clothing, Grailed is also one of the best places to sneakers for cash.
Listing items on Grailed is free, and their fee charges are low compared to other platforms. The company charges a commission rate of 9% on sales.
In addition to the commission fee, there's a processing fee for payments made through PayPal, which varies depending on your location.
8. Etsy
Etsy is a global online marketplace that you can use to sell more than just clothing.
However, Etsy may not be best suited for everyone unless you have a wardrobe of handmade clothes or vintage pieces. Most successful sellers on Etsy flip or sell vintage and handmade items.
Unlike other websites like Poshmark, you'll need to create a storefront. This means you're in full control of creating your selling terms, pricing, and shipping.
Etsy charges a $0.20 listing fee for each item and a 6.5% processing fee.
Selling on Etsy might take a lot of work. That's why many sellers prefer to use Etsy alternatives. However, it can be profitable over time once you grow your customer base and get positive reviews.
9. eBay
While other sites like Poshmark are exclusively dedicated to selling fashion items, eBay is more than just a clothing platform.
Other popular categories on the site include:
Electronics
Collectibles like pokemon cards
Toys
Art
Vintage items
Sporting equipment
There are so many reasons you should choose eBay while clearing your closet. It's a promising marketplace with a worldwide clientele.
To start selling on eBay, list your items, get seller protection, and get paid when the item sells. You can schedule to get paid weekly or daily, depending on your preferences.
You can list up to 250 items per month for free, after which eBay charges a small fee. Once your item sells, you'll pay a final fee, calculated based on the total sale amount, plus a $0.30 per order fee.
10. Facebook Marketplace
The Facebook Marketplace is a popular online platform that allows you to buy and sell a wide range of products, from household items to vehicles and real estate.
The platform is accessible through Facebook's website or mobile app, making browsing and listing items for sale easy. So, if you already have a Facebook account already, you can start listing items in a few minutes.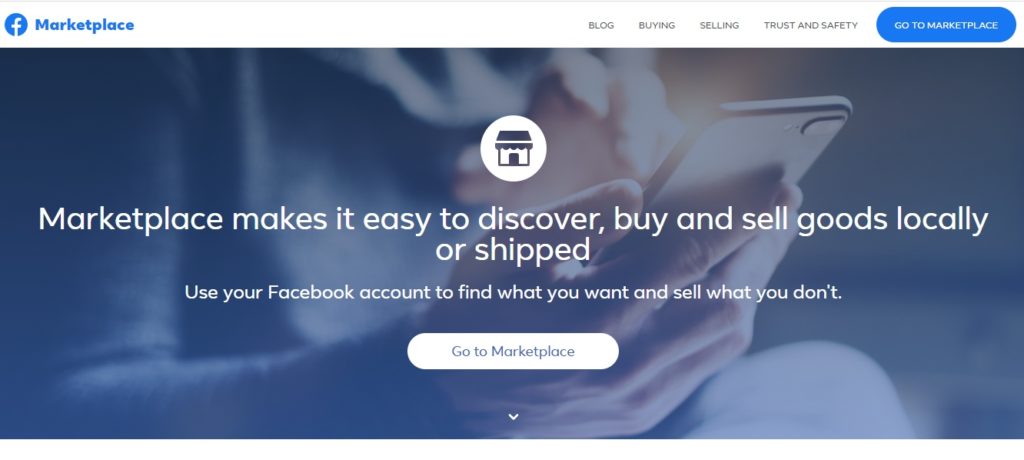 Unlike other websites like Poshmark, you'll have to do all the hard work. You're responsible for taking photos, writing descriptions, and deciding on the prices.
What I like about selling on Facebook is that you don't have to pay any seller fees. So, you keep all your sales proceeds.
11. OfferUP
OfferUP is another best website like Poshmark, where you can sell different categories of items locally and online. Clothing, accessories, and shoes are the most popular items on the platform.
Name-brand items can fetch you top dollar on OfferUP. The top-selling brands on the platform include:
Michael Kors
Dior, Adidas
Nike
Coach
Levis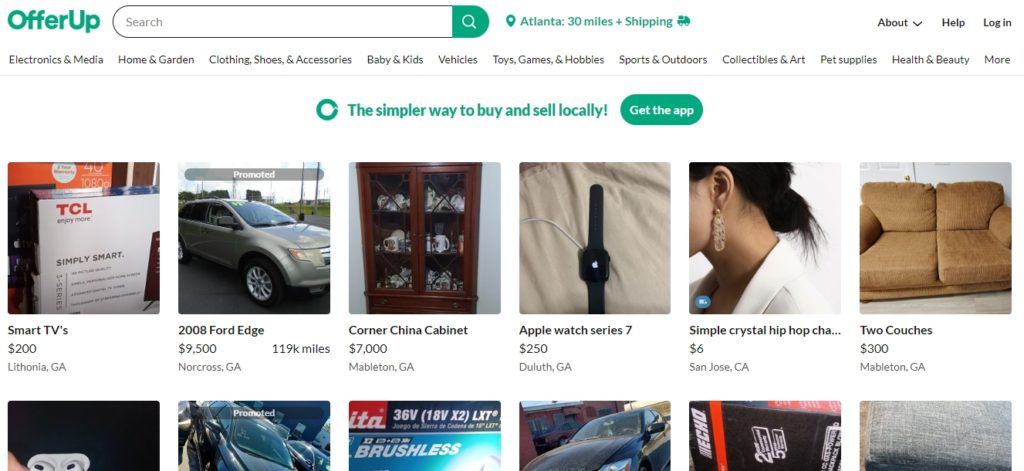 Listing items on OfferUP is free. However, you may need to pay a $1.99 flat commission if your item is below $50. Otherwise, you'll pay up to 12.9% seller fees.
Overall, OfferUP is one of the best clothing resale apps since it doesn't charge any fees for local sales.
12. Rebag
Unlike other alternatives to Poshmark, Rebag is a resale website specializing exclusively in luxury handbags. It has an easy-to-navigate platform with a variety of options for buyers and sellers alike.
One of Rebag's standout features is its focus on luxury handbags. However, you can also buy and sell watches, jewelry, apparel, shoes, and accessories.
The website offers an impressive selection of the world's most coveted brands, such as:
Chanel
Fendi
Louis Vuitton
Gucci
Dior
Saint Laurent
Prada
Hermes
Whether you're looking for a classic style or a rare limited-edition piece, Rebag has it all. Plus, if you have brand-name handbags, you can make a decent amount of money selling them on Rebag.
As a seller, you can earn up to 80% of the sale price. This makes it easy for you to make money from your pre-owned designer handbags. And shoppers can also get high-quality bags at a fraction of the initial price.
You can make money on Rebag without lifting a figure. You only need to send pictures of the items, and the company will send you a quote. If you accept the price, you'll get a shipping label to send it off and receive your cash.
With a diverse selection of items, a commitment to authenticity, and a strong customer service focus, Rebag is worth checking out.
13. Crossroads Trading
Crossroads Trading is a local resale option for secondhand fashion and trendy items.
However, the platform is picky about the quality of products they accept. They specifically accept name brands, designers, and current-trend pieces.
If you have rare clothing or any other item, you may be able to fetch the best possible price on Crossroads Trading. You can either list the items on the platform or sell them locally.
When you sell your items for cash in-store, you get paid immediately. You'll earn up to 30% of what Crossroads price your items. If you choose to trade your items, you'll receive up to 50% in-store credit.
Crossroads Trading also offers consignment on luxury or designer items. If you choose to cosign your items, you'll get paid when the items sell. You'll earn anywhere from 50-70%, depending on the selling price.
14. Worthy
Worthy is a professional jewelry auction website where buyers bid on different items. You can sell jewelry, wedding rings, watches, and diamonds.
As a vendor, you submit your pieces to the platform. The company auctions the items, and you get paid.
Some of the items sold on Worthy include:
Luxury earrings
Luxury watches
Necklaces
Diamond Jewelry
If you have expensive items like the ones mentioned above, call, chat, or email Worthy's sales department to submit your items. If the company is interested, you ship them in an insured package for inspection. Worthy will then clean them and take professional photos for auction on the site.
Worthy doesn't charge any fees until the sale happens. Once it does, you'll pay a 10% to 18% commission on the final selling price.
15. Craiglist
If you prefer reselling items locally, Craiglist is one of the best apps like Poshmark to consider.
You can list items for free without even creating a Craiglist account. All you have to do is write a brief description, upload images, and set the price. If a potential buyer contacts you, you can close the deal face-to-face.
You must be comfortable meeting people because most sales are made in person. As such, it's a good idea to meet in public places.
16. Bonanza
Bonanza is similar to Poshmark, except that you can sell more than just clothing.
Other popular categories on Bonanza include:
Home and garden
Collectibles and art
Jewelry
Handbags
Coupons
Musical instruments
Video games and consoles

With over 25,000 listed sellers, Bonanza is a great marketplace to buy and sell secondhand items online.
To start selling on the platform, you must sign up and get approved. Once approved, you can start uploading photos of your items to get listed on your storefront.
Listing items on the site is free. However, Bonanza charges a 3.5% commission fee on all sales. You may also need to pay a $0.25 transaction fee on all sales if you don't have an active member subscription.
17. Shpock
If you're based in the UK, Shpock is the perfect online marketplace to buy and sell used and new stuff in various categories, including:
Fashion
Electronics
Kids items
Furniture
Once you sign up for an account, list your items for free, write detailed descriptions, and set a price. Shpock doesn't charge commissions for sales.
Once your item sells, you can use Shpock's in-house payment service, where the buyer pays you directly into your Shpock wallet. You can then transfer the funds to your bank account.
Tips for Selecting the Best Poshmark Alternatives
Choosing the best Poshmark alternative can be challenging, especially for new sellers. Below are a few tips to guide you in picking the most suitable website to sell your clothes online:
Take your time: Don't be quick to pick a website. Take your time to shop around and compare fees, commissions, and payment methods to decide the best fit for you. You can also go the extra mile and contact other sellers and ask about the upsides and downsides of the platform.
Consider your schedule: Most websites like Poshmark require constant monitoring and presence, while others are more passive. If you're too busy, you may need to look for more passive sites like ThredUP that handle almost everything on your behalf.
Be honest: Don't write false descriptions to sell your items faster. Be honest with the item's condition, size, and brand to attract the right buyer. Of course, you need to be creative when writing descriptions, but that doesn't mean making false promises.
Consider cost: If you want to flip clothes on websites similar to Poshmark, do the math beforehand to determine whether you're going to make a profit or loss. Calculate how much the site's fee will eat into your profit margin. That way, you'll be better positioned to plan and weigh whether it's worth it.
Final Thoughts on Websites Like Poshmark
Occasionally, we find ourselves with clothes we no longer wear. Maybe you've outgrown some or are just collecting dust in your closet. Thanks to websites like Poshmark, you can turn your old clothes into money.
Selling secondhand clothes or flipping clothes for money is a great way to make money on the side. If you put in the effort, you could turn this side hustle into a full-time job.
If you're looking for other ways to make money on the side, check out our other posts: