Depop vs Poshmark 2023: What's the Best Reselling App?
This post may contain affiliate links which means that sproutinue.com may make a small commission at no extra cost to you. We only promote products that we love and feel will benefit our readers. Please read our Disclosure Policy for more information.
If you've used apps like Mercari, you're probably familiar with Depop and Poshmark. The Depop vs Poshmark debate has been on for quite some time, with sellers looking for the best sites to cater to their selling needs.
The two platforms are similar in some aspects but have a few major differences. In this post, I have compiled information on both platforms from a seller's perspective to give you an idea of what each entails.
I have also compared the two in terms of key points like best-selling items, listing requirements, shipping fees, and more to help you decide which one to use to sell your second-hand clothes and accessories.
What Is Depop?
Depop is an e-commerce platform that deals in the resale of various items. The platform has been in operation since 2011.
It began as a platform where young creatives featured in the PIG magazine could sell their items. After a while, the Depop was re-envisioned as a global marketplace that accommodates everyone, not just the magazine's readers.
Depop has grown since then. It is now a home for millions of people who come together to celebrate art, culture, and style and earn a few bucks.
The online marketplace is geared toward a younger and trendier generation. The bulk of shoppers is made of Gen Z.
In 2021, Etsy acquired Depop to tap into more Gen Z users. The platform, however, continues to operate as a standalone company.
About 90% of Depop's focus is on clothing and accessories. The most popular categories are vintage wear, streetwear, and Y2k wear.
However, they allow you to sell other items not in the clothing category. 
Some of the popular items that you can sell on Depop include:
Men's Clothing
Women's Clothing
Jewellery
Beauty Products
Art
Film
Sports Equipment
Home Decor
Music and more.
The most popular brands on Depop are Nike, Jordan, Levi's, and Adidas. However, you're not limited to these brands.
Apps like Depop allow you to sell anything you want as long as it's not among the prohibited items. Some of the prohibited items on Depop include alcohol, medicines, drugs, and firearms.
What Is Poshmark?
Like Depop, Poshmark is an online marketplace that mainly focuses on reselling new and secondhand clothing and accessories.
The platform was founded in 2011, just like Depop. Since then, Poshmark has expanded to over 80 million users across the U.S, Canada, Australia, and India, making it one of the most popular reselling apps.
Poshmark is generally used by an older category of people compared to Depop. The majority of shoppers are millennials. This age group is more likely to purchase high-end designer brands.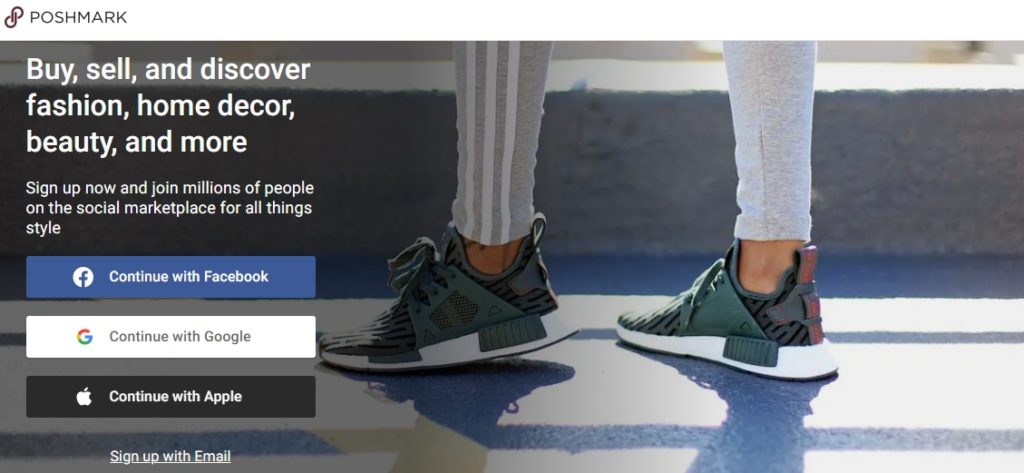 The most popular brands on Poshmark are Louis Vuitton, Chanel, and Gucci. Here are some of the items you can sell on Poshmark:
Men's Clothing
Women's Clothing
Accessories
Beauty products
Electronics
Household goods
Poshmark prohibits the sale of items like perfumes, replica designer items, and used underwear, among others.
Extra Reading: Websites Like Poshmark
Depop vs. Poshmark: Which Is Better?
Depop and Poshmark are similar in several ways. For instance, both platforms deal mainly in fashion, among other items. Both are a combination of a selling platform and a social media site.
They allow you to link your seller accounts to your Instagram and Facebook accounts. This way, buyers can follow your account and like the items you list. This dramatically increases your market base and chances of making a sale.
Despite their similarities, both platforms are quite different in several ways. Here's the Depop vs Poshmark comparison in terms of audiences, listing requirements, seller fees, and more.
1. Audiences
The target audience is a crucial factor to consider when choosing a platform to sell your items.
There are several significant differences between the type of users on Depop vs Poshmark. This is likely to influence the success of your items on these platforms.
Here's what you need to know when it comes to audiences of Depop and Poshmark.
Depop Audiences
Depop has registered over 40 million users. This is almost half of the population on Poshmark.
However, Depop's users are spread throughout 150 countries in the world. This scope is larger than Poshmark's.
The composition of the audience on Depop is different from that of Poshmark, mainly in terms of age. Nearly 90% of the users of Depop are Gen Z.
Poshmark Audiences
Generally, Poshmark has managed to build a stronger presence than Depop. It currently has over 80 million registered users.
The platform is only available in four countries: the U.S., Canada, India, and Australia. The bulk of shoppers on Poshmark is millennials over the age of 26.
2. What You Can Sell
Both platforms mainly deal in clothing and accessories, but you can also sell other items like beauty products, electronics, and household goods.
What You Can Sell on Depop
Here are the main categories on Depop are:
Women's Clothing
Jewelry
Men's Clothing
Beauty Products
Electronics
Home Decor
Books
Music
Note that Depop prohibits the sale of items such as alcohol, food, weapons, real estate, and drugs. Ensure the product you want to sell is legit and not prohibited.
What You Can Sell on Poshmark
Poshmark had for a long time been geared toward the sale of clothing. Recently, the platform expanded to accommodate other products.
You can sell the following items on Poshmark:
Women's Clothing
Men's Clothing
Electronics
Jewelry
Beauty Products
Home Decor and more.
Several items are prohibited on Poshmark. These include medicines, drugs, counterfeit goods, and firearms.
3. Listing Requirements
The listing process is easy on both Depop and Poshmark. It's all about putting together relevant information correctly to attract as many buyers as possible to your product.
Here's what you need to know about listing on both platforms.
Depop Listing Requirements
The first thing required when listing an item is the product's image. Depop allows at least one photo and a maximum of four photos per listing.
Depop also lets you upload a video of the product. This is even better than the photo because the buyers can get a better picture of the product. They also get to see how it works, for example, in the case of electronics.
The second requirement is a description of the product. The description shouldn't be more than 1,000 characters.
To increase your sales, ensure you write a catchy description. It should include relevant information about the product, for example, size, category, color, brand, price, and condition.
Think about anything the buyer wants to know about your product and add that information to your description. You should also disclose any defects that the item may have. The defects should, however, not be severe to hinder the use of the item.
Depop is mainly about current trends. It's, therefore, important to include a few hashtags in your listing. They're useful in optimizing your listing for Depop's search algorithm. The maximum number of hashtags you can add is five.
You can search for trending hashtags on social media platforms such as Instagram. You can also get an idea of what's trending on Depop's Explore Page. It's important to include all five hashtags and ensure they're popular and relevant to your product.
Poshmark's Listing Requirements
Like on Depop, you need to add photos of the product you'd like to sell while listing on Poshmark. Poshmark allows up to 16 photos per item. The platform also allows you to upload videos of your product.
Poshmark requires you to add a title of up to 50 characters and a description for your item. The description should be accurate and include all the information about your product that would be relevant to the customer.
This includes things like size, brand, color, and current condition. Your product must be in good condition to sell on Poshmark. In addition to that, you need to choose a main category and sub-category for your product.
The process is straightforward. Unlike Depop, Poshmark doesn't focus on current trends, so you need not worry about trending hashtags.
4. Seller Fees
Seller fees have a great impact on your profit margin. It's, therefore, an important factor to consider.
Both Depop and Poshmark have favorable fee systems and payout methods. An advantage of both is that you can list your item for free.
Here are the various fees charged on both platforms to help you decide which works better for your needs.
Depop Seller Fees
Depop charges a 10% commission fee for every completed sale.
The platform also charges a payment processing fee of 3.3% + $0.45 when you use Depop Payments. If you use Paypal, the amount charged will be 3.49% + $0.49 for every transaction.
If you make a sale through Depop's Boosted Listing Feature, you'll be charged an additional 8% fee.
Poshmark Seller Fees
For sales under $15, Poshmark charges you a flat rate fee of $2.95. For sales above $15, you're charged a 20% commission fee.
Generally, Poshmark charges higher seller fees than Depop. If you're looking for sites with even lower charges, you can check out Mercari or the Facebook Marketplace.
5. Shipping
The type of shipping method you use will impact the profit you make. You can offer free shipping, in which case the shipping cost is deducted from the proceeds of your sale.
You can also let the buyer pay for the shipping fees. However, this may deter customers from purchasing your products, especially if the shipping fee is higher than the item's price.
Alternatively, you can opt for the shipping options provided by the marketplace. They usually offer shipping discounts making them advantageous.
Let's look at the available shipment options on both Depop and Poshmark.
Depop Shipping
You can either use the shipping offered by Depop or choose to ship on your own using a shipping company of your choice. Alternatively, let the buyer cater for shipping. You need to provide the information on the shipping process you choose when listing your item.
If you choose to ship with Depop, they email a prepaid label to you. For this option, you can either drop off the item at Depop's depot near you or have a courier collect it from your location.
If you choose to ship on your own, you'll be required to provide Depop with the relevant tracking information of the item.
You can select the shipping method that works for you depending on the type of product, shipping rates, the location of the buyer, and your preferences.
Offering free shipping is a great way of boosting sales. However, ensure you factor in the shipping costs in the item's price so that your profit margin isn't reduced.
Poshmark Shipping
Poshmark is one of the reselling apps whose shipping options are simplified. The good news is that the buyer covers the shipping cost.
Once you make a sale, a USPS priority mail shipping label is emailed to you. You then go ahead to package the item, attach the shipping label and drop it off at the nearest post office. From there, the buyer can track the item until they receive it.
The buyer will pay a flat rate of $7.97 for all packages under 5 lbs. Poshmark has also recently introduced shipping discounts to attract potential buyers and more app users. This is a plus for you because more buyers translate to more sales!
In general, shipping on Depop is only cheaper when shipping lightweight items. Otherwise, Poshmark's fees are better.
6. Advertising and Promotions
To increase sales and build a brand, you need to let the world know about your products and why they should purchase them. You can do this through advertising.
You need to be smart and strategic about product promotion. Take advantage of any promotional features available on online marketplaces to boost your sales.
The first step to effective advertising and product promotion on sites like Depop is properly listing your products. Ensure you have clear, attractive photos and a catchy description.
Both Depop and Poshmark are easy to navigate. You should therefore have an easy time finding and choosing an advertising and promotion option for your product.
Advertising lures the customer to your product. You'll likely make more sales when you advertise than when you don't.
Advertising on Depop
Depop has a Boosted Listings Feature that improves the visibility of your item to potential buyers. You can use this feature after 28 days of signing up on Depop.
Note that if you make a sale through this feature, Depop charges you an 8% fee. You're free to stop boosting a listing at any time.
Advertising on Poshmark
Poshmark has several hands-on promotional tools you can use to increase your sales. Weekly promotional days allow you to make offers to buyers and list products on specific days.
The promotional days include:
Closet Clear Out: Lower your item's prices by at least 10%, and your likers will receive an email about a price drop.
Make a Deal Days: Reduce your prices by at least 10% and select a shipping discount. Depop will share your listing with your likers, and you'll be automatically added to the hourly win prizes.
Love or List Challenge: You can also win prizes by listing items you don't love.
In addition to the weekly promotional days, there are other ways to promote your items. They include:
Posh Shows: These are live auctions where you can sell your items. You only need to fill out a form to host a posh show. This is a great way to reach a wider audience and maximize sales.
Posh Parties: These are real-time virtual events where Poshers meet to sell and shop. You can share your product listings with a Posh party to improve visibility and increase sales. Ensure that the listings you send align with the theme of the particular party.
Bulk Listing Actions: You can save time sharing your items with your followers in bulk compared to sharing one listing at a time. This keeps your listings at the top of search results, making your product more visible to potential buyers. You can also reach more shoppers through this feature. You can also use the Bulk Offers to Likers feature to hold your own flash sales. This saves time compared to sending it to one person at a time.
You can also use social media to promote your products. With your seller account linked to various social media platforms like Pinterest and Instagram, you can directly share your listings with the platforms.
Pros and Cons of Depop and Poshmark
Both platforms have unique characteristics that may be advantageous or disadvantageous depending on what you're selling and your preferences.
I've outlined the pros and cons of both Poshmark and Depop to help you decide the best one for you.
Pros of Depop
Seller fees are lower than other popular reselling platforms
Listing is free
Depop allows direct messaging between you and the buyer. This is important for effective communication.
It's available in 150 countries, offering a wide market base
You can sell a wide variety of products as long as they aren't prohibited
Depop has a great user interface
Cons of Depop
You can only list up to four images of the product.
There aren't many for promoting your listings
Depop can be time-consuming at times because it requires you to be active. Selling on the platform is not worth it if you have little spare time.
Poshmark Pros
No listing fees
Allows up to 16 images per listing
Several ways to promote your items, like posh parties and more
Many payment options for your customers like PayPal, credit, or debit card, and more
Shipping your items is easy
Poshmark offers a large active market
Poshmark Cons
There's no direct messaging between you and your customers
Poshmark has high seller fees. You incur a 20% fee for every item over $15
Poshmark is only available in four countries (India, the US, Australia, and Canada)
You need to be active on Poshmark to sell
Frequently Asked Questions
Is It Worth It To Sell on Depop?
It's worth it to sell your items on Depop. For one, listing your items is free. Therefore, you can set up a store without paying anything until you make a sale.
The website is easy to navigate, making it conducive even if you are a new seller.
The seller fees on Depop are relatively lower than on other sites like Poshmark. You can take advantage of this feature to sell items you no longer need.
You can also flip items for extra cash.
Depop is available in 150 countries worldwide. This is a relatively large market base.
You can take advantage of this to showcase your product to a large number of potential customers. You're also more likely to make a sale with such a large number of potential buyers.
You can sell various goods on Depop, from clothing to household items to accessories and more.
Whether you'd like to declutter your closet or sell sneakers for cash, Depop is the right place for you.
Is It Worth Selling on Poshmark?
Selling on Poshmark is cheap and easy, even if you're a new seller. The user-friendly platform lets you easily create your account and list your products.
Listing on the platform is free. This is advantageous because you need not pay anything to set up your shop, so you have nothing to lose even if you don't make sales.
Poshmark has more than 80 million registered users. This is a huge number of potential customers! It's the right place for you if you're looking to expose your products to a large market.
Besides, Poshmark has one of the easiest shipping processes than other reselling apps. The shipping fee is a flat rate of $7.97. The buyer covers the shipping cost, so you don't need to stress over it.
Do You Make More Money on Depop or Poshmark?
The amount of money you make on either Depop or Poshmark depends on several factors.
You need to understand the market type available on each platform before you decide what to sell. The audience of Depop is quite different from Poshmark's.
Therefore, you may make more selling a particular product on Depop and earn less selling the same product on Poshmark.
The shipping costs will also determine the amount of money you make on each platform.
Consider the shipping costs each platform charges before choosing which one to use. You also need to factor these costs into the item's price to increase your profit margin.
Compare the seller fees of either platform against the price of your products to identify the one which earns you more profit.
You can also take advantage of any promotional features that may boost your sales within the websites.
Depop has a Boosted Listings feature, making your product more visible to buyers. However, you're charged an 8% fee when a buyer purchases your product under a boosted tile.
Poshmark also has a variety of promotional methods for your product. They include posh shows, posh parties, and bulk listing actions. Maximize these opportunities, and you'll be on your way to making more sales.
Generally, both Depop and Poshmark have unique features which you have to consider before you choose either of them.
Final Thoughts on Depop vs. Poshmark
Both Depop and Poshmark are good platforms to sell your stuff on. However, they're both unique and require a different selling approach.
For Poshmark, a hands-on, active approach is required. Depop, on the other hand, requires you to be up-to-date with knowledge of trends.
Depending on your preference and what you want to sell, among other factors, you should be able to choose between the two online marketplaces.
A better option is to cross-list your items on both platforms instead of just utilizing one. This has the advantage of exposing your products to many potential customers. Also, considering listing is free on both platforms, you have nothing to lose. 
However, if you decide to cross-list, you need to remember that both platforms have different audiences. You need to deliver to each group items they're likely to buy.
Happy selling!
Want more ways to make money? Checkout these posts: