Is Cash Giraffe Legit? Honest Cash Giraffe Review 2023
Updated on September 16, 2023
This post may contain affiliate links which means that sproutinue.com may make a small commission at no extra cost to you. We only promote products that we love and feel will benefit our readers. Please read our Disclosure Policy for more information.
If you recently heard about Cash Giraffe, you're probably grappling with the question, Is Cash Giraffe legit?
The app claims to offer an easy way to make money playing games. It boasts quick withdrawals and a wide selection of new game titles daily.
However, Is Cash Giraffe genuinely worth your time? I downloaded the app to find out. My honest review covers everything you need to know to decide whether Cash Giraffe is the right gaming app.
Besides, I'll explore the best alternative to Cash Giraffe.
Need to make some quick money? Try out:
Crowdtap – Complete surveys and cash out your earnings at $5!
Acorns – Get $20 when you start saving your spare change with Acorns!
What Is Cash Giraffe?
Developed exclusively for Android by justDice, Cash Giraffe is a mobile gaming app that pays you to play your favorite games.
The app is free to download on Google Play. It has a 4.4-star rating out of five and thousands of reviews. The app also has more than a million downloads as of now.
Generally, Cash Giraffe allows you to make money with your phone by playing various games. They have a great selection of games, ranging from strategic to arcade games.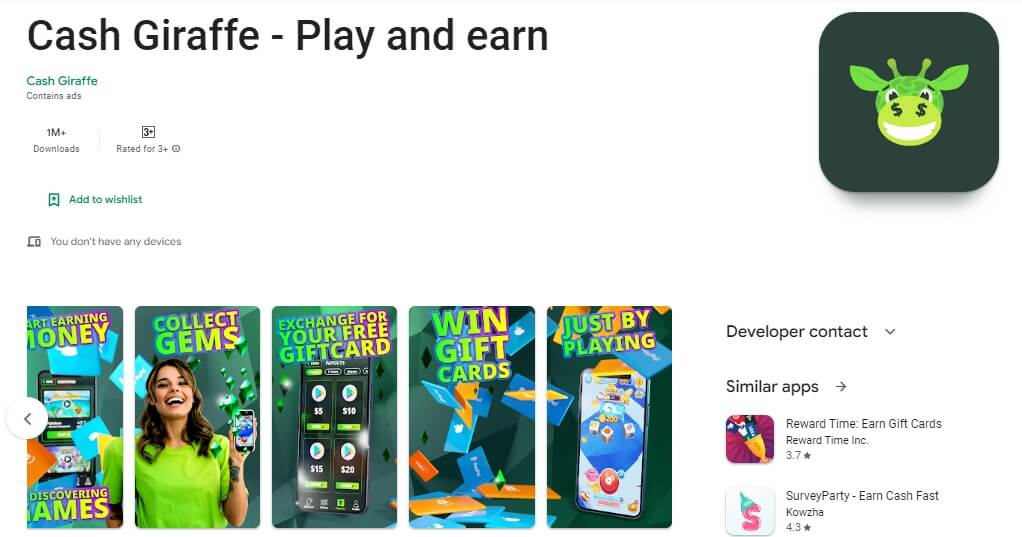 As you play the games, you earn redeemable gems for gift cards to Amazon and other popular retailers. You can also redeem your gems for real cash via PayPal.
One of the most significant downsides of this app is that it's unavailable for iOS devices. It also doesn't have a desktop version.
However, it's an excellent way to make extra money if you're a gaming enthusiast and own an Android device.
Is Cash Giraffe Legit?
Yes, Cash Giraffe is a legit app that pays you to download and play games on your mobile phone. It has an average 4.4-star rating and over 110,000 reviews on Google Play. Also, over one million people have downloaded the app so far.
Cash Giraffe is an excellent way to make money with your phone.
While Cash Giraffe may not make you wealthy, it certainly fulfills its promise of providing payment for playing games on your mobile device.
I went through Cash Giraffe's reviews on Google Play. Here's what other games have to say about the app:
Anička Sim says: "Yes, this app does reward users with real gift cards. I cashed out for a handful, but what isn't mentioned is that earning gets much harder as you keep playing. Games will first reward every minute, but then these intervals for points get longer and longer."
Gail Sierra says: "Points stopped adding up. This app shows your points for each game and a grand total for all. My grand total stalled yet the points per game keep climbing as I play. I reported this bug to CG via email. They got back to me asking for more info and a screen shot which I happily supplied. That was 2 weeks ago and nothing has been done. I never heard back from them even after reaching out several times."
Julie Alvarez says: It pays out in Euro, so there's some money lost in the payout. I have made a couple bucks already since downloading it yesterday, though. I wish you could save up points and cash out a bigger chunk of money all at once rather than redeeming a dollar at a time."
Judging from the user reviews on Google Play, the consensus is that the app is legit and you can earn real money.
Most reviews are positive. However, there are several complaints that:
Earnings tend to decrease over time. Sadly, this is the case with most gaming apps. However, you can maximize your revenue by downloading new games often or using multiple gaming apps. You can also use Cash Giraffe alongside other apps like JustPlay or Mistplay.
You may lose money in currency conversion. As I mentioned earlier, Cash Giraffe pays in euros. You may lose a few bucks when you convert your withdrawal to USD.
Customer service hardly responds to issues and complaints.
How Does Cash Giraffe Work?
The Cash Giraffe app is free and easy to use. If you're considering trying it, at least you won't be at risk of losing your money.
Start making money on Cash Giraffe in the following simple steps:
1. Download the App and Sign Up
Download the Cash Giraffe app for free on Google Play to get started.
Next, create an account through Facebook, email, or your Google account. You'll need to provide information like your date of birth, username, gender, and age.
Once you've set up your account, the app will request permission to track your gaming activity. It's essential to carefully review the terms and conditions before approving.
Cash Giraffe rewards you with 1800 free gems valued at $0.18 as a sign up bonus. With a withdrawal minimum of $0.20, you can cash out your earnings after playing a few games.
You must be 18 years or above to create an account on the app.
2. Play Featured Games
After signing up and receiving your welcome bonus, it's time to find some games to play.
The app has various games and adds new titles daily, providing more money-making opportunities.
The categories featured on the app include arcade, strategy, casual, and adventure. Some of the titles you might come across include the following:
Solitaire Cash
Farm Hero
Tile Master 3D
Blast Friends
Diamond City
Note that the games available on your account are based on your location.
As you play, Cash Giraffe rewards you with gems per minute. The games show you the amount of gems you'll earn when you play.
Of course, the more games you play, the more you earn. Like most Android gaming apps, the gems you make on a particular game decrease the more you play it.
Therefore, it's essential to try new games to maximize your earnings. Remember to launch the games within the Cash Giraffe app to qualify for rewards.
Also, keep an eye out for the highest-paying gaming offers to boost your earnings.
3. Complete Paid Surveys and Offers
While playing games is the best way to make money on Cash Giraffe, you can earn more through offers and answering paid surveys.
You can find lucrative deals in the Earn With Apps section. Here, you get paid to download apps, make in-app purchases, or sign-up for free trials.
It's essential to carefully read instructions to understand what an offer requires you to do.
Cash Giraffe has an in-app referral program that offers an additional way to earn gems. Instead of using referral codes and links, the system is based on the account you used to log in.
You earn 100 gems for the first referral and receive 25% of your friends' earnings. Those you refer also earn 25% of your earnings; it's a win-win situation for everyone.
4. Cash Out Your Rewards
You can withdraw your earnings once you accumulate 2000 gems, equivalent to $0.20. However, the minimum withdrawal threshold varies slightly from country to country.
This low minimum withdrawal requirement makes Cash Giraffe stand out among other apps that pay you to play games.
Depending on your location, you can redeem your gems for gift cards to popular stores and retailers like:
Amazon
Nintendo
H&M
PlayStation
Steam
It's also possible to cash out your rewards for real money via PayPal. In this case, the app processes your money within two days. Cash Giraffe pays in euros since it's a German company.
Note that you must provide a selfie to cash out your gems. The intention is to prevent fraud and verify your identity.
How Much Can You Make on Cash Giraffe?
As you start using the Cash Giraffe app, earning a few hundred gems per minute is generally possible, translating to a few dollars per hour.
But the pay dwindles the more you use the app. Therefore, you must keep downloading new games and completing new offers regularly to earn a substantial amount.
If you spend significant time playing games and are open to switching to new titles regularly, this could be a great way to earn extra cash.
I'd advise you not to have high expectations since you risk not getting paid despite fulfilling all requirements.
However, it's worth mentioning that the developer doesn't make it seem like a get-rich-quick scheme.
Tips for Making More Money With Cash Giraffe
Though the app's earning potential is low, some Cash Giraffe hacks may help you maximize your earnings.
Target the highest-paying games: Different games have different payouts. Keep an eye out for the highest-paying ones to ensure you get the most for investing your time.
Refer friends: Invite friends to Cash Giraffe to earn 25% of their earnings.
Take advantage of app bonuses: Some games within Cash Giraffe usually feature bonus rounds that reward you with free gems upon completing certain milestones. These bonuses are only available during designated times, so be sure to capitalize on them.
Check for new games and offers regularly: New games may provide higher earning rates, especially immediately after downloading them.
Be patient: Earning from gaming apps like Cash Giraffe requires persistence and hard work. You may need to spend long hours playing a single game to accumulate a substantial amount.
Pros and Cons of Cash Giraffe
Pros:
The app is free
Cash Giraffe is a legit app. You earn real money for playing games
The company automatically tracks your gaming activity
Its withdrawal minimum requirement is lower than most gaming apps
It has several withdrawal options
The app is available in several countries
Cons:
Cash Giraffe is only available for Android
It offers limited earning opportunities compared to other GPT sites
It has a low earning potential
Earnings diminish with time
Their customer service is poor
The Best Apps Like Cash Giraffe
If you've tried Cash Giraffe and realized it doesn't meet your needs, plenty of other get-paid-to sites allow you to make money online.
Also, if you enjoy playing games on Cash Giraffe and are open to diversifying your income sources, consider using these apps alongside Cash Giraffe.
Swagbucks: The most significant advantage of Swagbucks over other apps on this list is that it offers numerous opportunities to make money online, including shopping online, playing games, searching the web, and answering surveys.
Mistplay: This is one of the best gaming apps that pay you to download and play mobile games.
Rewarded Play: Rewarded Play allows you to earn gift cards for playing your favorite games on your phone.
AppStation: This gaming rewards app lets you earn PayPal money, Amazon gift cards, and free Google Play.
Gamehag: Play famous titles like Game of Thrones to earn free gift cards and in-game items like skins and cosmetics.
Buff: You can earn passive income by running Buff in the background while playing your favorite games.
App Flame: Like Cash Giraffe, App Flame is a free app that lets you make quick cash by playing games on your smartphone.
Money Well: Another free mobile gaming rewards app.
This list doesn't cover all rewards apps that pay you to complete tasks online. You can also check out other justDice apps like Cash'em All and Cashyy.
These apps may not replace your day job, but they can be fun side hustles, especially if you're a gaming enthusiast.
Frequently Asked Questions
Is Cash Giraffe Real or Fake?
Cash Giraffe is a real Android app that rewards you for playing games on your mobile phone. They pay you in gems redeemable for PayPal money or gift cards.
You get paid for every minute you spend playing games on the app.
Does Cash Giraffe Really Pay?
Yes, Cash Giraffe pays you real money to play games on your Android device. You can redeem your gems for gift cards to popular retailers like Amazon or PayPal money.
At first, you may earn a few dollars per hour, but the pay reduces as you continue playing a game. To maximize your earnings, download new games regularly.
Generally, the earning potential of Cash Giraffe is low, but it's a great way to make extra cash, especially if you enjoy playing games.
Does Cash Giraffe Pay Instantly?
No, once you cash out your gems via PayPal, processing the payment takes about two days.
How Do You Get Paid on Cash Giraffe?
Cash Giraffe monitors your app activity and pay you with gems for every minute you spend playing the game.
You can cash out your rewards through Paypal or redeem the gems for gift cards once you accumulate at least $0.20. They process your payment within two days.
How Do You Earn Money on Cash Giraffe?
Once you download the app and create an account, you get game offers on your dashboard.
Cash Giraffe monitors your gaming activity and progress to reward you with gems per minute. You may earn a few dollars per hour the first few times playing a new game.
Once you reach the cashout threshold amount of $0.20, you're free to withdraw your earnings via PayPal or exchange them for gift cards.
The amount you earn per minute reduces the more you play a game. It's wise to keep switching to new games to increase your income or prevent it from significantly lowering.
While gaming is the primary way to earn money on the Cash Giraffe app, you can also earn through completing surveys and downloading new apps. However, these offers are rare on the app.
Cash Giraffe vs Mistplay: Which One Is Better?
Cash Giraffe and Mistplay share a similar principle of rewarding you for playing mobile games, but there are some slight differences between the two.
For starters, in terms of game variety, Mistplay takes the lead. Mistplay offers a broader range of games than Cash Giraffe, providing a more diverse portfolio of gaming options.
On the other hand, Cash Giraffe outshines Mistplay when it comes to cashing out. Cash Giraffe has a lower withdrawal minimum of $0.20, making reaching the required amount for cashing out easier.
In contrast, Mistplay requires you to accumulate at least $0.50 before you can cash out your earnings.
Final Thoughts
Now that you know Cash Giraffe is a legit app, why not try it? This app might be for you if you're an enthusiastic gamer who doesn't mind spending long hours playing for a few dollars.
If you've tried Mistplay alternatives or JustPlay and enjoyed their functionality, you might also appreciate Cash Giraffe since its working principle is similar.
However, if you're searching for a method that earns substantial income or replaces your current job, Cash Giraffe may not be the right choice.
This app only allows you to earn a few dollars, $5 at most. There are plenty of other get-paid-to sites that offer better compensation.
So if you're just looking for a gaming app to pass the time, Cash Giraffe can be a fun side hustle idea for you.