13 Best Apps Like Mercari to Buy and Sell Stuff Online
This post may contain affiliate links which means that sproutinue.com may make a small commission at no extra cost to you. We only promote products that we love and feel will benefit our readers. Please read our Disclosure Policy for more information.
Online marketplaces have massively grown in popularity, especially over the past two years. We've seen apps like Mercari take the world by storm, with more people signing up to buy and sell items online.
One of the major reasons online marketplaces are so popular is convenience. You can buy things from the comfort of your home and have them delivered right to your doorstep. These marketplaces have also made it easy to make money from things you no longer use, especially if you know the tricks to sell.
Mercari is popular for its many features that protect buyers and sellers, including Instant Pay, Shipping Protection, and Mercari Authenticate. While there are several best things to sell on Mercari, their 10% selling fee is rather steep for some people.
If Mercari doesn't seem the best fit for you because of seller fees or any other reason, we've prepared a list of 15 sites and apps like Mercari that you can try.
What Are the Best Apps Like Mercari?
Whether you want an app with low fees or are worried about Mercari's legitimacy, here are the best alternatives to consider.
1. OfferUp
Previously known as Letgo, OfferUp is an excellent Mercari alternative, especially for second-hand selling.
The app has an expansive user base, and only focuses on local listings, so you don't have to worry about shipping costs.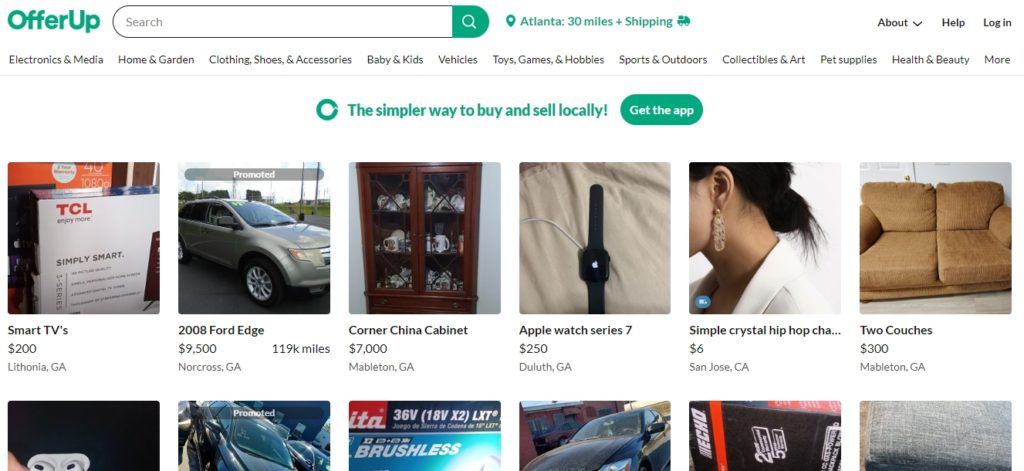 You can sell anything on OfferUp, from antiques and collectibles to clothing and appliances. The best thing about OfferUp is that listing is completely free, and you get to keep 100% of the amount you make from the sale. OfferUp only charges you for shipping costs if you choose to ship your item.
OfferUp has also implemented TruYou, an authentication system that helps buyers and sellers authenticate whoever they're meeting to ensure safety. There are also ratings and reviews for both sellers and buyers, so you know whether a buyer is reliable.
You can also pay a subscription to promote your items on the site if you are a frequent seller. Overall, OfferUp is one of the best apps like Mercari, with enhanced security features and minimal fees.
2. Poshmark
Poshmark is one of the best marketplace options for anyone looking to buy accessories and fashion items. It's a popular community for trading second-hand fashion items.
If you have designer bags, clothes, and accessories you'd like to sell, Poshmark is the place for you.
Since it is a very popular app, be prepared for a pretty cut-throat competition. To make the most of Poshmark, you have to list unique items. Sometimes the company will remove your listings if they already have similar apparel on the app.
If you're interested in making a name for yourself as a seller and building a following, then you can try Poshmark. Poshmark charges a 20% fee on sales over $15 and a flat rate of $2.95 for anything under $15. The buyer pays for shipping, so you don't have to worry about shipping costs as the seller.
You can access Poshmark through your web browser, but the app is more convenient.
Extra Reading: Apps Like Poshmark
3. Plndr
Plndr is another best app like Mercari, with a Google Play Store rating of 4.5 stars. It's a free mobile app owned by Karmaloop and is currently available in more than 200 countries across the globe.
Karmaloop is a flash sale web platform for streetwear fashion from the best brands.
Plndr is a great alternative to Mercari, as it has a user-friendly interface and can easily be used by global users on Android or iOS devices.
One of the platform's best features is that users can share their apparel and invite friends to join Plndr. You also earn credits for every friend who joins through your referral.
Plndr charges a $6 mandatory warehouse fee for items shipped directly from the vendor. The shipping or service charge for items from their warehouse will depend on the type and weight of the package.
4. eBay
eBay is one of the platforms that need no introduction. Unlike most e-commerce platforms which are less than a decade old, eBay has been around since 1995.
It's one of the most trustworthy online marketplaces and has grown substantially over the years to become one of the world's leading e-commerce platforms.
One of the best features of eBay is you can buy and sell practically anything on the platform. It's a favorite for online buyers because they can access a wide range of items at an affordable price.
Additionally, since many sellers could be offering the same product, the buyer has options when it comes to quality and price.
As a seller, you might like selling your items on eBay because you're guaranteed access to millions of potential buyers. eBay has a rather complicated seller fee policy, but it is worth it. The first 250 listings per month are free on eBay, and every listing after that costs $0.35.
Aside from the insertion fees, eBay also charges a final value fee, calculated as a percentage of the total sale amount when your item sells.
5. Vinted
While this platform is less popular than other apps like Mercari, Vinted is a great option for those starting in the e-commerce world.
There are no charges for listing and selling items on Vinted. The app even allows you to swap clothes with other members instead of selling them. Their Smart Swap feature costs a small fee, a form of insurance for both parties involved in the trade.
Vinted has relatively lower traffic compared to other buying and selling platforms, so it might not be the best option if you're looking to make quick money selling your items. But if you're a beginner or having trouble navigating apps like Mercari, Vintage would be perfect for you.
6. Etsy
Etsy has made a name for itself as the best platform to sell art and crafts. Etsy's mission is to help independent merchants so big names do not monopolize it.
You can sell quite many things on Etsy, including clothing, toys, shoes, supplies, crafts, and much more.
If you have vintage antiques or items like handmade decor, Etsy is the perfect marketplace to sell them. It's the home of aspiring business owners and side hustlers. Moreover, the items don't have to be handmade. You can sell ready-made items on the platform.
As the seller, you get creative control of your shop, which means you design what it looks like and what products will be sold.
Etsy charges a flat rate of $0.20 per listing, which has to be paid whether or not the listed item sells. There are also transaction fees and payment processing fees which vary based on factors like the country and applicable sales tax.
7. thredUp
If the idea of actively participating in selling your clothing items doesn't sound appealing, consider selling them to thredUp.
ThredUp operates quite differently from other apps like Mercari in that they buy clothes from you in bulk and sell them.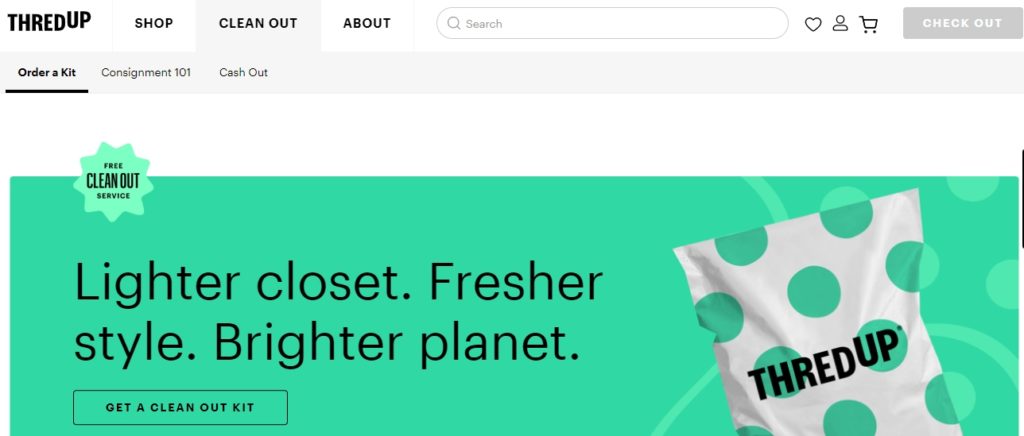 All that's required of you is to pack your bag full of clothing items and ship it to ThredUp. The company then pays you based on the resale value of your items. You'll earn 3%-15% on items that sell for $5-$19.99, while for those that sell for $200+, the payout is 80%.
When selling to thredUp, it's advisable to ship items currently trending, as this will get you paid up-front. Items that don't sell immediately are sold on consignment, which means you only get the money once the clothes have been sold. Additionally, your items must meet their acceptance and quality standards for you to be paid.
ThredUp might not be the best option if you want to make quick money. But on the flip side, it's a great way to make a few extra dollars with minimal effort.
8. StockX
StockX is one of the best online marketplaces to sell sneakers for cash and apparel. One of the platform's best features is listing your items at a buy-now price or selling them through an auction to the highest bidder.
Once the item sells, you must ship it to StockX for verification before it's sent to the buyer. Once it passes authentication, you get paid.
StockX is excellent for buyers looking for limited-edition sneakers, apparel, and other name-brand items. StockX is a trusted platform because all their products go through authentication, and buyers are guaranteed they get value for their money.
There's a 3% payment processing fee for all sales and a transaction fee determined by your Seller Level per StockX's Seller Program. The more you sell, the lower your seller fees. For instance, if you have no sales history, you'll pay a transaction fee of 10%. After $30,000 worth of sales, the transaction fee reduces to 8%.
9. Tradesy
Tradesy is similar to StockX because the site focuses on name-brand items in categories like clothing, shoes, Watches, and bags. The platform features designer brands like Prada, Gucci, and Rolex.
If you're looking for apps like Mercari but want to sell designer items exclusively, Tradesy is a good option to try.
Tradesy has measures to ensure all the items traded are 100% authentic. There are a series of checking processes to verify the authenticity of the items before they're sold to the buyer.
As a seller, you get access to Tradesy's free shipping kit, so you don't have to stress about preparing your items for sale. However, you have to pay a flat commission fee of $7.50 for sold items less than $50 and 19.8% for items worth $50 or more.
10. Depop
Depop is another popular alternative to Mercari. The platform is perfect for trading streetwear and vintage fashion.
With a Google Play Store rating of 4.2 stars, Depop is a great platform to try out if you want to sell fashionable items.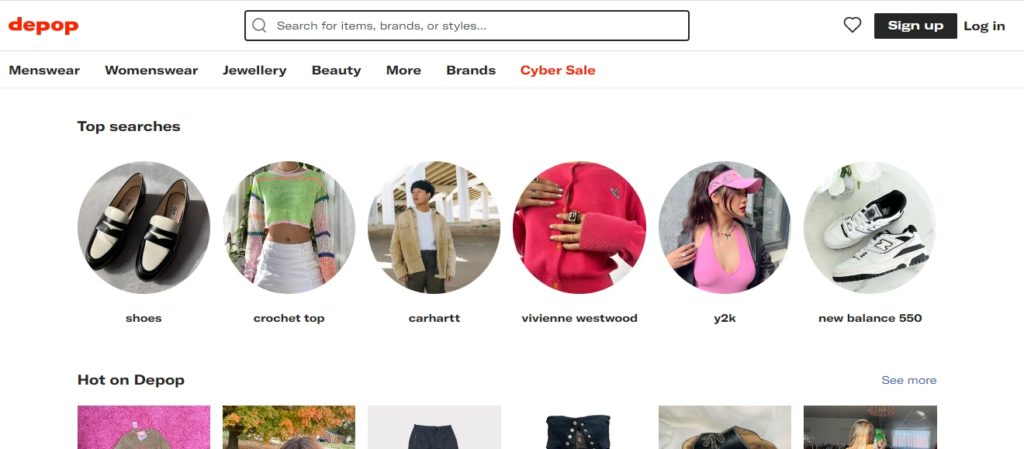 Selling pre-owned designer products on the platform is easy, as Depop gives users access to big fashion industry brands. Depop connects buyers and sellers from across the globe and is an overall fun platform with massive traffic thanks to its friendly interface and engaging business model.
There's no initial listing fee, but Depop charges a flat 10% fee on all sales. Whenever sales are refunded, the Depop fee is also refunded.
Extra Reading: Depop vs Poshmark
11. Craigslist
Like eBay, Craigslist has been around for quite a long time. It remains one of the best online marketplaces to buy and sell stuff. Aside from listing products, you can also advertise your services on the platform.
One of the greatest perks of selling on Craigslist is access to millions of potential buyers, and as long as you advertise your items with adequate descriptions, finding buyers should not be a problem. Craigslist postings are free except in specific areas.
12. 5miles
5miles is also among the best apps like Mercari, especially for sellers who want to sell their items locally.
It's one of the top-rated e-commerce platforms, as it caters to the users' needs and enhances their local shopping experience.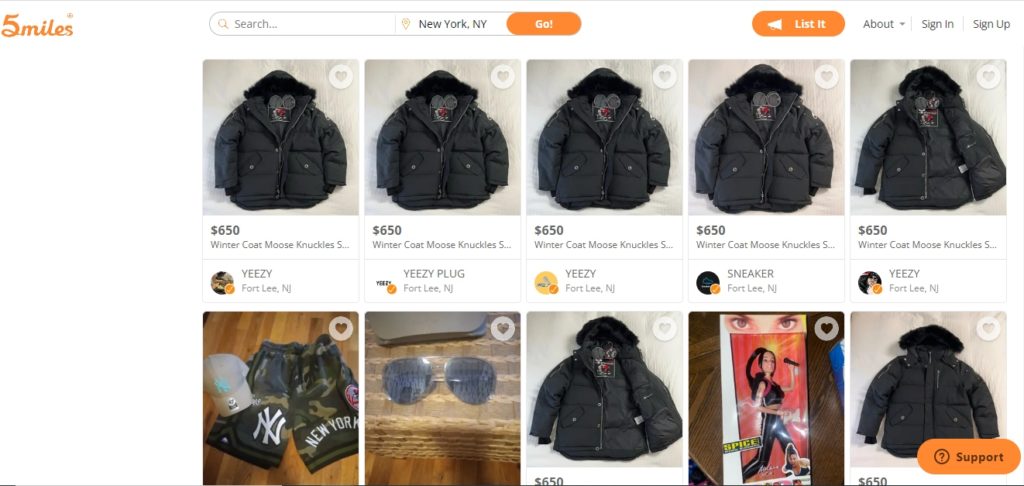 5miles is more than an e-commerce platform. It gives users access to available products, services, and open job positions. The platform verifies everything to ensure safety of its users. You can review specific buyers and sellers, which helps ensure quality standards are maintained.
5miles charges a listing fee based on the product type. For example, you get five free listings per month on categories like cars, motorcycles, auto parts, and Buy here, pay here. Each additional listing costs $4.99 per month.
13. Facebook Marketplace
Facebook Marketplace is one of the best Mercari alternatives, especially for beginners.
The app is user-friendly and free to use. This makes it an excellent platform for buying and selling items online. Additionally, all sales are final, so you're protected as the seller.
Most Facebook Marketplace transactions occur locally, so the meetings happen in person. Take precautionary measures every time you meet with a buyer to transact, as the platform could expose you to scammers.
Final Thoughts on Apps Like Mercari
Mercari and other similar apps have made it very convenient to make money online by selling things in the comfort of your home.
Some platforms require a bit more work than others, so doing a little background research is important before putting your items up for sale.
We hope the apps like Mercari we've shared above will help you start your online selling side hustle. Who knows, this might turn into a full-time job!
Extra Reading: How to Sell on Mercari