Is YouGov Legit or a Scam? (Honest 2023 Review!)
Updated on September 15, 2023
This post may contain affiliate links which means that sproutinue.com may make a small commission at no extra cost to you. We only promote products that we love and feel will benefit our readers. Please read our Disclosure Policy for more information.
Completing online surveys is one of the easiest ways to make extra cash in your free time.
If you recently came across YouGov, a survey site that pays you to share your opinion, you're probably wondering, is YouGov legit? And how much does it pay per survey?
I signed up for YouGov to determine if it's worth your time. In this YouGov review, I'll share how the platform works, how much it pays, and its pros and cons.
And if you don't like YouGov or want more similar sites to increase your earning potential, I'll share some of the best alternatives worth exploring.
What Is YouGov?
YouGov is a market research company that pays you to share your opinion by completing surveys on various topics.
The company was founded in 2000 and is headquartered in London, United Kingdom. Its main aim is to provide businesses, political campaigns, companies, and institutions with consumer data to help them improve.


If you're familiar with popular survey sites like Kashkick and Branded Surveys, you'll have no problem navigating YouGov.
Though it's based in the UK, YouGov is an international company and is available in the following countries:
United States
Singapore
Australia
Switzerland
France
Italy
Germany
Spain
Generally, once you sign up, YouGov emails you when there are new surveys to complete.
The polls and surveys mainly cover topics of general interest, including politics, travel, consumer, technology, and public affairs.
Filling out surveys earns you coins redeemable for free cash and gift cards to popular stores like Amazon, Gamestop, and Target.
Also, note that contrary to its name, YouGov is not affiliated with any government. The site is free to use and open to the public.
Is YouGov Legit?
YouGov is a legit survey site that lets you make money by completing surveys and polls in your spare time. The app has been around since 2000 and has an impressive 4.5-star average rating on Trustpilot.
According to the reviews, the site is easy to navigate, and there are plenty of surveys to earn from.
Also, the surveys are enjoyable and thought-provoking. You can see how your answers impact society on news outlets and articles.
While YouGov seems like the perfect place to make extra cash in your spare time, there are many negative reviews and a few user concerns.
Firstly, YouGov has a higher withdrawal minimum than similar sites like Opinion Outpost and Crowdtap.
Gift cards vary, with the cheapest being worth about 5000 points. The problem is that achieving that minimum and cash out takes some time.
The points you can earn from each survey vary by length and type. On average, expect between 25 and 100 points for each survey.
At this rate, you'll need to complete numerous weekly surveys to cash out in a few months. Also, some users complain that they mostly have no surveys to complete.
I also came across a few users complaining that they got red-flagged and their accounts shut down just when they were about to reach the withdrawal minimum. This is a huge red flag, in my opinion.
The support team replied to most of the reviews and gave directions on how users could contact them to get their issues fixed. At least there's a way to reach out to them if you encounter a problem.
Another way to determine if a platform is legit is by reading what other users say in forums like Reddit. Here are some YouGov reviews from this Reddit thread:
Pjayaredee says: "Takes forever to earn and surveys don't come frequently."
TheJackah says: "I use it every time a survey comes through. A slow earner, but pays on time and the surveys usually are interesting (about something topical)."
Lisa197 says: "… it's taken me close to a year and a half to reach $100. If they had more frequent surveys for me, i'd be a bigger fan."
As you can see from the reviews above, YouGov is an excellent way to make money online in your free time. However, you can't rely on it as a full-time source of income. 
If you enjoy sharing your opinion on matters affecting society, it's worth a try during your breaks or after a long day.
How Does YouGov Work?
I signed up on YouGov to test its legitimacy for this review. Overall, the site is user-friendly and would be a great opportunity, even if you're a beginner.
If you've used similar reward apps like Kashkick, Branded Surveys, and Opinion Outpost, you shouldn't have any trouble navigating YouGov.
If you're interested in this side hustle idea, here is all you need to know about how the app works:
1. Download the App and Sign Up
Get started on YouGov by downloading the app. The mobile app is free on the App Store and Google Play. You can also sign up on their website.
Once you have the app, create an account. Before you begin answering surveys, YouGov requires that you provide the following information:
Name
Email address
Zip code
Gender
Year of birth 
Languages
Filling this information honestly is vital since most surveys are location-based. 
They may also ask about your preferred frequency of receiving surveys. If you wish to maximize your earnings on the app, select to be notified of surveys as often as possible.
Upon signing up, a verification code will be sent to your email. Use that to verify your account, and you'll be good to go. You'll receive 500 points for free after verifying your account.
2. Complete Surveys
Once you sign up, it's time to complete surveys and make money. You must fill out a survey about yourself to access more personalized ones.
In this first one, you'll need to provide information about your family, marital status, employment status, educational background, and household income.
It's crucial to fill in the information required honestly since it affects the type and frequency of surveys and polls you receive. You'll earn about 1,000 points for completing the first survey.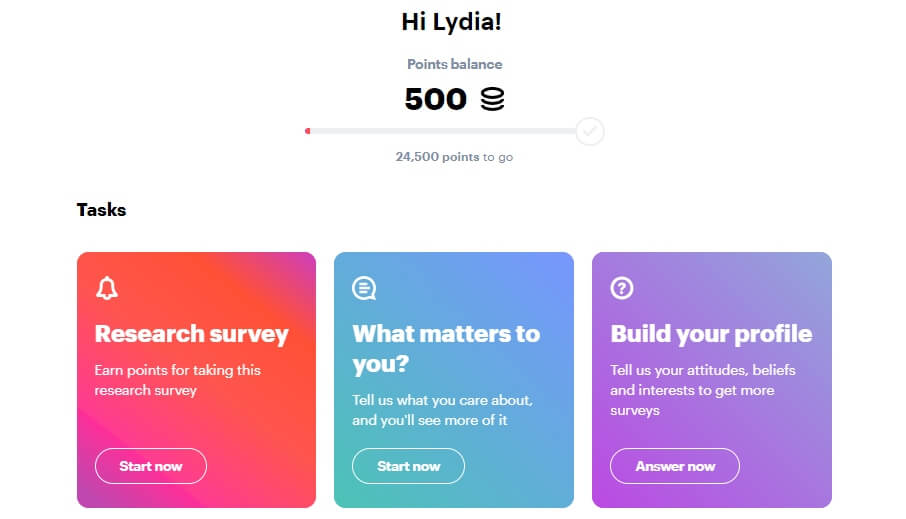 After answering the first survey, head to the main dashboard for more money-making opportunities. On the dashboard, you'll find different tabs, including:
Daily questions
Main survey
More questions
Opinions
Rewards
You can access the main survey tab if there are new surveys to answer. Most surveys take between five and 15 minutes to fill out.
Some of the topics covered by the surveys include:
Your consumer behavior
The products you use
Your TV preferences
Your thoughts on current affairs
Your general lifestyle
What you think about brands, TV shows, movies, and famous people
Don't worry about missing out if you don't check your apps often. YouGov emails you when new surveys are available on your dashboard.
Another notable thing about YouGov is that it asks you to rate surveys and provide feedback after completing them. They use this information to improve and personalize the surveys.
Expect to earn between 25 and 100 points per survey. Compared to other sites, YouGov's surveys are more frequent. The frequency of surveys varies based on your location. In my case, I could complete about 5-7 surveys per week.
Another upside of YouGov is that they rarely send you surveys you don't qualify for. And if that happens, you'll get access to another survey.
I think this is a huge advantage since most similar survey sites send you emails even when you don't qualify for surveys.
3. Earn More Through YouGov Pulse
In addition to surveys, YouGov provides an opportunity for you to earn passive income through YouGov Pulse.
The YouGov Pulse program enables you to make more money by sharing your internet usage data. It's pretty similar to the Nielsen Panel and Honeygain.
You'll need to install the YouGov Pulse app on your devices to participate. The app allows a maximum of three devices. Find the installation manual on their website.
You can also download the browser extension instead of the app. You may also need to install an additional certificate to ensure the VPN runs smoothly.    
The app mainly collects data on the apps you use, your browsing history, and the devices you use. It also monitors your media players and tracks what you watch and how long you take.
YouGov also collects online identifiers like your IP addresses and information on your operating systems.
YouGov assures you that the app doesn't collect personal data, including passwords and usernames. Also, all your data is shared anonymously unless you opt to be shared in an identifiable form.
Once you install the app and sign up, leave it running in the background to earn the reward. It may require an internet connection, but it won't use much of your data allowance.
YouGov also states that the app may have a negligible effect on your battery. You can always monitor and manage battery usage in your device settings.
The pay from YouGov Pulse varies based on your location. They'll inform you how much you'll earn when you sign up. Points are awarded on the 7th of every month.
While having a third-party app tracking your device usage may seem like an invasion of your privacy, I think it's an excellent way to earn free cash if invited to participate.
4. Invite Friends
Another way to make money on YouGov is by referring friends. You earn about 200 points for each friend you invite to the platform.
Note that you'll receive your referral bonus when your friend signs up via your link and completes six surveys.
Compared to similar reward apps, YouGov's referral bonus is relatively low. Some reward apps pay you up to $5 for one referral.
5. Withdraw Your Earnings
After achieving the withdrawal minimum, it's time to redeem your rewards. YouGov lets you cash out through a direct bank transfer or gift card of your choice.
You can redeem your points for gift cards to the following partners:
Sephora
Macy's
Target
Nike
The minimum cashout amount varies based on your location and the reward you'd like to earn. In some cases, the cheapest gift card is about 5,000 points.
However, some users claim they needed about 25,000 points to cash out. To cash out via a bank transfer, you need about 55,000 points.
The high cashout threshold is a massive downside of the platform. You may need to invest a lot of time to withdraw your earnings.
Also, unlike similar paid survey sites, YouGov doesn't let you cash out via PayPal. This is also a significant disadvantage.
How Much Does YouGov Pay Per Survey?
The pay depends on the length and type of survey. Generally, most surveys pay between 25 and 100 points. Longer surveys may pay more than that, but they're rare.
While it's not a get-rich-quick scheme, the pay from YouGov's surveys is quite decent, considering the short time and ease of completion.
However, compared to other GPT sites, accumulating the minimum withdrawal amount is hard since surveys aren't available frequently.
Depending on your country, you could earn enough points to cash out within a few months if you take several surveys daily.
Pros and Cons of YouGov
Here are the advantages and disadvantages of using YouGov to make extra cash:
Pros:
The YouGov app is free
You can use YouGov on both mobile and desktop
The app is available for both iOS and Android
The surveys are exciting and enjoyable
There are plenty of gift card options
You can earn through YouGov Pulse in addition to surveys
The customer service team is responsive
Cons:
YouGov has a high withdrawal minimum
The site has a low earning potential
Surveys aren't frequent
The Best YouGov Alternatives
While YouGov is one of the best and most popular paid survey sites, numerous alternatives are worth exploring if YouGov doesn't meet your needs.
Trying different platforms to find the one with the most favorable policies and the highest earning potential is always a good idea.
It's even better to find one like Swagbucks that offers other opportunities to make money besides surveys. Such a platform allows you to diversify your income all in one place.
Also, if you're a huge fan of YouGov but would like to find more ways to earn, consider stacking it alongside similar apps.
Whether you're unhappy with YouGov or want similar apps to increase your earning potential, these GPT sites are worth exploring:
Extra Reading: How To Get $2,000 Free Money!
Frequently Asked Questions
Is YouGov a Scam?
No, YouGov isn't a scam. It's a legit platform that lets you earn money by completing online surveys. YouGov has a high rating of 4.5 stars on Trustpilot. Also, the app is available on Google Play and the App Store.
Being on these platforms proves legitimacy since Google Play and the App Store have stringent policies against illegitimate apps.
Is YouGov Safe?
YouGov is a safe platform since it shares your opinions anonymously unless you prefer otherwise.
In the case of YouGov Pulse, only relevant data is collected across your devices. The platform's policies state that it doesn't collect personal information like passwords and usernames.
I think the app is safe and worth a try if you don't mind sharing your data.
How Long Does YouGov Take To Pay?
Once you cash out on YouGov, the site processes your payment in about 1-3 working days. However, it may take longer, especially if you enter the wrong bank details.
How Long Does It Take To Get 5000 Points on YouGov?
The time it takes to accumulate 5,000 points depends on how often you complete surveys. This may vary by location since the number of surveys available to you depends on that.
Since you can earn about 25 to 100 points per survey, you may need to complete about 50 to 200 surveys to accumulate 5,000 points.
If you complete one survey daily, you'll reach the amount in a few months.
Are There Any Other Legit Online Surveys For Money?
Numerous legit GPT sites pay you to complete online surveys. Here are a few examples:
Final Thoughts
I hope my YouGov review helps determine whether the platform is legit and worth your time. I recommend the app if you want to explore paid surveys.
However, having realistic expectations is wise since survey apps don't pay much. If seeking a sustainable income, explore other avenues with a higher income potential.
Alternatively, consider stacking multiple get-paid-to sites to maximize your earnings. Overall, if you enjoy sharing your opinion in your spare time, YouGov may be the right app.
Looking for other ways to make quick cash? Check out: