15 Best Apps Like JustPlay for Android and iPhone
Updated on September 16, 2023
This post may contain affiliate links which means that sproutinue.com may make a small commission at no extra cost to you. We only promote products that we love and feel will benefit our readers. Please read our Disclosure Policy for more information.
If you've used JustPlay and appreciate the different opportunities to earn money, you may be searching for similar apps to maximize your earnings.
Alternatively, if you've explored JustPlay and discovered it doesn't meet your needs, several JustPlay alternatives exist.
Whether you need more apps like JustPlay to increase your earning potential or better games that pay, you've come to the right place.
As an avid gamer, I've used sites like JustPlay to make extra cash on the side over the years. I hope you'll find the best JustPlay alternative.
Want to make some quick cash? Try out:
Prime Opinion – Earn an instant $10 when you join this paid survey site!
PermissionResearch – Earn a $10 sign up bonus for installing PermissionResearch on your PC and $10 per month for running it in the background!
The Best Apps Like JustPlay
JustPlay is one of the best apps that pay you to play games. However, it's not available in every country. Plus, it's not the highest-paying gaming app.
So if you're looking for alternatives to Justplay, here are the best options to consider.
1. Kashkick
At the top of the list is Kashkick, a rewards and loyalty platform that pays you to watch ads, complete surveys, and play games on your mobile phone. You also get paid to test new apps.
The most convenient method to earn money on Kashkick is by participating in surveys. Completing a survey can take less than five minutes, making it an efficient option, especially if you have a busy schedule.
If you're passionate about gaming, you might find Kashkick interesting. What makes it particularly appealing is the potential to earn $10 to $50 per month.
All you need to do is sign up for free on Kashkick and download any game you choose. Once your funds accumulate to at least $10, you can request a withdrawal via PayPal.
Kashkick is a great JustPlay alternative, though it's only available in the U.S. Another downside is that it doesn't provide other cash-out methods besides PayPal.
Sign up for Kashkick or read my Kashkick Review.
2. Swagbucks
Another app like JustPlay that's worth your time is Swagbucks. Swagbucks distinguishes itself by offering various ways to earn money alongside playing games.
You can earn money on the app by doing the following tasks:
Shopping online
Answering surveys
Playing video games
Searching the web
Referring friends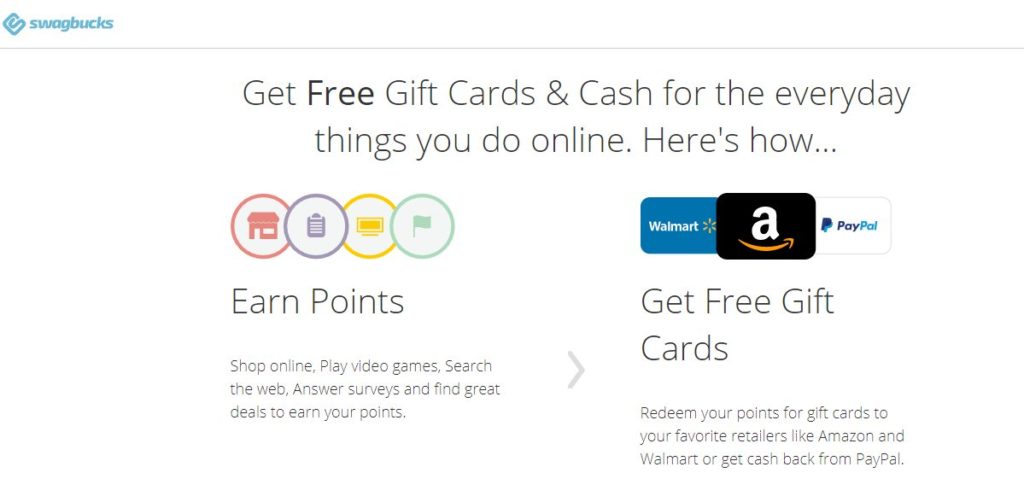 Completing these tasks earns you Swagbucks points, which you can redeem for PayPal cash or free gift cards to Amazon and other major retailers.
Another huge perk is that they give you a free $10 sign up bonus when you sign up on their website. Also, the app is free to download on the Apple Store and Google Play.
With Swagbucks, you can earn about $1 to $5 per day. You can also land high-paying offers.
This is an excellent alternative to JustPlay if you want diverse options for making money and withdrawals.
3. Rewarded Play
Like JustPlay, Rewarded Play lets you make money online by playing games like arcade, strategy, and puzzle games.
After setting up your free account and finding games to play, you earn points to exchange for gift cards to popular retailers for a minimum of $5.
Once you claim your gift card, Rewarded Play delivers within 48 hours. You can also earn a daily bonus by reaching 5000 points in one day and logging into the app daily.
Unfortunately, Rewarded Play is unavailable for iOS devices. You can only use the app on Android. Unlike JustPlay, you can't withdraw your earnings via PayPal with Rewarded Play.
4. Buff
Buff is another site like JustPlay that you can try out. The app lets you earn money on autopilot by playing PC and mobile games.
You only need to let Buff run in the background while enjoying your favorite games, which shouldn't be a problem if you already enjoy playing.
You'll earn Buff points, redeemable for gift cards and in-game items like skins and cosmetics.
Some of the games you can play on Buff include:
League of Legends
Fortnite
Clash of Clans
Minecraft
There are plenty of ways to increase your Buff points to maximize your earnings on the platform. They include:
Spinning the wheel
Participating in daily challenges
Logging in daily
Subscribing to premium
Participating in weekly challenges
If you're searching for a passive income app, Buff is a better alternative to JustPlay since it offers a more passive experience as you earn money.
5. Gamehag
If you're still searching for sites similar to JustPlay, Gamehag is excellent for PC gaming, though it also has great mobile games you can play.
Gamehag offers a variety of popular game titles, including:
Battle Royale
League of Legends
Game of Thrones
Star Trek
Royal Quest
Star Conflict
Playing these games on Gamehag earns you soul gems, which you can exchange for rewards like game gear, gift cards, free Steam codes, and premium subscriptions.
You can earn additional soul gems by writing articles and news, inviting friends, and engaging in community discussions.
The major downside of Gamehag is that it doesn't allow you to cash out via PayPal. However, it's a great way to play games for non-cash rewards like Uber Eats gift cards and in-game items.
Gamehag is available for Android and iOS devices.
6. Cash Giraffe
Like the other apps on this list, Cash Giraffe is an Android app that pays you to play games on your smartphone.
They offer a variety of games, including arcade, strategic, and adventure games, though JustPlay offers more options. Cash Giraffe adds new games regularly, allowing you to discover fresh titles daily.
Once you begin playing, Cash Giraffe tracks your progress and time spent on the app. They then award you tickets depending on your progress.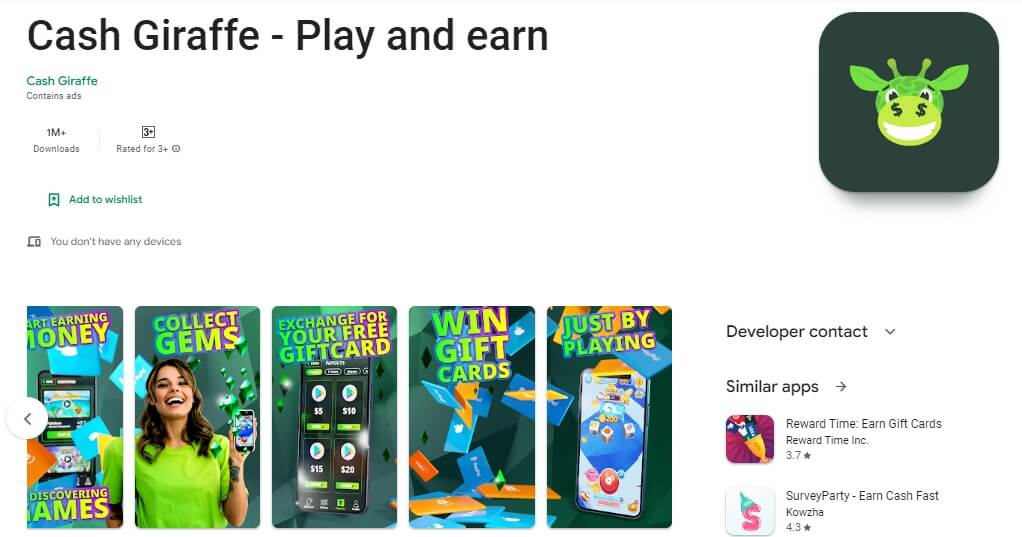 After you reach the threshold amount, you can exchange your tickets for gift cards to stores like Nintendo, Steam, and Google Play.
You can earn real money by cashing out your tickets through PayPal when you meet the $0.20 minimum withdrawal requirement. Payment is processed within two days.
Although Cash Giraffe offers a smaller selection of games than JustPlay, it's an excellent platform for earning easy cash.
Another huge perk is their lower minimum cashout requirement than other gaming apps.
7. InboxDollars
If you're still looking for apps like JustPlay, InboxDollars is an excellent option to consider.
InboxDollars offers numerous opportunities to make money online. It rewards you for completing the following tasks:
Taking online surveys
Shopping online for cashback
Reading emails
Shopping for groceries
Surfing the web
Playing mobile games
Testing new apps
Testing new products and services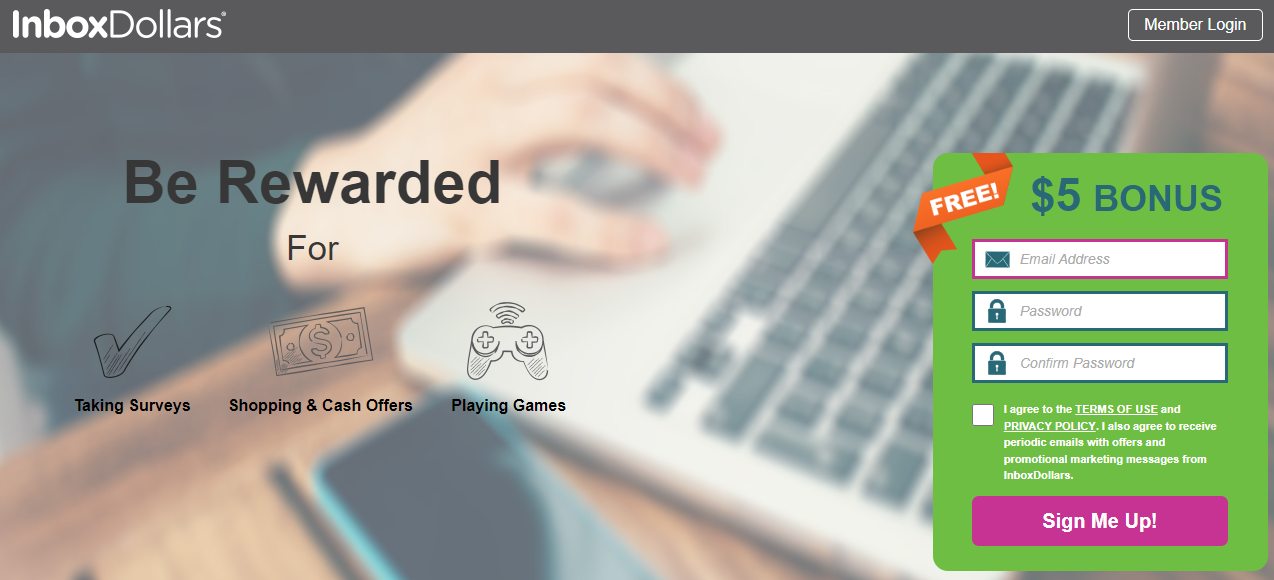 You can earn anywhere between $0.02 and $5 for completing a task. The platform also awards you a $5 sign up bonus if you're a new member. Another way to earn more is by inviting friends.
While InboxDollars isn't a get-rich-quick scheme, it is an excellent alternative to JustPlay due to its numerous options for making money.
8. AppStation
If you're an Android user interested in earning money by playing games, AppStation is an excellent alternative to JustPlay worth exploring.
Like JustPlay, AppStation awards coins you can exchange for Paypal cash or gift cards once you reach the threshold of $5.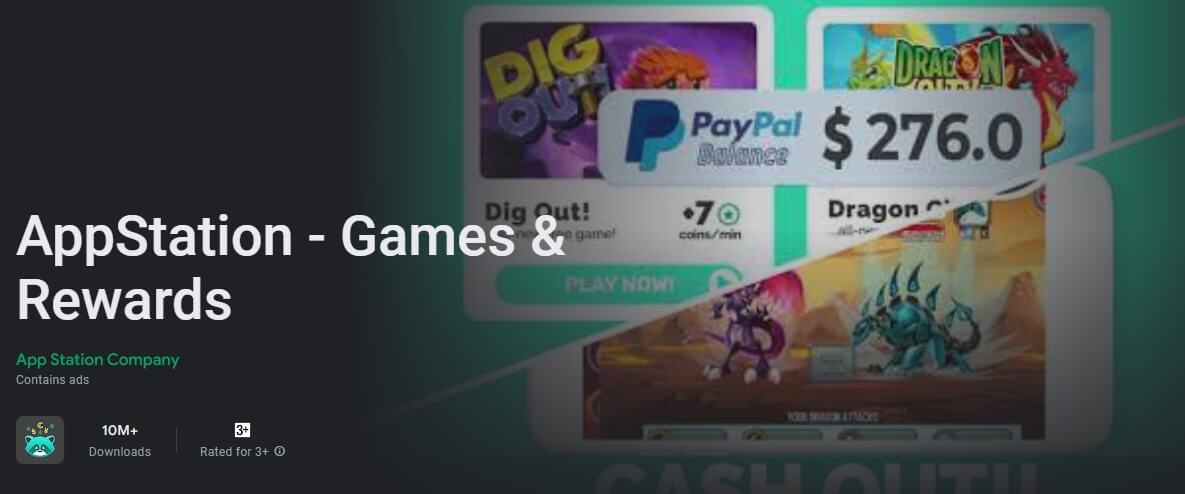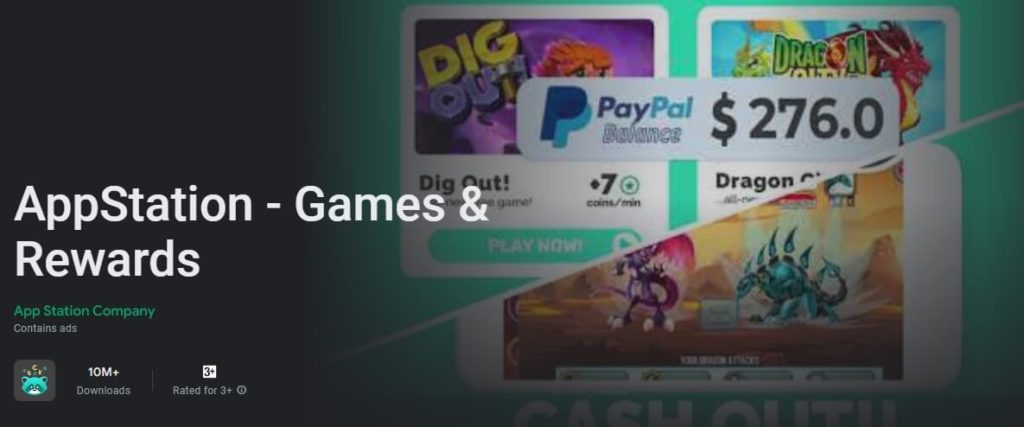 The platform gives you 4,444 coins for free when you sign up for the first time. Like any other rewards app, you can earn more free cash by inviting friends to the platform.
Like the other gaming apps on this list and JustPlay, you earn substantial points when you play a game for the first time. As you continue with the game, its earning potential decreases.
Therefore, you must keep downloading new games to maximize your earnings.
9. App Flame
App Flame is another app like JustPlay you can use to earn money by playing your favorite Android games. They offer various categories of games, ranging from strategic to arcade games.
The app is free to download, and no in-app purchases require paying your money.
Like Cash Giraffe, App Flame tracks your time spent on the app. Therefore offers rewards based on your activity.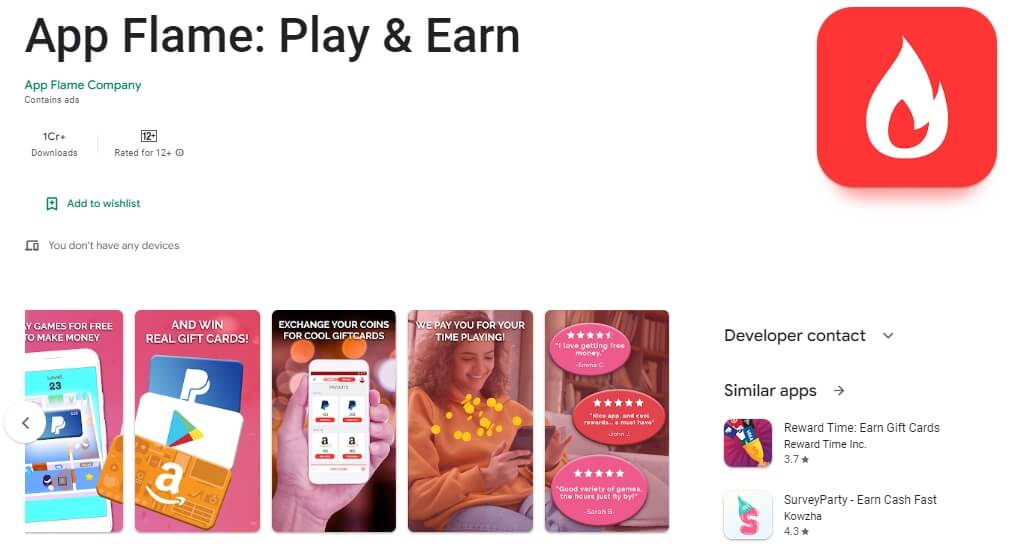 Like the other JustPlay alternatives on this list, App Flame allows you to cash out your rewards via PayPal or redeem them for gift cards to Airbnb, H&M, and Play Station.
JustPlay is superior to App Flame due to its wide game variety. However, App Flame is a good alternative since it has a lower cashout requirement of only $0.50.
10. Money Well
Money Well is like JustPlay since it allows you to make money by playing games on your mobile phone. Also, its game variety is pretty much like JustPlay's.
Like Cash Giraffe, Money Well pays you in tickets depending on your activity on the app.
These tickets are exchangeable for PayPal money, Steam vouchers, Nintendo vouchers, and Amazon gift cards. You can get your payment processed within two days.
Take advantage of the referral program to earn more.
It's not among the highest-paying gaming apps. However, if you choose the gaming offers wisely, you could make enough to supplement your income.
Unlike Justplay, Money Well is an Android-only app.
11. PlaytestCloud
If you're seeking to test mobile games during prototyping, development, soft launch, and even after they're released, PlaytestCloud is an outstanding choice.
PlaytestCloud partners with some of the most incredible game developers of all time, including Gameloft and Metacore, to enhance their testing and feedback services.
To begin testing, sign up on their website and complete a short unpaid test that determines eligibility and shows you how to playtest. You can retake the test if you fail the first trial.


Once you become a tester, you'll get more games and get paid to test. Generally, you can earn about $9 for a 15-minute playtest. However, the amount varies depending on the task.
You don't need to be a hardcore gamer to test games for Playtestcloud. You can earn money through the platform regardless of your level of expertise.
Unlike JustPlay, PlaytestCloud only offers payment through PayPal.
12. Flash Rewards
Flash Rewards by Vesey Studios is another mobile gaming app similar to JustPlay that you can try.
By playing games like Clash of Clans and Candy Crush on the app, you earn rewards you can exchange for PayPal cash or gift cards. The minimum cashout requirement is $5.
It's worth noting that you must be at least 18 years old to use Flash Rewards. Also, the platform is only available in the U.S. and Canada.
13. Coin Pop
Whether you intend to add apps like JustPlay to your collection or considering switching from JustPlay, Coin Pop is an excellent option.
Like most apps on this list, Coin Pop is free to download on Google Play. Playing games on this app earns you coins you can redeem for rewards like gift cards and PayPal money.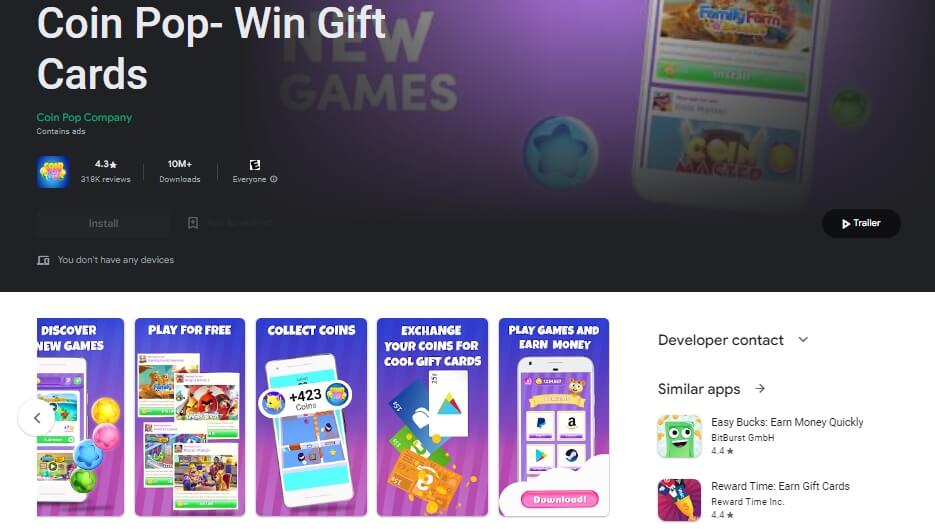 Coin Pop regularly introduces new games to their collection, giving you even more opportunities to make money. This allows you to discover and enjoy new games that may interest you.
One of the most outstanding advantages of Coin Pop over JustPlay is the lower minimum cashout requirement of $0.50.
14. Cash Alarm
Are you still searching for apps similar to JustPlay that pay you to play games? Look no further than Cash Alarm.
Download this free app on Google Play to start making quick cash. There are no deposits and in-app purchases.
You'll earn coins for every second you play. You can trade these coins for Amazon gift cards, vouchers, and coupons. You can also withdraw your earnings via PayPal.
The app boasts fast and guaranteed payouts. It has over 10 million downloads and over 270,000 reviews on Google Play, with an average star rating of 4.3.
It's a legit JustPlay alternative worth trying.
15. Money Rawr
The last app like JustPlay, is Money Rawr. It allows you to play any mobile games of your choice for money.
Money Rawr updates its games portfolio daily to give you more options and improve your gaming experience.
They pay you for every second you play. You can exchange your coins for gift cards or real cash through PayPal.
Download the app on Google Play today to enjoy these rewards and earn extra cash to supplement your income.
Are There More Apps Like JustPlay?
While my list is extensive, it doesn't exhaust all JustPlay alternatives available in the gaming market.
Plenty more apps like JustPlay allow you to earn money from playing games on your smartphone. Some of them include:
Playspot
Cointiply
Fitplay
Cash'em All
App Karma
PlayWell
Tap Champs
Playsmart
If you don't mind using money to make more, consider gaming apps like Solitaire Cash and Solitaire Clash. Such apps allow you to compete in multiplayer tournaments where you win real cash rewards.
However, they're risky since you may lose your money. You can also use multiple apps instead of just one to maximize your earnings.
Tips for Making Money With Apps Like JustPlay
Now that you're familiar with apps similar to JustPlay, here are tips to maximize your earnings:
Get familiar with the app: Before using it, look up its terms and conditions and understand how it works. You also need to understand the rules and requirements.
Be Consistent: Play regularly to take advantage of great offers. For most of these apps, logging in daily makes you eligible for daily bonuses.
Follow the app on social media: Some gaming apps may host contests and giveaways exclusive to their followers. Follow the platform on Facebook, Twitter, and Instagram for a chance to participate in these events.
Join challenges and tournaments: Gaming apps like JustPlay sometimes host competitive games and challenges. Join these events and compete against other users to win substantial cash prizes.
Invite friends: Most apps have referral programs that reward you for referring friends to the platform. Ensure your friends join using your unique referral link to qualify for referral bonuses.
Join community forums and spaces: Gaming fans always come together to hold discussions where valuable tips and gaming experiences are shared. Join such spaces to stay informed on new opportunities and events that may help you earn more.
Prioritize high-paying games and offers: Some games may pay more than others. Concentrate on the highest-paying games to increase your earning potential.
Beware of scams: Research an app and check user ratings and reviews to avoid getting ripped off.
Use different apps simultaneously: This allows you to diversify your sources and earn more.
Withdraw your earnings regularly: Once you reach the minimum cashout amount, withdraw your earnings to prevent losing them if anything happens to your account.
These tips will prove helpful as you use apps like JustPlay to make money. Nevertheless, it's essential to have realistic expectations.
Don't expect to make a lot of money from these gaming apps. They only allow you to earn extra cash during your spare time.
Final Thoughts
Playing games has always been a lucrative venture. You can try any apps mentioned in this article if you seek an alternative to JustPlay.
You can also diversify your earnings by using multiple apps simultaneously. Feel free to experiment with different options to find the best fit for your needs.
Also, research an app thoroughly before getting involved to avoid scams.
Apps like JustPlay may not make you wealthy or replace your day job, but they offer an excellent opportunity to earn extra cash on the side.
Searching for other fun ways to make extra cash?