15 Best Apps that Pay You to Play Games (2023 Ultimate Guide)
Updated on August 17, 2023
This post may contain affiliate links which means that sproutinue.com may make a small commission at no extra cost to you. We only promote products that we love and feel will benefit our readers. Please read our Disclosure Policy for more information.
One of the best side hustles today is playing games for money. You're having fun doing what you love, and you get paid at the same time.
The highest earning potential is in console and PC gaming, but there are apps that pay you to play games.
If you enjoy playing games on your phone, you can turn your minutes into dollars. The first step is to find apps that pay you to play games, and there's no shortage of them.
In this post, I'll cover the 15 best apps where you can get paid to play games.
Let's dive straight into it!
Are Free Money Games Legit?
Yes! Free money games are legit, but their earning potential is extremely low. You shouldn't expect to make enough money to quit your job by playing games on your phone.
Apps that promise hundreds of dollars for playing games are often scams, and they use false promises to entice users.
Many fraudulent sites take advantage of the popularity of legitimate apps, so it's important to watch out for potential scams.
15 Best Apps That Pay You To Play Games for Free
Here are the top 15 best apps that let you play games for free and earn money.
1. Mistplay
Mistplay calls itself a "loyalty program for gamers" and is one of the best apps that pay you to play games.
The platform rewards you with points as you play and level up, and once you've accumulated enough points, you can redeem them for gift cards.
To get started, download the app and create your account. Mistplay then gains access to your app usage and can monitor your playtime to award points.
Mistplay tracks the amount of time you spend on the games you play and your achievements as you progress. As you play and collect points, you can redeem them for PayPal cash or Amazon gift cards.
2. Gamehag
Gamehag is another great option if you're looking for apps that pay you to play games.
The app rewards you for playing both desktop and mobile games. They have a vast selection of fun PC games and various minigames that all give you opportunities to earn.
You'll earn Soul Gems for your gaming achievements, and you can exchange them later for rewards like gift cards and free video games. In addition, you can open their gaming chests, which allows you to earn more prizes.
If you enjoy quest games and love the opportunity to earn rewards for your time, then Gamehag is the app for you.
3. Rewarded Play
Rewarded Play, a popular gaming platform, allows you to play third-party games and win rewards, including gift cards. If you'd like to earn rewards for playing Android mobile games, then try Rewarded Play.
One of the best things about Rewarded Play is the vast selection of games. There's something for everyone; strategy games, adventure games, and even puzzles.
After downloading the app and creating your account, you'll be prompted to download games and complete activities to earn points. As your points accumulate, you can redeem them for gift cards to retailers like Walmart, Best Buy, and Amazon.
4. Swagbucks
Swagbucks is one of the most popular get-paid-to sites, with over 10 million users. The app rewards you for completing simple online tasks, like:
Taking surveys
Playing mobile games
Watching ads
Shopping online
Swagbucks allows you to earn for doing activities you're already doing on your phone, which is one of the reasons it's so popular.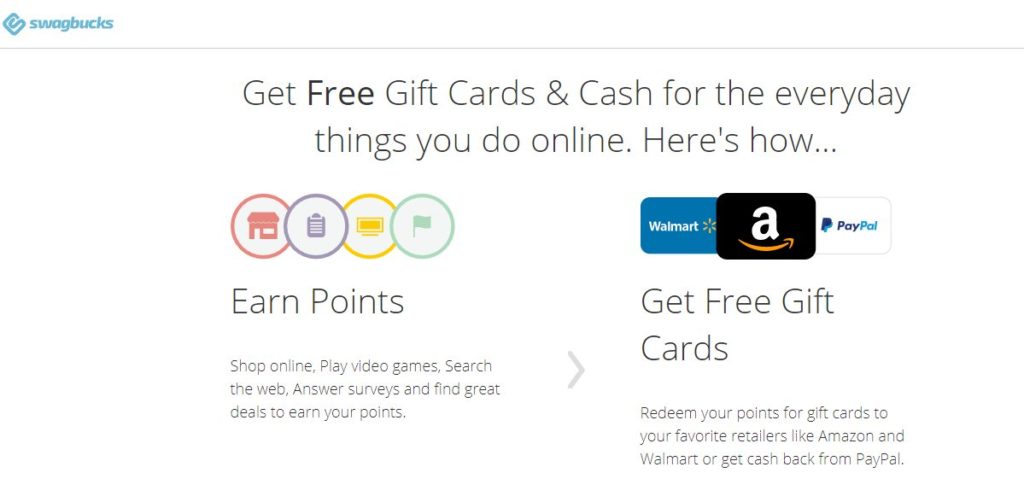 Points are awarded in Swagbucks, which you can redeem for gift cards to PayPal, Amazon, Starbucks, and more.
There are several games you can play on Swagbucks for points. To get started, you have to open a Game Show Network (GSN) account, after which you'll get access to premium game titles and can earn Swagbucks for spending on casino games.
5. Kashkick
Next on our list of apps that pay you to play games is Kashkick, a legit GPT site that rewards you for watching videos, taking surveys, and playing mobile games.
The primary way to earn cash on Kashkick is to complete surveys. However, it also has a gaming rewards section where you earn rewards for downloading and playing new games.
Some games offer rewards of up to $10, making Kashkick one of the highest-paying gaming apps.
However, there's a threshold; you can only cash out after earning at least $10. Payments are made biweekly.
Read my Kashkick review!
6. Bubble Cash
Bubble Cash is a fun app that allows you to earn money for playing a bubble shooting game on your phone.
The app has two modes: free and paid versions. You can use the free mode to practice your bubble shooting skills before joining paid tournaments.
The game's objective is simple 一 shoot a colored ball at a pile of similarly colored balls to eliminate them to clear the board.
You can earn cash and other prizes using Bubble Cash by competing in tournaments where you play with players of equal skill level.
The more points you accumulate on Bubble Cash, the higher you go on the leaderboard. All these features help to enhance your gaming experience.
7. Drop
Drop is one of the popular cash back apps that pays you to shop through its sponsored offers. If you've ever used apps like Fetch Rewards, you're probably familiar with Drop.
Drop recently added an option to get paid to play games through the app.
Once you've downloaded the app and created your account, you can use the app to download several sponsored games from various genres. You can choose your favorite games, including Hoops, Spin, Snake, and more.
As you keep playing, shopping, and doing other activities on the app, you accumulate drop points, which you can redeem for gift cards to retailers like Starbucks, Amazon, Uber, and more.
8. Bananatic
Bananatic is a fantastic app that rewards users for testing new games and playing video games. You earn rewards, called bananas, for every game you test.
A banana is worth $0.002. You earn an average of 100 bananas for every game you try. One of the app's advantages is that you can customize your preferences, so you only test games you enjoy.
The app gives you in-game quests. Completing each quest earns you a specific amount of bananas. You can exchange your bananas for real prizes in video games and more.
Bananatic is more than an app that pays you to play games. It has a community of mobile game enthusiasts. Here, you meet with like-minded people to discuss games, bugs, and even developing games.
9. Coin Pop
Coin Pop is a popular Android app that pays you to play games.
It works similarly to Mistplay in that you download sponsored games in the app, play the games, level up, and earn points that you can redeem for gift cards.
Coin Pop has a wide selection of games, so it's not hard to find games you'll enjoy playing. There are scenarios where you can build a city or even fix a home. The games can be quite addictive, so it's up to you to manage your time effectively.
Coin Pop has a referral bonus, where you earn 250 coins for every friend who joins and 25% of all their coins going forward.
10. Appstation
Appstation offers a great opportunity to earn money by trying out different apps. The app is only available on Android; you can download it from the Google Play Store.
The app works like other apps that pay you to play games.
You install the sponsored games in the app and work towards leveling up to earn coins. 50,000 coins in the app are worth $5, and you can redeem them for gift cards to PayPal, Amazon, Walmart, and other retailers.
The more you play on the app, the more you increase your earnings.
11. Buff
Buff is among the newer apps that pay you to play games, but it offers an excellent opportunity to make money on the side.
The app rewards you for playing mobile and PC games, which you can later redeem for in-game rewards, gift cards, and Steam games.
It may take some time to earn your pay, as Buff pays out the rewards pretty slowly.
If you're a PC gamer who already spends a lot of your time playing games, Buff is the app for you. This way, you earn passive income while you do an activity you enjoy.
12. Skillz Games
Skillz Games is a unique mobile gaming platform connecting millions of online gamers nationwide.
There are a variety of games you can play and earn real cash prizes. Some of these games include:
Solitaire Cube
Blackout Bingo
Dominoes Gold
Yatzy Cash
Poop Payday
Skillz Games is different from the other apps, as it's mainly a platform where skilled players pay to enter tournaments and compete against each other.
Unlike beginner-friendly apps, the Skillz Games platform is more suited to seasoned gamers.
If you like competitive games and are a skilled player, you can make money on the app.
13. Lucktastic
If you're the type of person who enjoys buying lottery tickets, you should try Lucktastic. It's a fun app where you can scratch off digital lottery tickets for the chance to win actual cash.
Lucktastic rewards you with points you can redeem for gift cards and other prizes. Once you've selected your ticket, all you have to do is watch a 30-second ad, and then you can scratch off the ticket.
Every ticket comes with a bonus scratch-off, where you can win points or money. The points are redeemable for physical prizes or gift cards to major retailers.
14. Play and Win
For all trivia fans out there, Play and Win is one of the best apps that pay you to play games.
The app allows you to win cash by participating in trivia questions. Every time you participate, you answer 50 questions, so you can only pay one set at most per hour.
The number of points you receive depends on how fast you answer the trivia questions. You're also only awarded points for the questions you answer correctly, so ensure you answer them correctly.
Play and Win also gives you power-ups and bonus points, which help increase your earnings.
15. iRazoo
iRazoo is a popular GPT site that rewards users for watching videos online. Some other tasks you can do on the app to earn money include:
Downloading apps
Completing surveys
Playing games
It is one of the easiest apps to use, and it updates tasks every day.
The app also has a referral program, where you earn extra points for referring friends. You can redeem these points for gift cards or PayPal cash.
iRazoo is available worldwide, and the app is free to download.
Other Apps that Pay You to Play Games
There are several other apps that pay you to play games, including: 
Cashyy
Long Game
Blackout Bingo
Pool Payday
21 Blitz
Dominoes Gold
Tips to Make the Most Out of Apps that Pay You to Play Games
While GPT sites don't pay that well, there are steps you can take to maximize your earnings:
Join multiple sites: The more apps you use, the more money you'll earn as you complete simple tasks.
Take advantage of referral bonuses: Most GPT sites offer rewards for referring friends and family, so you should take advantage of the feature.
Fill in your details carefully: When signing up for the sites and apps, ensure you fill your details in correctly so there are no problems accessing your earnings.
Frequently Asked Questions
Can I Get Paid To Play Games?
Yes. There are tons of apps and websites that'll pay you to play mobile games. These apps differ in activities, payment methods, and games you can play.
Some apps are specifically for playing games, while others have several options, like watching ads and taking surveys.
What Is the Highest-paying Game App?
The highest-paying game apps are those which you pay to play. Most gpt sites have a low earning potential, so if you want to make a lot of money, you should enter paid tournaments on apps like Bubble Cash, Dominoes Gold, and Blackout Bingo.
Which App Gives Real Money by Playing Games?
There are various apps and websites that pay real money to play games. They include:
Blackout Bingo
Solitaire Cash
Skillz Games
Swagbucks
Drop
Dominoes Gold
Bingo Cash
Solitaire Cube
Rewarded Play
Can You Make Money by Playing Games on Your Phone?
Many apps pay users to play mobile games. The Skillz Games platform, for instance, connects players who want to compete for money. The platform hosts millions of tournaments for players worldwide and offers monthly prizes.
Does PayPal Games Pay Real Money?
Many games pay through PayPal. In most cases, there's a threshold you must reach before you can redeem your points for PayPal cash. These games often offer small prizes, and it takes time to earn the bigger rewards.
What Games Can I Play for Free and Win Real Money?
There are several games you can play for free and win real money, as covered in this post. Some of these games include:
Lucktastic
Mistplay
21 Blitz
Pool Payday
Solitaire Cash
Blackout Bingo
Coin Pop
Drop
Final Thoughts
Apps that pay you to play games are a great way to make money while having fun. The next time you're standing in line at a café, you could use the time to earn a few extra bucks playing your favorite mobile games.
While there are legitimate apps that pay, there are also scam websites that entice people by promising hundreds of dollars. The best way to find a suitable app is to take time to research the app and read user reviews on trusted sites.
Want to more cool ways to make money online? Check out