21 Best Apps Like Mistplay for iPhone and Android (2023)
Updated on September 16, 2023
This post may contain affiliate links which means that sproutinue.com may make a small commission at no extra cost to you. We only promote products that we love and feel will benefit our readers. Please read our Disclosure Policy for more information.
While Mistplay is an excellent app that pays you to play games, it's not the only one. There are other numerous apps like Mistplay that let you snag a few coins in your free time.
If you're an avid gamer looking for apps with a higher earning potential, this post is for you. Most of these Mistplay alternatives offer better rewards and earning methods.
Whether you want to supplement your income or are a gaming enthusiast looking for other apps, you'll find something that works for you.
If you like Mistplay's gameplay and interface, you can always stack it with similar gaming apps to maximize your income.
Want to make some quick cash? Try out:
Prime Opinion – Earn an instant $10 when you join Prime Opinion. You'll also get paid to complete surveys!
Permission Research – Install PermissionResearch on your PC and earn an instant $10 plus $10 per month for running it in the background!
The Best Apps Like Mistplay
Whether you own an iOS or Android device, you can get paid to play games on your phone.
I'll provide detailed information on the best sites like Mistplay based on my experience and those of others to help you find the best app suited for your needs.
Here are the best apps like Mistplay worth trying:
1. Kashkick
Kashkick is one of the best Mistplay alternatives. Unlike Mistplay, it offers more ways to make money online besides gaming.
The primary way to earn on Kashkick is through completing online surveys. You can earn more rewards by playing games, watching videos, testing apps, and completing featured offers.
Kashkick has a higher income potential than Mistplay since you can earn over $100 from a single offer.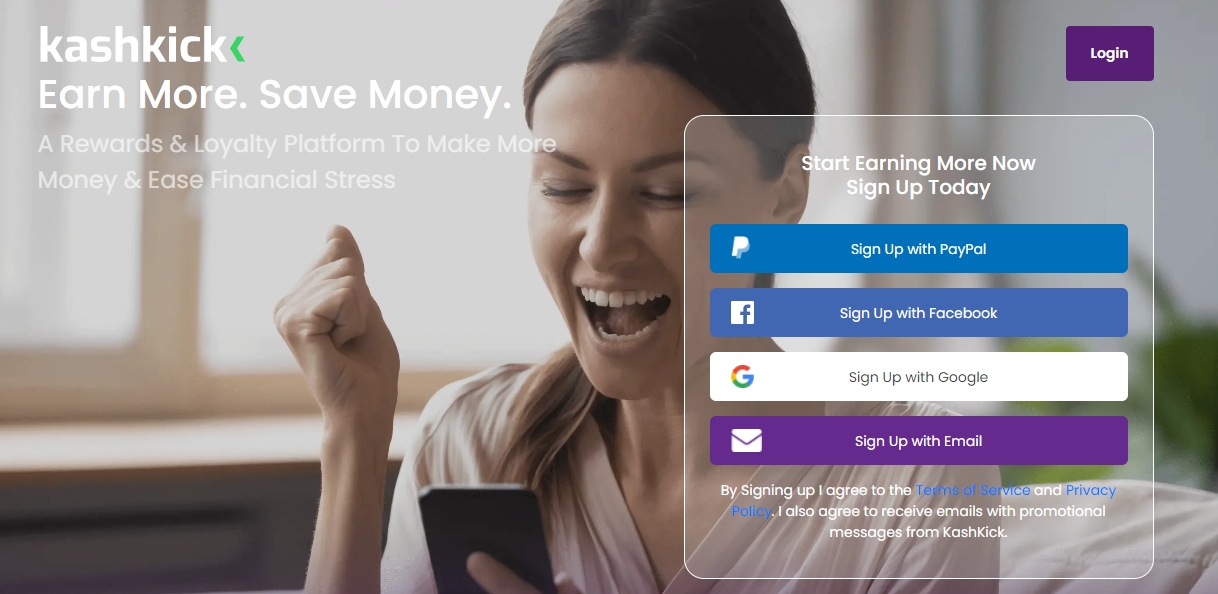 The site has a great game selection with popular titles like Scrabble Go, Coin Master, and Mafia City. To get paid, you must download a game and achieve certain milestones.
You can cash out via PayPal once you reach the withdrawal minimum of $10. Payment is made biweekly. One downside of Kashkick is that it doesn't offer other ways to cash out, like gift cards.
Currently, the Kashkick app is only available on Google Play for Android devices. You can sign up for free on the desktop version if you own an iOS device.
Overall, Kashkick is an excellent Mistplay alternative if you're a U.S. resident and at least 18.
Try out Kashkick or read my Kashkick review.
2. Drop
Another site similar to Mistplay that's worth exploring is Drop. This popular rebate app lets you earn cashback when you shop at popular retailers like:
Adidas
Amazon
Kroger
CVS Pharmacy
Sam's Club
Nike
Sephora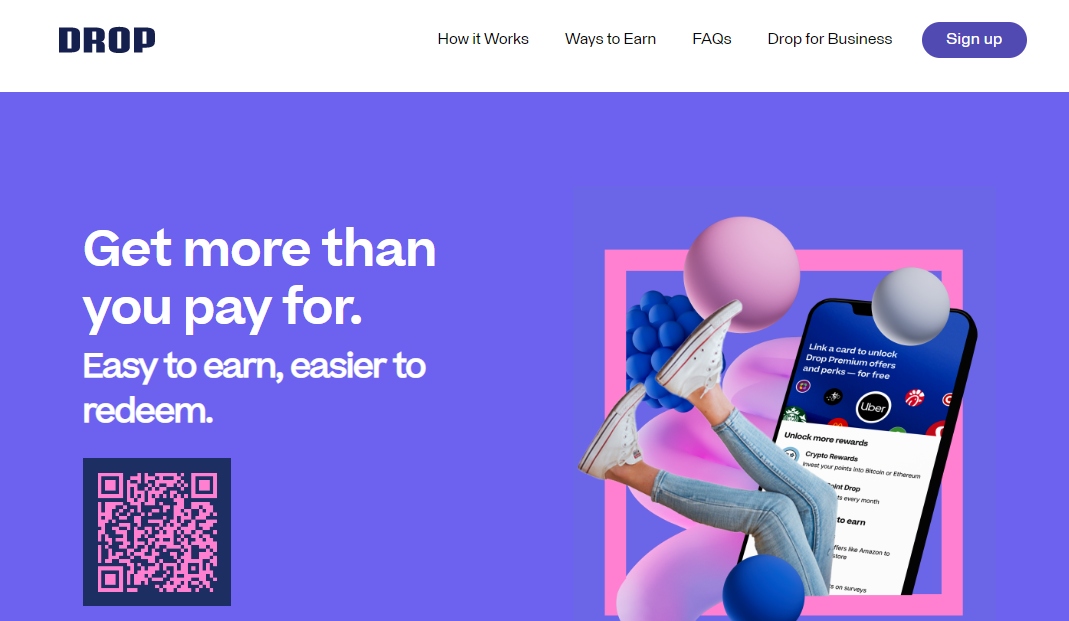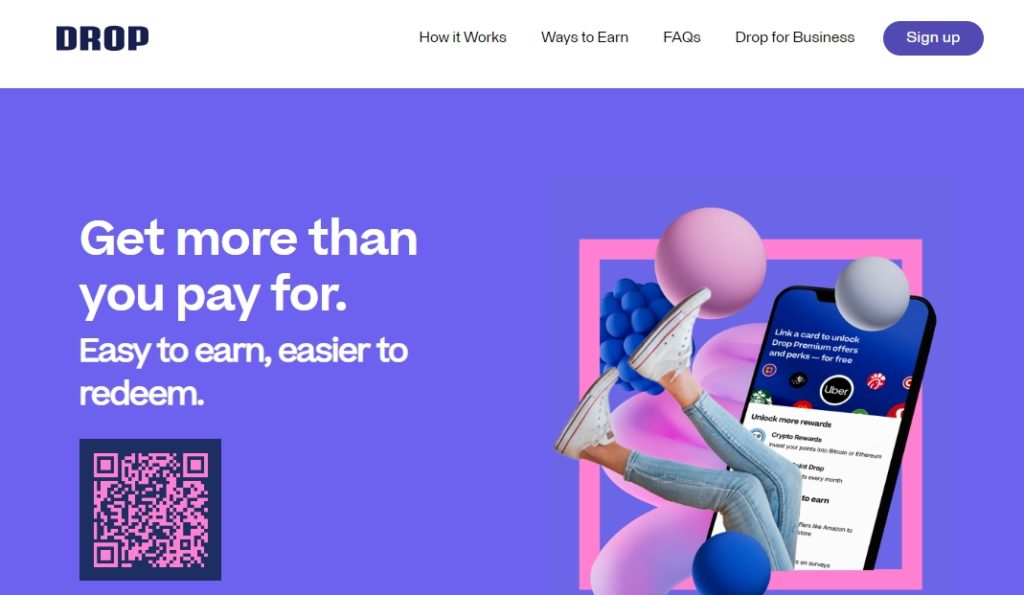 All you have to do is download the app on Google Play or the App Store and create an account. Next, link your debit or credit card to get rewarded the next time you shop.
Drop has a browser extension to make online shopping more accessible and rewarding. You must be a U.S. or Canadian resident to earn from Drop.
Participating earns you Drop points, which you can redeem for gift cards, crypto, collectibles, contents, or donations. The withdrawal minimum for gift cards is $25.
While shopping for cashback is the primary way to make money on Drop, the app also lets you complete surveys and play games for cash.
Simply download a game of your choice and achieve the required task. Most games pay about $10 to $20. Once you complete a gaming task, your points are deposited into your account in 14 days.
Want to earn more on Drop? Invite your friends to the app. You'll earn 500 free points when your referral makes their first 1,000 Drop points.
3. Cash Giraffe
Like Mistplay, Cash Giraffe is an Android-only app. Its interface and functionality resemble Mistplay, but Cash Giraffe has a superior game collection.
As you play the game, Cash Giraffe tracks your time and awards you gems, redeemable for gift cards.
There are various games, including arcade, casual, strategic, and adventure games. New games are continuously added to make your experience more exciting.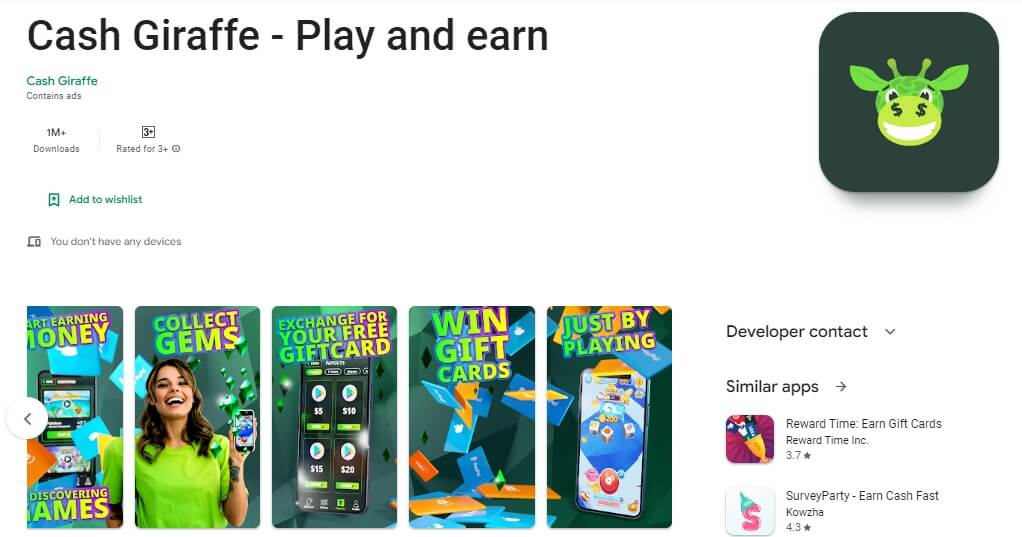 Once you accumulate 2000 gems, equivalent to about $0.20, you can cash out via PayPal. You can also redeem your gems for gift cards to popular brands like:
Amazon
Google Play
Steam
Starbucks
BestBuy
A significant advantage of Cash Giraffe over Mistplay is the lower withdrawal minimum of $0.20. Cash Giraffe is worth exploring if you enjoy playing games in your spare time.
4. Swagbucks
Swagbucks is among the best GPT websites worldwide since it offers diverse opportunities to earn free money.
Some of the ways to earn money on Swagbucks include:
Watching videos
Playing games
Searching the web
Shopping for cashback
Answering surveys
Testing new products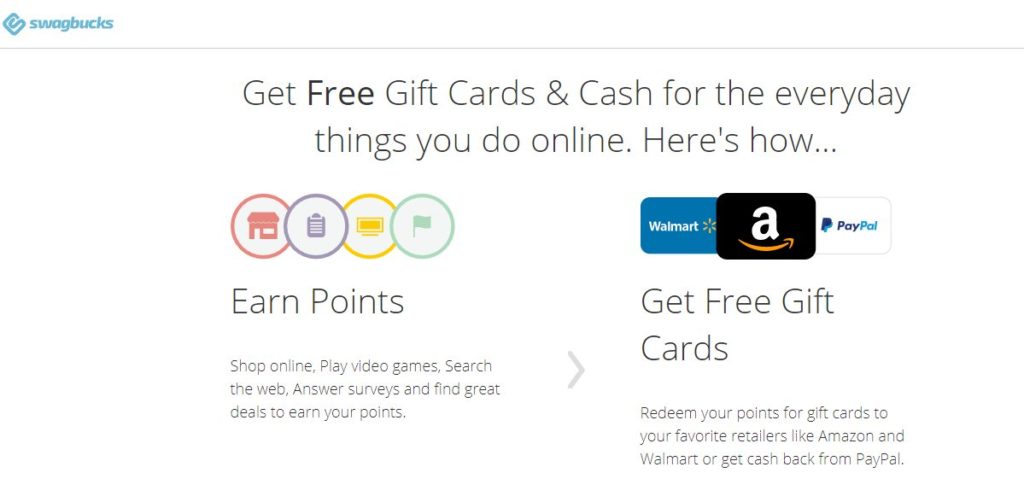 By completing these simple tasks, you earn Swagbucks points, redeemable for gift cards. The minimum withdrawal amount for PayPal is $5. 
For gift cards, the cashout minimum varies based on the reward and your location. You can get Amazon gift cards starting at $1, but this isn't always the case.
Swagbucks is among the best-paying reward apps on this list. On average, expect to earn between $1 and $5 daily. Some offers may pay up to about $250.
Another huge upside of Swagbucks is the $10 sign-up bonus they reward first-time users.
You can also increase your income by inviting as many friends as possible. You earn 10% of your referral's lifetime earnings.
5. Rewarded Play
Rewarded Play is an Android app that rewards you for playing games. Just like Mistplay, it has plenty of great titles to choose from.
Whether you enjoy arcade, adventure, or puzzle games, this app is worth a try. Some popular games on Rewarded Play include Solitaire, Wheel of Fortune, Mahjong, and Yahtzee.
You can cash out once you reach $5 worth of points. The downside of Rewarded Play over Mistplay is that it doesn't let you cash out via PayPal.
You can redeem your points for gift cards such as:
Amazon
Target
Walmart
Best Buy
One thing I like about Rewarded Play is that it allows you to earn free points through daily bonuses.
You can earn up to 2500 free points for reaching 5000 points in one day. If you spend a lot of time gaming, this is an excellent way to rack up points toward the cashout minimum.
6. PlaytestCloud
PlaytestCloud lets you play games on your phone and download apps for money. This app mainly deals with testing apps and games while still in development.
To become a playtester, visit their website and submit your application. They'll send you an unpaid qualification test, and you'll receive paid gigs when you pass it.
PlaytestCloud has the highest earning potential compared to other apps like Mitplay since you earn about $9 for one 15-minute playtest. 


The downside is that gigs are hard to come by. The site claims you may get invited to playtests twice a month, but that's not guaranteed.
One significant upside of PlaytestCloud is that you earn free PayPal money.
However, it offers no other cashout methods like gift cards or direct transfers. This is a considerable downside, especially if PayPal is unavailable in your country.
While the app's inconsistency may be discouraging, stacking PlaytestCloud with Mistplay is an excellent strategy to increase earnings.
Read my PlaytestCloud review!
7. Money Well
Money Well is another great alternative to Mistplay worth exploring. This Android app is similar to Mistplay regarding the types of games available.
However, Mistplay has a better game variety. New games are added to Money Well regularly to provide more opportunities to make free money.
Like Cash Giraffe, Money Well tracks your time on the app and pays you in tickets based on how long you play.
You can redeem your tickets for free PayPal money or the following gift cards:
Best Buy
Google Play
Starbucks
Nintendo
Amazon
Steam
Most gift cards start from $5, but you can cash out via PayPal for as low as $0.50.
Money Well doesn't pay much compared to the other gaming apps in this article. However, they have a great referral program you can take advantage of to make more money.
They reward you with 250 free tickets when you invite a friend. You and your referral will also earn 25% of each other's earnings.
8. Gamehag
If you're an avid PC gamer, Gamehag has a great PC game collection worth exploring. It also offers mobile games.
If you're interested in war and strategy games, I think Gamehag is the best choice. It offers some all-time popular games, such as:
Mafia City
League of Legends
Game of Thrones
Lords Mobile
Battle Royale
Complete missions in different games to earn soul gems. Once you have enough gems, you can redeem them for these rewards:
In-game gear
Free skins
Premium subscriptions
Gift cards to PlayStation, Steam, and Amazon
PayPal money
Besides gaming, you can rack up more soul gems by writing articles, participating in community forums, and inviting your friends.
Judging from its features, Gamehag is among the best sites similar to Mistplay, especially if you're a gaming enthusiast.
9. AppNana
AppNana is another app like Mistplay available for Android and iOS. The app claims to have paid over $10 million in gift cards to its worldwide members.
Like Mistplay, this app lets you play sponsored games for cash on your phone. Once you accumulate enough coins, you can cash out for gift cards. 
They also have a daily bonus of 400 points. All you have to do to earn the bonus is log into the app daily. Unlike Mistplay, AppNana doesn't offer PayPal cash.
From the earning potential to the cash-out methods, Mistplay is by far better than AppNana. I recommend it only if you want to stack Mistplay with other apps.
10. Coin Pop
Coin Pop is worth a try if you're looking for other gaming opportunities to supplement your income.
Like Mistplay, Coin Pop is only available for Android devices. You'll have to sit this one out if you own an iOS.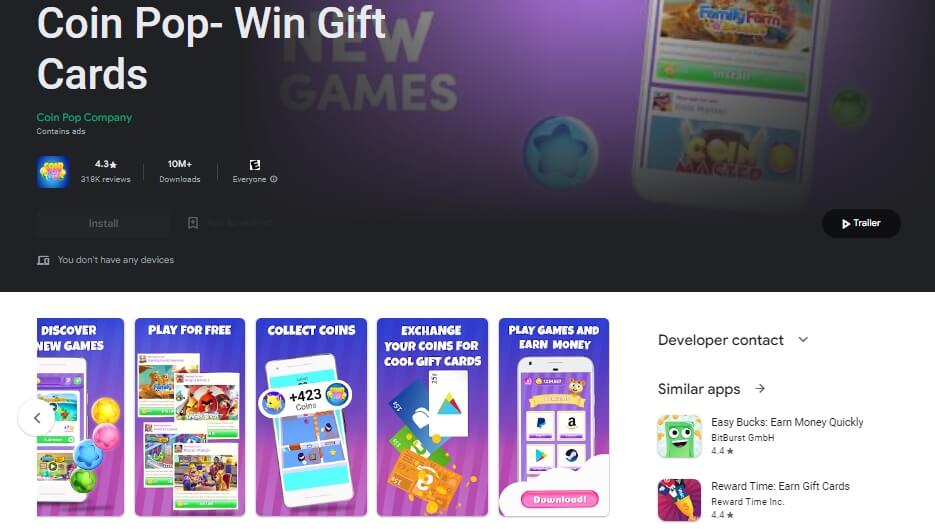 The gameplay is quite similar to Mistplay's. You download a game and then earn points at different milestones.
Once you reach 5,000 points worth $0.50, Coin Pop allows you to redeem your points for free PayPal money or gift cards. This amount varies, so in some cases, you may need to accumulate up to $2.50.
Compared to Mistplay, Coin Pop has a lower earning potential. But it's still an excellent alternative, especially if you're looking to stack Mistplay with other apps instead of replacing it.
11. InboxDollars
Like Swagbucks, InboxDollars provides numerous opportunities to make extra cash by completing simple online tasks such as:
Filling out surveys
Answering polls
Playing games
Watching ads
Shopping for cashback
Reading emails
Searching the web
Downloading apps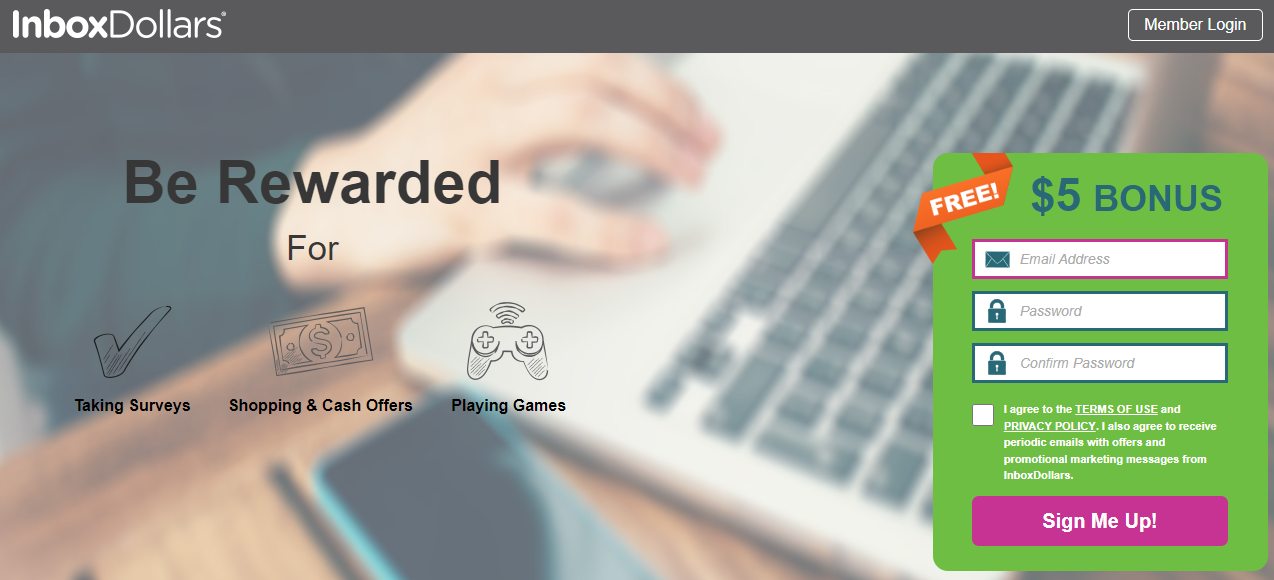 Expect to earn about $0.02 to $5 per task. You can snag a decent amount if you have plenty of time to complete tasks. 
Another advantage of InboxDollars is their $5 signup bonus for new users. You must reach $10 points to cash out via PayPal or gift cards.
While you can't substitute your day job with InboxDollars, it's an excellent way to earn extra cash during your free time.
12. AppStation
AppStation is an excellent option if you still want to explore apps like Mistplay. The app lets you earn rewards every time you play a game.
They have a 4444 coin sign-up bonus, which helps you reach the withdrawal minimum. You can cash out through PayPal or the following gift cards once you earn $5:
Amazon
Steam
Walmart
Google Play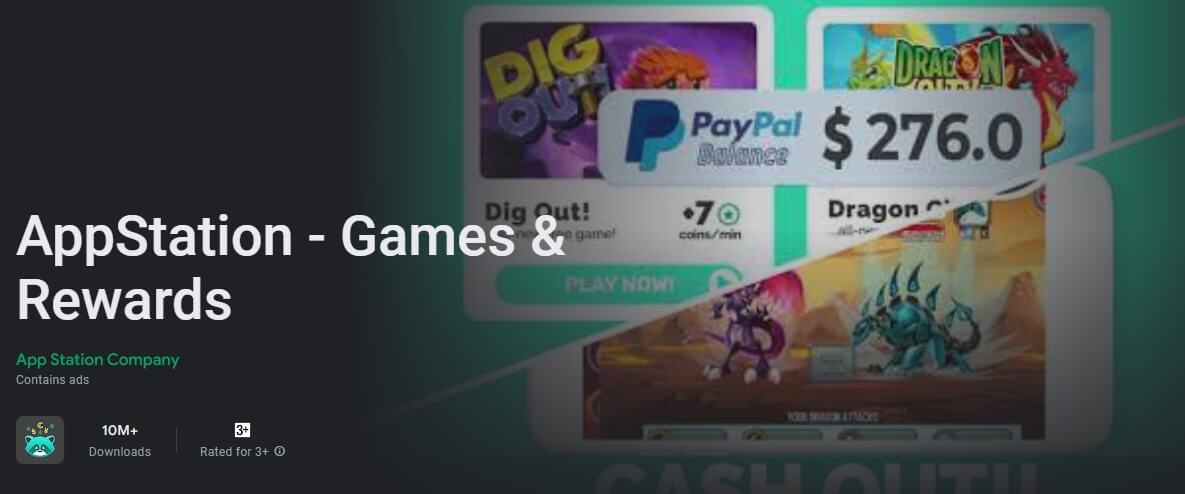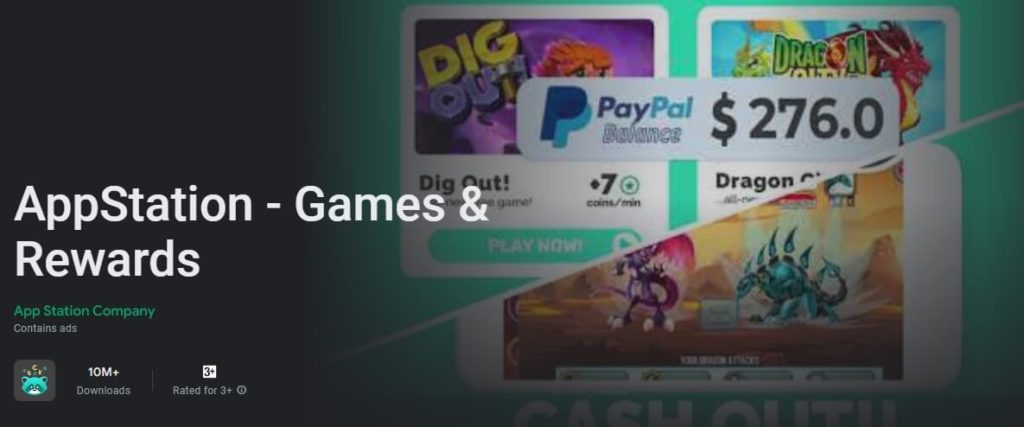 Inviting your friends to the app can earn 25% more coins. While this is a good app if you enjoy arcade and strategy games, AppStation's pay is lower than Mistplay's.
Consider using the apps simultaneously instead of replacing Mistplay with AppStation to avoid missing out on Mistplay's best features.
13. Lucktastic
If you're more inclined to lotto tickets and scratching cards to win money, you'll enjoy Lucktastic. This odds-based gaming app lets you win money through scratch cards.
The app pays you in tokens, redeemable for in-app rewards, cash, and gift cards from $2. You can participate in contests and giveaways to increase your earnings. 
The games are updated daily to give you more chances to earn from the app and have an exciting experience.
While it may seem too good to be true, Lucktastic is a legit app. According to their website, they've paid over $10 million in prizes to their users so far.
Note that you must be a U.S. resident to play on Lucktastic.
14. Flash Rewards
Flash Rewards is a great option if you're still looking for apps like Mistplay to add to your income sources.
The app's gameplay is similar to Mistplay and is available only for Android devices and U.S. and Canadian residents. They have a great game collection, which includes the following titles:
Clash of Clans
Bingo Blitz
Grans Harvest
Bingo Clash
Candy Crush
These games don't pay much, but unlike Mistplay, Flash Rewards has an offer section where you can make up to $50 by completing one offer if you're willing to invest your money.
Some of the offers may include:
Watching videos
Entering sweepstakes
Downloading apps
Subscribing to a service
Answering surveys
You can redeem your points for gift cards once you achieve the minimum requirement. Gift cards vary, but most of them begin at $5.
15. Skillz
Skillz is a gaming app that connects developers to players worldwide. Whether you enjoy card games, skill-based games, or betting games, Skillz is the best app for you.
The app hosts numerous games from different developers and pays you to play these games. Some of the titles on the Skillz app include:
Solitaire Cash
21 Blitz
Solitaire Cube
Blackout Bingo
Bingo Cash
Bubble Clash
In a nutshell, Skillz lets you compete against real players in cash tournaments where you can win huge prizes.
The problem here is that most cash tournaments require buy-ins. Since there's no guarantee to win, I wouldn't recommend Skillz if you don't wish to risk losing your money.
16. Cash'em All
Cash'em All has an impressive 4.3-star rating and over 50 million downloads on Google Play. On the other hand, Mistplay is rated 4.1 with over 10 million downloads.
From the Google Play statistics, Cash'em All seems like a better alternative to Mistplay. The two apps are quite similar. Both are Android-only apps that pay you to play games. 
The Cash'em All game collection consists of the following genres:
Arcade
Casual
Strategy
Adventure
Puzzle
Action
Download any age and start playing to earn in-game coins. Cash'em All offers several gift cards to popular stores, including:
Steam
Amazon
PSN
Walmart
Xbox
Google Play
You can also redeem your coins for free PayPal money. If you're looking to replace Mistplay, Cash'em All is an excellent choice.
17. Cashyy
Whether you intend to replace Mistplay or stack it with another Android gaming app that pay, Cashyy is worth exploring. This JustDice app has a 4.3 average Google Play rating.
Like most apps in this post, Cashyy requires that you sign up and download free games to make money.
Games have specific missions, and you win coins by completing them. The more missions you complete, the higher your earnings.
Once you earn enough coins, you can cash out via PayPal or gift cards to popular brands and retailers like:
Zalando
Google Play
Amazon
PlayStation
Steam
Walmart
One advantage of Cashyy is that the withdrawal minimum is less than $1. However, this varies depending on your chosen gift card.
Inviting your friends to Cashyy is a great strategy to earn passive income since you'll earn 25% of their lifetime earnings. Additionally, you get 250 free coins per referral.
18. App Flame
App Flame, by Beermoney, is an excellent alternative to Mistplay worth trying. The app is free to use and doesn't require you to make any deposits like Skillz games.
It boasts a wide variety of games, ranging from arcade to casual to strategic games. Also, new titles are added regularly to provide a new challenge.
Unlike Mistplay, the App Flame app pays you based on your game time. The more you play, the higher your rewards.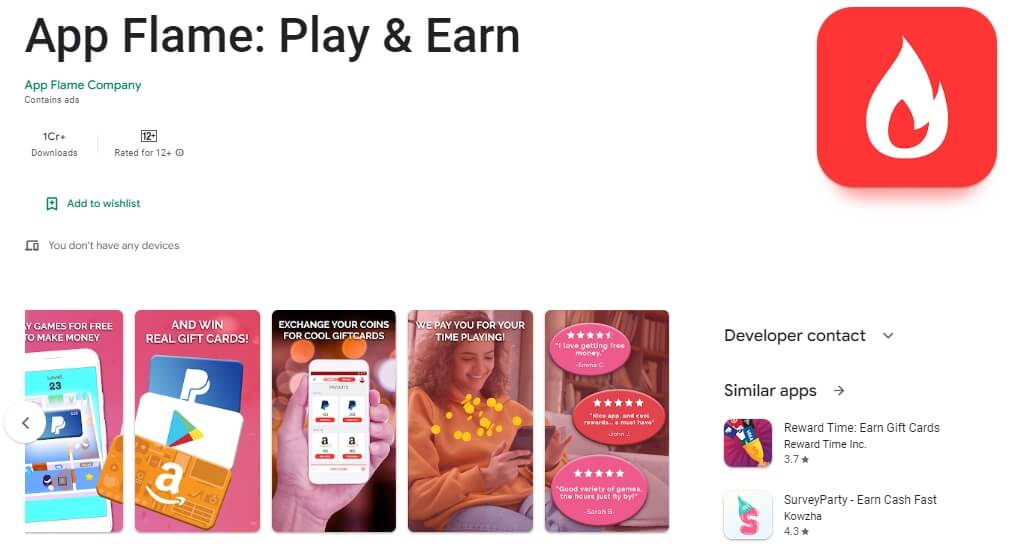 Like Mistplay, App Flame lets you cash out via PayPal and gift cards. The gift card options depend on your location and include the following brands:
Amazon
Google Play
Airbnb
Starbucks
Zalando
PlayStation
Additionally, the app lets you earn more through its referral program. You'll earn 25% of your referral's lifetime earnings. This is an excellent way to earn passive income.
App Flame is a great Mistplay alternative but has a lower income and fewer games than Mistplay. You can always try it if you exhaust Mistplay games.
19. Toluna
Toluna is the app for you if you'd like to get paid to share your opinion. The primary way to make money on Toluna is by answering online surveys and polls.
The app is available in over 50 countries, making it an excellent Mistplay alternative. It's also available for both Android and iOS. Additionally, it has a desktop version.
Like a typical paid survey site, you must provide personal information like your employment status, age, educational status, and gender to qualify for surveys on Toluna. This information matches you to surveys you're more qualified for.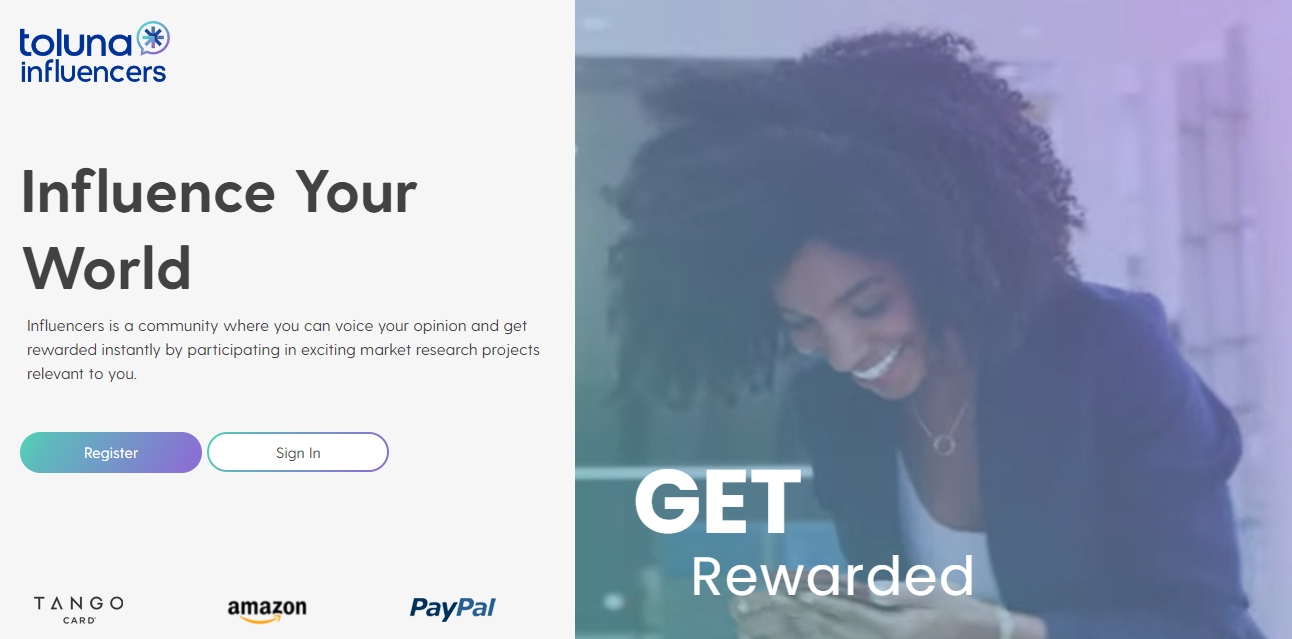 Toluna made this list because, like Mistplay, it allows you to play games for cash. Not all games reward you on this platform; some are just for fun.
Playing these games earns you points, redeemable for various gift cards. Toluna also has 500 points signup bonus.
While Toluna is an excellent way to make money, it has fewer games than Mistplay. But if you're seeking more ways to make money besides gaming, this GPT site is worth a try.
20. JustPlay
If you're an avid gamer, JustPlay is your chance to monetize your hobby. This loyalty program rewards you with coins for playing your favorite games.
Some of the games you can play for cash on JustPlay include:
Solitaire
Ball Bounce
Mad Smash
Cookie Jelly Match
You can increase your coins by watching ads and completing paid offers. You can cash out through PayPal or gift cards upon reaching the withdrawal minimum.
Unlike Mistplay, JustPlay lets you donate your earnings to charity. Mistplay has a better game selection than JustPlay. Still, it's a great Mistplay alternative.
Extra Reading: Apps Like JustPlay
21. MyPoints
Last on the list of apps like Mistplay is MyPoints. The platform lets you make money online by completing the following tasks:
Shopping online
Reading emails
Completing paid offers
Searching the web
Playing games
Another way to earn is by referring your friends to MyPoints. It's an excellent passive income source since you earn 10% of their lifetime earnings. 
Once you earn enough points, there are four cashout options:
Gift cards to over 70 top retailers
PayPal
Visa
Travel Miles to your United MileagePlus account
MyPoints also rewards you $10 if you spend $20 within the first month of signing up. Overall, MyPoints is an excellent app to stack with Mistplay to increase your income.
Tips for Making Money With Apps Like Mistplay
Now that you're familiar with apps like Mistplay that pay you to play games on your phone, here are some tips and tricks to help you maximize your income.
Consistency is key: You must be willing to invest some time and effort into playing games and completing other simple tasks like answering surveys to earn with these apps. Being consistent helps to increase your earnings.
Take advantage of the referral program: If you want passive income, refer your friends to these gaming apps to earn more. Some apps reward you with a percentage of your referral's lifetime income. This is a great way to make free money.
Participate in community discussions: Most gaming apps have forums on Reddit where you can interact with other users and learn more tips and tricks to earn more money.
Stack different apps: One of the best strategies to earn more income from gaming apps is to use several apps simultaneously.
Frequently Asked Questions
Are Apps Like Mistplay Legit?
Apps like Mistplay are legit. They let you make money by playing video games and completing online surveys.
These apps include Swagbucks, MyPoints, Money Well, and Kashkick. It's crucial to determine an app's legitimacy before signing up.
You can read user reviews and check if the app's rewards system makes sense. Also, check if the app's developer is reputable.
How Do Apps Like Mistplay Money?
When you download and play a game on apps similar to Mistplay, the developer pays the company a commission. The company then pays you part of this commission as a reward for playing the game.
Most apps like Mistplay make money this way, but some also gain from in-app purchases, subscription fees, and ads.
Is There an App Better Than Mistplay?
While Mistplay is an excellent way to make extra cash, it has several shortcomings, including its being unavailable for iOS.
For most sites like Mistplay, the earning potential is meager, and it gets harder to earn points the more you use the app.
Some apps like Swagbucks and InboxDollars are better than Mistplay since they offer more ways to earn money besides gaming. However, these apps have several downsides too.
PlaytestCloud also has a decent earning potential since you can earn $9 from a simple 15-minute task. However, these tasks aren't frequent.
It helps to stack Mistplay with any of these apps instead of trying to replace it since every app has upsides and downsides.
Final Thoughts
Now that you know the best apps like Mistplay, I hope my guide helps you determine the best one for your needs.
While these gaming apps offer an opportunity to earn free money, most don't pay much. Thus, they can't replace your day job.
It's wise to stack different gaming apps to get the most from them. Also, use the apps consistently and take advantage of referral programs, daily bonuses, contests, and giveaways.
Lastly, beware of scams. Do your due diligence before signing up on a platform to ensure you're not getting ripped off.
Searching for other ways to make money? Check out: