Instacart Batch Grabber: Get More Batches on Instacart!
Updated on September 7, 2023
This post may contain affiliate links which means that sproutinue.com may make a small commission at no extra cost to you. We only promote products that we love and feel will benefit our readers. Please read our Disclosure Policy for more information.
As one of the most popular gig economy apps, Instacart is great to work for if you're looking for a flexible side hustle with a decent earning potential.
However, with Instacart's popularity comes a lot of competition. Since Instacart has so many shoppers, grabbing batches may become a challenge. For this reason, some Instacart shoppers use Instacart batch grabbers and bots to grab more batches.
If you're in the same position, you may be wondering what Instacart batch grabbers are, how they work, and whether they're worth using.
In this post, we'll take a detailed look at Instacart bots to help you make an informed decision. I'll also cover a few Instacart shopper tips to help you get more batches, so read on to find out!
Looking for easy money-making ideas? Try out:
YouGov – Get paid to share your opinion!
Arrived – Invest $100 or more and earn quarterly dividends from rental properties!
What Is an Instacart Batch Grabber?
An Instacart bot or batch grabber is an app that notifies you when new batches are available or accept them automatically when they're released.
Since Instacart has become so competitive, using an Instacart batch grabber gives you a competitive advantage because it automatically snatches batches faster than other shoppers.
Instacart batch grabbers are designed to automate the batch-grabbing process, so it's easier to grab batches with a bot than manually selecting them.
Some shoppers have been using them for a while, but this is controversial, as some believe it rigs the system against them.
Additionally, the use of batch grabbers and bots goes against Instacart's terms of service, and the use of these tools could result in penalties, or you could have your Instacart deactivated.
Instacart batch grabbers are similar to Amazon Flex grabbers, which help Flex drivers get more Flex blocks.
How Do Instacart Batch Grabbers Work?
There are two main ways that Instacart batch grabbers work. One type alerts you whenever a batch is available, and you have to manually accept the batch.
Other bots automatically select the batches for you based on your preferences. This streamlines the whole process and helps you quickly get the desired batches.
Depending on the type of Instacart batch grabber, you can set preferences based on criteria like pay, number of items, and distance. The bot then automatically refreshes the Instacart app, and once a batch that meets the criteria pops up, it grabs it immediately.
Both types of batch grabbers are designed for speed and efficiency. They act swiftly and claim batches instantly, so they can significantly increase the number of batches you get.
Most of them also have user-friendly interfaces so you can adjust the settings to your liking. These tools give you an unfair advantage over other shoppers, which is why jobs like Instacart have policies against using bots to game the system.
If you'd like to use an Instacart batch grabber, keep in mind the potential risk of being caught.
The Best Instacart Batch Grabber
Several Instacart batch grabbers exist, so how do you choose one? You can start by looking at what other shoppers recommend.
InstaMan is the most used batch grabber by Instacart shoppers. You can try this bot to see if it increases the number of batches you get.
Instaman is an Android app that helps Instacart shoppers claim more batches. It has a user-friendly interface and is customizable. Once you've downloaded the app, you can choose your preferred refreshing intervals, from one to ten seconds.
You can also set other parameters like pay and distance so the app will filter out low-paying batches that are not worth your time.
Instaman then automatically refreshes and goes through available Instacart batches, alerting you when a batch that meets your criteria becomes available.
Since these bots and grabbers violate Instacart's terms of service, they're pretty hard to find. Instaman is unavailable on the Google Play store, but you can find the APK files on sites like Reddit and Softonic.
Instacart shoppers usually post the links to Instacart batch grabbers on sites like Pinterest, TikTok, and Reddit.
Is Using an Instacart Batch Grabber Worth the Risk?
The ultimate question is, "Are Instacart batch grabbers worth it?" In my opinion, it's best to avoid them.
Instacart bots and grabbers might seem like a great way to increase the batches you get but at the risk of deactivation.
Using bots and grabbers directly violates Instacart's terms of service, so your account will be permanently banned if caught.
Bots and grabbers interfere with the Instacart platform and give you an unfair advantage over other shoppers, which is why they are prohibited.
All in all, Instacart batch grabbers may not be worth the risk. Instacart shoppers seem to be split when it comes to this, some condemning bots, while others believe that since the game is already rigged, using bots levels the playing field.
Here are a few comments from Instacart shoppers on Reddit regarding the use of Instacart bots:
United-Gain1839 says: "I believe all those people on YouTube that post their weekly earnings that add up to $2,000 and more are using bots."
Ok-Guitar6116 says: "I've used it a few times, it used to work pretty well, like 5/6 high paid batch a day, but since last updated, it barely gets you 1 or 2 batch a day. Right now, working without it is better."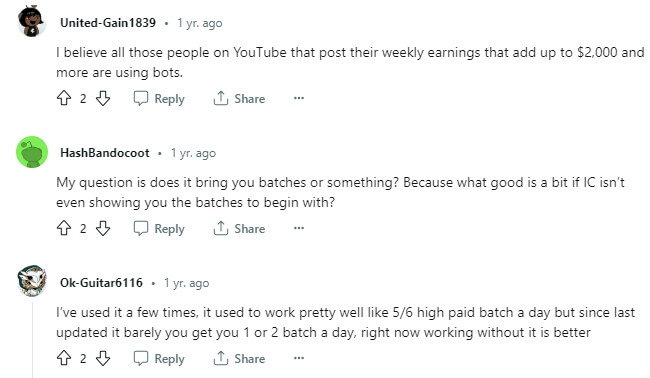 Batch grabbers are controversial and prohibited, so it's best to avoid them. Besides, you can use plenty of legitimate tips and tricks to get more Instacart batches.
Pros and Cons of Instacart Batch Grabbers
Weighing the pros and cons of Instacart batch grabbers can also help you make an informed decision.
Pros:
Increased earning potential
Increased efficiency at grabbing batches
You can customize the batches you get
Cons:
Using bots goes against Instacart's terms of service, and your account could be permanently deactivated.
Bots give shoppers an unfair advantage
The tools may not be constantly reliable
How To Get More Batches on Instacart (Without Using Instacart Bots)
Since Instacart batch grabbers may not be worth the risk, here are a few effective tips to increase your batches and maximize your earnings:
1. Improve Your Shopper Rating
Instacart rewards shoppers with higher ratings by giving them priority access to batches. As such, you should maintain your rating at 4.7 stars or higher to improve your chances.
Customers rate you based on speed, order accuracy, and the general experience. Providing stellar customer service is the best way to improve your shopper rating.
Here are a few customer service tips to help you:
Communicate with the customer. Contact them when you start shopping, and ask for clarification when necessary, like when you need replacements. You should also notify them of any delays.
Use an insulated food bag for temperature-sensitive items.
Arrange the items in a way that they'll be easy to unpack.
Be professional and polite when making the deliveries.
You can go the extra mile by offering to help them carry heavy items.
2. Position Yourself Strategically Near Popular Stores
Instacart also considers your location when assigning batches, so you may have better luck waiting near Instacart hotspots.
These hotspots are generally areas with frequented grocery stores. You can find these busy areas using the heat map on the Instacart shopper app.
Many Instacart shoppers agree that parking near convenience stores significantly increases the number of batches they get. Waiting at or near a hotspot may not guarantee increased batches, but you could try your luck.
One challenge with these hotspots is a lot of competition, so it comes back to improving your shopper rating so you have priority access.
3. Choose the Busiest Times To Work
Figuring out the best time to do Instacart in your area is one of the best ways to get more batches and maximize your Instacart pay.
The busiest days and times to work tend to vary from one city to another, but shoppers generally agree that they see the most orders on weekends.
If many customers in your area are placing grocery orders on Sunday, logging in to work on that day significantly increases your chances of grabbing more batches.
Tuesday to Thursday are typically slow days on Instacart, but this could differ in your area.
You can do your own research by noting the batches you get throughout the week and comparing them. You could also look at what other Instacart shoppers in your area say about the best times to Instacart on Reddit.
Some shoppers advise logging in to work when Instacart batches start, which can be as early as 6 a.m. Try logging in early since there is less competition at that time.
4. Consider Double-Batch Orders
Sometimes Instacart assigns double-batch orders, where you're required to make two deliveries at the same time.
You assemble both orders at the same store and then deliver them separately. You qualify for double batches once you've made at least 60 deliveries on the app.
With double batches, you can increase your hourly income because you're shopping for two customers simultaneously instead of driving to another store to shop for the second customer.
While double batches don't necessarily pay double, you earn more with a double batch than a single batch, and you free up time to take more orders.
You must be careful to keep the orders separate when doing double batches, so it requires more effort and attention.
You can devise a system to divide the products and keep the items organized to avoid messing the orders up.
5. Get Approved for Special Batches
Instacart has special batch deliveries, and shoppers must be approved before getting them. These special batches are alcohol delivery, prescription delivery, cooler bag delivery, and bulk batch deliveries.
Getting approved for these special order types significantly increases the number of batches you get. Getting approved for these batches is easy, as everything is found on the Instacart shopper app.
You can get approved by completing the alcohol and prescription delivery certification courses.
For the cooler bag delivery, you need to get your insulated bags approved by sharing photos of the bags and giving information about them.
Once you're approved for these special batches, you'll widen your scope and have access to more batches.
6. Try Other Gig Apps
There are many other driving apps that pay you can try to maximize your delivery opportunities and make more money.
Here are some of the high-paying gig apps to consider:
DoorDash: A popular food delivery platform where you can even make money with your bike delivering meals.
Uber Eats: Another food delivery app you can join to make money delivering fast food and restaurant meals in your city.
Grubhub: An online food delivery marketplace that partners with local restaurants. You can sign up to deliver the meals to diners within your area.
Walmart Spark: Use the Spark app to deliver food, groceries, and other products to Spark customers.
GoShare: A moving and delivery platform that connects you with individuals and businesses in your area needing help moving heavy items.
Roadie: Make money helping people move using the Roadie platform. The app is especially great for people with big trucks or cargo vans.
Amazon Flex: This platform hires drivers on an independent contractor basis, where you get paid to deliver Amazon packages on your schedule.
Frequently Asked Questions
Are Instacart Bots Illegal?
Instacart bots and grabbers are not illegal, but using them to gain an unfair advantage goes against Instacart's terms of service.
Instacart permanently deactivates the accounts of any shoppers found to be using bots and batch grabbers.
Can Instacart Detect Bots?
Instacart, like other gig economy platforms, has measures in place to detect the use of bots. Measures like user reports, machine learning algorithms, and behavioral analysis help Instacart crack down on batch grabbers and bots.
How Do I Get a Batch Grabber for Instacart?
Links to Instacart batch grabbers and bots are often posted on sites like Instagram, Reddit, TikTok, and Pinterest.
Since these bots violate Instacart's terms of service, they're not usually listed on Google Play or App Store.
How Does Instacart Decide Who Gets Batches?
The two main factors Instacart considers when assigning batches are shopper rating and location.
The closer you're to a busy store, the easier it is to get batches. Additionally, shoppers with a shopper rating of 4.7 stars or higher get priority access to Instacart batches.
Final Thoughts
Some shoppers use Instacart batch grabbers and bots to gain a competitive advantage, which is understandable. But given the risk of deactivation, bots may not be worth it.
While the grabbers are not illegal, using them goes against Instacart's terms of service.
Hopefully, this post has provided more profound insight into how bots and grabbers work and why they might not be worth it.
There are many other effective ways to increase the Instacart batches you get, like improving your shopper rating. Besides, you can sign up for other jobs like DoorDash to maximize your earnings.
Looking for other money-making ideas? Checkout these posts: