Where To Sell PS5 for Cash in 2023 (15 Best Places!)
Updated on September 15, 2023
This post may contain affiliate links which means that sproutinue.com may make a small commission at no extra cost to you. We only promote products that we love and feel will benefit our readers. Please read our Disclosure Policy for more information.
Since its release, PS5 has captivated gamers worldwide with its cutting-edge technology and immersive gaming experience.
However, many new gaming consoles have emerged since then, and you may be wondering where to sell your PS5 console to get a new one.
Many people would gladly take the console off your hands. Given the high cost of new consoles, most individuals purchase used ones because they're more affordable.
While you won't get back the actual value of the console, some cash is better than none. There are many places where you can sell your PS5.
In this post, I'll share the best places to sell a PS5 for cash.
Want to make some quick bucks? Try out:
Prime Opinion – Join this survey site and earn a $10 sign up bonus!
Crowdtap – Complete online surveys and cash out your earnings at $5!
Where To Sell PS5 for Cash
Whether you're looking to upgrade to the latest gaming system or simply wish to declutter your gaming setup, there are several places you can sell your PS5 for cash.
From local sites to online marketplaces, you can sell your PS5 console in plenty of places. I've compiled a comprehensive list of reputable platforms where you can easily find a buyer for your console.
1. Gizmogo
One of the best places to sell your PS5 online for cash is Gizmogo. This website specializes in electronics like phones, laptops, cameras and gaming consoles. 
Selling on this platform is a straightforward process. You only need to search for your device, receive a quote, ship your item, and get paid.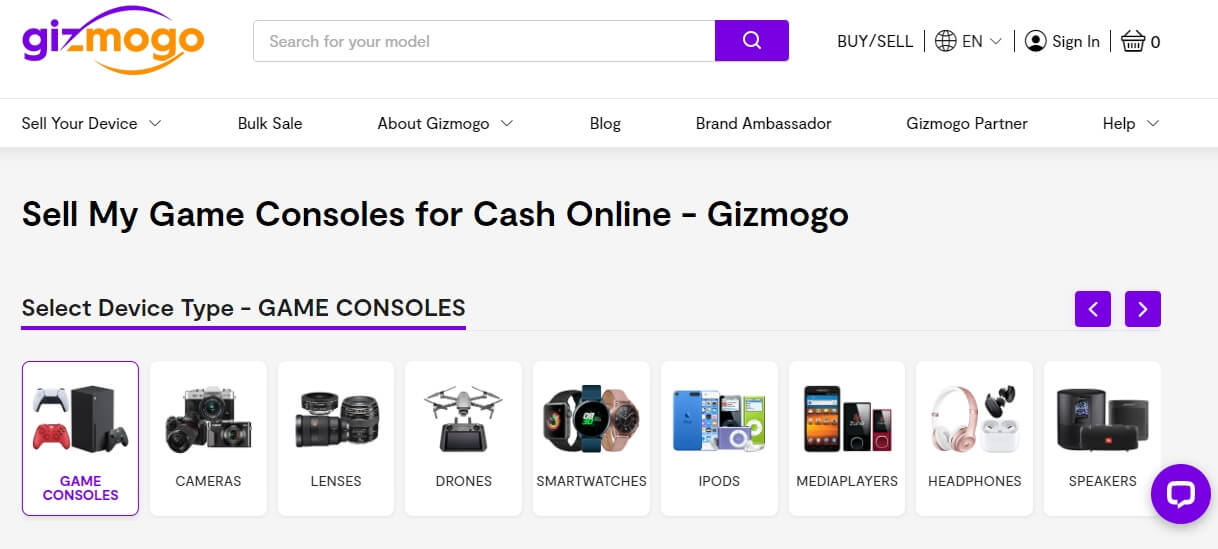 A huge advantage of Gizmogo is the free shipping label and shipping boxes they offer after you submit your order.
Another plus is their fast payment. Within one business day after they receive your device. They offer payment through Zelle, PayPal, Cash App, check, e-check, and Amazon gift cards.
They also have excellent deals you can take advantage of. You can sell your PS5 right now for $309 and a PS5 Digital Edition for $244.58.
Gizmogo advises cleaning your console to get the most cash back. It also helps to have original packaging and accessories like power cables.
2. Decluttr
Decluttr is one of the most trustworthy marketplaces for selling electronics like gaming consoles. This site will give you a good deal if you want to sell your old PS5.
The selling process on this platform is simple. You only need to follow the following steps:
Search your PS5 model to get an instant valuation
Select the condition, whether good, poor or faulty, because the price depends on this
Get a quote
Ship your PS5 console to Decluttr if you accept their quote
Get paid. Payment is made via Direct Deposit or PayPal
Currently, Decluttr is paying $310 for a PS5 in good condition. Don't worry if you don't have the original box; this doesn't affect the price.
You can still get up to $192 if your PS5 is in poor condition. In this case, poor condition means the console shows signs of heavy wear and tear but still works well.
If you cannot get rid of your device and no one will buy it because it's faulty, consider selling it to Decluttr. This platform will buy your defective PS5 for $19. This is not much, but it's a good bargain.
Another perk of selling to Decluttr is you don't have to handle shipping. They send you a prepaid shipping label.
The platform works on the concept of next-day payments. It's, therefore, not a good choice if you need immediate cash.
3. Mercari
Another great place to sell your PS5 is Mercari. Gaming consoles like the PS5 are among the best-selling items on Mercari, so it's worth a shot.
You can sell your PS5 on the platform by following these simple steps:
Create an account on Mercari: You can do this on the web or using their mobile app, which is convenient.
List your PS5: Creating a listing is free. Ensure you take good photos of the console from different angles and have good lighting. You also need to add a description at this stage. Be honest about the condition of the PS5.
Set your price: You can search for similar products on the app to see what other sellers charge for the PS5.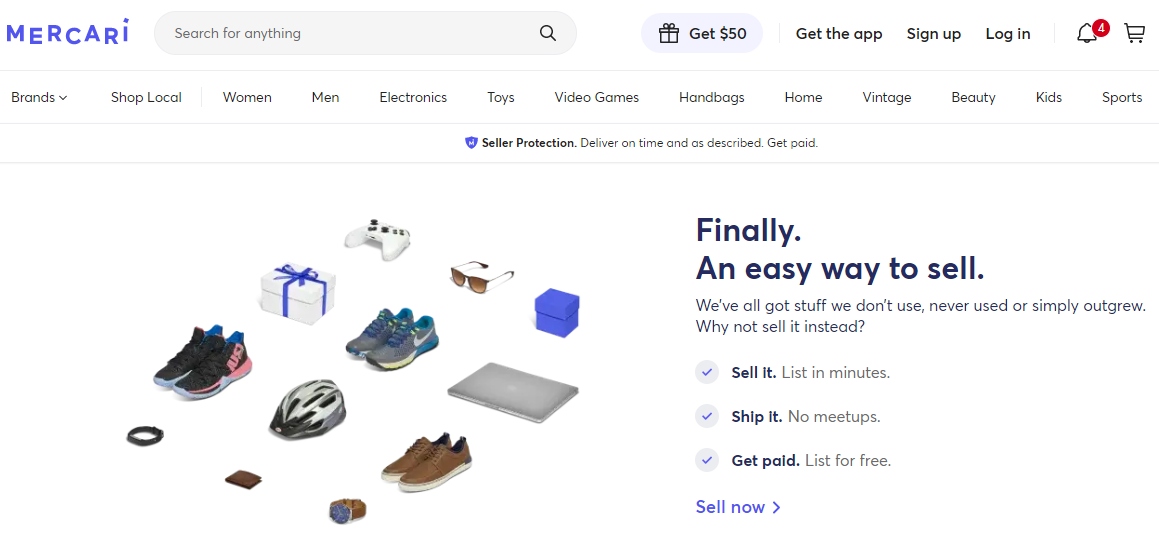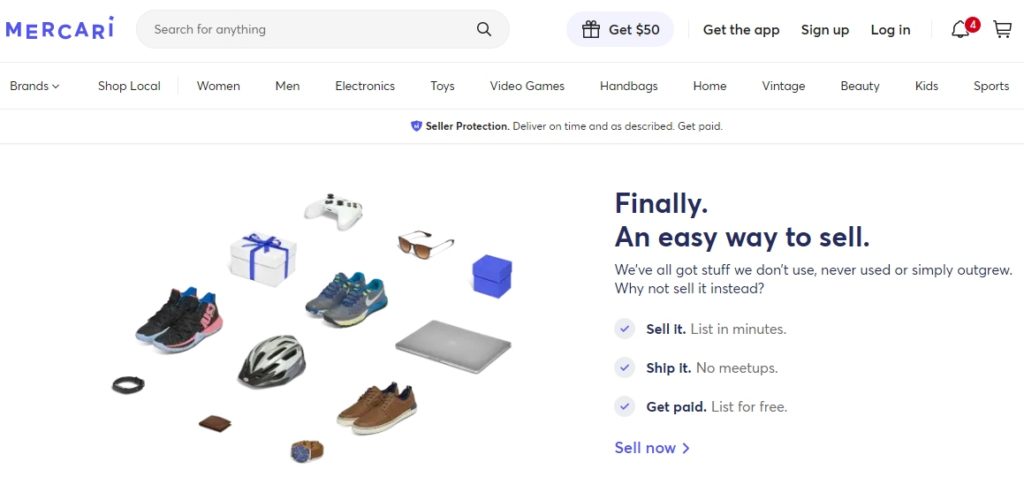 One perk of selling via Mercari is they send you a 40% discounted shipping label if you choose to ship with them.
One helpful trick to selling on Mercari is to cover the shipping costs as an advantage to the buyer. Should you decide to do this, ensure you factor the shipping costs into the price of the PS5 so that you don't incur a loss.
Payment is via instant pay at a 3% fee or direct deposit. Direct deposit is free for transfers over $10.
Regarding whether to sell on this platform, remember that Mercari seller fees are 10% on every completed sale.
Extra Reading: How To Sell on Mercari
4. OfferUp
OfferUp is a great option to sell your PS5 console if you don't want to meet the buyer in person.
Like Mercari, it allows you to sell online. Unlike Mercari, however, it also allows you to sell locally. This is great since you won't have to worry about shipping.
Since electronics are a popular thing to sell on OfferUp, you have a good chance of selling your console.
If you decide to sell online, follow the following steps to list your item:
Add good photos, a title and a description.
Quote your price. Set a price near that of similar items. If your price is fixed, engage the Firm On Price option.
Choose a delivery method.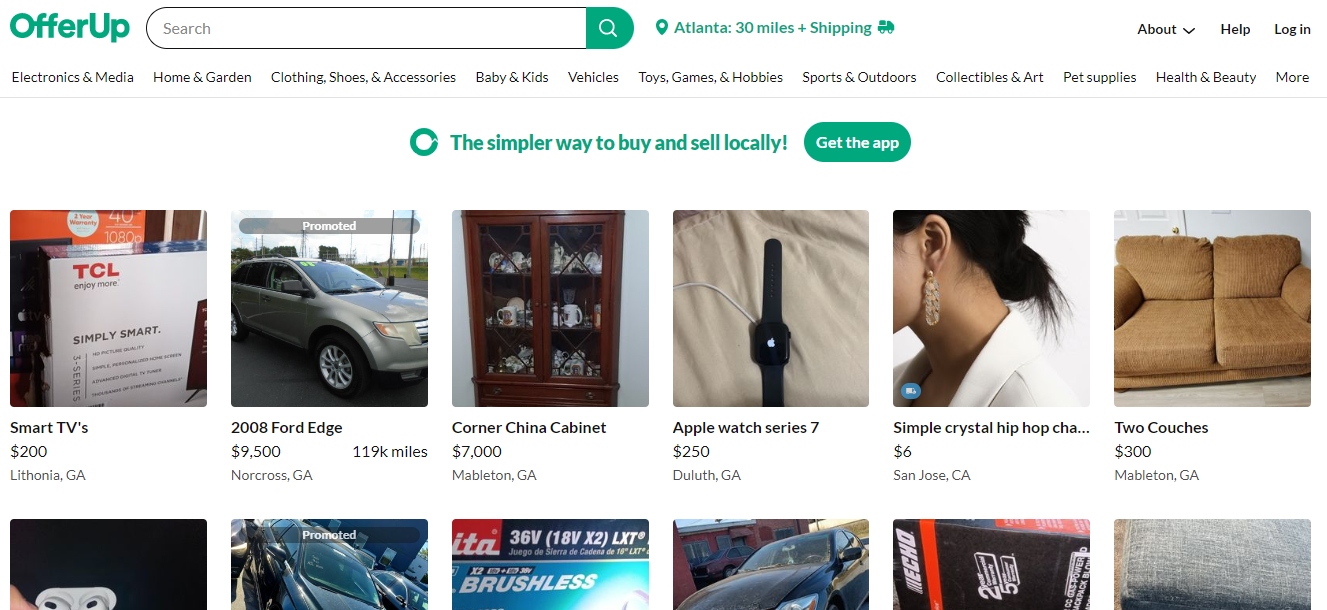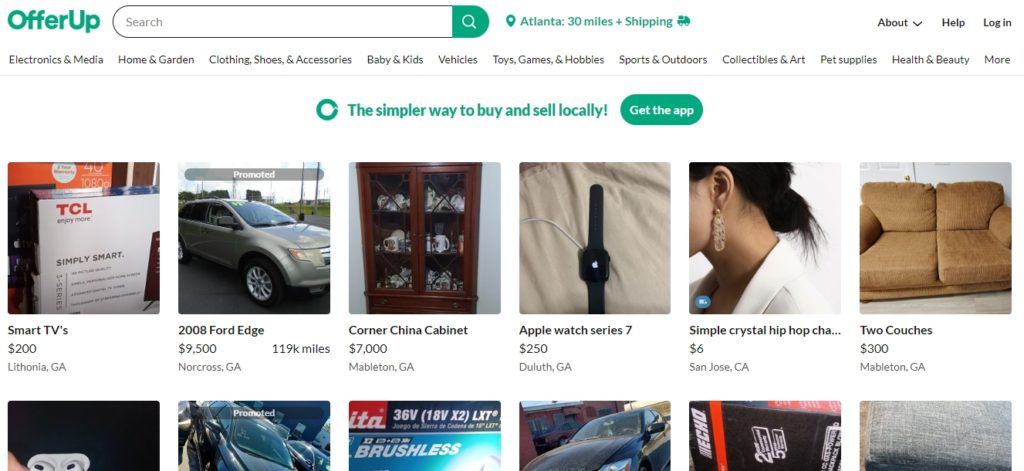 From there, wait for interested buyers to contact you. Remember that, OfferUp charges a 12.9% fee on the item's price for online transactions once the sale is completed.
An advantage, however, is that buyers pay for shipping. Payment is made within five business days after you've shipped the item.
You'll have to negotiate the price if you sell to a local buyer. OfferUp has a built-in messaging feature where you can engage with buyers.
Once you agree on a price, meet the buyer at a public place to finalize the deal. Ensure you meet at a public place and only accept cash to avoid getting ripped off.
5. Swappa
Like Decluttr and Mercari, Swappa is a great place to sell your PS5 console online. You only need to create an account, list your item, choose your price, and wait for a buyer to contact you.
Payment is made instantly via PayPal. You'll receive the payment before you ship the item.
Swappa is one of the best options to sell a PS5 console because of its high resale value. A PlayStation 5 Standard Edition is going for around $508 right now. This is an excellent deal for a used console.
While considering selling on this platform, note that Swappa charges a 3% seller fee on final sales.
6. Back Market
Back Market has made a name for itself in the resale of refurbished electronics. You can, therefore, sell your PS5 on this website without a hassle.
Before selling on the platform, you must undergo a screening process. This entails answering a questionnaire to prove legitimacy. Once you pass the test, you must search for your item, enter the brand, model, and condition, and get your quote price.
If you accept the price offered, enter your name and bank details. Back Market will then provide a prepaid shipping label via email.
You can get up to $350 if your console is in good condition. You also need to keep in mind that the number of accessories like controllers you have, the higher the price you'll get.
You'll receive a payment within six business days after the refurbisher receives your console.
7. GadgetPickup
Like Back Market, GadgetPickup also specializes in the resale of tech. If you don't know how to get rid of your old PS5, consider selling to this site in simple steps:
Find your device. Enter your console's brand, model and condition.
Get an offer
Ship the device. They send you a free shipping label, so you don't have to worry about this. The prepaid shipping label is only valid for 14 days.
Get paid. They make payments within 48 business hours through Check, Zelle, or PayPal.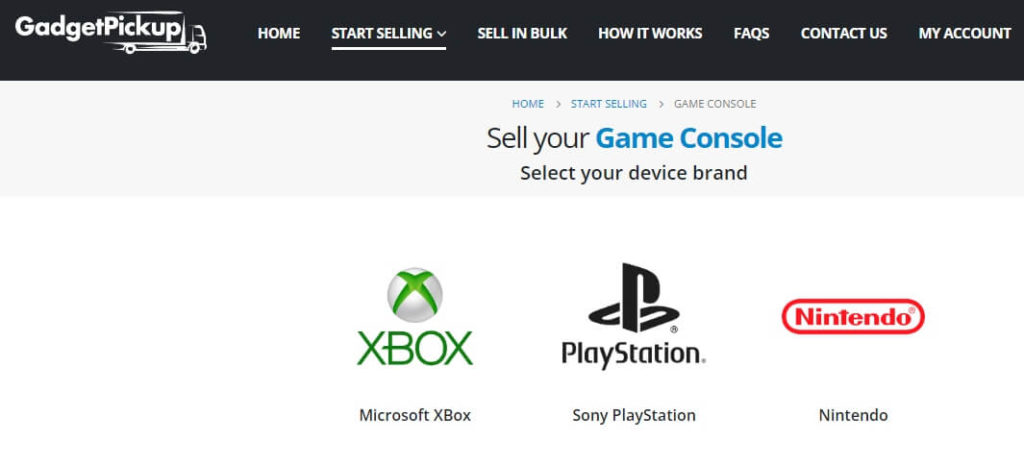 You can get about $357 for your PS5 and $281 for a PS5 Digital Edition.
GadgetPickup is worth checking whether you want to upgrade your gaming system or make a few coins.
8. eBay
eBay is one of the largest online marketplaces in the world. You can sell anything on eBay, including sneakers, Pokemon cards, and sports cards.
With this in mind, electronics aren't left behind. The platform is a home for more than 130 million buyers, so you have a good chance of selling your PS5.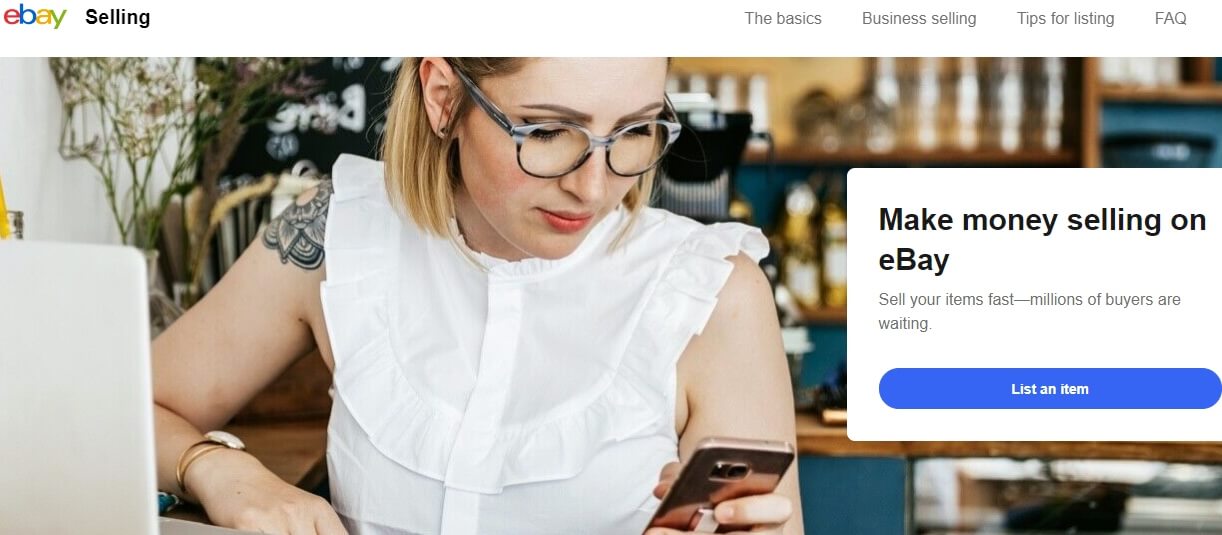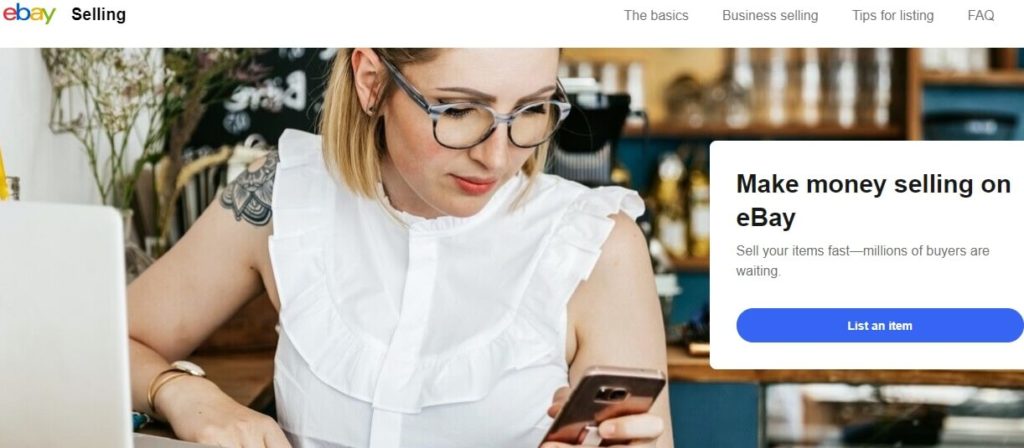 You can get cash for your old console by doing the following:
Create an account
Create a listing
Set your price. You can set a fixed price or auction your PS5.
After that, wait for interested buyers to contact you.
The platform charges a 13.25% seller fee on the final value of the sold item. This is high, but eBay allows you to sell your PS5 fast.
9. Amazon
Are you still wondering where to sell your PS5? Amazon is an excellent option. You only need to sign up, follow the on-screen instructions, and choose a selling plan.
Amazon has two selling plans. The first will require you to pay $0.99 per item sold in addition to the selling fees.
The second plan requires that you pay $39.99 per month plus the additional selling fees. The second option makes more sense if you plan to start a reselling business.
You'll also need to pay a referral fee of 8%.
10. Facebook Marketplace
Sites like Facebook Marketplace are famous for connecting sellers to local buyers conveniently.
Like many platforms mentioned in this post, listing your items on Facebook Marketplace is free. You, however, need to have a Facebook account.
Once your account is up and running, create a listing. Add a title, price, and photos of your PS5 to your listing. After that, publish your listing and wait for eligible buyers to reach out.
Add accessories like controllers to your PS5 to attract more buyers. You may also need to negotiate the price. Ensure you don't sell your console at a loss.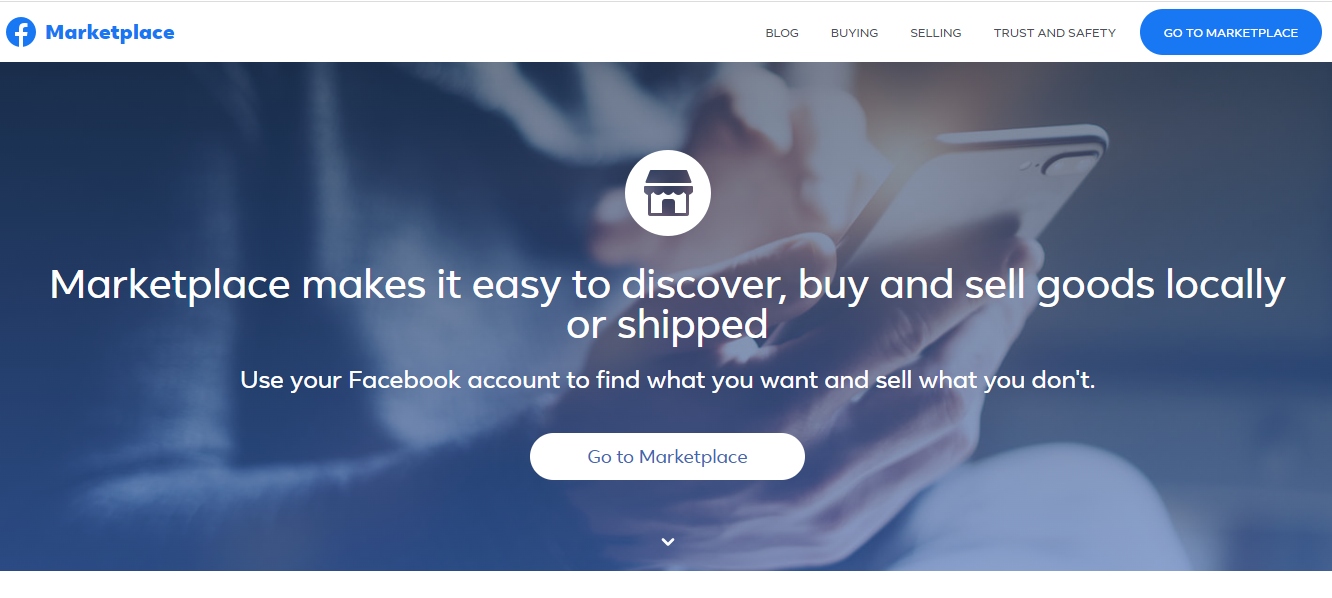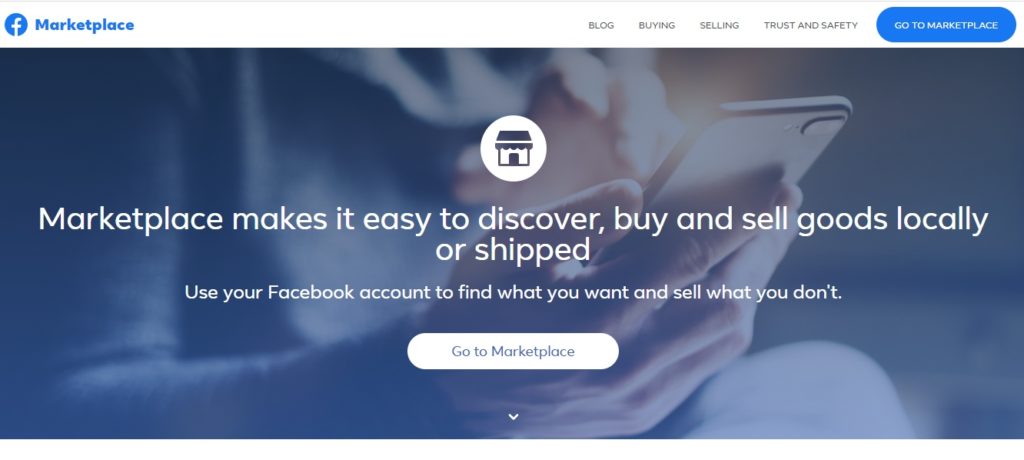 A huge advantage of the Facebook Marketplace over other popular selling sites is that you're paid in cash, so you don't have to deal with shipping.
Facebook recommends meeting with the buyer in a public place to prevent theft. Also, don't conduct any deals with people who seem suspicious. They also recommend you use secure payment systems such as PayPal to avoid getting defrauded.
11. Craigslist
Like Facebook Marketplace, Craiglist enables you to find a local buyer for your PS5.
You don't need to have an account to create a posting of your item. Like any other selling platform, you must create a listing and set your price.
Remember to negotiate with a few buyers before you land the best offer. Ensure the price you set leaves room for this.
You should also ensure you meet with buyers in public to prevent theft. If a buyer seems strange, don't meet up with them. On the upside, getting paid in cash relieves you of all matters of shipping.
12. StockX
Another best place to sell PS5 is StockX. Selling on StockX is simple and only takes four steps:
Create an account
List your item and set an asking price
Ship your PS5 to StockX
Get paid
For all StockX sales, there's a 3% payment processing fee and a 10% seller fee if you're selling on the platform for the first time.
This fee is relatively high compared to similar platforms like Decluttr and Swappa.
13. Pawn Shops
Pawn shops are an excellent option to sell your PS5 for cash if you need quick money.
Items pawn shops always buy include gaming consoles, collectables like Funko Pops, antiques, and watches.
The downside of pawnshops is you'll get a lower price because the shop has to profit from reselling your PS5. The upside is that you get the money in cash on the same day.
If your PS5 is in good condition and comes with a few controllers, it may fetch you a reasonable amount of cash.
You can also clean your console to make it more presentable, which could increase the amount of money you get.
Extra Reading: Surprising Things You Could Pawn
14. SellCell
Another legit site you can sell your PS5 on is SellCell. They're a company that specializes in reselling gadgets like phones, smart watches and gaming consoles.
Here's how to sell your PS5 on SellCell:
Search for your device. Use the model, make, and condition to search price offers
Choose the best deal
List your console once you get a buyer
Get paid
An advantage of SellCell is that they run a background check on their buyers. This reduces fraud cases. They also compare prices for different companies to ensure you land the best possible deal.
Shipping depends on the buyer you engage with. Some will send you a free shipping label, while others will cater for everything, including the shipping packaging.
It is entirely up to you to review all these details before settling on a buyer. Payment terms also vary depending on the buyers. Most pay via check, PayPal, and bank transfer.
15. BankMyCell
Finally, on our list of the best places to sell your old PS5 is BankMyCell. Like SellCell, this company also resells electronics.
To sell on this platform, follow the steps below:
Search for your device
Get an instant quote
Ship the item if you accept the price
Get paid
Shipping is free, and payment is made within 24-48 hours via PayPal, direct deposit, check, Cash App, or Zelle.
Depending on the condition, model, and storage capacity, you can get between $275 and $350 for a PS5 on this website.
Factors That Influence the Value of Your PS5
Now that you know where to sell PS5, let's dive into the factors that influence its value so that you get the best prices.
Condition: Generally, the better the state of your PS5, the higher the price it'll fetch. You need to be honest about the situation of your console.
Model: The price of your console will hugely depend on whether it's standard or the digital edition. The former is generally more expensive.
Age: Your PS5 will be worth more if newer than old. However, age won't be a big deal if it's working perfectly.
Accessories: You can earn more if your PS5 comes with fewer controllers than none.
Tips for Selling Your PS5
If you want to make the most out of your PS5, here are some useful tips to keep in mind when selling your gaming console:
Respond promptly to buyers: Responding late may make buyers move on to other sellers, making your selling process longer.
List on multiple platforms: This enables you to reach many buyers and hence allows you to compare offers before settling for the best.
Know your lowest price: Set your bottom price to avoid underselling your PS5. Don't negotiate with buyers who want you to go too far below the bar.
Upload many clear photos: Include as many photos as possible in your listing. They should be clear so the buyer knows exactly what they're purchasing.
Write a descriptive title: Tell potential buyers all they need to know about your console. Be honest about any problems it might have.
Frequently Asked Questions
Where Can I Sell PS5 for Cash Near Me?
There are many places where you can sell a PS5 for cash near you.
One place near you that you can try is a local pawn shop. You won't get the true value of your PS5, but pawn shops are a great option if you need quick cash.
Another place to sell a PS5 near you is to search for local buyers on sites like Facebook Marketplace, OfferUp, and Craigslist.
How Much Can I Sell My PS5 for?
The price of your PS5 will vary depending on the site you decide to sell on, the console's condition, model, and storage capacity.
Here is a list of platforms and approximate prices to expect if your console is in good condition:
BankMyCell: $275 to $350
SellCell: $256 to $324
GadgetPickup: $281 to $357
Gizmogo: $244 to $309
Swappa: $508
Decluttr: $310
For apps like Mercari, you'll have to set your price depending on whether you'll cover shipping costs or have the buyer cover them.
Can I Sell My PS5 With Digital Games?
There's no way to sell your PS5 with digital games unless you keep your account and information on the console.
When you sell your PS5, you're expected to remove your account and restore the console to its factory settings. This may therefore remove the digital games on your PSN account.
Can I Sell My PS5 on GameStop?
Yes, GameStop is one of the places where you can sell your PS5 console. You can earn cash or store credit.
GameStop gives you offers that are only valid for a day. You must print the offer and take it to a GameStop store before it expires. You can get between $280 and $308 for your console.
Final Thoughts
Technology has made it possible to sell virtually everything effortlessly.
Whether you're looking to upgrade your gaming console or earn a few dollars, there are many places where you can sell your PS5 for cash.
From online marketplaces like Mercari and StockX to selling to local buyers, you can earn cash for your old console instead of letting it collect dust in your home.