Is Kashkick Legit or a Scam? (Kashkick Review 2023)
This post may contain affiliate links which means that sproutinue.com may make a small commission at no extra cost to you. We only promote products that we love and feel will benefit our readers. Please read our Disclosure Policy for more information.
If you're searching for rewards sites to make extra cash on the side, you've probably come across Kashkick. The first thing you want to do before signing up is read a Kashkick review to decide if it's the right platform for you.
Reward websites are all the rage these days. They provide an alternative way to make extra cash without too much effort. After all, who doesn't want to earn free cash without breaking a sweat?
There's certainly no shortage of reward websites, much to the delight of many side hustlers. However, with so many of these websites, it's hard to differentiate legit websites from downright scams.
One of these reward websites is Kashkick, a survey site that has recently gained much traction.
Kashkick's value proposition is straightforward 一 participate in activities like surveys, sign up for Kashkick offers, play games, and get paid.
With no earning limit, you can make a serious killing from the platform if you put in the effort. 
In this Kashkick review, I'll discuss how Kashkick works, ways to earn from the platform, and the pros and cons to help you decide if it's the right reward site for you.
What Is Kashkick?
Kashkick is a combination of a get-paid-to and a survey website. It gives you the opportunity to make money online by completing surveys, trying out new products, and playing games.
KashKick is available to anyone over 18 years and lives in the U.S. The platform offers a vast array of activities to earn money.
It also has a referral program that rewards users for referring other Kashkickers.
How Does Kashkick Work?
Kashkick has partnered with other third-party companies that want to get feedback from consumers or market their products to a broader audience.
The companies pay Kashkick to find consumers who will provide feedback. When you complete surveys, for example, Kishkack pays you a portion of the money.
Here's a step-by-step guide on how Kashkick works:
Step1: Sign Up
There are four ways to sign up for Kashkick: PayPal, Facebook, email, and Google Account. 
If you click "Sign Up with Paypal," you'll be redirected to Paypal's logging screen. Enter your email and password to log into your account.
Once logged in, KashKick will ask permission to interact with your account. Click "yes," and you're good to go.
You can sign up with Facebook by clicking the "Sign Up With Facebook" button. Kashkick will ask for permission to access your account. Once approved, you can start participating in Kashkick surveys and activities. 
If you sign up via email, enter your email address and create a password to create an account. Kashkick will send you an email with a link to verify your account.
Once verified, KashKick will also ask permission to access your PayPal account if you're not already logged in.
The "Sign Up With Google" option allows you to use your Google account to create an account, complete your profile, and participate in Kashkick activities to make quick money.
Step 3: Complete Your Kashkick Profile
As with any other rewards app, you must provide additional information to complete your profile.
Remember, the answers you provide may impact your eligibility in the future, so ensure you're honest from the word go.
Kashkick will ask you to provide the following information:
Age
Gender
Zip code
Ethnicity (optional)
Relationship status
Level of education
Current household
Income
The industry you work in
Kashkick asks these questions to match you with relevant surveys. It will take three minutes to complete your profile, and you'll earn a dollar.
Step 4: Participate in Various Activities to Earn Cash
Once you're logged into your Kashkick account, you'll find a variety of activities to make money off the platform.
These activities range from completing surveys to trying new products and even playing games. 
Is Kashkick Legit or a Scam?
KashKick is a legitimate website that pays users to complete surveys, offers, and play games. Personally, I was able to create an account, complete a couple of activities and cash out via PayPal.
It may not be the most lucrative reward site, but it offers an opportunity to make extra cash on the side. If you spend your spare time surfing, why don't you make money doing what you do daily?
What Are the Different Ways To Earn Money on Kashkick?
KashKick offers its users a variety of ways to make money. Here are four ways to earn money on the platform:
1. Surveys
The number one Kashkick reward option is through paid surveys.
Kashkick has various surveys available, ranging from simple to more complex ones. It with match you with relevant surveys based on the information you provided when completing your profile.
The amount you'll earn from taking surveys will vary depending on the length and complexity of the survey. For example, a 5-minutes survey will earn you $1.50.
2. Referrals
Another way to earn cash on Kashkick is through its referral program. If you have several people to refer, this is an excellent way to boost your earnings. 
When you refer other Kashkickers to the platform, KashKick rewards you with 25% of the referrals' lifetime earnings.
However, it doesn't deduct this amount from the referral's earnings.
3. Reward Offers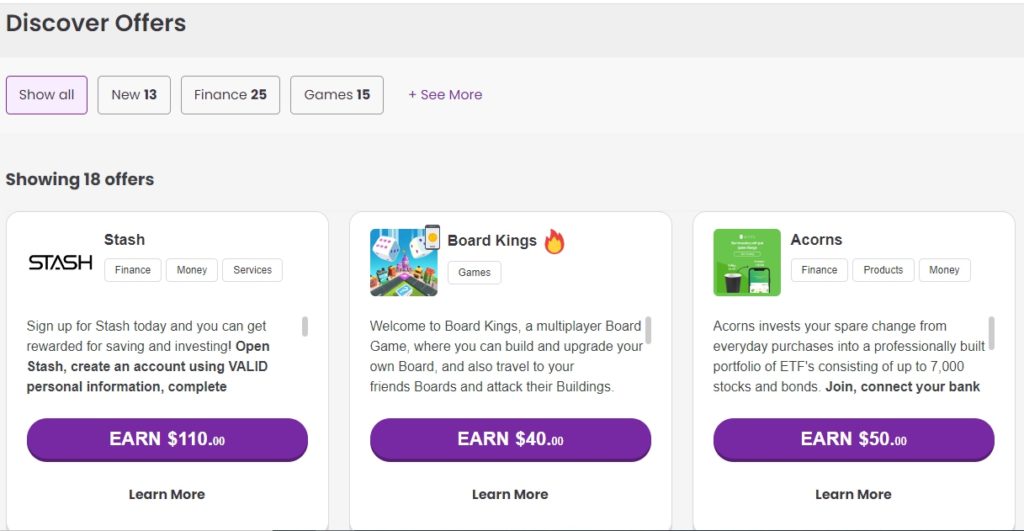 KashKick offers Kashkickers the opportunity to make money by signing up for various companies in categories like shopping, finance, products, and more. 
When you sign up with these companies, Kashkick will reward you. It's like killing two birds with one stone. You benefit from the company's services and make money from it.
The platform has an extensive selection of products from top brands, meaning you can get the best deals on premium products.
Some of the popular brands you can sign up for and earn rewards include:
Acorns
Klarna
Perpay
SoFi Invest
The good thing is that Kashkick tells you upfront how much money you'll earn for signing up for the offers.
For example, if you sign up with Stash today, you'll earn $110 for saving and investing on the platform.
Keep in mind that these offers are subject to change.
4. Games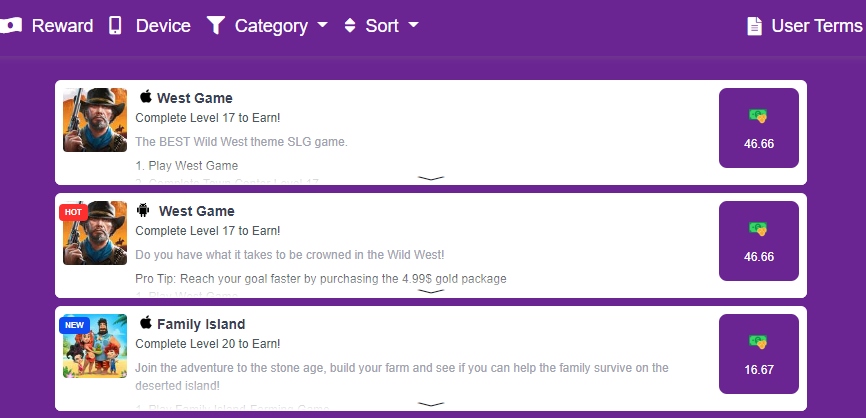 Kashkick also pays its users to play games. The platform has a selection of games, and some of the most popular include:
West Game
Family Island
Block King
Mafia City
Merge Dragons
Pirates of the Caribbean: Tides of War
Kashkick rewards Kashkickers with points for playing these games and completing different levels.
This is a fun and exciting way to make money with Kashkick, just like other gaming apps like Mistplay.
How Much Can You Make on Kashkick?
An honest Kashkick review will discuss the earning potential. The amount you can expect to make on Kashkick depends on the activity you complete and the time it takes to finish. 
For surveys, you can earn anywhere from a dollar or more based on the length and complexity of the questionnaire.
For activities like signing up for reward offers and playing games, the amount will vary depending on what you complete. 
Generally speaking, Kashkickers can expect to make anywhere from a few bucks to tens of dollars per completed activity.
It's worth noting that making money from reward websites won't replace your monthly income. But if you have some spare time, it's a perfect way to make extra cash on the side.
Cashing Out on Kashkick
Unlike other reward sites that reward you in points you can redeem for gift cards, Kashkick pays in cash.
One thing I like about Kashkick is you'll know exactly how much you'll earn before taking on tasks like surveys.
You need at least $10 to cash out your Kashkick earnings via PayPal. The minimum withdrawal amount is quite high compared to other reward sites like Survey Junkie, which requires $5.
However, you can quickly achieve this with the various money-making opportunities on the platform.
One downside of Kashkick is the lack of direct deposit, and you cannot redeem your earnings for gift cards.
Pros and Cons of Kashkick
Like any other reward website, Kashkick boasts its fair share of pros and cons.
Pros
Simple registration process: Kashkick's registration process is straightforward. You can sign up using Facebook, PayPal, or your email and start earning money.
Get paid in cash: You'll earn real PayPal cash on Kashick, which is what many people prefer to points and gift cards.
Variety of ways to earn money: Kashkick offers a variety of ways to make money, from playing games to completing surveys and referring other Kashkickers.
Cons
No sign-up bonus: Kaskick doesn't offer a sign-up bonus like other reward websites like MyPoints. However, you'll get $1 for completing your profile.
Low earning potential: Kashkick's earning potential is relatively low. You can make anywhere from a few bucks to tens of dollars per activity or survey completed.
Lack of mobile app: Kashkick doesn't have a dedicated mobile app for Kashkickers to use. You can only access KashKick through their website.
Not available globally: Kashkick is only available in the U.S.
Alternatives to Kashkick
Kashkick is one of many reward sites to make money online. If Kashkick doesn't fit your needs or you want to combine multiple platforms to boost your earnings, consider the following alternatives:
Swagbucks
Swagbucks is a popular reward site that will pay you to answer surveys, play games, shop online, and watch videos. You can redeem points for Amazon gift cards or cash out via PayPal once you earn $1, equating to 100 Swagbucks(SB).
Survey Junkie
Survey Junkie is another survey site that pays you for completing surveys. The reward site boasts millions of active users and pays in cash via Paypal, check, or e-gift cards once you earn at least $5. It also has the SJ Pulse program, where you can earn money by sharing your browsing behavior.
InboxDollars
InboxDollars pays users to take surveys, read emails, watch videos, play games, and shop online. Earning potential is higher than KashKick's, and the sign-up process is also straightforward. You'll get a free $5 bonus for signing up with InboxDollars.
LifePoints
LifePoints is an easy-to-use survey site with various surveys to choose from. Unlike the other reward sites, LifePoints is purely a survey site. You'll earn points for every survey you take and redeem them for cash or gift cards.
Opinion Outpost
Opinion Outpost is a survey site that pays its users to answer surveys. Every survey you complete will earn points you can redeem for cash via Paypal or Amazon gift cards.
Frequently Asked Questions
Who Can Use Kashkick?
Kashkick is open to U.S. residents over the age of 18. You must also have an active PayPal account to get paid by the platform.
Is Kashkick an App?
Kashkick is not an app. You can only access KashKick through their web browser. However, Kashkick has a mobile website that you can access from your mobile device.
Is Kashkick Safe?
Kashkick is a safe and legitimate platform for earning money online.
It takes its user's data privacy and security very seriously, so you can rest assured that your information is secure.
Besides, Kashkick pays its users for every task and survey completed.
Final Thoughts: Is Kashkick Worth It?
Kashkick is a legitimate platform to make extra money on the side. However, it has the lowest earning potential, especially if you're not interested in its reward offers.
As such, you should only use KashKick if you want to make some extra cash during your spare time. 
It is also worth noting that Kashkick will not replace your income. You can earn up to $100 a month if you put in the effort. This certainly will not be enough to cover your expenses.
For this reason, Kashkick is definitely not worth your time if you want to make a living. But if you're looking for some extra cash during your spare time, KashKick is a great reward site. It will not be much, but it is better than nothing.
I hope this Kashkick review has helped you decide whether it's the right reward site for you.
Looking for other apps like Kashkick? Try out: