Is the $750 Cash App Legit? (2023 Guide)
This post may contain affiliate links which means that sproutinue.com may make a small commission at no extra cost to you. We only promote products that we love and feel will benefit our readers. Please read our Disclosure Policy for more information.
If you've encountered numerous ads promising 750 cash app rewards, you're probably wondering whether it's legit or a scam. As you know, no one gives out free money unless they have something to gain.
The $750 cash app reward is legit, but you must complete tasks that include subscriptions, filling out online forms, and participating in surveys. It's important to note that Cash App doesn't offer these rewards but third-party sites and apps. Some people who tried it also disclosed that they got gift cards, not the Cash App.
In this post, I take you through an honest review of the $750 free Cash App, what it is, how it works, and what those who tried it think. I'll also share alternatives that you can use to make money.
What Is the $750 Cash App Reward?
The $750 Cash App is a reward that users get from third-party apps and websites directly to their Cash App account. To get the reward, you must complete various tasks, including subscriptions, answering surveys, and more.
Once you complete all the tasks, you get the reward which you can redeem to your Cash App account. This Cash App reward is a marketing tactic to get as many people as possible to hop on the site offering the reward.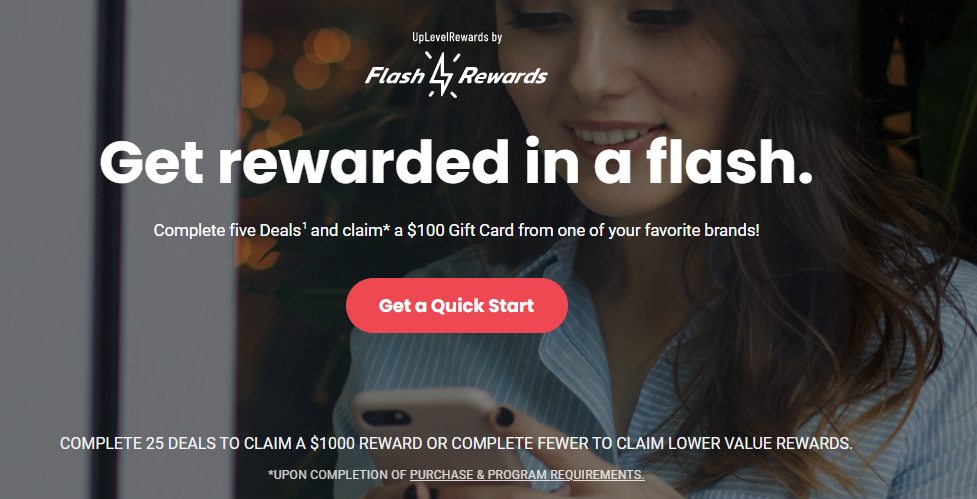 Only a few people complete all the tasks and get the reward. The ads insinuate that the 750 Cash App is a way to make quick money by completing some tasks. Unfortunately, the tasks are difficult and take up lots of time. You might also need to buy a subscription you usually wouldn't have.
Most people give up before getting to the end because it's too much work that's not worth it. Only a few users have earned actual money. The money is real only if you manage to pass all the hurdles.
If you choose to participate, make sure you're using a legitimate site, as there have been a lot of Cash App scams all over the internet lately. Don't share your personal and bank details to avoid being scammed.
Extra Reading: Is Flash Rewards Legit?
How Does the $750 Cash App Reward Work?
You first have to sign up for an account through Flash Rewards before you start completing deals. Here's a general outlook on how you expect things to flow:
As a first-time user, you get redirected to Flash Rewards, where you fill out your basic info, including name and email.
Complete a quick survey that helps the platform recommend the right deals and optional offers. Be honest when answering the survey to get the best-customized offers.
Complete deals at different levels. This may include shopping from Flash rewards partners.
Ensure you follow instructions to complete deals, including downloading apps, free trials, and purchasing items. You must complete all the deals in each level and get to level 5 to earn the maximum reward.
After completing all the deals, claim the reward and get it in a week or less.
You have up to 60 days to complete tasks after you've started your first task. Tasks aren't instant; some can take up to 14 days to credit. You can track your progress and see when tasks are verified as completed.
You can complete different amounts of tasks depending on the reward you're aiming for. There's also a limit to how many times you can participate. If you or someone in your household participated and got a $750 Cash App reward, you won't be able to do it again until one year from your claim date.
Here's a breakdown of the number of tasks you need to complete for each level before you claim the reward.
You may need to spend some money depending on the offers you choose. Remember, this is not a giveaway program. Everyone wants to spend the least amount possible, so you can play mobile games and get to certain levels to complete the task. If you don't mind spending some cash, you can buy the game perks and speed up your progress.
Some deals include free trial sign-ups that you can't cancel immediately. Set up reminders at the end of the trial to cancel before you're charged. Other levels have charity options that require you to pay anywhere from $1 to $50. You can choose one that suits you best.
Is the 750 Cash App Legit?
Yes, the $750 Cash App is real and not a scam. However, third-party apps and sites offer the reward, not Cash App. You have to complete some deals to earn reward.
Since it's not a giveaway program, you may have to spend money on subscriptions or games to earn money. This doesn't make the program a scam. Users who have claimed the $750 Cash App reward disclosed to have spent anywhere between $20 to $100.
The amount you spend before completing all the levels varies depending on the subscriptions and deals you opt to pay for. For example, there are free mobile games that you have to play to certain levels to complete the task. You may opt to pay for the in-game perks to speed up your progress or choose not to.
The deals also include some free trials you must subscribe to. You can't cancel immediately because it won't count if you do. Ensure you set up a reminder to cancel at the end of the trial. If you forget to cancel, the amount will add to your spending before getting rewarded.
Some users also claimed to get vouchers for different stores, VISA debits, and Amazon credits instead of the Cash App. This scenario happens when you select how to get the rewards or the reward type you initially started the process with.
The $750 Cash App is real, only that it's not as straightforward as the ads make it seem. The process of acquiring the reward is tedious and long. So, you not only need to spend cash but also be patient.
How To Claim the $750 Cash App Reward
After completing all the deals in all five levels, you can now claim the reward and have it sent to your Cash App or whichever reward type you selected.
Here's a step-by-step guide on how to claim the $750 free Cash App:
The first step is to verify your identity and the information you provided during signup. Ensure you use your real information when signing up because Flash Rewards must verify when claiming.
After completing all the deals, start the claiming process within 30 days. Don't leave your reward sitting around for too long.
Confirm that you're above 18 years old and a U.S. permanent resident by attaching your ID and filling out the claim form. It takes some time to verify your details, and once done, you'll receive an email on the claim process. Remember to check your junk/spam folder.
For identity verification, you must submit a copy of an unexpired government-issued ID and a selfie.
You may also need to attach screenshots of game progress, receipts, and confirmation emails, so keep them secure. You have up to 30 days to submit all the required information.
Once you submit everything and it's verified, you'll receive your reward in 7-10 business days.
Other 750 Cash App Reviews
Most people who came across the 750 Cash App reward are curious to know if it's real and what those who tried it have to say. The best way to tell if a platform is legit is by reading reviews from past users.
Though most people were unsuccessful, some Redittors have completed and gotten the reward. Here's what people had to say about it.
Brilliant_Rain5181 said it's legit, but money is not deposited to your Cash App. They got $750 in gift cards from Tango, Visa, Walmart, and Amazon. They also spent about $12 to sign up for the offers, which they canceled afterward and got a refund.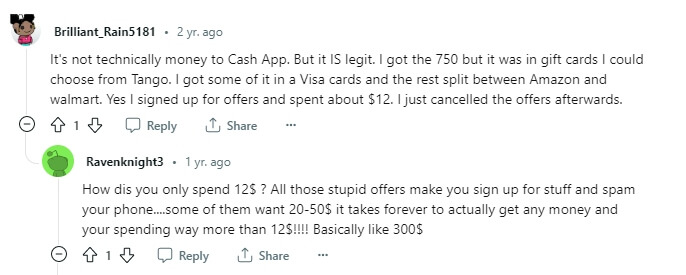 Some Redditors were skeptical, saying they heard it on the radio but weren't sure it works. One dismissed it by saying, "You probably have to sign up for a million offers" Most people doubting the offer couldn't believe it was advertised on mainstream media.
Another user said they did it via Instagram and got the reward as a $750 Visa gift card which they expected to be a Zelle. All they had to do was to take a survey and sign up for multiple free trials. They completed all the tasks on a Wednesday, got their claim to be verified on Friday, and got their virtual gift card via email on Sunday.
This user spent $1 shipping a highlights book trial, another $14.95 for HealthSapiens, for which they got back $10, and $14.95 for a newsletter trial refunded after canceling. All the other trials were free and involved things like VPN apps.
From the reviews above, the $750 Cash App is legit, but you must spend money to earn the reward.
Alternatives to the $750 Cash App Reward
There are other sites with the same concept of completing tasks as the $750 Cash App. Here are some of the best sites that pay and allow you to choose the offers you want.
Branded Surveys
Branded Surveys is a market research platform that allows users to participate in various surveys and get paid. This is a great alternative to the $750 Cash App, especially if you love sharing your opinion.
The platform is quite straightforward, and earning rewards is easy. When signing up, you answer a few questions about yourself, and the platform will match you to the best surveys.
For every survey you complete, you'll earn points you can redeem for PayPal cash or gift cards to major retailers.
InboxDollars
InboxDollars is a trusted and legit site that pays you to complete tasks at your own pace. You have a variety of tasks to choose from to get the reward. You can choose to read emails, take surveys or play games.
As a new user, you qualify for a $5 sign-up bonus when you create the account. Once you have the account, you can start completing the tasks that appeal to you. With every task, you earn rewards that's credited to your account.
You can cash out your reward as money or gift cards to Amazon or other popular retailers. InboxDollars has a good reputation for delivering promises and paying users promptly.
Swagbucks
Swagbucks has been rewarding users with gift cards for completing tasks since 2008. It's now the most popular get-paid-to website because it rewards you for doing things you already do online daily.
You can earn rewards on Swagbucks for simple tasks such as:
Shopping online
Scanning your receipts
Playing games
Answering surveys
Searching the web
The best part about Swagbucks is that you can only complete tasks that fit your lifestyle and preference. You also get a $10 sign-up bonus when you create a new account.
When you complete a task, your account is credited with SBs. Once you've accumulated enough SBs, you can redeem them for any prize you like, either gift cards to major retailers or PayPal cash.
Kashkick
Kashkick is another popular alternative to the free 750 Cash App that'll pay you to complete various tasks. You can play games, watch video ads, fill out surveys, or try new apps.
The only downside of Kashkick is that it doesn't have a mobile app, so you have to work with their site. Kashkick has a $10 withdrawal threshold; you can only withdraw your rewards when you hit this threshold.
Kashkick is a great option to make a few bucks in your spare time because it's extremely easy to use and start earning.
MyPoints
MyPoints is a trusted online shopping rewards site where you can earn points for completing tasks like shopping online, answering surveys, and playing games. You can redeem these points for cash or gift cards to Amazon, Target, and Visa, among other retailers.
You can shop on this site to get rewards, special deals, and coupon codes. It also features a $5 sign-up bonus that you get as an Amazon or Visa gift card.
Cash Back Shopping Apps
The high cost of necessities makes us stretch our budgets as far as possible. However, you can use cash back apps to get discounts and earn money back to save as much money as possible.
Some of my favorite cash back apps that have helped me save on shopping for years include:
Rakuten: Rakuten is a cash back app that you can use to shop at over 3,500 stores and earn money back. You can use it for both online and in-store purchases. Once you've accumulated enough cash back balance, you get paid via check or PayPal.
Fetch Rewards: Apps like Fetch Rewards lets you scan your receipts and get rewards you can redeem for cash and gift cards. The best part is you can scan both digital and physical receipts.
Capital One Shopping: This is not exactly a cash-back app, but it helps you find deals, coupons, and rewards while shopping online. It helps you save money by searching for promo codes, earning credits, and comparing prices at various retailers.
Final Thoughts
Thank you for getting this far to determine if the $750 Cash App is legit or a scam. From our assessment and reviews from various users, 750 Cash App is legit. However, third-party sites and not Cash App offer the reward.
No one gives free money unless the transaction is beneficial to them. You have to complete various deals and spend money to earn the $750 reward. It's advisable to keep screenshots of completed tasks and receipts of any purchases you made to claim your reward successfully.
To get the reward, you must verify your identity and proof of residence in the US. The process is long and tedious, but if you're patient enough to complete all levels as required, you will enjoy the reward.
If the $750 Cash App is too tedious, you can try the various alternatives to make some extra money. You can also try Cashback apps to save money on your purchases.