15 Best Apps Like Fetch Rewards (Complete 2023 List!)
Updated on November 28, 2023
This post may contain affiliate links which means that sproutinue.com may make a small commission at no extra cost to you. We only promote products that we love and feel will benefit our readers. Please read our Disclosure Policy for more information.
Did you know you can make money while spending money? Thanks to cashback apps, you can save money and earn rewards for simple tasks like shopping online.
You've probably heard of Fetch Rewards, one of the most popular rewards apps. If you'd like to earn money and other rewards for simple tasks, there are many apps like Fetch Rewards you can try out.
These apps work differently but typically involve shopping for different things, uploading receipts, and collecting points, which you'll then exchange for cash, coupons, Amazon gift cards, and other rewards.
In this post, I'll cover 15 apps similar to Fetch Rewards to maximize your cashback rewards.
The Best Apps Like Fetch Rewards
Fetch Rewards is one of the best scan receipt apps for money. If you're looking for apps like Fetch Rewards to save money on purchases, consider the following.
1. Upside
Formerly GetUpside, Upside is a rewards app to earn cash back for shopping at your favorite stores.
Upside started as a gas app where you can save up to $0.25 per gallon of gas at various gas stations across the U.S. Since then, it has expanded to add grocery stores and restaurants as places to earn money back.
Upside partners with the following major brands:
Shell
Casey's
Valero
RaceTrac
Kum & Go
Piggly Wiggly
Arby's
Domino's
Papa John's
Like Fetch Rewards, all you have to do is download the app and sign up. To earn cash back on Upside, use the app to find offers, shop for what you need, pay, and check in or submit the receipt.
Upside has various cashback deals at popular grocery stores and restaurants, but saving money on gas is their number one reward for its users.
You can withdraw your earnings once you earn $10 via direct deposit, e-gift card, or PayPal.
2. Drop
Drop is another app like Fetch Rewards to earn rewards for purchases you'll make anyway.
Some of the popular brands you can save money on the Drop app include:
Walmart
Uber
Gap
Sephora
Athleta
Nike
Adidas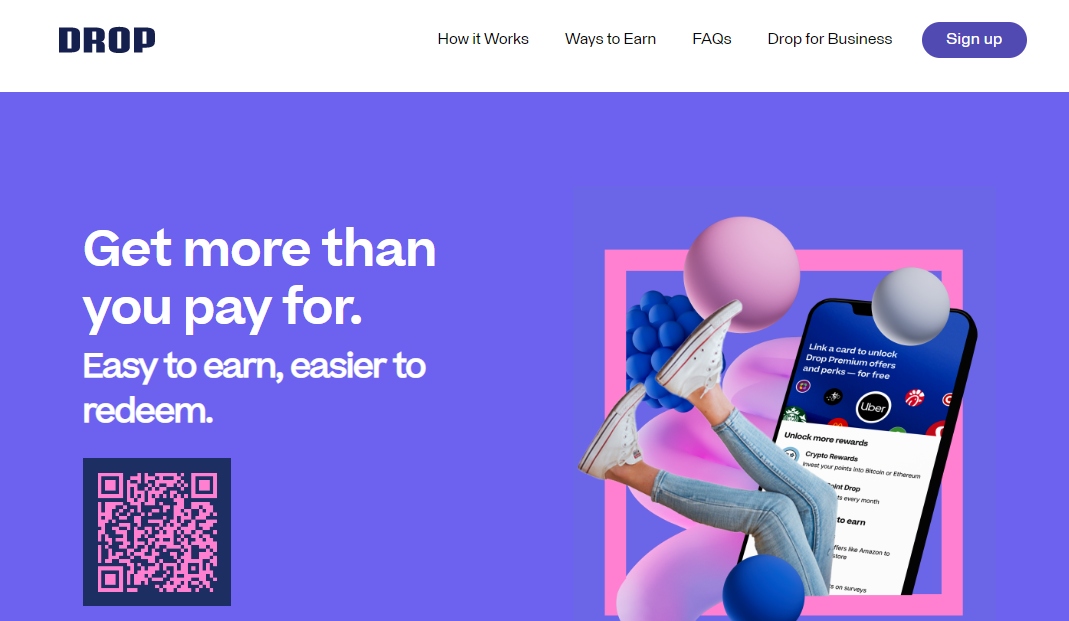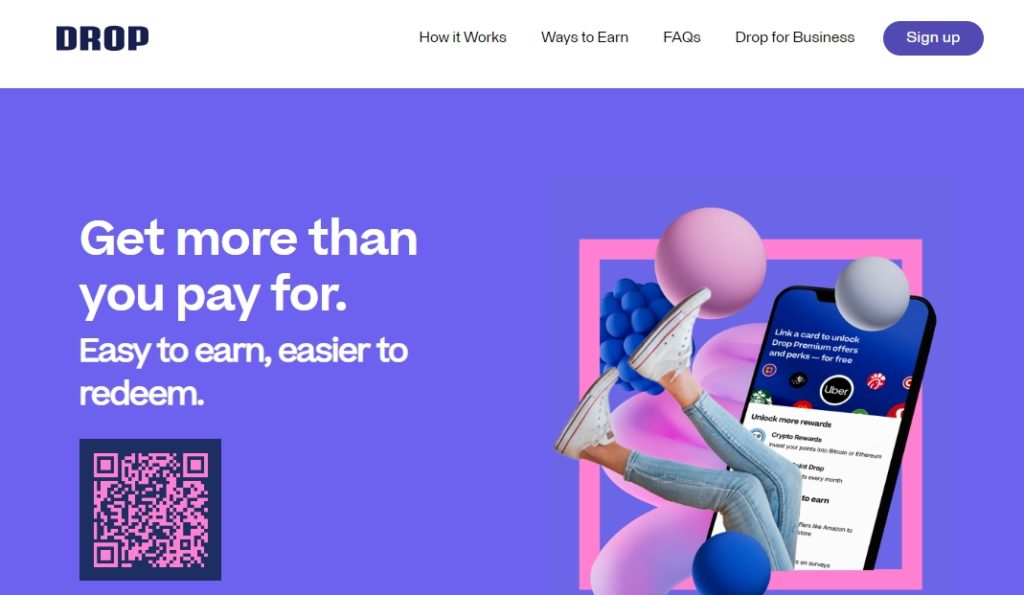 To earn cash back on Drop, download the app and join to become a member. Next, link your card to Drop to unlock the premium version and earn extra points.
Earn more points on Drop whenever you shop at your favorite brands through the app. You'll also earn rewards for playing games and completing simple tasks on the app.
Once you've accumulated enough points, you can redeem them for various gift cards, including Amazon, Starbucks, and more. Every 1,000 points are equivalent to $1.
If you shop through the app at least once, gift cards start at $5. Otherwise, rewards begin from $25.
3. Pogo
If you want to earn cash back and save on every purchase, Pogo is one of the best Fetch Rewards alternatives.
Unlike most rewards apps which are brand-specific, Pogo helps you save on everything. With Pogo, you earn rewards every time you shop, provided you've linked your debit or credit card for transaction monitoring.
Pogo doesn't require you to upload photos of receipts. Link your cards and accounts to the app to earn seamlessly every time you make a purchase.
Pogo also rewards you whenever you share your data or opinions to help market research and personalized ads.
You can redeem your rewards via PayPal or Venmo once you've accumulated 3,000 points worth $3.
4. NCP Mobile
NCP Mobile is among the most lucrative rewards apps like Fetch Rewards. Created by the National Consumer Panel, the app is available for both Android and iOS devices.
To earn rewards, use the NCPMobile app to scan the barcodes on the products you purchase on your shopping trips.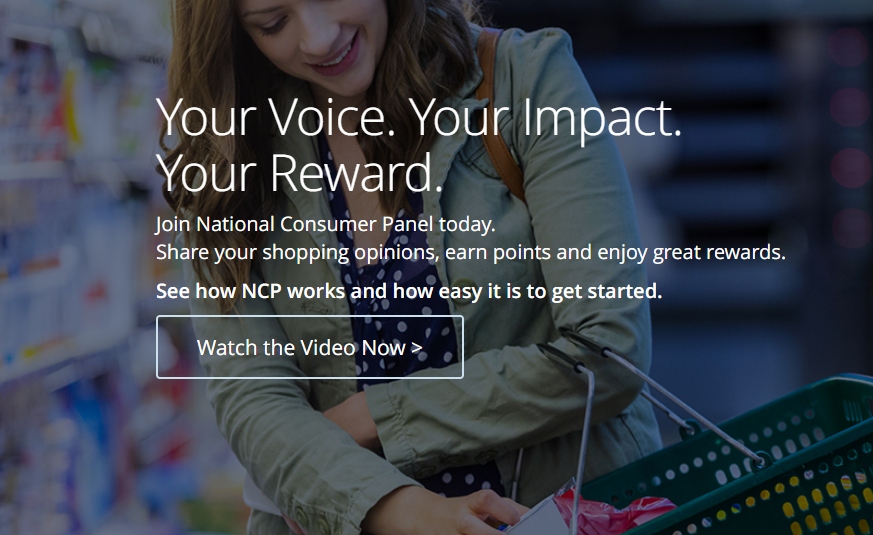 You should also provide information on any other items you purchased, including the stores where you bought them and whether you used a club card.
Submit this information at least once a week to earn points you can later redeem for gift cards or gifts from their gift catalog.
Start earning with NCP Mobile!
5. Ibotta
Ibotta is the best receipt rewards app around that rewards you for shopping. You'll get cash back for everyday purchases at the grocery store.
Besides groceries, you can also get cash back for clothing and beauty items at stores like Sephora, Foot Locker, and Gap.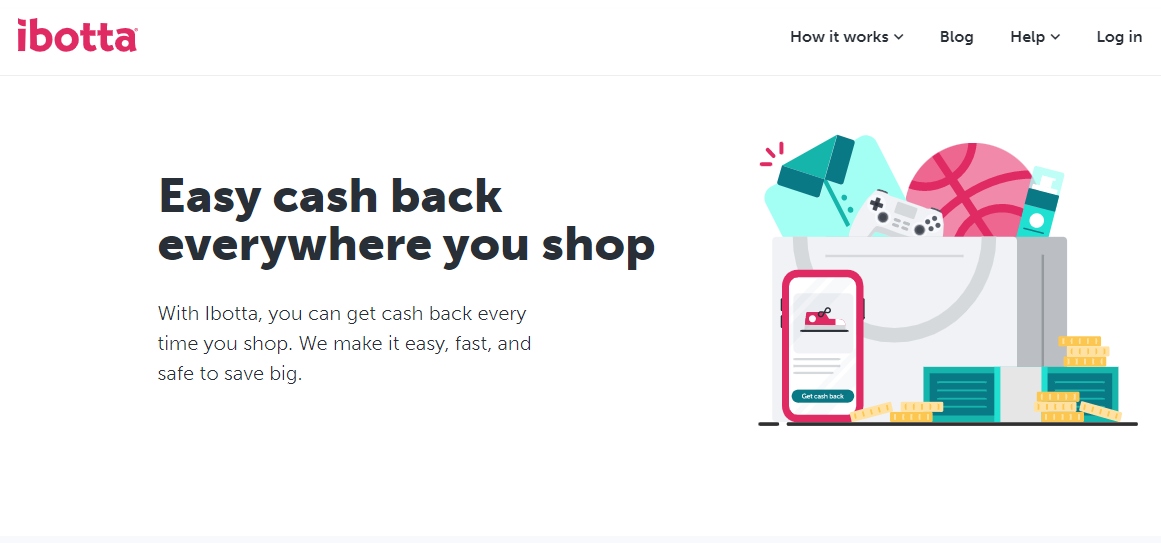 Ibotta offers up to 30% cash back at thousands of major retailers, including:
Best Buy
Walmart
Trader Joe's
Costco
Kohl's
Home Depot
Chewy
eBay
Ibotta enables you to save on every purchase you make, both in-store and online. Once you've downloaded and signed up for the app or installed the browser extension, you must link your account to withdraw your earnings.
Ibotta gives you access to special retail offers for your favorite brands and stores. All you have to do is shop and activate the offers. Rewards are available in gift cards, Venmo, and PayPal cash.
6. Rakuten
Rakuten is another great alternative to Fetch Rewards. It's a cashback app that rewards you for shopping at popular retail brands.
Rakuten has partnered with major brands like Walmart, Target, Macy's, Kohl's, Old Navy, Nike, Lowe's, and more.
You're entitled to real cash back every time you shop at these stores via the Rakuten app.
Rakuten is easy to use. All you need to do is sign up for an account, which only requires your email address and a password.
Next, click on the links on their app to shop. Rakuten will notify you once they activate your cash back.
Rakuten differs slightly from other rewards apps in that you don't have to scan receipts. Instead, you use the site or app to shop at their partner stores and earn cash back.
Extra Reading: Rakuten vs Honey
7. Shopkick
Shopkick is another rewards app that lets you earn "kicks" (points) for shopping in-store and online. You can redeem these kicks for gift cards to your favorite stores.
What's unique about Shopkick is that there are several ways to earn, including:
Walk-in stores
Scanning barcodes of qualifying products
Shopping with a linked card
Watching videos
To start earning on Shopkick, you only have to walk into their partner stores and scan barcodes on select products to earn kicks. You can also shop at online stores through Shopkick to earn rewards.
Through the Shopkick app, you also earn points for watching videos and learning about products within the app. So there are many ways to earn gift cards, even without making purchases.
Shopkick offers a wide selection of gift cards for you to choose from. From Amazon to Target and Starbucks, there's a perfect gift card for you. You can also redeem your rewards for PayPal cash.
Here are Shopkicks redemption levels:
6,250 kicks = $25
3,750 kicks = $15
2,500 kicks = $10
1,250 kicks = $5
500 kicks = $2
Extra Reading: The Best Apps Like Shopkick
8. Receipt Hog
Like Fetch Rewards, Receipt Hog is an app where you snap and upload pictures of your receipts to earn rewards in cash and gift cards.
Unlike Fetch, that's only available in the United States, Receipt Hog is available in the U.S., Canada, and UK.
Receipt Hog rewards you for uploading receipts and sharing feedback on what you buy and why. This information helps the brands make improvements to their products and services.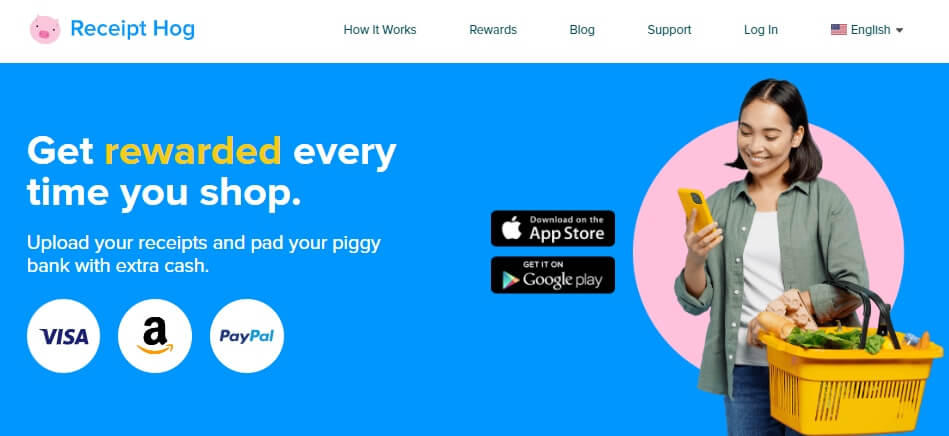 Once you've accumulated enough coins on the app, you can redeem them via PayPal, Visa, Mastercard Gift Card, or Amazon gift cards.
The number of coins you accumulate depends on the qualifying receipts you scan. In the U.S and Canada, here's what you can expect to earn if you convert coins into cash:
Less than $10 = 5 coins
$10-$50 = 10 Coins
$50-$100 = 15 coins
$100+ = 20 coins
9. Checkout 51
Checkout 51 is another leading cashback app for groceries and gas. It's available to U.S. and Canadian residents.
To earn cash back on Checkout 51, download the app from the Play Store or App Store, then create your account. Checkout 51 updates its offers every Thursday, so you can browse for saving opportunities.
Add your favorite offers to the list to help the system find what you're looking for. Once you've selected your offers, you can check off the items you've bought and upload the receipt.
Like Fetch Rewards, Checkout 51 is more manual but has lucrative rewards.
Once the app approves your receipt, your account will be credited with cashback within minutes. You can cash out your earnings once you reach $20 via check or PayPal.
10. Swagbucks
Swagbucks is one of the most popular rewards sites.
Most people know Swagbucks as a get-paid-to site where you can earn cash and gift cards for:
Playing video games
Answering surveys
Shopping online
Surfing the web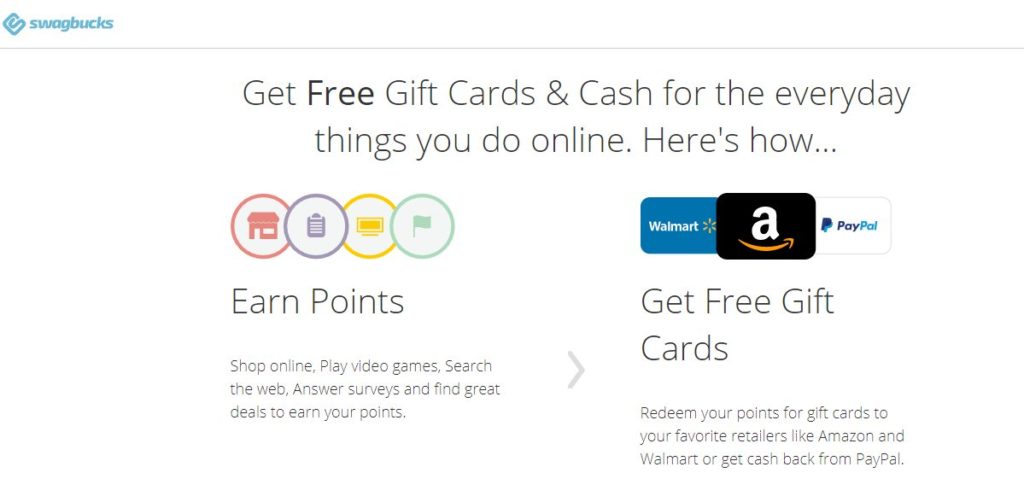 Now Swagbucks also rewards users for uploading their shopping receipts.
Whenever you make purchases at grocery stores, fast food restaurants, pharmacies, home improvement stores, and big box stores, you can scan and upload a photo of the receipt to earn Swagbucks.
Once you've accumulated enough Swagbucks, you can redeem them for PayPal cash and gift cards to your favorite brands.
11. Receipt Pal
Receipt Pal is an app that lets you earn gift cards and cash prizes for uploading photos of your receipts.
You can snap paper receipts for in-store purchases or connect your Amazon or email account to earn points for online receipts.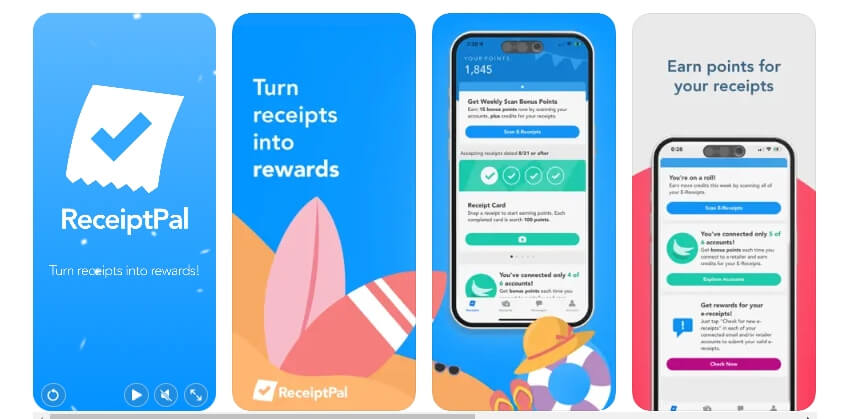 Earning rewards on Receipt Pal is easy. Simply upload receipts for any kind of purchase you make, and earn points. This can include receipts from:
Retail stores
Restaurants
Gas stations
You must submit the receipt within a week of the purchase and be in English. The receipt must also contain the information of the retailer you purchased from to be valid.
You can redeem your points for gift cards to major retailers like Lowe's, Amazon, and Home Depot.
12. Amazon Shopper Panel
If you frequently shop on Amazon, Amazon Shopper Panel is a great way to earn rewards for people.
Unlike the apps and sites we've covered, this is an invitation-only program, and there's usually a waiting list.
If you've chosen to participate, you'll earn rewards for sharing receipts from purchases you make outside Amazon, completing surveys, and enabling ad verification.
Upload 10 eligible receipts every month by using the app to take photos of paper receipts or forwarding your email receipts to their email.
This earns you $10 towards your Amazon balance or charitable donations.
13. Caddle
Caddle is a Canadian data insights platform that rewards its users for answering surveys, writing product reviews, watching ads, and engaging with its partner brands.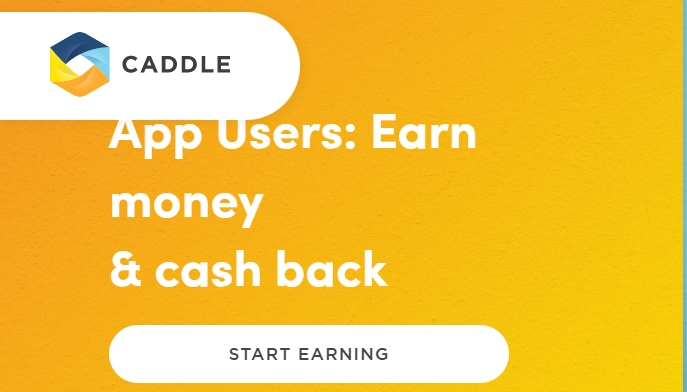 Sign up for the app, which is available for both Android and iOS and use it to browse for offers. You'll find new weekly offers to help you save on your shopping.
Tap on your favorite offers, follow the simple instructions to redeem them, and get rewarded in cash.
Once you've earned more than $20 in rewards, you can cash out. Your earnings are mailed to you via check.
14. Dosh
Dosh is an automatic cashback app that rewards you whenever you shop, eat out, or book hotels.
While there are many apps like Dosh, it does not require receipt or coupon scanning. Additionally, Dosh pays via Venmo or Jelli, which is not very common for rewards apps.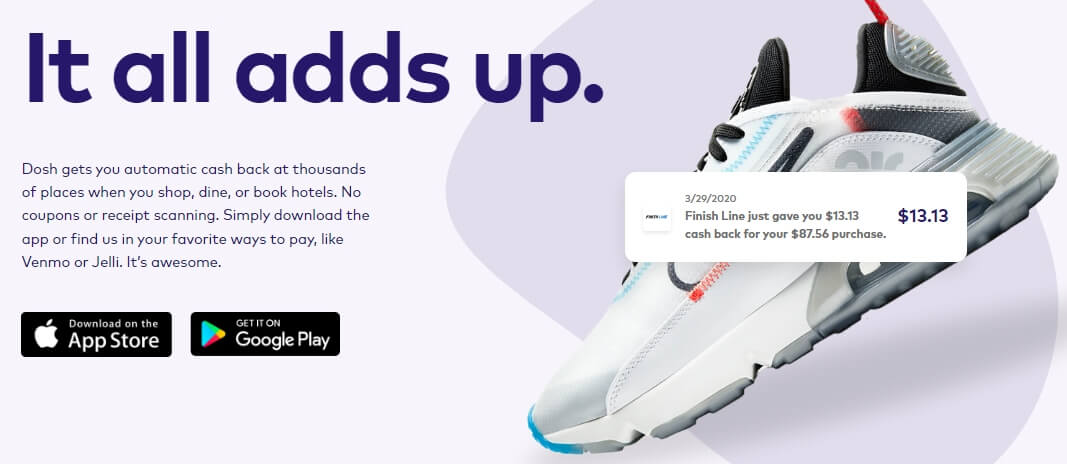 There are many ways to earn rewards on Dosh. You can earn points for:
Shopping for groceries
Purchasing fitness items
Finding restaurants near you on Dosh
Booking a hotel via Dosh
Dosh rewards you in cash. Once you've accumulated $15 or more, you can transfer the money to your Venmo, PayPal, or bank account.
15. Ampli
Ampli is another Canadian cashback app that rewards you for shopping online.
It's an automatic cashback app, so you don't have to upload receipts or coupons to earn rewards. Simply connect your credit and debit cards to Ampli to monitor your transactions.
You earn cash back automatically whenever you make payments using your connected card to online and in-store partner brands.
Once your account balance reaches $15, you can cash out via a free Interac e-Transfer.
You can also earn money by referring friends and unlocking exclusive offers.
Frequently Asked Questions
Is Fetch Rewards Only for America?
Currently, the Fetch Rewards app is only available for U.S. residents.
How Do Apps Like Fetch Rewards Make Money?
These apps partner with major brands and retailers to offer promotions, so every time you purchase on the app, you're paid a commission.
They then share this commission with their users through cash or gift cards.
Is Fetch App Better Than Receipt Hog?
Fetch Rewards provides 25 points per receipt, so their rewards are worth more points than Receipt Hog.
Fetch Rewards also has a broader selection of gift cards to choose from, so it depends on what type of platform you're looking for.
Final Thoughts
Cashback apps are a great way to save money on shopping and running other errands.
Apps like Fetch Rewards allow you to save money while spending money, which is a great step toward achieving your financial goals.
They're a good source of passive income. Some pay you for simple tasks like answering surveys and watching ads, which you can do as you stand in line or when stuck in traffic.
Start collecting rewards today with any of the apps covered in this guide.