Shipt vs DoorDash: Which Driving Gig Is Better?
Updated on November 14, 2023
This post may contain affiliate links which means that sproutinue.com may make a small commission at no extra cost to you. We only promote products that we love and feel will benefit our readers. Please read our Disclosure Policy for more information.
If you're looking for driving apps to make money, Shipt and DoorDash are two popular options you can choose from.  
While most delivery platforms are similar, different companies have different working models, benefits, and general cultures.
As such, it's important to look at Shipt vs DoorDash and compare the main differences so you can make an informed decision.
Both Shipt and DoorDash are flexible, lucrative side hustles you can use to make extra money, and their requirements are typically straightforward. Depending on factors like your location, income goals, and even type of vehicle, one platform may be more suitable than another.
In this Shipt vs DoorDash guide, I'll break down the main differences between both driving gigs, including requirements and the difference in driver pay.
What Is Shipt Shopper?
Shipt Shopper is an online grocery delivery service based in the United States. The platform currently partners with over 130 retailers, operating in approximately 5,000 cities.
You can sign up for Shipt as an independent contractor and make money shopping, assembling, and delivering groceries and other items to people in your city.
Shipt gives users wide access to various products from many retailers, and they can put in orders for groceries and other items on the app and have them delivered to their doorstep.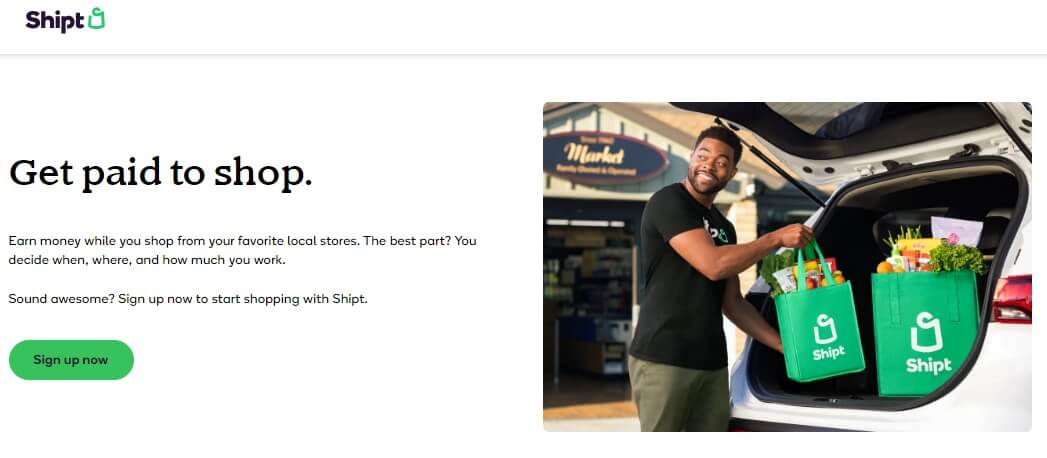 Shipt is one of the most popular jobs like Instacart. Shipt and Instacart are similar in that they both provide grocery delivery services.
Additionally, both companies hire shoppers as independent contractors, meaning they can work on their schedules.
As a Shipt shopper, you have total control over your work time and the specific zones you'd like to work in. You're required to shop and deliver groceries to the customer within a specific timeframe.
A typical Shipt order takes approximately one hour to complete. You can maximize your time by accepting orders within proximity so you can complete more orders.
If you only want to do delivery without shopping for the groceries, you can choose to work as a Shipt Driver.
What Is DoorDash?
DoorDash is North America's leading food delivery service, operating in cities across the United States, Australia, Canada, Germany, the UK, and Japan.
DoorDash is also one of the most popular side hustles and a few platforms allowing you to make money with your bike.
You can sign up to be a Dasher and start making money delivering food from restaurants and fast food chains to customers within your city.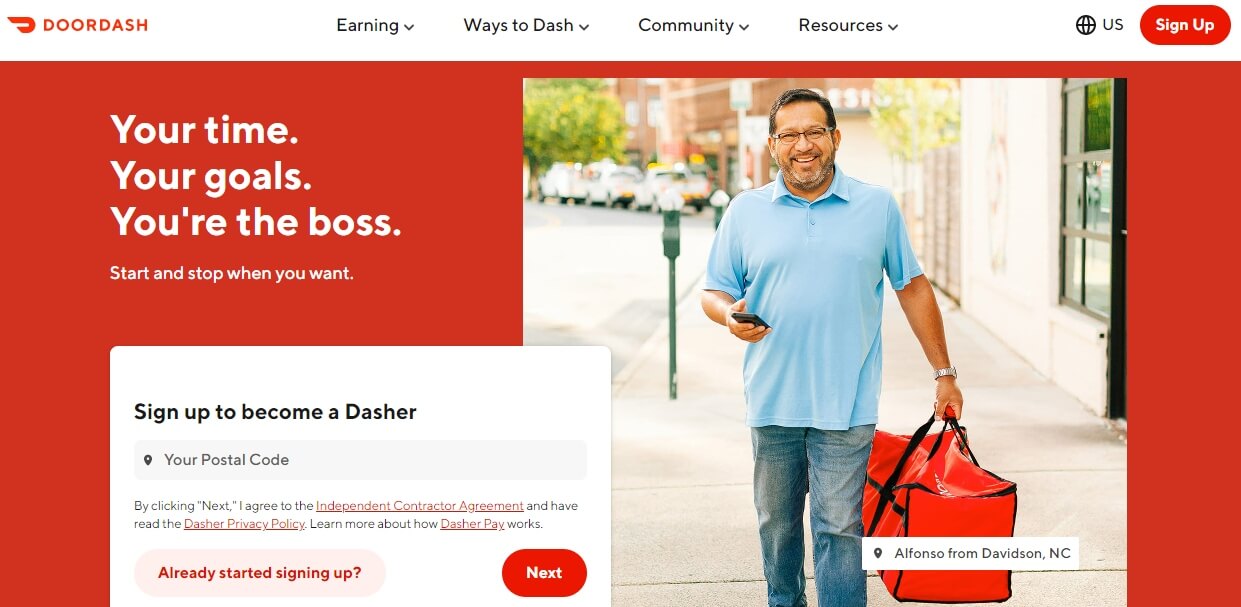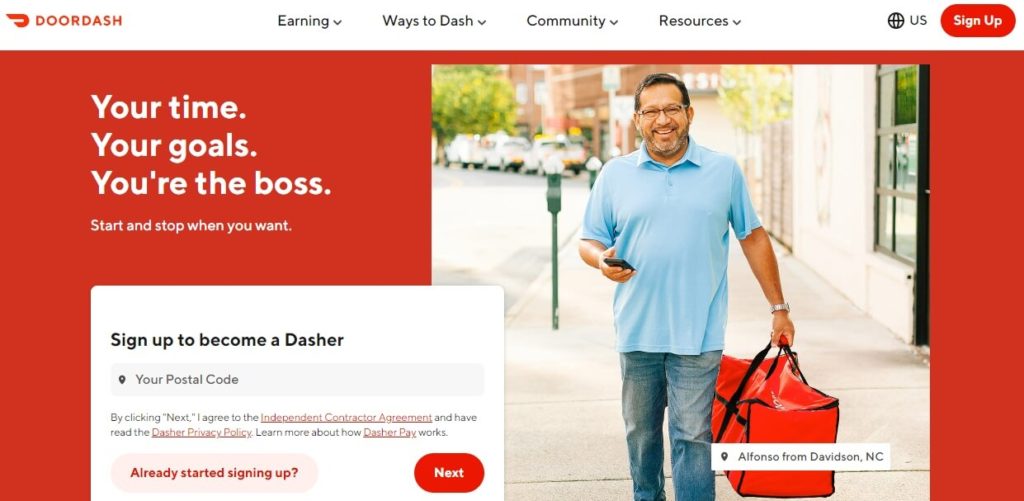 DoorDash is incredibly flexible, so you can do it as a weekend side hustle or work any time, depending on your availability and the demand for Dashers.
Due to its popularity, DoorDash has large markets in most areas, so getting orders should not be a problem. As a Dasher, you can schedule your dashes ahead of time or simply log in to work whenever there's a high demand for drivers.
You also have the flexibility of choosing the orders you accept, maximizing your earnings by only taking high-paying orders.
Other DoorDash driver tips you can use to boost your income are choosing the busiest times to DoorDash and parking near popular restaurants.
Shipt vs DoorDash
Shipt and DoorDash are both flexible and relatively lucrative gigs you can use to make extra money. The major difference is that DoorDash is for food delivery, while Shipt is for grocery shopping and delivery. DoorDash is also busier than Shipt in most markets, and it has fewer driver requirements than Shipt.
DoorDash also pays slightly better than Shipt, although it puts more miles on your car. Below, we look at the main differences between DoorDash and Shipt.
1. Driver and Vehicle Requirements
It's important to consider driver and vehicle requirements for DoorDash and Shipt before signing up.
Generally, DoorDash has fewer and less strict requirements than Shipt, so it may be easier to become a Dasher than a Shipt Shopper.
When you sign up for DoorDash, you're required to provide your contact information and vehicle type if you intend to deliver via car.
You'll also upload your driver's license, car insurance, and vehicle insurance information. Here are the DoorDash driver requirements:
Must be 18 years or older
Access to a functioning car, scooter, or bike
Have a valid driver's license
Have a Social Security Number (for US Dashers)
Own an Android or iOS smartphone for the DoorDash app
Once you've signed up and provided the required information, you must pass the DoorDash background check before being accepted onto the platform.
The background check involves looking at your criminal history and checking for major driving violations.
If you pass the background check, you'll receive the DoorDash Activation Kit, and you can start working immediately.
Here are the Shipt driver requirements you must meet to qualify:
Be 18 years or older
Have a valid mailing address
Valid Social Security Number, driver's license, and vehicle insurance
Access to a reliable vehicle no older than 1997
Ability to lift 50 pounds
Own a smartphone
Shipt also asks applicants a few questions, which they're required to give a video response. This helps the hiring team judge your problem-solving and communication skills.
One main difference between Shipt and DoorDash, driver and vehicle requirements, is that Shipt shoppers and drivers must own a vehicle that's 1997 or newer. You can't make deliveries using a bike or scooter on Shipt.
2. Available Cities
DoorDash currently operates in over 7,000 cities across the US, the UK, Japan, Canada, and Australia.
Shipt, on the other hand, serves over 5,000 cities in the United States alone. The platform is available in larger cities and regularly expanding to smaller cities and towns.
Before signing up for any platform, you should visit the company's website to confirm whether it operates in your city.
If DoorDash is unavailable in your area, you'll be put on the DoorDash waitlist, and once it becomes available, you'll receive a notification.
As with most jobs like DoorDash, there may be high competition, which is another reason you may be put on the waitlist until there's demand for new Dashers.
DoorDash is available in more cities compared to Shipt.
3. How They Work
Another significant difference between Shipt and DoorDash lies in how they work. While DoorDash is primarily for food delivery, Shipt is a platform where you get paid to shop and deliver groceries and other items.
So, how does DoorDash work? Customers place an order from the wide variety of restaurants available on the app and agree to the delivery fee and tip.
As a Dasher, you log into the DoorDash app, browse the orders coming in, and accept whichever orders you want to complete.
Every delivery request has all the details, including the order type, the restaurant, the delivery distance, and the earnings minus the tip.
Once you accept an order, you drive to the restaurant, pick up the meal, and drive to the customer's location using the app's built-in navigation.
On the other hand, as a Shipt Shopper, you can schedule yourself in advance to shop specific orders in your area.
Once logged in to work, you can view the orders in the app and review the order size, delivery distance, and estimated payment before accepting it.
While you don't have to accept every order, Shipt checks your acceptance rate. So, avoid rejecting too many orders, as you may risk Shipt Shopper deactivation.
4. Flexibility
Flexibility is one of the most important considerations to make when choosing a side hustle.
With DoorDash, you get two options for selecting your shifts. You can tap the "Dash Now" option to start working immediately. This feature is only available if your zone is busy enough.
You can also choose the "Schedule a Dash" option, which allows you to schedule your Dashes in advance. This way, you'll get priority to work at the time.
Shipt also has a scheduling feature you can use to book zones and hours in advance. In the app, you'll see a list of delivery windows to add to your work schedule.
Once you've chosen your delivery windows, you'll see a list of open grocery orders, and you can accept the ones you want and deliver them.
Both Shipt and DoorDash are very flexible in that you can work on your schedule.
5. Driver Ratings
With delivery jobs like DoorDash and Shipt, you should expect to be rated based on your customer service.
Both DoorDash and Shipt have driver rating systems where the customers rate drivers based on the quality of service provided. However, there are a few differences between the rating systems.
With the DoorDash rating system, customers give you a rating between one and five stars after every delivery. Your Dasher rating is an average of your last 100 deliveries.
DoorDash expects Dashers to maintain a customer rating of 4.2 stars or higher to keep their account.
The Shipt Shopper rating system is similar in that you're rated between one and five stars after each delivery. But for Shipt Shoppers, your rating is an average of your last 50 orders.
It's important to keep your Shipt Shopper rating high, as shoppers with higher ratings are prioritized when assigning orders.
Your Shipt Shopper ratings impact your earnings more significantly than DoorDash driver ratings for Dashers.
6. Earning Potential
The most important factor to consider when choosing between DoorDash and Shipt is the earning potential. Naturally, you want to go with the highest-paying app.
Dashers make between $15 and $25 per hour on average, depending on factors like location, the time of day, and any special promotions and challenges that boost earning potential.
Shipt Shoppers average $17 per hour, but the base pay can increase to $22 per hour depending on boosted pay and other promotions.
DoorDash typically pays better, given that it's busier than Shipt in most markets, so you're more likely to get a steady stream of orders with DoorDash, boosting your hourly pay.
Generally, DoorDash is busier and has larger markets in most cities, so you can expect to make more per hour with DoorDash compared to Shipt.
7. Getting Paid
It's also important to consider the payment schedules for both apps when choosing between the two delivery gigs.
DoorDash pays Dashers weekly via direct bank deposit. When you're accepted onto the platform, you must provide your account details to facilitate payment.
You can track your Dasher earnings on the Dasher app by tapping the "Earnings" tab on the dashboard.
For Dashers in the United States and Canada, you can use the DoorDash Fast Pay feature to cash out your earnings daily at a $1.99 fee.
Shipt also pays shoppers weekly via direct deposit and provides a faster payment option where shoppers can withdraw their earnings using Shipt Instant Pay once a day for $0.50.
While Shipt and DoorDash have similar payment schedules, Shipt offers a more affordable instant pay option than DoorDash.
8. Gas and Other Expenses
Both DoorDash and Shipt hire drivers as independent contractors, so the companies don't pay for gas or any other expenses.
As such, as a Dasher or Shipt Shopper, it's important to consider your expenses when calculating your earnings from the platform.
Since Shipt Shoppers spend time in-store shopping, they spend less on gas compared to Dashers, who spend more time on the road delivering.
As such, Dashers spend more on fuel on average than Shipt Shoppers, and Dashing also puts more miles on your vehicle.
While both companies don't pay for gas, they have fuel incentives to help cushion their drivers against the rising fuel cost.
DoorDash has a gas rewards program that helps offset the cost of gas for Dashers. Dashers who qualify for the rewards get between $1.65 and $2.00 cashback per gallon.
Shipt has also taken steps to help ease the burden of fuel costs for shoppers. The platform partnered with Upside, a rewards app that helps people save at the pump by offering cashback on fuel purchases.
Pros and Cons
Shipt Pros:
You spend less on gas as you spend more time shopping
Less wear and tear on your vehicle
Low instant pay fee
Potential for good tips, especially for large grocery orders
Shipt Cons:
Shipt is not as busy as DoorDash in most markets
A low Shopper rating affects your earning potential
The earning potential is lower than DoorDash's
Stricter requirements compared to DoorDash
DoorDash Pros:
DoorDash has busy markets in most areas
You earn more as a Dasher on average compared to Shipt
Flexibility with vehicle requirements; you can deliver via bike or scooter
DoorDash Cons:
More wear and tear on your vehicle
Higher instant pay fee of $1.99
Is Shipt or DoorDash Better?
For most gig workers, DoorDash is better than Shipt because it pays slightly higher and has more orders.
Moreover, DoorDash allows Dashers to deliver using different vehicle types, so signing up is faster and easier.
Still, Shipt is a solid option if you'd like to get paid to shop and deliver groceries in your area. With the right strategies, you can maximize your earnings on the platform.
Shipt & DoorDash Alternatives
While DoorDash and Shipt are great side hustles, here are other driving gigs to consider:
Instacart: This is the most similar app to Shipt. As an Instacart shopper, you're paid to shop and deliver groceries to customers.
Uber Eats: You can sign up for Uber Eats and make money delivering fast food and restaurant meals.
Grubhub: This is another food delivery service that partners with local restaurants to provide delivery services.
Amazon Flex: Deliver packages to customers in your area and earn $18 to $25 an hour.
Walmart Spark: With this relatively new platform, you can make money delivering items from Walmart and other major retailers to customers.
Frequently Asked Questions
Do You Make More Money on Shipt or DoorDash?
DoorDash generally pays more per hour on average than Shipt since you can complete several orders in an hour.
DoorDash is busier than Shipt in most markets, so you'll make more money with DoorDash than Shipt in a day.
Is Delivering for DoorDash Worth It?
Delivering for DoorDash is worth it if you're looking for a flexible side gig where you can make up to $25 per hour making deliveries via car, bike, or scooter.
If you're looking for a full-time job, DoorDash may not be worth it since your earnings fluctuate and work is not guaranteed.
Is Delivering for Shipt Worth It?
If you want to get paid to shop and deliver groceries, working as a Shipt Shopper or Shipt Driver is worth it. Plus, you can work on your schedule based on your availability.
Can You Work for Shipt and DoorDash at the Same Time?
Yes. There are no rules against working for more than one delivery company. You can work for DoorDash and Shipt simultaneously to maximize your income.
Final Thoughts
I hope this Shipt vs DoorDash guide has helped you understand the differences between the two platforms to make an informed decision about the best gig for you.
Both delivery services are flexible side hustles you can use to make money on the side, although DoorDash is the more popular platform.
You don't have to commit to one platform. You can work for both simultaneously and gauge the better option in your market.
You can also try other gig jobs like Uber Eats and Amazon Flex to maximize your earning potential.