Do You Think DoorDash Sucks? Here's What to Do!
This post may contain affiliate links which means that sproutinue.com may make a small commission at no extra cost to you. We only promote products that we love and feel will benefit our readers. Please read our Disclosure Policy for more information.
DoorDash is North America's leading food delivery platform, and its popularity comes with both praise and complaints.
While it's one of the highest-paying gig apps, there are tons of complaints from both customers and dashers about the platform.
If you've been driving for DoorDash or using the app to order food and you think DoorDash sucks for one reason or another, we'll look at some of the most common reasons and their solutions.
Want quick money? Try out:
Branded Surveys – Share your opinion and earn PayPal money and free gift cards!
SayMore – Earn rewards for sharing your opinion!
Reasons Why DoorDash Sucks & Solutions
Let's get right into some of the most cited reasons why DoorDash sucks and how to avoid some problems to improve your DoorDash experience.
1. Your Meal Arrives Cold
One of the main complaints among DoorDash customers is that their food arrives cold.
It's disappointing to order your favorite meal from your go-to restaurant only to arrive cold an hour later.
To be fair, this is rarely the fault of the DoorDash driver, and it could be due to factors out of their control, like heavy traffic.
Sometimes, the reason your order arrives late is because you ordered the food from a restaurant that's far away.
Additionally, sometimes the Dasher is assigned two simultaneous deliveries for convenience, so your food will arrive later than expected.
One of the best ways to ensure this doesn't happen to you is to order from restaurants that are near you.
Secondly, try and tip your Dashers well. If they see the high potential payout, they're more likely to accept the order and provide excellent services.
You should also communicate with your Dasher through the DoorDash app, as this will help with clarification. They'll let you know if they encounter any challenges so that you can expect a delay.
You can also ask them to approximate how long it will take, so you can complete other tasks instead of waiting.
2. DoorDash is Pretty Costly
Another major reason some people say DoorDash sucks is that it can sometimes be expensive.
Of course, you have to pay for the food, but the platform also charges service fees, delivery services, and subscription fees. All these costs add up quickly.
DoorDash is a third-party application, so it costs more than ordering food directly from your restaurant.
The question is whether this cost is justifiable. There are many other food delivery services, so comparing prices to see what you can afford would be better.
When you pay for DoorDash, you're paying for the premium delivery. While some customers are okay with paying for the service, others think the prices are too high.
If you're a frequent DoorDash customer looking for ways to save money, you can subscribe to DashPass.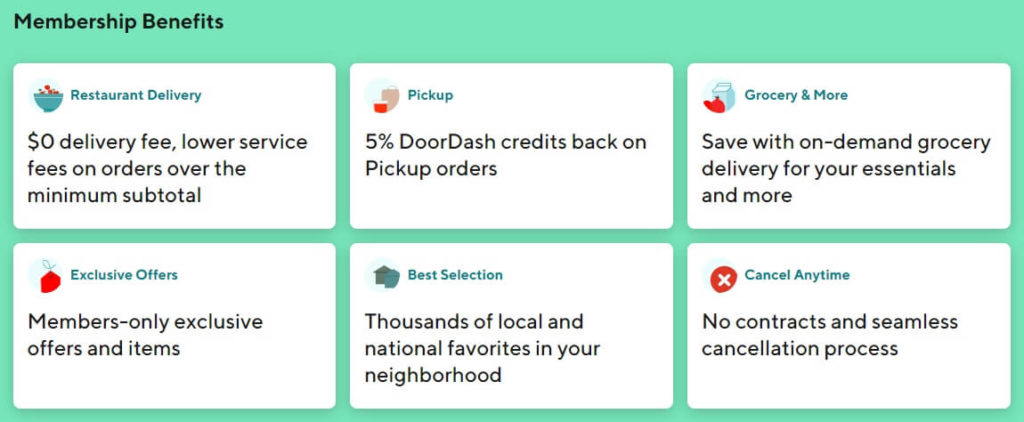 DashPass gives you discounts, and you get $0 delivery fees for unlimited orders from any restaurant, provided the orders are over $12.
You can also participate in promotions to get a free DoorDash gift card to save on deliveries.
If you find DoorDash fees too high, try other alternatives. There's no shortage of delivery services like DoorDash and Uber Eats.
3. The Pay is not Worth the Effort
Another common complaint among DoorDash drivers on review sites like Reddit is that sometimes the pay for delivery is not worth the distance or effort.
This is true in some cases. DoorDash hires you as an independent contractor, so you're responsible for all your expenses.
DoorDash doesn't pay for gas, track mileage, or any other expenses, so it's up to you to make sure you make enough to cover your expenses and remain with a decent amount.
Sometimes you may receive ridiculous orders like driving for 25 miles to earn $10. Fortunately, you can decline the orders you're not interested in.
For delivery apps like DoorDash, you must be efficient to reduce expenses and maximize your earnings.
One of the DoorDash driver tips you can use to make the most of this side hustle is only to accept high-paying orders. You can also drive a fuel-efficient car to save on gas.
As a new Dasher, you may be worried about your DoorDash acceptance rate, but it doesn't matter. All you have to do is provide excellent services and maintain a high rating.
You can turn down as many orders as you like until you find one that pays well.
Extra Reading: How To Make $500 a Week With DoorDash
4. Customers Tip Dashers Poorly
Some gig workers think DoorDash sucks because of the poor tipping culture of some DoorDash customers.
Sometimes the base pay for delivery is pretty low, so as a Dasher, you're counting on a good tip from the customer.
It can be frustrating to do your best to provide a good service, delivering the order on time, only to get a small tip, or worse, no tip at all.
The truth is that customer tips can make up even half of your hourly wage when using gig apps, so it's really important.
It comes down to how you choose your orders. You need to be smart about the type of orders you deliver.
One thing you can do is to only accept orders with a good base pay to start with. This way, even if you get stiffed on the tip, you still earn a decent amount.
This is much better than accepting orders with a low base pay and hoping the customer will tip you well.
The quality of your service will also determine how well you're tipped. Do your best to provide stellar customer service, as this increases the chances that they'll give you a good tip.
Here are some things you can do to improve your customer service:
Deliver the order on time
Communicate with the customer
Verify that you're picking up the correct order
Follow the customer's delivery instructions
Separate hot and cold items during delivery
5. DoorDash Doesn't Guarantee Hourly Pay
Like most gig apps like Instacart, DoorDash is very flexible, meaning you work however much you want on your schedule.
While this is generally a good thing, it has downsides, like how you're not guaranteed hourly pay.
DoorDash doesn't set fixed hours, so the amount you make will depend on the type of orders you accept, how fast you deliver them, and the customer tips you get.
This means there's a good chance that you may earn a low hourly amount, which could be the reason you think DoorDash sucks.
The solution here is that flexibility has an upside. You get to choose the orders you deliver, so it's important to know what kind of orders you're looking for.
With most food delivery gigs, you have to be careful about the orders you accept. Don't hesitate to turn down bad orders, as ensuring the side hustle is profitable is up to you.
6. DoorDash is Slow in Your Area
While DoorDash is a very popular food delivery gig, there are some areas where both customers and dashers complain that DoorDash is so slow.
This is mostly the case in small towns and cities. If DoorDash is slow, customers have to wait longer for their orders, and Dashers get fewer orders and make less money.
There's very little you can do if you live in a small town. But this doesn't mean there's nothing you can do if you're not getting Doordash orders in a hotspot.
For one, you could try dashing in a neighboring city where the market is better. You should factor in the cost of driving there to see if it's worth it.
If dashing in a different city is impractical, you should find out the best times to DoorDash in your area when there are many well-paying orders.
In most cases, DoorDash orders increase during lunchtime and dinnertime rush, so you should try dashing then.
7. Gas Prices Are Very Expensive
The rising cost of gas makes jobs like DoorDash or Instacart less profitable for delivery drivers, which is why some Dashers think DoorDash sucks.
As an independent contractor, you need to factor in expenses, like the cost of fuel, to your earnings to determine whether the job is worth it.
DoorDash is one of the gig apps that allow people to make deliveries using a bike or scooter, so if this is a viable option for you, it will help you reduce gas expenses significantly.
If you have to drive to make your deliveries, you can track your mileage when driving for DoorDash so you know how much it costs you.
You should also keep all gas receipts and use them when filing your taxes to claim work-related expenses.
The best way to save on gas is to use reward apps like Upside. This way, you earn cash back for every fill-up. 
You can redeem the cashback for PayPal cash or gift cards to your favorite retailers.
The Best Alternatives to DoorDash
If you still think DoorDash sucks and you'd like to try other gigs, here are the best alternatives to consider:
Instacart: Sign up as an in-store or full-service Instacart shopper, where you make money shopping and delivering grocery items to customers. As an in-store shopper, your job is to shop and assemble the orders for pickup.
Uber Eats: Sign up to drive for Uber Eats, where you'll make up to $20 an hour delivering fast food and restaurant meals to customers in your area.
GrubHub: This is another food delivery gig you can earn a few extra bucks in your spare time. The platform partners with local restaurants in dozens of cities across the U.S. to deliver meals to customers.
Postmates: Sign up for Postmates, an on-demand delivery service that pays you to deliver items like food, drinks, office supplies, and other essentials.
Caviar: A food delivery and takeout platform only available in select cities, so ensure it's available in your area before signing up.
SkipTheDishes: If you're in Canada, you can sign up for SkipTheDishes and get paid to deliver food to customers near you.
Final Thoughts
There are plenty of reasons why customers and Dashers think DoorDash sucks, but hopefully, this article has shed some light on how you can improve your DoorDash experience.
Despite all the challenges, DoorDash remains the leading food delivery service, so there has to be something they're doing right.
The platform is reliable, easy to use, and a flexible side hustle with a decent earning potential.
Looking for other high-paying gigs? Consider: