7 Best $25 Sign Up Bonus Instant Withdraw Apps For 2023
Updated on September 13, 2023
This post may contain affiliate links which means that sproutinue.com may make a small commission at no extra cost to you. We only promote products that we love and feel will benefit our readers. Please read our Disclosure Policy for more information.
Making money has never been easier. Nowadays, you can earn a few extra bucks just by signing up. It may sound a bit too good to be true, but there are legitimate sites that give you a $25 sign up bonus just for signing up.
Why are these sites giving away free money? Most of these online platforms are looking to recruit new members because they need more users, so they give incentives in cash.
In most cases, the amount is smaller, usually $10 or lower, but some sites go as high as $25, and these are the sites I've highlighted below.
Keep in mind that there may be specific requirements you have to meet to get the bonus.
Want to snag some bonus fast? Try out:
Prime Opinion – Get an instant $10 when you join Prime Opinion!
Upgrade – Earn a $200 welcome bonus when you open a rewards checking account!
The Best $25 Sign Up Bonus Offers
You can get free sign up bonuses on reward sites, online banking platforms, money transfer platforms, online marketplaces, and investment apps.
In most cases, you're required to perform a particular action within a given period to receive the bonus, and you won't always be able to withdraw the bonus instantly.
The following is a list of some of the best sites to earn a $25 sign up bonus:
1. Payoneer
Payoneer is a financial company that has grown in popularity as a money transfer platform. It offers digital payments, online money transfers, and working capital financing services.
While it was initially used mainly by remote workers, freelancers, and businesses, even individuals can now take advantage of its services.
Payoneer offers a welcome bonus to new users who join their site using a unique referral registration link. After you've applied for a Payoneer account, you're eligible to participate in their Refer a Friend Program.
The Payoneer sign up bonus program is designed such that when you invite a new user, you both get a free $25.
Requirements:
You need to receive a total of $1,000 in deposits to your Payoneer account to get the reward.
What to do:
Navigate to the Payoneer registration page using the link with a bonus
Click on "Sign up and earn $25."
Choose the best account option that suits you. (Individual account/freelancer/vacation host/affiliate marketer/online seller)
Select your goal for opening the account, i.e., to get a prepaid card, send money, or get paid internationally.
Fill out all the necessary details to set up the new account
Use the verification link sent to your email to verify your email address, after which Payoneer will review your application.
2. Upromise
Upromise is a free rewards program, like Swagbucks and MyPoints, but it focuses on helping families save for college.
Through Upromise, you can earn cash back rewards for activities like dining out, online shopping, buying gift cards, grocery shopping, and more.
The rewards you get automatically go into your dependent's college fund.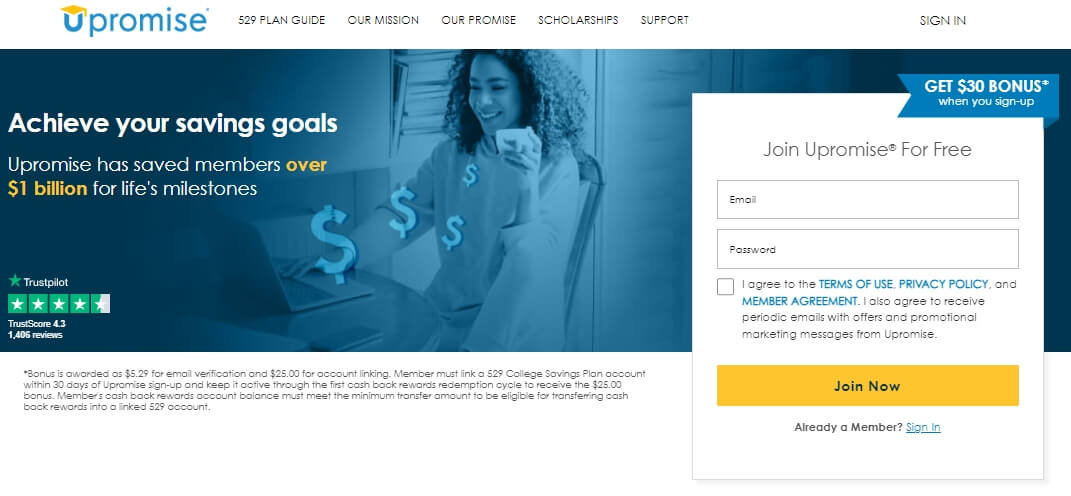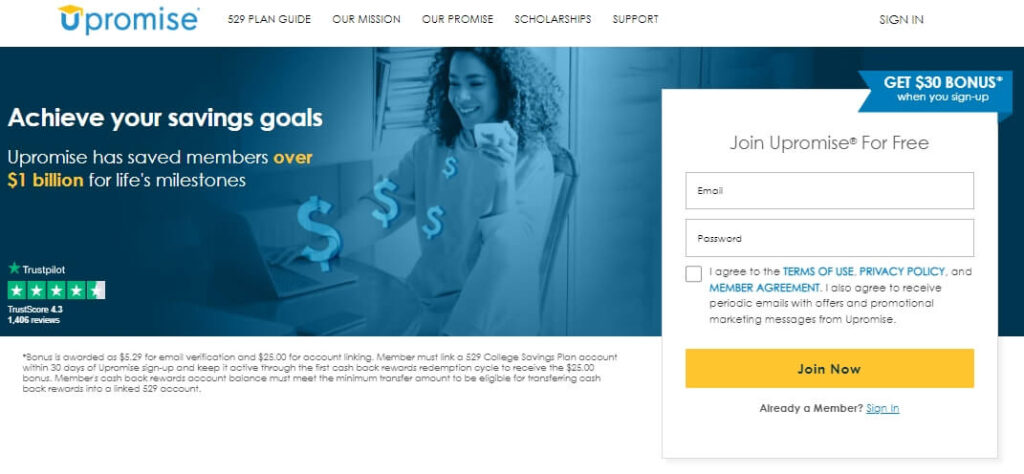 Not only is Upromise free, but you also get free money when you join. Once you register and verify your email address, which takes less than 60 seconds, you get a $5.29 sign up bonus.
When you link your new Upromise account with a 529 account, you get a $25 bonus. Once your Upromise account is linked to your 529 plan, you can request a withdrawal from your account online by filling out and submitting a Withdrawal Request Form.
Even if you don't have a 529 plan, you can join Upromise and have all your rewards sent to your typical savings or checking account.
Requirements:
To get the $5.29 bonus, you must create your account and verify your email address.
For the $25 sign up bonus, you must link your 529 plan to your new Upromise account.
What to do:
Visit the Upromise registration page.
Create your account by entering your email and password and clicking "Join Now"
Click on the link you receive through your email to confirm the account and get $5.29
Link your 529 plan to get the $25 bonus
3. Acorns with Swagbucks
Acorns is among the most popular investment apps, based on the many positive reviews. It gives users who link their bank accounts to their Acorns account a $5 sign up bonus.
Their best feature is how Acorns allows you to automatically invest your spare change. Acorns automatically deposit when your spare change gets to $5.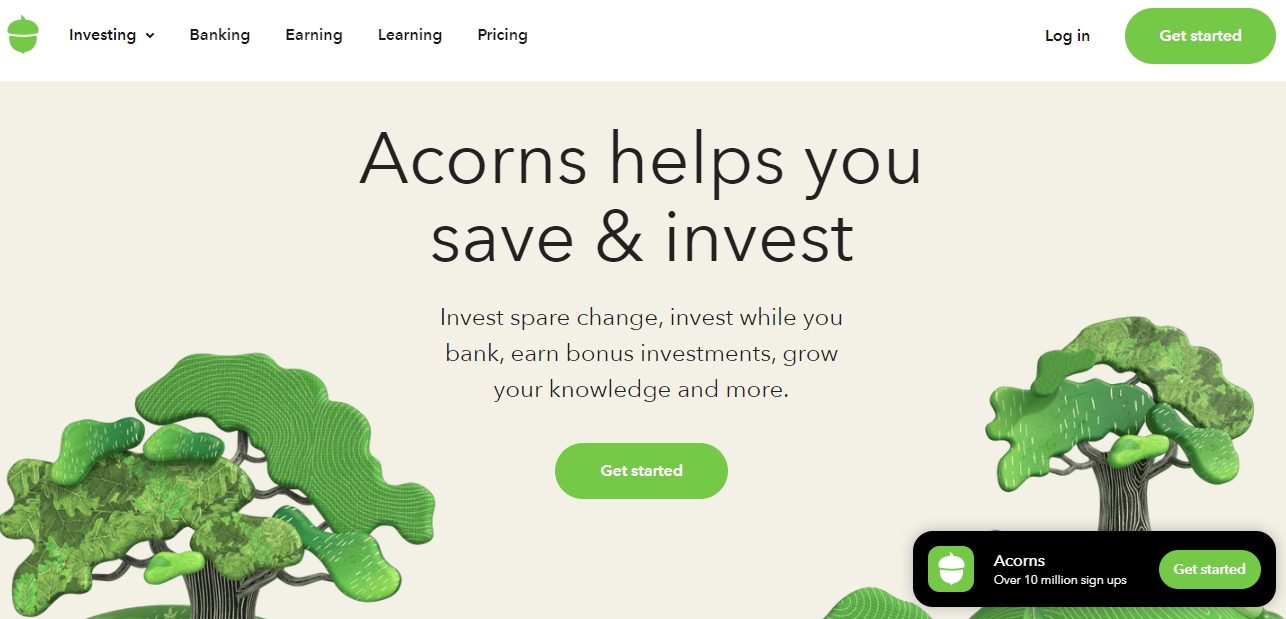 A popular hack to make more with Acorns is first signing up with Swagbucks before signing up with Acorns. Once you're in your Swagbucks account, search for Acorns in the search bar and sign up.
By signing up through Swagbucks, you earn 5,000 SBs (Swagbucks' reward points). At 1 cent each, you can easily earn a $50 bonus effortlessly. This hack is an easy way to get $25 now.
Requirements:
To make the most out of signing up for Acorns, you'll need to create a Swagbucks account and use the account to sign up for an Acorns account.
What to do:
Sign up with Swagbucks
On your Swagbucks account, search for Acorns in the search bar
Sign up for Acorns via Swagbucks to earn 5,000 SBs.
4. Oxygen
Oxygen is one of the newest players in the mobile-banking world, which is why they're providing incentives to attract new members.
One of the significant perks of banking with Oxygen is that they provide mobile-banking services with zero fees. Plus, you can manage your money through a user-friendly mobile app.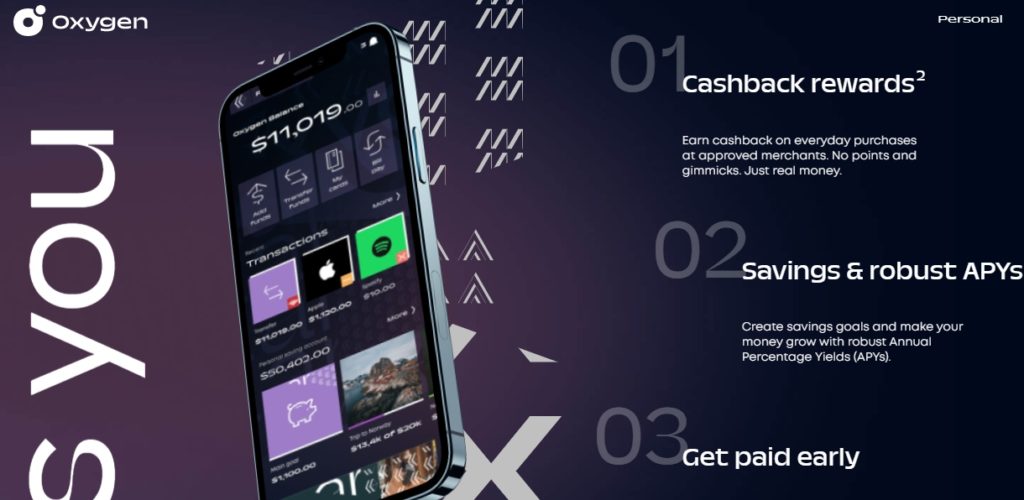 Oxygen provides its users a convenient, mobile-based way to manage their daily spending, budgeting, and saving, all while avoiding banking fees and extra costs.
Currently, Oxygen has a referral program where you earn a $25 sign up bonus instant withdraw as a new user, and the person who referred you gets $25 as well. Depending on the promotional period, this amount can go as high as $50 per person.
Requirements:
You have to be a new Oxygen user.
Your Oxygen account must have at least $500 in funds within 60 days of opening it.
What to do:
Sign up for an Oxygen account using a referral link
Create your account using your email address and password
Fill out all the details needed to set up your account
Confirm your email address through the email you'll receive from Oxygen
5. Rakuten
Rakuten, one of the leading shopping extensions, is a great way to take advantage of the $25 sign up bonus instant withdraw.
With Rakuten, you get to make easy money just by shopping online. Think about it this way; you're being paid for what you already enjoy doing.
Rakuten is considered one of the best cash back sites. Their bonus could be just what you need to convince you to join.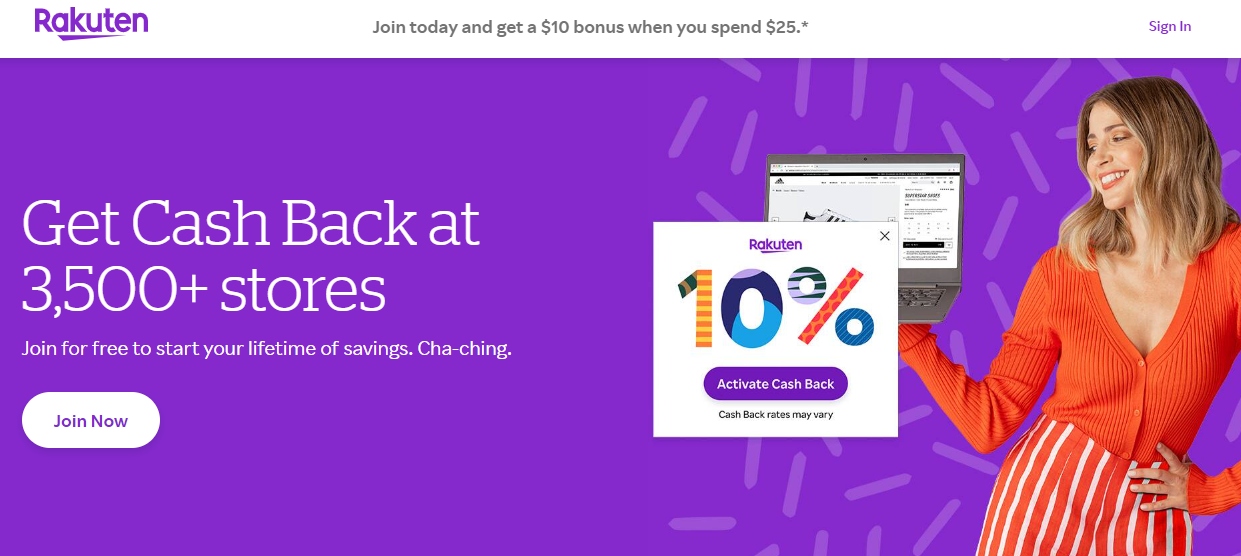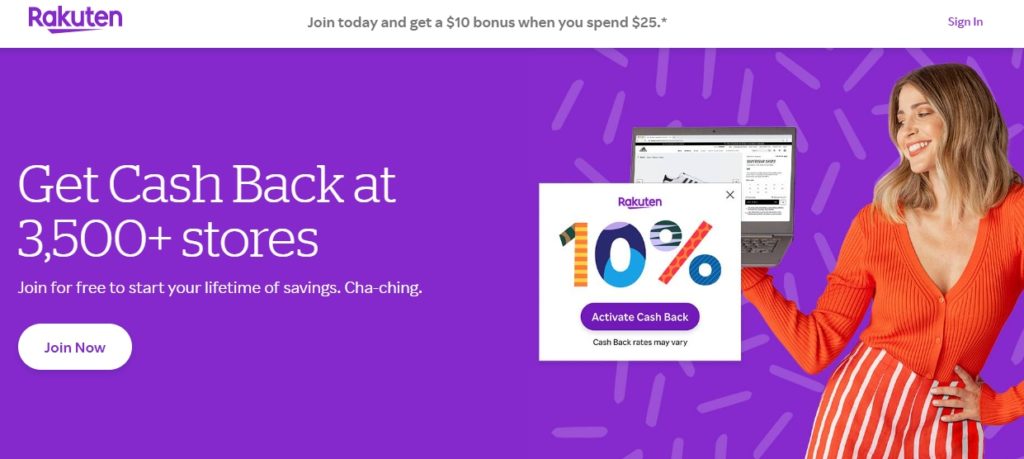 When you sign up for a new Rakuten account and make purchases that total at least $30 in the first 90 days, you're eligible for their $30 bonus.
Moreover, when you refer new users to sign up for a Rakuten account using your referral link, you get a $30 bonus credit once they have spent at least $30 within the first 90 days of opening the account.
There's no limit on how many referrals you can have, and your referrals also receive the new user bonus, a win-win.
Requirements:
You must be a new Rakuten user
You have to spend at least $30 in purchases within 90 days of opening the account to get the $30 bonus
What to do:
Create a new account on the official Rakuten website
Ensure your profile is on the correct platform (US, Canada, or the UK)
Spend at least $25 online to earn the $10 sign up bonus for referred users
6. Coinbase
Coinbase is not new to anyone interested in cryptocurrency. It's currently one of the most popular and user-friendly platforms for crypto enthusiasts.
Coinbase doesn't offer a typical $25 welcome bonus. A $25 sign up bonus crypto is available to new users when they open a Coinbase account.
Aside from the $5 to $10 in free Bitcoin given to new users in many areas, Coinbase also has a "Learn and Earn" section, where you can earn free cryptocurrencies by watching short educational videos and answering a few questions.
You also stand to benefit from your cryptocurrencies appreciating over time, so if you want to dive into the crypto world, Coinbase's sign up bonus could be exactly what you need.
Requirements:
You have to be a new Coinbase user
What to do:
Sign up for a Coinbase account on their official website
Earn at least $10 in crypto
Navigate to the "Learn and Earn" section to earn more crypto for watching educational videos
7. M1 Finance
M1 Finance is a popular online-only investment platform that lets you build wealth, borrow money, and make payments using an M1 card.
M1 Finance allows you to enjoy commission-free trading, making the most of your money without paying an arm and a leg in exchange.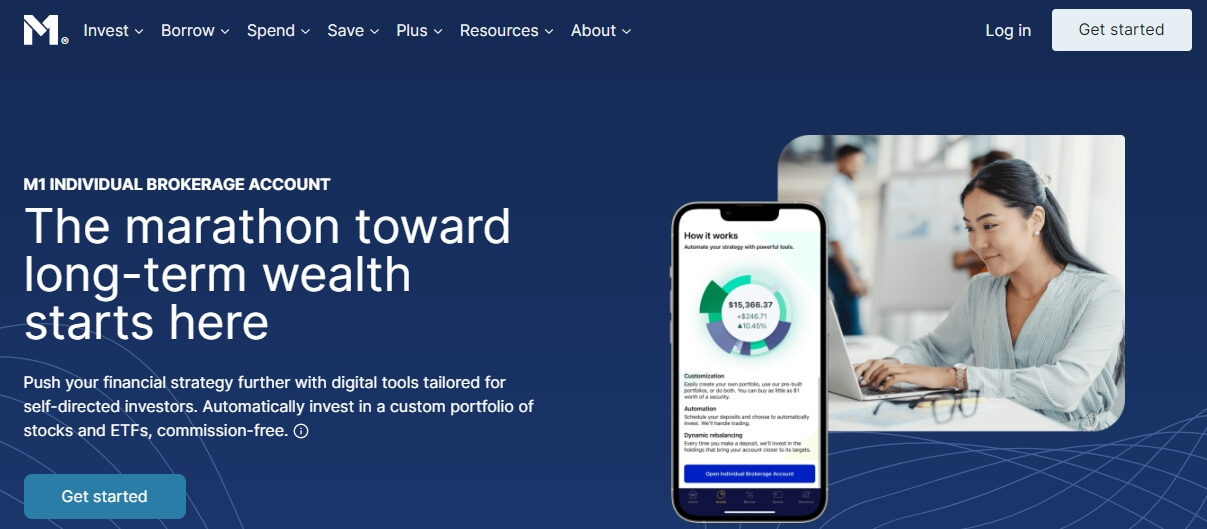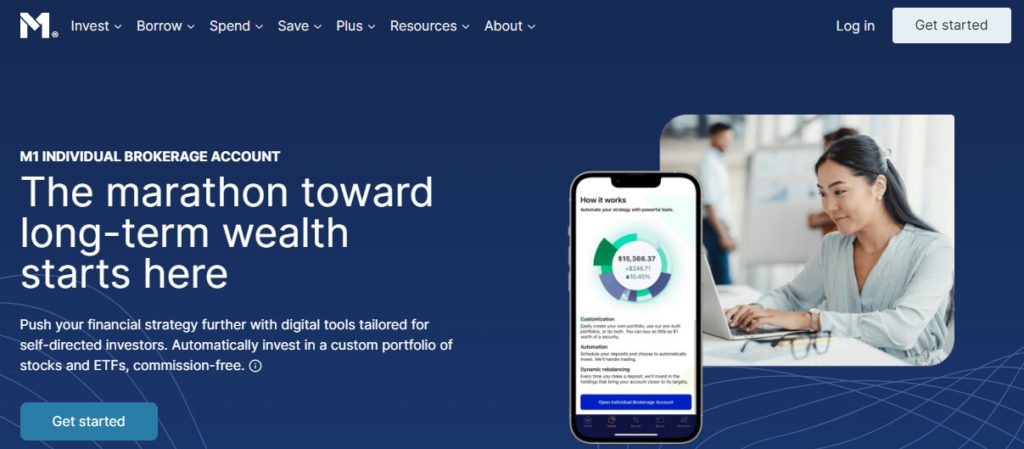 With M1 Finance, you can earn over $25 as a sign up bonus. New users can make up to $500 for opening and funding their accounts within the first two weeks.
Depositing $1,000 in your account earns you an easy $30 bonus.
Requirements:
You need to create an M1 Finance account and fund it within 14 days
What to do:
Sign up for a new MI Finance account
Fill in all the necessary details
Get a $30 bonus when you deposit at least $1,000 in your account.
Final Thoughts
Thanks to the gig economy, making money online has become super easy. You can visit any of the sites mentioned in this post to earn a $25 sign up bonus and even more.
This is a great way to earn free money, but it's even better if you're interested in trying out the services offered.
The list of sites provided here is not comprehensive, and you can find more sites that offer sign up bonuses.
Keep in mind that this is not exactly a side hustle and that offers change with promotional seasons, so always keep an eye out for opportunities to make a few extra bucks.
Want more sign up bonus offers? Check out: