Amazon Flex Deactivated? Here's Why & How To Get Reactivated!
This post may contain affiliate links which means that sproutinue.com may make a small commission at no extra cost to you. We only promote products that we love and feel will benefit our readers. Please read our Disclosure Policy for more information.
Amazon Flex, one of the most popular driving apps that pay, is a great way to earn extra income on your schedule.
However, Amazon has rules and regulations that all Flex drivers must follow, and failing to adhere to them may result in your Amazon Flex deactivated.
If you're considering working as an Amazon Flex driver, it'd be frustrating to go through the application process and start the work only for your account to be deactivated.
Losing your Amazon Flex account is a nightmare scenario for any gig worker, so it's important to avoid it at all costs.
In this guide, I'll cover the main reasons for Amazon Flex deactivation to help you maintain your account. If your account has already been deactivated, I'll also provide Amazon Flex tips to get your account reactivated.
Depending on your situation, you may be able to reactivate your Amazon Flex account.
Want to make quick money? Try out:
SayMore – Get paid to share your opinion!
Upside – Earn cashback on every gas fill-up, dine-out, and grocery shopping!
Why Amazon Flex Deactivated Your Account
Amazon has a lot of rules and regulations for drivers, and it's essential to observe them to avoid having your Amazon Flex account deactivated.
If your Amazon account has been deactivated, here are some of the top possible reasons why:
1. Being Inactive
Inactivity is one of the reasons Amazon deactivates Flex accounts. If you've not scheduled a shift for more than 180 days, it could be the reason your account was deactivated.
If you've gone without working for more than six months, Amazon assumes you're no longer interested in working, so they find replacements for inactive drivers.
Luckily, reactivating an account that was deactivated for inactivity is relatively easy. All you have to do is reapply to join Amazon Flex.
The downside is there's no guarantee you'll be accepted back immediately. If many Flex drivers were hired when you were off, you might be put on the Amazon Flex waiting list until positions open up.
2. Getting Too Many Cancellation Penalties
As an Amazon Flex driver, you get to schedule when you work by choosing Flex blocks, which are shifts typically 2-6 hours long.
Since you schedule the blocks in advance, something could come up before then, and Amazon Flex allows you to cancel your blocks.
However, according to their terms of use, you must forfeit your block at least 45 minutes before it starts.
When you cancel blocks on short notice, you get a penalty. If you habitually cancel blocks late, you get many late cancellation penalties, which could result in having your Amazon Flex deactivated.
Amazon Flex's deactivation policy doesn't specify the number of cancellation penalties that may cause account deactivation, so it's safer to avoid the penalties altogether.
3. Missing Your Delivery Blocks
While late cancellation violates Amazon Flex's policy, failing to show up for work is an even more serious offense.
Canceling your delivery block in time means Amazon can reassign the job to available drivers so the customers receive the packages on time.
However, missing your delivery blocks without notice means the customers will receive their packages late, seriously affecting Amazon's business.
While Amazon Flex is unclear about the number of missed blocks to deactivate an account, avoid missing work at all costs. Even one missed block could result in deactivation.
Ensure you're well organized to avoid missing blocks accidentally. If you're unable to work the shift, ensure you forfeit the block in time to avoid penalties.
4. Using Bots and Grabbers
Since Amazon Flex is such a popular side hustle, there's a lot of competition for Amazon Flex blocks.
Some Flex drivers use Amazon Flex bots or grabbers, which automate block-grabbing and give them a competitive advantage.
However, according to Amazon Flex's terms of use, the use of any data mining, robots, or similar data gathering and extraction tools is strictly prohibited.
Amazon Flex drivers are aware of the risk, but most still use bots and grabbers. If you're caught using Amazon Flex bots, you may have your Amazon Flex deactivated.
Amazon Flex bots and grabbers have pros and cons, so you should consider them to decide if the risk is worth it.
5. Getting Too Many Customer Complaints
Amazon is a very customer-focused company, which is one of the main reasons it has gotten to where it's today.
As such, customer complaints are one of the surest ways to get your Amazon Flex account deactivated.
Here are some of the most common complaints from Amazon customers:
Packages arriving late
Packages never arriving
Packages arriving damaged or broken
Mixing up delivery addresses
Mistakes with customer details
The best way to avoid customer complaints is to take time to provide excellent services. Most of these mistakes happen because the driver is in a hurry.
Double-check the details to avoid messing up your deliveries and jeopardizing your Amazon Flex account.
6. Violating Amazon's Harassment Policy
While Amazon Flex drivers are hired as independent contractors, they must comply with Amazon's workplace policies, including the harassment policy.
Amazon believes that all workers deserve to be treated with respect and dignity, which is why the company doesn't condone inappropriate conduct, including discrimination and harassment.
According to Amazon's harassment policy, the following are strictly prohibited and could lead to deactivation:
Physical touch or assault, including blocking and impeding movements
Unwelcome physical contact and sexual advances
Demanding sexual favors in return for preferential treatment
Use of sexually explicit language
Leering, gestures, or the display of sexually suggestive objects
Use of derogatory comments, jokes, or slurs
Making suggestive or obscene invitations
If another employee or a customer complains about these behaviors, your Amazon Flex account is deactivated with no chance of reactivation.
7. Outdated Documents
Sometimes the reason your Amazon Flex account was deactivated is as simple as having outdated driver documents.
Based on the Amazon Flex driver requirements, every driver must have a valid driver's license and vehicle insurance. Additionally, you must be eligible to work in the country you're in.
So, if any of these changes, you risk having your Amazon Flex account deactivated.
Ensure you always keep your registration, driver's license, and vehicle insurance documentation up-to-date to avoid risking your account.
8. Violating Amazon's Passenger Policy
Amazon doesn't prohibit you from having a passenger or pet in your vehicle as you make deliveries.
However, it's discouraged since Amazon's commercial insurance doesn't cover passengers or service animals in case of an accident.
While you're allowed to have passengers and pets in the vehicle, there are rules regarding what they can do while you're on the job.
According to Amazon's policy:
Passengers and pets, except for service animals, must not interact with customers
They cannot accompany you as you make deliveries to the customers
Passengers must not drive your vehicle as you deliver the packages
They must not enter the pickup stations
You're allowed to bring along passengers, but it's not the best idea since you could easily violate Amazon's policy and risk your Amazon Flex account being deactivated.
9. Driving Under the Influence
According to Amazon Flex's Zero Tolerance Policy, the safety and security of Amazon's delivery partners, customers, and the public are Amazon's top priority.
As such, getting caught driving under the influence of alcohol or any other drugs is grounds for immediate Amazon Flex deactivation.
Driving safely should also be your priority to protect yourself and others while on the job.
10. Identity Verification Issues
When signing up for Amazon Flex, you must submit a selfie to help with identity verification.
Sometimes, drivers have their accounts deactivated while their selfies are under review because they don't resemble their IDs.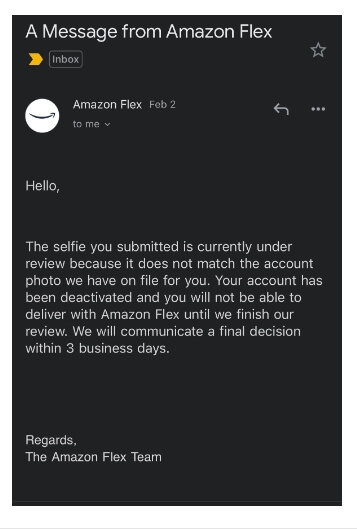 To avoid this, submit a selfie that resembles your ID photo as possible, as it can be very frustrating.
11. Carrying a Weapon
It's natural to be concerned about your safety, but Amazon Flex's terms of use prohibit carrying weapons in your car as you make deliveries.
This rule applies to everyone, including those with a concealed carry license. Even in states where carrying weapons is legal, Amazon expressly prohibits it.
You can take other security measures like installing a dash cam in your vehicle, staying alert and aware of your surroundings when making deliveries, and reporting any suspicious activities immediately.
How To Reactivate Amazon Flex Account
Depending on the reason for deactivation, you can get your Amazon Flex account reactivated.
There are two types of deactivation:
Temporary deactivation: When your account is temporarily deactivated, you're barred from delivering Amazon packages for a specific period.
Permanent deactivation: When your account is permanently deactivated, you're barred from working for Amazon Flex for good. Permanent deactivation is usually caused by too many missed blocks or being late repeatedly for your shifts.
Amazon emails you a deactivation notice, citing the violations that led to the deactivation.
You're given 10 calendar days to reply to the notice using Amazon's Qualtrics form, after which they take up to three weeks to process the information.
However, some drivers claim they never heard back from Amazon. So how do you reactivate your Amazon Flex account?
Contact Amazon Flex Customer Service
If your account was deactivated for being inactive, you can contact customer support and ask to speak to a representative.
If you've been temporarily deactivated, all you can do is wait out the period and then get back to work, avoiding the mistakes that got you in trouble.
Submit an Appeal
When Amazon sends you your deactivation notice, the email includes the reasons for the deactivation. In this case, don't call customer service; start the appeal process instead.
Ensure you file your appeal within 10 days of receiving the deactivation email. Sometimes some glitches cause the bots to make mistakes, so there's a chance you can have your account reactivated.
When responding to the email, take your time to craft a good appeal because you only get one shot.
You can use advice from the following YouTube video from Gig Nation to go through the reactivation process.
If you believe you've been deactivated unfairly, you can contest and make your case using the link provided in the deactivation email.
When submitting the reply, consider the following:
Acknowledge the fault and give steps on how you plan to rectify the mistakes in the future.
Include a history of your delivery performance as a Flex driver.
Give reasons why you enjoy working for Amazon Flex
You can appeal your deactivation if the reason is unfair, like if a customer complained about something that didn't happen.
You can also appeal if the reason is late cancellations or missing blocks.
However, if your account has been banned due to policy violations such as driving under the influence or sexual violation, unfortunately, there's no way to reactivate your account.
What To Do if Your Amazon Flex Account Is Deactivated Forever
Unfortunately, there are instances where your Amazon Flex account is deactivated for good.
While you can do nothing about it, you can always find other jobs like Amazon Flex.
Here are the top gig economy apps you can consider:
Frequently Asked Questions
Can I Reapply for Amazon Flex After Deactivation?
Yes. If your account was deactivated for inactivity for more than six months, you can reapply for Amazon Flex again.
You'll have to start the process and go through registration again. If your account was banned for severe violations, you may not be able to get it back.
How Long Do I Have To Wait to Reapply for Amazon Flex?
You can reapply for Amazon Flex 12 months after deactivation. If the deactivation was a result of inactivity, you can reapply immediately.
Depending on the number of applicants, you may be placed on the Amazon Flex waiting list.
Can a Warehouse Supervisor Reactivate My Amazon Flex Account?
Warehouse supervisors don't have the authority to reactivate deactivated Amazon Flex accounts.
To reactivate your Flex account, you must submit an appeal using the link provided in the deactivation email.
Final Thoughts
Now that you know all about Amazon Flex deactivation and its causes, you can avoid violating Amazon's rules and regulations.
If your account was deactivated, you now know the steps you can take to have it reactivated.
In worst-case scenarios where your account has been banned permanently, you can consider other gig economy apps like DoorDash and Instacart.
Looking for other ways to make money?