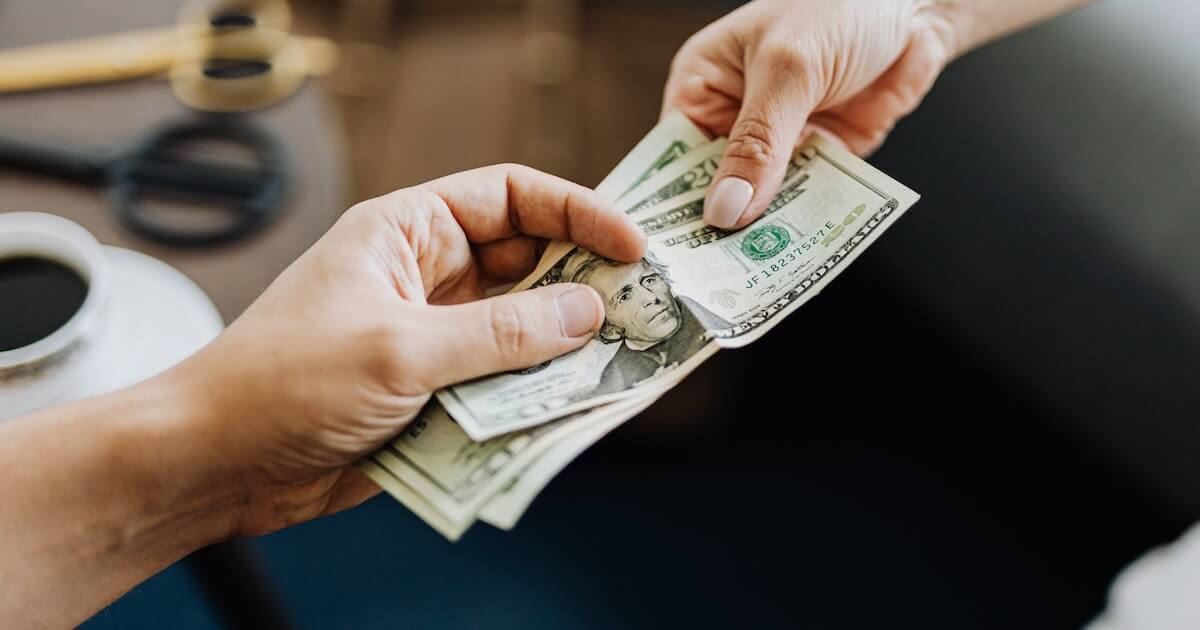 Instawork Review 2023: Is It a Legit Job App?
This post may contain affiliate links which means that sproutinue.com may make a small commission at no extra cost to you. We only promote products that we love and feel will benefit our readers. Please read our Disclosure Policy for more information.
In today's digital world, making money has never been easier. Whether you're looking for a side hustle idea to make extra money or prefer something more flexible than the traditional 9-5 job, the internet is a gold mine.
Now it's easier to get freelance gigs in your location through various on-demand job apps. A good example is the Instawork gig app, where you can find legit hourly jobs.
Instawork hires people based on their skill set and experience and connects them to various clients or employers. And after hiring, it pays by the hour and remits money to your bank account every week.
Most Instawork reviews from users paint the picture of an ideal platform where one can get easy work and earn an average of $25 per hour. But is Instawork legit?
This Instawork review covers all the crucial details you want to know about the app, from how it works to the type of gigs you can find, payment, pros and cons, and more.
What Is Instawork?
Instawork is a flexible online staffing platform launched by Sumir Meghan in 2016. The app makes it easy for job seekers to find same-day work in their locality and enjoy flexible hourly payments.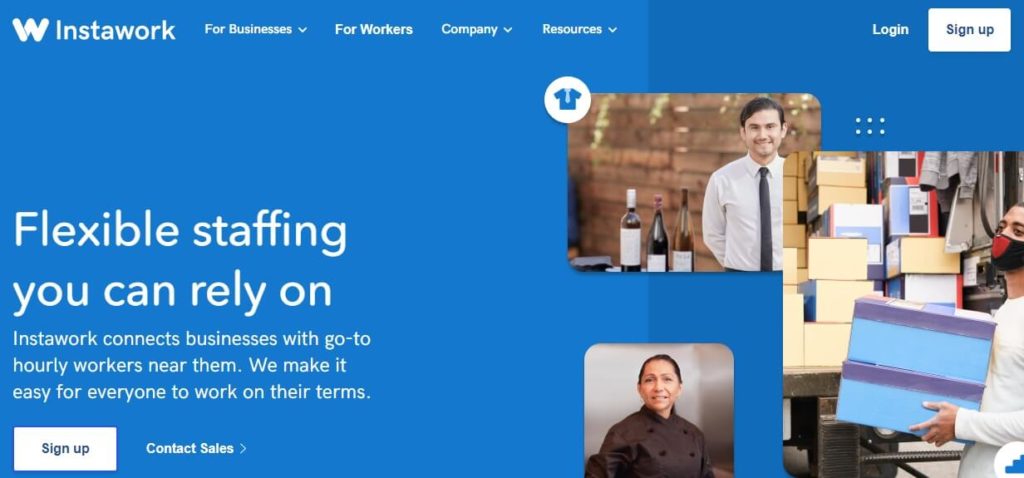 The platform has since registered over one million workers. Instawork offers two staffing solutions:
Businesses: It helps small businesses and retail stores find temporary workers to help meet their daily staffing needs.
Workers: The platform makes it easy for people to find flexible gigs and make quick money in their free time and even passive income.
The overall objective of the platform is to connect employers and workers. Employers get to meet their daily staffing needs, and workers get to work a few extra hours per week, making quick cash.
How Does Instawork Work?
The process is relatively straightforward if you want to know how to find jobs on Instawork and get good weekly pay.
It takes less than 20 minutes to create a profile. I'll take you through this step-by-step process to help you set up a solid profile so you can start booking shifts.
1. Sign Up for Instawork
Like every online platform, the first step always entails creating an account. With Instawork, you'll be required to enter your full name, phone number, and email address.
From there, you can download the Instawork app from App Store or Google Play Store.
Intawork will then ask you to verify your phone number and answer a few questions to help them know more about your employment needs, income goals, availability, and location.
The following are the questions you can expect when signing up for Instawork:
How many hours can you work per week?
What's your expected hourly rate?
How far can you travel to work?
What's your availability?
How early do you want to be notified before accepting a shift?
These questions help Instawork understand your employment needs better so they can pair you with the appropriate shifts that match your schedule, availability, and income goals.
Once you've answered the questions, you'll need to enter your zip code to help them filter job shifts in your area.
For example, if you live in Colorado, you'll be shown the number of shifts completed in your location in the last two weeks and the amount of extra income Instawork workers netted in that period. This will motivate you to get ready for your shift.
But before you do, you'll have to complete your profile.
2. Complete Your Profile
If you're researching Instawork reviews, you've heard about the platform or similar job apps like JobGet or Wonolo. These apps work nearly the same though some features and requirements are different.
Instawork requires you to create and complete your profile before you can apply for Instawork gigs. The process involves uploading your profile photo and selecting the type of gigs (by industry) you're interested in.
For example, you can pick a gig or shift from any of the following categories depending on your skill set:
Barista
Bartender
Busser
Concessions
Dishwasher
Event server
Food service worker
General labor
Housekeeper
Line cook
Packer
Merchandising
Sanitation
Steward
Warehouse worker
The process also requires your previous work experience and completing a short training module. Then you'll be registered as an "active Instawork worker" ready to apply for jobs. The entire process should take no more than 15 minutes.
3. Apply To Jobs
With your profile complete, you'll need to log into the dashboard to view job categories listed on the main tab and find open shifts. The categories you'll see depend on the gigs or industries you selected when creating your account.
However, Instawork allows you to add more categories that may interest you. After picking a particular category, Instawork will show you open shifts in your area.
For instance, if you select a warehouse manager shift in Colorado, you'll be shown a list of jobs available the same day, paying around $25.44 per hour or $178.08.
You must ensure your profile is complete before booking a particular gig. Otherwise, Instawork will remind you that you must "Get Activated" to apply to available shifts.
If your profile is complete, you'll find additional requirements from the employer by tapping on a particular gig you're interested in.
For example, if you pick a bartender shift, the following are some of the requirements you might need to fulfill:
Enter your birthday as proof of your age
Add a clear profile picture
Have at least two recommendations on your Instawork profile
Include your work experience
In addition, Instawork will ask you to complete its in-app quizzes and verify your identity to make your profile stand out.
As you interact with the app, you'll realize that some jobs are unsuitable for new users because you may be asked to include two recommendations. When you encounter such gigs, you should move to other open shifts with minimum requirements, as they are ideal for first-timers.
When you find the ideal shift that matches your profile and needs, apply for it, complete it, and obtain a positive review from the employer or client. This detailed process and requirements can make it tricky to land a shift if you're a new Instawork user.
However, once you complete your first gigs and get Instawork reviews from employers, it becomes much easier to get other gigs, more so when you frequently use the app. It makes you stand out and ensures consistent workflow and income.
4. Complete Shifts
If your Instawork application is approved, it's time to make some extra cash. Even better, the platform prepares you for your first shift by providing some helpful tips such as:
How to get to the location of the shift
Helping with transportation to get to the shift location that day
Notifying you of your shift 16 to 24 hours ahead of its start time
In addition, Instawork requires you to arrive at work 15 minutes earlier before your shift starts. You'll also need to confirm on the app when your shift starts.
Avoid using your phone when you start working on your shift; otherwise, this will affect your rating. A good way to increase your ratings and earn positive Instawork reviews is by demonstrating excellent work ethics like commitment and customer service skills.
Once you finish your shift, you're encouraged to ask the business or client if they need extra help. If not, confirm the end of your shift on the app and check out.
Before you do, check if all the hours you worked are entered in the app to ensure you receive full payment for all the time you worked.
5. Get Paid
Instawork payments are made weekly for all shifts completed from Monday to Sunday.
Payments are processed on Wednesdays and will reflect in your bank account on Fridays or Saturdays. Instawork workers typically get paid via direct deposit.
The payment option and schedule are similar to Instawork alternatives like DoorDash and Instacart. However, there are some gigs that you can only book as an independent contractor. These shifts require you to file a 1099 tax form to report and file your income taxes.
Otherwise, you can always book the traditional W-2 roles, where the necessary taxes will be automatically deducted from your earnings.
Instawork Pro Program
The Instawork Pro Program is a rewards program that allows you to make more money by getting perks and bonuses as a top worker.
For example, with this program, you can earn cash raffles, get instant payment for specific shifts and gain early access to shifts.
The Instawork Pro Program has four different tiers with different requirements and perks. The general rule for qualifying for the program is to complete a specific number of shifts without missing any or making late cancellations.
Top-tier members get as much as $100 cash, bonuses, and up to 25% pay raises on specific shifts making the program quite lucrative.
You can visit the Instawork website to learn more about the Pro program and the requirements to become one.
How Much Can You Make With Instawork?
When I signed up for Instawork, their welcoming email said I could earn as much as $750 or more with the app. It also gives an average hourly rate of $25 on most gigs.
While browsing the app, I found several gigs paying between $14 to $22 per hour, with others paying more than $25. Instawork reviews on Indeed show you can earn between $14 to $19 per hour on the app with most gigs.
Overall, you can earn around $15 to $20 per hour depending on which gig categories you pick when signing up for Instawork jobs. That can translate into a few hundred bucks on the side each month.
What Kinds of Jobs Are on Instawork?
Instawork gigs range from top positions like senior marketing operations manager to sales account executive and junior roles like warehouse worker and line cook. It mainly focuses on the hospitality and warehousing industries.
The app connects businesses and organizations with shelf-stockers, bartenders, line cooks, warehouse workers, servers, baristas, and similar roles.
You don't pay any subscription or membership fees to find work on Instawork. These fees are paid by the clients looking for staff. However, you can get an immediate suspension from the platform if you fail to show up for a shift or report late more than twice.
On the flip side, you get rewarded with early access to gigs after completing a certain number of shifts per month and attracting raving Instawork reviews and no cancellations.
Is Instawork Legit?
Yes, Instawork is a legit app with tons of positive reviews. The staffing platform was launched in 2016 to offer flexible, hourly work for local professionals. It's a verified digital marketplace that connects millions of job seekers with thousands of businesses providing instant employment opportunities.
The platform has been featured on top news channels, including the Associated Press, CBS News, the Wall Street Journal, and The Washington Post. In 2022, the company was ranked among the leading fast-growing startups by Inc. 5000 and featured in the Forbes Next Billion Dollar Startup list.
In addition, Instawork was recognized by Business Insider as among the "Best Business Apps" and the winner of the 2022 ACE Award for the "Best Innovation" app.
Instawork's primary focus is the hospitality, food & beverage, warehouse, and logistics industries, helping businesses fill temporary and permanent job vacancies in over 25 job markets across the U.S. and Canada.
This, coupled with numerous positive Instawork reviews and user testimonials, proves the site is legit. If you want to dig deeper, there's lots of proof of payment online that you can look up to confirm the site's legitimacy.
Is Instawork Safe?
Yes. Instawork is a safe platform to connect with employers that need your services. The platform offers several options to work from home, in your office, or on-site, depending on your shift.
In addition, you are only required to provide your bank account details, where all your earnings will be deposited directly each week.
You can use the platform to make passive income by booking gigs and outsourcing to others. And it all starts with creating an account, completing your profile, and earning positive Instawork reviews after the successful completion of shifts.
However, due diligence is crucial when working with any online platform where money is involved.
Instawork Reviews Reddit
So far, this Instawork review has covered the basics of how the platform works and why you should try it as a side hustle idea for quick gigs or cash.
But to determine if it's worth your time, you'll want to look at real Instawork reviews from users across various platforms.
These are honest feedback from users who have used the app and share their experiences. For example, Instawork has a rating of 4.5 stars on Google Play Store and App Store based on thousands of reviews.
Similarly, users on other social platforms like Reddit have something to say about this gig app:
LumenYeah says: "For whatever it's worth, I've worked nearly 100 shifts for Instawork over the last 4 months and have had a very positive experience. I would highly recommend you give them a try!"
Cheers1000 says: "I made 30 an hour serving food to college kids at Berkeley last week."
CboyHayes says: "Instawork is helping me pay bills in between jobs right now, 18-25 an hour consistently."
However, there are several Instawork complaints about low pay. The hourly rate you can expect to earn depends on the shift you book.
Instawork Pros & Cons
A detailed Instawork review cannot be complete without highlighting its upsides and downsides. So here is our quick summary of the pros and cons of this app:
Pros
Multiple job categories. You can book shifts from over ten industries
Rates for each shift are indicated upfront
Reasonable rates of $15 to $20+ per hour with many jobs available
Instant work with recommendations once you complete your shift
Bonuses and rewards through the Instawork Pro Program
Weekly payments through direct transfer
Cons
The sign-up process is a bit rigorous, and new users can find it quite complex
Your account must be activated before you can book shifts on the app
You must build and improve your profile to stand out, which takes time.
Overall, Instawork is an excellent platform for making extra money on the side. It can be a reliable side hustle with a consistent income stream if you make the most of it.
Instawork Alternatives
If you have tried this app and liked it and now want to try similar apps for more work opportunities, there are plenty of Instawork alternatives that might interest you.
Some of the best apps like Instawork include the following:
Frequently Asked Questions
Is Instawork Any Good?
Yes. Instawork is a gig economy site that connects job seekers with thousands of job opportunities in their locality. The platform pays a reasonable hourly rate directly deposited into your bank account each week.
How Long Does It Take To Start Working On Instawork?
You first need to sign up and create an account with Instawork. You should always ensure that the information you provide is accurate, including verifying your phone number.
Once you complete the screening questions, your account should be ready in under half an hour. You can start booking gigs after confirming that your account has been activated.
How Much Can You Make a Week on Instawork?
The average hourly rate on Instawork is $15 to $20. You can even earn as much as $25+ per hour. The cumulative amount you can make per week depends on the gigs or shifts you picked when creating your account, as some gigs pay more than others.
On average, you can expect $500 to $700 or more per week in earnings.
Does Instawork Pay Daily?
No. Instawork rates are listed hourly and deposited weekly into the worker's bank account. Depending on the number of shifts you complete per week, you can withdraw your earnings from your bank account every weekend on Fridays or Saturdays.
However, after completing several shifts on the platform, you can qualify for the Pro Program and enjoy certain benefits like instant pay.
Can You Make a Living off Instawork?
Yes. If you're consistent, Instawork can be a good source of income. You can even do it full-time if you don't have a formal job and diversify your income by outsourcing some jobs to other workers to create a passive income stream.
Do You Pay Taxes With Instawork?
When you sign up on the platform as a W-2, you don't make any payments be it registration fees or income taxes.
Instawork has partnered with various companies to ensure that the payment process is seamless and all taxes are deducted from your paycheck before reflecting in your bank account.
Only independent contractors are required to fill out the 1099 tax form and report or file their taxes.
How Does Instawork Make Money?
Unlike most platforms that charge commissions and registration fees from members, Instawork doesn't charge workers any upfront fees. They get their revenue from the commissions paid by corporate clients looking for staffing solutions on the platform.
Final Thoughts
Instawork is a great gig economy app that connects you with employers in your preferred industry. It offers a seamless and flexible employment process with a consistent income stream that works for most people.
Whether you're looking for a side hustle or a full-time job, there's something for you. But if you want to make quick cash, try out GPT sites or sites that pay you to download apps.
I hope this Instawork review has helped you decide whether the gig app is right for you.
Looking for other ways to make money? Read these posts: