17 Best Apps Like Instawork to Make Money in 2023
Updated on April 10, 2023
This post may contain affiliate links which means that sproutinue.com may make a small commission at no extra cost to you. We only promote products that we love and feel will benefit our readers. Please read our Disclosure Policy for more information.
Apps like Instawork have made it possible to connect gig workers with employment opportunities matching their skill sets.
Nowadays, you don't have to submit several resumes to land a full-time job or a side hustle to supplement your income. You can get hired with just a few taps on your phone, thanks to apps similar to Instawork.
If you've used the Instawork app and enjoyed the convenience of getting instant work and a consistent income stream, you could be looking for apps like Instawork to cast your net wide and maximize your earning potential.
Whether Instawork is not getting you the gigs you're looking for or you just want another alternative, here are the 17 best apps similar to Instawork.
The Best Apps Like Instawork
Instawork is popular with most job seekers, and for a good reason. The platform offers diverse employment opportunities. From temporary gigs to long-term work, with flexible working hours and a hassle-free payment process.
But Instawork isn't the only gig app connecting hiring companies with job seekers. There are several other reliable, alternative apps with nearly the same features and payment processes.
Here are the 17 most reliable gig apps like Instawork to find work in your area.
1. Upshift
Upshift is an excellent alternative to Instawork. Launched in October 2012, Upshift connects job seekers with prospective employers in most states in the U.S.
To get hired on Upshift, you must undergo a W-2 pre-screening process and create a profile to match you with the relevant employers.
The platform maintains a stringent vetting and accountability process, which you must pass to ensure that the hiring companies get only the most trustworthy employers and extra quality service.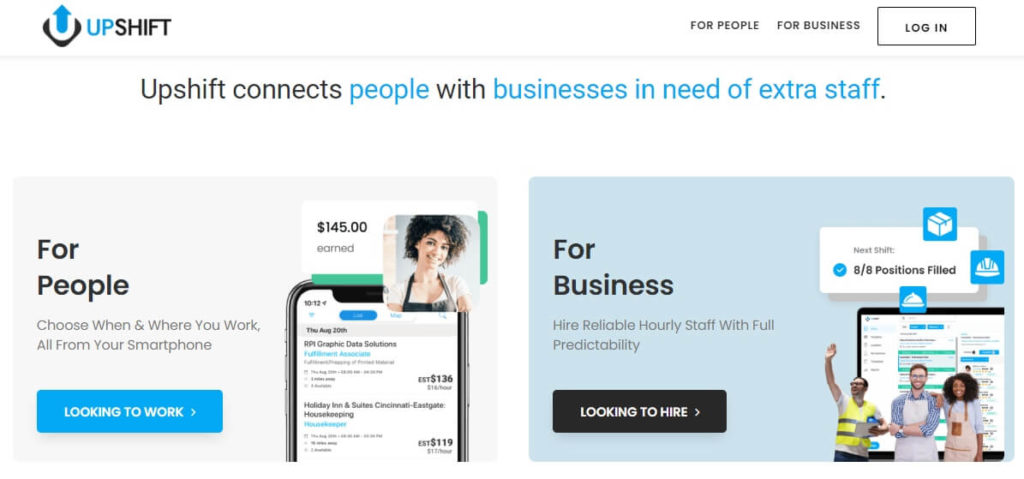 Once verified and screened, you'll be connected to various businesses and organizations in different industries that match your skills.
Jobs available on Upshift are hourly-based, meaning you get paid according to the number of hours worked. 
Popular job categories on Upshift include: 
Housekeepers
Equipment operators
Customer service
Janitorial
Dishwashers
Chefs
Bartenders
As a reliable alternative to Instawork, Upshift provides flexible gigs that you can pick on your own terms and work at your own schedule without affecting your day job.
You can make anywhere from $10 per hour, depending on your role. Some roles pay as much as $100 per hour.
Like Instawork, payment is processed weekly (every Friday) via direct deposit to your bank account.
2. Qwick
The culinary industry tends to have an undersupply of constant workers. Hotels, restaurants, and field event managers are always looking for chefs, servers, bartenders, and dishwashers.
That's where Qwick steps in to save the situation.
Similar to Instawork, Qwick provides multiple job categories with flexible shifts. As a job seeker, you must be a professional in at least one job category. You must also meet the hiring company's professional standards for the role you're applying for.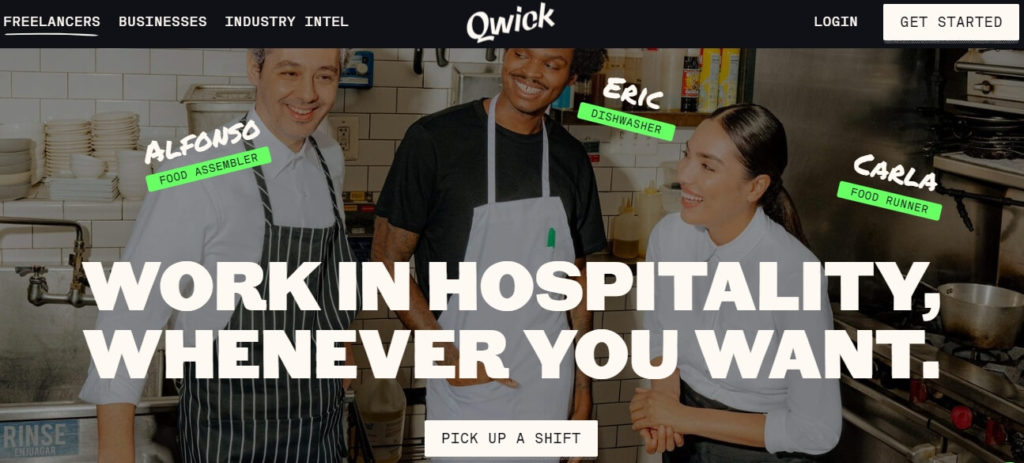 Qwick is currently available in several job markets across the U.S., including:
Atlanta, Georgia
Chicago, Illinois
Dallas, Texas
Houston, Texas
Miami, Florida
New York City, New York
Phoenix, Arizona
San Diego, California
You must be 18 years and above to sign up on Qwick. Among the requirements are a smartphone, experience in the food and beverage industry, and a food handlers certificate.
Qwick lives up to its name, ensuring you get paid quickly 30 minutes after you complete your shift. This is possible with the Instant Pay feature, which you must activate to receive payment.
Since the app operates in real-time, you can easily keep track of any changes made to a particular shift. For example, you can cancel a shift if you're not available to take it.
The average starting pay on Qwick is $19.66 per hour. However, you can earn as much as $30 on the app, depending on your role.
3. ShiftGig
ShiftGig is another app like Instawork where you can find temporary or full-term work. You're not just a job seeker on this gig app but a 'Specialist' and should pass the pre-screening test before you can connect with the hiring company.
However, once approved, you can access various flexible job opportunities paying between $25 to $50 or more an hour. After completing each shift, your employer confirms the number of hours worked.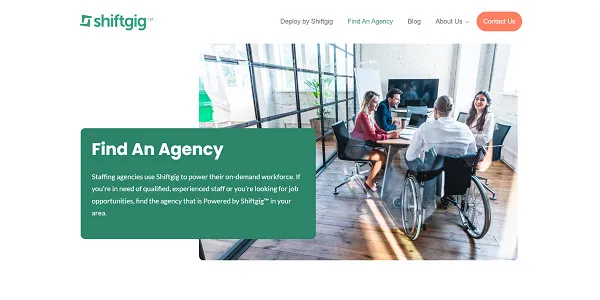 ShiftGig has partnered with the financial service company DailyPay to ensure you receive same-day payment after the end of your shift.
Some of the jobs you can get from this app include:
Housekeeping
Cooking
Dishwashing
Bartending
Manufacturing
Production
Sales representatives
Warehousing
Brand ambassadors
A notable advantage of finding work on ShiftGig is that the app allows you to set up your own working hours. However, it's only available in 15 cities.
To find work on this ShiftGig, you must own a smartphone, be 18 years and above, have some industry experience, and have a verified U.S. work permit. It would be best if you lived around the cities the platform operates.
4. Steady
Steady is one of the best apps like Instawork to find gig economy jobs.
This Instawork alternative has been around since 2017 and primarily focuses on helping freelancers find job prospects in their locality. Since then, the app has had more than six million users who can easily find work by entering their zip codes.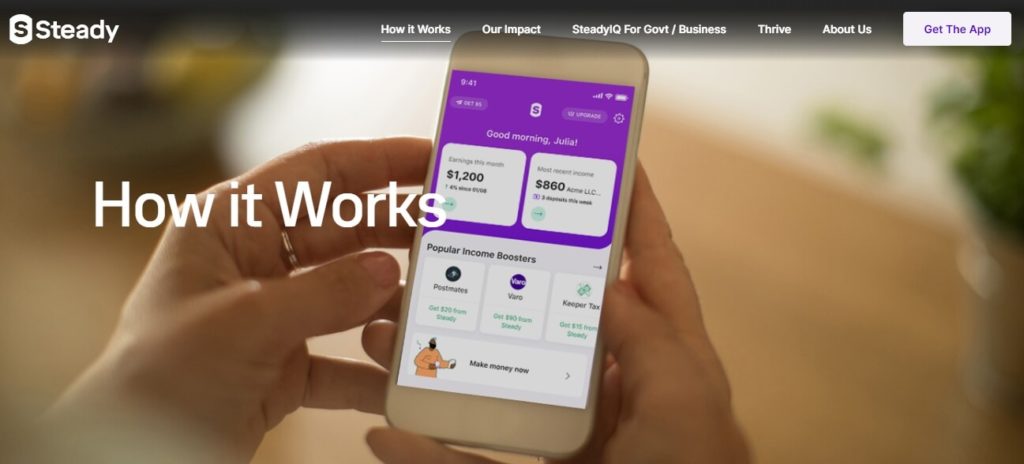 Gigs on Steady include full-time and part-time jobs, work-from-home gigs, and anytime work. The app also has Income Boosters, where you can earn cash incentives when you try its partner financial products and services.
While the job pays hourly with a monthly payment remittance process, you can earn as much as $5,500 annually if you utilize the platform consistently.
Steady pays via PayPal and can be a great side hustle if you want to make a consistent income.
5. Wonolo
Another app similar to Instacart is Wonolo. It helps make things easier by providing job seekers with a streamlined job application process with "No more esumes. No more interviews."
Unlike other gig apps like Upshift, with stringent approval procedures, you don't need to provide any resume or interviews before getting work on Wonolo. The app allows you to choose your preferred gigs and work schedule.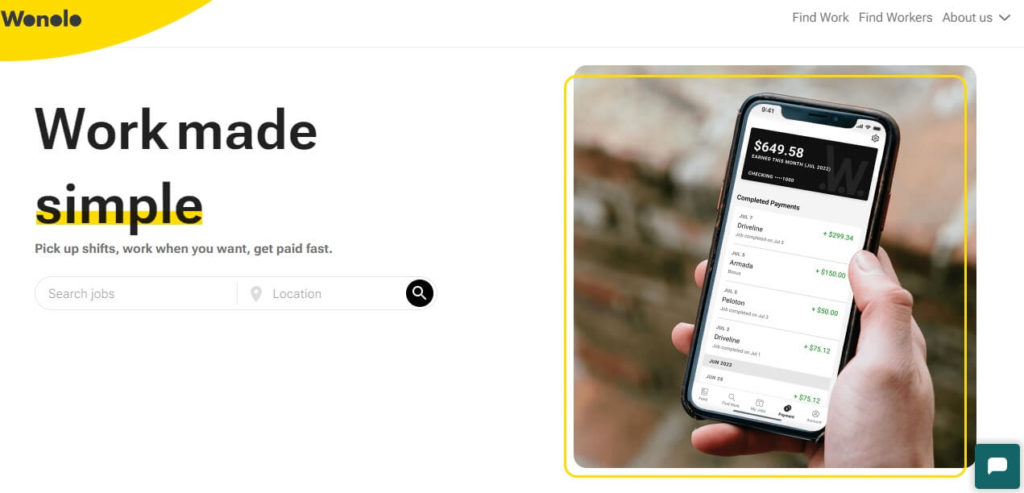 You pick jobs that match your skills and do them on the same day. Typical roles you can land on Wonolo fall in various categories, including:
Administrative
Data entry
Customer service
General labor
Event staff
Delivery
Food production
Warehousing
Manufacturing
The best thing about using Wonolo is the high supply of jobs and decent pay. Each shift on Wonolo is paid by the hour and remitted to your bank account when you complete your shift.
6. TaskRabbit
TaskRabbit is a popular gig app like Instawork, which helps 'Taskers' find people who need some tasks done and render their services.
The platform provides work opportunities for both high and low-skilled Taskers with roles ranging from delivery to lawn care and even TV mounting.
TaskRabbit is more versatile than Instawork, covering a comprehensive selection of general handyman services, such as:
Help moving
Yard work
Painting
Snow removal
Home cleaning
Furniture assembly
Lighting installation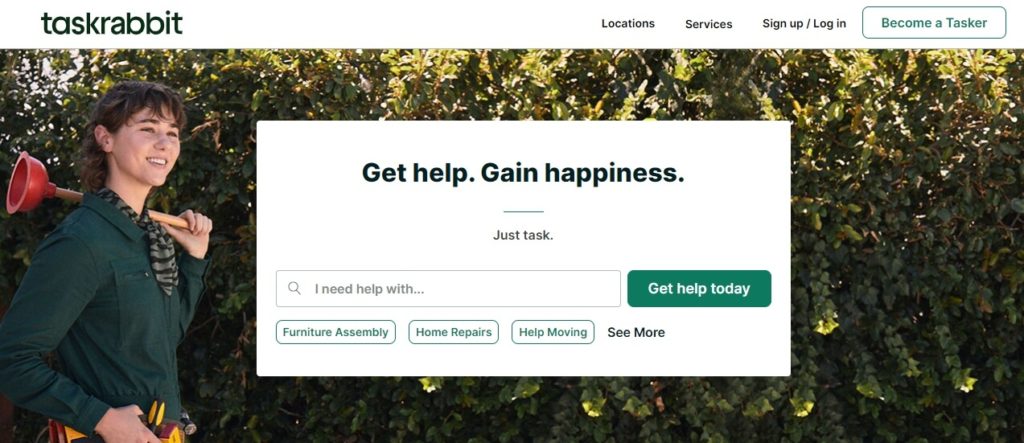 TaskRabbit is also available in different markets, serving users in the U.S., Canada, and some parts of Europe. In addition, some TaskRabbit gigs pay premium hourly rates, as high as $45 per hour. You can earn way above the minimum wage if you find consistent work.
The platform uses direct deposit to pay Taskers within the shortest time possible. You can pick or cancel a task on the app at your convenience. You should be of legal age to work with TaskRabbit.
With TaskRabbit, you can set your own hourly rates and schedule, making it easy to work around your other commitments. If you want more control over your schedule, apps like TaskRabbit are worth considering.
7. Indeed Flex
If you're looking for an app like Instawork that's time-efficient, offers flexible gig schedules, and pays better than most apps, consider Indeed Flex.
As one of the largest gig apps, Indeed Flex provides various job opportunities for U.S. and UK-based individuals.
On this app, you can find high-paying temporary gigs in your expertise. Indeed Flex focuses mainly on the following industries:
Retail
Industrial
Cleaning
Hospitality
Clerical
Indeed Flex pays weekly for all shifts completed, although it has a limited work supply. The app allows you to set your working rates and book shifts available in your area.
You can earn anywhere from $12 to $30, depending on your role and location.
8. JobGet
If you're looking for work around where you live and don't mind commuting far away to a job location, you should check out JobGet.
Once registered, you'll receive recommendations for jobs available in your area. Alternatively, you can filter your search to narrow down the available opportunities near you.
In addition, JobGet allows you to contact your prospective employers directly from the platform. You can also apply for various jobs with just one tap. A few examples of such jobs include:
Retail
Sales
Admin
Hospitality
Part-time
Travel
Customer service
Creative and design
Accounting and finance
JobGet also has a gig economy section where you can find more flexible gigs. One major advantage of JobGet is the speed at which they make decisions. This means you get a quick response on your application.
9. Bluecrew
BlueCrew is another competitor to Instawork. With the app, you enjoy maximum flexibility, choosing from various available jobs in your industry.
Popular job categories on Bluecrew include:
Cook
Mover
Dishwasher
Housekeeper
Janitor
Event server
Forklift
Retailers
Warehousing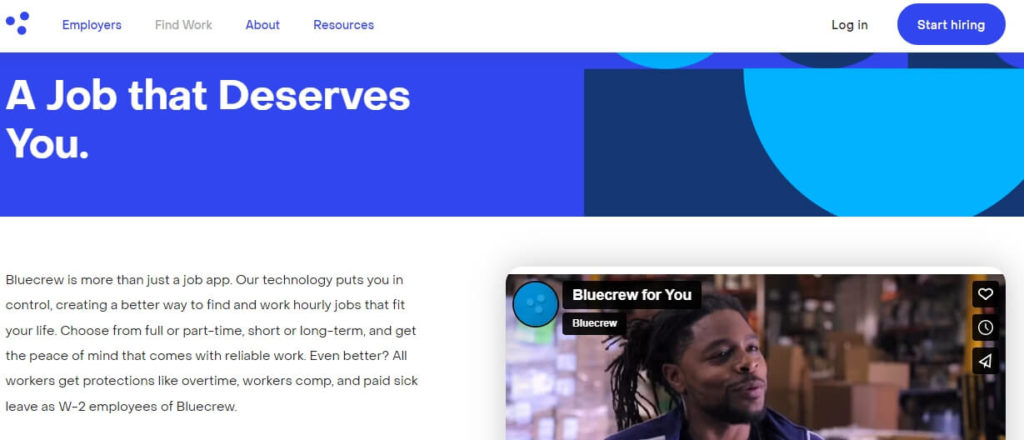 Bluecrew says the average worker earns $17.81 per hour, which is way above the minimum wage in many states.
Bluecrew pays per week, but you can also access your weekly earnings before the expected payday through their On-Demand Pay feature. This feature allows you to get your paycheck daily without waiting for payday at the end of the week.
What's more, Bluecrew offers payment protections, such as overtime, sick days, and health insurance. You can also refer friends to join Bluecrew and earn a bonus.
10. Amazon Flex
Amazon Flex is another famous gig app like Instawork. However, it focuses on deliveries.
If you're a delivery driver, you can sign up with Amazon Flex to deliver packages to customers. After signing up, you can filter your search to find available Amazon Flex blocks in your locality.
In some cases, you may be stuck on the Amazon Flex waitlist. But once approved, your job entails driving to your designated Amazon warehouse pick-up point. You can then use the Amazon Flex app to navigate each delivery destination.
You get paid upon completing your deliveries. Payments are between $18 to $25 an hour, paid twice weekly via direct deposit.
Extra Reading: Jobs Like Amazon Flex
11. Adia
Adia is another gig economy app to find W-2 jobs. The app offers a seamless connection between employees and employers, resulting in mutual benefits from work relationships.
After downloading the app, you must fill in the necessary information regarding your work skills, interests, and availability. From there, you can easily book any gig on the dashboard.
Adia will match you with part-time, full-time, and pick-up gigs. You can book the ones you're interested in. Once you've booked a few jobs, you become a W-2 employee, eligible for benefits.
Popular job categories on Adia include the following:
Retail
Warehouse
Even staff
Hospitality
Restaurant
Cleaning
Manufacturing
You can expect to earn between $9.00 to $50 hourly. Adia's payment schedule is similar to Instawork, running from Monday through Sunday, so expect to receive your pay every Friday. Payment methods are direct deposit and paper checks.
However, you can only find jobs on Adia if you're 18 or older, pass a background check, and are eligible to work in the U.S.
12. GigSmart
Launched in 2018, GigSmart works like Instawork in many ways, bringing together employers and workers from diverse industries. The app has been instrumental to many companies looking to turn temporary workers into full-time employees.
How much you can earn varies from role to role since clients can set their rates. You can choose whether to accept or decline the offer.
The platform offers a broad market for job seekers, which is one of its advantages. You can get work as a driver, chef, customer service professional, or take other roles in the following industries:
Delivery
Retail
Construction
Restaurant
Warehousing
Manufacturing
However, this platform is not free like Instawork. You have to pay a subscription fee of $1 per work hour. In addition, you must be 18 or older and have a legal work permit, a driver's license, and a smartphone.
13. Pared Pros
If you're looking for a gig in the culinary industry, Pared Pros is the best app similar to Instawork to consider.
Pared Pros helps you find a job that suits your needs and interests regarding payment and passion. This gig app works as a virtual recruiter, helping explore several job openings, particularly in the culinary industry.
Some of the popular jobs on Pared Pros include:
Line cooks
Even cooks
Prep cooks
Dishwashers
Servers
You can access various job options, including full-time, part-time, and temporary gigs.
The app has a digital resume and an endorsement feature that allows you to build credibility and stand out. It's one of the reliable Instawork alternatives that has helped thousands of job seekers find consistent work with decent pay.
The sign-up process is simple. All you have to do is create a killer resume, highlight your expertise and experience, and you're good to go.
From there, you can expect to be hired by reputable employers with matching job opportunities within a few days.
Payments are made weekly directly to your bank account.
14. Veryable
Veryable is another app like Instawork, where you can find local manufacturing and warehousing jobs.
With this on-demand online marketplace, you can choose which gigs to work on at which time and forget the hectic and demanding 9-5 jobs.
Here's how Veryable works for job seekers:
Sign up and get approved
Browse local opportunities that fit your schedule and bid
Complete the work
Get paid as soon as the next day

Veryable also offers customized perks to fit your lifestyle. These offers come in the form of discounts and special offers that can help you save money.
The app allows you to create a routine, expand your skill set, and access daily payments after completing your shifts. Whether you're looking for a daily or consistent side hustle, Veryable has something for you.
15. WorkWhile
WorkWhile is another job platform like Instawork, where employers and job seekers connect.
To use the WorkWhile app, you must meet the following requirements:
Be at least 18 years
Be a U.S. resident
Have relevant experience
Own a compatible smart device
Provide documentation for identity verification
As an employee, you can find jobs that align with your schedule, experience, and location. Whether you're looking for a full-time job or want to utilize your spare time, WorkWhile allows you to do that at your convenience.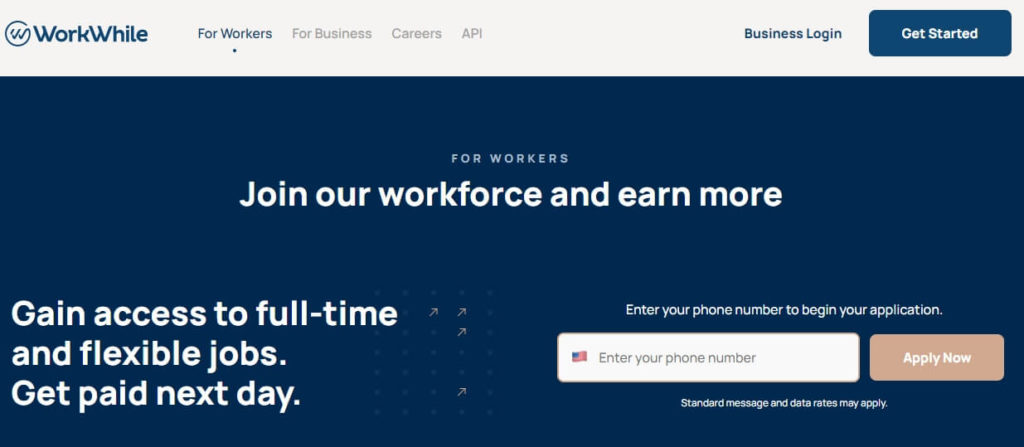 WorkWhile is one of the safest platforms, with zero cases of phishing, fake job posts, and other similar scams. The app takes prospective employers and employees through a rigorous vetting process to ensure the highest level of credibility and integrity.
Only approved workers and employers will be allowed to use the platform, meaning you're entirely safe from scammers when you sign up for WorkWhile.
WorkWhile uses cognitive science and behavioral analysis to choose the most reliable hourly workers and offer attractive perks. Some of these benefits include:
Unlimited time off
Full health coverage
Referral bonus
Finally, the pay is hourly, and you can instantly withdraw your earnings within 24 hours of completing your shift.
16. Tend
Tend is specifically for hospitality job seekers in the U.S. Unlike other Instawork alternatives, Tend interviews you before you can be approved. It doesn't have the same quick application processes common with most apps like Instawork.
Their vetting process is just as detailed. They examine your resume, and if you are a good fit, they invite you for a video interview. Once approved, you'll gain access to thousands of jobs posted per week.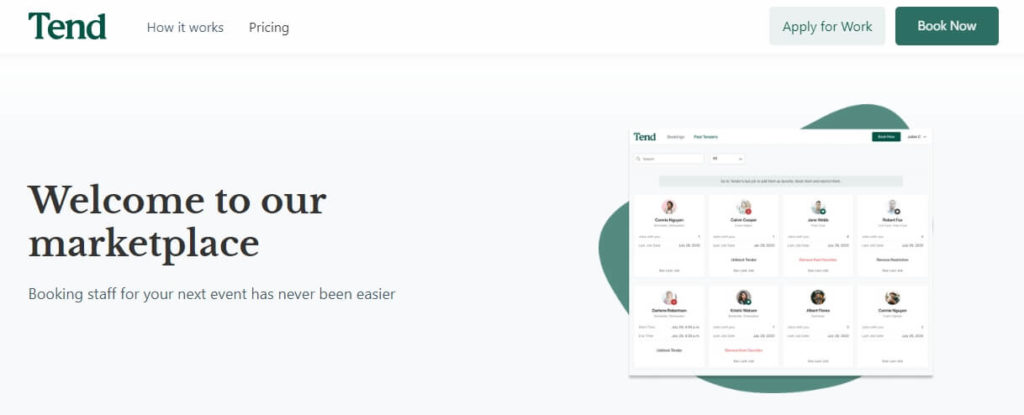 As long as you maintain consistency and deliver quality work, you'll gain unlimited access to high-paying gigs, make substantial income, and continue growing with Tend.
The minimum age requirement is 18. You should also have a valid U.S. work permit and experience in at least one field. Finally, before you sign up with Tend, make sure you live in or around the cities where Tend is active.
You can access Tend in various cities, including:
Austin
Atlanta
New York City
San Diego
Los Angeles
Miami
Phoenix
Washington D.C.
Boston
Palm Springs
Examples of gigs you can find on Tend include line cook, prep cook, event staff, bartender, cleaner, dishwasher, housekeeper, and dental hygienist, among other gigs.
17. JobStack
Last but not least. Our final pick for the best apps like Instawork is JobStack.
With JobStack, you can scout for short-term or part-time gigs depending on your skill, expertise, and schedule. The app also matches you with jobs that best suit you. It allows you to plan your work hours depending on your availability.
Its algorithms use the jobs you constantly pick to determine your preference and skill set, then recommend several similar jobs that suit you better. Examples of such jobs fall in the following industries:
Hospitality
General labor
Construction
Manufacturing
Retail
Transportation
Marine
Energy
The job recommendation feature makes JobStack a better alternative than Instawork. Besides, once you get the ideal job, they provide instructions on how to get to the job location and guidance on what to do when you arrive.
The platform updates new job openings frequently, making it a favorite for many job seekers.
The hiring procedure, although not stringent, is very much straightforward. You'll be required to take a survey to help JobStack gauge your capabilities, file the necessary paperwork at your PeopleReady office and have a smartphone.
Other Apps Like Instawork
Below are a few additional apps like Instawork that you might find interesting and worth a try.
Snagajob: Snagajob works nearly the same way as Instawork. It provides hourly jobs in the hospitality, retail, warehouse, restaurant, and grocery industries. The application process is relatively easy, offering multiple short- and long-term work opportunities. While it provides weekly hourly rates, you can earn as much as $75,000 annually in consistent income.
Thumbtack: Thumbtack is an online job marketplace that helps job seekers like you find temporary and long-term employment that matches your qualifications. With Thumbtack, you can get jobs like housekeeping, photography, private tutoring, wedding planning, event organizing, and handyman services.
FlexShift: FlexStiff serves to help employers find temporary workers to fill in for staff that goes on sick calls, vacations, or emergencies. It's an on-demand online staffing solution that connects businesses with the required human resources to keep business running smoothly.
Staffy: Staffy is somewhat different from Instawork and other alternatives because it focuses mainly on the healthcare industry. While this platform provides other job opportunities in the hospitality industry and general labor roles, its primary focus is the health sector.
WorkMarket: Another leading freelance management app similar to Instawork. Job seekers can find job opportunities in industries like information technology, healthcare, creative, and writing.
Tips to Maximize Your Earnings With Apps Like Instawork
Getting a job in apps like Instawork is one th. Retaining those jobs and maintaining a consistent income stream is another.
So how do you maximize your earnings with these apps once you land gigs? Below are a few tips to ensure you always have enough work with these apps.
Set Goals
As with everything in life, you must set clear goals to succeed with these gig apps.
Most of these gigs are temporary and will only last for a while. So even if you find one running for several months, you shouldn't be too comfortable and forget to diversify.
You can sign up with multiple apps so that when you experience the low season with one, you book shifts with the next available one. It would help if you also have a target for a specific amount you want to earn with a particular app, gig, or shift.
Most apps allow you to set your rates so that you can have a more productive experience.
Know Your Worth
Some apps pay low rates for specific roles. For example, you can find an app that pays $9 per hour for a housekeeping role. Even if you're in serious need of work, you need to reevaluate your goals and needs.
If the payment is not sustainable in the long run, it's not worth it. Instead, focus on higher-paying gigs or those with reasonable rates regardless of the industry or role.
Be Prepared
Another thing with these gig apps like Instawork is that they can be unpredictable. Rates and availability of shifts can vary significantly.
When this happens, you need a backup plan. Whether it's taking gigs from other apps or that 9-5 job you don't want to work anymore. The idea is not to put all your eggs in one basket.
Final Thoughts
At least we can all agree that things are much better today than they were 20 years ago, especially where employment and income opportunities are concerned.
Today, it's much easier to leverage technology to make money sometimes without leaving the comfort of your home.
We're a lucky generation empowered with knowledge and information right at our fingertips. With just a smart device, you can access unlimited employment opportunities via gig apps or websites and quickly turn your side hustle idea into a sustainable source of income.
Whether you take up delivery gigs with Amazon Flex, pursue your culinary passion with Adia, or try any other roles you're skilled in, all these apps work to achieve the same goal: make money on the side.
Whatever your choice, endeavor to be as productive as possible. And if you follow the rules, you'll be on the right trajectory to financial stability.
Looking for more ways to make money? Checkout: