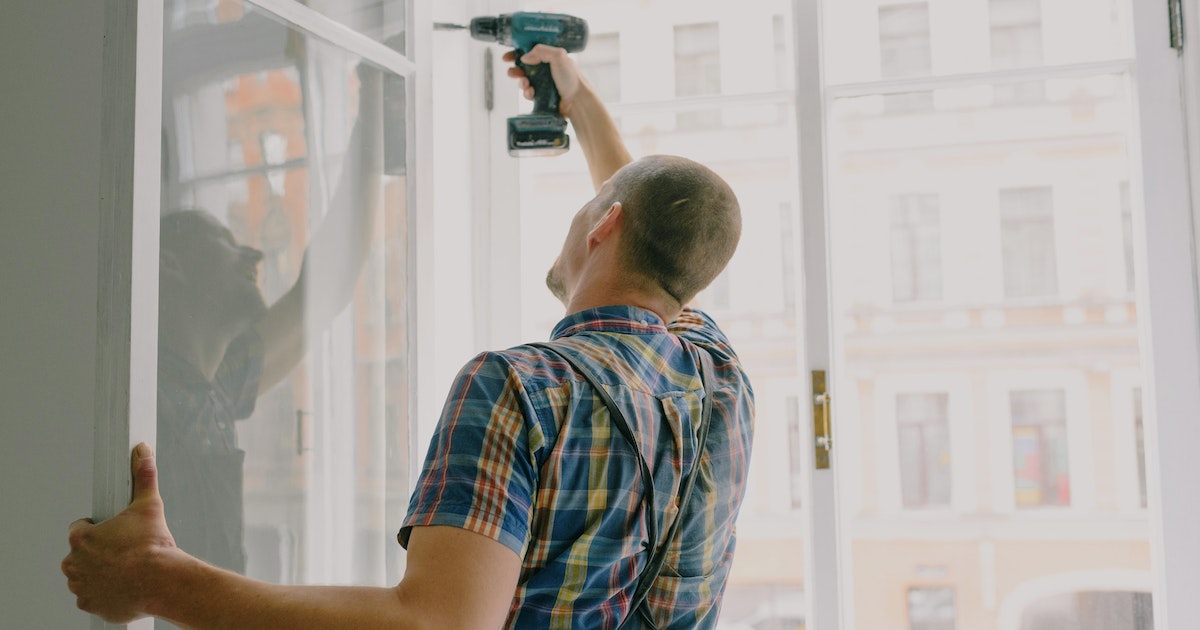 12 Best Apps Like TaskRabbit (Ultimate 2023 Guide)
Updated on March 27, 2023
This post may contain affiliate links which means that sproutinue.com may make a small commission at no extra cost to you. We only promote products that we love and feel will benefit our readers. Please read our Disclosure Policy for more information.
Finding the right side hustle used to be challenging. But nowadays, with gig economy apps like TaskRabbit and cash back apps, it's easier than ever to make money online.
TaskRabbit is one of the best platforms for freelance gigs. One of the major advantages of apps similar to TaskRabbit is you can work on your schedule, meaning you're in charge of how much you make.
If you've considered joining TaskRabbit and can't because it's unavailable in your city or for different reasons, there are plenty of TaskRabbit alternatives you can try out.
In this post, I'll cover some of the best apps like TaskRabbit, to earn extra cash doing odd jobs.
What Is Taskrabbit and How Does It Work?
TaskRabbit is an online platform that connects freelancers (Taskers) with local consumers who need help with odd jobs. The type of job varies depending on the person or company, and the tasks are usually a one-time gig.
Some of the most common tasks you'll do on TaskRabbit include:
Moving help
Cleaning
Help with repairs
Yardwork
Delivery services
Furniture assembly
Maintenance
Plumbing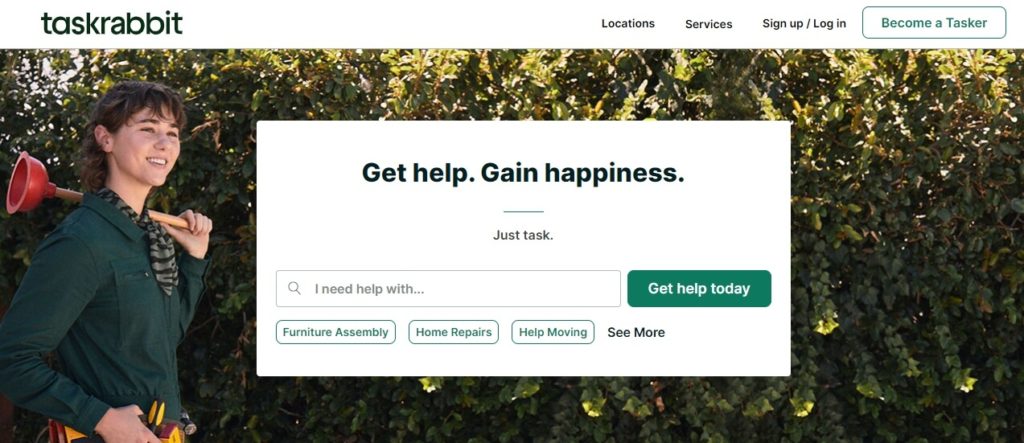 As a Tasker on TaskRabbit, you set your rates and work on your own schedule. Once you've signed up for an account and created your profile, the app notifies you of available jobs in your neighborhood.
When creating your profile, you select the task categories you'd like to receive notification for and specify your pay rate. Once you find a task you want, you confirm the details with the client and set the time.
As a Tasker, you must pay a $25 registration fee upfront before you submit your profile for approval. Fortunately, after that, you keep 100% of your earnings.
Every time you complete a job, you submit your invoice for payment through the app. TaskRabbit then pays you through direct deposit. Clients also reimburse you for any expenses you incur via the app.
The Best Apps Like TaskRabbit
Similar apps like TaskRabbit are a great way to earn extra cash each month doing odd jobs on your schedule.
However, TaskRabbit isn't available in every city.
Whether TaskRabbit isn't available in your city or you just want other options to maximize your earnings, these TaskRabbit alternatives are worth trying.
1. Handy
One of the most famous apps like TaskRabbit is Handy. It's available in various cities across the U.S., Canada, and the UK.
It's a platform that connects individuals looking to hire services like:
Moving help
Yard work
Electronic mounting and setup
Furniture assembly
Deep cleaning
Plumbing
Smart home installations
Electronics repair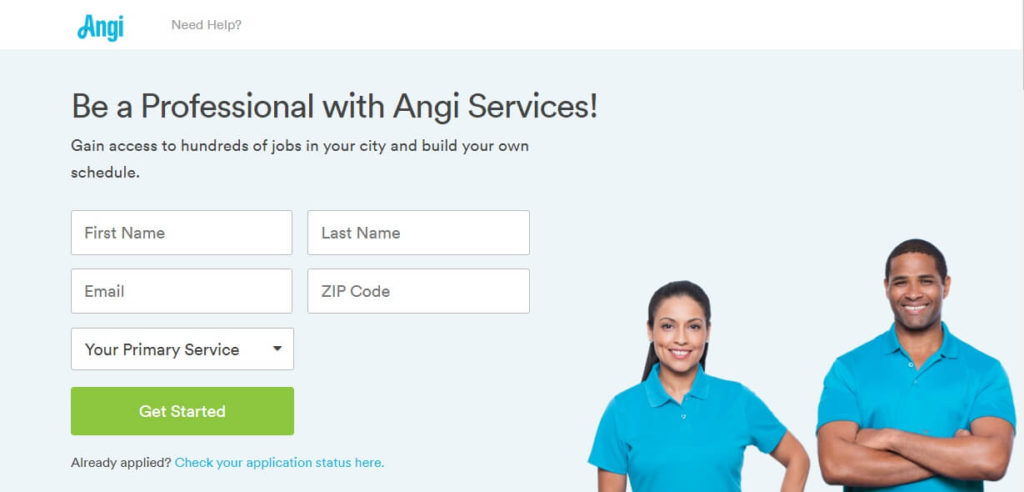 To sign up to be a Handy Pro, you must be a professional in whatever category you're looking to work in.
First, you download the app, fill out your information, and then submit your application to become a contractor. Include relevant work experience in the application form for approval.
You'll have to answer questions about where you received training and what tools you have. Handy then conducts a background check, which costs $20 and is deducted from your first paycheck.
You can expect about $22 an hour for cleaning services and $45 per hour for general handyman services.
Handy offers several payment options, including the Cash Out Now feature, where money is released instantly and processed by the bank within one to two business days.
2. Thumbtack
Thumbtack is another popular alternative to TaskRabbit. It also connects service providers with people looking to pay for services.
While TaskRabbit is more suited for one-off services like moving help, Thumbtack is ideal for professional contractors looking for clients and long-term contracts. You can use Thumbtack to grow your business by finding more clients in your area.
Some of the most popular service categories on Thumbtack include:
Maintenance
Home repairs
Handyman work
Wellness coaching
Logo design
Help with events
Pet care
Computer repair
To become a Thumbtack Pro, you must first pass a background check. Once you've set up your profile and listed your rates and skills in your portfolio, you'll see opportunities in your Leads tab.
After you choose an opportunity you're interested in, you pay Thumbtack for the lead generation. The cost of leads depends on the project size, whether it's an instant booking, and how many pros are in your area.
Your customers on Thumbtack pay you directly through the app. You simply request payment, which is sent via credit card, Google Pay, or Apple Pay.
3. Jobble
Jobble is one of the apps like TaskRabbit, but it's less focused on handyman tasks and more for professionals looking for tasks that need more specialized skills.
Some of the most common task categories include:
Hospitality
Sales
Distribution
Transportation
Retail
Event staffing
Delivery
Field marketing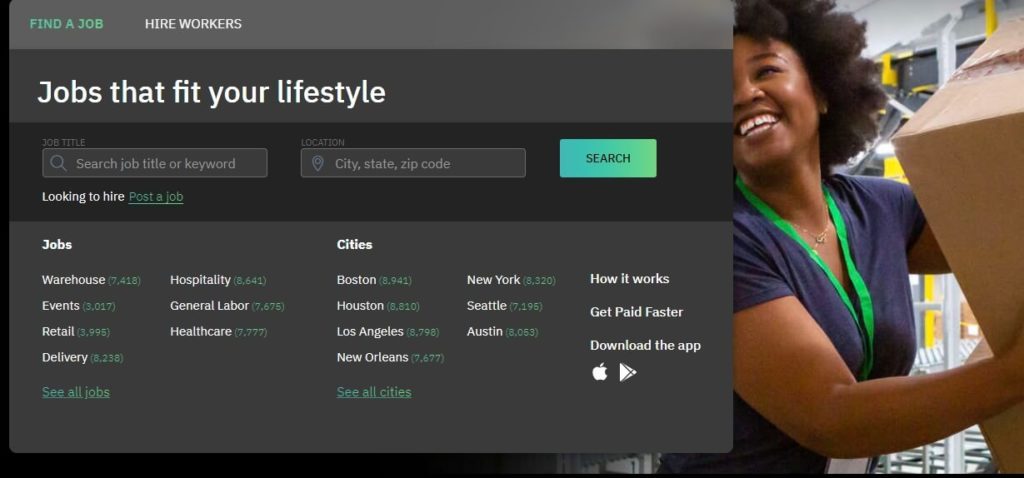 Jobble is perfect for freelancers looking for the traditional job board, where you get connected to clients near you looking to hire your services.
All you have to do is create a free Jobble profile, then upload your resume and some information about yourself. You can use keywords and area filters to find opportunities in your area.
Overall, Jobble is one of the best gig economy apps, which gives you more control over your schedule and earnings.
You can earn up to $25 an hour, depending on your services and the client. Payments are made via direct deposit based on the information in your Jobble profile.
4. Wonolo
Wonolo is another alternative to TaskRabbit, where you can find on-demand jobs easily. It's an online marketplace that connects companies with independent contractors looking for work.
Some of the most common job categories on the app include:
Delivery drivers
Warehouse operations
Merchandising
Cleaning
Food production
General labor
Administrative work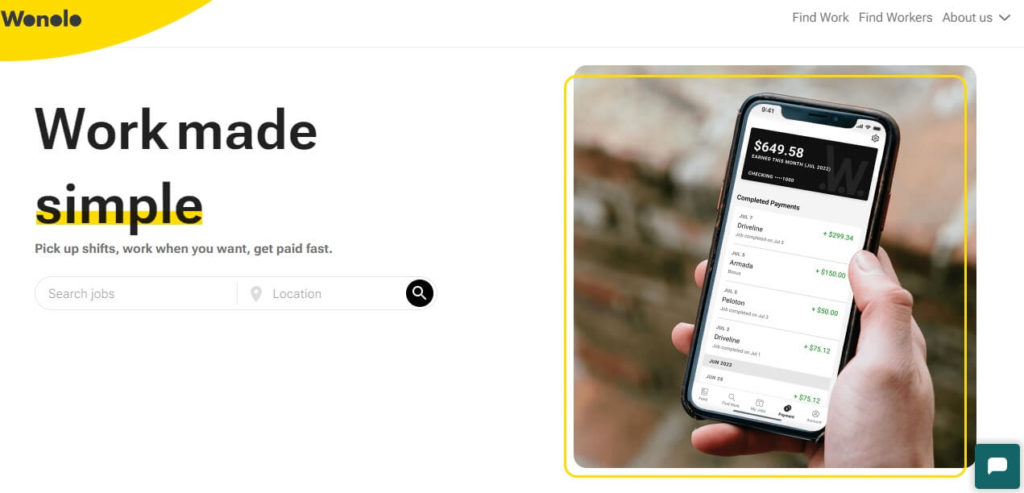 To get started on Wonolo, you must be at least 18 years old, provide your SSN, and have a smartphone.
Once you start completing gigs on Wonolo, employers will rate your performance. A high-performance rating helps you find more work.
Every time you complete a gig, you get paid. Payments typically take one to five business days from the day you completed the job to reflect on your account.
Sometimes, it may take longer because the requester has to approve the job first.
5. Nextdoor
Unlike most apps like TaskRabbit we've covered, Nextdoor is not a lead generation or on-demand marketplace.
Instead, it's a platform designed to connect contractors, business owners, and residents living in the same area.
You can get started on Nextdoor by downloading the app and setting up your page as an independent contractor or business owner. On your profile, include details describing the services you offer.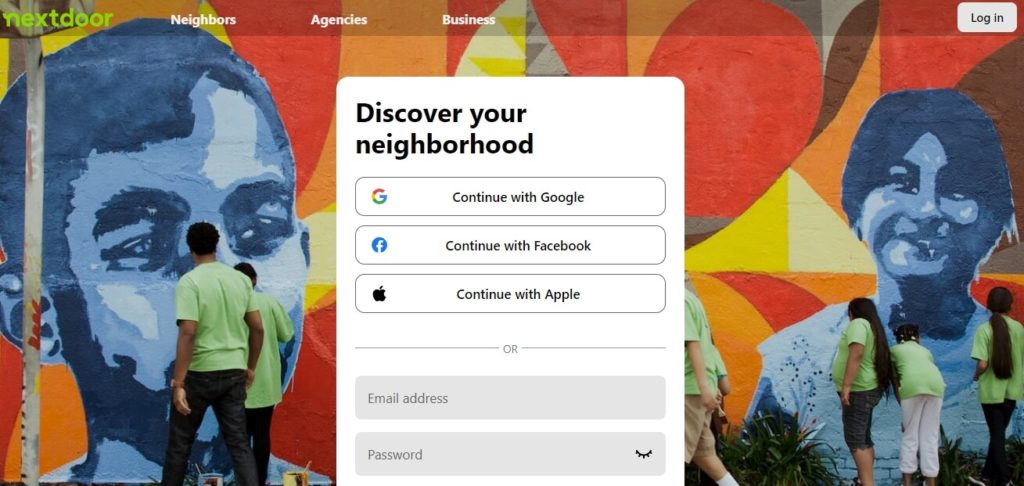 Nextdoor is less suited to freelancers looking for one-off services and more ideal for small businesses and contractors looking to promote their business in the neighborhood. Like Thumbtack, you pay for lead generation.
Nextdoor is free for neighbors to join. Businesses and contractors can continuously run ads on the app to drive awareness and generate new leads.
You can select the budget that works best for you. Ads start at $3 per day.
6. Care
Care.com is one of the best platforms to use if you're looking for work as a nurse, babysitter, pet sitter, or senior helper.
Other popular categories on the Care app include:
Housekeeping
Child care
Pet care
Special needs
Tutoring and homeschooling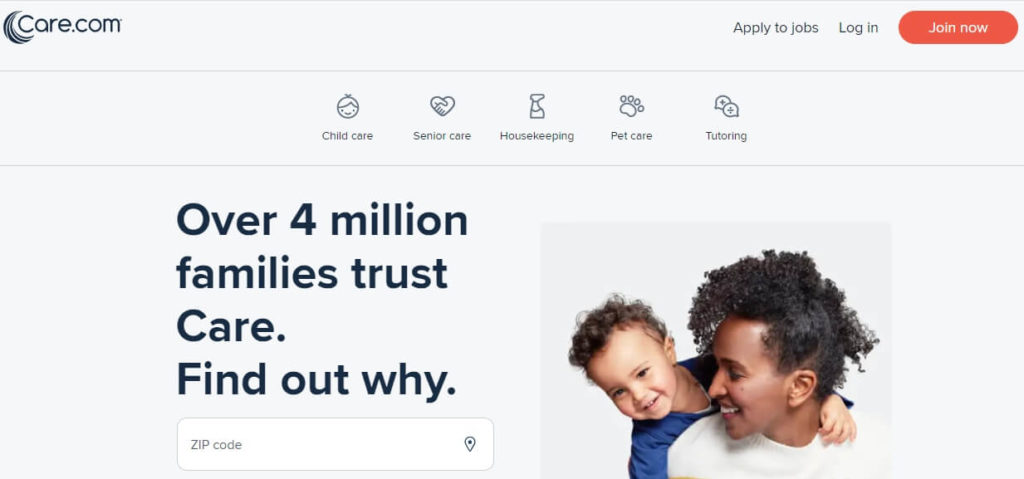 One of the main reasons Care is so popular with customers is that it conducts a thorough screening process for all its workers. As such, you can make pretty good money on the site.
Customers often request a background check before hiring a caregiver. So when you sign up, you must pass the Carecheck before you're approved as a caregiver on the site.
Once you have an approved profile photo and have gotten three reviews, you're upgraded to CareForce status.
If you'd like to increase your visibility on the site, you may have to sign up for their Premium Membership. Care.com's Premium Membership costs are:
$20 per month for one month
$15 per month for three months
$10 per month for six months
Once you've booked a gig, all payments are processed through Care. You'll need to add a debit card to receive earnings directly to your bank account.
7. Steady
If you're looking for gig economy jobs, Steady is one of the famous apps like TaskRabbit to consider.
You start by downloading the app for free, then create your profile by filling out a simple questionnaire that helps the platform learn more about you.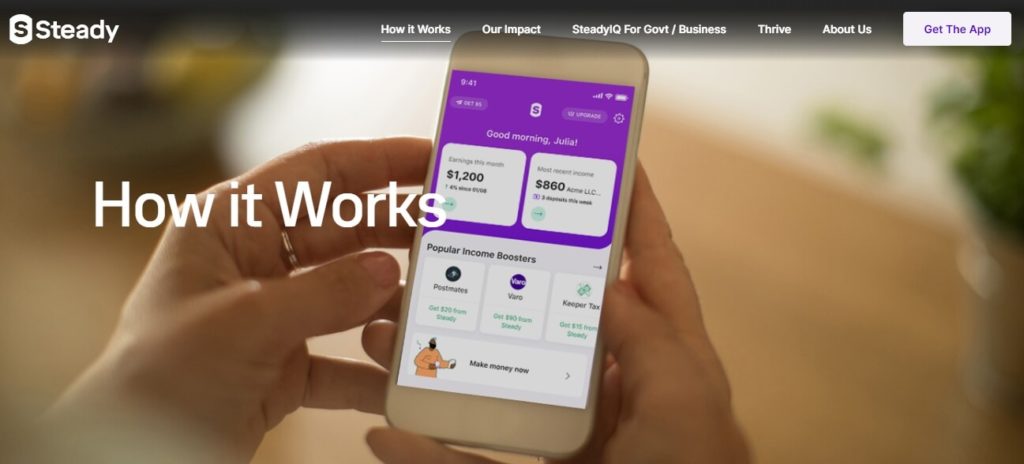 Some of the tasks you can expect on Steady include:
Retail jobs
Food delivery jobs
Grocery delivery
Cleaning
Driving
Caregiving
Remote freelancing gigs
You can take advantage of the Income Boosters feature to increase your earnings. Income Boosters are select opportunities to earn incentives through Steady's partners.
The amount of money you make depends on the type of work you do and the employers you find. While providing your banking information is optional, it's advisable because this way, you can track your earnings.
8. Porch
If you have specialized skills in the home improvement industry, consider signing up for Porch.
Some of the most common tasks on the site include:
Handyman
Repairs
Security
Electronic mounting and setup
Plumbing
Flooring
HVAC help
Appliance moving
Painting
Roofing
Porch works like Thumbtack in that it's a site for professionals looking for leads to grow their businesses.
Once you have the app, you can set up your service page, which details your services, work preferences, the areas you service, and testimonials from previous clients.
To access Porch Pro, you're required to pay $360 a year. Becoming a Porch Pro means you get discounts when you purchase leads, verification badges, and other benefits that increase your income.
Porch is more suited to professionals looking for ways to attract more clients. Depending on the job value, you can expect to pay anywhere from $10 to $30 for leads.
9. Lugg
Another company like TaskRabbit is Lugg. If you want to make money with your truck, Lugg is the app for you.
To get started on the app, you must meet the following requirements:
Be over 18 years
Be able to lift at least 100 lbs
Have good communication skills
Have a smartphone
While owning a truck is an added advantage, it's not compulsory. You can still sign up for Lugg as a moving helper. When filling in your submission, answer "no" to whether you own a truck.
According to Lugg, you can make up to $2,500 a week for your services, and you're paid at the end of each day through a direct deposit to your account.
Additionally, you get to keep 100% of the tips you make.
10. Staffy
If you've been experiencing problems finding work in the healthcare, hospitality, or general labor industries, you should try Staffy.
It's an on-demand platform that connects you with shifts in your preferred industry.
Once you've signed up and created your profile, you can filter for jobs in your area or a specific field. This way, you can find short-notice work opportunities around you and work on your own terms.
Stuffy is only available in the U.S. and Canada. Before you get started, you have to provide your resume, include relevant references, and a photo for verification.
Fortunately, you do not pay any fees to use the app, as the restaurants and hotels pay for the last-minute help.
11. Needto
Needto is one of the most versatile online marketplaces available.
It's a "social helping" platform where people post what they need help with and are connected to individuals or businesses that can help with the task.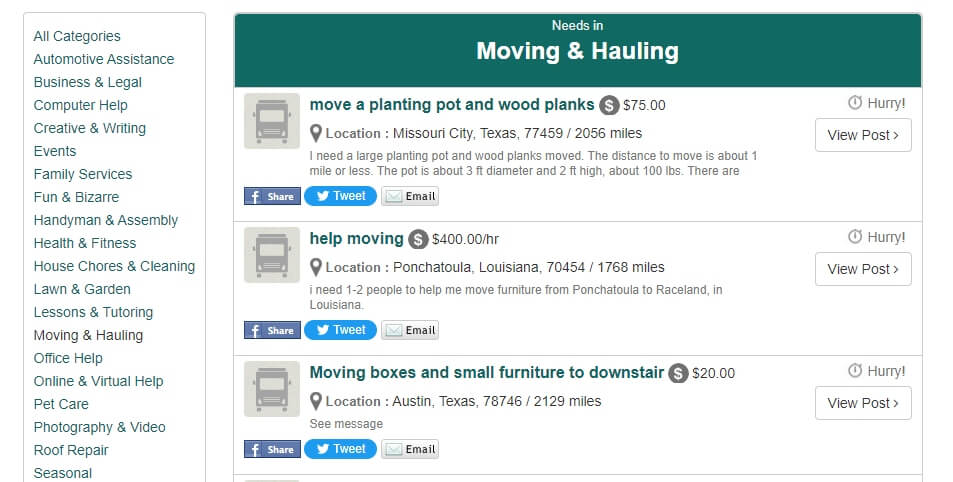 People post the task they need done and how much they'll pay for the service. As a freelancer, you can browse these tasks and choose whatever job you have the skills to do.
Some of the most common tasks include:
Moving help
Cleaning
Plumbing
Repairs
Electrical work
Pet care
Lawn care
Shopping and delivery
Transportation
Web development
You can use filters to narrow down opportunities in your area. Aside from physical labor, there are also online jobs you can do.
12. Papa
If you're interested in caregiver jobs, you should consider Papa. It's an online platform where you can provide companionship for older adults.
As a Papa Pal, you would provide companionship and support with:
Everyday tasks
Transportation
Cleaning
Running errands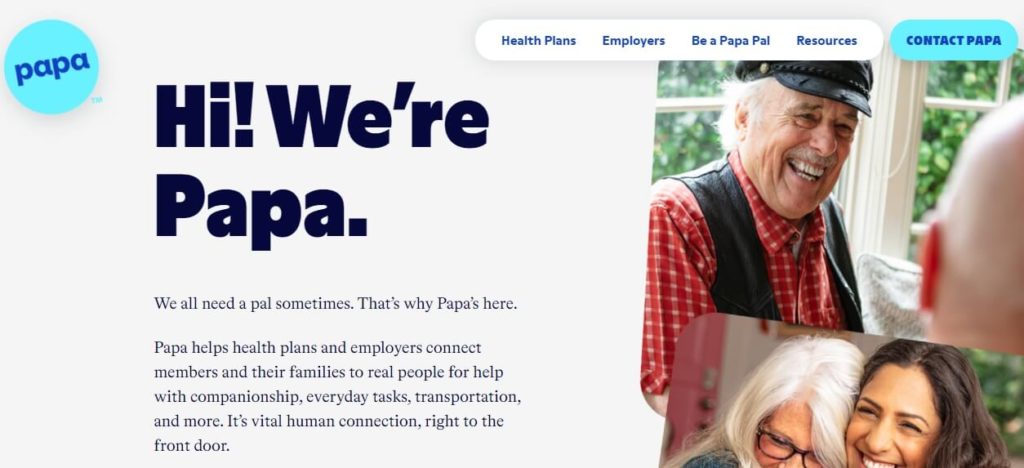 Signing up to be a Papa Pal is not only lucrative but also rewarding. You provide vital social support to older adults, strengthening families and improving seniors' quality of life.
You can manage everything conveniently from the Papa Pal app. Additionally, you can work on your schedule. Simply browse nearby visits and book one, then you show up.
You earn an hourly rate for your service, plus bonuses depending on the number of visits you complete.
After you've completed your visits, you'll be paid within two business days.
Other Apps Like TaskRabbit
Pros and Cons of Apps Like TaskRabbit
While gig apps are an excellent way to earn extra cash, companies like TaskRabbit have pros and cons.
Pros
You work on your schedule
You can set your own rates
Potential to land high-paying jobs
Great place to find leads for your business
Cons
Some apps require you to pay to find leads
Gigs may not be consistent
There's stiff competition
What's the Best Alternative to TaskRabbit?
The best TaskRabbit alternative depends on your needs and preferences. If you prefer being a caregiver, apps like Care.com and Papa may be great options. But if you're a professional contractor, you can use apps like Nextdoor and Thumbtack.
Apps like TaskRabbit are one of the ways to make money in the gig economy. Here are other gig jobs to supplement your income.
TaskRabbit vs. Thumbtack
TaskRabbit and Thumbtack work very similarly, except for a few feature differences.
Whether to choose TaskRabbit or Thumbtack really comes down to what type of worker you are. Thumbtack is more suitable for professional contractors, while TaskRabbit is more for side gigs.
A significant difference between the two is their fee policy. TaskRabbit charges a one-off $25 registration fee when you sign up for the platform, while Thumbtack charges for lead generation.
If you're looking to complete simple odd jobs for a few extra bucks, then TaskRabbit is a good choice. But if you want long-term clients, Thumbtack is the better platform.
Frequently Asked Questions
1. Do People Really Make Money on TaskRabbit?
Yes, TaskRabbit is a legitimate platform that connects freelancers with clients who need help with odd jobs like plumbing, cleaning, moving, or installing electrical appliances.
TaskRabbit can be a great platform for building a profitable business from the ground up.
2. Is TaskRabbit Better Than Handy?
TaskRabbit and Handy are pretty similar, so it comes down to your specific needs. One advantage TaskRabbit has over Handy is it allows you to set your rates while Handy determines your pay.
If you need more control over your earnings, TaskRabbit is better than Handy.
3. Which Is Better, Thumbtack or TaskRabbit?
Thumbtack and TaskRabbit are quite similar, so it depends on your needs. If you want to provide quick one-off services, then TaskRabbit is the ideal option.
For professional contractors looking for longer contracts and repeat business, Thumbtack is better.
4. What Are the Highest-paying Taskrabbit Jobs?
Some of the most common and high-paying jobs on TaskRabbit are moving, mounting, and furniture assembly jobs. These tasks typically require tools and experience, so clients pay more for the service.
5. Can You Make a Living off TaskRabbit?
Yes, it is possible to earn a livable wage on TaskRabbit. The app allows you to set your own hourly rate, which is a big plus.
Additionally, you have access to more lucrative opportunities if you have any special skills. If you put enough time and effort into it, you'll make good money on TaskRabbit.
6. How Quickly Does TaskRabbit Pay?
Payment on TaskRabbit is credited to your account within 24 hours of submitting your invoice for the task(s).
7. What Is the Difference Between Tasker and TaskRabbit?
TaskRabbit is an online platform that connects freelancers with clients looking for help with odd jobs. Taskers are the freelancers on the site who are paid to provide the services.
Final Thoughts
Apps like TaskRabbit are undoubtedly one of the best ways to make money on the side. Whether you're looking for a side gig or a full-time job, there's a gig job for you out there.
With tons of platforms that connect freelancers like you to people in your area who need help with odd jobs, you can rake in a decent amount of cash each month.
The beauty of freelancing is that you work on your schedule and, in most cases, set your own rates. As such, you can grow your side hustle into a full-on business if you want to.
We could all use a little extra cash, which could be as easy as helping someone with their furniture. Combine your creativity with online money-making opportunities, and you'll be well on your way to financial freedom.
Want other money-making opportunities? Check out these posts: