Is Testerup Legit? Testerup Review 2023
Updated on August 27, 2023
This post may contain affiliate links which means that sproutinue.com may make a small commission at no extra cost to you. We only promote products that we love and feel will benefit our readers. Please read our Disclosure Policy for more information.
There are several ways to make money online today. Among them is testing apps, games, and websites. One app that's gaining popularity is Testerup. Testerup is an online platform that pays you to test new apps and games.
This is a fun way to earn money. However, the big question is, is Testerup legit? Or is it just another way to scam you and waste your time?
If you're looking for ways to make quick money and would like to know if Testerup is worth your time, you've come to the right place.
In this Testerup review, you'll learn how the app works, how much you can expect to make, and its legitimacy
Want to make money fast? Try out:
YouGov – Get paid to share your opinion!
SayMore – Complete surveys and earn gift cards to popular stores!
What Is Testerup?
Testerup, earlier known as Testery, is a German online platform that allows you to earn money by testing new apps and games. They have over three million registered users. The website claims you can earn up to $120 per test. After registration, you receive at least 50 offers to test, worth $800.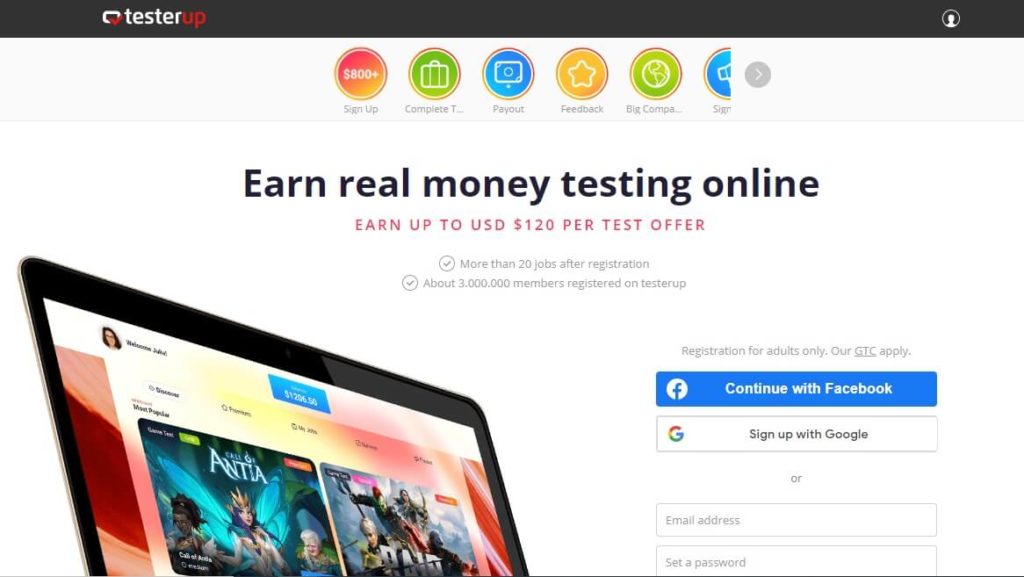 Besides testing apps and games, Testerup also lets you access test surveys, products, and cosmetics.
As you complete more offers, you upgrade to a premium tester. This exposes you to higher-paying offers, and you earn more money. They offer payment through PayPal, which is processed in 24 hours.
The deal Testerup offers is lucrative, but I suggest you learn more about the app before considering using it. Let's dive into how it works.
How Does Testerup Work?
To start testing apps, you must create an account and register. You can do it on your browser or download the Testerup mobile app.
The website is easy to use, and it only takes four steps:
Create an account
Try out the new games or apps
Become a Premium tester
Get paid
Let's dive into the above steps in detail:
1. Create an Account
The signing-up process is free and fast. All you need to do is enter your email address and create a password. You can also sign up using your Facebook account.
You must be at least 18 years old to register on Testerup. It's important to note that Testerup is currently available in the U.S. and Canada.
Once your account is up and running, you can test apps, games, and products to start earning money.
2. Test Out New Apps and Games
Most ways to make money on Testerup involve downloading games or apps and completing other tasks.
To start testing a game, for example, you need to download it. Testerup insists you use the links they send you to download the games. This way, they can track your progress.
Before starting the tests, you must also ensure your tracking settings are enabled. You can allow tracking in the app's settings.
Each game has missions, and you get paid a specific amount of cash for each you achieve. You may be required to reach a certain level in a play within a specified period.
For example, for a game like Shadow Legend, a goal may entail getting to level 40 within 30 days of downloading the game.
The problem occurs when the goals are almost impossible to achieve within the given timeframe. In this case, you may use your money to make in-app purchases or buy power-ups that help you complete the missions.
This is a huge red flag for an app that's supposed to pay you to perform simple tasks. You may earn as little as $0.50 after deducting the amount you use to purchase powerups. This is peanuts compared to the $120 they promise you'd make per test.
Your rewards are added to your account after Testerup confirms that you've completed all your task requirements.
You can opt out and settle your earnings before you complete the task. If this happens, you only receive a payout for the completed goals.
3. Become a Premium Tester
Your account slowly upgrades as you complete more tasks. Some offers are Premium missions that help you become a premium tester.
Some of the advantages of becoming a premium tester include:
Get exposed to more job offers
Qualify for higher-paying microtasks
Get more exclusive tasks
Earn bonus points and freebies
You must complete about five premium missions to become a premium tester on Testerup.
Completing these tasks is often time-consuming, and you may spend much money on power-ups. It may not be worth it at the end of the day.
4. Get Paid
Testerup offers payment via PayPal. The amount is processed within 24 hours unless you encounter a problem, which may take up to 48 hours.
The website insists you double-check your PayPal details before submitting your withdrawal request. The payment processing may take longer if you provide incorrect information.
One downside of Testerup is that you can only withdraw a minimum of $70. This threshold amount is way higher than similar GPT sites, like Mistplay, Cash Alarm, and Branded Surveys.
It's almost impossible to reach $70 unless you're willing to spend some of your own money on premium offers. Free offers may earn you $2 to $10 at most.
It would, therefore, take a very long time for the earnings from free offers to accumulate to the threshold amount. You'll likely lose interest and give up on the website before that happens.
Is Testerup Legit?
Testerup looks like a scam website. It has misleading information and makes it difficult to cash out. They claim you can earn up to $120 per test, which is too good to be true. In reality, you won't earn a substantial amount unless you spend your money to purchase in-game items like power-ups to complete the levels.
This may not be worth it in the long run.
The threshold amount is $70. This amount is too high, and you must use your money to reach it. Free levels pay you peanuts, so you'll unlikely earn as much as 70 dollars quickly.
How Much Can You Make on Testerup?
You can make significant money but must use some of your own. Relying on free offers and tasks will earn you a few bucks. You must be willing to sacrifice some cash to make money.
Most Testerup offers range between $20 and $100, but as I said before, these would need you to chip in. The free offers range between $2 and $10. These include signing up for survey sites, side hustle apps, and reward apps.
The Testerup website claims you can earn up to $120 by completing one test. This is possible but more challenging than they're making it seem.
They won't tell you about the part where you need to use your money to earn money. In my opinion, this is quite shady on their part.
Other Testerup Reviews
Before using any website, you must research who they are, what they do, and their legitimacy.
A good way to determine whether Testerup is legit is by looking at previous user reviews. What people are saying about the website is very important.
You may save yourself from getting scammed by listening to someone else's experience.
Here's what other users are saying about Testerup on Trustpilot and Reddit.
On Trustpilot, Testerup has a rating of 1.8 out of 5 stars from 96 users. Most reviewers complain that their hard work did not pay off because their accounts got banned for no reason.
A very recent reviewer claims that he requested a payout, but two weeks later, the money has never gotten to him.
Other users complain that the website incorrectly tracks their progress on games.
On r/beermoney, I came across reviewers complaining about never getting reimbursement for in-app purchases.
Another user thinks that the games are designed to be extremely hard to complete. This, therefore, makes achieving the threshold amount of $70 a challenge.
From the reviews on Reddit and Trustpilot, most users think Testerup is a scam. They don't think it's worth anyone's time or effort.
Everyone thinks the games are too hard to complete, including the ones who managed to cash out the threshold amount.
There's also quite a number of users complaining that customer support is dormant. The Testerup team responds to user reviews rather than to their issues.
Pros and Cons of Testerup
Pros:
Signing up on Testerup is free
Easy to navigate
Offers a wide variety of games and offers to earn from
Available on both Android and iOS
Cons:
High payout threshold of $70
Some users claim that Testerup doesn't track offers properly
Poor customer service
Most missions are time-consuming
You need to spend money to complete missions
The Best Alternatives To Tersterup
As far as I'm concerned, Testerup may not be worth your time. You have to use your money to achieve the threshold amount, which takes a long time to withdraw.
Several alternatives to Testerup allow you to make money online without spending a dime. Some of these options include:
Mistplay: Make money playing mobile games on Mistplay. You can also earn rewards like free Amazon gift cards or Google Play credit.
Branded Surveys: Earn free PayPal cash and gift cards to major retailers by completing online surveys on Branded Surveys.
Swagbucks: You can earn money on Swagbucks by watching ads, playing games, searching the web, answering surveys, or shopping online for cashback. You can redeem your points for cash or gift cards.
InboxDollars: Like Swagbucks, InboxDollars also pays you to take surveys, shop online, and watch ads. Payment options include PayPal, gift cards, and Visa. It offers a $5 sign up bonus.
PlaytestCloud: This user-testing site pays you to play games. It aims at helping game developers improve their games. Once you sign up on the platform, they send you an unpaid qualification test. After qualifying, PlaytestCloud invites you to playtests.
Rewarded Play: Like Mistplay, this platform rewards you for playing mobile games. They offer payment through Amazon gift cards.
The user-testing platforms mentioned above are great alternatives to Testerup and have a lower cash out threshold amount.
Frequently Asked Questions
Is Testerup a Scam?
Testerup has several red flags that make it look like a scam. First is the high threshold amount of $70. This makes it difficult for you ever to cash out your earnings. Most users end up working hard for nothing.
Also, their website is deceptive and misleading. They claim you can earn up to $120 per test and make it look easy to achieve, while in reality, it isn't.
Judging from the Testerup reviews on Trustpilot and Reddit, most users are convinced it's a scam, and the games are hard to complete. They also complain about the poor customer service.
Overall, Testerup may not be worth your time and effort.
Can You Make Money With Testerup?
You can make money with Testerup but must accumulate at least $70 to withdraw your earnings. This amount is hard to reach unless you're willing to use your money to purchase in-game resources.
Some users complain that their accounts get banned once they reach the threshold amount. This way, they're unable to cash out their earnings.
You need to be cautious if you decide to use Testerup to earn money.
Does Testerup Really Pay?
Testerup pays, but the minimum threshold of $70 is hard to reach. Most users never really get paid.
Several users complained that they requested payment, but Testerup didn't deposit their earnings to their PayPal accounts.
How Long Does Testerup Take to Pay Out?
It takes about 24 hours for Testerup to deposit your payments to your PayPal account. However, if there's a delay, it may take as long as 48 hours if you enter the wrong PayPal details.
Final Thoughts
Based on the research I have carried out on the platform and user reviews, Testerup may not be worth your time. It has more disadvantages than advantages.
The advertisements on the website are too good to be true. One such ad is that you can earn up to $120 per test.
The amount is exaggerated, considering free offers pay as low as $2 to $10. Premium missions may pay as much but you can only complete them by making in-game purchases.
User reviews on customer service give an unfavorable report. Testerup's customer service is unresponsive and dormant, so you're on your own if you encounter any challenges on the platform.
I'd never trust a site with more negative than positive reviews.
Look at alternatives to Testerup if you wish to make money by testing apps and games and even taking surveys. Websites like Branded Surveys, Swagbucks, InboxDollars, and Mistplay are great options.
You can also consider other ways to make money online, like playing mobile games.
Ensure you research available options before you decide what to do. Also, once you settle on a website, check out user reviews and the pros and cons before investing your time in it.
Are you looking for other ways to make money on the side? Check out these posts: