Is Flash Rewards Legit or a Scam? Flash Rewards Review 2023
This post may contain affiliate links which means that sproutinue.com may make a small commission at no extra cost to you. We only promote products that we love and feel will benefit our readers. Please read our Disclosure Policy for more information.
Dozens of get-paid-to websites sites promise up to hundreds of dollars in free PayPal money and gift cards for completing simple tasks on your phone. Using these sites is one of the easiest and quickest ways to make money online.
Perhaps you've come across a few ads from Flash Rewards, a company that promises free Amazon gift cards and other prizes for simple online tasks. This may sound too good to be true. So, is Flash Rewards legit? Is it worth your time and effort? I tried Fash Rewards to find out.
In this Flash Rewards review, you'll learn everything you need to know about this site, from what it is, how it works, and how much you can expect to earn. This way, you can make an informed decision.
What Is Flash Rewards?
Flash Rewards is a GPT site that rewards users with gift cards to Amazon, Walmart, eBay, and other major retailers for performing simple online tasks. The more activities you complete and games you play, the more rewards you earn.
Flash Rewards is owned by Deliver Technology LLC, which has been in operation since 2016. The company currently only offers services to people living in the U.S. The company has a website and an app, which you can download from the Google Play Store.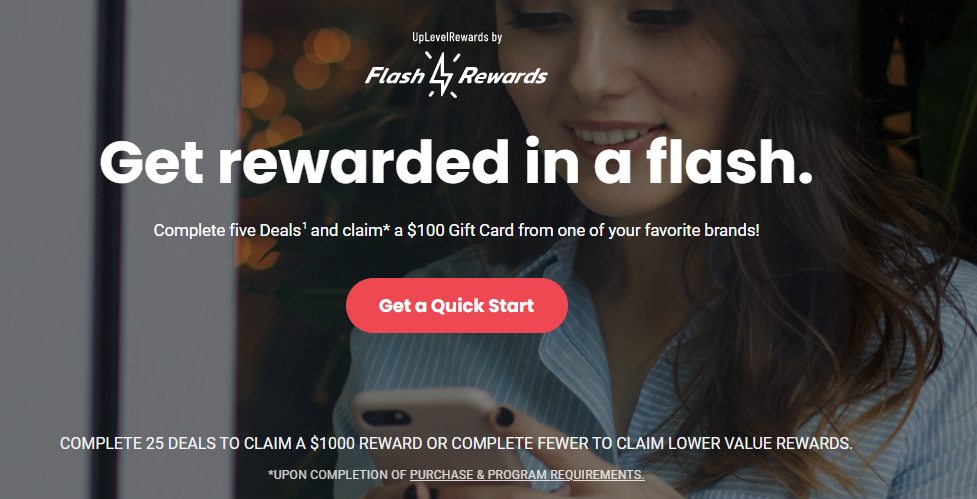 The platform gives users cash back for completing tasks that involve completing offers, subscribing to sites, playing mobile games, and more. So if you've seen ads for a $750 Shein gift card, or a $750 PayPal reward, these are not giveaways.
They're rewards for completing tasks, some of which you'll have to spend money on. But more on this later.
How Does Flash Rewards Work?
If you'd like to get started on the Flash Rewards site, it's important to familiarize yourself with how it works.
Like any rewards site, you simply sign up, complete tasks, and earn rewards. Here's how Flash Rewards works:
Step 1: Sign Up
Flash Rewards is only available in a few countries, including the U.S., the UK, and Canada. So the first thing you must do is ensure the site is available in your country.
If Flash Rewards is available in your country, you can proceed to their website to sign up by providing information. You'll be asked for your name, email address, and more. You must be 18 years or older to sign up for Flash Rewards.
Next, you'll be required to complete a quick survey that helps the website match you to relevant deals. Answer these questions as honestly and accurately as possible, as your answers will determine the deals you'll be offered and the rewards you'll be eligible for.
You can choose the gift card you want to work towards, as the different reward levels have different requirements.
You'll also need to provide a valid government identification to redeem your rewards. The site must confirm and verify your identification before you can cash out.
Step 2: Complete Deals
Unlike most GPT sites where you earn rewards for tasks like taking surveys and playing mobile games, you get paid for completing sponsored deals on Flash Rewards.
Here are the various ways you can earn on Flash Rewards:
Watch new films
Sign up for free trials
Download and play online games
Complete online surveys
Participate in sweepstakes
Test-drive a new monthly subscription box
Test a new mobile app
The site has levels, each with a specific group of deals. For each level, you must complete a specific number of deals to proceed. Pay attention to the instructions on how many deals you must complete to earn a specific reward.
The highest rewards often require you to spend money to earn them. You may have to enter your email to sign up for subscriptions and newsletters to complete some deals.
If you choose the gaming deals, you may have to spend several hours playing to accomplish the required achievement.
Step 3: Claim Your Reward
The last step is to submit your deals and get your reward. You can continuously check your progress on the site by tapping the blue icon to keep track of the deals you've completed.
You must submit all your deals within 30 days to claim your reward. Documenting every deal you complete is important, which means you'll be taking screenshots and saving emails to verify that you've completed them.
To claim your reward, click the "Claim Reward" button, after which the website guides you through the claiming process. You should start the process within 10 days of completing the specific number of deals and categories needed for that level.
After reviewing your submission, Flash Rewards will email you the form you must fill out to get your prize. The form also verifies your identification, so you must submit a photo of your driver's license or any other government-issued ID.
Typically, the customer service team takes between 5 and 7 days to verify your submission and send you your reward. However, some users complain that their prizes never arrived even after submitting all the required information.
Is Flash Rewards Legit?
Yes, Flash Rewards is a legit platform that pays users to complete deals by following all the instructions. However, unlike most GPT sites where you earn by completing simple tasks, the site is very complicated and takes a lot of time to earn the reward. This is why the site has many complaints and negative reviews from users.
Flash Rewards may not be worth using, as even small mistakes can cost you your earnings. The site seems to take advantage of people by intentionally making it easy to make mistakes on deals so you're not paid.
Some users have reported success using the site, but there are also tons of complaints and negative reviews that shouldn't be overlooked. The amount of time and steps you must take to earn a decent reward may not be worth it.
Flash Rewards promises huge rewards, but you must jump through hoops and work for a long time before earning them. If Flash Rewards seems like a good fit for you, it's advisable to proceed with caution and read all the instructions carefully.
Extra Reading: Is the $750 Cash App Legit?
How Much Can You Make With Flash Rewards?
The rewards you earn on Flash Rewards are constantly changing, so there's no definitive answer to how much you can make using the site.
You must remember that you earn rewards based on the individual tasks you complete, so the more tasks you complete, the more rewards you'll earn. Some of these tasks can be time-consuming, so it takes some time to be rewarded. This is one of the major complaints among Flash Rewards users.
If you put in a good number of hours every week completing tasks, then you should make a considerable amount when you cash in. If you want to make a reasonable amount on the site, you must be patient and willing to complete the tasks offered.
However, there are rewards where you must make purchases in advance to receive payment. If you don't want to make purchases, your earnings will be lower. You can increase your earning potential if you spend more, but not everyone is comfortable with this.
As with most cash back apps and rewards sites, you shouldn't expect to make a living or anything close. They're simply a nice way to make a few extra bucks in your free time. It's important to manage your expectations as you go in so you're not disappointed.
What Are the Available Reward Options?
Like most reward sites, Flash Rewards gives you multiple reward options for cashing in your points. You can redeem various Flash Rewards incentives after completing a specific number of offers.
Some of the reward options available to you include the following:
The reward options you can access depend on the number of deals you've completed. Completing enough deals enables you to earn up to $1,000 in rewards. You must spend your money on some purchases to redeem the $500 and $1000 Flash Rewards.
You may be required to register for free trials on new streaming networks or subscribe to a box service, among other actions. However, you can cancel your subscription before the end of the free trial so you don't have to pay for it, but canceling too soon may also cost you your reward.
Most people are uncomfortable committing to subscription services, as they could have hidden fees. If you were interested in testing the services anyway, then it might be worth it. If you have no interest in the services, avoid these deals.
Do You Need To Spend Money on Flash Rewards?
Flash Rewards is a reward site and not a giveaway program, so you're expected to spend some cash to earn rewards. This is a red flag for some people, but if you don't mind spending money to earn the rewards, you can check out Flash Rewards.
It's important to note that any money you use to earn Flash Rewards does not go to the site. Flash Rewards will not request money directly from you. The money you spend goes to the product or service provider you're interested in. For example, you can subscribe to your favorite streaming platform using Flash Rewards.
You can use Flash Rewards when playing games as well. Whenever you buy in-game skins or COD points that help you finish your levels faster, you earn rewards. The offers you choose will dictate how much you'll have to spend. For instance, you must spend at least $12 to earn rewards that cost $500 or more.
You can also earn rewards by registering for free trials. If you register and cancel immediately, the activity will not count towards your goal. You have to complete the trial period to be eligible for the reward. You can set a reminder to cancel your subscription before the trial period elapses.
Flash Rewards is a site that gives prizes to users willing to spend money for rewards, so it might not be the best for everyone.
Other Flash Rewards Reviews
One way to tell whether a company is legit or a scam is to look at reviews from other users. You should only read these reviews on trusted sites like Trustpilot and Reddit.
Here's what people have to say about Flash Rewards:
Trustpilot
Corey Nuziard says: "Horrible! I completed two deals and never received credit for either one. First was a subscription which I spent money on. The other I played a game for about a month and completed what was asked of me. Emailed support at least six times. I never received a response!!! Now I'm getting emails constantly saying come back and complete deals. Why would I keep trying when I'm still showing zero credits!!!!"
Samantha Nixon says: "Every survey I take time to do always ends up saying I do not qualify and I'm lucky if I get 10 cents. It's time-consuming and doesn't pay like it promises."
Reddit
Tammo-Korsai says: "You might be targeted with more spam and scam calls in the future. I would run a virus scan to make sure the page didn't infect your device with anything nasty."
NikkiVicious says: "Flash Rewards is one of those "offer" sites. You have to do lots of different deals to claim the gift card, and it'll cost you way more than $750 to do so."
Pros and Cons of Flash Rewards
If you're still on the fence about Flash Rewards, here are the pros and cons that can help you make an informed decision.
Pros
Various deals: There are several different deals on the site that you can complete to earn rewards. Some of the deals are paid, but you don't have to take them. The deal variety makes the site more interesting.
High payouts: Flash Rewards payouts are relatively high compared to other reward sites. It's not customary for reward sites to give away $750 Shein gift cards or $1000 in PayPal cash.
Many reward options: Flash Rewards offers many enticing reward options, from Amazon gift cards to VISA cards. There's something for everyone.
Helps you save: Most deals are structured around things you would be spending on anyway, so it's a great way to save as you spend.
Cons
Rewards take too long: Beermoney sites are great for earning quick money, but it takes several weeks to earn rewards on Flash Rewards. If you'd like instant payment for completing tasks, this might not be the best site for you.
Many deals require payment: One significant problem with Flash Rewards is you must complete deals to earn the rewards, and most of these deals require payment. When you factor in the time and financial cost, the reward may not be worth it.
Privacy concerns: The amount of information you have to provide on the site is enough to raise privacy concerns. According to the Flash Rewards privacy policy, they may share and/or sell user information, which is a red flag.
Strict qualifications: When you make errors or submit things incorrectly, there isn't much flexibility, and you lose your chance to earn the reward.
Alternatives To Flash Rewards
If you're looking for ways to make a few extra bucks in your free time without having to sign up for subscriptions, many options are available. Here are some of the top sites you should try:
Survey Junkie: Survey Junkie's work model is quite different from Flash Rewards, but it's a great site for anyone looking to make money on the side. Survey Junkie enables you to earn money for completing surveys and helping companies with market research questionnaires.
Swagbucks: This is one of the leading GPT sites, which pays you to complete different tasks, from taking surveys, and watching videos, to shopping online. It also has a low cash-out threshold of $1, so you can easily earn daily.
InboxDollars: You can also try InboxDollars, a popular site where you'll get paid to watch videos, complete surveys, or play games. You also get a $5 sign-up bonus for joining InboxDollars.
Branded Surveys: This site rewards you for taking surveys to help companies with their market research. The site has a loyalty program you can be upgraded to for participating regularly.
MyPoints: Sign up for MyPoints and get rewarded for completing simple tasks like taking online surveys. You earn a $10 sign-up bonus for joining the site, which you can redeem for a Visa or Amazon gift card.
LifePoints: This is another popular GPT site where you can earn cash for taking surveys. You need to fill out a questionnaire so they can match you with relevant survey opportunities.
PrizeRebel: One of the longest-serving rewards sites where you can get paid to take surveys. The site has plenty of giveaways for loyal users, and you can use it to earn extra money in your free time.
Frequently Asked Questions
Is Flash Rewards a Scam?
Flash Rewards isn't a scam, as some positive reviews online prove they make payments. However, there are also negative reviews, and many users complain that they failed to get their rewards after completing deals.
It's advisable to do your own research and approach the site with caution.
Is Flash Rewards Safe?
While Flash Rewards is a legitimate platform, there are too many red flags for it to be totally safe. For one, their privacy policy states that they may sell or share user information, which is concerning. Additionally, you have to spend money to earn some rewards, which may not be worth it.
How Many Times Can You Claim the Same Reward Amount?
There's a limit to how many times you can claim the same reward amount. For example, if you claim a reward of $500 or below, you won't be able to claim the same amount within 60 days. You can only claim the $750 or $1000 reward once a year.
How Does Flash Rewards Make Money?
Flash Rewards, like most reward platforms, partners with brands that need your attention and participation. When you sign up for Flash Rewards and use the site to try any of their product or service brand partners, they get paid. They use a portion of this payment to reward you as a user.
Final Thoughts
Is Flash Rewards legit? Yes. But proceed with caution. While the platform itself is legitimate, there are a couple of red flags to watch out for. For one, you won't earn rewards for free. You have to spend money to claim the rewards.
While the rewards are admittedly higher than most reward sites, the number of steps you need to complete to earn them may be too taxing.
If you're looking for a rewards site where you can earn rewards for spending money, you can try it. If you need a side hustle to make quick money, Flash Rewards is not worth it.