Is the Shein 750 Card Real or Fake? 2023 Ultimate Guide
This post may contain affiliate links which means that sproutinue.com may make a small commission at no extra cost to you. We only promote products that we love and feel will benefit our readers. Please read our Disclosure Policy for more information.
For the past two years, social media has been awash with ads about the $750 Shein gift card. $750 is undoubtedly a lot of money, and given the affordability of Shein products, this amount could get you a lot of items. For many, the offer sounds too good to be true, which begs the question: is the Shein 750 card real?
With so many scammers looking to mine your data or swindle you out of your money, it's only natural to question such a generous offer. And as it turns out, sometimes, when the deal is too good, thinking twice will work to your advantage.
Keep reading to find out about the legitimacy of the Shein $750 card and what alternatives you could opt for if it's a scam. Let's dive straight into it.
What Is the $750 Shein Gift Card Offer?
Shein burst into the fashion scene in 2012 and almost instantly established itself as a front-runner fashion retail store in the country.
With elaborate algorithms to uncover the latest fashion trends and a robust design team of over 2,000 employees, the Chinese fashion retailer quickly became a force to be reckoned with in the fashion industry. In fact, in 2021 alone, Shein bagged a whopping $3.1 billion in retail sales.
Incentives have been an integral part of Shein's marketing strategy to attract potential customers and retain existing ones. However, the $750 Shein card isn't a promotion by Shein.
Instead, it's an offer by Flash Rewards, a rewards website that pays you for completing a bunch of tasks, known as "deals." These deals could involve taking surveys, buying products, and downloading apps, among others.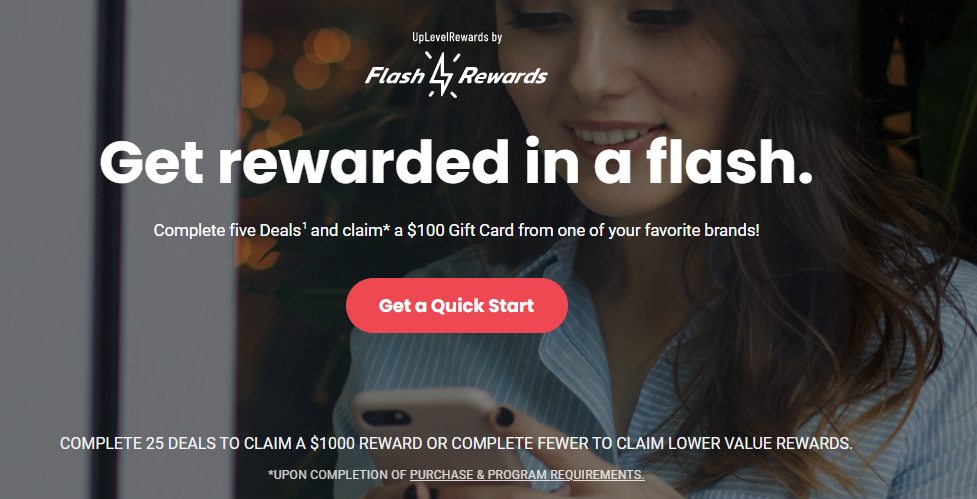 The gift card is available to all members of Flash Rewards, but getting your hands on it is much more complicated than one would think. First off, membership to flashrewards.com is only available to people from the UK, Canada, and the U.S. You must also be over 18 years old and must complete several tasks to qualify for the Shein $750 card.
After completing the deals, you'll have to wait for about 4 to 6 weeks before the gift card arrives in the mail. Once it does, you can buy whatever you want from Shein, provided you don't exceed the $750 reward amount.
Extra Reading: Is the $750 Cash App Reward Real?
How Does the $750 Shein Gift Card Offer Work?
As stated above, the Shein $750 gift card is a reward program by Flash Rewards. The site lets members complete specific activities to qualify for the gift card.
If you're looking to get your hands on the 750 Shein card, all you have to do is follow the steps below:
Step 1: Sign Up for FlashRewards.com
To get started, sign up for the rewards platform. Flash Rewards is only available to people living in the US, UK, or Canada. You must also be 18 years of age or older to sign up.
Visit flashrewards.com and carefully follow the instructions to sign up for the platform. Alternatively, you could download the Flash Rewards app and sign up.
Step 2: Take the Surveys
To proceed, you'll need to take a survey with 12 questions meant to improve your online ad experience. This is a simple survey that you could complete in as little as 2 minutes, with questions like, "Do you do most of your shopping online?" Answer the questions as honestly as possible because there are no wrong answers.
Step 3: Complete Other Deals
Aside from surveys, you'll have to take on more demanding deals to qualify for the Shein $750 card. The site has plenty of optional offers at your disposal. Pick the most reasonable ones and complete them to be eligible for the reward.
In some cases, you may have to spend about $25 to $30 on subscription services. You might also have to download a few paid apps as part of the tasks for the gift card. Think of it as a tiny investment with guaranteed returns.
Step 4: Finish All Necessary Qualification Requirements
Check through the qualification requirements and complete any deals you haven't undertaken yet. There's a lot at stake, so you might have to complete a number of tasks and sign up for a few sponsored deals to get the gift card. Brace yourself for completing 20 deals to qualify.
Once you complete surveys, subscribe, sign up, or download a specific number of sponsored deals, you move to the next level. Here's a brief breakdown of how many sponsored deals you must complete before claiming a reward.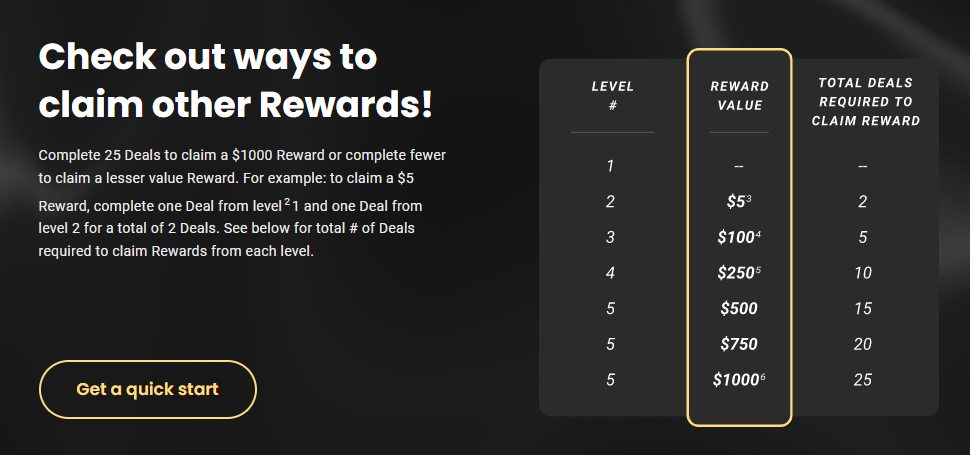 It's worth noting that some tasks and deals may take days or even weeks to complete. Also, according to the terms and conditions, you must complete other deals within 60 days of completing the first to count.
Any deal completed after 60 days of the initial deal is considered a fresh start and thus counts as the new first deal.
Step 5: Deliver the Claim Document
Once you complete every deal and task, you can submit the claim document. As the name implies, the claim document is what you use to claim your reward from the platform.
To submit the claim document, all you have to do is send your ID for verification. This could be your driver's license or anything that contains your photo and identification information. Upload and send the documents within 30 days to initiate the rewards process.
The platform takes 5-7 days to verify your documents. After the verification process, you'll receive the $750 Shein gift card in the mail.
Is the Shein 750 Gift Card Real?
Yes! The Shein 750 card offer is real and not a scam. Provided that you complete the required number of deals at Flash Rewards, you qualify for the $750 gift card offer. After completion, you'll receive the gift card in your mail within 5-7 days.
The ill-conceived notion that the 750 Shein card is a scam is mainly because Shein itself doesn't offer the card. In fact, you can ransack the Shein website and find nothing about the $750 gift card. The situation is worsened by online scammers who try to get users' personal data or trick them into spending their money for nothing.
With over 2,200 reviews on Trustpilot, many users claim to have won some cash after completing deals on Flash Rewards. Provided you qualify as a member and complete all required deals, you'll receive your $750 Shein gift card as promised. However, we still advise you to tread carefully with the platform.
For starters, submitting your ID to a random rewards platform raises alarm bells almost instantly. What's more, there are a few cases where members have completed the deals but failed to qualify for the rewards. Although the site isn't an outright scam, it does seem a tad sketchy.
How To Get the $750 Gift Card From Shein
Maybe get-paid-to-do websites aren't your cup of tea, and you want alternative ways to get your hands on the $750 Shein gift card. Some of them include:
Shein Gift Codes
Shein offers a great way to gift your friends and family with Shein gift cards. These cards contain 16- to 20-digit codes that you must enter to redeem their gift cards. You can use them to purchase anything from the store worth the gift card amount.
It's worth noting that there are no free gift cards, and you have to pay for all of them. Once you buy a gift card, all you have to do is enter the 16-digit PIN at checkout and order your clothes from Shein.
Shein VIP Club
The Shein VIP Club rewards customers with exclusive offers and discounts. From time to time, the website offers free gift cards to its VIP members. The VIP program consists of different tiers that depend on the number of points a customer has accrued.
All customers qualify for the VIP program on their first purchase. They then gain points by purchasing different products on the site. The more you buy, the more points you earn, and the higher your VIP tier.
Shein Gift Card Generators
The so-called gift card generators are a complete scam. No third-party platform can generate random gift card codes for Shein. While they sound appealing, these gift card generators don't work.
Steer clear of any site that promises to generate gift card codes for a fee. They'll only take your hard-earned cash, leaving you high and dry.
Extra Reading: How to Get Free Clothes From Shein
Other Ways to Earn Gift Cards
Besides Flash Rewards, plenty of other platforms can reward you with gift cards for completing various tasks. Some of these platforms include:
Survey Junkie
Survey Junkie is an online survey platform that rewards users for sharing their opinions about particular products, services, and programs. All you have to do is complete a few simple surveys to qualify for various rewards. The platform rewards users with PayPal cash and gift cards for stores like Amazon, Walmart, and even Shein.
InboxDollars
InboxDollars is another get-paid-to website that rewards members for completing various activities. With this platform, you receive rewards for taking surveys, playing games, shopping online, and much more. Gift cards are part of the rewards, although you mostly get rewarded with cash.
Swagbucks
Swagbucks rewards you with gift cards or cash back straight to your PayPal for completing various tasks. The platform is easy to sign up for and is one of the most trusted rewards sites, with over $827 million in cash awarded to date.
Mistplay
Mistplay is a great option for avid video game players. The site rewards you for playing various mobile games curated specifically for you. Playing these games and completing certain levels will earn you free gift cards for popular retail stores.
Pinecone Research
Pinecone Research is a survey company that pays participants for their input. The surveys are meant to create or improve products to meet consumer wishes. Visitors can take various surveys and receive gift cards as a reward for their time and effort.
Shein $750 Card FAQs
1. Does Shein Offer Gift Cards?
Yes, Shein offers gift cards for various amounts that customers can use to purchase items from the fashion retailer. You can either buy the gift cards or get them through get-paid-to-do sites or Shein's VIP club.
2. Do Gift Cards From Shein Expire?
No, gift cards from Shein do not expire, and you can use them any time you want to. You can also share these gift cards with anyone, provided you have the 16- or 20-digit code. In some cases, promotional gift cards have expiration dates.
3. Is It Okay To Spend Money on Get-paid-to Websites?
Yes and no, depending on the website in question. Some of these platforms are downright scams that only want to take your money. Do your due diligence before signing up for or spending money on any GPT website. That's the only easy way to sidestep the unscrupulous reward sites.
Is the Shein 750 Card Real? Final Thoughts
The Shein 750 card is real and is not a scam. Although not offered by Shein, you can join Flash Rewards and earn a $750 Shein gift card. You can also join the Shein VIP Club and earn a gift card as a promotion.
That said, it's important to avoid any gift card generators or third-party platforms "selling" the $750 gift card. These are scammers trying to steal your money. So, is the 750 card real? Yes, it is, so hurry and get yours today and turn heads through 2023 with Shein fashion.
Looking for more ways to earn free gift cards? Checkout: