Is Bubble Cash Legit or a Scam? (Honest 2023 Review)
Updated on September 16, 2023
This post may contain affiliate links which means that sproutinue.com may make a small commission at no extra cost to you. We only promote products that we love and feel will benefit our readers. Please read our Disclosure Policy for more information.
If you've heard about Bubble Cash, you're probably wondering if the app actually pays to play mobile games. So, is Bubble Cash legit? Is it worth your time?
I downloaded and explored the app for this review. I'll share my experience to help you decide if the app is a worthwhile side-hustle idea.
I'll also include some Bubble Cash alternatives if you're looking for other apps that pay you to play games.
So, let's uncover the truth!
Need quick money? Complete microtasks with these sites:
What Is Bubble Cash?
Bubble Cash is a skill-based pop shooter game that lets you make money online. The app is developed by Papaya Gaming, the developer of popular titles like Solitaire Cash.
Bubble Cash is significantly popular, ranking as the fourth most popular game in the casino games category. So far, it has over 91,000 ratings, averaging 4.6 stars out of five.
The app allows you to make money by competing with other players in a game that involves matching and popping bubbles to clear the screen before time runs out.
The player who depletes the bubbles in the shortest time wins. Participating in tournaments allows you to win cash prizes, which you can withdraw via PayPal.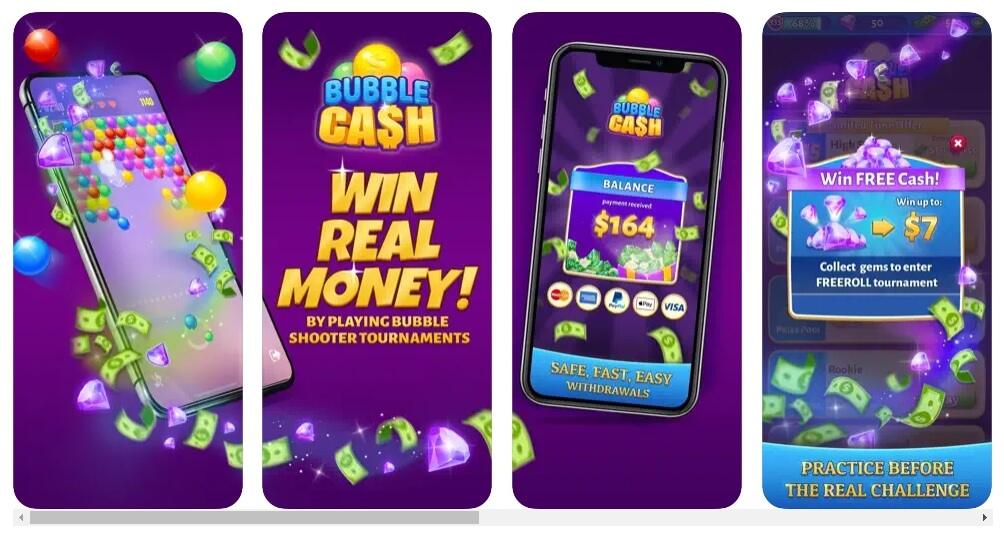 However, cash tournaments are currently unavailable in the following states:
Arizona
Iowa
South Carolina
Louisiana
You can always play free games for fun and to relax if you reside in the states mentioned above.
Also, note that, like any other app by Papaya Gaming, you must be at least 18 years old to use Bubble Cash.
Bubble Cash is available for free download on the App Store. Unfortunately, the app is unavailable for Android devices.
If you're an Android user, don't worry about missing out because there are plenty of Android games that pay, which you can try, including apps like JustPlay and Mistplay.
Is Bubble Cash Legit?
Yes, Bubble Cash is a legit app that pays you to play bubble shooter games. The app has over 90,000 reviews on the App Store, with an impressive average rating of 4.6 stars out of five. Besides, it's ranked fourth in the Casino games category, showing a solid user base.
From what I've gathered from reviews on the App Store, there are plenty of positive experiences from users willing to pay for the multiplayer tournaments.
You must spend money to enter the tournaments to gain a substantial income from Bubble Cash.
However, remember that the buy-in doesn't guarantee victory or a cash prize. You lose your money if you lose the game.
Despite Bubble Cash's claims of matching players to opponents with similar skills, most users complain that the games are rigged, claiming that you get matched to bots, not real people.
Another complaint several users have is how difficult it gets to win games the more you use the app. Well, this is the case for most gaming apps.
On the flip side, Bubble Cash has responsive customer service. They've tried to respond to almost all the reviews on the App Store.
Their team's attentiveness and willingness to solve users' issues is a plus that sets Bubble Cash apart from other developers who don't engage with users.
Here are some reviews from different users:
Baldisbx says: "I've seen a lot of reviews about how the game isn't real and you don't win any money. First, you should not take those in game advertisements and the amounts of winnings they show you (if that's how you found this game) that is just for advertising purposes only to get you to play. Second, if you think you can make money from no money playing a game to win money, you've already lost."
Mybabybobo says: "SUPER rigged, SUPER scam, SUPER not legit… Bubble cash works very hard at finding ways for us not to win. They work VERY hard and taking our money and putting it into their pockets leaving us with nothing."
VenomOfGod says: "Used to be a great game, there were high roller tournaments with high entry fee up to $75 or so, and you can win $100+ but they got rid of those. Now the highest tournament is just $15, and everyone scores 40k-50k all the times even though their name isn't even on the leaderboard (aka full of cheater players or bots)."
In my opinion, Bubble Cash is legit though it isn't the best way to make money with your phone since you have to risk your money.
There are plenty of other get-paid-to sites that don't require spending your money. Also, due to the low earning potential, it's not a great option if you're seeking to earn a steady, substantial income.
How Does Bubble Cash Work?
From my experience, the Bubble Cash app is easy to navigate. Plus, the graphics and interface are user-friendly.
If you're an avid gamer, Bubble Cash offers a blend of strategy and arcade, which you'll find captivating.
Follow these simple steps to make money on Bubble Cash:
1. Download the App
As mentioned, you can download Bubble Cash for free on the Apple Store. A significant downside is that it's unavailable for Android devices.
Once you download the app, create a username and avatar you'll use during the games. Don't worry if you can't think of a username. The algorithm can create one for you.
You'll also need to provide other information, including your phone number, email, and payment and billing information.
2. Go Through the Tutorial
After creating your username and avatar, review the "Quick Facts" to get an overview of how the app works.
You'll also learn about power-ups and how to use them to increase your chances of winning. The tutorial also shows you how to level up quickly and improve your chances of winning.
You get more opportunities to participate in games with larger payouts as you level up. So, take advantage of the tutorial to learn the tricks.
3. Start Playing
Now that you've successfully set up your account, start playing games for the opportunity to win cash rewards.
The games are easy to play. They involve matching three or more bubbles of the same colour and popping them to clear the screen.
All you need to do is tap the screen, drag the laser aim to the bubbles you wish to pop and release the bubble by lifting your finger.
The goal is to clear the board or get the highest score before time runs out.
If you're playing against an opponent, you'll get the same layout, and the player with the highest score at the end of the game wins.
Generally, Bubble Cash offers two game modes: freeroll and paid tournaments.
Let's explore each of them:
Freeroll Tournaments
This game mode requires using in-game gems to buy into tournaments.
The benefit of the freeroll game mode is that it allows you to earn cash rewards without spending your money. Winning a tournament can make you around $7.
The major downside of time mode is that it's unrealistic since it takes too long to accumulate gems up to the required amount for tournaments.
Although freeroll tournaments provide a fantastic opportunity to earn money for free, you must be patient if you're unwilling to deposit your money.
Paid Tournaments
Apart from the almost impossible-to-enter Freeroll Tournaments, Bubble Cash offers you another game mode; paid tournaments.
In this case, you must use gems and cash to buy into multiplayer tournaments and compete for trophies and cash prizes. You can conveniently deposit money through PayPal and Apple Pay.
The upside of paid tournaments is that the cash prizes here are more significant than the ones in the Freeroll tournament mode.
In addition to that, tournaments are easier to enter since you simply invest your money and don't have to spend a long time accumulating gems.
Entry fees usually range from $1 to $5, while the cash reward pools range between $7 and $50.
The main disadvantage is that losing a game costs you all your money. This aspect makes Bubble Cash more of a gamble than a straightforward way of making money.
I don't recommend this app if you're looking for a steady income stream or are unwilling to spend money on tournaments.
However, this can be a fun side hustle if you enjoy the thrill of challenges and risks.
It's important to note that cash tournaments are unavailable in Arizona, Iowa, Louisiana, and South Carolina.
4. Be on the Leaderboard
Being on the leaderboard is vital to win the jackpot on Bubble Cash. Ensure you're always among the top three.
Also, your avatar levels up as you level up on the leaderboard, allowing you to participate in tournaments with more significant cash rewards.
5. Cash Out
Bubble Cash lets you withdraw your earnings through PayPal, MasterCard, Visa, Apple Pay, or American Express.
You can request to cash out after every win. Alternatively, you can accumulate money in your account and cash out later.
Either way, you withdraw your funds at any time upon request.
How Much Can You Make With Bubble Cash?
Bubble Cash doesn't provide a substantial income since its payouts are relatively low.
However, it presents an excellent opportunity to make money in your free time, especially if you spend long hours playing games.
Most tournaments feature cash prizes ranging from $7 to $50, but you'll earn a lower amount even though you win because of the prize distribution among the top three players.
The amount you can make depends on your skill level. The app claims that some high-level tournaments offer up to $500.
Take time to play free games to hone your skills and increase your chances of competing in tournaments with bigger cash prizes.
The buy-in fee for most freeroll tournaments is approximately 1200 gems, while the cash rewards amount to about $7.
This is a low payout since, like in paid tournaments, the cash prize is shared between the top three players. You may end up earning only $4 if you win the game.
In addition, accumulating the 1200 gems required to enter a freeroll tournament may take a long time since most gem games reward you with around 60 gems.
You must therefore be patient and have realistic expectations if you opt for this route.
Tips for Making More Money With Bubble Cash
Since Bubble Cash has a low payout, you must find ways to maximize your earning potential. Here are some tips and tricks for making more money with Bubble Cash:
Utilize power-ups: Several useful power-ups allow you to clear a whole line or section of bubbles on your board. Utilize them to clear your screen in the shortest time possible. You can acquire power-ups by using gems or completing certain levels.
Aim for the top-most bubbles: Focus your aim at the top-most position. Popping bubbles from the top causes the ones beneath them to fall regardless of their color, clearing your board faster.
Play free games: Another tip for making more money on Bubble Cash is to play as many free games as possible. These games provide an excellent chance to hone your skills and practice for high-level tournaments. Also, by playing free games, you accumulate gems over time, which you can use to buy your way into freeroll tournaments where you can win cash prizes.
Don't waste any shot: Every move you make should be swift and thought through to clear the screen before the timer runs out. Make the most of your actions by ensuring every shot pops at least one bubble.
Utilize the laser aim: The bubble shooter games have a laser aim feature that lets you predict your bubble's landing spot. Keep your finger on your screen continuously as you aim to get a more accurate trajectory and avoid wasting shots.
With these tips in mind, you can enhance your gameplay and improve your odds of winning tournaments, increasing your earnings on Bubble Cash.
Pros & Cons of Bubble Cash
Pros:
Bubble Cash is free of annoying ads
The app is free to download
You can use gems instead of money to enter freeroll tournaments
The game is addictive and is a great way to pass the time
You can securely cash out your earnings via PayPal
Cons:
Bubble Cash is unavailable for Android users
You must invest money to enter paid tournaments
You lose money if you lose the game
The earning potential is low
You can't tell if you're playing against real opponents or bots
Accumulating gems to enter freeroll tournaments takes a long time
The Best Apps Like Bubble Cash
Bubble Cash offers a fun way to make money. However, it has massive downsides that are hard to overlook.
There are plenty of get-paid-to apps that allow you to make money online. These apps offer a higher earning potential and ways to diversify your income.
If you're looking for better Bubble Cash alternatives, here are some reward apps worth considering:
You can maximize your earnings by using multiple reward apps simultaneously. For instance, you can use Bubble Cash alongside Mistplay and Swagbucks.
Also, trying out several GPT sites is wise to determine the right one for you.
Frequently Asked Questions
Is Bubble Cash Legal?
Bubble Cash is a legal gaming app. Although there's an element of gambling when investing money in paid tournaments, winning on the platform depends entirely based on your skill level.
Also, cash tournaments are unavailable for users in the following states:
Arizona
South Carolina
Iowa
Louisiana
Is Bubble Cash Rigged
Whether Bubble Cash is rigged depends on your experience with the app. For me, the games were easy to play though it became harder to win the more I played.
The app claims to match opponents with the same skills, but many users complain that this is false. Unfortunately, there's no way to tell if you're playing against a real opponent or a bot.
Does Bubble Cash Really Pay?
Yes, Bubble Cash pays you to play bubble shooter games on your phone. However, the earning potential is relatively low.
Participating in freeroll tournaments allows you to compete for cash prizes without investing your money. However, it takes too long to accumulate the required amount of gems to enter a single tournament.
The alternative is paid matches, but you must be willing to deposit the entry fees. You lose your money if you lose the game.
The cash prize distribution among the top three players can result in earning less than expected, even if you win the tournament.
Do You Have To Pay To Play Bubble Cash?
Bubble Cash has a free game mode where you can participate in freeroll tournaments without paying. However, these free tournaments have a low earning potential.
Also, most freeroll tournaments require an entry fee of 1200 gems which takes a long time to accumulate.
Generally, to make money on this app, you must invest money to participate in paid tournaments.
Is Bubble Cash a Scam?
Bubble Cash isn't a scam. It's a legit platform that pays you to play games on your phone. The app has a great user base and an impressive average star rating of 4.6 on the App Store.
While there are numerous negative reviews, most users attest to having earned from the app showing that it's a legit platform.
Is Bubble Cash Safe?
Yes, Bubble Cash is safe and legit. The developer behind it, Papaya Gaming, is a renowned company and owns other popular gaming apps like Solitaire Cash and Bingo Cash.
Is Bubble Party App Legit?
Bubble Party isn't a legit app since it's almost impossible to accumulate tokens on the app. You may have to spend long hours just to earn peanuts.
If you're looking for a gaming app that pays, I recommend using other apps like Mistplay or Rewarded Play.
Final Thoughts
If you were wondering whether Bubble Cash is legit, I hope my review has been helpful. It's a great way to pass the time if you're an avid gamer.
However, if you came across Bubble Cash in an ad, I suggest you try it to determine if it's the best app for you while having realistic expectations.
You can also try other GPT sites like Branded Surveys and Kashkick that have higher earning potential and give sign-up bonuses.
Happy gaming!
Want more money-making opportunities? Check out: