Is Fetch Rewards Safe in 2023? What Shoppers Need To Know!
Updated on August 26, 2023
This post may contain affiliate links which means that sproutinue.com may make a small commission at no extra cost to you. We only promote products that we love and feel will benefit our readers. Please read our Disclosure Policy for more information.
If you enjoy shopping online, you're probably familiar with reward apps that give you cash back for every purchase.
Fetch Rewards is one of these apps that rewards you in points for scanning receipts. Given the number of scams out there, is Fetch Rewards safe?
In this guide, I'll answer this question and everything you need to know about using Fetch. I'll also cover safety tips when using Fetch and other apps like Fetch Rewards, so keep reading for more info!
Want easy ways to make money? Try out:
SayMore – Share your opinion and earn gift cards to your favorite stores!
Arrived – Invest in rental homes with as little as $100 & earn rental income!
What Is Fetch & How Does It Work?
Fetch Rewards is a popular cashback app that rewards you for scanning receipts.
All you need to do is scan and upload receipts from stores you've shopped at, and the app rewards you with points you can redeem for various gift cards.
So, how does the app work? First, download and install the app. It's available for iOS and Android devices but only for United States residents.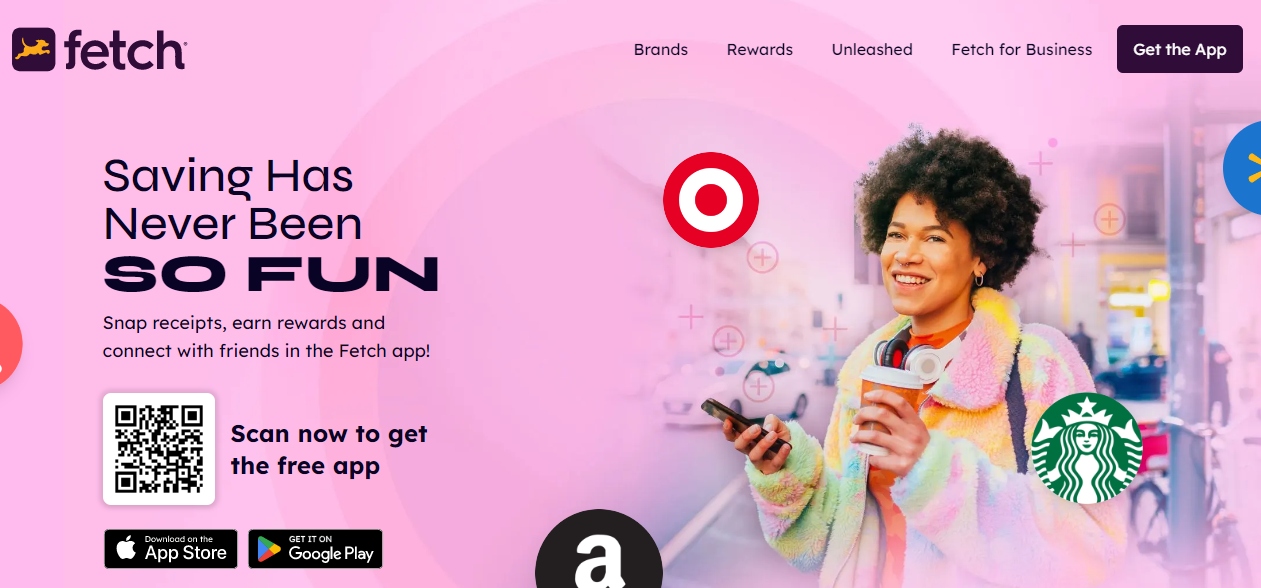 Once you've downloaded the Fetch app, create an account and upload photos of your shopping receipts. The app then scans the receipt and gives you the points earned depending on the purchased items.
As you accumulate points, you can redeem them for gift cards to Amazon and other retailers like Walmart and Target.
One of the major advantages of using Fetch is that you don't have to buy specific products from partner brands. Fetch Rewards gives you points for purchasing all types of products from their partners.
Additionally, Fetch partners with major brands like Target, Amazon, Walmart, Instacart, Costco, and Shipt. It also regularly updates offers you can use to save money as you shop at your favorite retail stores.
Is Fetch Rewards Safe?
Yes. Fetch Rewards is a completely safe and legitimate app that rewards you in points for uploading receipts. The app doesn't collect sensitive information and has security measures to safeguard user data. It's advisable to take your own security precautions, like using a secure password for your Fetch account.
You may be concerned about how the company uses the data you sell them for gift cards, but this is standard with any rewards app.
However, Fetch Rewards is completely safe. Here are some reasons the app is safe to use:
1. Fetch Rewards Doesn't Ask For Your Banking Information
When you create your Fetch account, the only information you're asked to provide is your:
Name
Date of birth
Address
Phone number
Email address
Fetch Rewards doesn't ask for your credit card or banking information, so it has no access. You can also link your social media to the app directly, so it collects your data, but this is optional.
The fact that Fetch Rewards doesn't collect your credit card or banking information is reassuring, as most scams aim to get access to sensitive information.
2. Fetch Rewards Anonymizes User Data
Some people may be concerned about how Fetch Rewards uses their consumer data, which is a valid concern. Some reward apps are designed to collect and sell information to third parties.
While Fetch Rewards makes money by collecting your consumer data and selling it to advertisers, the data is first anonymized and aggregated.
Advertisers use this information to develop better marketing strategies and give new offers to increase sales.
Fetch Rewards is transparent about how they use your data from the get-go, which is not the case for scam apps. When you understand how Fetch Rewards works, it's easier to trust them with your data.
3. Fetch Rewards Has Proper Security Measures
Another reason Fetch Rewards is safe is the security measures taken to protect users. Fetch takes your security seriously, and it shows.
For one, Fetch Rewards uses data encryption. So, even if your data is somehow intercepted, no one can read it.
Secondly, Fetch Rewards uses multi-factor authentication to protect your account, so you're the only one with access to it.
Two-factor authentication is an added security layer that ensures that even someone with your password cannot access your Fetch Rewards account without authorization.
4. Fetch Rewards Has Positive User Reviews
Another reason Fetch Rewards is safe is the number of users and positive reviews. The app is used by millions in the U.S. and is highly rated in both the App Store and Google Play Store.
Fetch Rewards has a rating of 4.6 out of 5 stars on Google Play and 4.8 out of 5 stars on the App Store.
Speaking of Fetch Rewards users, here's a YouTube video from Something Collective. The user shares their experience of having used Fetch Rewards for six months.
He also talks about how the app works, how points are awarded, and how to redeem them. The video also covers the pros and cons of using the app so you can make an informed decision about downloading the app.
Why Does Fetch Want Receipts?
Fetch wants receipts because it uses the information to collect important data that marketers can use for strategic decision-making.
When you scan your receipts, Fetch Rewards also uses the information to identify any products eligible for special offers and Fetch points.
The information collected from consumer data is also used to determine shopping trends so your brands learn better how to anticipate and meet your needs.
Fetch doesn't need your credit card information, and most receipts don't include that data. Besides, you don't have to scan any receipts with sensitive information.
What Does Fetch Rewards Do With Your Information?
You share your information with Fetch Rewards, so it's natural to wonder where your data goes after it's collected.
Fetch Rewards gathers data from its users, including personal information like their names, home addresses, email addresses, and phone numbers. Fetch also collects your transaction data, like your receipts and purchase history.
The information collected is mainly used for two purposes:
Improve its services to the users and provide a more personalized experience: Fetch also uses cookie technology to collect user information regarding their activity within the app and even other third-party sites. This data is mostly used to analyze consumer behavior and generate more personalized content.
Data sharing: According to Fetch Rewards' privacy policy, user data may be shared with third-party services. These third parties are advertising partners and payment processors.
Fetch Rewards anonymizes the data before it's shared with third parties, so you don't have to worry about your personal information being used maliciously.
Additionally, the app gives you control over the types of data it can collect and share. All you have to do is go to the app settings and set your preferred data collection type.
You can even delete user data and opt out of targeted advertising if you want to.
How Does Fetch Rewards Make Money?
Apps like Fetch Rewards make money through the commissions they earn from their partner brands.
Fetch Rewards, in particular, makes money in various ways.
Affiliation
The app is an affiliate partner of the various brands it works with, and the brands pay the app to bring in new customers and encourage existing ones to shop at their stores.
Affiliation is how Fetch Rewards generates the bulk of its revenue. Brand partners pay Fetch Rewards referral fees for promoting their products to its users.
Every time you buy an item from a specific brand through special offers from the app, Fetch Rewards receives a small percentage of the revenue. Brands compensate Fetch Rewards because they get to advertise their products on the app exclusively.
As traditional marketing channels reduce in effectiveness, brands look for better ways to improve their marketing and maximize ROI.
Selling Aggregated User Data
The second way Fetch Rewards generates revenue is by selling aggregated user data to third-party services, including advertisers.
The advertisers get important insights into consumer behavior, like which products are doing well and when customers make most of their purchases.
This is essential information that they can use to make more informed marketing decisions to boost sales and brand visibility.
Interchange Fees
Lastly, Fetch Rewards makes some of its revenue from interchange fees. Fetch launched a debit card in 2020 called Fetch Pay.
The Fetch Pay debit card works like any other debit card, and you can use it anywhere Mastercard is accepted.
Whenever you use the debit card, an interchange fee is applied. The fee, in this case, is charged by Mastercard. Fetch Rewards is given a portion of the interchange fees based on its agreement with Mastercard, the merchant.
Pros & Cons of Fetch Rewards
Now that you know Fetch Rewards is safe, here are a few pros and cons to help you decide whether the app is right for you:
Pros:
You can upload receipts for all kinds of products
You get gift cards to various major retailers
There are no hidden fees
The gift cards arrive relatively quickly
You can get special offers when shopping
Cons:
Receipts must be uploaded within 14 days, or they expire
There's a limit to the receipts you can upload in a week (up to 35)
Fetch Rewards only pays in gift cards, not cash
The app is only available to users in the U.S.
Tips for Safely Using Fetch Rewards
While Fetch Rewards is a safe and legitimate app, you still share your personal information online.
As such, you should also take some security measures to protect yourself as you use the app. Here are a few safety tips you can use:
Use a Strong Password
You must create a password for your Fetch Rewards account. Ensure your password has at least eight characters with special symbols and numbers.
Additionally, ensure the password is unique and not easy to guess.
Read All the Terms and Conditions
As with most apps, you should know what you're getting into. Fetch Rewards is very transparent about how they use your data, so read their privacy policy carefully.
The good thing is that you can set your data collection preferences within the app.
Avoid Unsafe Wi-Fi Networks
It's good practice only to use secure connections when using apps that require logging in.
When using the Fetch Rewards app, avoid public unsecured Wi-Fi networks, which are vulnerable to hacks.
Don't Click on Suspicious Links in Emails
Take note of Fetch's official email address. You may get phishing emails claiming to be from Fetch, so keep an eye out for suspicious emails.
These emails mostly have ridiculous offers and a link to click on. Avoid clicking on suspicious links; they're most likely spam emails to steal your information.
The Best Apps Like Fetch Rewards
If you love shopping and you'd like more apps that help you save, here are a few apps like Fetch Rewards:
Frequently Asked Questions
Is Fetch Rewards Legit?
Yes, Fetch Rewards is a safe and legitimate app you can use to earn rewards as you shop online.
The app has millions of users and high ratings in the Google Play and App Store. It also has positive reviews on sites like Trustpilot.
Is Fetch Rewards Legal?
Yes, the Fetch Rewards app is legal. Their business model is transparent, and you can read their terms and conditions before signing up.
It's a legal app that partners with major retailers like Target, Amazon, and Walmart to promote their products. The commission they earn from the partnerships is then shared with the app users.
Does Fetch Rewards Steal Credit Card Info?
Fetch doesn't steal credit card info. The only information you need to provide when signing up is your name, phone number, email address, and home address.
Fetch doesn't ask for your credit card information or have access to it. Receipts usually don't show the data, and you have control over how much information you share with the app.
What Is the Downside of Fetch Rewards?
One of the downsides of Fetch Rewards is how long it takes to accumulate enough points to redeem a gift card. If you don't shop that often, earning enough points to redeem rewards can take quite some time.
How Do I Get 10000 Points on Fetch Rewards?
The best way to get 10,000 points or more on Fetch is to use the app regularly. Log in frequently to check for new offers and complete the offers with high point values.
You should also capitalize on bonus points offers and the referral program to boost your Fetch points.
Final Thoughts
So, is Fetch Rewards safe? Yes. The information from various sources confirms that the app is safe and legitimate.
Fetch has millions of users who have reviewed it positively, so you don't have to worry about being scammed. It also has serious security measures to protect its users and their data, which is a good sign.
Fetch Rewards is a safe, easy way to earn as you make your everyday purchases. As a rewards app, it's not the best way to earn significant amounts of money, so it's important to have realistic expectations.
Looking for other ways to make money? Check out these posts: