Rakuten vs Honey: Which One Saves You More Money in 2023?
This post may contain affiliate links which means that sproutinue.com may make a small commission at no extra cost to you. We only promote products that we love and feel will benefit our readers. Please read our Disclosure Policy for more information.
As online shopping becomes the new normal, more people are finding ways to save money using reward apps that help them find deals and coupons.
If you love shopping online, you've probably thought of cashback apps, which provide saving opportunities as you spend your money. Rakuten and Honey are two Chrome extensions you can choose from.
While both help save money, you may be wondering which one helps save more.
Both apps offer similar services like price tracking and cashback rewards, but there are significant differences in user experience, welcome bonuses, and available retailers.
In this Rakuten vs. Honey review, I'll share my experiences regarding the two platforms to help you make an informed decision.
I'll also compare their features, pros and cons, and how they can help you save money as you shop online.
What Is Rakuten?
Rakuten, formerly known as eBates, is a popular shopping platform that gives cash-back rewards to its users.
When you use Rakuten to make purchases online, you get a percentage of your purchase amount back as a reward.
Rakuten has partnerships with over 3,500 stores. These companies pay Rakuten a commission fee to get users to visit their website, and Rakuten shares this commission with the shoppers.
Rakuten also offers coupons and promo codes to help you save as you spend.
It's very easy to get started with Rakuten. Simply sign up on their official website and create your account using your email and password. You'll earn a welcome bonus if you place a qualifying order of at least $25 within 90 days of joining.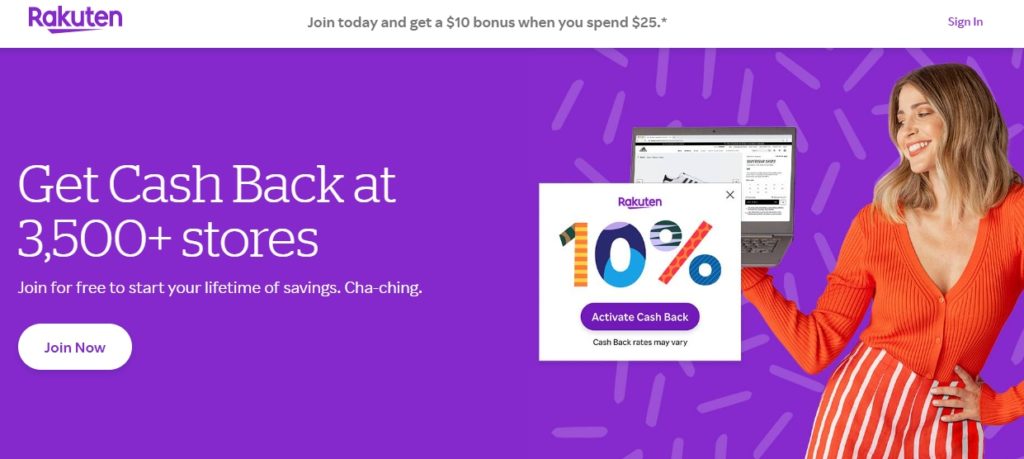 Once you've downloaded the extension, you can use it to make purchases online.
Rakuten partners with major retailers and even subscription services, so finding your favorite brands will be easy.
Rakuten pays in real cash, which is why it's one of the most popular reward apps. The cashback you earn for each product you purchase will reflect on your account within a few hours to several days, depending on the store.
For instance, if you purchase from Macy's, Rakuten looks at the item's value and gives you cashback accordingly.
If you bought clothes worth $200 and got a 5% reward, you'll receive the $10 cashback in your account within hours or days.
You can have your money sent to you in physical checks or transferred every three months via PayPal.
You can also use the Rakuten extension to find and apply coupons as you shop on other websites. The coupons are applied automatically as you check out, and you get cashback on all the eligible products.
Pros and Cons of Rakuten
Rakuten as a reward app has tons of benefits, but there are also disadvantages to consider before joining the platform.
Pros
Rakuten partners with thousands of stores to provide cashback on purchases
Rakuten helps you find deals and coupons for specific products.
The platform has a mobile app, which is easy to use.
Rakuten users earn cashback as they make purchases using linked credit or debit cards.
Rakuten has a great referral program
Cons
Payment is only provided four times a year
The sheer number of available options may make shoppers buy items impulsively.
What Is Honey?
Honey is a useful browser extension that automatically applies coupons and promo codes to your online purchases.
The extension scans the internet for promo codes and automatically applies them to your purchases as you check out, so you save money without effort.
You can download and install Honey in a few simple clicks, and it sits quietly on your browser, finding valid coupons and promo codes for when you make purchases online.
The Honey browser plugin is available on Firefox, Chrome, and Opera browsers. Whenever you use any of the browsers to shop at eligible online stores, you'll see a Honey pop-up when checking out.
Honey works with over 40,000 online stores, providing coupons and deals to help you save money. Honey also has a reward program where you earn Honey Gold points.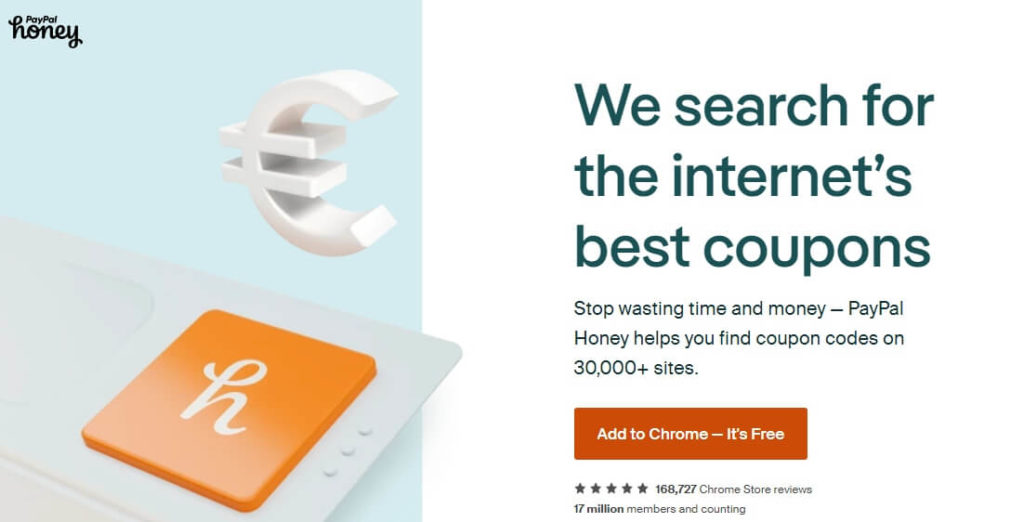 As you accumulate the Honey Gold points, you can redeem them for various gift cards.
Using Honey to shop and earn rewards is extremely easy. All you have to do is set up your account.
One of the features that make Honey very convenient is the Droplist feature.
When using e-commerce sites like Amazon, there'll be pop-ups to check whether the price is the best deal among all the sellers. This way, you'll find the best deal and save your money.
Honey also allows you to add the product to your Droplist, and you'll get email notifications when the pricing drops.
The Droplist feature also allows you to see the price history of items for the past couple of months to see whether you're getting a deal.
This feature is great for when you intend to make a purchase but are not in a hurry.
Pros and Cons of Honey
Pros
Works in over 40,000 stores
A very easy-to-use browser extension that helps you save money effortlessly.
You'll earn various gift card rewards
Honey now lets you redeem PayPal credits if you want cash
Cons
Honey is less effective on mobile phones than on desktops and laptops
Honey coupons are not always guaranteed
Honey's customer support is not very comprehensive
Rakuten vs Honey: What's the Difference?
While both Rakuten and Honey are great passive income apps that primarily help you save money on online purchases, there are significant differences between the two platforms.
Let's take a closer look at the features of both apps to help you choose between the two.
Availability of Stores
One of the most important features to consider when answering the Rakuten vs Honey question is the availability of stores.
Ideally, you want a platform that supports as many stores as possible because you'll save more money.
Fortunately, both Honey and Rakuten have partnered with several retailers. According to their websites, Rakuten works with over 3,500 stores, while Honey works with more than 40,000 stores.
Honey works with retailers in the U.S., Canada, the UK, and Australia, as well as any website that supports international shopping from any country.
Conversely, Rakuten works with retailers in the U.S., the UK, and Canada.
Based on numbers alone, Honey may be the better option because it partners with more stores.
Reward Options
Since both Rakuten and Honey are passive income apps, it's also important to consider the reward options you get with each platform.
With Honey, you get three reward types: Honey Gold, gift cards, and PayPal cash, introduced recently. 
You can redeem Honey Gold points for various gift cards to major retailers like:
It's also important to note that the PayPal rewards you earn on Honey are applied as credit for future purchases, not credited to your PayPal account.
Rakuten, on the other hand, pays cash rewards via check or PayPal quarterly. You must have at least $5 in your account to get paid.
While Rakuten has a lower redemption minimum, you can't access your balance whenever you want.
If you'd like free gift cards, then you should choose Honey. But generally, Rakuten takes the cake when it comes to reward options.
Cashback Rewards
Rakuten and Honey are cashback programs, but there's a significant difference regarding their cash-back rewards.
Honey's rewards are in the form of Honey Gold, which are points you can accumulate and redeem later for gift cards to your eligible partners.
Honey also rewards you by helping you find coupons and deals to save money. The extension scans the internet for deals and coupons and applies them automatically to your purchases.
When you use the coupons, you also accumulate Honey Gold points. In essence, Honey gives you discounts upfront and also rewards you later through gift cards.
Rakuten, on the other hand, rewards you upfront with cashback rewards. You browse the Rakuten home page to find stores offering discount deals.
If you have a specific purchase in mind, you can visit the store site from Rakuten's page.
Additionally, if you have the Rakuten browser extension, it automatically alerts you when the online stores you visit are eligible for cashback.
When it comes to cashback rewards, Rakuten comes out on top. Honey is great for coupons and deals, but Rakuten's cashback system is better.
Coupon Codes
Both Rakuten and Honey give you coupon codes to save money as you shop online.
However, Honey is more convenient because it scans the internet to find the best deals and automatically applies coupon codes at checkout.
When you have the Honey browser extension, you'll be notified when shopping at a Honey partner and if there are potential coupons.
From there, you can just hit "try codes," and Honey tests the codes to find you a discount at checkout.
On the other hand, Rakuten is mainly focused on cashback as opposed to coupons.
There are some retailers on the Rakuten platform that offer coupons once in a while, but the platform is mainly for cashback rewards.
So, if you're looking for coupons, Honey is the better option because it finds you deals and applies the codes automatically.
Browser Extensions
The two cashback apps have browser extensions for automation, so there's not really much competition.
Honey notifies you of coupons and Gold opportunities. Rakuten also informs you of cashback offers and occasional coupons.
One of the significant differences between the two browser extensions is that sometimes Rakuten notifies you if there's another retailer with better prices than the retailer you're buying from.
Honey does the same thing for Amazon sellers, so if you use Amazon a lot, then Honey would be great for saving money.
Referral Program
Like most reward apps, Rakuten and Honey offer referral bonuses, though there's a significant difference.
For Honey, you get 500 Gold points or $5 when you invite a friend, and they earn their first Gold. You can refer up to 200 friends, which is a maximum of 100,000 Honey Gold, or $1,000.
There's no time limit for your friends to earn their first Gold, and you'll get your rewards in the form of a gift card.
Rakuten has a more elaborate referral program, where you and your friend can get $30 when you invite them, and they spend at least $30 on Rakuten.
As far as referral bonuses go, this is a pretty sweet deal than Honey.
Mobile Apps
For convenience, both Rakuten and Honey have mobile apps to help you save money even when you're on the go.
Honey has an app called the Honey Smart Shopping Assistant, which works slightly differently from the browser extension version.
With the Honey Smart Shopping Assistant, you can:
Purchase from over 300 stores
Apply mobile coupon codes when checking out
Earn Honey Gold points as you shop
On the other hand, Rakuten's app is more unique than the browser extension and the desktop version. The Rakuten app helps you unlock:
In-store coupons
Unique cash-back deals for mobile users
5% cash back at partner restaurants
The in-store coupons are a great feature because you can save online and in person. Some deals being exclusive to the mobile app is also pretty neat.
When it comes to mobile apps, Rakuten offers more functionality and deals. But if you shop a lot on your phone and want to centralize your deals, the Honey app may be better.
Points Processing Speed
Points processing speed is another important factor you should consider. In this case, Rakuten takes the lead.
When using Rakuten, once you've activated your cashback and placed the order, you receive confirmation immediately via extension and email.
Your points will be pending until Rakuten has confirmed the transaction with the retailer, which will take up to 24 hours.
For Honey, it's not unusual for your points to remain pending, awaiting confirmation for up to a month. Usually, it takes a couple of weeks for your gold points to be confirmed.
There's a big difference between the points processing speed, but remember that while Honey takes some time to process your points, you can withdraw them immediately after confirmation.
With Rakuten, you must wait three months to get your money.
Customer Support
You may encounter a few challenges when using browser extensions or mobile apps, so you need access to customer support.
Both Honey and Rakuten have amazing support teams.
If you encounter a problem when using Honey, you open a ticket, explain the problem, and wait for a reply, which won't take more than 48 hours.
Rakuten has the additional feature of an automatic help section. If your issue is missing cashback, you just key in the order number, date, and purchase category.
You'll then copy and paste the email from the retailer confirming your order, and the cashback will be added to your account automatically.
Regarding customer support, Honey and Rakuten have great teams, and their websites have detailed FAQ sections that answer most of your questions.
Similarities Between Honey and Rakuten
Honey and Rakuten are excellent platforms that help you save money as you shop online, so there are bound to be similarities.
Here are some of the main ones:
Free to Use
Honey and Rakuten are both free to use. You won't be charged for installing the browser extension or downloading the apps.
There are no hidden costs on either platform.
Both Partner With Retailers
Rakuten and Honey work with popular retailers like:
Target
Walmart
Best Buy
Macy's
Starbucks
Both Provide Saving Opportunities
Rakuten and Honey are designed to help you save while shopping online.
Honey finds you deals and coupons as you shop, while Rakuten gives you cash-back rewards on select purchases.
Referral Bonuses
Both Rakuten and Honey have referral programs where they offer bonuses to users who invite their friends to the platform.
There are different terms and conditions for the referral programs.
The Best Alternatives to Honey & Rakuten
BeFrugal: This site partners with over 5,000 stores to offer cashback on purchases. With a BeFrugal membership, you can earn up to 40% cashback.
Dosh: An easy-to-use cashback mobile app that gives you money back when you use a linked credit card to make purchases at partner stores.
TopCashBack: This popular cashback site offers some of the best deals on the internet, especially because it shares 100% of its commission with members, making money instead from ads and sponsorships.
Ibotta: You can also try Ibotta, a cashback app that helps you save money when you shop online and in person. Ibotta works with thousands of brands to give you cashback on select purchases.
Frequently Asked Questions
What Is the Difference Between Rakuten and Honey?
The main difference between Rakuten and Honey is that Honey mainly offers coupons for various stores, while Rakuten gives you cashback on purchases.
Rakuten offers a higher reward percentage than Honey. However, Honey offers a wider selection of coupons than Rakuten.
Is Honey Better Than Rakuten?
Choosing between Honey and Rakuten comes down to your preferences and shopping habits.
If you make many small purchases and are looking for promo codes, Honey is the better option.
If you make large purchases and prefer cashback, Rakuten would be the better option.
Can I Use Honey and Rakuten at the Same Time?
Unfortunately, you can only use one platform at a time. Retailers use cookies to track the last site you used to purchase, so the site you used last will get credited.
If you want to use both to find the best deals, you can disable the extensions when shopping and then turn on the extension with the best rate when completing the purchase.
Does Honey Actually Save Money?
Yes. Honey helps you find coupons and promo codes and applies them automatically as you shop online.
Since it partners with thousands of partners, you can make significant savings using Honey to shop online.
Final Thoughts: Which One Should You Choose?
The Rakuten vs Honey debate can be long. Both apps are great ways to save money and earn cash back, and their browser extensions make your work a lot easier.
If you must choose between Honey and Rakuten, consider your shopping habits and what you're looking for in a reward app.
Honey is a good choice if you want a site that helps you find deals and promos to save money as you shop online.
If you make bulk purchases and want to earn cashback, Rakuten might be the better choice.
You can download both extensions, check them out, and decide for yourself.
Happy saving!