Fetch Truck Review 2023: Rent Out Your Truck and Make Money
This post may contain affiliate links which means that sproutinue.com may make a small commission at no extra cost to you. We only promote products that we love and feel will benefit our readers. Please read our Disclosure Policy for more information.
When it's time to go camping, on vacation or a road trip, you can easily fill up the trunk of your car, hop behind the wheel and conveniently drive away. But a pickup or cargo van would be more convenient when moving stuff from one location. 
However, if you don't own a truck, you can easily access a rental one with a tap on your phone. Or, if you're the owner, you can turn it into a profitable side hustle and use it to earn consistent passive income. 
That's where Fetch Truck Rental comes into play, allowing you to temporarily rent your vehicle to people who need it in your area. In this Fetch Truck Rental review, we'll cover everything you need to know about this platform, how it works, and how to use it to make money.
What Is Fetch Truck?
If you've used apps like Instawork or TaskRabbit, you know that these platforms serve the same purpose: connecting businesses with clients and making service delivery easier.
Fetch Truck Rental works the same way, providing truck owners with a platform to rent out their vehicles to people in their area who need temporary transport solutions.
Fetch Truck is a peer-to-peer marketplace where owners list their vehicles and indicate how much they can be rented per hour or day. If you own a truck, pickup, or cargo van, Fetch Truck Rental will market it for you, making it available to renters.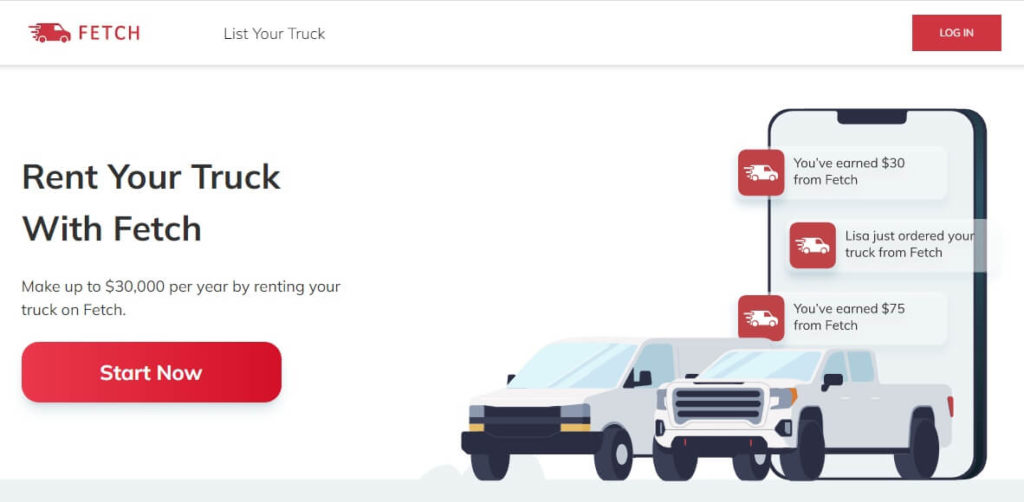 According to Fetch's website, you can make up to $30,000 per year in passive income. The exact amount you can expect to make depends on your vehicle type and the demand in your area.
The platform deducts a 20% commission with each rental and pays you the remaining proceeds twice a month. However, renting your truck on Fetch Truck Rental requires commercial and personal liability insurance coverage.
If you don't have these two insurance coverages, Fetch will deduct another 10% from your proceeds to facilitate the coverage. This is because standard auto insurance policies do not cover damages incurred by renters.
How Does Fetch Truck Work?
Fetch is a self-service truck rental platform that brings renters and local vehicle owners together. It provides instant transport solutions to renters and consistent passive income to owners.
Working with Fetch Truck Rental is relatively straightforward. As an owner, all you have to do is sign up and create a member profile, then, upon approval, list your vehicle through its website.
To rent out a truck, you must unlock it from your phone using the keyless access feature and complete the check-in process.
As a truck owner, the platform allows you to manage your vehicle availability and rates from the comfort of your phone or computer. Some of the vehicles you can list or rent out on Fetch include:
Crew cab pickup for transporting people and equipment
9′ high-roof vans for one-bedroom apartments
8 Pick-up trucks for quick hauls
6′ cargo van for small moves and deliveries
9′ cargo van for furniture and large deliveries
10′, 12′ and 16′ Box trucks for larger apartment moves
Below is the step-by-step process of how Fetch Truck Rental works and how you can make money with your vehicle.
1. Sign Up
The first step to becoming a member or partner with Fetch Truck Rental is signing up and creating a profile. You'll be asked to submit your personal information, including:
Your full name
Your address
Your contact information
A photo of your driver's license and vehicle registration
In addition, your vehicle must be a new model. Fetch truck rental does not accept 2008 or older vehicle models. Your vehicle must also have a mileage of less than 130,000.
Registering with Fetch and providing the required information takes less than 30 minutes, so you'll have your profile up and running in no time.
Finally, you must have commercial rental fleet insurance that attracts a one-time fee of $1,000. You must also obtain Fetch devices for each vehicle, and installation fees apply.
2. Select a Plan
When you sign up with Fetch, you can choose one of the two plans since the site charges service fees.
Each package offers account access to a Fetch gadget to help you automate the rental process and manage your vehicle from your smartphone.
You can choose the Quick Start Package at $4.99 per month with access to a Fetch account and a lockbox for safely keeping the keys.
Alternatively, you can select the Pro Package costing $7.99 per month. This package offers unlimited access to your Fetch account, a remote lock/unlock, vehicle immobilization for enhanced security, and rental automation.
However, the Pro Package requires a $60 professional gadget installation fee. It's more suitable for vehicle owners who rent their vehicles full-time and maintain a contactless process.
3. Get Approved by DigiSure
Fetch Truck works with various partners to ensure quick and efficient service delivery. One is DigiSure which offers keyless access protection by ensuring the vehicle and owner details are valid and accurate.
Once DigiSure approves all information, Fetch Truck sends an email notification for gadget /device dispatch. Once you receive your Fetch device, you can install it.
4. List Your Vehicle
By listing your vehicle, you're officially releasing it into the market, ready for bookings by renters. All you have to do is update the listing status of your truck as "Listed" on the Fetch Dashboard, and your vehicle will be available for bookings.
Make sure you park your vehicle at a designated spot from where you intend to rent it. Ensure the designated location address is valid and up to date. This should be reflected on the Fetch Dashboard.
After you've listed your vehicle on Fetch Truck Rental, you must email the Fetch Partner Support team. This lets the team know your car is already listed and ready for bookings.
Renters can then choose to rent their vehicle through Fetch's marketplace. They can use the app to locate and reserve the vehicle, unlock with their phone, and use it. You don't have to be physically there, everything is contactless, so you make money on autopilot.
5. Manage Your Fleet Business
Listing your truck on Fetch means you're in complete control of your fleet business. The platform allows you to monitor, schedule calendar blocks, and maintain your fleet without any restrictions.
If you need to use the vehicle for personal use, you can temporarily take it off the market at your convenience.
While fetch can recommend the best price ranges to help you maintain a competitive edge, you're free to determine and set up the rental rates for your vehicle.
Part of Fetch's terms of service state that owners must regularly inspect their vehicles for possible operational defects and fix them accordingly. This means you're responsible for your vehicle's service and maintenance.
Is Fetch Truck Legit?
Fetch Truck is a legitimate platform where you can rent your vehicle and provide logistics solutions to people in your area for a reasonable amount.
However, it doesn't have a solid digital footprint as it's not listed on major business review sites like Captera, Trustpilot, or Sitejabber. The few places you can find Fetch Truck are BBB and LinkedIn, but the information is scanty even with these sites.
You may also find more reviews about Fetch Truck on Yelp, with a 3.5 out of 5-star rating and nearly 50 user ratings. These reviews are primarily from renters, not owners, so the information needs to be more comprehensive.
While the official Fetch Truck website has enough proof of its legitimacy, including being featured in several publications like TechCrunch, the site should increase its online presence.
How Much Can You Make With Fetch Truck?
According to the Fetch Truck website, the amount you can make depends on the vehicle's make, model, and overall condition. But on average, you can generate between $10 to 25 per hour or $50 to $150 per day, translating into $30,000 per year.
Fetch Truck CEO and founder Adam Steinberg also report that full-time Fetch trucks can bring as much as $1,250 in monthly revenue.
The company guarantees a $1,500 profit earnings in the first 90 days of having your vehicle listed on the platform. That's an excellent opportunity to earn passive income whether you have single or multiple vehicles to rent.
However, these earnings are determined by your location, the vehicle's makes, model, and condition. You can expect to earn more if your rental site is in big cities compared to small towns with limited rental opportunities.
Competitor prices are another factor to consider. Otherwise, below is a breakdown of how much you can make with Fetch Truck per vehicle:
Pickup Trucks: $19,000 per year
6′ Cargo Van: $17,000 per year
9′ Cargo Van: $27,000 per year
9′ High Roof Van: $21,000 per year
Box Truck: $30,000 per year
Where Is Fetch Truck Available?
Fetch Truck was launched in 2015 in Atlanta, Georgia, where it's headquartered. However, the company has grown considerably and is currently available across various states in the U.S, including:
New York
Michigan
Texas
Florida
Arizona
California
Georgia
Virginia
Maryland
Pennsylvania
What Are the Insurance Requirements to Rent With Fetch?
You must have commercial liability insurance coverage to rent out with Fetch. However, if you're not covered or do not want additional coverage, you must provide proof of current auto insurance coverage with Collision and Liability coverage that also covers rental vehicles.
When registering with Fetch, you must provide photos of your active auto insurance and driver's license. Fetch will contact your insurance provider to verify the information provided. Fetch also offers the option to get instant insurance verification and coverage through Axle.
But, if you have liability insurance but no collision insurance coverage, you may purchase a Collision Damage Waiver (CDW) or Fetch Collision Waiver (FCW), depending on your vehicle.
If your insurance policy does not extend to rental vehicles, you can leverage the Fetch Insurance Waiver or (FIW) with specific vehicles.
Fetch Truck Costs to Consider
Fetch charges a standard commission of 20% and another 10% for purchasing commercial liability coverage through the site if you don't have an existing one.
Commercial coverage is a mandatory requirement besides your standard personal liability coverage. The extra coverage is necessary since the usual auto insurance coverage typically does not extend to damages sustained with vehicle rentals.
In addition, you'll need to purchase a Fetch keyless device costing a one-time fee of
$110.
Pros and Cons of Fetch Truck Rental
If you still need to determine whether Fetch Truck Rental is worth your time, below is a quick summary of its pros and cons to help you make an informed decision:
Pros
It's a legitimate and reliable platform for making passive income with little to no effort.
The registration process is easy and beginner friendly.
It provides contactless rentals, so you don't need to meet renters physically.
Fetch provides a liability and physical damage protection plan to ensure your vehicle is safe and remains in good condition.
Seamless dashboard where you can track your vehicle and access all the relevant information.
Cons
Requires a Fetch device installation to give renters keyless access. The device attracts a $49 deposit, and the vehicle owner may need to pay another $60 professional installation fee.
Fetch is only available in the United States
Your profits will be impacted by the added mileage, wear and tear
Fetch Truck Rental Alternatives
Every market always has a competitor or alternative companies offering similar services. The fleet rental industry is no exception. Besides Fetch Truck Rental, there are several other alternatives you can consider, two of which are highlighted below:
Turo
Turo is another car rental company headquartered in San Francisco, California. The company provides a mobile platform for car owners to rent their vehicles at a fee.
Turo also offers several protection coverages to help renters access the required insurance coverages.
However, while Fetch focuses primarily on trucks and cargo vans, Turo allows owners to rent any vehicle, including personal cars and RVs.
You can earn around $620 per month by renting out your vehicle on Turo. The company is available to users in the U.S., Canada, and the UK.
Fluid Truck
Fluid Truck is another peer-to-peer truck-sharing platform like Fetch accessible to users 24 hours a day, seven days a week, 12 months a year. This company is currently operating in more than 50 cities across the U.S.
The platform provides rental services for any type of vehicle, including vans and SUVs. You can list your vehicle on Fluid Truck hourly, daily, or weekly.
Unlike Fetch Truck, Fluid Truck hourly rates start from as low as $6 per hour.
Final Thoughts
One of the beauties of technology is the unlimited income generation opportunities it provides. With an internet-connected device, you can rent items for money, including renting out your vehicle for extra income, instead of having it sitting idle in the garage.
Platforms like Fetch Truck help make things easy between vehicle owners and renters, where you either make money on autopilot or access quick transport solutions affordably.
According to the Fetch Truck website, you can earn more than 30,000 dollars per year in passive income by renting out your cargo van or pickup. That makes a great side hustle idea if you have an underused vehicle.
So, if you don't mind people using your vehicle or the inevitable wear and tear associated with public use, then sign up with Fetch Truck and make money with your cargo van.