Is NCP Legit or a Scam? (Honest NCP Mobile App Review)
Updated on November 28, 2023
This post may contain affiliate links which means that sproutinue.com may make a small commission at no extra cost to you. We only promote products that we love and feel will benefit our readers. Please read our Disclosure Policy for more information.
If you've heard about NCP and are wondering if the app is legit or a scam, you've come to the right place.
NCP is a reward app that pays you to shop. All you need to do to earn quick cash is to scan the UPC barcodes of the goods you purchase. They also let you make money by taking surveys.
But is NCP legit? Is the app worth your time? If you're asking yourself these questions, this post is for you.
I downloaded and tried the app to determine its legitimacy. In this review, I'll share my experience on how the app works, its pros and cons, rewards, and earning potential to help you determine if it's the right app.
Want to make quick money? Try out:
YouGov – Get paid to share your opinion for opinion.
Branded Surveys – Complete surveys for PayPal money and gift cards.
What Is NCP Mobile?
NCP is a rewards app that pays you to participate in market research. To participate in market research, you need to give the app information on items you purchase. All you have to do is scan barcodes for cash.
In addition to market research, the Nielsen Consumer Panel lets you make more money online by completing surveys.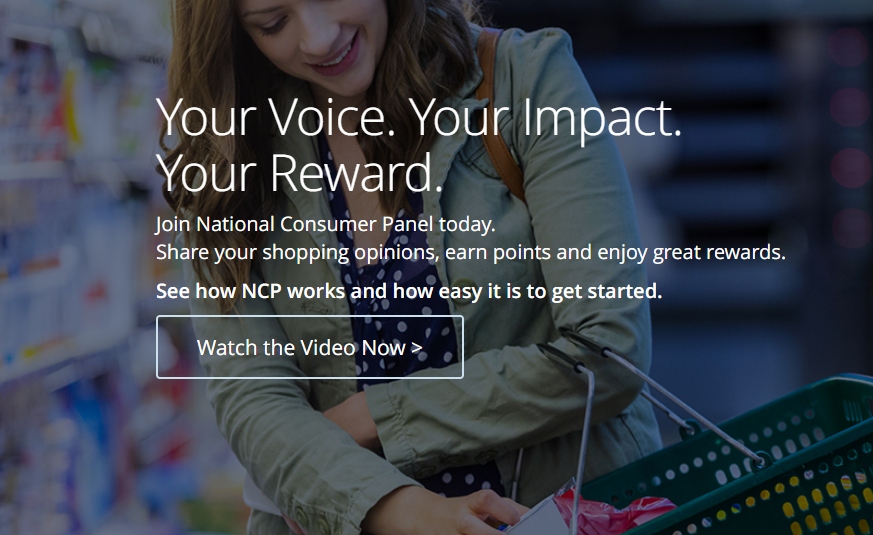 You earn reward points when you complete the mentioned tasks. Once you reach the withdrawal minimum, you can redeem your points for gift cards or merchandise.
Like the Nielsen Computer and Mobile Panel, you must apply to join NCP. You'll also be required to submit information about your household at this stage.
Once your application is accepted, you can start earning money from the app. You'll find NCP easy to navigate if you've used rewards apps like Rakuten or Fetch Rewards.
Is NCP Legit?
Yes, NCP is a legit app that pays you to participate in market research by scanning the barcodes of the items you buy. They also let you make money online by completing surveys. The app has an average 4.5-star rating on Google Play, proving it's legit.
The experience is different for different users. Some claim the app is legit, while others claim it's a scam. Everyone's point of view is based on their experience.
I reviewed the user reviews, and most users are satisfied with the app. Most ratings on Google Play are 5-star.
Some users report that the app is their favorite rewards app since points accumulate quickly; thus, you can redeem your points fast.
Also, unlike most survey sites that pay you to share your opinion, NCP pre-matches you for surveys.
This way, there's no disqualification after completing the survey. If you're chosen for a particular survey, you're sure to earn the stated points once you complete it.
Another upside of the app is that it's user-friendly. You can quickly scan items for cash. Even if you're a beginner with rebate apps, this app is easy to navigate.
Plus, NCP Mobile lets you submit data about items like fruits and vegetables that don't have barcodes. This way, you can make money even if these items make up most of your shopping.
On the other hand, there are many negative reviews about this app. For instance, one user claimed that accumulating enough points takes a long time to cash out.
Another common complaint is that NCP's cashout threshold is high. This makes cashing out difficult even if you spend much time on the app.
A downside of the app is it encourages impulse buying. Since you're required to scan the barcodes of items you've bought, users are tempted to purchase stuff they don't need to earn more points.
Several users also complained that their accounts were shut down for no reason. This can be disappointing, especially if you've spent significant time racking up points.
I noticed that the customer service team hasn't responded to user reviews like other apps. Customer service should be available 24/7 to solve issues that users may have.
Let's look at some NCP Mobile reviews:
Holly Sassone says: "Overall it works quite well! I wish it had more options for items that don't scan. There should at least be a "None of the above" option. Often, items I get from Amazon or other online sites use an entirely different system that won't scan, can't be inputted, and doesn't fall into any of the available categories."
Lj Gress-Bohren says: " By far my favorite "earning" app! Points accumulate quickly, and it's different than other grocery-related apps in that there are several ways to earn points aside from just scanning."
Trina TrenaD" Duke says: "The app itself is so easy to navigate, which is a plus for non-tech savvy individuals such as myself."
Generally, most user reviews are positive. The app has an impressive rating, and reputable companies run it.
Judging from those facts, the National Consumer Panel is legit, and I recommend the app if you want to get paid to shop.
However, you must have realistic expectations. NCP can't replace your day job. The pay can only help you settle a few bills.
How Does NCP Mobile Work?
I downloaded the NCP Mobile app to determine the legitimacy and earning potential. Overall, the app is user and beginner-friendly.
It's an excellent way to make money online, especially if you do your shopping often. The best part is that they offer short paid surveys, which you can answer during your breaks at work.
Here's how the NCP app works:
1. Download the NCP Mobile App
The NCP app is free to download on the App Store and Google Play. I like that it's compatible with both iOS and Android devices.
You'll need a recently released smartphone model to use the app. Also, you must be at least 18 and reside in the US to participate in the platform.
You can't access the app outside the US. A VPN also won't help since you must purchase product receipts from the US.
2. Sign Up
After downloading the app, the next step is signing up. Unfortunately, you can only do that if you have a panelist ID since NCP Mobile is an invite-only program.
This is a huge disadvantage since other rebate apps like Fetch Rewards and Rakuten allow anyone to participate as long as you're 18 or older.
You must apply if you're interested in NCP. You'll need to provide personal information, including the following:
Your name
Address
Household composition
Email address
Income level
Ethnicity
The names of those you live with
Education level
Phone number
The application is tedious, but once you're accepted into the program, you can start making money online by shopping.
You'll be selected if a vacancy on the panel aligns with your household's demographic profile.
Note that getting into the program isn't a guarantee. You may be placed on a waiting list instead, so you'll have to wait to get accepted.
3. Add New Purchases
You must shop at one of NCP Mobile's partners to get rewarded. They have partnered with some of the most popular retailers. Some of them include Target, Walmart, and 7-Eleven.
You'll receive a long list of stores once you select the "New Purchases" option. The stores are listed in alphabetical order. At this point, select the stores you've recently shopped at.
Making the stores you shop at favorites makes them move to the top of the list. This way, you won't have to scroll through the long list to enter your purchases.
4. Scan Barcodes to Earn
The primary way to make money on NCP Mobile is by scanning the barcodes of products you purchase. You may also need to provide a few details about the items in some cases.
Once accepted to the program, you'll be issued a barcode scanner to use as you shop. You can also use the NCP Mobile app to scan the items.
The app is more convenient since many users complain of issues with the barcode scanner. Also, you can scan items anytime you're out if you always carry your phone.
Plus, you'll have to return the scanner if you want to quit the program. Use the mobile app to avoid these formalities.
After selecting your store, scan the barcodes of products you've purchased recently. If you're using the app, your camera will act as the scanner.
You'll need to provide more details about the items. For example, whether the products were discounted and how you bought them.
I like that NCP Mobile created a way to earn from items that don't have barcodes, like fruits and vegetables. This is an excellent way to maximize your earnings.
In this case, you only need to submit information about the products, including where you shopped. You also need to inform them if you shopped online or in-store.
You'll be required to submit this information weekly to earn rewards.
You must be active by scanning items regularly to remain in the NCP program. If you fail to scan for some time, NCP Mobile contacts you to verify if you're still a member.
Don't stay inactive for too long to avoid getting removed from the program.
While scanning barcodes and submitting product information may be tedious, this is an excellent way to earn some extra cash.
5. Complete Short Surveys
Completing product surveys is another way to make money on the NCP Mobile app. The surveys are short and easy to fill out.
Once you've scanned the barcodes, you'll need to answer a few questions about your shopping experience and the products you purchased.
Some of the details you may be required to provide on the surveys include:
When you shopped
Who you shopped with
Payment method
Whether you used coupons
Frequency of purchasing the products
How you'll use the item
How often you buy items from that store
While the surveys take only a few minutes to fill, waiting for your answers to get approved may take days.
You must wait for NCP to approve your answers to earn points. The amount of points depends on the length of the survey.
Surveys won't earn much, but they're a great way to maximize your earnings on NCP.
6. Sweepstakes
Sweepstakes are one way of maximizing your earnings on the app since they offer significant rewards.
All you have to do to enter into the sweepstakes is be an active member of the program. Ensure you scan items as often as you can.
NCP Mobile holds weekly, monthly, quarterly, and even yearly sweepstakes to give their active members a chance to win big.
You can win between $25 and $5000. You can also get rewarded with merchandise.
7. Cash Out
NCP lets you redeem your rewards for gift cards to popular stores like Target and Walmart or merchandise, including the following:
Electronics
Home goods
Kid's items
Sporting items
Unfortunately, NCP Mobile doesn't let you redeem your points for PayPal money.
10$ is equivalent to about 6000 points. Most gift cards start from here. This is a high cashout threshold compared to other rebate apps.
You'll need to accumulate a huge number of points to get merchandise.
How Much Can You Make With NCP?
Generally, how much you earn depends on your level on the app and how committed you are to scanning barcodes and answering surveys on the platform.
It's wise to keep your expectations realistic and remember that this isn't a get-rich-quick scheme. Therefore, you'll not earn much.
Expect between $10 and $50 in a year. You can earn more if you become an active member or win a sweepstake.
Pros and Cons of NCP
Pros:
Partners with many retailers
The app is free to join
There's a variety of gift cards and merchandise
Cons:
The app doesn't offer cash or PayPal money
They have an unresponsive customer service team
The withdrawal minimum is high
You must apply to join the program
The Best Apps Like NCP
NCP Mobile isn't the only GPT site. Here are some of the best apps like NCP to earn extra money:
Drop: This rebate app lets you earn cashback when you shop at their partner retailers. You can also get paid to complete surveys and play games.
Pogo: Besides shopping for cashback, you can earn more on Pogo by sharing your data.
Fetch Rewards: Earn gift cards by shopping online and in-store on Fetch Rewards. You only have to scan and upload your receipts to earn.
Upside: Unlike NCP Mobile, Upside offers you PayPal money for shopping at your favorite store. Their website has a meter that lets you estimate how much cashback you'll earn based on your monthly spending.
Receipt Hog: As the name suggests, this app rewards you for uploading your receipts. It also offers surveys like NCP Mobile.
Amazon Shopper Panel: This invites-only program rewards you monthly for sharing your receipts, completing surveys, and enabling ad verification.
Shopkick: Like NCP Mobile, Shopkick doesn't offer PayPal cash. You can only redeem your points for gift cards.
Swagbucks: This is one of the best GPT sites of all time. It offers numerous ways of making money online, such as watching ads, completing surveys, and shopping for cashback.
Extra Reading: The Best Apps Like Shopkick
Frequently Asked Questions
Is NCP a Scam?
No, NCP Mobile isn't a scam. This is a legit app that pays you to shop and answer surveys. The app has an impressive 4.5 rating on Google Play and numerous positive reviews, proving it's legit.
Is NCP Safe?
Rest assured, NCP is safe. If the app were a scam, it would accept everyone instead of letting people apply to join.
Furthermore, most users report that they love the app and have earned from it, proving that it's safe.
Is NCP Worth It?
NCP is worth it since it lets you make extra cash. It's pretty similar to other rebate apps in terms of earning potential.
Like many beermoney apps, NCP isn't a get-rich-quick scheme. If you're looking for a steady income, try other side hustle ideas like becoming a DoorDash driver.
You can also try stacking NCP with other GPT sites to maximize your income.
Generally, NCP is worth it. I'd recommend it if you want to make quick money, especially if you have a large household and shop often.
Final Thoughts
I hope my review helps you determine whether NCP Mobile is legit and the right app. Remember to have realistic expectations when it comes to the earning potential.
Consider exploring other GPT sites like NCP to find a better alternative, or stack them with NCP to increase your earnings.
Overall, NCP is an excellent app to make extra cash. Download the NCP Mobile app and start making money!