Does Amazon Flex Pay for Gas? What Drivers Need To Know!
Updated on August 3, 2023
This post may contain affiliate links which means that sproutinue.com may make a small commission at no extra cost to you. We only promote products that we love and feel will benefit our readers. Please read our Disclosure Policy for more information.
If you're planning to sign up to be an Amazon Flex driver, or you've just been accepted to drive for Amazon Flex, you may be wondering, does Amazon Flex pay for gas?
This is a valid concern, given the rising cost of gas. Since it's a gig that mostly involves driving, you must consider fuel and other vehicle-related expenses.
In this guide, I'll answer whether Amazon Flex pays for gas and other expenses. I'll also share a few Amazon Flex tips to help you reduce expenses and make the most of this side hustle.
Want to make quick money? Try out:
SayMore – Share your opinion and earn free gift cards to popular stores!
Honeygain – Earn a $5 sign up bonus and get paid to share your internet!
Does Amazon Flex Pay for Gas?
No. Amazon Flex does not pay drivers for gas. Amazon Flex drivers are hired as independent contractors, meaning they're responsible for fuel costs and other work-related expenses such as vehicle maintenance and repair.
So, when driving for Amazon Flex, you must keep track of your expenses, especially in preparation for tax season.
Amazon pays gas expenses for full-time drivers, but since Flex drivers are independent contractors, they're on the hook for all business-related expenses.
This is standard practice for most gig apps, as even DoorDash doesn't pay for gas.
Now that you can't expect any form of reimbursement for gas and other costs associated with your vehicle, it's important to find ways to reduce your expenses.
Amazon Flex is a flexible side hustle you can use to make quick money, but your expenses can significantly eat into your earnings if you don't keep them in check.
If you want to determine how much you actually make and whether the side hustle is worthwhile, calculate your pay after expenses.
Do Other Delivery Gig Apps Reimburse Drivers for Gas?
Most gig apps don't reimburse their drivers for gas and other expenses. This is mainly because the drivers are hired as independent contractors, and they're paid by the mile and minute for all their trips.
While this isn't set in stone, if you plan to work for gig jobs like Amazon Flex or DoorDash, you shouldn't expect reimbursement for gas and other expenses.
It may not be ideal, but with proper expense management and income maximization, you can make the most of driving apps that pay.
Not reimbursed for gas means you have to consider how many miles you drive per shift and whether your hourly pay covers the cost.
Besides the cost of gas, you must also consider vehicle depreciation, as this is another major expense for delivery drivers.
Keeping track of your expenses is good practice for delivery drivers, not just for earnings calculation but also for tax filing purposes.
As an independent contractor, you're also responsible for filing your taxes. You can write off some of your expenses and get deductions on your taxable income.
The IRS has a standard mileage rate for businesses, and you can write off your Amazon Flex miles as a business expense for deductions. 
Extra Reading: Is Using an Amazon Flex Grabber Worth the Risk?
Tips To Save on Gas as an Amazon Flex Driver
It's advisable to treat your side hustle as any other business. One way to increase your earnings is to reduce your expenses.
Since gas costs are a significant expense for delivery drivers, here are a few Amazon Flex tips to save money on fuel.
1. Track Your Mileage
As an Amazon Flex delivery driver, keeping track of your mileage is essential. This way, you can calculate your expenses easily and be better prepared come tax season.
When filing your taxes, you can write off some of your work-related expenses, including gas costs. This reduces your taxable income and helps you save money.
Not all your expenses will be deductible, so you should talk to a tax advisor for professional assistance with tax filing.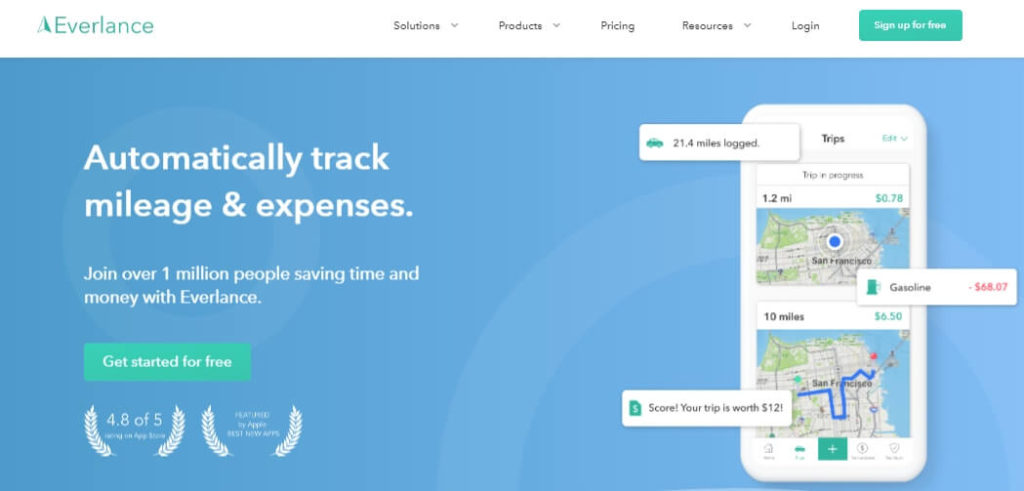 The IRS has a standard business mileage rate, and you can potentially deduct some of your Amazon Flex miles as a business expense.
Tracking your mileage manually may be a bit of a hassle, so you can try mileage-tracking apps instead. The apps automatically track your mileage as you do your deliveries, so all you have to do is log in and get to work.
Mileage-tracking apps like Hurdlr, MileIQ, and Everlance are popular among rideshare and food delivery drivers, so you can check them out. 
2. Use Cashback Reward Apps
Another popular hack rideshare and food delivery apps use to save on gas is signing up for cashback reward apps. This is one of the simplest ways to save money, especially when spending thousands on fuel.
Most rewards apps pay you about 2% cash back on fuel and other purchases. Upside, for instance, is a popular reward app that gives you offers and real cash back as you make purchases.
The app offers cashback on many purchases but mainly focuses on fuel savings. So, it's an invaluable app for delivery drivers. 
Aside from the cashback on every gas fill-up, Upside shows you featured gas savings in your area so you can find the best deals and save money.
With Upside, you can save up to $0.25 a gallon and redeem your savings for gift cards to your favorite retail stores or PayPal cash.
Other gas savings apps like GasBuddy, Gas Guru, and Waze can help you save on fuel costs by showing you the lowest gas prices in your area so you can plan your routes effectively.
While there isn't much you can do about the cost of gas, there are steps you can take to reduce your expenditure and increase your Amazon Flex earnings.
3. Plan Your Routes Efficiently
You should also plan your routes in advance, as this will help you avoid wasting gas when trying to find the right addresses.
Sometimes Amazon Flex drivers find themselves lost, driving around aimlessly due to poor planning.
Your earning potential when it comes to gig economy apps comes down to your efficiency as a worker. The more efficient you're, the more you make, and the easier it is to save on expenses. 
You can plan your routes using navigation tools and apps like Google Maps and Waze.
Waze is useful not just as a navigation app but also as a gas savings app. The app shows you the best routes with the lowest gas prices.
After downloading the app, you can view the gas stations along your route and filter them by price.
When you plan your routes efficiently, you can work and complete deliveries faster and get paid more per hour.
4. Use a Fuel Efficient Vehicle
Amazon Flex drivers use their own vehicles to make deliveries, so choosing a fuel-efficient car is up to you. You can save on fuel costs by driving a smaller car or one that uses fuel economically. 
Based on the vehicle requirements for Amazon Flex drivers, you need a four-door vehicle, so you can use a track, mini-van, or larger vehicle.
While you may not be able to drive a smaller vehicle, you should use a fuel-efficient one. Some Flex drivers rent cars to use for deliveries to reduce the mileage on their vehicles.
You can try renting a more fuel-efficient vehicle, but ensure you make enough to cover the rental fee and other work expenses.
5. Select Higher-Paying Blocks
Most Amazon Flex blocks pay between $18 and $25 per hour, but sometimes Flex drivers see blocks that pay as high as $54 per hour.
The surge in pay is usually due to increased demand, which explains why these prices are common during the holiday seasons.
The payout for delivery is usually increased if drivers don't pick up an order quickly enough. The pay is increased to make the offer more desirable to drivers.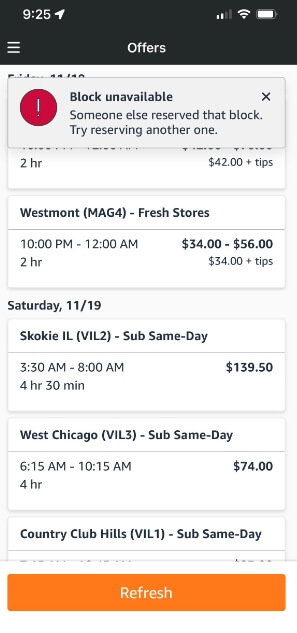 So how do you get high-paying blocks? One way is to use preferred scheduling, a feature only available to level-two or higher Amazon Flex drivers.
To unlock preferred scheduling, you need to accumulate enough points. Every time you show up for blocks and make deliveries on time, you gain points, which you can use to level up.
With preferred scheduling, you can set your order preferences. This means you can choose orders within your price range. You also get priority access to the blocks that match your preferences using the Rewards Reserved feature.
Extra Reading: When Does Amazon Flex Release Blocks?
6. Get the Amazon Flex Card
Applying for the Amazon Flex card is another simple but genius way to save on gas.
With the Amazon Flex Debit Card, you get cashback on everyday purchases, including fuel. This card is specifically for Amazon Flex delivery partners, and you should take full advantage of it.
The debit card offers up to 6% money back on all gas fill-ups, a significant saving for delivery drivers who spend quite a lot at the pump.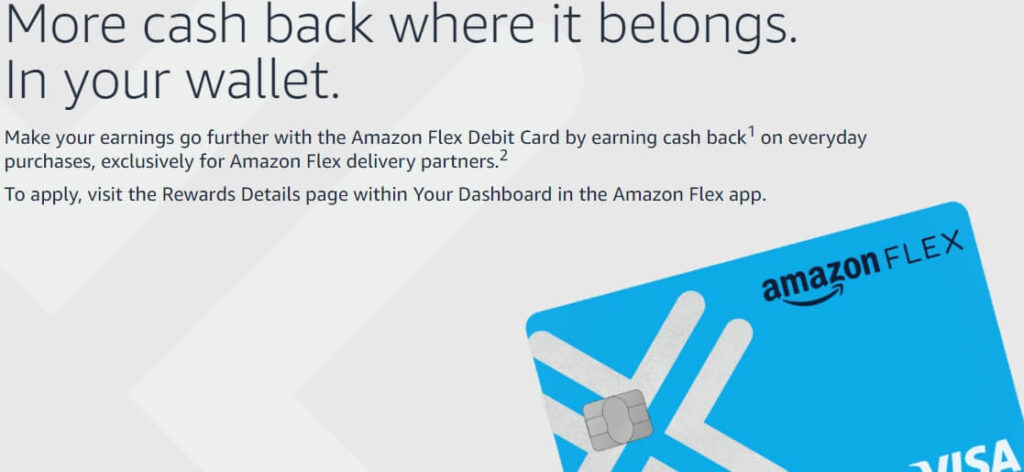 You can use the card to increase your purchasing power, as it gives you 2% cash back at Whole Foods Market and Amazon. You also get 1% back for everything else.
The Amazon Flex card is one of the easiest ways to offset some of your fuel costs, and you should consider signing up for one. Given the cost of gas, every penny counts, so if you have a way to save money, you should take the opportunity.
With these tips, you can save significant money on gas to maximize your earnings as a Flex driver. You can find more Flex driver tips on forums like Reddit, where drivers share information.
Frequently Asked Questions
Is Amazon Flex Worth It With Gas Prices?
Even with the rising cost of gas, most Flex drivers believe Amazon Flex is worth it, mainly due to the decent earning potential. Amazon Flex drivers make between $18 and $25 per hour, which is pretty good for a side hustle.
Additionally, Amazon often increases the hourly pay when there's high demand, especially during the holiday season or big shopping events like Black Friday and Cyber Monday.
Amazon Flex remains a popular side hustle, so it is worth it even with gas prices.
How Much Does Amazon Flex Pay Per Block?
Amazon Flex drivers make between $18 and $25 per scheduled hour. This means the amount you earn per block depends on how many hours are in that block.
For standard 3-hour blocks, you can make between $54 and $75, depending on the market and other factors.
Sometimes Amazon releases blocks that pay up to $50 per hour. This is primarily the case when there's an increased demand and time is running out.
Does Amazon Flex Pay Daily?
Amazon Flex allows drivers to choose when they get paid, so yes, you can get paid daily. Some drivers select a particular day of the week when they get paid, which is great for streamlining finances.
You can choose a specific day or the weekdays that work best for you, and Amazon Flex will pay you via direct deposit on that day.
In the meantime, you can track your Amazon Flex earnings in the Earnings section of your Amazon Flex app.
Does Amazon Flex Pay for Tolls?
No. Amazon Flex doesn't pay for tolls as drivers are hired on an independent contractor basis, meaning they're in charge of all expenses, including gas, tolls, vehicle maintenance, and repair.
What Is Amazon Flex Average Miles Per Block?
Amazon Flex delivery blocks are typically within a 5 to 20-mile radius, but it could be farther depending on the specific orders. For a 4-hour block, you can expect to average about 80 to 100 miles. 
Final Thoughts
So, does Amazon Flex pay for gas? No. Amazon Flex hires you as an independent contractor, so you're on the hook for all expenses, including gas.
Fortunately, there's a lot you can do to increase your earnings and reduce your expenses. Hopefully, the tips in this guide will help you minimize your expenses to maximize your Amazon Flex earnings.
Keeping track of your expenses may sound like a hassle, but it's important to treat your side hustle like a business so you can make the most out of it.
Additionally, you can use apps to automate mileage tracking so you can focus on making your deliveries on time and making money.
Looking for other side hustles to make money? Check out these posts: