17 Best Sites to Get Paid to Read Books Aloud in 2023
This post may contain affiliate links which means that sproutinue.com may make a small commission at no extra cost to you. We only promote products that we love and feel will benefit our readers. Please read our Disclosure Policy for more information.
Did you know you can get paid to read books aloud? There are many opportunities for book lovers and fervent readers like you to make some extra cash.
Audiobooks have become popular. Many people don't have time to read a book physically. Or they see it as a chore, so they turn to audiobooks, which they can listen to effortlessly.
You can now transform your beloved hobby into a lucrative venture. Whether looking for a low-cost side hustle or a potential new career, you have come to the right place.
This post outlines a list of high-paying websites that will pay you to read books aloud. Dive in for an opportunity to make a living doing what you do best; read books.
The Best Sites to Get Paid to Read Books Aloud
Do you prefer solitude and enjoy spending time with books? You can take many opportunities to get your voice heard while making a lot of cash.
Here are some of the best sites to get paid to read books aloud.
1. Audiobook Creative Exchange (ACX)
ACX is one of the most famous sites to read books aloud for money. As an Amazon-owned platform, ACX covers all aspects of audiobook production, including narration.
Your work will be featured on the world's most popular listening platforms, including Audible and iTunes.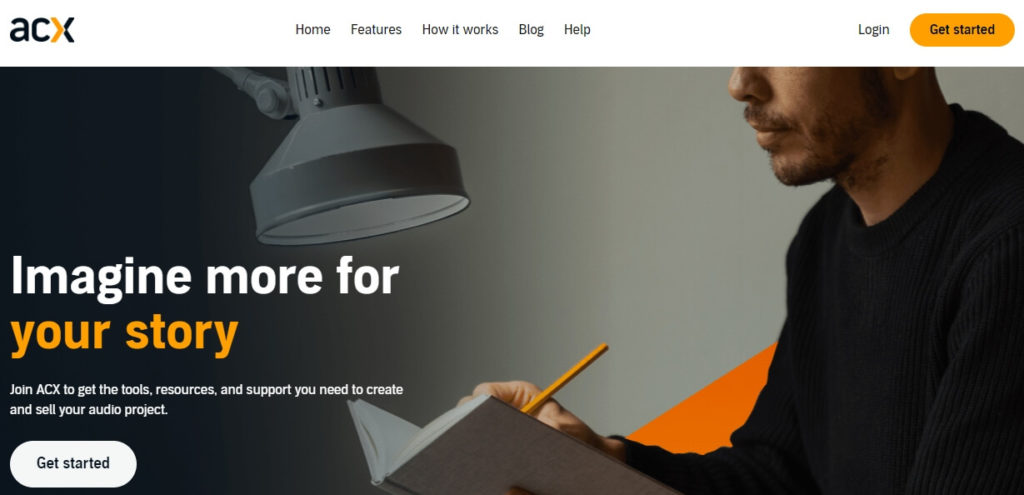 Setting up an account on ACX is a breeze. You only need to follow the following steps:
Create your profile. Remember that your profile is how authors will find you. So the more details you include, the more you'll stand out. Include your background and experience on your profile.
Upload vocal samples
Start auditioning. Select posted jobs and record a few minutes of the manuscript. Utilize ACX's resources to come up with high-quality auditions.
Accept an offer from the property owner: Negotiate with the author to land the best offer.
Finalize the project and get paid. You can get paid per finished hour or share royalties on audiobook sales with the author.
One advantage of ACX is authors come to find you. You can also negotiate your rates with them to land the best offer. You can also choose your niche by uploading many samples in that genre.
Overall, ACX is a great place to start your narration career.
2. Audible
Another place you can get paid to read books aloud is Audible. It's the biggest audiobook platform on the internet right now. 
Audible is directly affiliated with Amazon. Therefore, you must sign up on ACX to get your work featured on Audible. This is beneficial as you only need to put the work on one platform to get jobs on both.
Alternatively, if you want to become an audiobook narrator for Audible, you can send them an email at [email protected] containing the following information:
A two-minute clip sample
List of books you've narrated
Link to your website, if you have one
Your contact information
3. Voices
Voices is an excellent platform to begin your voice-over career. You must start by creating a profile and uploading samples of your work.
It's a great place to get paid to read books in English. You don't need to worry if English isn't your first language. The platform allows you to narrate in multiple languages.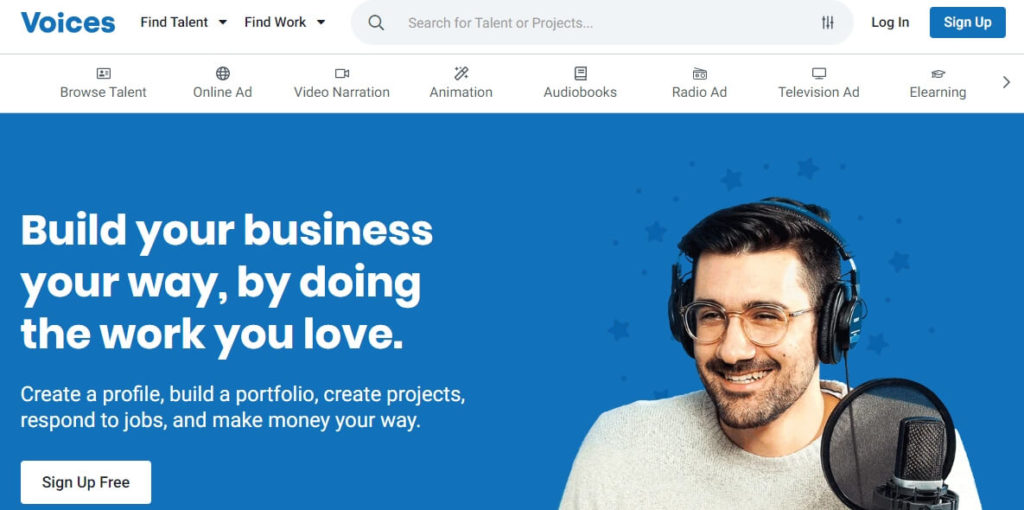 You can opt for a guest membership, which is free, or a premium membership, for which you'll have to pay a fee.
With premium membership, you're automatically matched with jobs that match your skills. It also allows you to create projects for interested clients to buy.
Voices allow you to work with famous brands like Hulu, Shopify, and Microsoft. So it's an excellent place to start if you want to make extra cash or turn your side hustle into a full-time voice-over career.
Extra Reading: Get Paid to Download Apps
4. Bunny Studio
Bunny Studio is a freelance-to-client platform focusing on creative projects like audiobook production and graphic design.
Creating an account on Bunny Studio is free. The platform matches you to client projects that match your skills. You're free to set your rates according to project length or complexity.
The platform makes payment within 30 days. This saves you from the hectic process of negotiating with clients and following them up for settlement.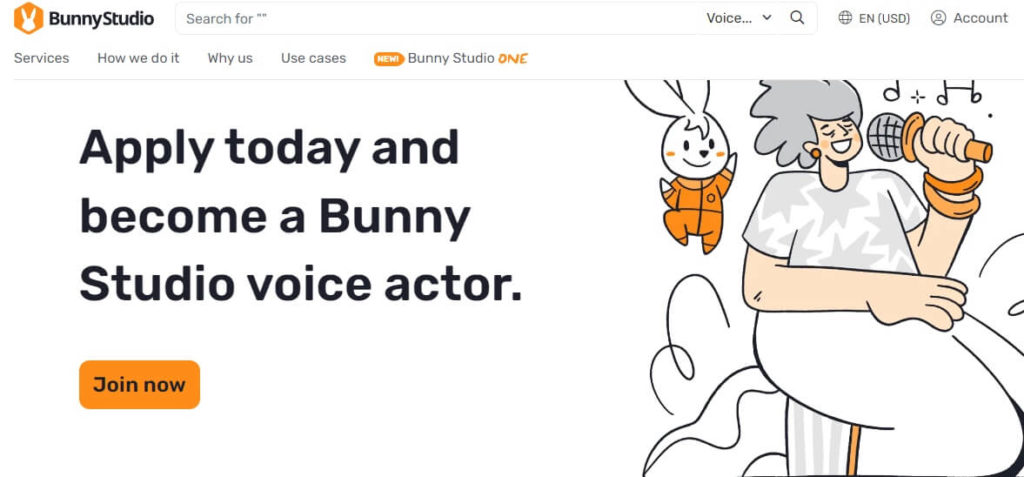 It's worth noting that the platform has a quality control team that assesses the quality of projects you complete before they're delivered to the client. Fortunately, if a client rejects a project after the assessment team approves it, you'll still get paid.
Note that you have to be a professional to work with Bunny Studio. You must also have access to professional equipment to ensure the quality of your projects.
5. Brilliance Publishing
If you're still looking for a place to get paid to read books aloud, consider Brilliance Publishing. This platform is a subsidiary of the Amazon Publishing Group.
The platform supports both new and experienced narrators. So if you're just starting, this is a great option.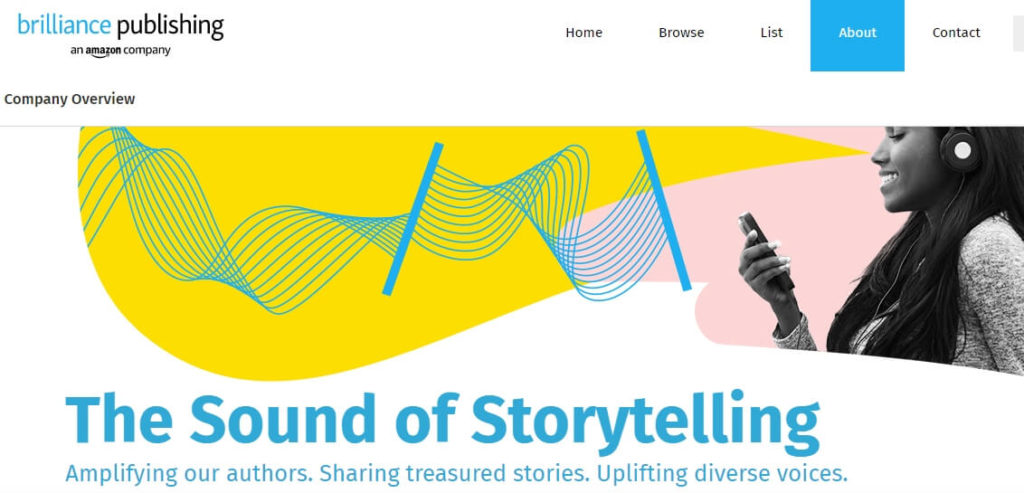 They also offer tips to help aspiring and upcoming audiobook narrators on their journey. For example, new narrators are encouraged to practice for 6-7 hours daily to improve.
If you'd like to work with them, you can contact them through their contacts page and submit your application via email.
6. Voice123
Freelancers have landed huge gigs with top companies like Coca-Cola, Airbnb, and the New York Times on Voice123. 
Feel free to sign up on the website for a similar opportunity. Signing up is free. There're various membership options to choose from.
There's a free plan, but you can always upgrade to a premium account. The premium plan ranges from $199 to $600 per year. With a paid plan, you can appear in several search engine results, receive invitations in an earlier batch, and upload unlimited samples and playlists.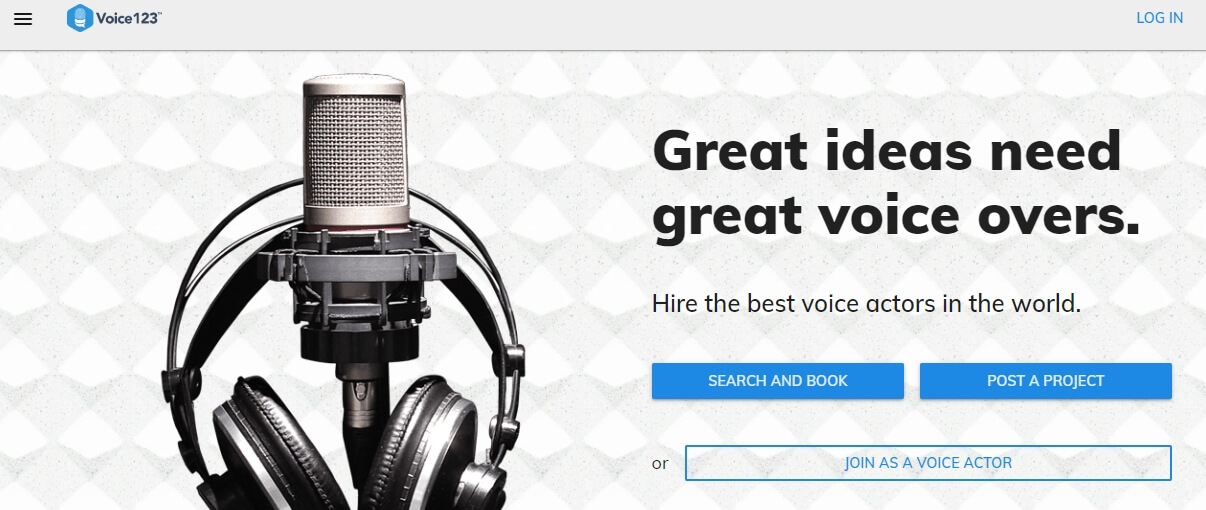 You'll need to answer a few questions before signing up about the languages you're fluent in, your level of experience, and the services you can offer. This enables you to get matched with jobs that match your skills. Once your account is up and running, you'll receive client invites.
One perk of working with Voice123 is you aren't charged any commission fees. The clients cater to everything. However, this means that you have to negotiate payment terms and follow up with the client.
Extra Reading: Get Paid to Watch Movies
7. Spoken Realms
Spoken Realms is an audiobook producer and packager that connects storytellers from across the globe together.
Unlike most sites I've covered in this post, Spoken Realms is only interested in working with professional storytellers.
If you're experienced in the field, this might be the best chance to read books aloud for money. If you're a beginner, you might want to build up your portfolio before applying.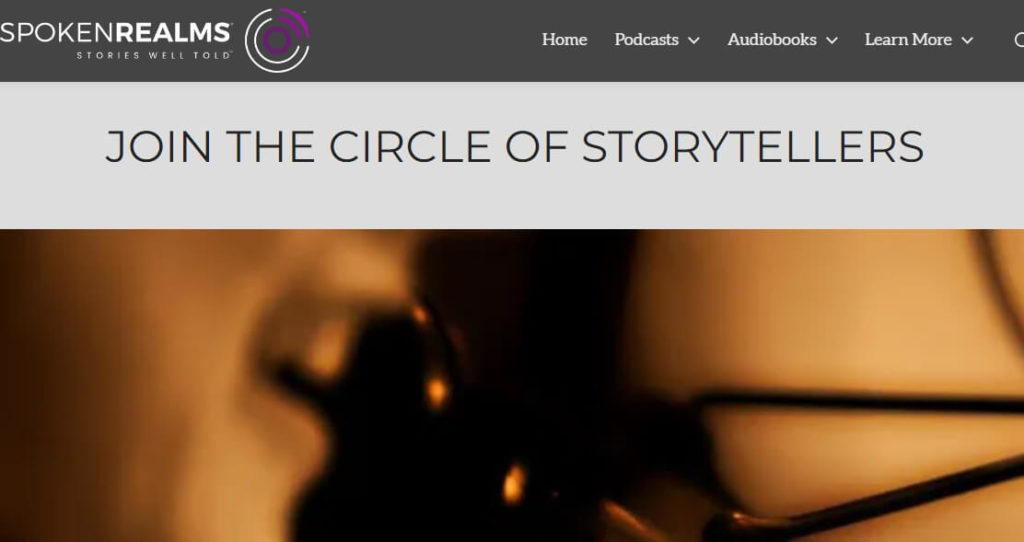 To get started, fill out the form on their website. In this form, you must provide links to work you've published before.
They also require you to have worked with big companies like Macmillan or HarperCollins. You must also have other production skills like graphic artists or audio engineering.
Once you fill out the form, they'll contact you if they're interested in working with you. Payment terms are structured in terms of per finished hour and royalty share.
8. Backstage
Backstage is widely known for casting voiceover artists for screenplays, documentaries, and TV shows. 
They also allow you to narrate books for different genres of podcasts, from fictional to horror-themed.
There are three plans to choose from when signing up:
$16.66/month billed yearly
19.99/month billed bi-annually
24.95/month billed monthly.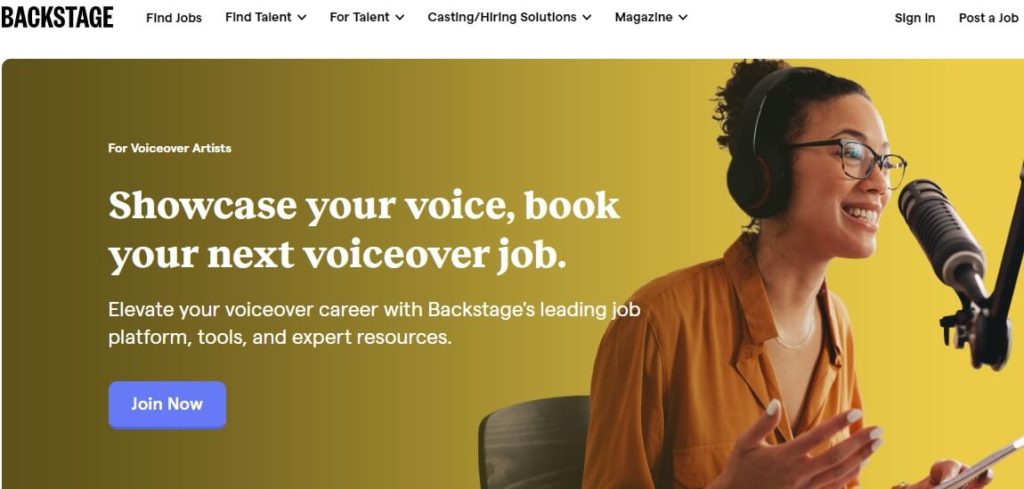 Once you've chosen a plan, get started in the following steps:
Create a profile
Market yourself. You can upload unlimited photos and videos to boost your chances of getting noticed.
Apply for jobs. Luckily, there's no limit to the number of jobs you can apply for.
Audition for a job
Get the job and get paid
One perk of this website is its messaging platform allowing you to talk to clients directly. Also, all job opportunities are screened before going live to ensure they're legitimate.
9. VoiceJungle
VoiceJungle is another reputable platform where you can earn money for reading books aloud. You can make money narrating books for podcasts and the e-learning industry.
Some perks of this website are joining is free, and you don't have to audition for jobs.
To be eligible, you must meet the following requirements:
You must possess a home studio and meet standard quality requirements
You must have the ability to deliver projects within a 24-hour timeframe when requested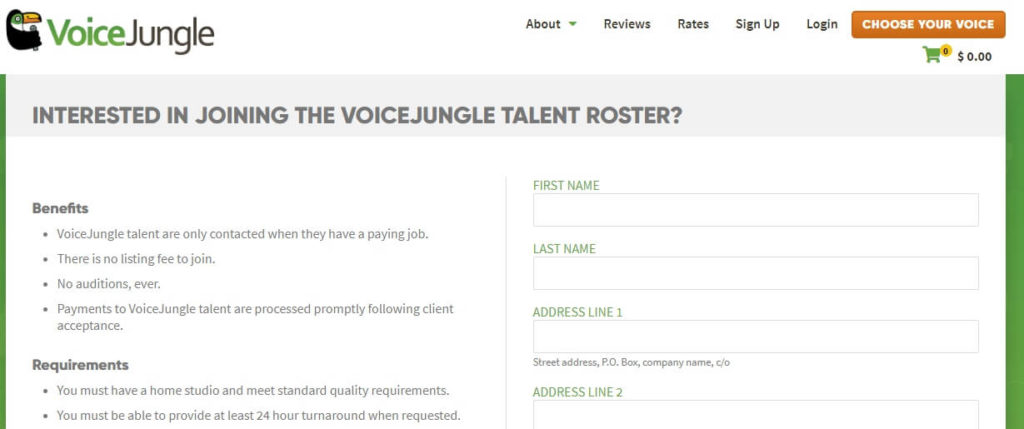 To join VoiceJungle, complete the application form on their website. You're also required to upload an MP3 demo.
Once a paying job is available, they'll contact you directly. Payment is processed once the client approves your project.
Extra Reading: Get Paid to Sleep
10. Findaway Voices
Findaway Voices is an audiobook creation website that allows you to feature your work on major global brands like Spotify, Apple, and Audible.
There are no sign-up fees or membership fees on this site. The first step to working as a narrator for Findaway Voices is creating an account. Next, review the narrators' guide.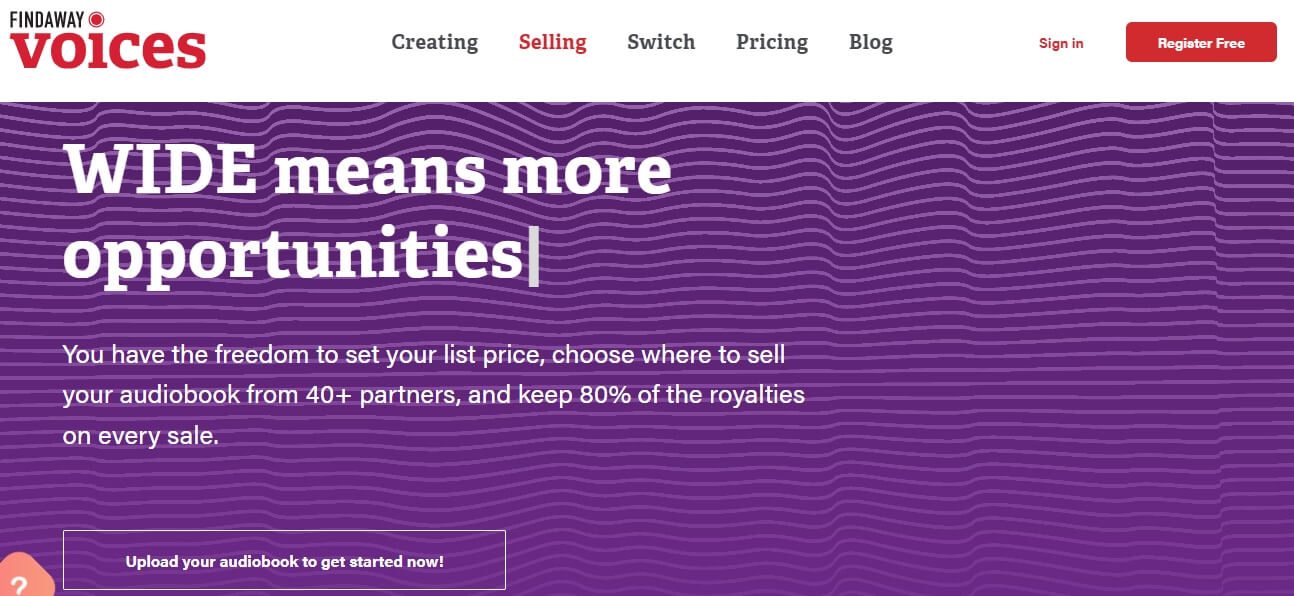 Finally, fill out your portfolio and respond to their survey so that they learn about your skills. Once accepted, they recommend you to authors for projects that match your skills and abilities.
The platform then contacts you once they're ready for your first audition. This saves you from the tiring task of searching for jobs. Payment is based on the rates per finished hour that you set.
11. VOPlanet
People use VOPlanet to cast voiceover artists like you for different jobs, including e-learning, audiobooks, radio and TV commercials, and video games.
The platform only accepts professional voice actors with access to professional studios, recording equipment, and quality demos.
If you already have an established career, this opportunity to get paid for reading books aloud is ideal for you. However, if you're just beginning your journey, it's advisable to gain experience before applying to this website.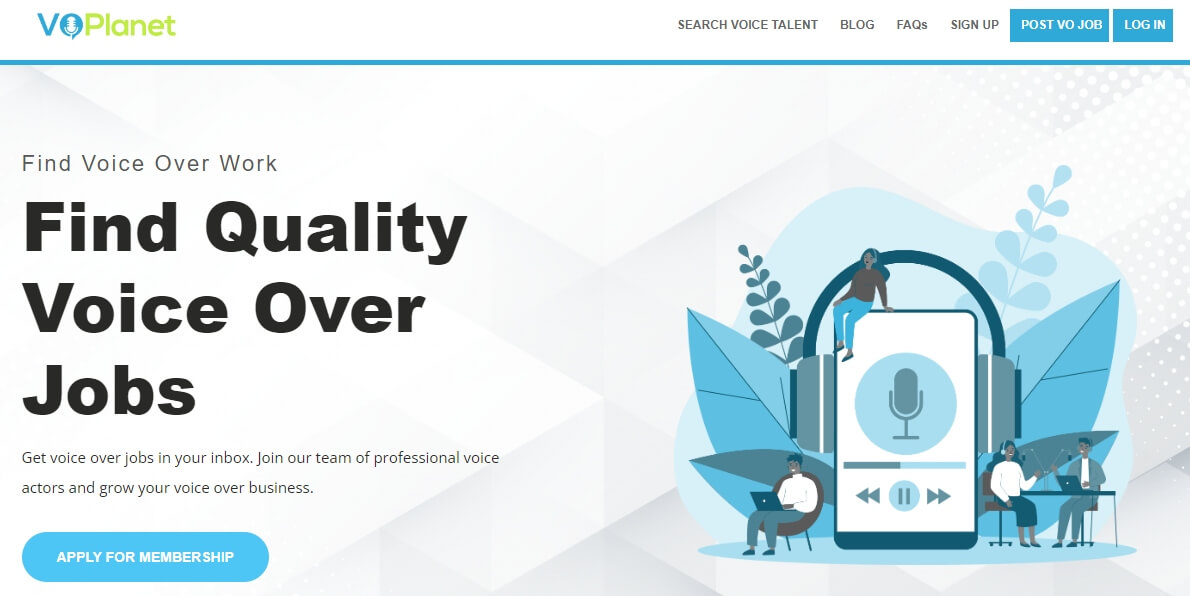 If you meet the requirements, fill out the application on their website. It may take up to two business days for your application to be reviewed.
There's a standard $199 annual fee to join VO Planet. This fee covers site maintenance, digital storage, advertising, and promotion.
This is an excellent site to consider because:
Their jobs tend to pay more than narrator jobs on other sites. VO Planet vets job postings and pulls down with little or no pay.
VO Planet doesn't take a cut of your earnings. You work directly with the voice buyer.
There's no limit to the number of jobs you can apply for at one time. Making multiple applications boosts your chances of landing a job.
12. Bodalgo
Bodalgo is a Germany-based company that provides talent for audiobook narration, ads, and explainer videos. 
It features over 13,000 voice-over talents in over 80 languages. It's an excellent opportunity to get paid to read books aloud if you're fluent in multiple languages.
They work with brands like Gucci, Sony, and NBC.
To get started, simply create a profile and upload samples of your work. From there, you can audition for projects that align with your interests and abilities.
Like VO Planet, Bodalgo doesn't limit the number of jobs you can audition for at a time. Take advantage of this to increase your chances of getting a gig.
Extra Reading: Get Paid to Talk to Lonely People
13. The Voice Realm
The Voice Realm is another platform that offers opportunities to get paid to read books aloud. The platform aims to provide its clients with the best sound and services.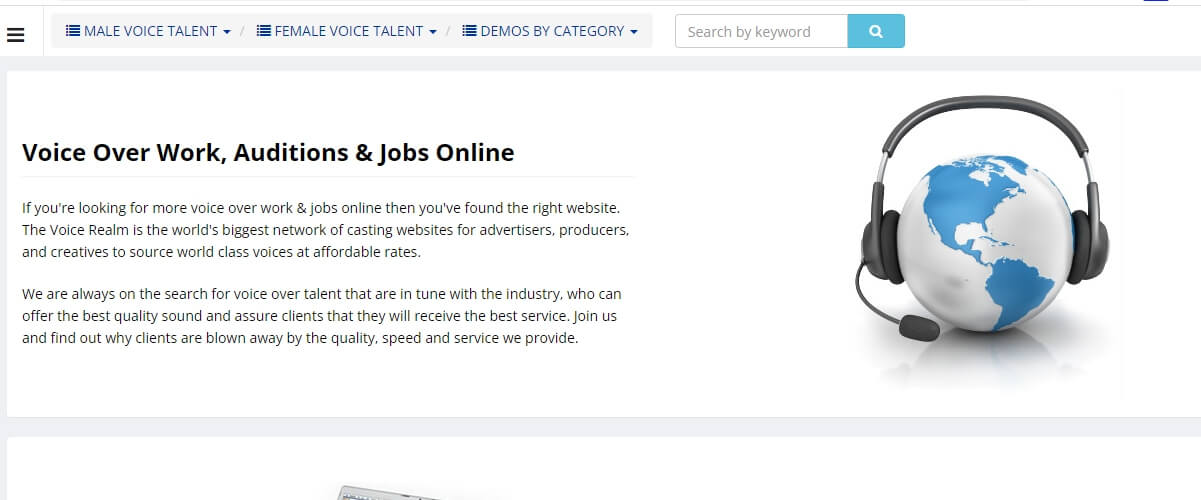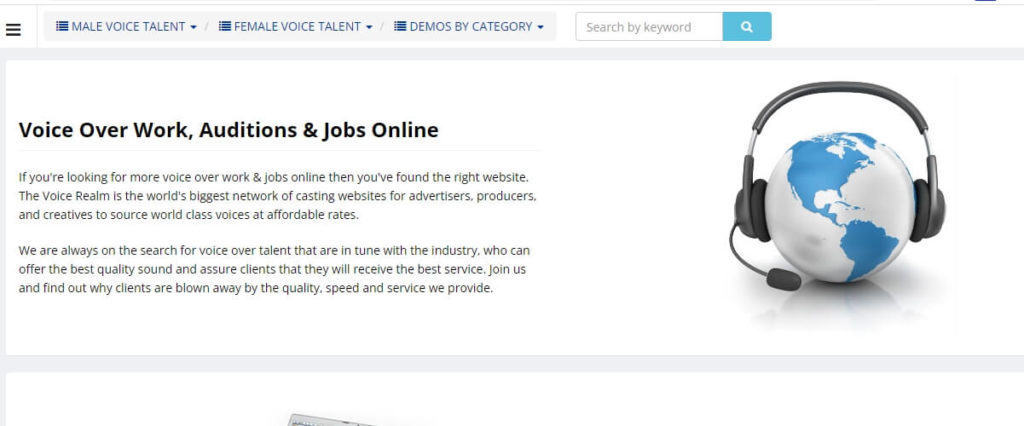 For this reason, they only work with professionals. They select voices based on experience, audio quality, and the ability to follow instructions.
Fill out the form on their website and upload a good-quality demo to get started on The Voice Realm. They'll contact you if they're impressed.
14. Mandy Voices
Mandy Voices, formerly Voices Pro, claims to be the best platform for voiceover jobs in the U.S. 
It connects you to clients regardless of your experience. If you're a beginner, this is an excellent place to start.
They work with big names like Netflix, Disney, and Prime Video. Signing up is free. You can upload unlimited samples on your profile to get noticed.
They have several opportunities to help build your career, including seminars, networking events, and training.
15. Voice Crafters
Voice Crafters is a voice talent agency that started in 2009 [26]. They provide voiceover services in over 80 languages. If you're multilingual, this opportunity is highly advantageous for you.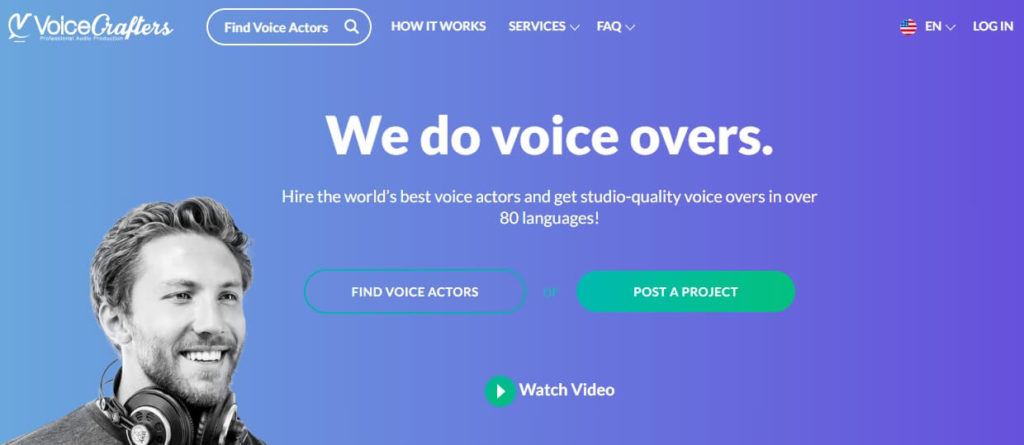 To join Voice Crafters, you must meet the following requirements:
Be a professional full-time voice actor. You must have at least five years of experience
Own a professional recording studio. They don't tolerate demos with background noise or audio reverb.
Be able to work with Voice Crafters directly
Be able to deliver within a short turnaround time
Once you complete the application, they'll contact you if you meet all their requirements.
16. Internet Jock
Internet Jock aims to produce the shortest turnaround time for clients. For this reason, you must be able to complete projects within 1-2 hours to work with this platform.
You must also have access to a home studio and be patient and professional. Payment is made monthly, and the platform charges a 40% commission.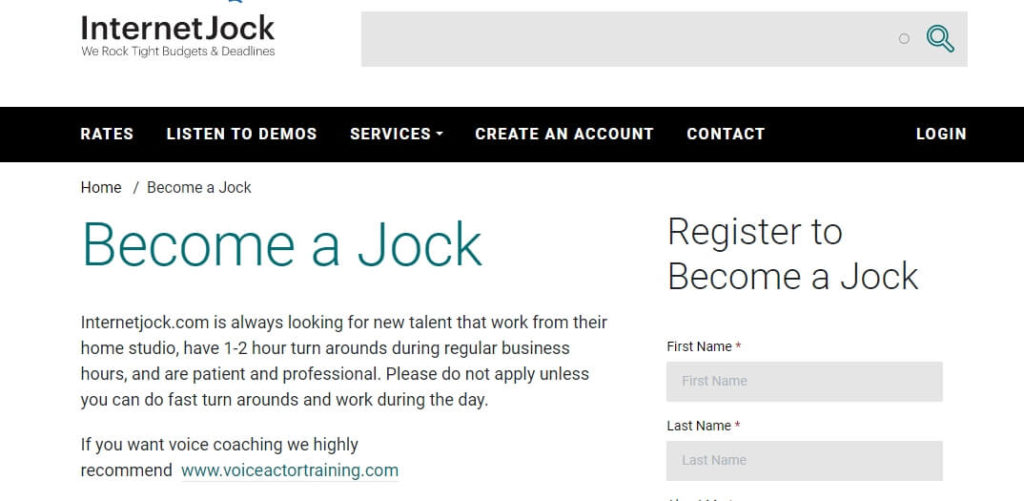 Note that Internet Jock doesn't accept overly compressed demos and those embedded with graphics. They also won't hire you if you work for any other voiceover service that charges lower rates.
If you meet the above requirements and want to work for Internet Jock, fill out the application on their website and wait for them to contact you.
17. Voquent
One last site where you can read books aloud for money is Voquent. Signing up on the platform is free.
To qualify, you have to meet the following requirements:
You must have experience in narration. You must also have a good work ethic, a driven attitude, and communication skills.
Have outstanding demos
Have a professional home studio
If you meet the above requirements, apply for the job today.
Tips for Getting Paid to Read Books Aloud
Having discovered where to read books aloud for money, let's delve into tips that will help you maximize your earnings.
Identify your niche: Choose a specific genre to work in and start scouting for opportunities.
Invest in the right audio equipment: Investing in high-quality equipment like microphones is imperative as it directly impacts the quality of your demos. This, in turn, helps you land more gigs and build your reputation.
Record in a quiet environment: Ensure there're no background noises that could potentially reduce the quality of your demos. This will also help you spend less time editing your audio.
Focus on one platform: It's advisable to initially sign up on one platform as it allows for better client communication and organization.
Take care of your voice: Ensure your throat consistently stays hydrated to sound its best.
Frequently Asked Questions
Can You Get Paid to Read Books Aloud?
Yes, you can get paid to read books aloud, whether you're looking to make extra cash or start a career as a voice actor.
You can sign up on sites like:
ACX
Bunny Studio
VO Planet
Voice123
Backstage
Spoken Realms
Bodalgo
How Do I Get Paid To Read Books Aloud?
There are numerous platforms you can work with that are willing to pay you to read books aloud.
For most of these platforms, you'll only need to sign up or fill out an application if you meet standard requirements. You can scout for narration opportunities that match your abilities, or the platform matches you to a job.
Such sites include:
ACX
Brilliance Publishing
The Voice Realm
Findaway Voices
Voquent
Internet Jock
Backstage
How Much Do Audiobook Narrators Get Paid?
The amount each audio narrator makes varies depending on the platform and the project. On average, you can earn $200 to $300 per hour.
Backstage outlines the most common pay rates as follows:
Per finished hour (PFH): The pay, in this case, varies depending on the total time of the finished audio. If you're a beginner, your PFH rate will most likely be between $10 and $100. Experienced narrators may earn up to $350 per finished hour.
Royalty share: In this case, you can earn about $2 per sale or a quarter of the book's overall profits.
For Voices, you can earn between $325 and $1500, depending on the total duration of the finished project.
Can Anyone Be an Audiobook Narrator?
Anyone can be an audiobook narrator, provided they can produce good-quality audio. The process is simple if you want to become an audiobook narrator.
You only need to create an account on a site offering voiceover services like Voices, Bodalgo, or Voice Crafters. You'll also need to invest in microphones and audio editing software. Once you've got all this, you'll be ready to go.
It's worth noting that some platforms, like Voice Crafters, only hire professional narrators. In such a case, you should build your portfolio before applying.
Fortunately, other platforms like Mandy Voices are willing to hire you even if you're a beginner.
Do You Need Experience to Narrate Audiobooks?
No, you don't necessarily need the experience to narrate audiobooks on platforms like Mandy Voices. However, some sites like Voice Crafters require only those with experience to apply for jobs with them.
It's important to gain experience as it gives you an upper hand when applying for jobs.
You can gain experience by working on sites that hire beginners, like Mandy Voices, or look for narration jobs on freelance sites like Upwork and Fiverr.
How Many Hours Does It Take to Narrate an Audiobook?
The time it takes to narrate an audiobook depends on several factors, including the book's length and the narrator.
However, it's estimated that the finished product typically takes twice as long to record. For example, it'll take around an hour to record 30 minutes of audiobook.
How Do I Start Narrating Audiobooks For Money?
Narrating books for money needn't be a complex process. You only need to do the following:
Create a good quiet recording environment: Ensure you work in a quiet place to reduce background noises affecting the quality of your audio.
Read the entire piece before you start recording: It's imperative to know the book inside and out before you start recording. This will enable a smooth transition from one scene to the next. It'll also save you a lot of time.
Practice and record small sections at a time: This ensures the quality of the audiobook. You can put the sections together while editing.
Edit your audiobook as best as possible: Use good audio editing software to trim and assemble your audio clips. You can also use this software to balance your voice and enhance quality.
Export lossless Audio: This will prevent loss of quality as you export the file.
Is Narrating Audiobooks a Good Side Hustle?
Narrating books is a great side hustle because it requires minimum qualifications. You can do it almost effortlessly, especially if you enjoy reading. It's also a great field to indulge in because it's growing, and the demand for narrators is increasing.
Narrating audiobooks for money is a great side hustle because it pays well. You can earn more than $100 per hour, depending on the kind of project.
Another perk is that start-up costs are low. You can also work from home.
Final Thoughts
With the audiobook industry growing daily, there's more demand for audiobook narrators.
This means more opportunities for you to get paid to read books aloud. The perks of this job are the low start-up costs and the ability to work in the comfort of your home.
You can also make good money in this line of work. Many sites like Voices and VO Planet are willing to pay you to read books aloud.
Whether you're looking for a way to earn extra cash or start a new career, reading books aloud for money is a great opportunity.
Looking for other ways to get paid? Checkout: